Shopify, a leading eCommerce platform, has played a significant role in this growth by empowering all-sized businesses to set up their online stores easily and efficiently. From fashion and beauty to food and electronics, there are countless online stores in Germany offering a wide range of products and services. In this article, let's take a closer look at the list of the 15 most popular Shopify stores in Germany and how to create a Shopify store that is not only suitable for the German market but also the international market.
15 most popular Shopify stores in Germany
Official Carhartt WIP Store
Carhartt WIP (Work In Progress) is a subsidiary brand of the American workwear company Carhartt, which specializes in contemporary streetwear and fashion. It was established roughly 100 years after Carhartt, in 1989, and is headquartered in Weil am Rhein, Germany. It started modifying Carhartt's classic products to serve the European audience.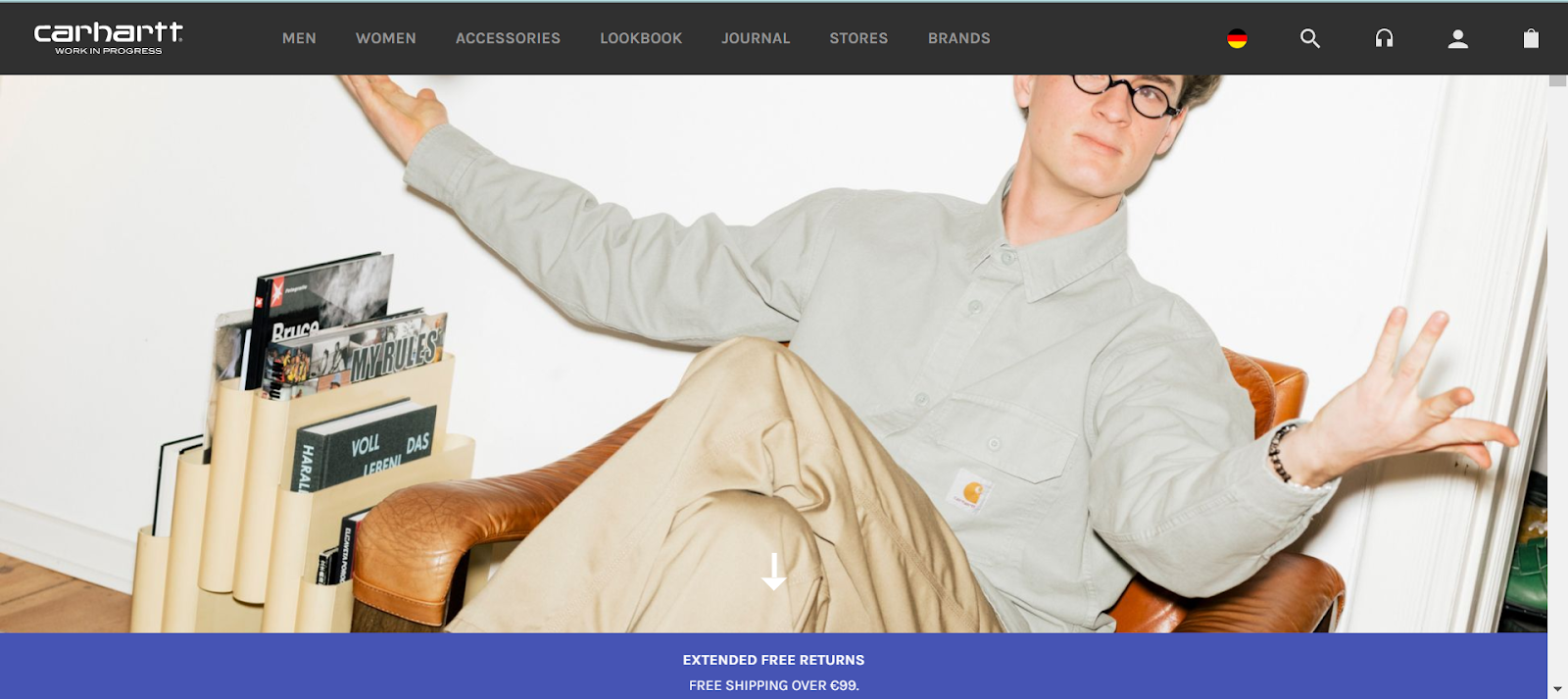 The design of Carhartt WIP's Shopify store is visually appealing and user-friendly. The Shopify store features a clean, minimalist layout that focuses on the products with high-quality images and detailed descriptions that help customers make informed purchasing decisions. The site navigation is easy for customers to find what they are looking for, and the checkout process is streamlined and efficient. Additionally, Carhartt WIP's Shopify stores use responsive design, ensuring that the site looks and functions well on a variety of devices, including desktops, laptops, tablets, and smartphones. The stores also incorporate a range of features and integrations that help enhance the overall customer experience and increase engagement and sales.
ESN
ESN is a German food and supplements company that was founded in 2005 in Elms horn. They are proud of their research, development, production, and quality control process, which helps their products to be high-quality, pure, and safe. Their bestsellers are flavored whey products.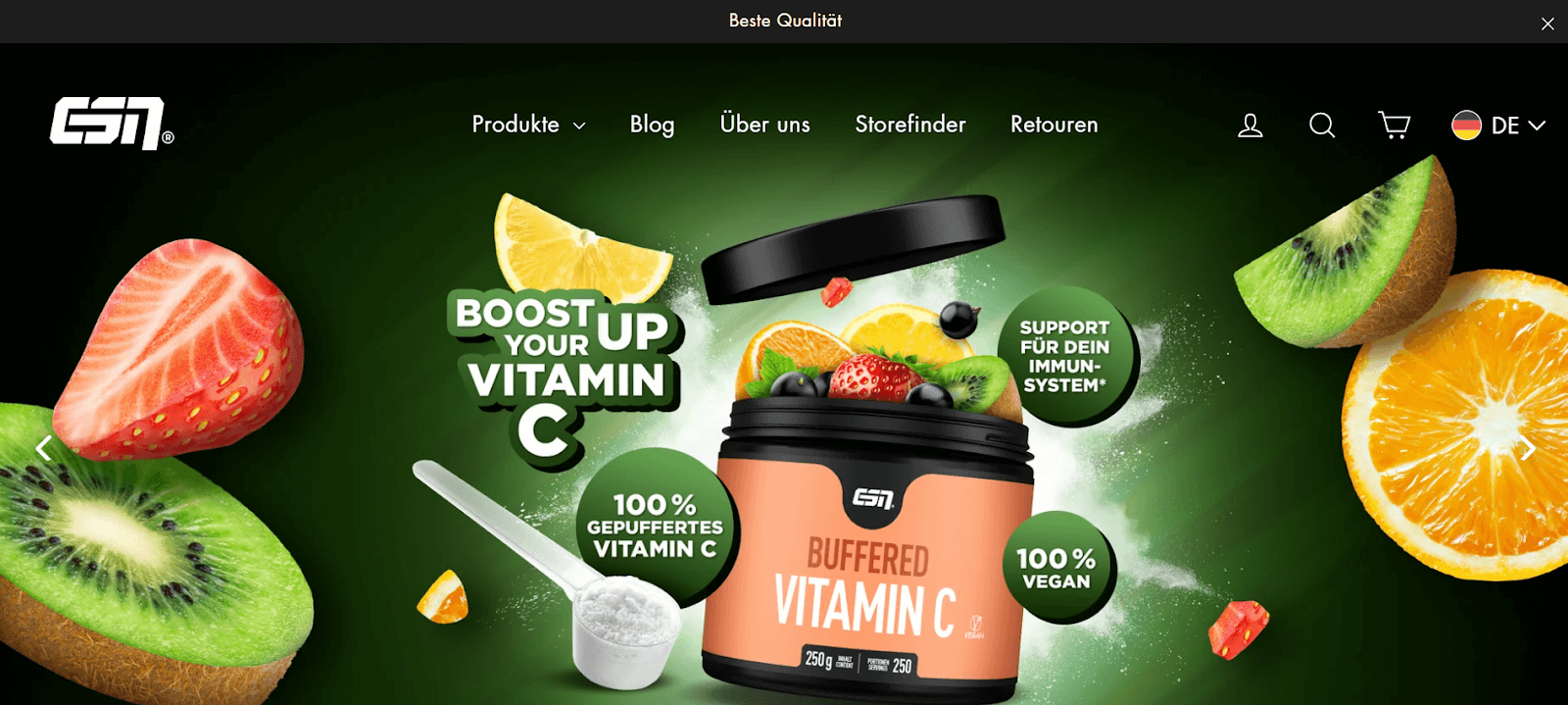 ESN's Shopify store contains all of that information. Their products are categorized according to what type of product they are and what goal they serve, from gaining muscle to losing weight, from improving endurance to maintaining healthy living. It helps customers to effectively find what they need.
Everdrop
Everdrop is a Munich-based brand that offers eco-friendly cleaning products for household use. The German company was founded in 2019 with a mission to provide high-quality, sustainable alternatives to traditional cleaning products, which often contain harmful chemicals and contribute to plastic waste. Everdrop's products are designed to be efficient, effective, and easy to use, with minimal impact on the environment. The brand offers a range of cleaning products, including dishwasher tablets, laundry detergents, surface cleaners, and more.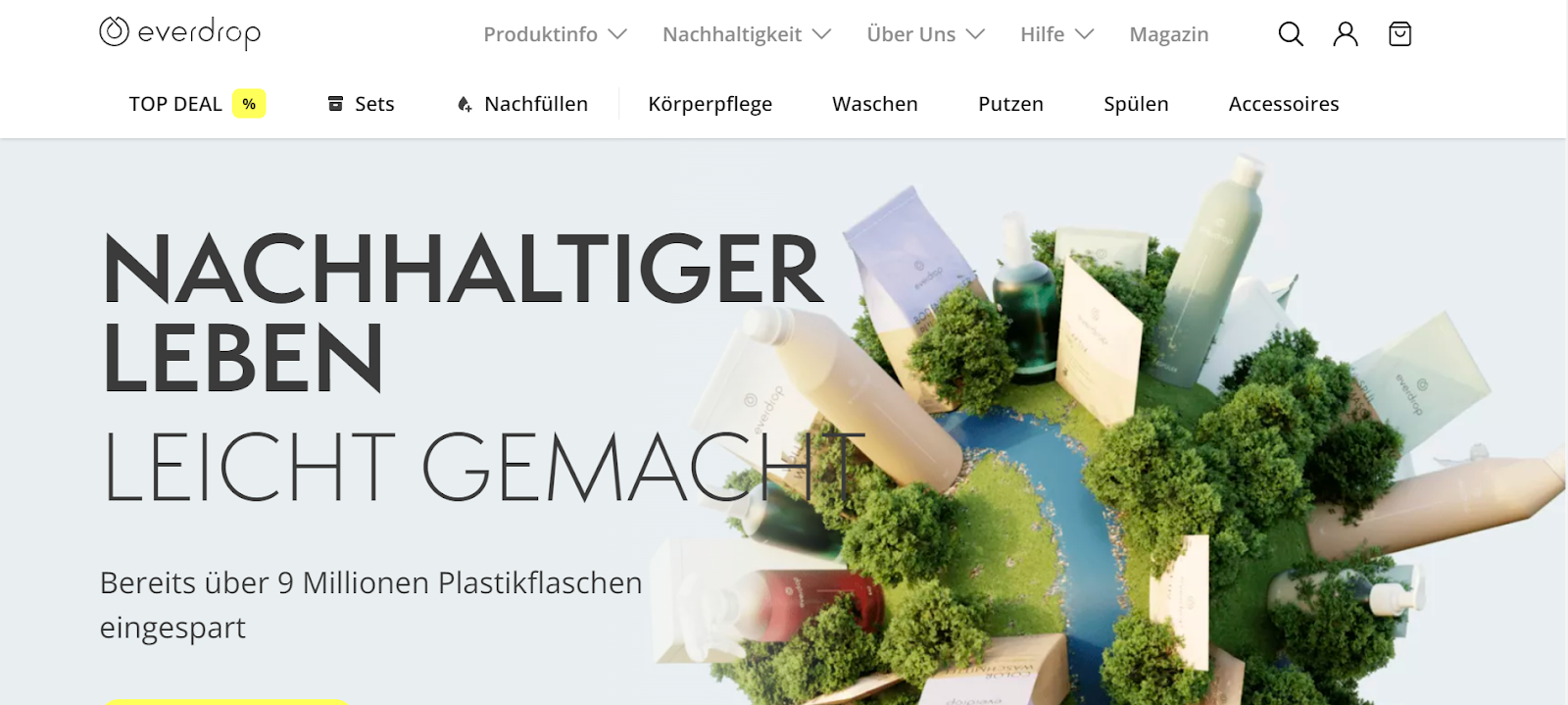 Everdrop's Shopify store features a clean, minimalist layout that focuses on the brand's eco-friendly products. The store has a calming white background with a pastel color scheme that creates a sense of cleanliness and sustainability. The site navigation is easy to use, it helps customers instantly find the products they need. The product pages have high-quality images and detailed descriptions that allow customers to make informed purchasing decisions. Additionally, this Shopify store incorporates social proof elements such as customer reviews and testimonials, which can help to build trust and credibility with potential customers.
InnoNature
InnoNature is a German brand that offers a range of natural and organic vitamin and food supplement products. The company was founded with a mission to focus on natural health that really creates an impact for customers. InnoNature's products are made from natural materials from ethical and sustainable suppliers. InnoNature has gained popularity for its commitment to sustainability and for providing natural and healthy options.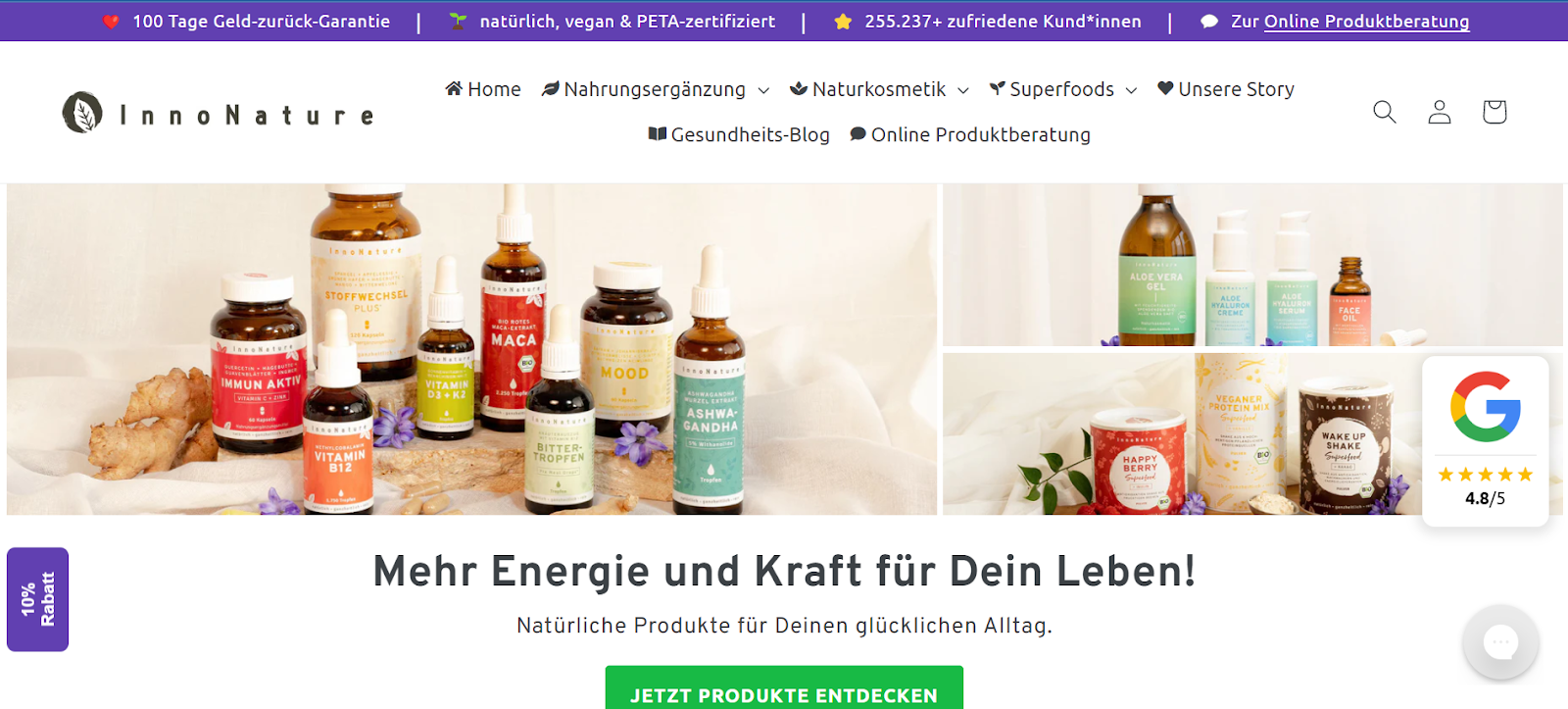 Their Shopify store comes with an Online Product Guide to help customers understand more about what they need and how InnoNature products can help. The brand has a strong online presence due to the fact that its Shopify store offers a seamless shopping experience for customers.
Rollei
Rollei is a German company that was originally founded in 1920 as a manufacturer of optical instruments, including cameras and projectors. The brand gained popularity in the mid-20th century for its high-quality cameras, including the Rolleiflex, which became an iconic camera for professional photographers. Today, Rollei continues to offer a range of cameras, including instant cameras, action cameras, and digital cameras, as well as camera accessories and tripods.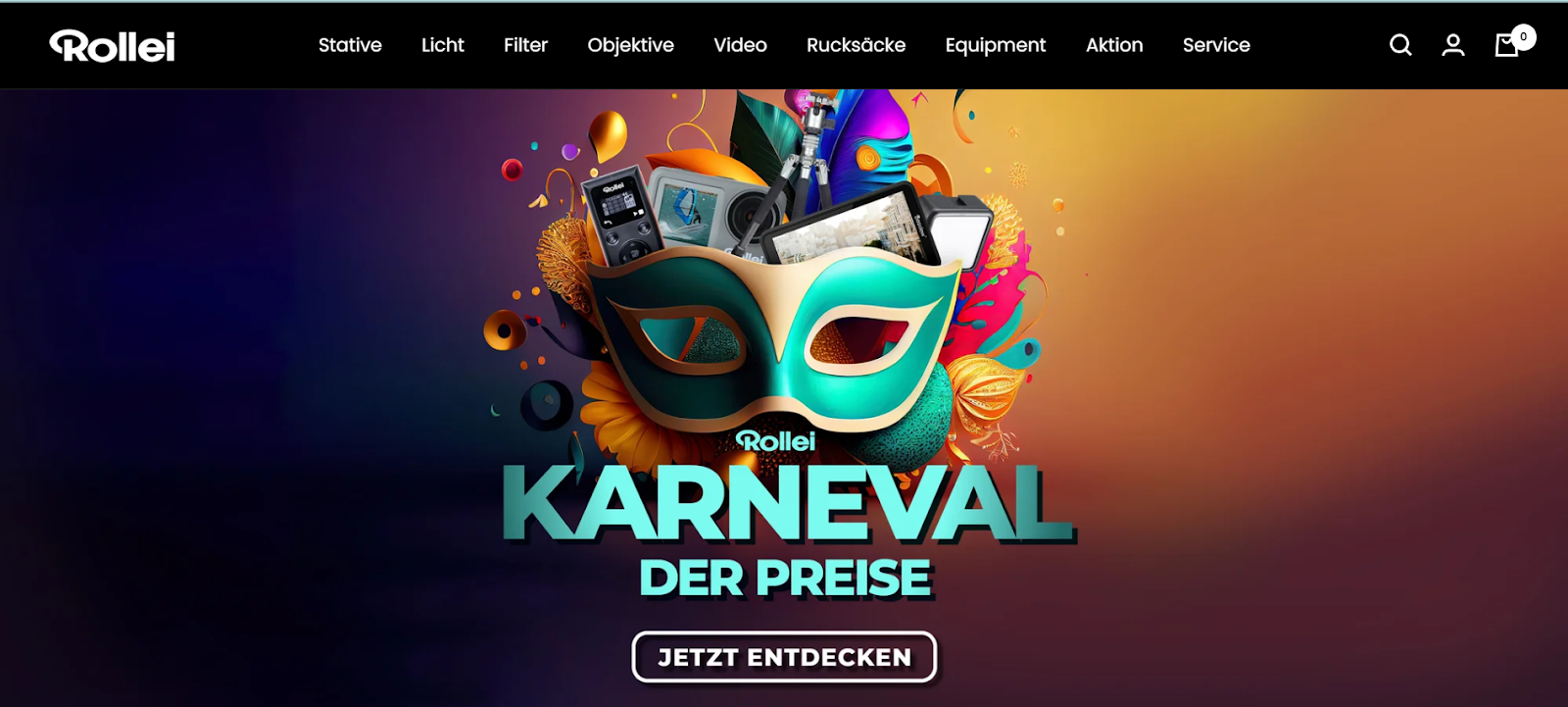 The brand has also expanded into other product categories, including audio equipment, mobile phone accessories, and sportswear. With that many product categories, the Rollei Shopify store presents an easy-to-use interface and a wide range of payment options for international customers looking to purchase its products. The store not only features detailed product descriptions and specifications but also includes a good number of information about photography tips and tricks and product testing. This helps customers to easily understand their products before making any buying decision.
Leonardo
Leonardo is a German brand that specializes in glassware and tableware products. The brand's mission was to create beautiful, high-quality glassware and tableware that would enhance any dining or entertaining experience.

Their Shopify website features a sleek and modern design, with a focus on the brand's mission to offer stylish and high-quality products for the home. Their graphic focuses on presenting an atheistic lifestyle, showcasing the brand's commitment to design and innovation. Customers can smoothly browse through and purchase products on their Shopify store. Their product pages feature detailed descriptions and specifications with customer reviews included, which can help to build trust and credibility. Leonardo also offers a range of payment options, including credit card, PayPal, and direct bank transfer, making it convenient for customers to purchase products online.
The North Face
The North Face is a well-known international brand, and they aren't originally started in Germany, but rather in San Francisco, USA. But their website for the German market (thenorthface.de) is also worth mentioning.
Through its German Shopify store, The North Face has come to symbolize affluence, hipness, and their love of outdoor activities. Besides showcasing a broad range of products, it also features its history and its commitment to social responsibility. This really resonates with German customers, who really value customer service and expect a high level of responsiveness from businesses.
Douglas
While originally founded as a soap manufacturer in Hamburg in 1821, today, Douglas is an international cosmetic company with headquarters located in the German beauty and lifestyle hub Düsseldorf. It's positioned to be the leading premium beauty retailer in Europe online and offline with a wide range of beauty products, including skincare, makeup, fragrances, hair care, and more.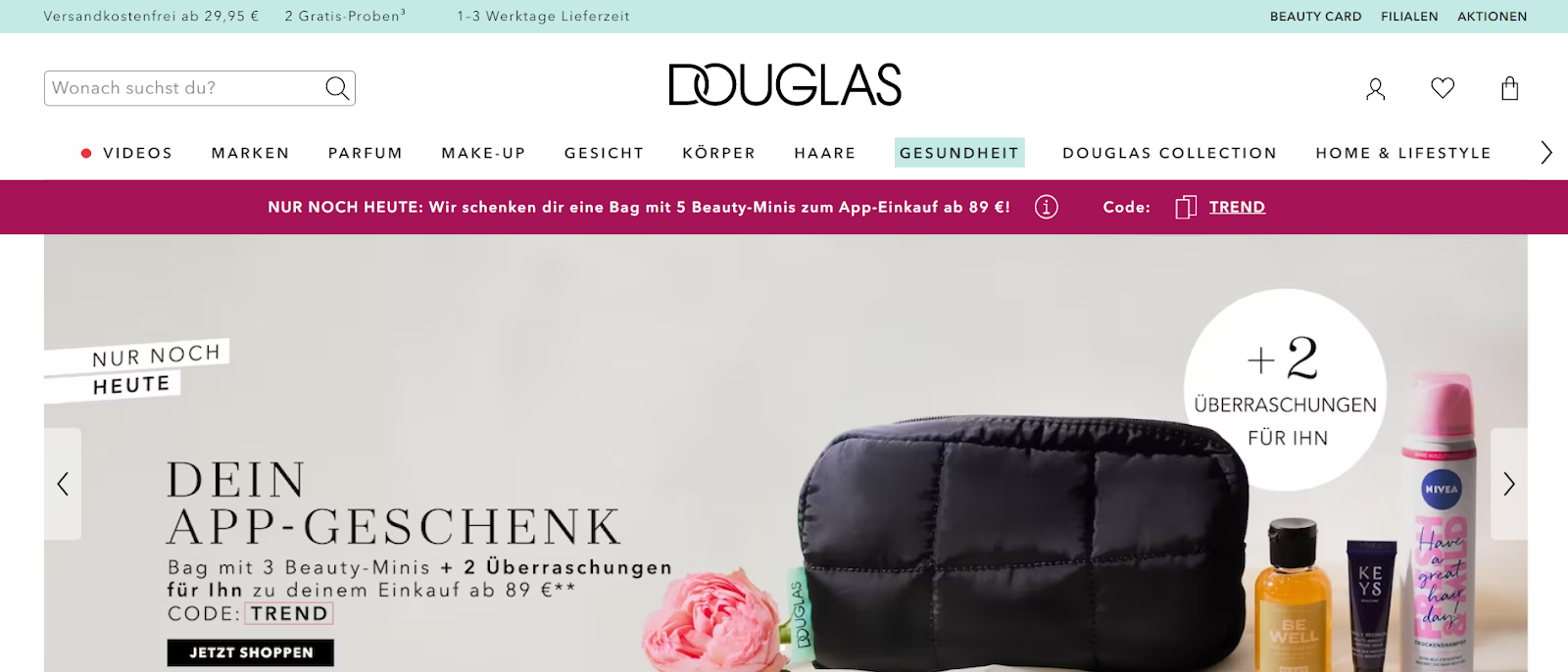 Their website is bilingual with Dutch and English versions. Douglas uses the Shopify platform to take advantage of Shopify's robust e-commerce features, including customizable storefront templates, secure payment processing, and inventory management tools. More than that, Douglas also utilizes additional tools and features beyond those provided by Shopify to create a seamless shopping experience for their customers.
Asphaltgold
This is a sneaker and streetwear retailer based in Darmstadt, Germany. The company was founded in 2008 and has since become a popular destination for sneaker enthusiasts and fashion-conscious shoppers alike. Asphaltgold does have a physical store located in the heart of Darmstadt, but the company also operates an online store that ships worldwide, and they use the Shopify platform to power their online store.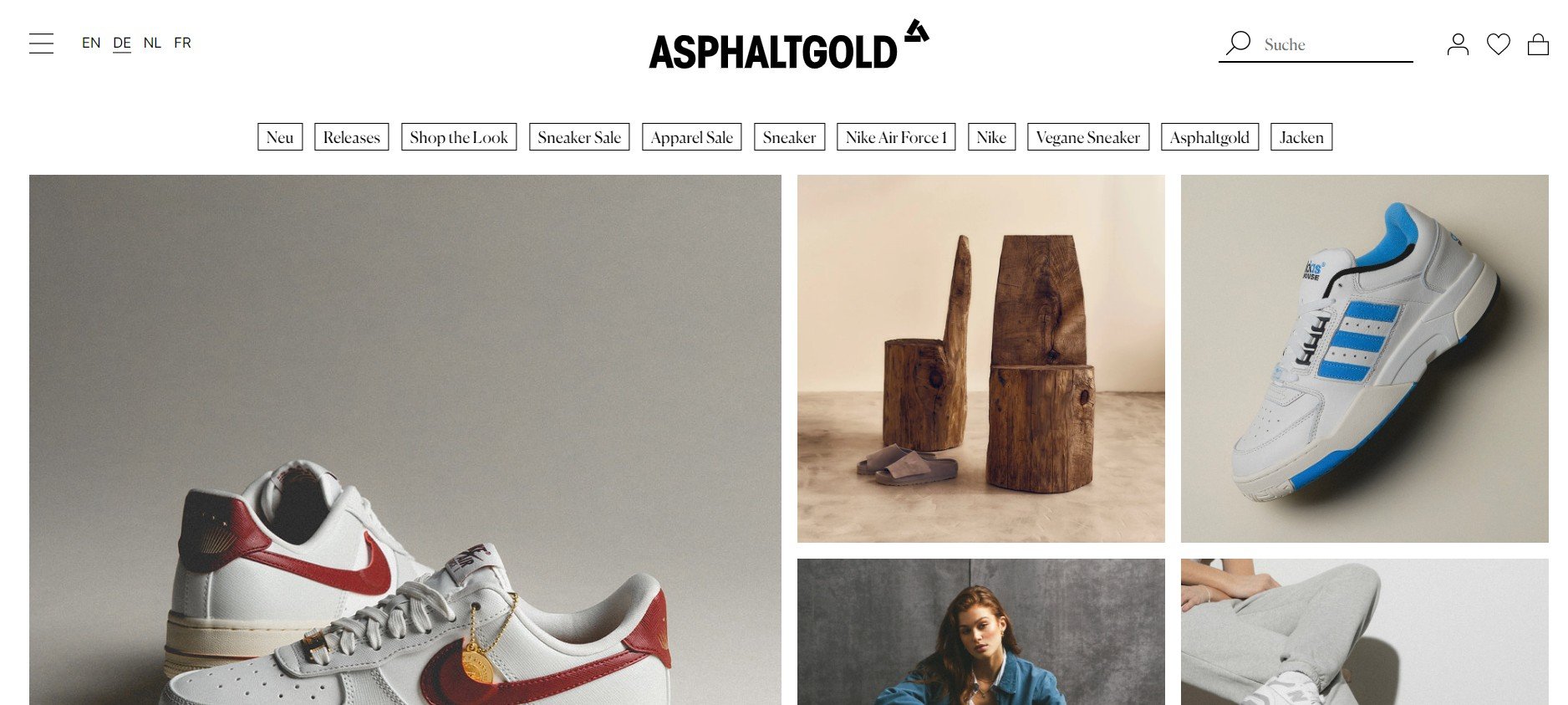 The company's Shopify store offerings a variety of sneakers, clothing, and accessories from popular brands such as Nike, Adidas, and Puma, as well as smaller, independent brands. With Shopify's features, including customizable storefront templates, secure payment processing, and inventory management tools, Asphaltgold can create a dynamic shopping experience, and inform customers with such as product reviews, a wishlist, and a sneakerpedia that provides information on different sneaker models.
PEGADOR Streetwear
Pegador is a fashion brand that designs and produces quality streetwear in Germany. The brand's aesthetic is influenced by the urban lifestyle and street culture, and it prides itself on using high-quality materials in its products, such as cotton and polyester blends, to ensure durability and comfort. This applies to all of their products, including clothing, headwear, and accessories.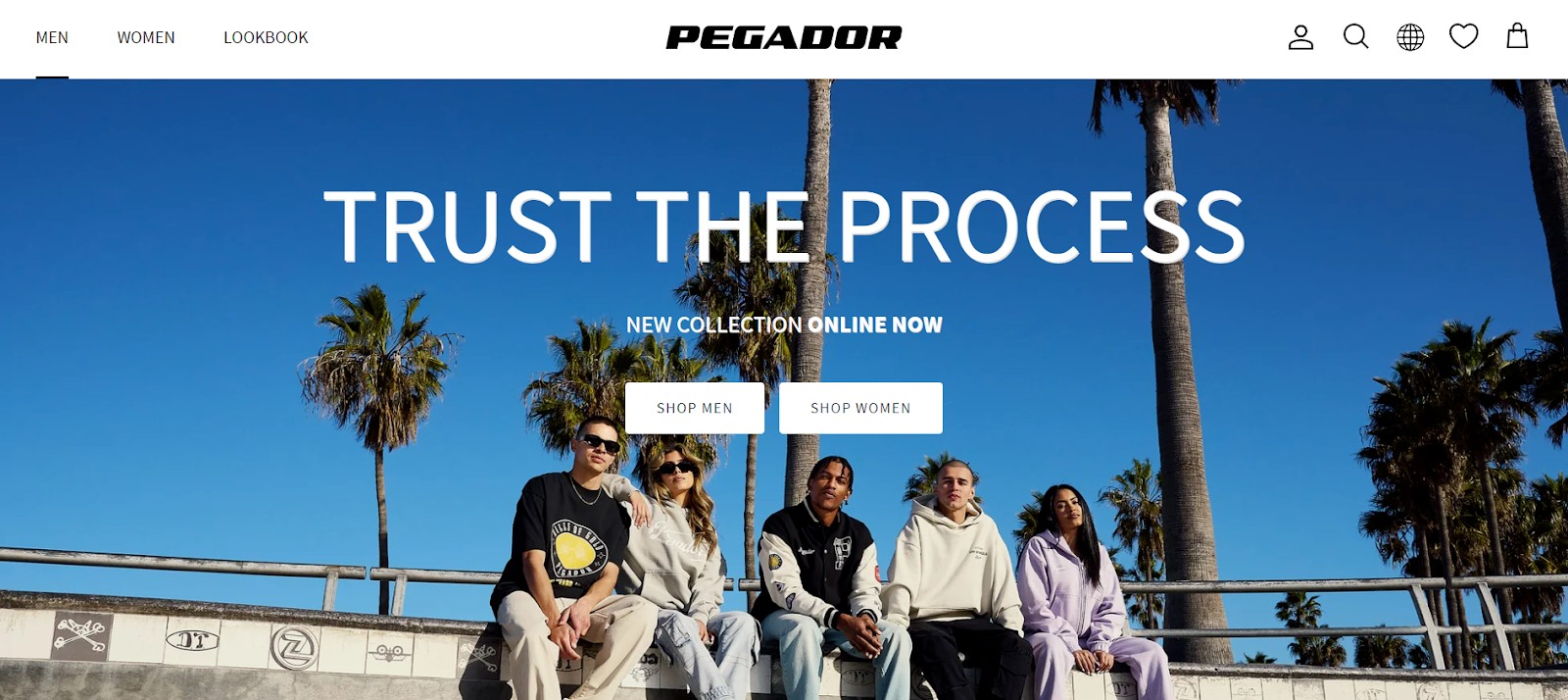 Besides simplified Germany Shopify stores, they do integrate their Instagram to further demonstrate their brand aesthetic. They do worldwide shipping and use a variety of payment gateways, allowing customers to complete transactions using their preferred payment method. Customers can also take advantage of free shipping on orders over €150 and hassle-free returns within 14 days of purchase. All of this is added to their Shopify account for a harmonious buying journey.
Paperlike
Paperlike is a brand that produces screen protectors and accessories for tablets and smartphones that mimic the feeling of writing on paper, hence the name paper-like. It was founded in 2017 and is based in Hamburg, Germany, and promotes itself as a screen protector for creators and doers. Paperlike's products are designed to provide a more natural and tactile experience when using digital devices. The brand offers screen protectors and other accessories for various devices, including iPads, iPhones, and Samsung Galaxy tablets.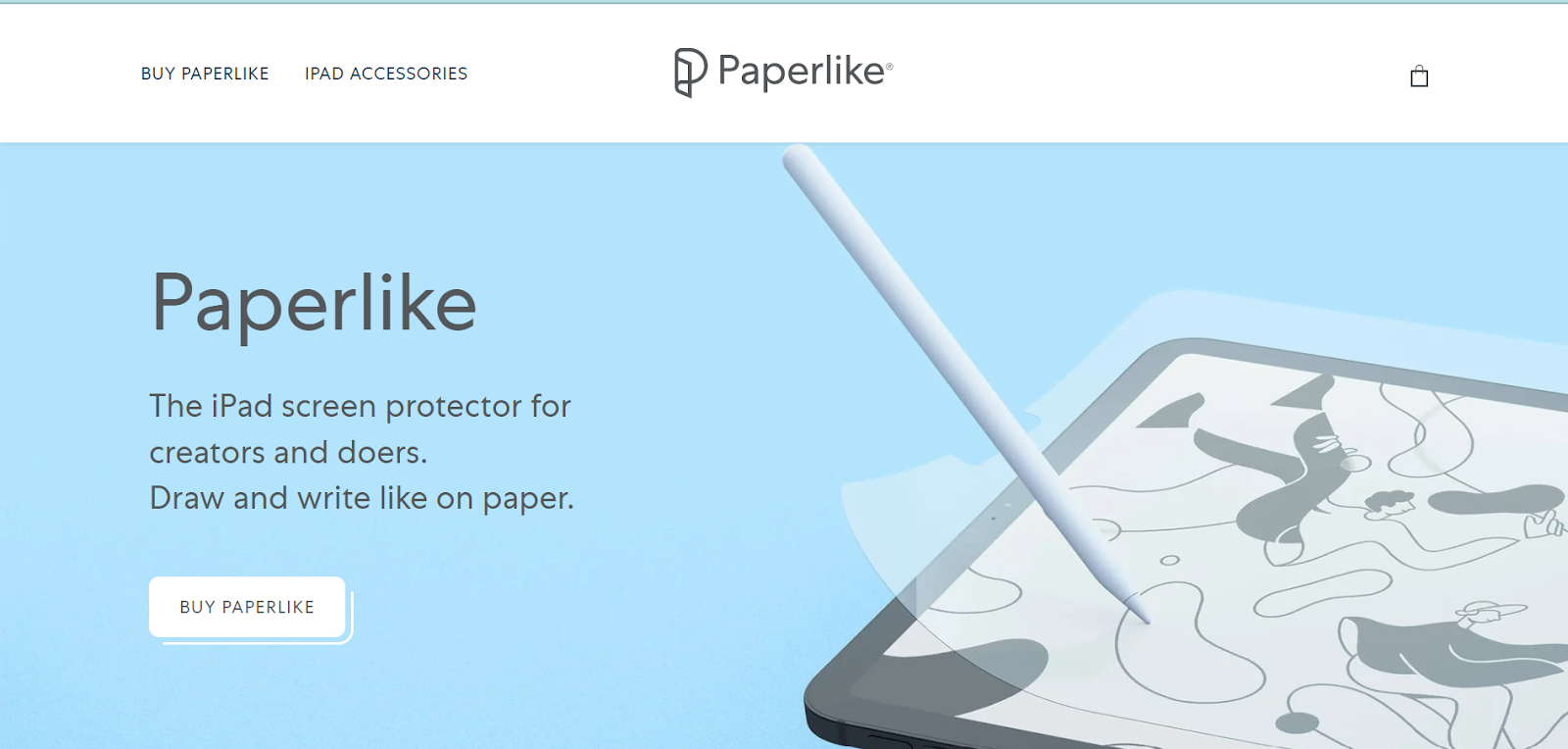 Paperlike's Shopify store is the primary platform for its online sales. The store features a clean and modern design that reflects the brand's minimalist aesthetic and focuses on its products. Global customers can easily browse, purchase and take advantage of free shipping on orders over a certain amount. In addition to its online store, Paperlike also operates a blog and YouTube channel that provide tips, tutorials, and product reviews for artists and designers who use its products. This forms a community where creativity is enhanced and shared among its users.
Kapten & Son
Kapten & Son is a German-based lifestyle brand that specializes in watches, eyewear, luggage, and backpacks. The brand was founded in 2014 and has since gained popularity among young adults for its sleek and versatile designs.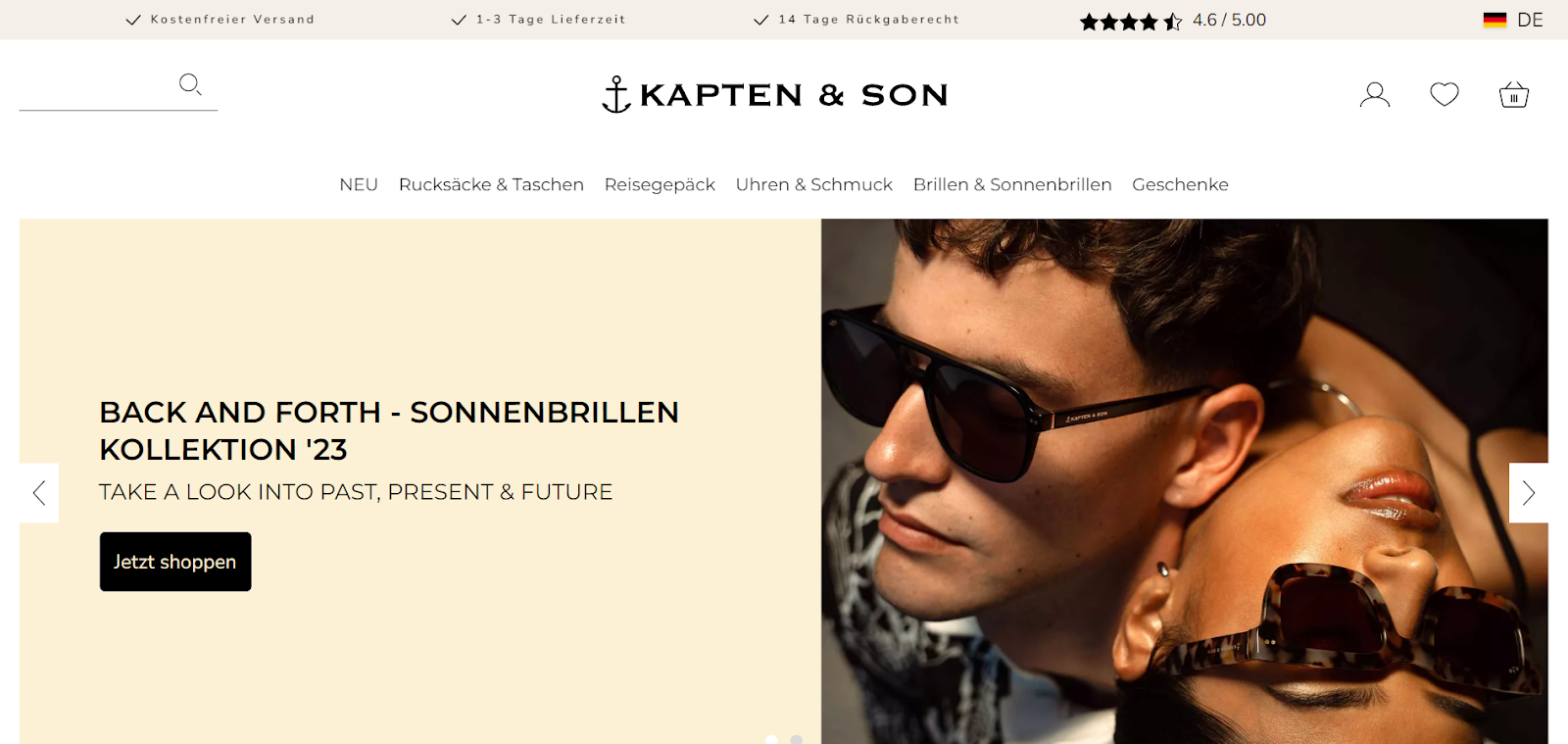 As a multinational company, Kapten & Son integrated with various payment gateways and credit card processing and offered a number of shipping options for consumers on its Shopify store. Dedicated to the global citizen, Kapten & Son really focuses on building its brand image to match its target customer's lifestyles. It is present not only through the website but also through the brand's social channels, like Instagram, Facebook, and TikTok. Kapten & Son also has free shipping and 14 days return policy, which provides customers with comfort and confidence in their purchases.
Elgato
Elgato is a brand that produces high-quality software and hardware for content creators, gamers, and streamers. The brand was founded in 1999 in Munich, Germany, and is now owned by Corsair Gaming. It offers a range of products including capture cards, stream decks, green screens, and other accessories designed to help enhance the audio and video quality of content created on computers and gaming consoles.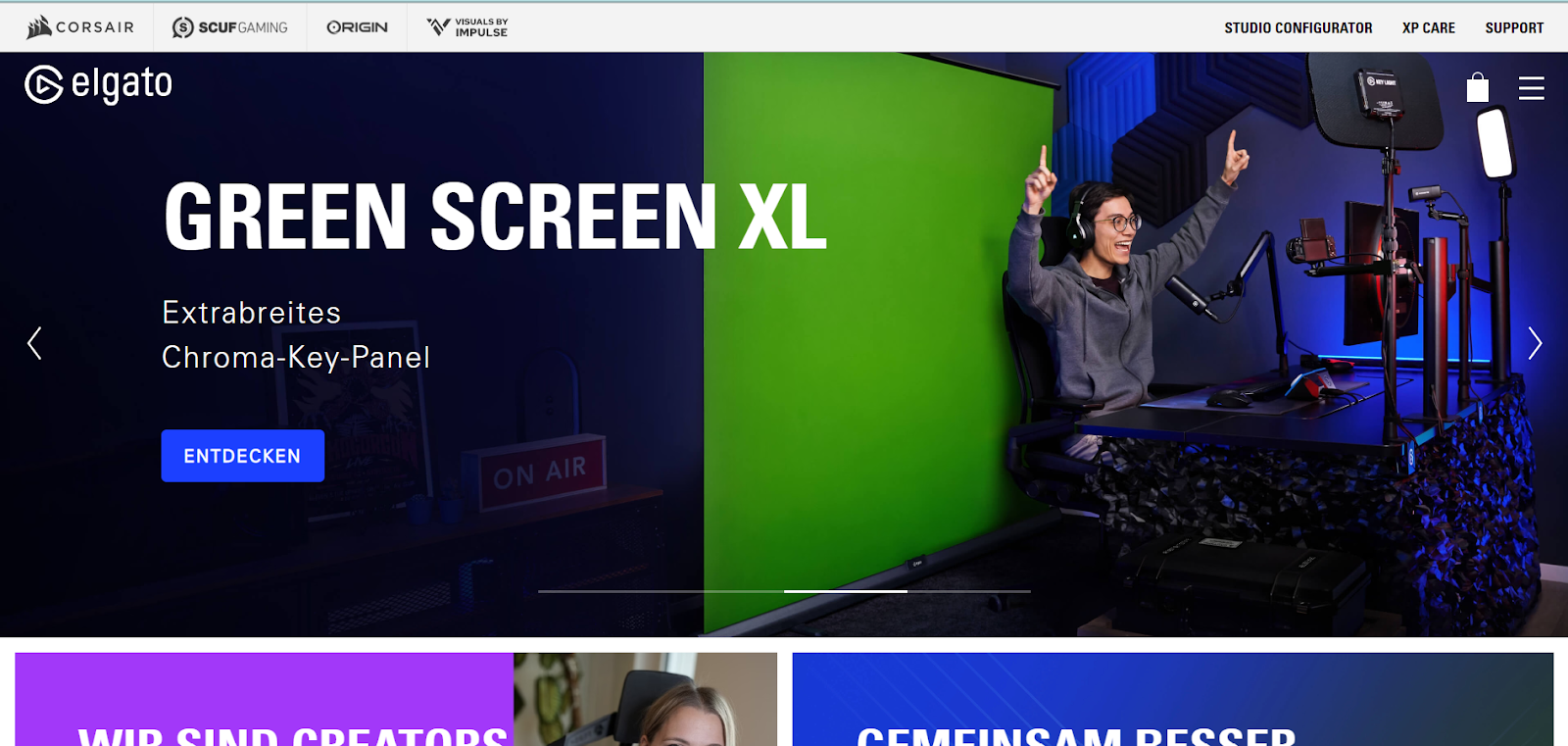 Elgato's Shopify stores not only showcase their products but also present their customers who work in the creative industry to further demonstrate the brand's expertise in this field. This gives customers a true story and an honest review about the product that they wanted to buy and how to optimize its usage.
Air Up
Air Up is a Munich-based start-up that was founded in 2018 by Tim Jäger, Lena Jüngst, Fabian Schlang, Maximilian Strobl, and Steffen Gebhardt. They sell water bottles with a patented technology that allows users to flavor their water by scent. Their bottles have a special lid with a flavor pod that releases a scent into the air when the user drinks, providing the illusion of flavored water without any actual flavorings or sweeteners. Air Up offers a range of flavors and is committed to sustainability, using high-quality, BPA-free materials for their bottles and offering accessories to reduce waste.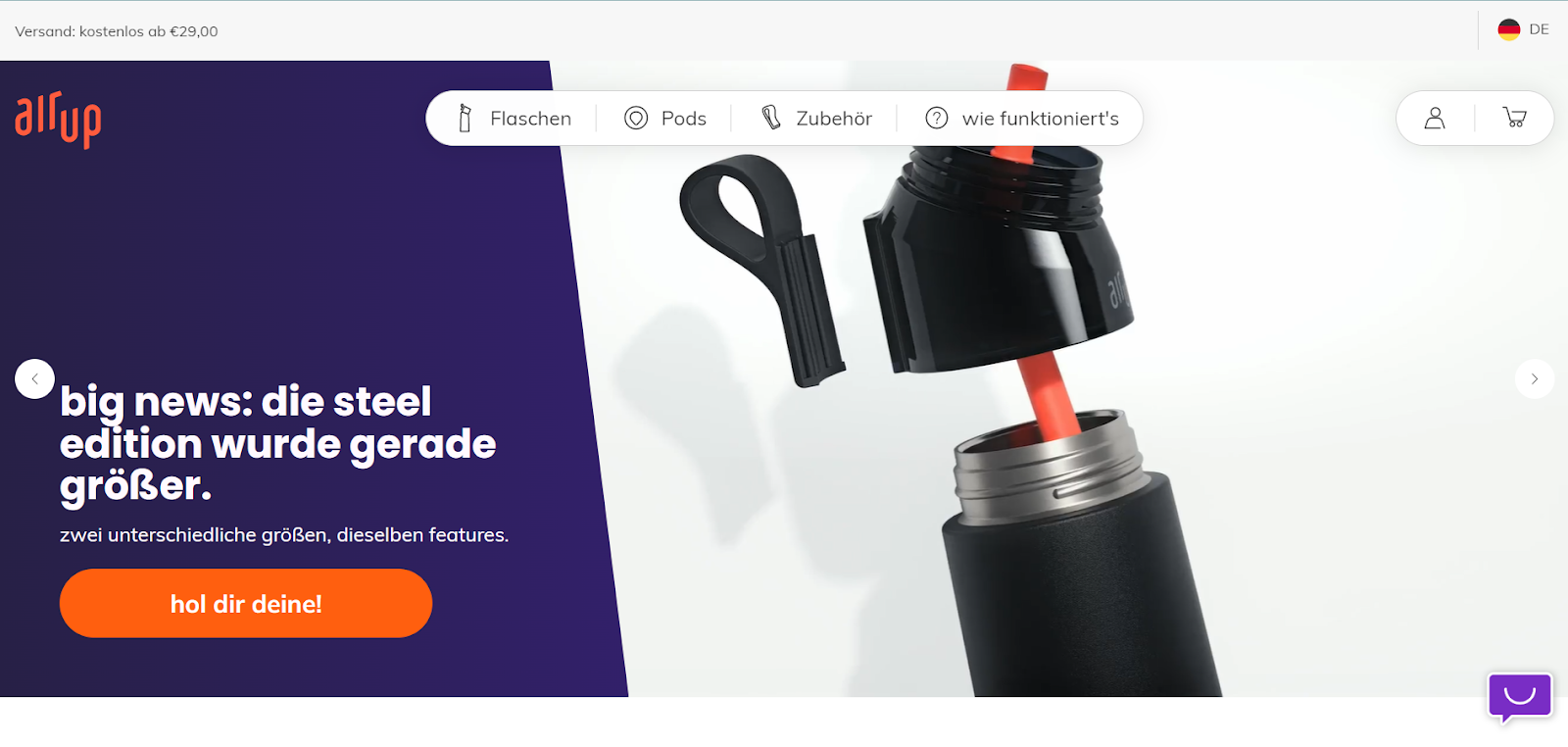 Air Up's Shopify store features a clean and modern design that reflects the brand's focus on sustainability and innovation. The store is designed to help clients understand clearly that they're socially conscious and how their products can help reduce waste and promote healthier hydration habits.
B.O.C
B.O.C (Bike & Outdoor Company) is a German-based company that specializes in selling bicycles, outdoor equipment, and related products. The company was founded in 1999 and is headquartered in Hamburg, Germany. In addition to 41 physical stores in Germany, it also operates two successful online stores, boc24.de, and bicycles.de.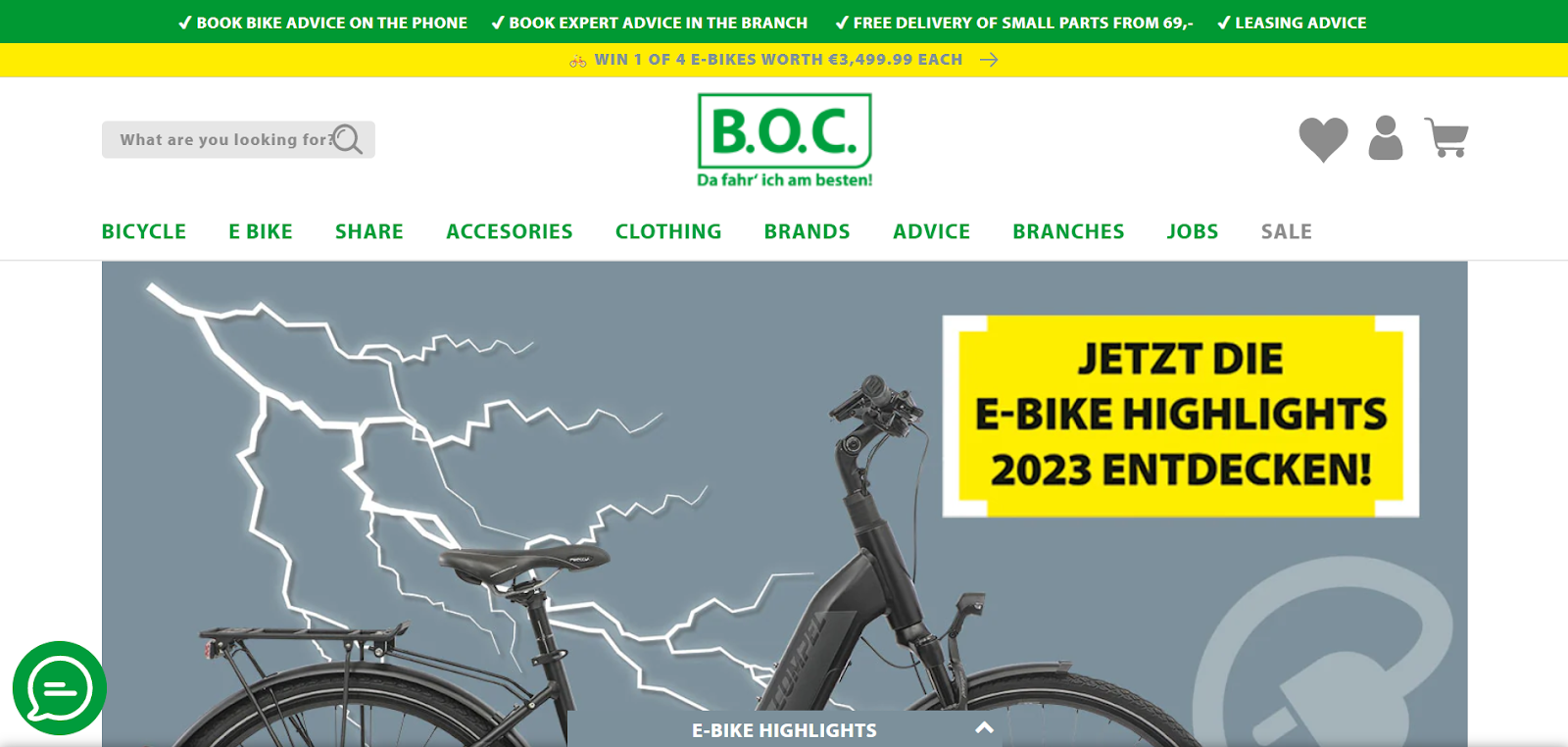 By investing in Shopify Plus to ensure quick and easy access to the +15,000 product catalog among their online and offline stores, the company can save up to 60% of its monthly costs and improve internal processes. The company website is compact with a lot of information. B.O.C. presents detailed information about the product, including specifications, features, customer reviews, and warranty. B.O.C. also offers various services, including bike assembly, bike fitting, and bike repair. This helps customers get the most out of their purchases and ensures that their bikes are properly maintained and serviced over time. These are the values that genuinely speak to German customers.
The current statistic of Shopify in Germany
Shopify's growth in Germany
Over the past 5 years, the number of active Shopify stores in Germany has multiplied by 20 times. From +400 stores in the first quarter of 2017 to nearly 9,000 stores by the end of 2022.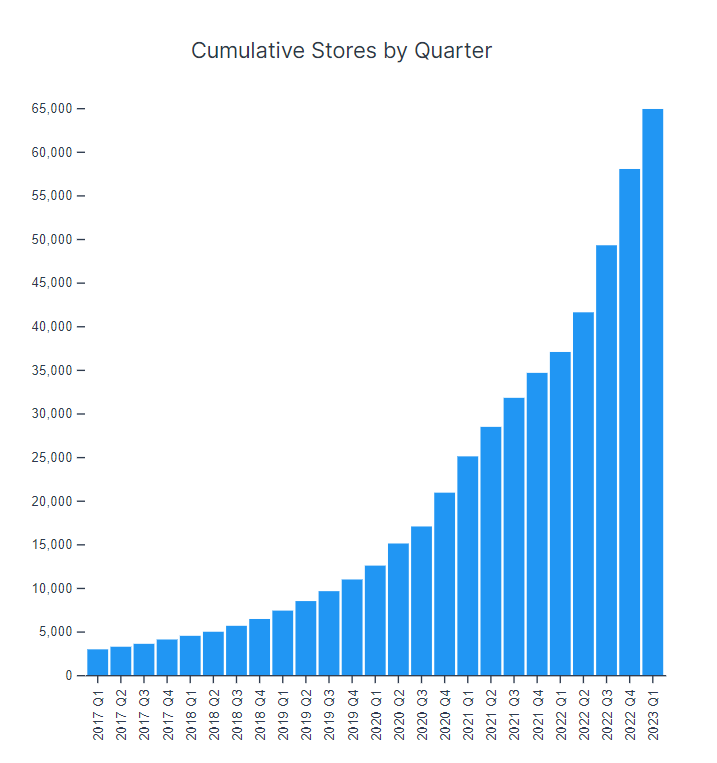 Top categories for Shopify stores in Germany
The top category for Germany Shopify stores is Apparel, which occupied 9.3% of all.
The second category for Shopify stores in Germany is Home & Garden, with 3.7% of all.
Beauty & Fitness is the third most popular category among stores, with 2.8% of all.
Social media usage by Shopify owners in Germany
Shopify owners in Germany use social media to engage with their consumers. Instagram is the most popular social media in Germany among Shopify stores, with over half of Shopify stores using it. Facebook is also the dominant social media site for Shopify owners, with 35.7%. YouTube is also having notable usage, by 11.0%.
Contact information on Germany Shopify stores
Besides social media, email, and telephone are extremely popular communication channels for Shopify stores in Germany, with 64% of all stores having an email on their website and 37% of them providing a phone number on their website.
Shopify Plus stores in Germany
There are +1,300 Shopify Plus stores in Germany, accounting for 15% of all stores.
Provinces with the most Shopify stores in Germany
In Germany, Shopify stores are not centralized in just one area, but rather widespread in many provinces. North Rhine-Westphalia, Baden-Württemberg, and Bavaria are the top 3 provinces with the most Shopify stores in Germany, taking about 50% of all stores.
German cities with the most Shopify Stores
Berlin is the city with the most Shopify stores in Germany, with nearly 6,000 stores. Followed by Hamburg with +2,900 stores and Cologne with nearly 1,500.
Top shipping carriers for Shopify stores in Germany
In Germany, Shopify stores typically use international shipping Shopify partners to be able to deliver goods to customers worldwide.
The top 3 shipping carriers for German Shopify stores are UPS, DHL, and FedEx.
Top-level domain distribution for Shopify stores in Germany
Different from the rest of the world, .com is not the most common domain for Shopify websites in Germany. The most common is the .de domain, with +30,000 .com being only the second, with 38%. Other domains like .shop, .eu, .store, .net, .fr, .co, .nl, or .org are also used by Shopify stores in Germany.
In conclusion,
Expanding eCommerce businesses into Germany presents challenges and opportunities due to cultural differences, legal requirements, and tax compliance. However, Shopify provides a platform that simplifies these processes and offers features and integrations to help businesses comply with German regulations. To succeed in the German market, businesses using Shopify should focus on design elements such as the quality of product images, detailed product descriptions, warranty policies, and brand positioning. With the right approach, Owners of Shopify stores in Germany can confidently enter the German market and reach both national and international customers.
Navigating how to operate eCommerce businesses in Germany can be quite tricky, but Magenest is more than happy to help. Being an eCommerce powerhouse since 2015, Magenest has years of experience providing Shopify website development services. Connect with us right now and let's have a chat with our experts.