Canada is the hometown of Shopify with its headquarters being in Ottawa, Canada. Canada is also in the top 5 markets with +100.000 Shopify stores. Let's look at some of the top Shopify Canada stores and how to operate a Shopify store suitable for both Canadian and international markets. This can help you
List of 12 Shopify stores in Canada
Altitude Sports
Altitude Sports is a Canadian company, located in Quebec, that specializes in outdoor gear and apparel. They offer a wide range of products from +400 outdoor & urban brands, including top brands such as Arc'teryx, The North Face, and Patagonia.
Altitude Sports doesn't have any physical stores, its sale comes mostly from eCommerce. Because of that, Altitude Sports' Shopify store offers free shipping across Canada on orders over a certain amount and has a loyalty program for its customers.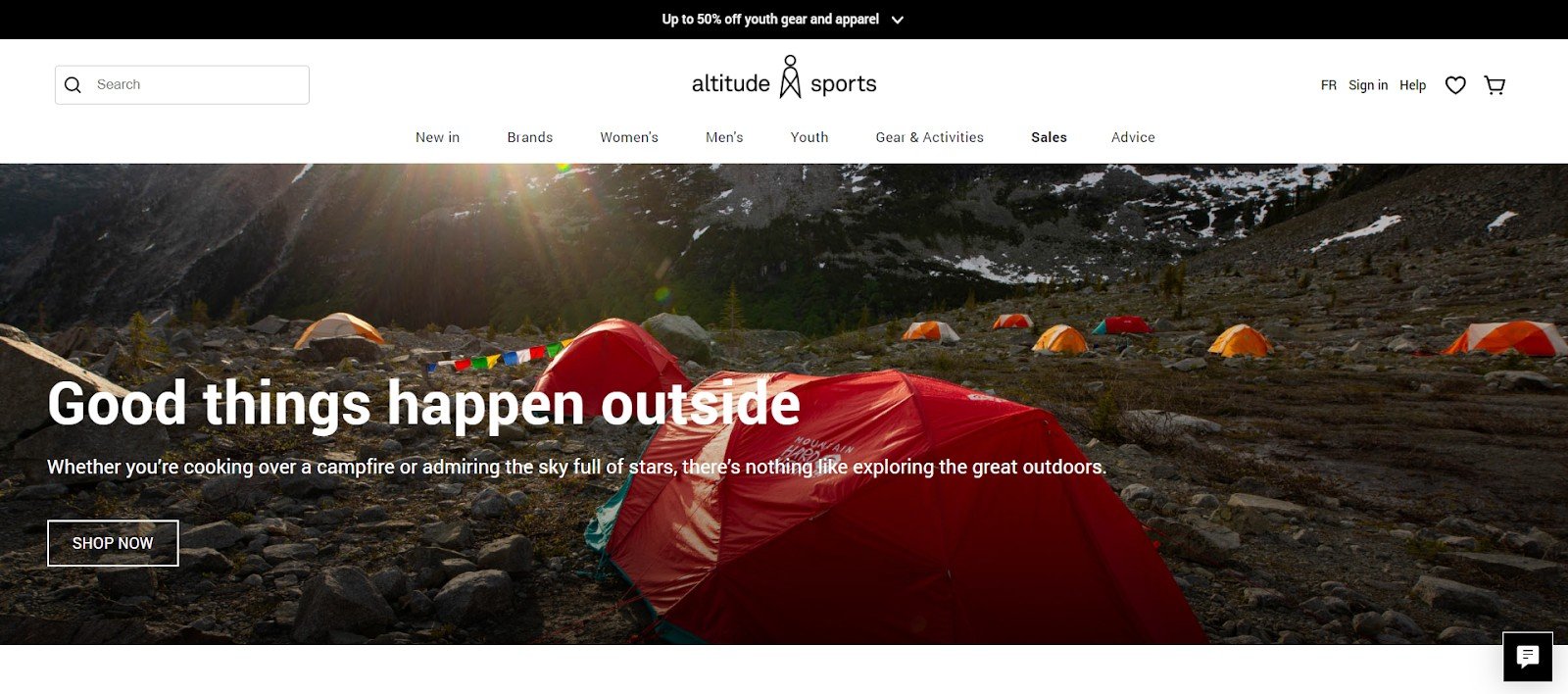 Besides their social channels, Altitude Sports' Shopify store is an extension of their online presence, providing customers with a user-friendly platform to browse and purchase their products. The store is filled with a lot of product categories, focusing on helping customers to navigate and find the perfect product that fits their needs. The store categories include men's and women's apparel, outdoor gear, footwear, and accessories, and customers can filter their search results by brand, color, size, and price.
Altitude Sports' Shopify store also offers a range of payment options, including credit cards, PayPal, and Apple Pay. They have a responsive customer service team that is available to answer any questions and provide assistance to customers.
Cupshe
Cupshe is an online fashion retailer that specializes in swimwear and beachwear for women. The company was founded in 2015 and has since grown into a famous brand known for its affordable prices and trendy designs. Cupshe's beachwear describes itself to be inspired by and created for the most vibrant, fun, and fearless women all over the world.
Cupshe offers a wide variety of swimsuits, bikinis, cover-ups, and accessories that cater to different styles and body types. Their designs are inspired by the latest fashion trends and are available in a range of colors and prints.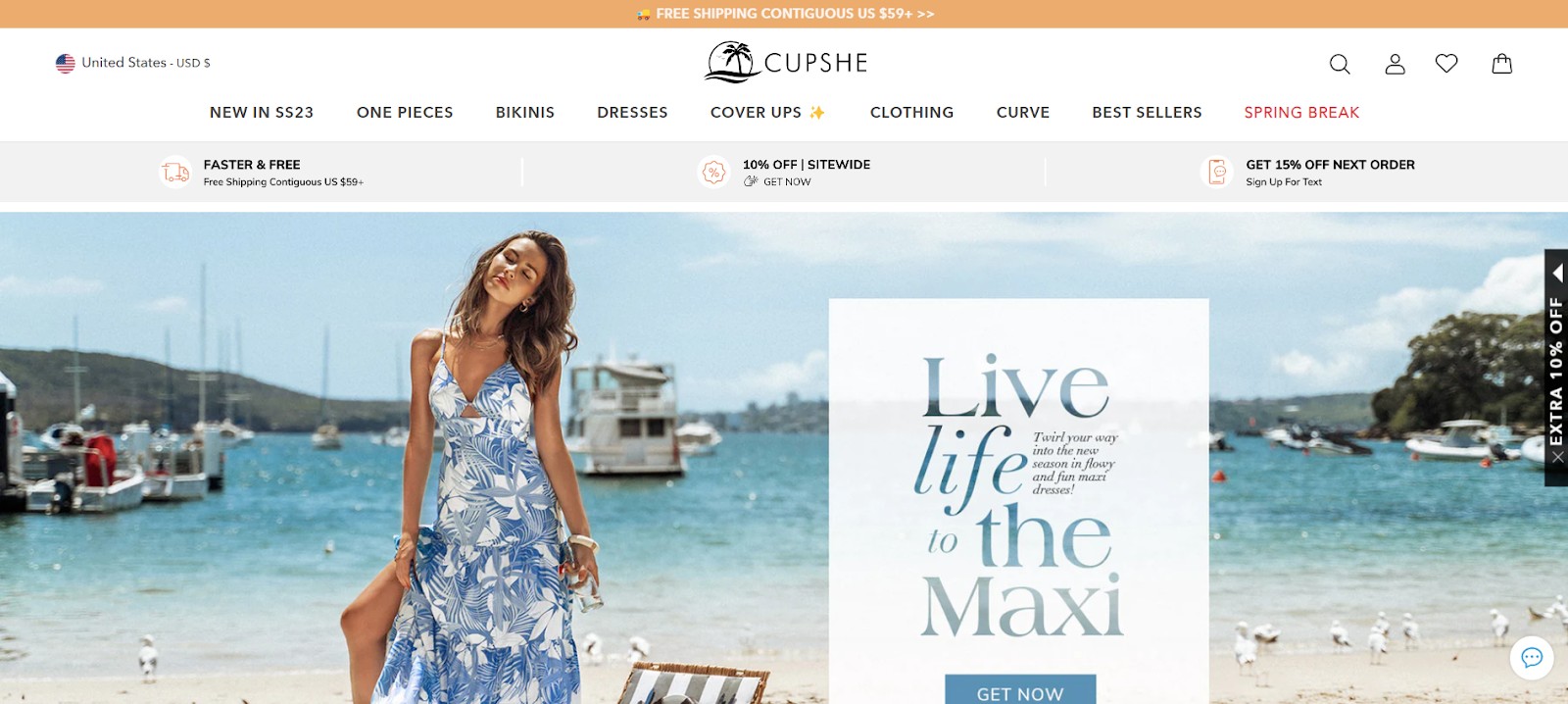 Cupshe operates primarily through its online store, which is built on the Shopify platform. The store features a simple and easy-to-use interface that makes it effortless to navigate and find the products you're looking for. Customers can filter their search results by color, size, and style, and can also read reviews from previous customers to help them make a well-informed purchase decision.
Wazo Furniture
Wazo Furniture is a Canadian-based company that specializes in selling modern and contemporary furniture pieces. It is positioned to be Canada's number one furniture store, offering stylish home mid-century modern and industrial furniture at affordable prices. Founded in 2016, the company has since expanded its collection of furniture to include a wide range of products, including sofas, chairs, dining sets, bedroom furniture, and home decor.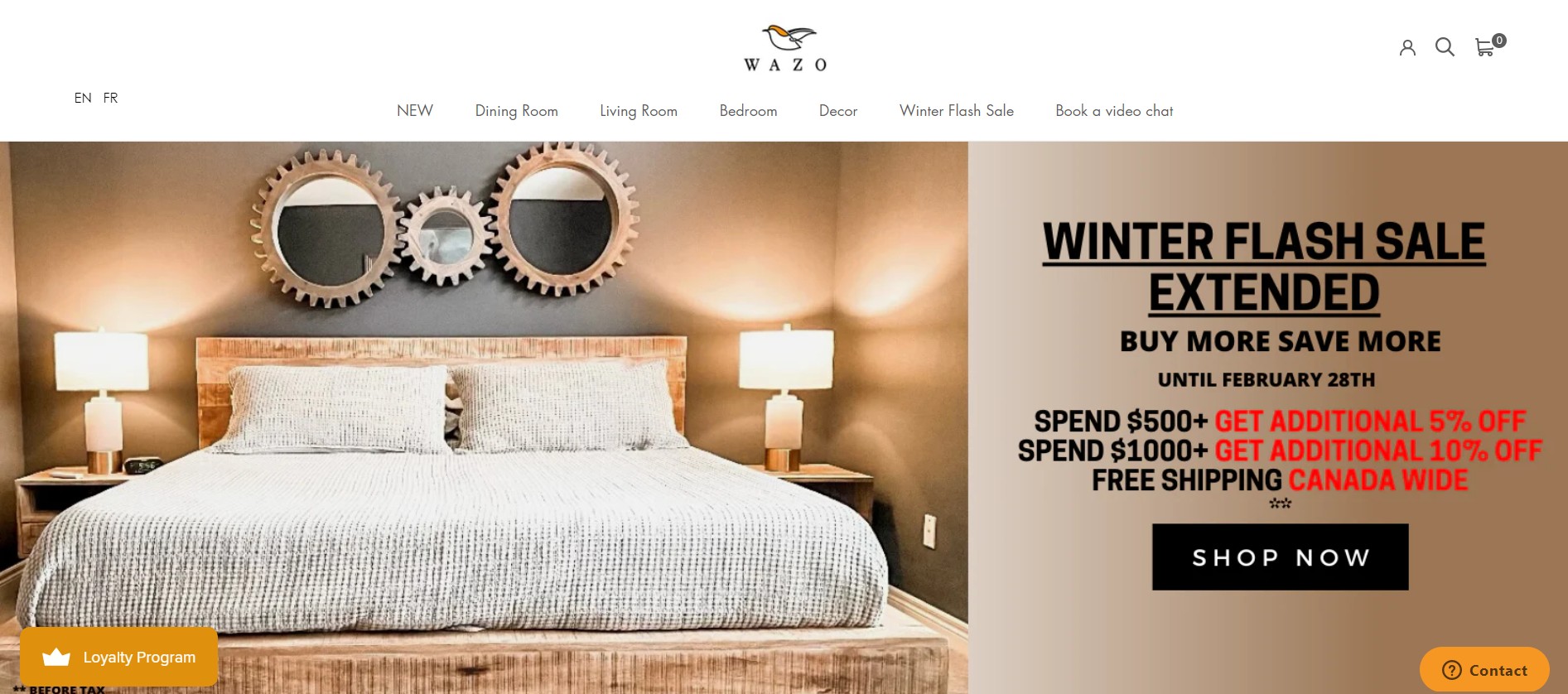 The retail brand has two offline stores, located in Montreal and Toronto, offering customers the opportunity to see and touch the furniture pieces before making a purchase. But Wazo's main focus is the online store, which is built on the Shopify platform and offers a user-friendly interface that makes it easy for customers to browse and shop for furniture. The store is organized into categories, making it easy to find specific types of furniture, and each product page includes detailed information about the item's features, materials, and dimensions.
Wazo Furniture offers free shipping on most orders, and they also have a 30-day return policy to every customer. They accept various payment options, including credit cards, PayPal, and financing through Affirm – Canada's leading installment payment platform.
Generally, Wazo Furniture is a reputable and eco-friendly furniture company that offers a wide variety of modern and contemporary designs. Their online store is easy to navigate, and they are committed to sustainable materials and manufacturing practices. This set them apart from other furniture retailers.
Vitaly
Established in the year 2011 and based in Toronto, Vitaly, or Vitaly design, produces mainly engineered accessories using stainless steel, which is claimed to be the most recycled material. Each Vitaly piece may therefore contain scrap metals. These scrap metals are remnants of machines, skyscrapers, or car parts. This continually influences their design practice. They have retail stores located in Toronto and LA, which help customers to come and experience the beauty of their designs in a display.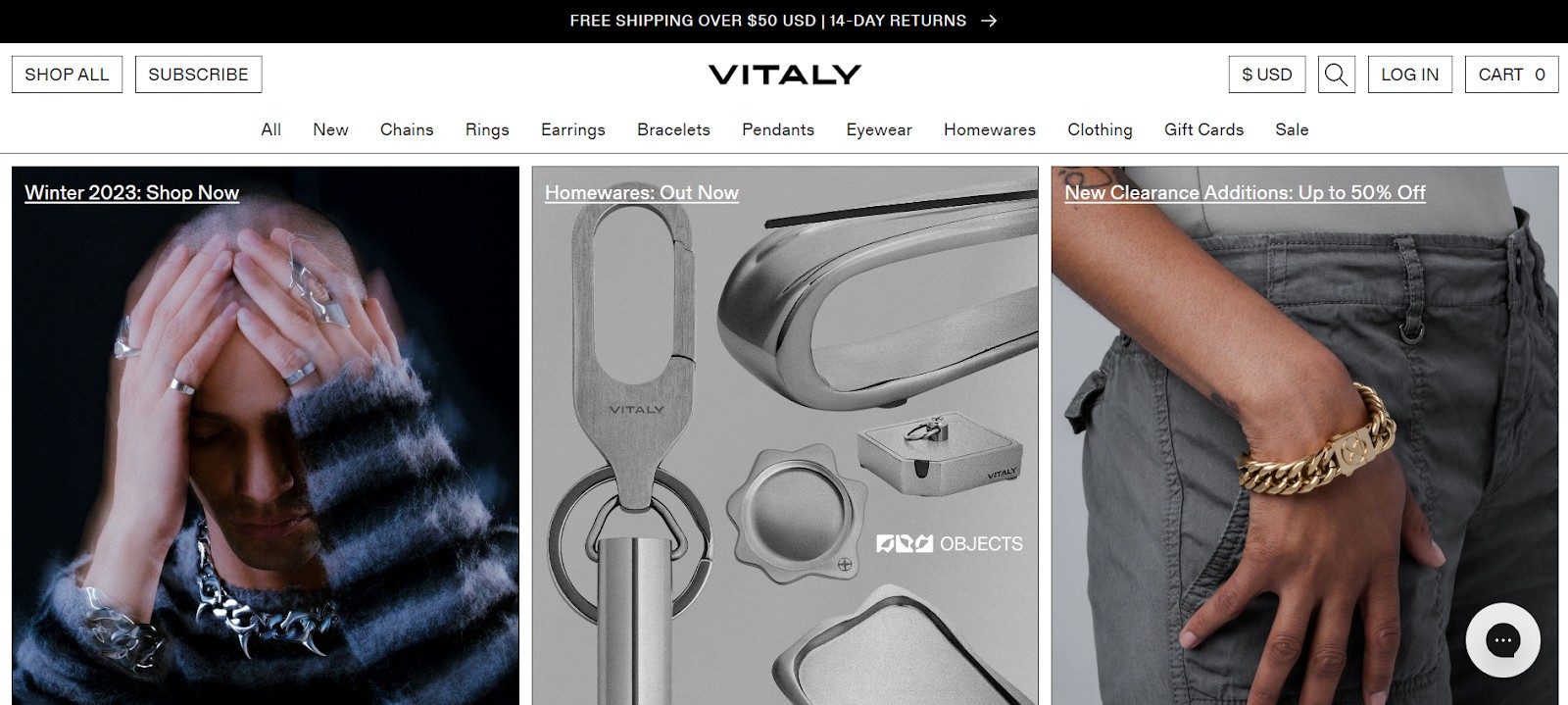 Vitaly has really embraced its future and genderless style when designing its Shopify stores. Their images are crafted to fit a modern, and stylish clientele. Their Instagram feature where customers can shop what the models are wearing is also a plus when serving young, hi-tech people. The store is organized into categories, making it easy to find specific types of jewelry accessories, homewares, or clothing. Each product page includes detailed information about the item's features, materials, and sizing.
Clocks and Colours
Each Clocks and Colours's sterling silver ring, pendant, and bracelet is designed in Toronto, Canada, and hand-carved in Bali by master silversmiths. Their products are designed with the quality to survive bar fights and uncontrolled skids. Each piece is a unique and edgy statement for their owner to show their personality. Clocks and Colours' designs are inspired by a range of global influences, including rock music, art, and culture. Its headquarter is in Toronto, ON, Canada.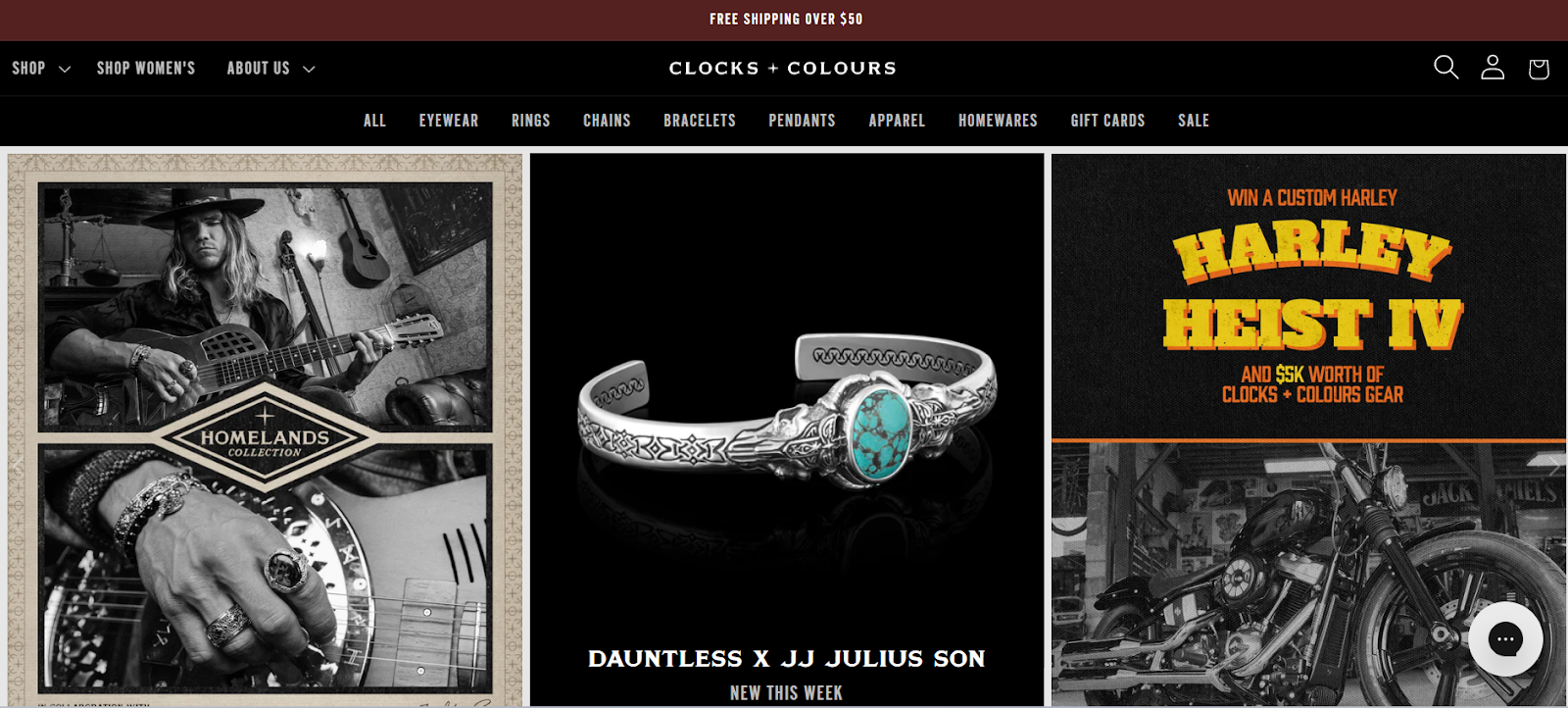 They don't have a physical store at the moment, but if there is any problem with the product, customers can easily follow their return policies on their Shopify store. The store really showcases Clocks and Colours as a reputable jewelry brand that offers a wide variety of unique and edgy designs for men. Their store is easy to use, and their commitment to high-quality materials and craftsmanship makes a difference and sets them apart from others.
Staples Canada
With headquarter in Richmond Hill, ON, Canada, Staples Canada belongs to a famous retail brand from the United States. This world's largest office products company is committed to making it easy for customers to buy a wide range of office products, including supplies, technology, furniture, and business services. Therefore, when entering Canada, Staples rapidly opened many stores across Canada. As of September 2021, Staples Canada operates 300+ stores across Canada. These stores are the perfect place for business essentials, back-to-school haul, office supplies, and more.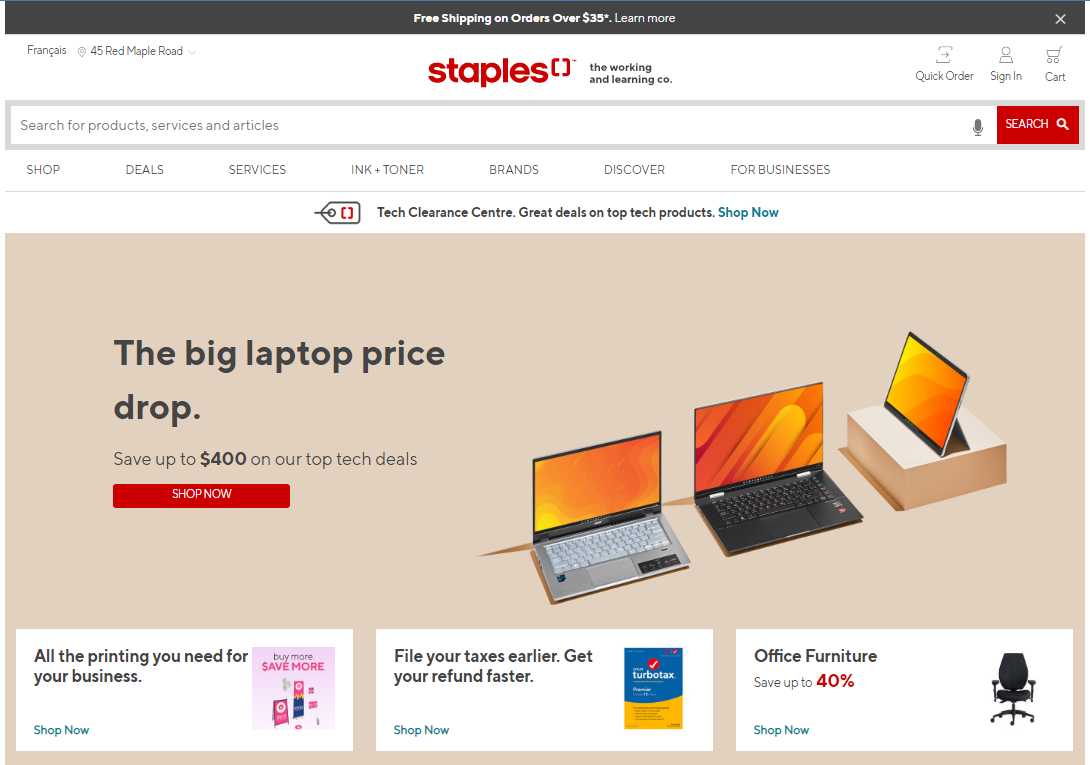 Staples is loved by their customers due to the fact that it carried a vast number of products at a cheaper price tag, more than other competitors. This is also indicated clearly in their Shopify stores, which not only serve as a place where customers can read more about product details but also a dynamic online store with a number of private discounts. Staples also includes a few services on their online channel, such as office furniture installation and workspace design. Staples offers a rewards program that allows customers to earn points on purchases that can be redeemed for discounts on future purchases, with their policies on fast free delivery, curbside pickup, and easy returns. This helps customers to be assured when shopping with Staples.
Maiwa
Maiwa's story started in 1986 when Charllotte Kwon founded the company. They contain a retail store on Granville Island in the heart of Vancouver, a School of Textiles, a Foundation, and a substantial online presence. They are partnering primarily with artisans in India to create a large variety of natural dyes, plant indigo, textile art supplies, organic blanks, bandanas, scarves & shawls, and hand-block printed fabrics. Maiwa's slow clothes & sustainable bedding lines are naturally dyed, featuring handwoven cloth, organic cotton, linen, and wild silk, which are ethically made on a small scale.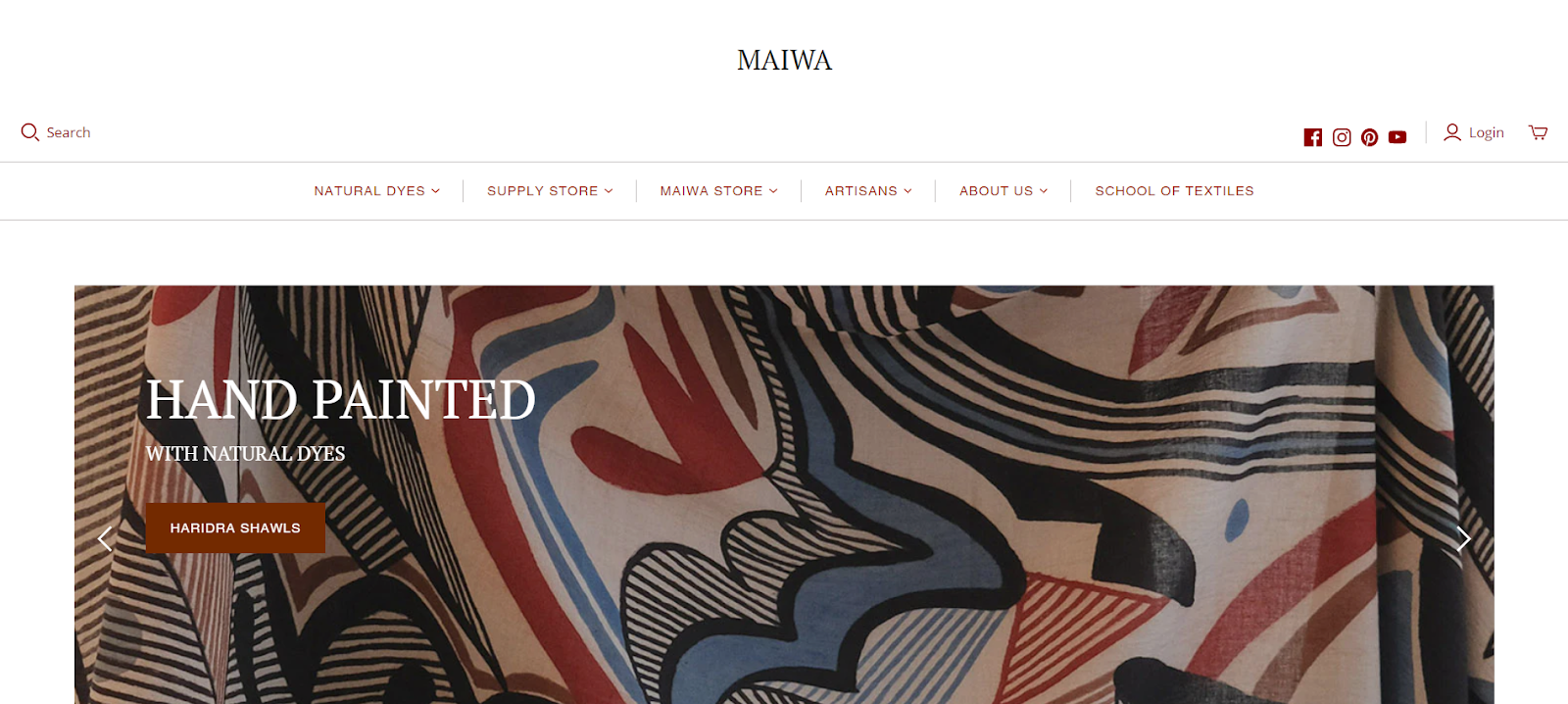 Alongside their social media, their online presence is also made up by their Canada Shopify store. Maiwa provides a large range of unique and one-of-the-kind products in their store to create options for customers. More than that, their online store really tells the story of them, a brand committed to sustainability and ethical business practices. It showcases that they work closely with their suppliers to ensure that their products are produced in a socially and environmentally responsible manner. They also support a range of charitable organizations and initiatives that promote sustainable and ethical practices in the textile industry. This story is very resonated with its clients.
Nella Online
This is Nella Cutlery Toronto's online store, powered by Shopify. Nella Cutlery Toronto is Canada's leading restaurant equipment and restaurant supply store. They have been serving food service businesses across Canada since 1951. Their clients include mostly food vendors, supermarkets, delis, convenience stores, schools, casinos, restaurants, hotels, cafés & bars, and even industrial food processing companies. They import, manufacture, and distribute a full line of restaurant equipment and supplies, which come with both pickup and delivery options.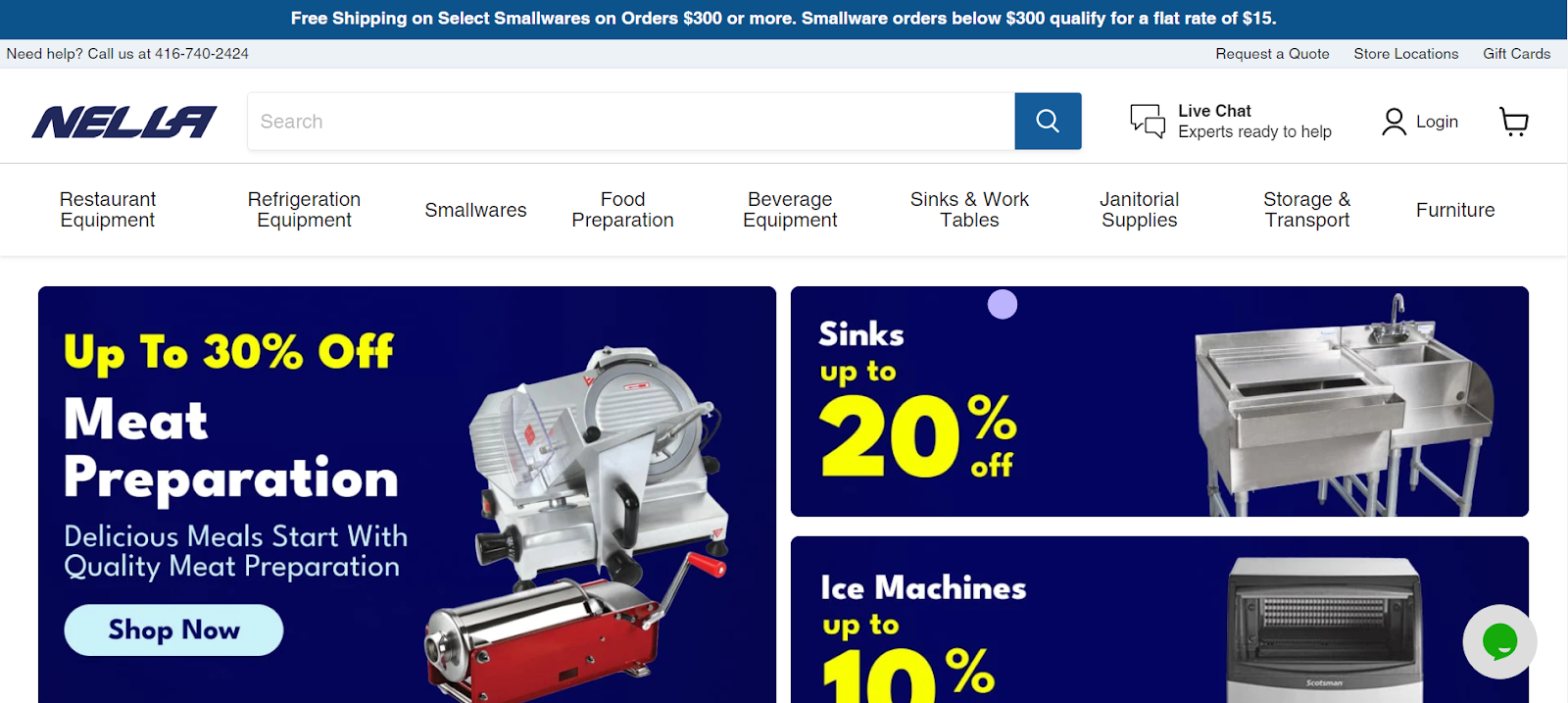 Nella carries many top brands and thousands of products available for purchase online. In addition to that, Nella Online offers a range of services to help B2B customers manage their restaurant operations. These services include equipment installation and repair, commercial kitchen design, and custom fabrication services.
The Brick
The Brick is another worth-mentioning Shopify store in Canada. Starting in 1971 as a single furniture store in downtown Edmonton, over 50 years, they are now having +200 stores from coast-to-coast. The Brick is proud to have maintained the charitable and customer-first attitude it had when it first opened.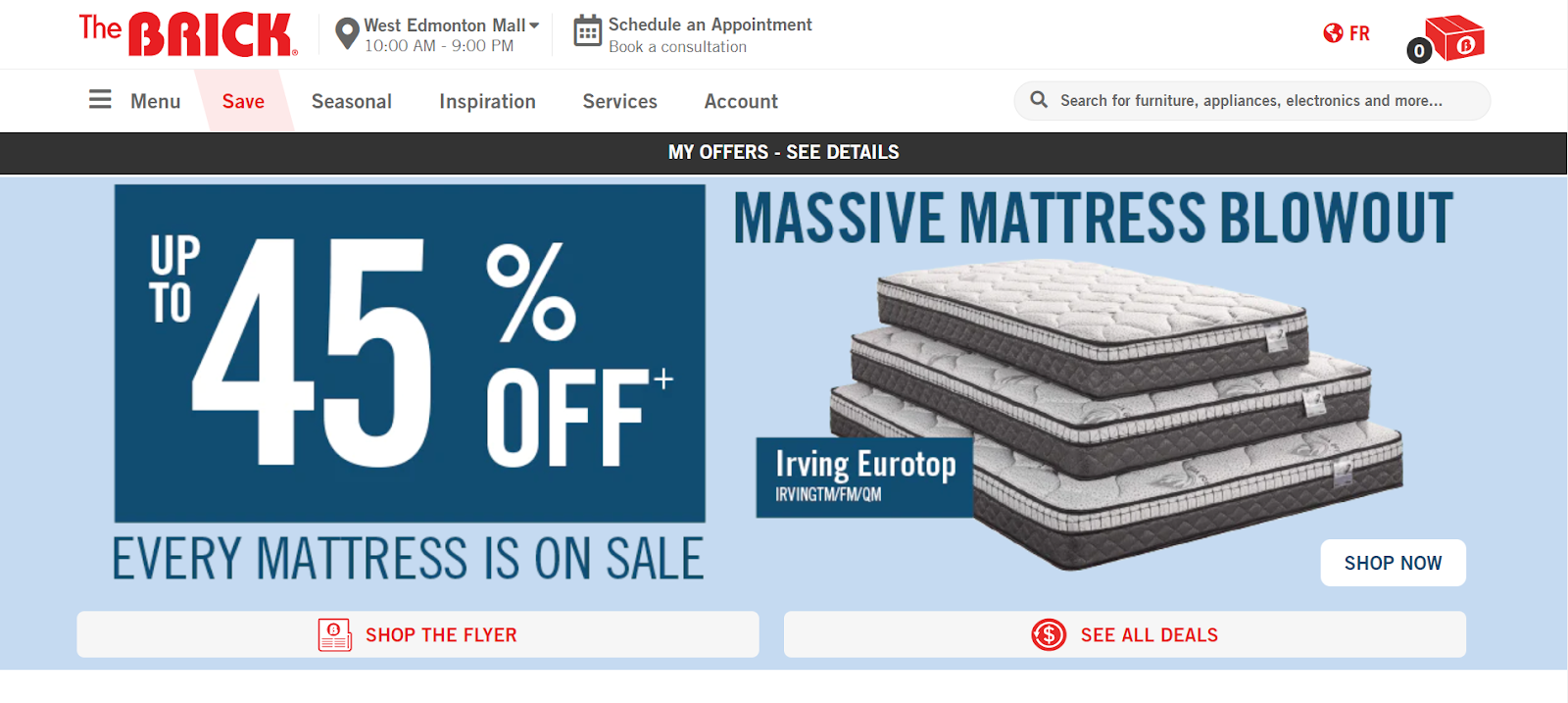 With the slogan Saving You More at The Brick, their Shopify shop comes with great deals on furniture, mattresses, appliances, TVs, and electronics. This is displayed loud and clear on the online store.
Inkbox
Inkbox is a company that specializes in creating temporary tattoos that can last for up to two weeks. Their tattoos are made from a special ink formula that reacts with the skin's top layer to create a natural-looking, long-lasting tattoo that fades over time.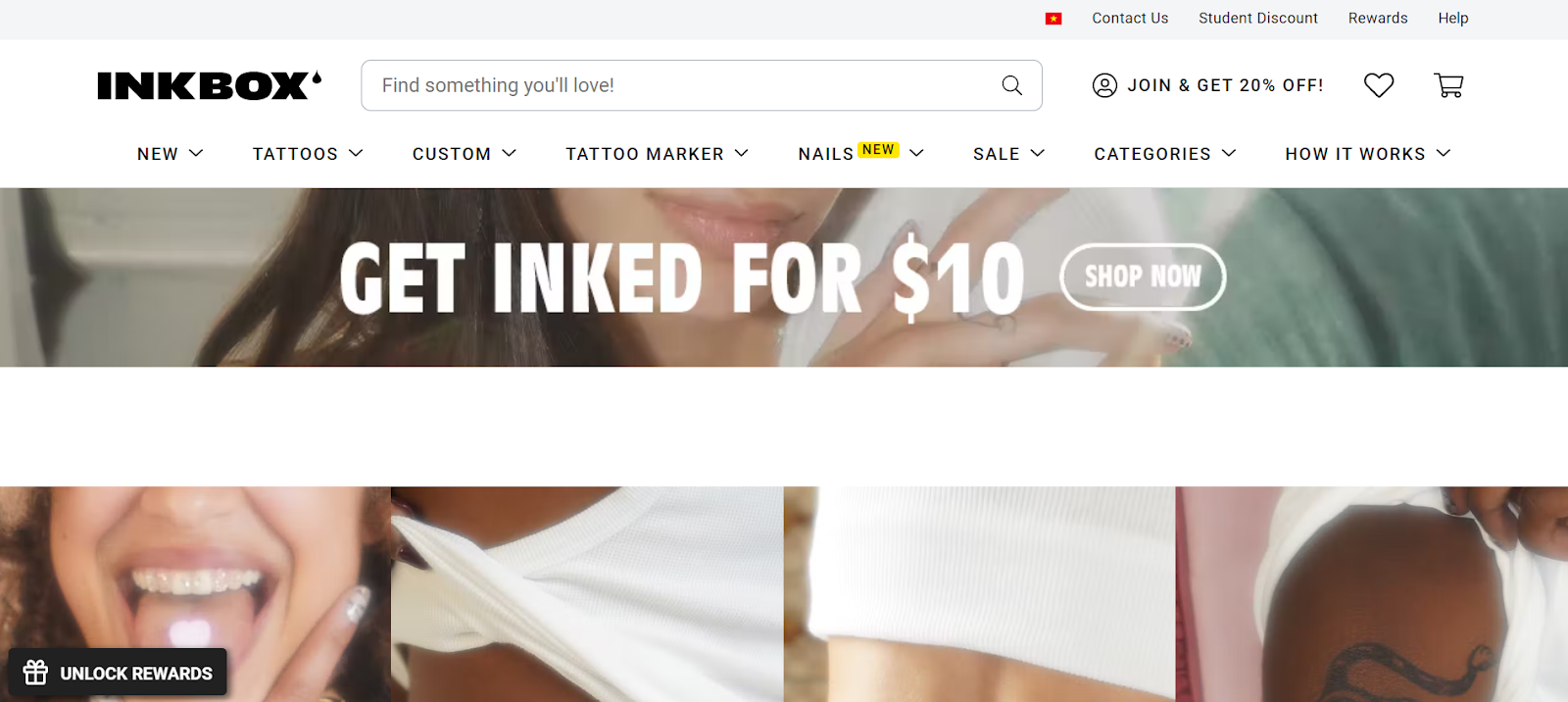 Together with a bright and cheerful image, Inkbox's Shopify store is well-designed and easy to navigate. The store features a variety of tattoo designs, ranging from minimalist to intricate, and allows customers to filter their search by style, size, and category. Each product page includes multiple high-quality images of the tattoo design, as well as detailed descriptions of the product and its application process. Customers can also leave reviews and ratings of the products, providing social proof and helping others make informed purchasing decisions. Inkbox's Shopify store also includes useful features such as an FAQ section, a blog, and customer support options, making it easy for customers to find answers to their questions and get help when needed.
Wayfair Canada
Along with other furniture retail brands that have been mentioned, Wayfair Canada is also very popular among Canadians. It is the Canadian branch of Wayfair and offers a zillion home goods, ranging from kitchen to dining items, bedding, lighting, and more, across all styles and budgets.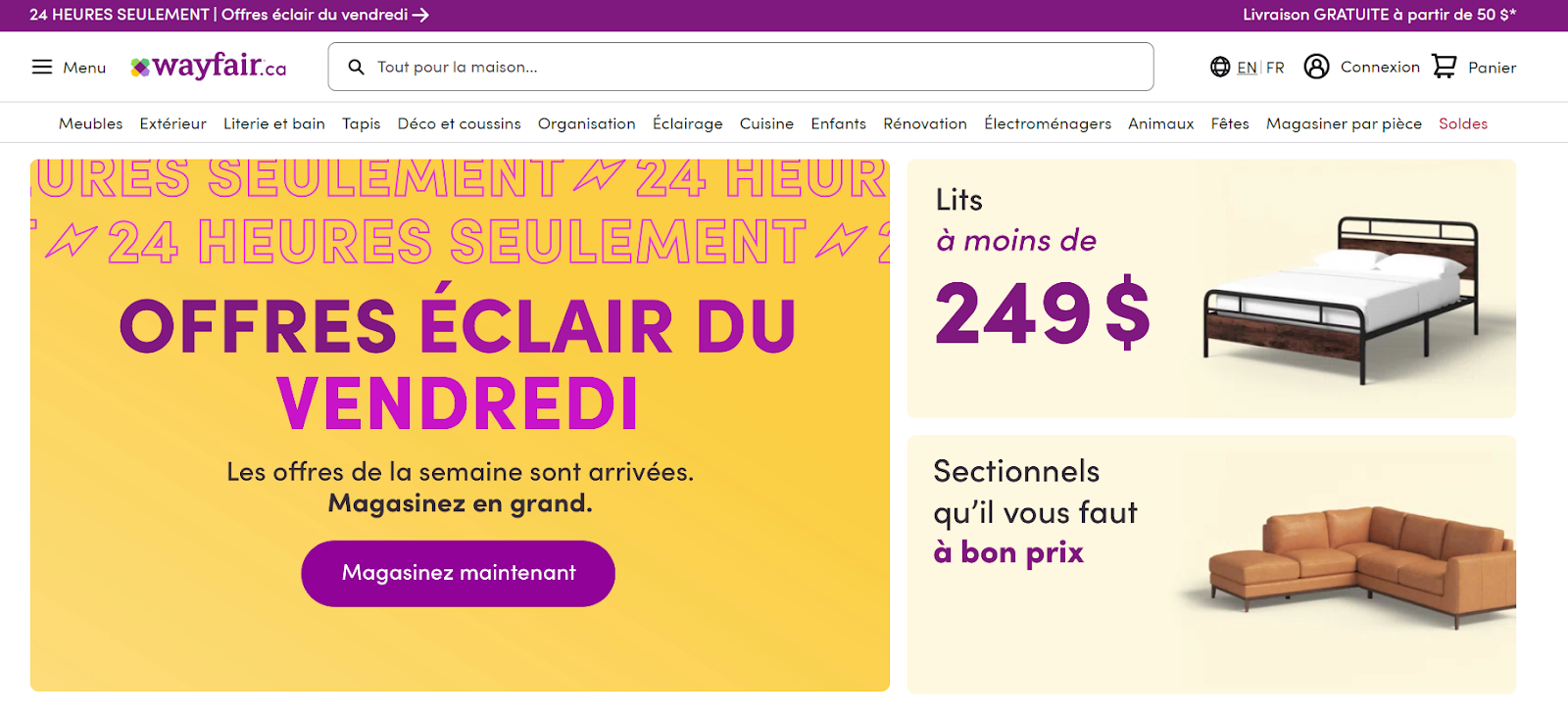 They work with 5,000+ brands, which required a lot of categorizing, which Shopify's platform is good at. Wayfair is free shipping on most items and also offers a great return policy. Additionally, Wayfair Canada provides a platform for customers to leave reviews and ratings of the products they have purchased, helping other shoppers make informed choices.
Canada Post
Canada Post is a great case study about Shopify in Canada. As the primary postal service provider in Canada, and owned by the Canadian government, it provides many services which include mailing letters, shipping parcels, marketing your business, and selling online for individuals and services for businesses of all sizes. The corporation was founded in 1867 and operates a vast network of postal facilities, including +6,200 post offices and retail locations across the country.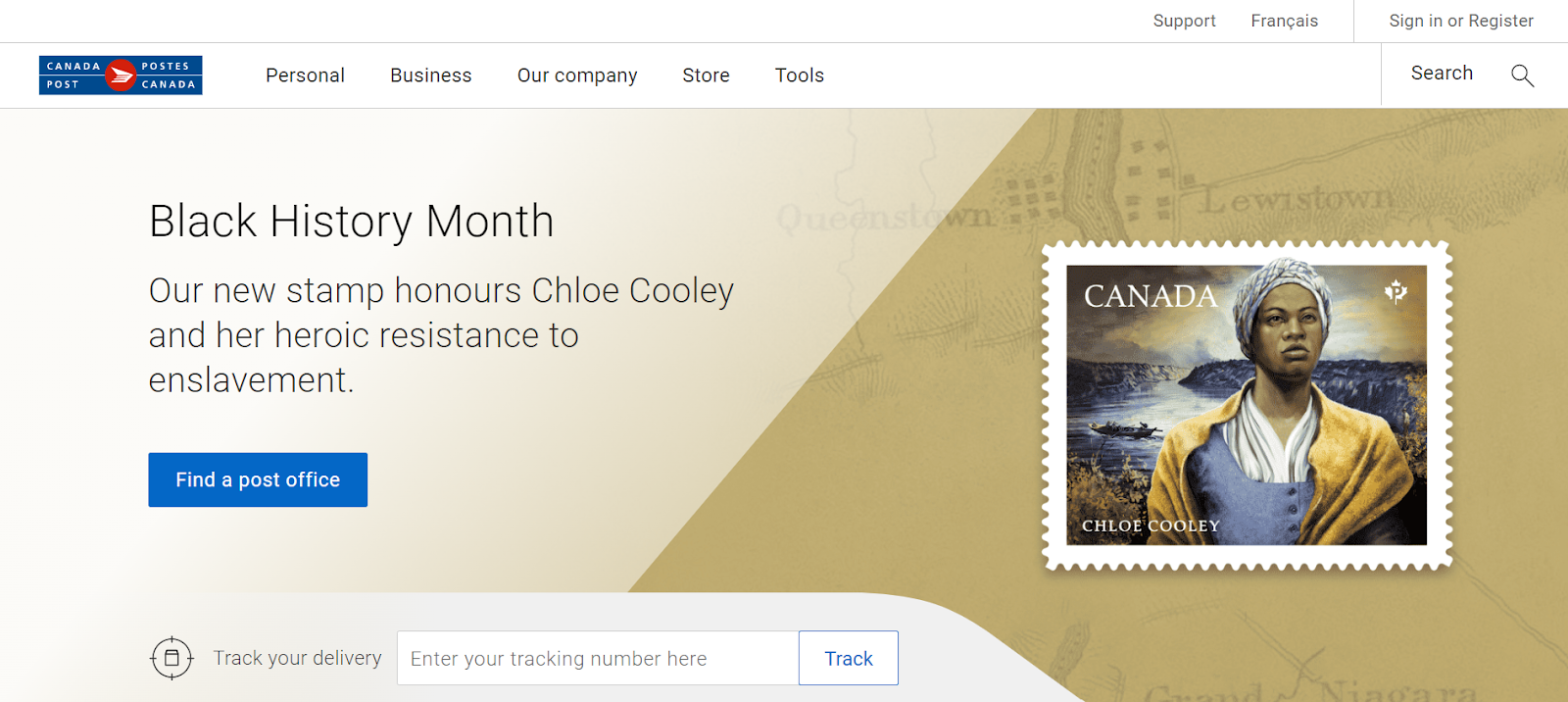 Canada Post has made significant investments in technology and infrastructure in recent years, including investing in its Shopify store. Their Shopify app allows customers who have a Shopify store to integrate Canada Post's shipping services into their online stores. The app provides a range of shipping options, including domestic and international shipping, expedited and priority shipping, and parcel tracking. With the app, store owners can create shipping labels and print them directly from their Shopify account, saving time and streamlining their shipping process.
The current statistic of Canadian Shopify stores
Shopify's growth in Canada
Over the past 5 years, the number of active Shopify stores in Canada has been quintuple. From nearly 2,000 stores in the first quarter of 2017 to 10,000+ stores by the end of 2022.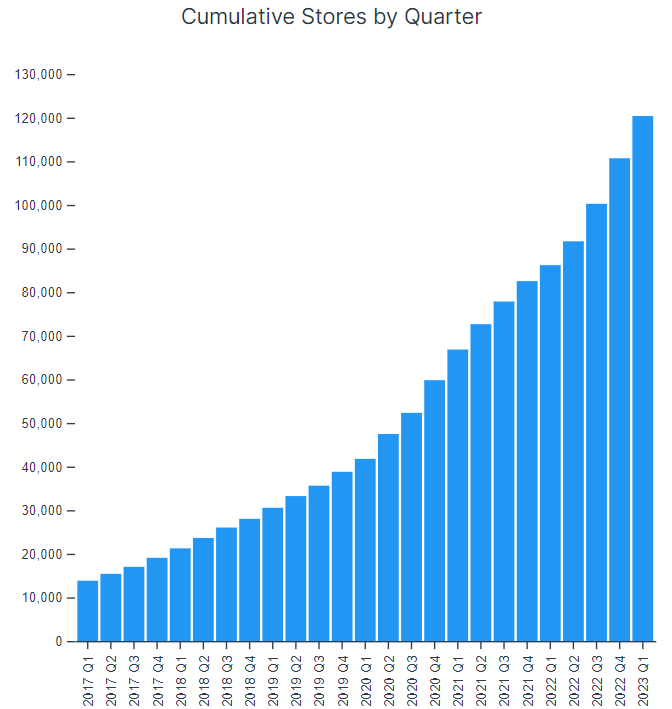 Best-selling categories on Shopify in Canada
In Canada, the top 3 categories best-selling on Shopify are Apparel products (27,600+ stores in Canada), Home & Garden (nearly 16,000 stores), and Beauty & Fitness (nearly 12,000 stores).
Social media usage on Canadian Shopify stores
In Canada, Shopify stores utilize social media platforms to interact with a vast number of consumers. Among these platforms, Instagram and Facebook are the most popular choices for eCommerce stores due to their enormous number of users, followed by Twitter, Pinterest, and YouTube. Specifically, more than half of the Shopify stores in Canada, which is 62,000+ stores use Instagram, while 51,000+ stores use Facebook. A smaller percentage of stores, which is roughly 10,000+ stores, use Twitter, Pinterest, and YouTube.
Contact information on Shopify stores in Canada
In Canada, nearly 64,000 Shopify stores have an email on their website, while 36,000+ stores provide a phone number on their website.
Number of Shopify Plus Stores in Canada
1,600+ stores use Shopify Plus in Canada.
Provinces with the most Shopify stores in Canada
In Canada, Ontario is the province with the most Shopify stores with 56,000+ stores. Following are Quebec and British Columbia, with roughly 20,000 stores each. Alberta has nearly 12,000 stores. The rest are under 3,000 stores.
Cities with the most Shopify stores in Canada
The top 3 cities in Canada with the most Shopify stores are Toronto (nearly 17,000 stores), Montreal (8,000+), and Ottawa (7,000+).
Top shipping carriers for Shopify in Canada
Canada Post is by far the top shipping company for Canadian Shopify with 14,600+ stores due to the fact it's the primary postal service provider in Canada and owned by the Canadian government. USPS and UPS come second with roughly 4,800+ stores. The third is FedEx with nearly 3,500 stores.
Top domain distribution for Shopify stores in Canada
.com is the most common top-level domain, by far, for worldwide Shopify stores. And this is the same in Canada, 80,000+ stores use .com. While 33,000+ stores use the Canadian domain .ca.
Advantages and disadvantages of setting up an eCommerce store in Canada
Advantages of setting up an eCommerce store in Canada
Canada is a perfect location for opening an eCommerce store. It has a large market, with a population of 38+ million people, and a strong and stable economy. The Canadian government also provides various programs and support for small businesses, including eCommerce stores, which can help with funding, research and development, and export opportunities. More than that, Canada has one of the highest internet penetration rates in the world, with over 99% of the population having access to the internet. This provides a significant opportunity for eCommerce businesses to reach a broad audience.
Disadvantages of setting up an eCommerce store in Canada
Canadian market does have a few disadvantages like high shipping costs, high competition, Canadian customs & taxes, and its weather. Shipping products to and from Canada can be expensive due to the country's vast size and distance from other countries. More than that, eCommerce is a highly competitive industry in Canada, with many established players in various niches. Additionally, Canadian customs and taxes can be complex and time-consuming, which can lead to delays and additional costs for eCommerce businesses. Finally, Canada experiences harsh winter weather conditions that can make transportation and logistics difficult for eCommerce businesses, especially those with physical products.
In conclusion,
To be able to operate a Shopify store in Canada properly, store owners not only need to understand all the advantages and disadvantages, but they also need to have these few things. First, it's required to have at least 2 language versions for your website, French and English are common. You must also provide a simple and easy-to-navigate interface with high-quality images that present your brand position. Lastly, having several options for payment and shipping is very helpful for first-time customers while choosing your products or services.
Operating an eCommerce business in Canada can become quite challenging, but Magenest is here to help. From providing Shopify website development services to helping you optimize and maintain it, we can do it all. Let's connect with us right now to scale up your business easily.