Are you looking to start a dropshipping business but don't know where to begin? Shopify is one of the leading eCommerce platforms, offering an easy and efficient way for entrepreneurs to set up their Shopify dropshipping stores.
In this blog post, we are going to provide an insightful overview of how you can create a successful Shopify store using dropshipping – including examples of successful Shopify dropshipping stores. With our in-depth tips and insight into best practices for running your own store, you will be well on the way toward taking your enterprise from concept to reality!
Definition of a dropshipping business
A third-party dropshipping firm manufactures, stores, and ships goods that are sold by an online retailer using the dropshipping business model.
In a dropshipping business model, an online retailer would buy a single item upfront, straight from the manufacturer, and then wait to pay with the customer's credit card. This would replace the practice of buying vast amounts of goods from a supplier.
For new business owners, dropshipping offers a ton of benefits. If any, you won't have much staff while your company is just starting off. By handing off order fulfillment to a third party, you can free up time to concentrate on marketing, customer service, and building your brand.
10 examples of top Shopify dropshipping stores
Biko
Biko is a trendy and fashionable jewelry brand that has gained popularity for its unique and contemporary jewelry designs. Based on the information available up to September 2021, Biko is known for its distinct pieces that blend modern aesthetics with a touch of nostalgia. The brand offers a wide range of jewelry items, including necklaces, bracelets, earrings, and accessories, each crafted with attention to detail and a focus on style.
Biko offers a variety of trendy jewelry pieces, from necklaces to bracelets, appealing to a fashion-forward audience.
Fashion Nova
Fashion Nova is a popular and influential fashion brand that has gained widespread recognition for its trendy and affordable clothing and accessories. Founded in 2006 by Richard Saghian, Fashion Nova has made a significant impact in the fashion industry, particularly in the realm of fast fashion and online retail. The brand has leveraged social media, celebrity endorsements, and a rapid production model to become one of the most recognizable names in the fashion world.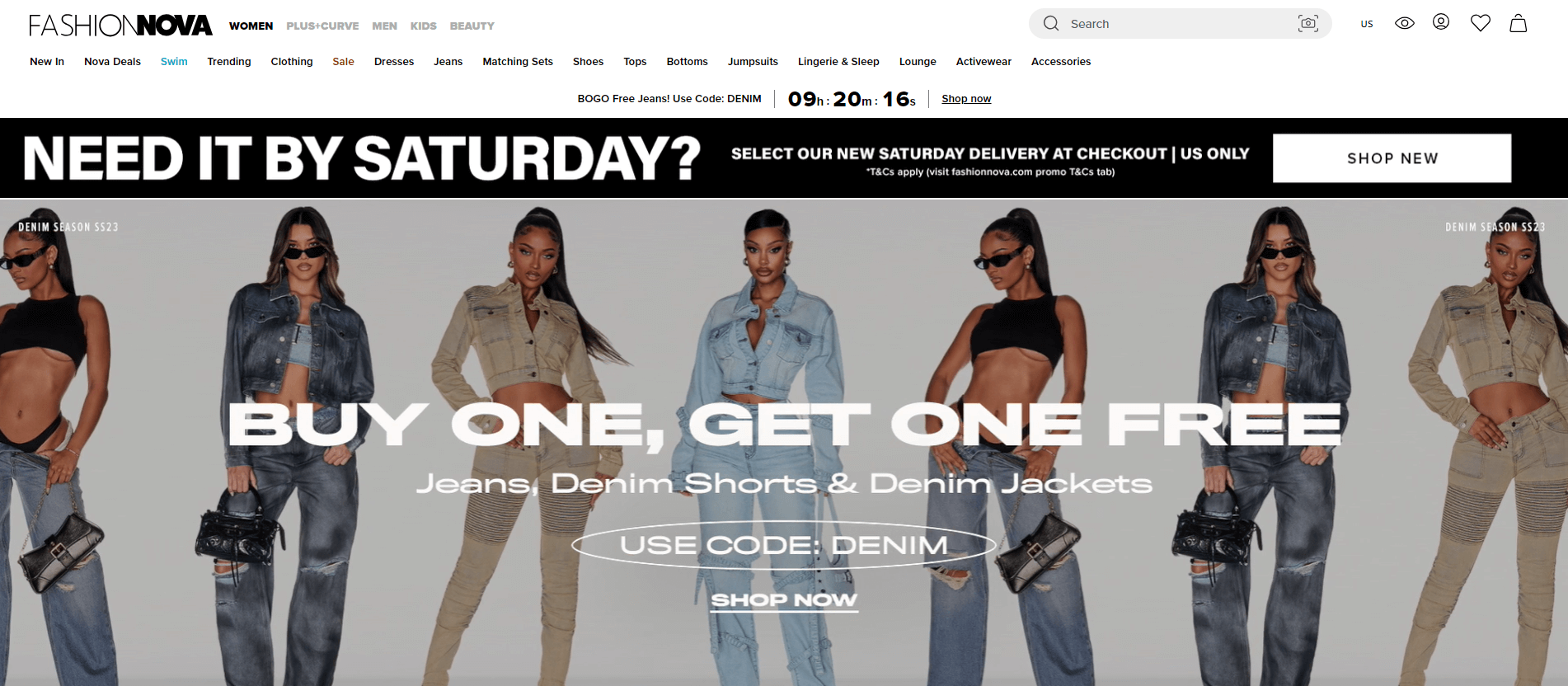 It's important to note that while Fashion Nova has enjoyed significant success, it has also faced criticism regarding its production practices, labor conditions, and sustainability. The fast fashion industry as a whole has been scrutinized for its environmental impact and ethical concerns.
Warmly Decor
Warmly Décor is one of the top Shopify dropshipping stores for home decor items. As a result, their product line comprises accessories for the furniture, bathroom, and lighting markets. The most costly item in their product line is $9000, while the least expensive is $9.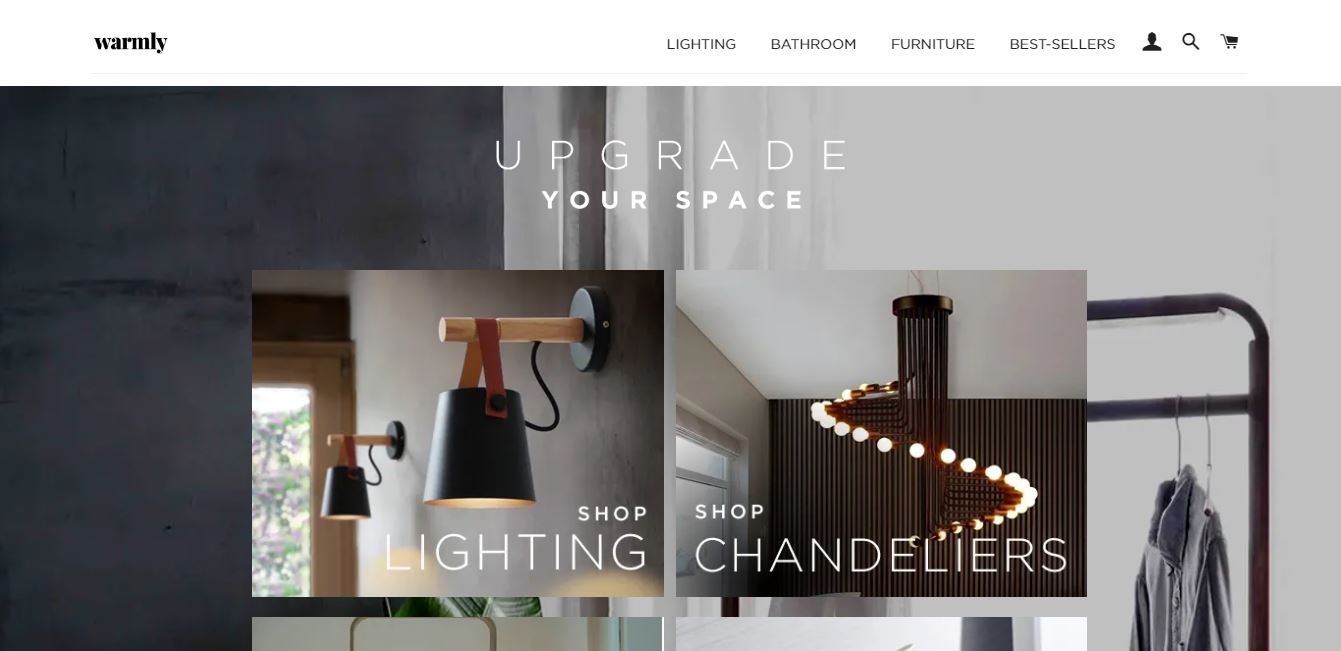 Essentially, Warmly Décor's logo and concept are created to advertise luxury home decor products. Warmly Decor delivers an attractive impression to its consumers by using a unique Shopify theme.
Additionally, a little popup advertisement for what other customers are purchasing from their website is visible on their website. This informs consumers about popular items and encourages viewers to buy them.
Notebook Therapy
Among examples of Shopify dropshipping stores, Notebook Therapy sells notebooks and other writing supplies.
The website has a tidy and expert appearance. No colored and flashing lights. Nothing to break the quiet, therapeutic mood.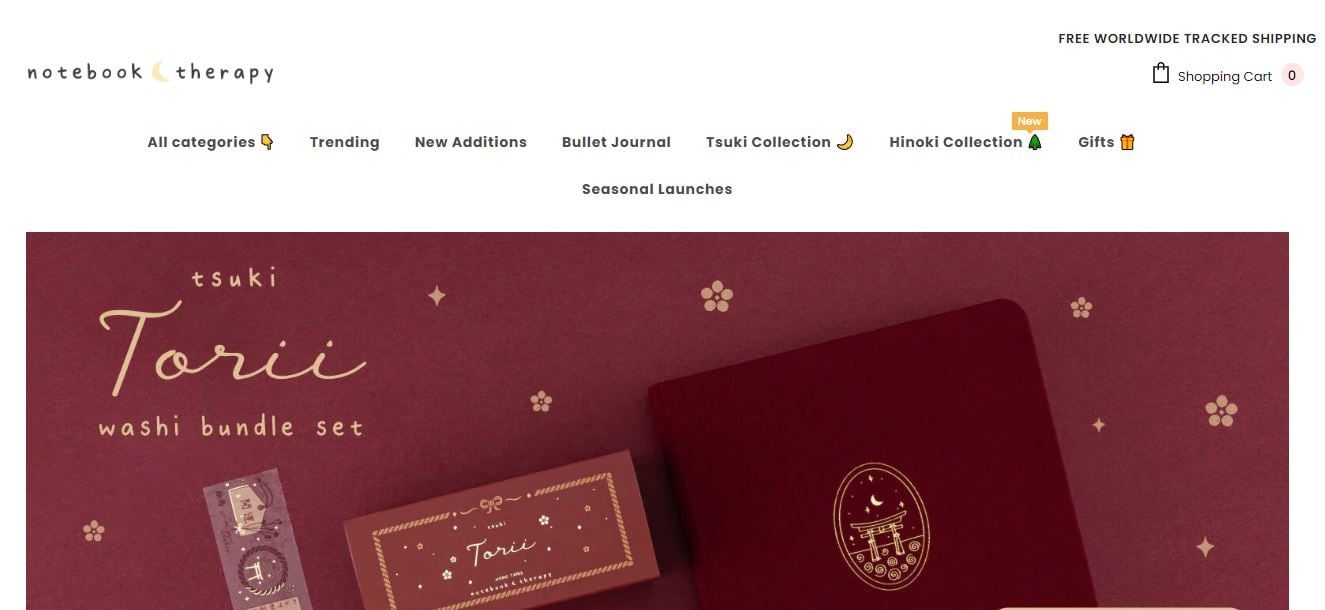 When it comes to building a successful eCommerce store, Notebook Therapy is doing everything correctly. They even have a blog that is updated often.
Additionally, they don't miss out on holidays, providing exclusive discounts and promotions when they happen.
Furthermore, their product pages are clear and concise, as they should be for this market.
Venetto Design
Venetto Design is one of the top Shopify dropshipping stores to learn from if we are dropshipping items from the home décor sector. This dropshipping shop offers bed linens, tableware, cutlery, carpets, and lights. Additionally, they exclusively concentrate on offering customers expensive goods.
The majority of the goods they offer are pricey since they are high-end goods. To be clear, high-ticket items are goods with selling values greater than $100. To attain a bigger profit margin on each transaction, we can transition to high-ticket dropshipping once we have gained some expertise.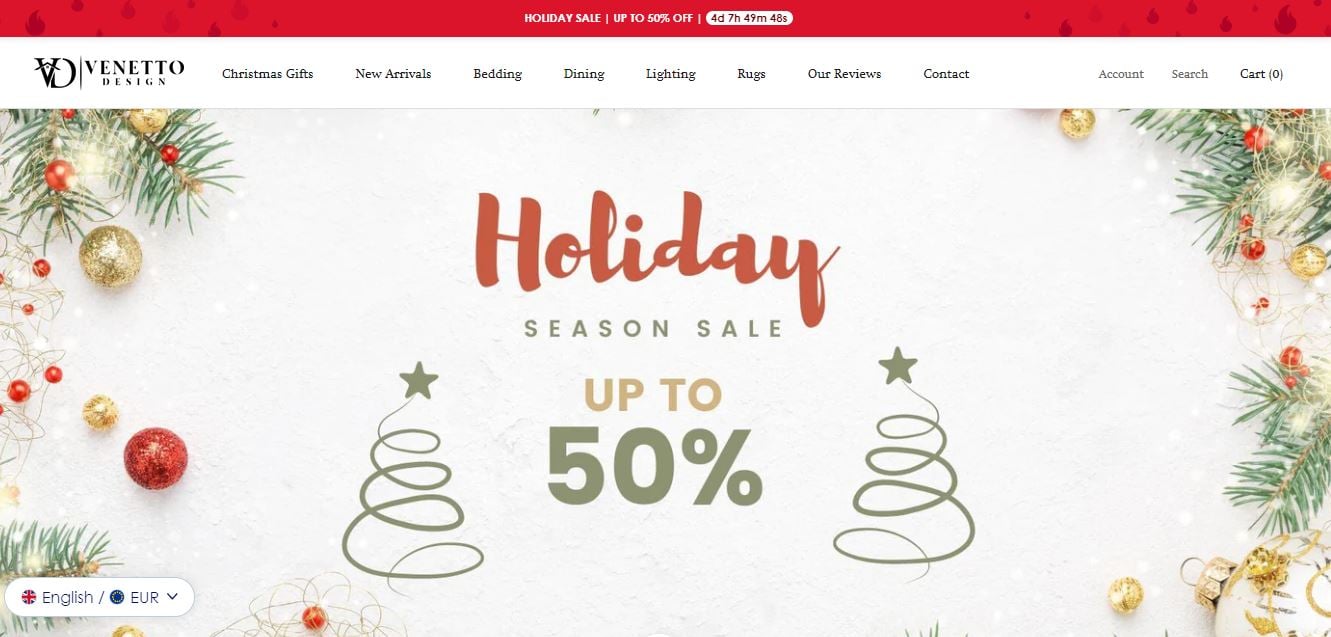 Venetto Design automates sales by using Candy Rack, an app that enables upselling and cross-selling to customers on our product sites. Additionally, they employ Vitals, a program that aids retailers in managing customer feedback, visitor replays, and currency conversion.
Also, Venetto Design makes advantage of the dropshipping app Klaviyo, which automates email marketing and communications. To be more specific, email marketing enables vendors to gather consumer emails for promotional purposes.
Twinkling Tree
Twinkling Tree – a dropshipping provider that offers a variety of living room and bedroom décor goods. Their product line includes outstanding lights in a variety of styles.
A popup that advertises a 10% discount on sign-ups is shown when we visit their store and is part of their email marketing plan. Sellers may use this method to gather consumer emails and utilize them to advertise new items.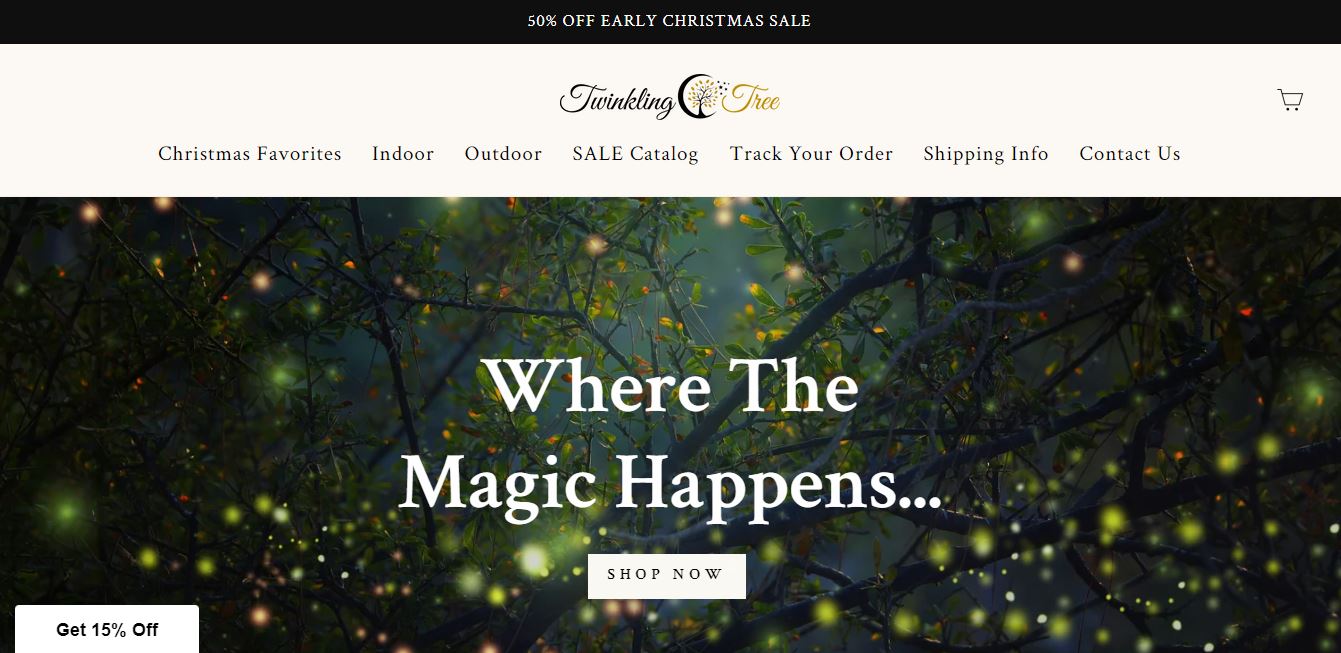 The website also offers order monitoring, so customers may check on the status of their orders without getting in touch with us. Additionally, Twinklingtress uses a green marketing technique to advertise its items. We can see catchphrases like "Buy a Lamp. Plant a Tree" on their product page.
Green marketing, in general, refers to a marketing approach whereby vendors promise to help the environment once consumers purchase their goods. On the one hand, it makes consumers more devoted to our brand. However, it raises the total profitability.
Meowingtons
One of the best Shopify dropshipping stores, Meowingtons sells things in the cat niche. This is what you get when you combine a humorous layout with well-known cat goods. Having said that, there are countless pet-related items and accessories available to us humans as well.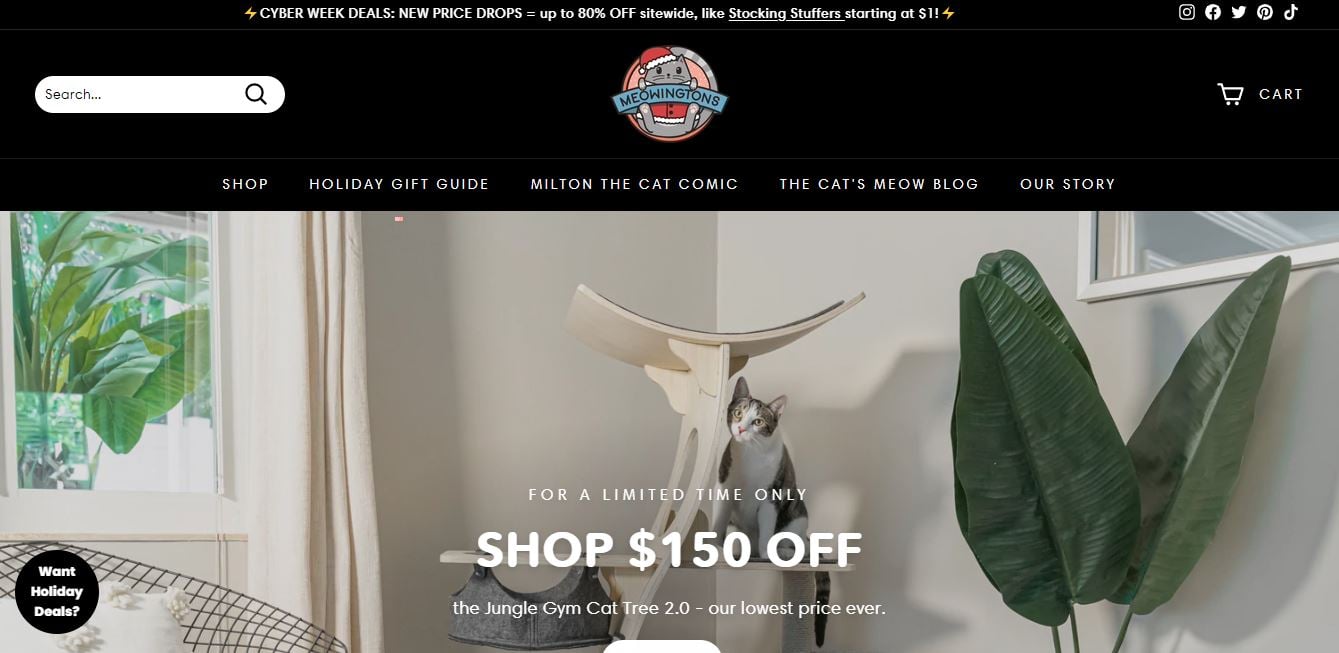 They employ gif animations on their product sites, which is another point worth highlighting. Sometimes animated gifs are more effective at communicating than still pictures. This is due to the fact that gifs are brief videos that may be used to illustrate the aspects of the items.
To further explain, Gif animations are used to demonstrate the functionality of the product. Images do a poorer job of showcasing a product's qualities than videos.
Optimalax
This Shopify dropshipping business provides a range of healthy body care goods. Optimalax offers a user-friendly website with a straightforward website design and easy navigation. We did some research and learned that they are utilizing the well-known "Debut" Shopify theme.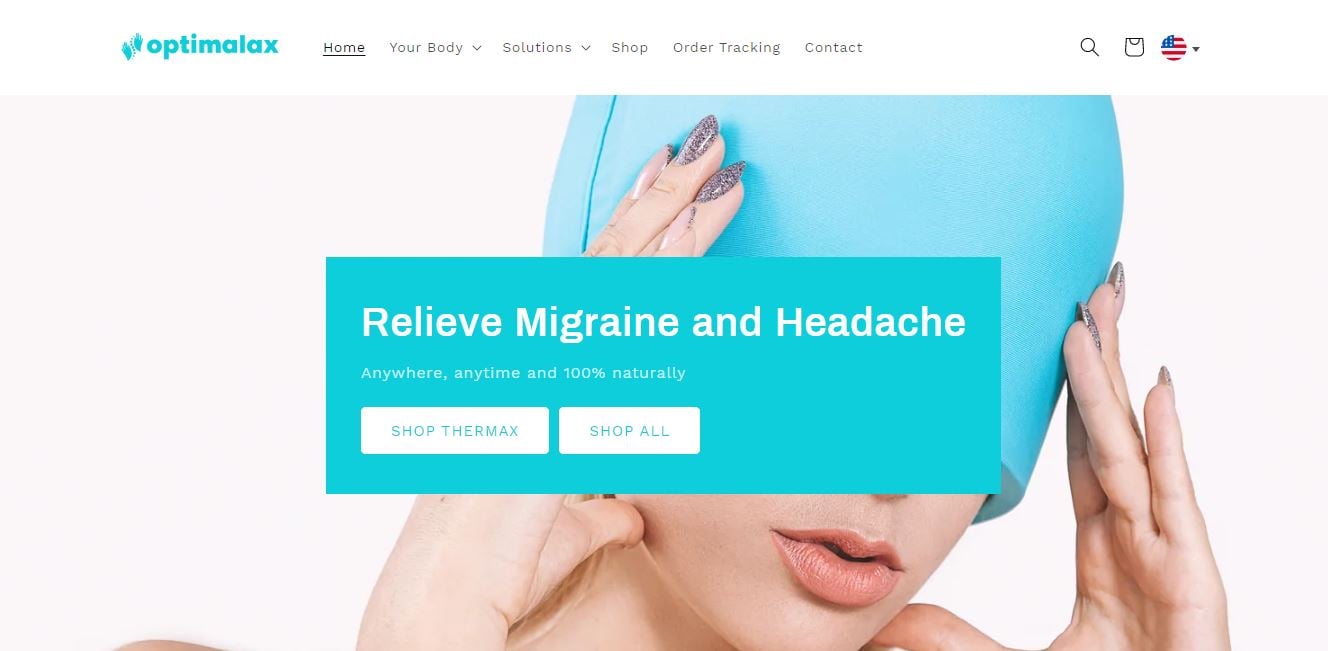 They also provide order tracking on their website. Additionally, while having a wide range of items, Thermax Hat and Thermax Pad are their two top sellers.
In a word, Gem Pages assists dropshippers in creating the landing page, the home page, and the product pages for their websites. We can increase our conversion rate by optimizing these pages. In addition to these applications, they also employ Facebook integration apps and Pinterest integration apps to advertise their products on various social media platforms.
Aesthentials
Aesthentials, originally SoAestheticShop, is a clothing store for young girls. Overall, the store has a particular feel that encourages people to buy things and express themselves. Aesthentials' website also has over 1000 goods, giving them plenty of space to find best-sellers within their large selection.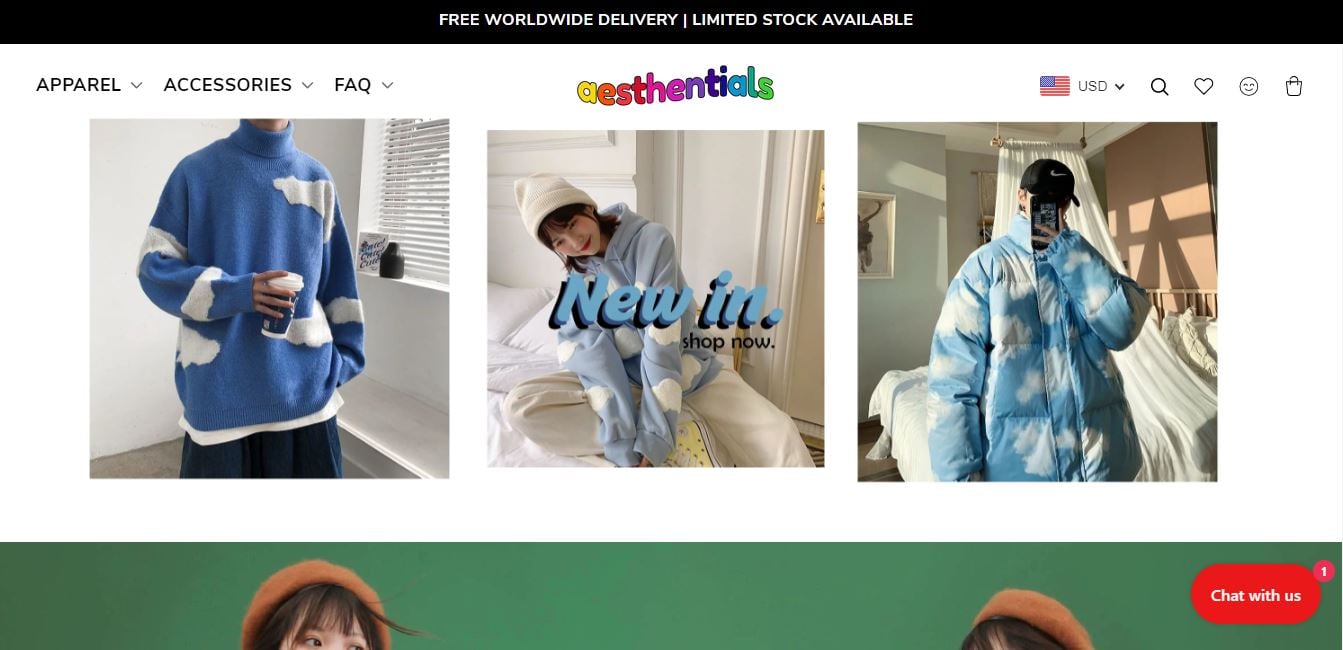 Aesthentials have a variety of traffic sources. Since 2017, Aesthentials has provided clothes to YouTube influencers, who drive the majority of their traffic. Although Aesthentials still uses paid traffic advertisements on Facebook and Instagram, the majority of their traffic is organic and predicated on their brand.
Sponsorship options for Instagram models with 2000+ followers aid in the promotion of the firm. Additionally, a designer initiative that offers extra distinctive designs from around the globe is also accessible.
Inspire Uplift
Inspire Uplift is an amazing example of a General Dropshipping Store. It has a well-designed homepage that connects to a variety of product pages. Customers may share images of their comments, which provides social evidence to assist drive sales. A support center is available to provide quick responses to any necessary queries.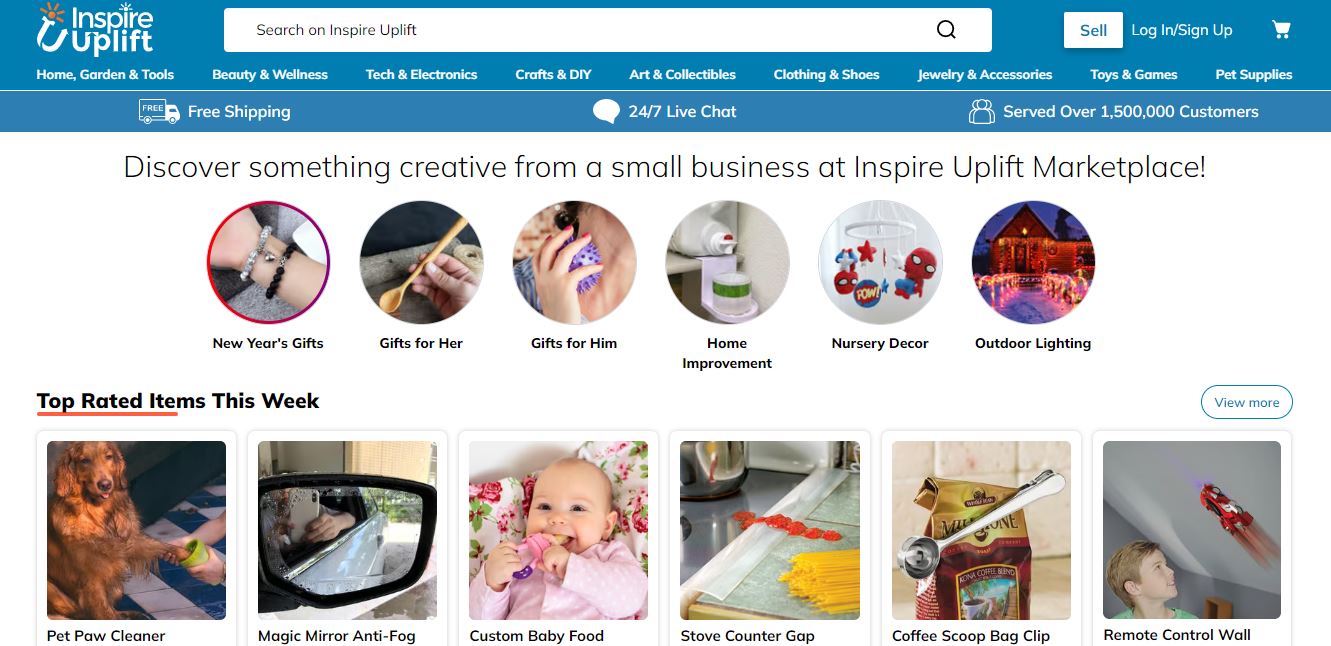 Inspire Uplift maintains low product pricing and prioritizes drawing new customers over making a huge profit on each transaction, a strategy that only the most successful businesses can afford. Their items are mostly advertised on Pinterest and Facebook. They have over 2.4 million followers on Pinterest and over 6 million Facebook likes.
6 foundational elements of Shopify dropshipping stores
Unique selling points
Having a very well plan for how to provide your customers with answers and value is the most important aspect of success. This is essential for any business, but it's vital for the best Shopify dropship stores because you'll be up against many other "me too" internet retailers offering the same products.
When you run a dropshipping business, it is simple to assume that you are selling products to buyers. On the other hand, profitable dropshipping businesses understand that they're selling more than just a physical item; they're also giving customers advice, knowledge, and solutions.
The phrase unique selling point (USP) refers to your company's distinct position in the market. It reaches the core of your business strategy. A strong USP clearly states a distinct advantage you provide that your rivals do not, making you stand out.
If all of your items seem the same, prospective customers won't know which one is best for them. Customers may assess the various alternatives accessible to them if they are aware of your unique selling point. It is a crucial component of successful selling, particularly online where shoppers have so many options.
Well-organized landing pages
eCommerce landing pages are an essential element of the sales funnel. It serves as the bridge between a customer's initial exposure to your advertising and the people who will come to and purchase from your online business.
You did a great job creating your brand and a website to go along with it. Your current responsibility is to make sure that all of your efforts result in sales. If you're looking for a tactic that will effectively convert leads, landing pages are the way to go.
How can you convince visitors that your website is valuable?
A well-optimized landing page may turn prospects into leads by collecting data that can help you better understand, market to, and delight visitors. It is important to make sure that landing pages are carefully planned, created, and deployed because they are so significant for conversions.
Landing pages, which encourage users to take action, point customers to a particular item, service, or offer. This is an opportunity for you to increase your consumer base and create leads.
The best app to support Shopify dropshipping stores
You will make a lot of money if your dropship Shopify stores expand and draw in a sizable number of potential customers. But managing and running your shop will take a lot of work, especially when you have to deal with the rising threat of payment fraud, disputes, and chargebacks.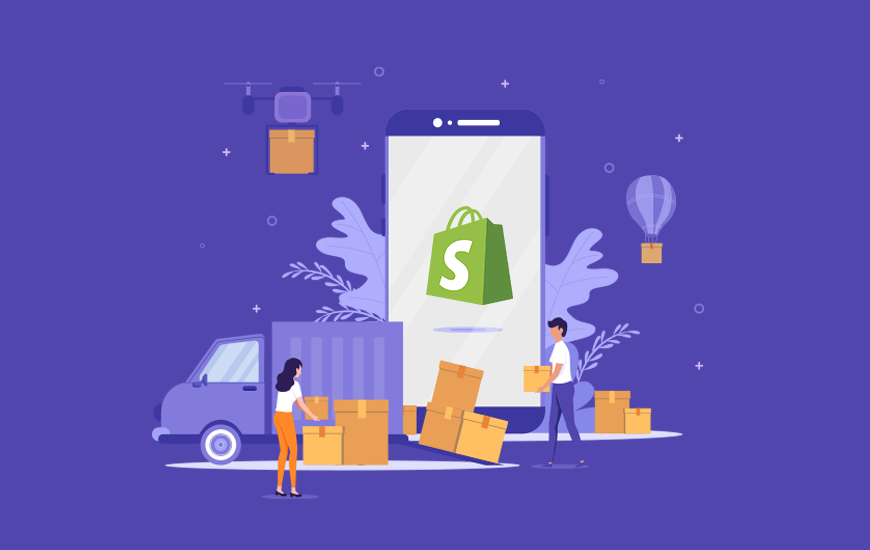 It will be fantastic if you are able to use top-notch programs to manage your orders more swiftly.
Utilizing Synctrack is one of the strategies many dropshipping Shopify stores use nowadays. You won't be disappointed when using this software because it offers a variety of appealing advantages.
Effective marketing and SEO rankings
Another key aspect of success is your ability to draw visitors to your new website. Lack of website traffic is the most frequent problem and source of frustration for new e-commerce firms. Too many Shopify shops spend months refining their websites just to launch them to a market that is unaware they even exist.
The success of your business depends on effective marketing and traffic development, but these tasks are difficult to outsource, especially if you're just getting started and have a limited budget. You must be held responsible for improving your marketing, outreach, and guest blogging abilities.
When no one knows who you are for the first six to twelve months, this is tremendously important. After your website is live, you should dedicate at least four to six months—yes, four to six months—of your time to marketing, SEO, and traffic development.
You may unwind and take pleasure in the results of your effort once you've built a strong marketing foundation. It's hard to concentrate too much on marketing at the beginning, though.
Top-notch customer experience
In any of the top-earning drop shipping Shopify stores, you'll find the best-in-class customer experience. This makes sense because, according to a survey, 80% of buyers will leave your online business because of a bad customer experience.
Simple design, visual attractiveness, enjoyable color schemes, and excellent photography are all examples of aesthetics that enhance the user experience. Other useful characteristics to take into account include the website surfing experience, the checkout process, simple navigation, the avoidance of annoying pop-ups, and chatbots that offer round-the-clock service.
Customer satisfaction is the strongest marketing strategy. In many sectors, selling to a repeat customer is significantly simpler than convincing a new customer to buy. Customers are more inclined to recommend you to others and spread the word about you if you treat them properly. By offering top-notch customer service, you may create a brand and sell goods where repeat buyers account for the bulk of your income.
People like to purchase goods and services from a company with a history of positive reviews. This is the reason why a lot of individuals check website product reviews before making a purchasing choice.
Top Shopify dropship stores frequently utilize customer evaluations to show off their clientele. Store owners have a fantastic chance to engage with customers while promoting the idea behind their company.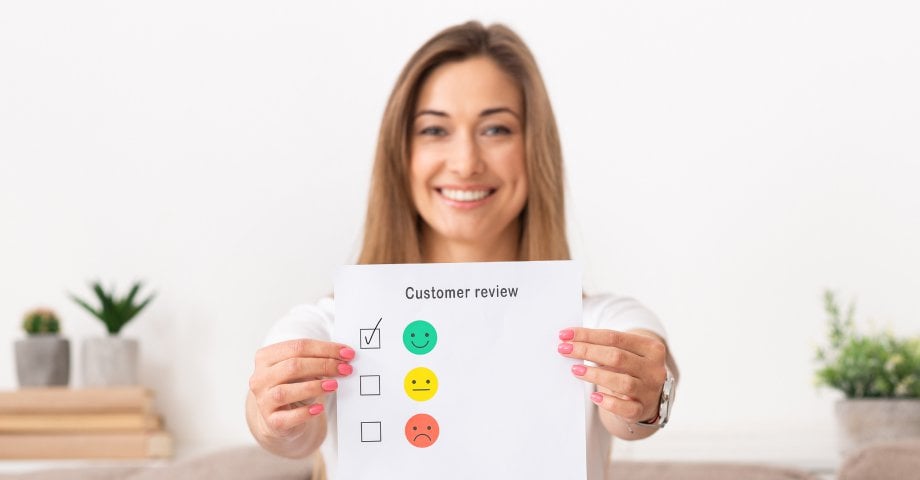 Potential customers may also use the experiences of others to decide whether or not the things the shop sells will address their issue. Three out of every four online shoppers rely on user reviews to guide their shopping decisions, according to a Nielsen customer research survey.
The same survey indicates that one-third of online shoppers stay well clear of online merchants with no customer reviews. Making it simple for your consumers to provide reviews or even compensating them for doing so is vital to do.
In Conclusion,
These best Shopify dropshipping stores examples provide some great inspiration for anyone looking to create their own successful store. If you need help getting started, or want someone to take care of the entire process of Shopify web development services for you, contact us today. We'd be happy to chat with you about your specific needs and see how we can help turn your eCommerce dreams into a reality.