Google AdSense has gained significant traction among online retailers due to its ability to amplify traffic and serve as an ideal advertising platform without the need for intermediaries. Essentially, AdSense lets you earn revenue by aligning ads with your site's content. For many Shopify store owners, Google AdSense presents an attractive opportunity to monetize their online space. By understanding and implementing AdSense on your Shopify store, you can diversify your income streams and optimize the profitability of your site. In this article, we will walk you through a detailed guide on How to Add Google AdSense to Shopify and the process to get it endorsed by Google.
What Is Google AdSense?
Google AdSense is a free, online advertising program offered by Google that allows website owners and publishers to earn revenue by displaying targeted ads next to their online content. These ads are selected and served by Google based on the content of the page they appear on and are either cost-per-click (CPC) or cost-per-thousand-impression (CPM) ads. This means website owners earn money either when a visitor clicks on an ad or based on the number of times an ad is shown, respectively.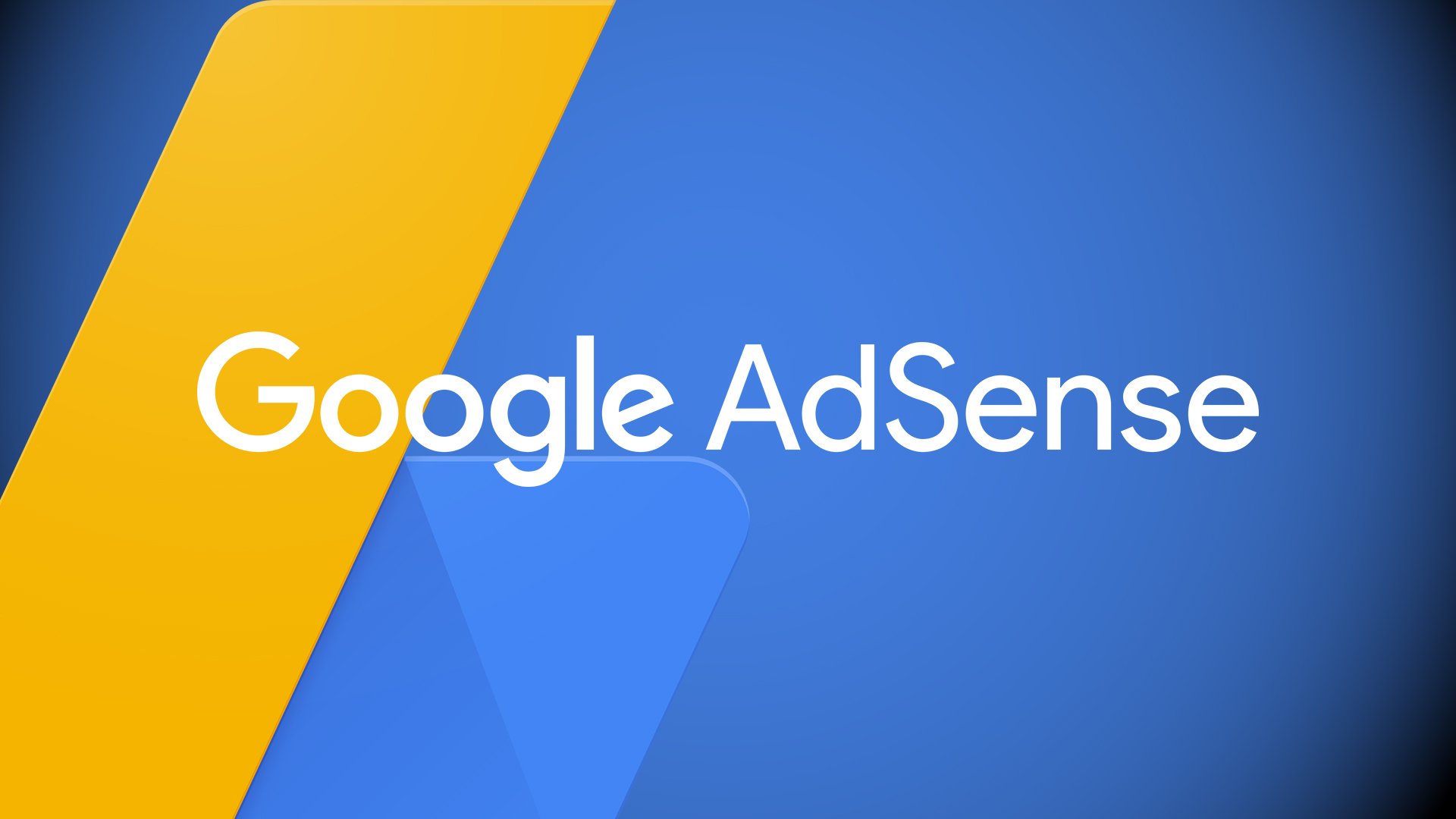 AdSense can be integrated into a wide array of websites across the web. This means that if you run an online store, you possess the opportunity to monetize by allocating space for advertisements. Upon doing so, the highest bidding ads get showcased on your site, resulting in revenue for you.
While it's clear that integrating AdSense with Shopify is feasible, it's imperative to weigh this decision. It's essential to contemplate the pros and cons associated with this tool. Put simply, while the opportunity to use AdSense exists, the decision to implement it hinges on your discernment.
How to Add Adsense to the Shopify Store?
After thoughtful consideration, if you decide to utilize Google AdSense, there are four main steps to integrate it with your Shopify store. Shopify merchants can seamlessly incorporate this tool into any Shopify online storefront.
Creating Your Google AdSense Account
Before initiating the integration of Google AdSense, users must first register for a Google AdSense account. First, you need to navigate to the official Google AdSense website.
On the homepage, you'll see a Get Started button, click on it to initiate the sign-up process. Then you enter the URL of the website where you want to display the Google ads and ensure that your website is in compliance with the AdSense program policies. You can also decide if you'd prefer to receive tailored assistance and performance tips from AdSense.
It's advisable to opt for Yes to maximize your AdSense experience. You always have the flexibility to modify these communication preferences in the future.
After that, you can select your desired payment country or territory. Before submitting this information, please review it carefully and accept the Adsense Terms and Conditions. Finally, click Start using Adsense to register.
Once you have the right of possession of a Google AdSense account, you need to provide some primary information. You'll be prompted to select between an individual and a business account. You can make your choice based on your requirements.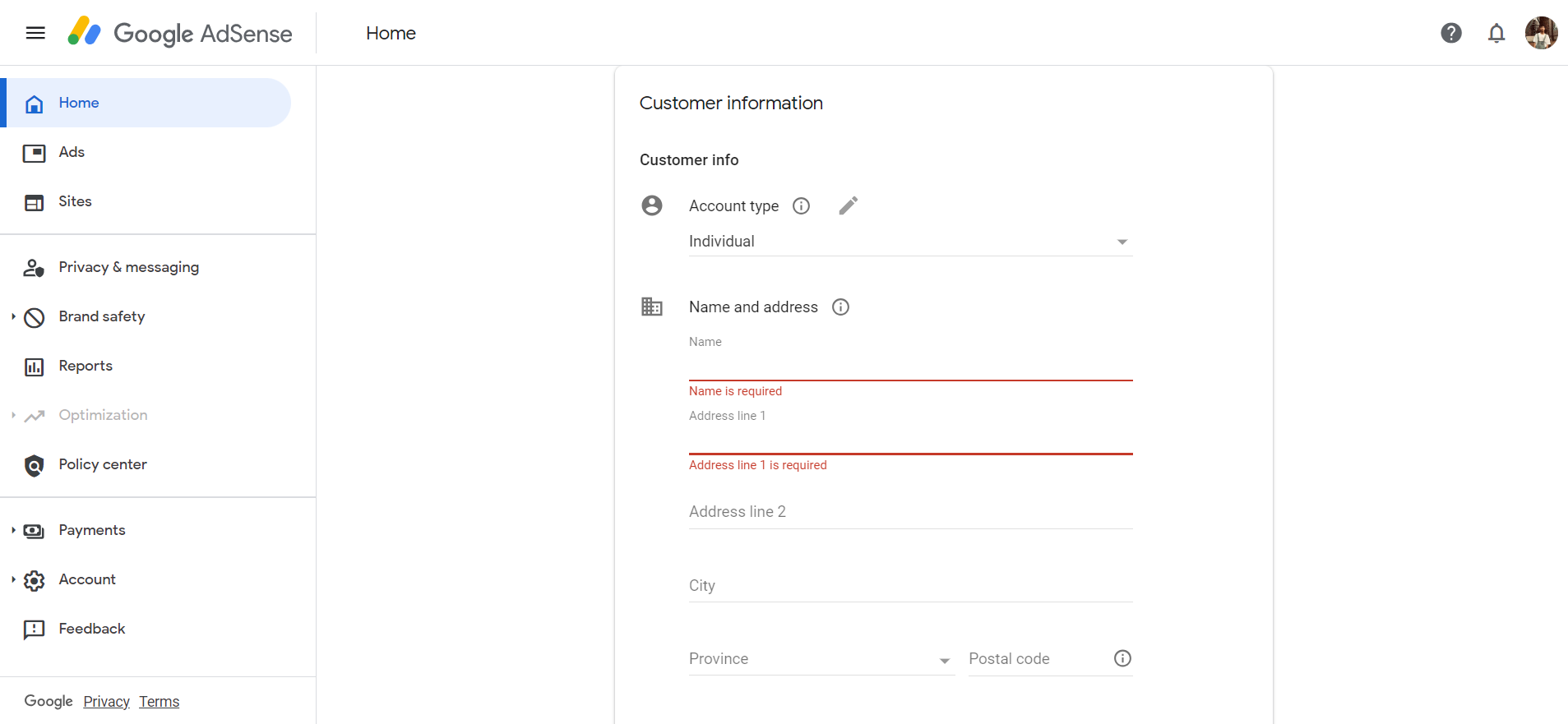 Depending on the account type you've chosen, you are directed to provide all the required details. This includes name, address, phone number, and other relevant information.
While you might not need to enter payment details immediately, you'll eventually have to provide them to receive payments. This typically involves adding bank account details or setting up another preferred payment method.
Once all details are filled in, click on the Submit button. After submission, Google will review your application. The review process can take anywhere from a few days to a couple of weeks. During this time, ensure that your website adheres to AdSense guidelines to increase the chances of approval.
Once approved, you'll receive an email notification. Follow the instructions in the email to activate your AdSense account. After activation, you can start creating ad units and embedding them on your website.
Generating Ad Codes from Google AdSense
Generating ad codes in Google AdSense is a straightforward process. These codes are crucial because they allow you to embed Google ads on your website. Upon securing approval for Google AdSense, you'll gain access to its features, one of which is the creation of an ad unit.
To kickstart this process, first sign in to your Google AdSense account. On the left side of the dashboard, click on Ads. Here, you'll see an option labeled By ad unit. AdSense offers different ad types like display ads, in-feed ads, in-article ads, and multiplex ads. Pick the one that aligns best with your content and site layout.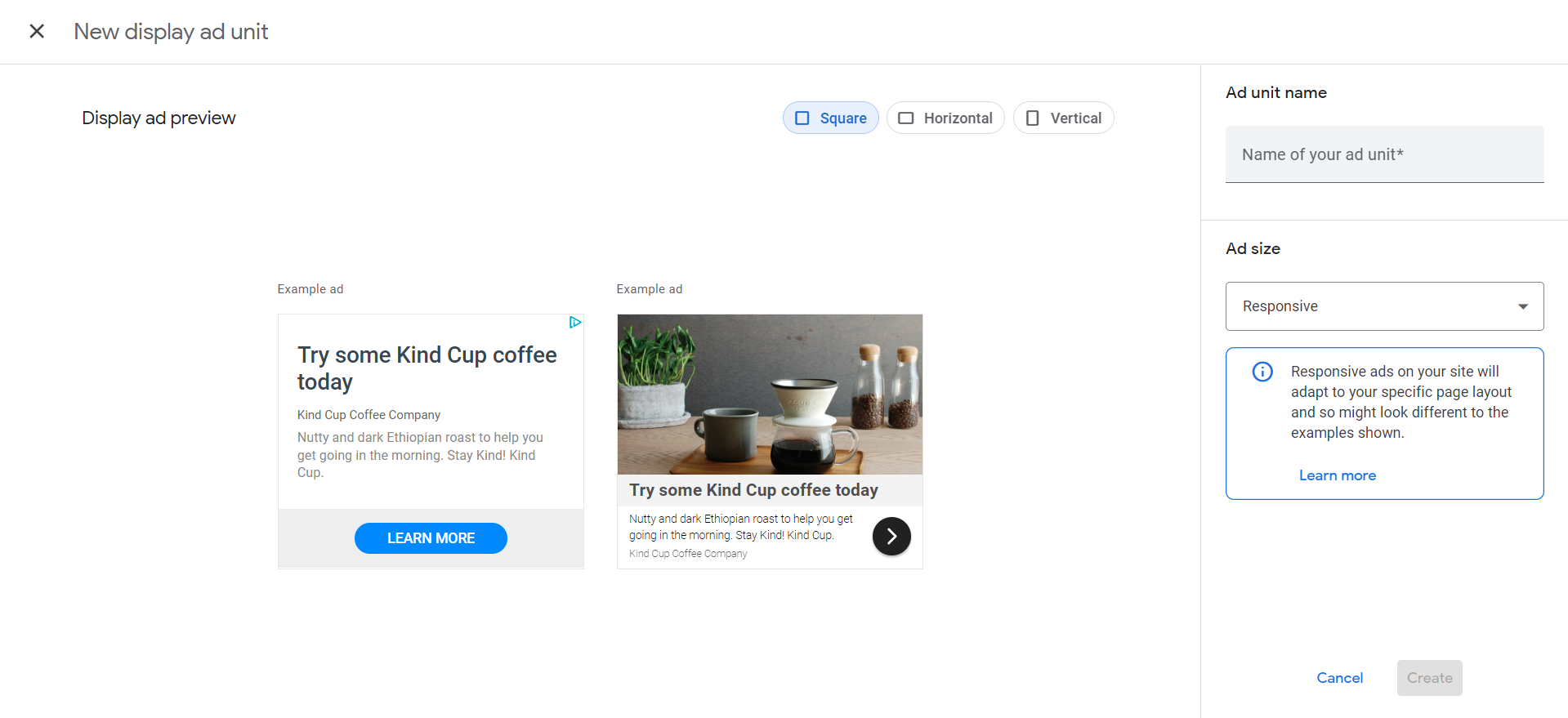 Based on your website's design, you can choose from a variety of ad sizes. There's also an option to let AdSense decide the best size for you by choosing the Responsive ad size. Additionally, you can adjust the ad's look and feel to ensure it complements your site's aesthetics.
Then, you need to give your ad unit a descriptive name. This makes it easier to track and manage different ads in the future.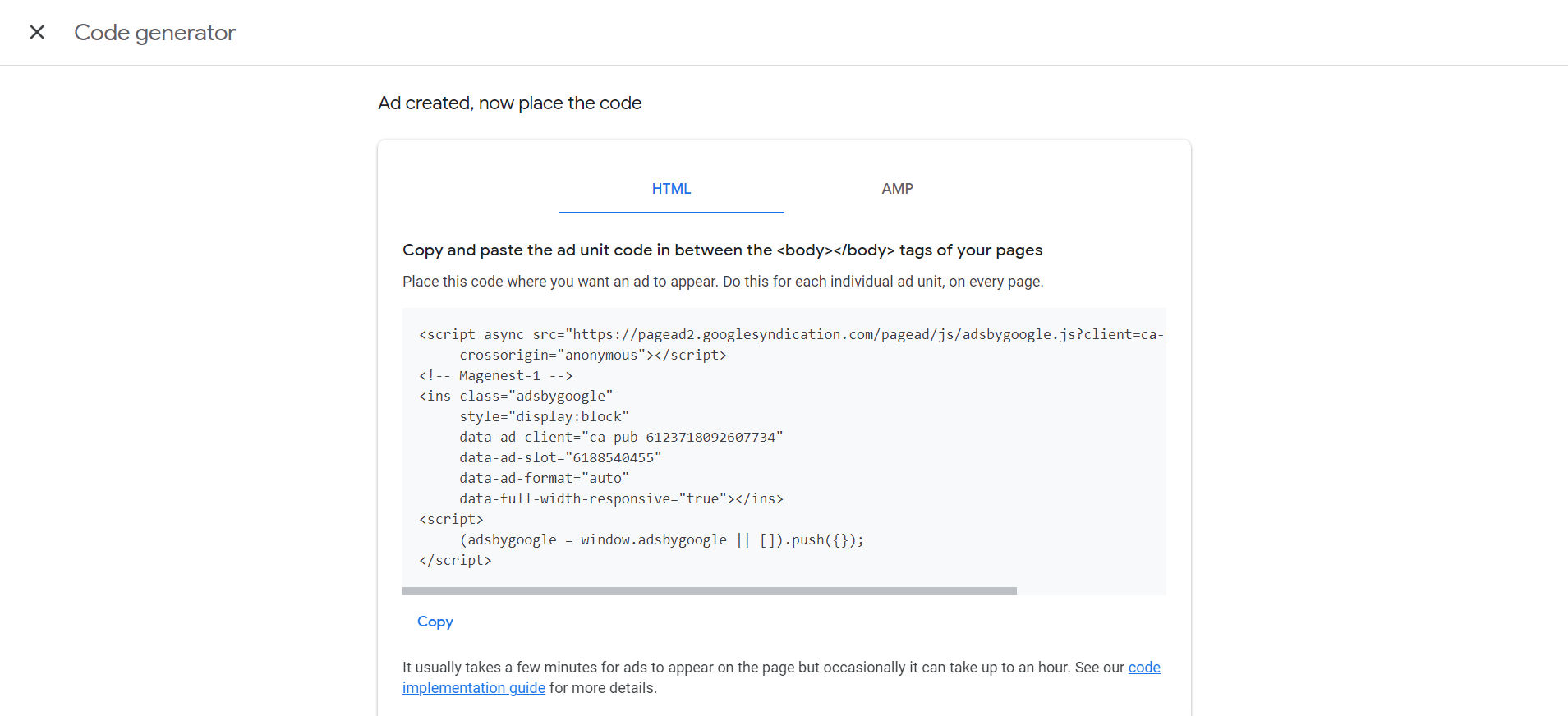 After finalizing your choices, click on the Create or Generate Ad Code button. AdSense will then produce a unique piece of HTML code. Once generated, you can copy the ad code but ensure you capture the entire string of code to avoid any embedding issues.
Installing Ad Codes on Shopify
At this juncture, it's time to integrate the code into your Shopify storefront. First, you need to head over to your Shopify dashboard by accessing the admin panel. Depending on your preference, you can place your ad in various locations such as:
Embed in the Header
Embed in Every Page
Embed on the Homepage
Embed on a Product or Collection Page
Embed on a Single Page or Post
Embed in the Footer
For the scope of this guide, we will focus on the Embed in the Header option.
To initiate, navigate to the Themes section on your Shopify Dashboard. Subsequently, select Actions followed by Edit code.

While Shopify offers a variety of headers, your primary objective is to locate the header.liquid file. You may need to search for this specifically or use the customize option to access it directly.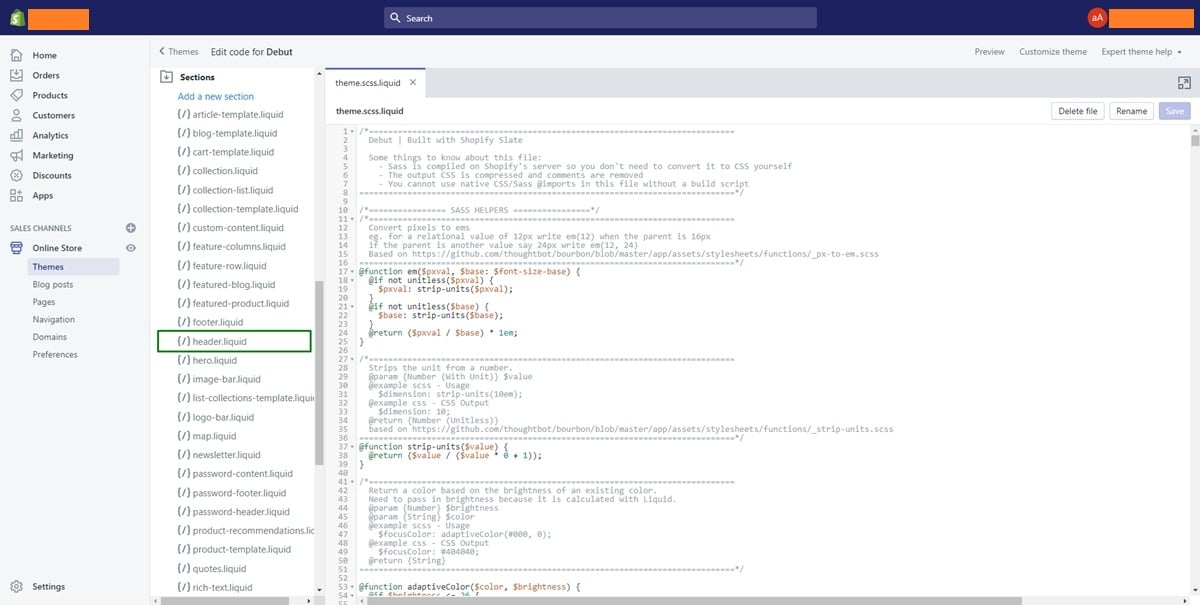 Once located, insert the embed code in the desired spot and ensure you hit the Save button.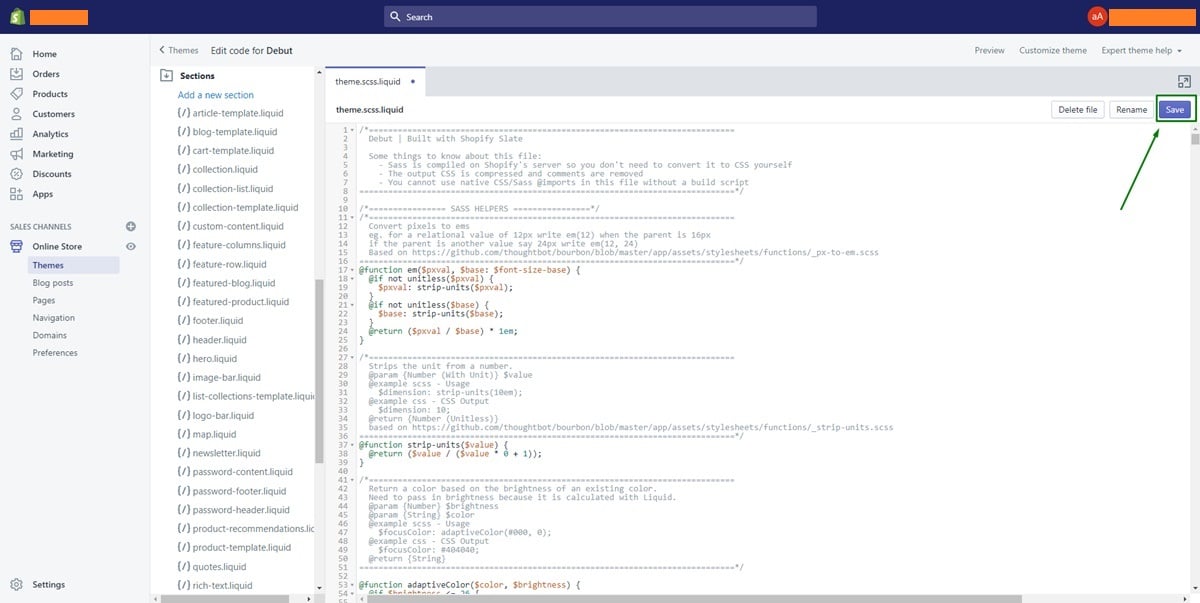 To get a sneak peek of the changes made, simply click on the Preview button positioned in the top menu.
Remember, the placement and frequency of ads play a crucial role in user experience. It's essential to strike a balance between monetizing your store and ensuring a seamless shopping experience for your visitors.
Benefits of Choosing Google AdSense over Other Ad Networks for Your Shopify Store
Online merchants often grapple with the decision to leverage external platforms like Google AdSense to boost their traffic. While considering tools like Google AdSense, several reasons come to light, explain why so many businesses prefer this platform to others.
Reputation and Reliability
Google AdSense is a product of Google, one of the world's most renowned and trusted technology giants. This means when you opt for AdSense, you're choosing a platform that boasts a strong reputation, significant stability, and an almost unparalleled track record. Unlike some newer or less-known ad networks, AdSense's reputation often assures advertisers and publishers of its legitimacy and reliability.
High-Quality Ads
Google AdSense places a strong emphasis on ad quality. It ensures that the ads displayed on your Shopify store are relevant, non-intrusive, and of high quality. This not only ensures a better user experience for your site visitors but can also lead to higher click-through rates, subsequently driving more revenue for store owners.
Superior Targeting Capabilities
One of AdSense's standout features is its sophisticated ad targeting. Utilizing Google's vast user data, AdSense can deliver ads tailored specifically to the interests of your site's visitors. This precision targeting enhances the chances of your ads being clicked, optimizing revenue generation for your Shopify store.
Ease of Use and Integration
Google AdSense is known for its user-friendly interface and seamless integration capabilities. For Shopify store owners, this means a hassle-free setup process. Once set, the platform automatically manages the ads, allowing store owners to focus on other aspects of their business.
Consistent and Timely Payments
Google AdSense is notorious for its punctual payment schedule. Publishers can be assured of timely and consistent payouts, which is not always the case with many other ad networks. Moreover, the transparency in reporting ensures you're always in the loop about your earnings.
Global Reach
With AdSense, your Shopify store can display ads to visitors from around the globe. Google's extensive advertiser base ensures a diverse range of ads suitable for international audiences, enabling you to monetize traffic from almost anywhere in the world.
In Conclusion,
Undoubtedly, Google AdSense offers numerous advantages to captivate audiences, but its utilization requires thoughtful consideration. Through our guide on how to add Google Adsense to Shopify, we aim to equip online merchants with the insights needed to make informed decisions regarding the most effective monetization strategies. The effectiveness of any tool often requires patience and experimentation; hence, Shopify store owners should be prepared for a period of trial and adaptation.
We trust this tutorial on how to add Google Adsense to Shopify will prove beneficial for your eCommerce endeavors. Should you have any queries or need further clarification, please don't hesitate to drop a message to our experts. At Magenest, we have a plethora of Shopify experts, who understand thoroughly this platform to help you boost your online presence.