Are you looking for creative ways to market the sneakers and shoes you sell in your Shopify store? Take inspiration from some of the most successful Shopify shoes stores, who have built first-class businesses by finding ways to engage their audience with great design and marketing.
In this post, we'll explore how they've done it, as well as provide example images so that you can replicate their success in your own eCommerce shop. Ready to dive into our list of the best Shopify store examples for sneaker and shoes? Let's dive in!
10 best Shopify shoes stores examples
Notre Shop
Notre Shop is quickly becoming one of the leading names for high-quality and stylish Shopify shoe stores. The Shopify store boasts a wide selection of sneakers and shoes, from classic, timeless designs to ultra-modern, bold trends.
Not only do they provide variety in their catalog, but their commitment to excellent customer service ensures that you can find just what you are looking for. Their helpful staff is knowledgeable in the latest fashions and trends, meaning they can recommend the perfect shoe to suit your unique style. With an array of colors and styles on offer, Notre Shop should be the first port of call when looking for a new pair of shoes.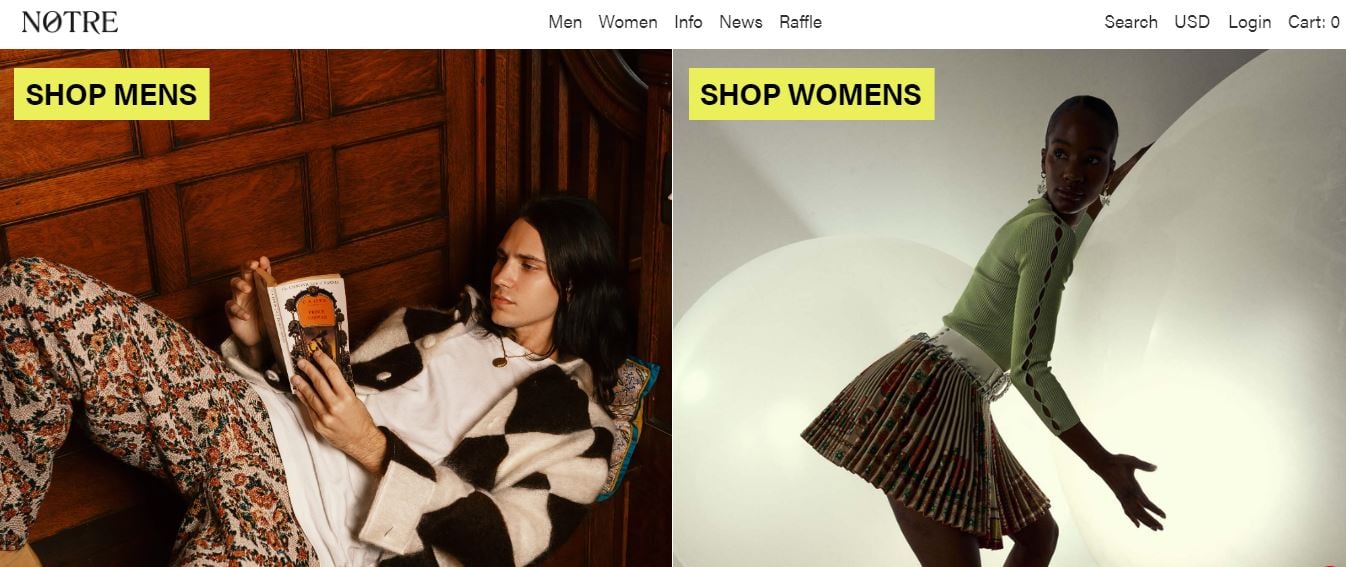 When we arrived at the shoe category, we noted a minimalist and straightforward approach, in contrast to the main page's abundance of graphics and absence of white space. Notre really displayed their shoes on significantly larger tiles with more room around the item.
The labels are clear and the universal menu is simple to locate. Once you choose a top-level one, you might dive down by brand or product category.
While browsing the gallery, it's simple to identify the brand, model, and cost. The various sizes are also displayed when you hover over the product tile.
In order to increase the number of customers who can purchase their products, Notre provides installment plans through Affirm and Sezzle in addition to credit card payment alternatives.
WeTheNew
Two self-described sneaker fanatics, David and Michael, launched WeTheNew in Paris in 2018 before it has become one of the most famous shoes Shopify stores globally.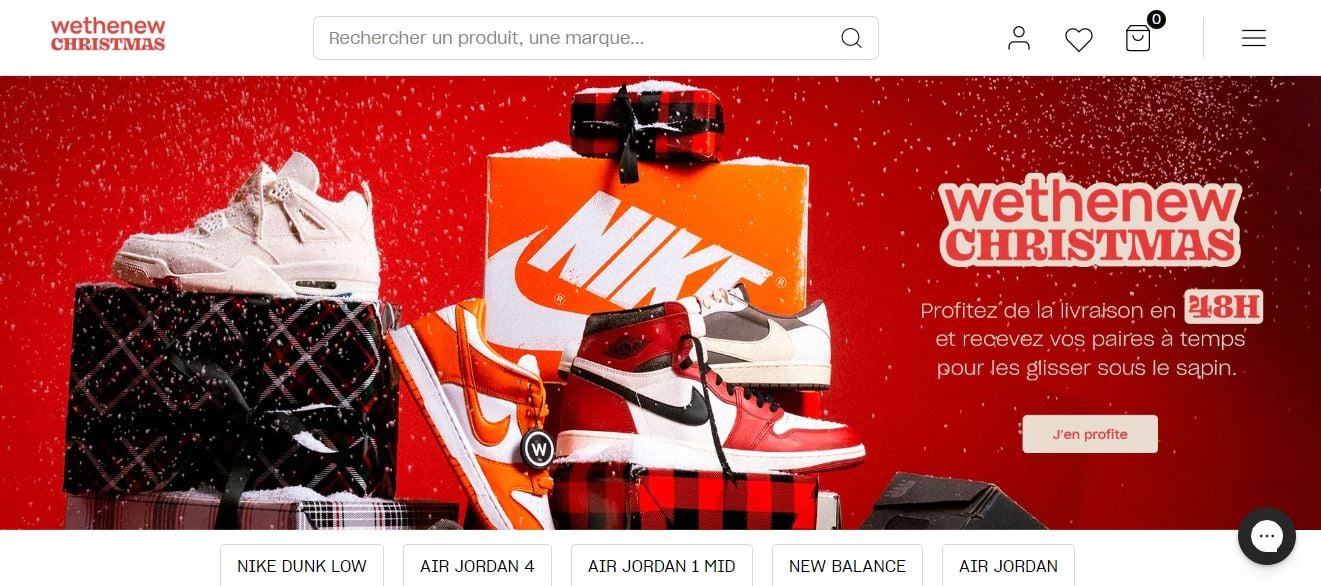 WeTheNew has a comparable gallery view with white backdrops to help the shoes stand out, despite not being as fashionable or contemporary as many other Shopify businesses.
On every page, the universal navigation is simple and consistent.
Finding product details is simple. It is convenient to compare because you can see the price, brand, and model right from the gallery view.
Customers can register for an account to see their history.
There are different ways to pay. Customers have the choice to buy now and pay later or pay with a credit card, Paypal, LayBuy, Afterpay, Zip, or Openpay.
Returns policies and shipping information are clearly accessible at the bottom, where most consumers expect to find them.
There is a simple language-changing way. Being in France and near other nations, it's wonderful that the language changer at the top makes it simple to go from French to five other European languages.
Undefeated
Eddie Cruz and James Bond started the shoe store Undefeated in Los Angeles in 2004. Undefeated has a reputation for working with well-known footwear companies like Nike, Vans, and others.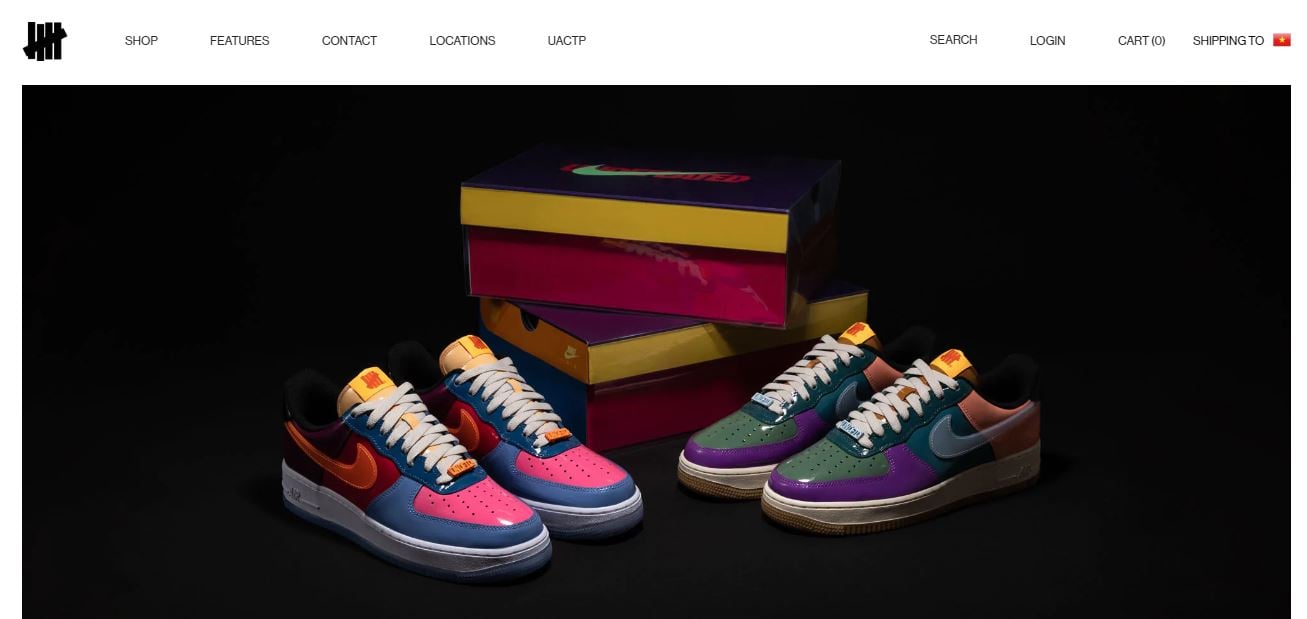 Undefeated employs white space and a simple design to make their footwear stand out, similar to many other sneaker shops we've highlighted here.
Finding product details is simple. In gallery view, the brand, model, colors, and price are all clearly visible so you can rapidly navigate through them and contrast.
In addition to having global navigation and search, the left column makes it simple to filter by category, size, and brand.
Customers could keep their shipping and payment information with Undefeated so they can complete the purchase process by just inputting a confirmation code using Shop Pay, Shopify's own accelerated checkout tool.
Glue
Among the Shopify shoes stores, the Australian retailer Glue has been in business for at least two decades. They value Australian designers equally and carry well-known fashion labels.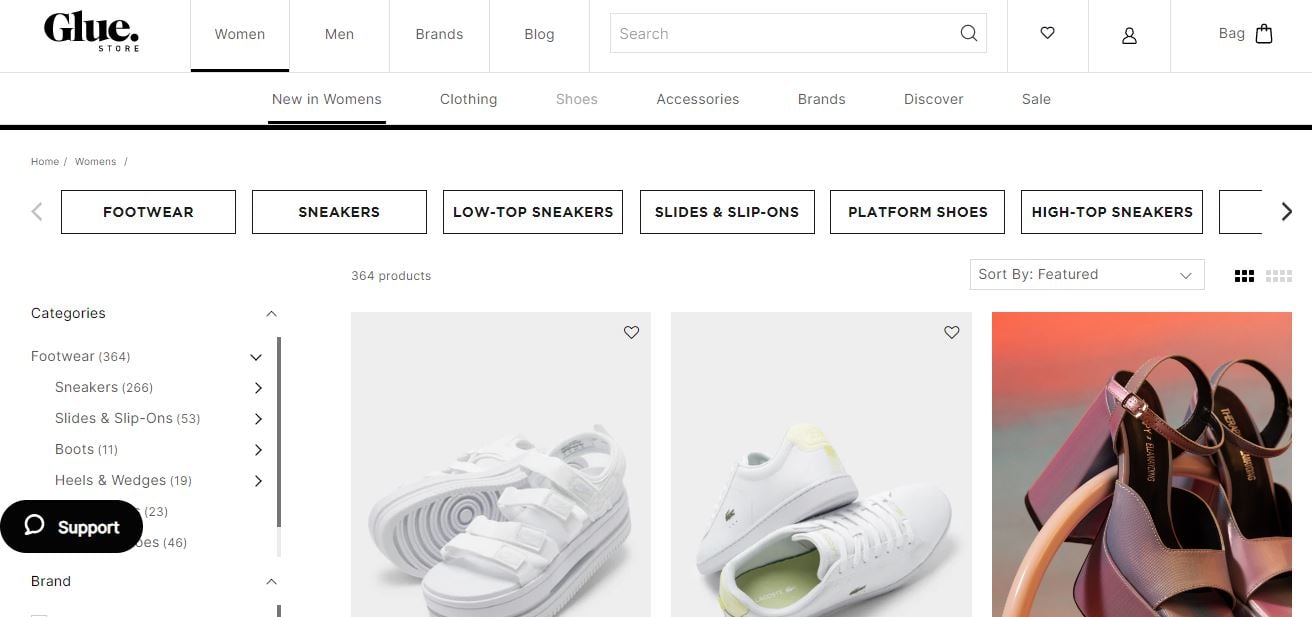 For the product to be the main attraction, Glue also makes advantage of white space and a simple design.
Customers will navigate the site easily by clicking on one part after other thanks to the universal navigation.
Finding product information is simply because the gallery page makes the brand, model, price, and size (on hover) obvious.
When you add a product, the shopping cart with a running total of your products is immediately visible.
The ability for consumers to register and check their order history.
If clients need assistance or have any questions, they can easily contact a service team.
Hanon Shop
In the late 1980s, Edward and Brian Toft's brothers developed Hanon in their parents' homes. After more than 20 years, it has risen to prominence as one of Scotland's top Shopify retailers for skater-inspired footwear and streetwear.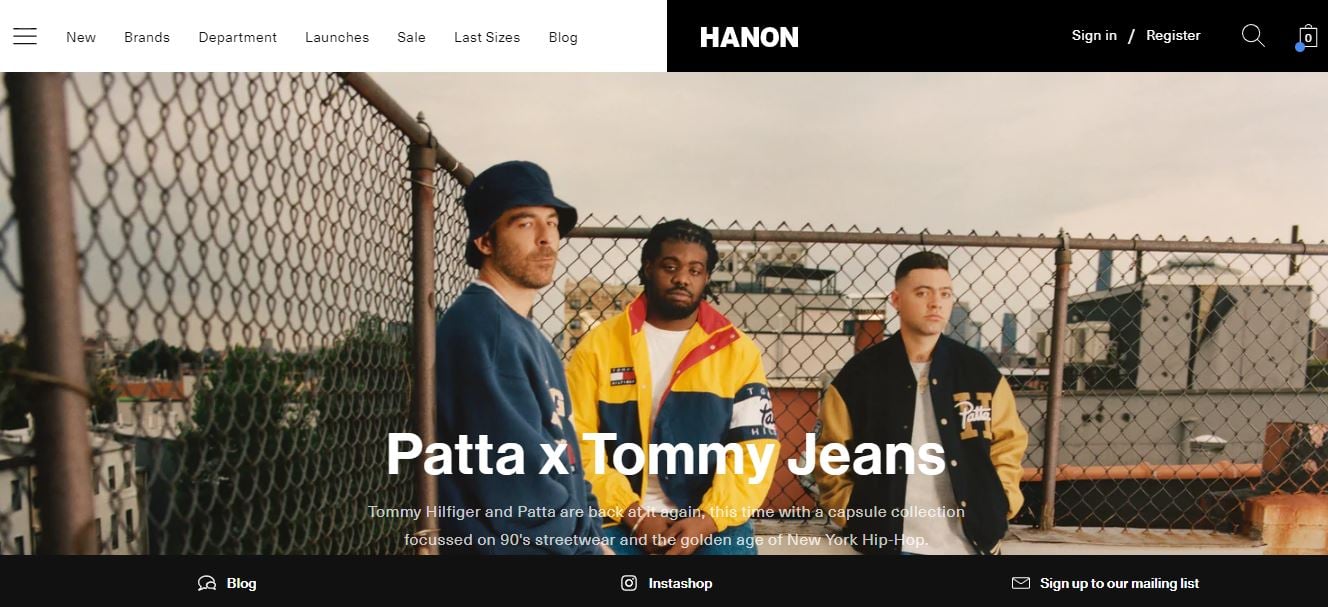 Hanon adopts a simple layout with lots of empty space to effectively highlight their footwear. Because you want your shoe designs to stand out, go for a simple look to highlight your styles.
Everyone who shops, whether online or in person, wants to know the information about the product, the sizes, and colors, and of course, the cost. Hanon highlights these crucial specifics in the gallery view so that viewers can rapidly compare.
It is simple to understand how to move around the website because of its intuitive universal navigation and structure. Hanon does this by utilizing a single menu across all pages.
Customers of Hanon can create an account on the website to check their order history. Items that customers add to their basket and then leave the session do not expire. Instead, they remain there.
Secret Sneaker Store
Edwin Low started Secret Sneaker Store in Australia. Looking at Zappo's online store gave Low the idea to sell in-demand sneakers online, but because he lacked the funds to open his own business, he chose to test the consignment business model. The products at the online store are brand new, in contrast to the used but gorgeous, rare, and cult shoes sold in the actual stores.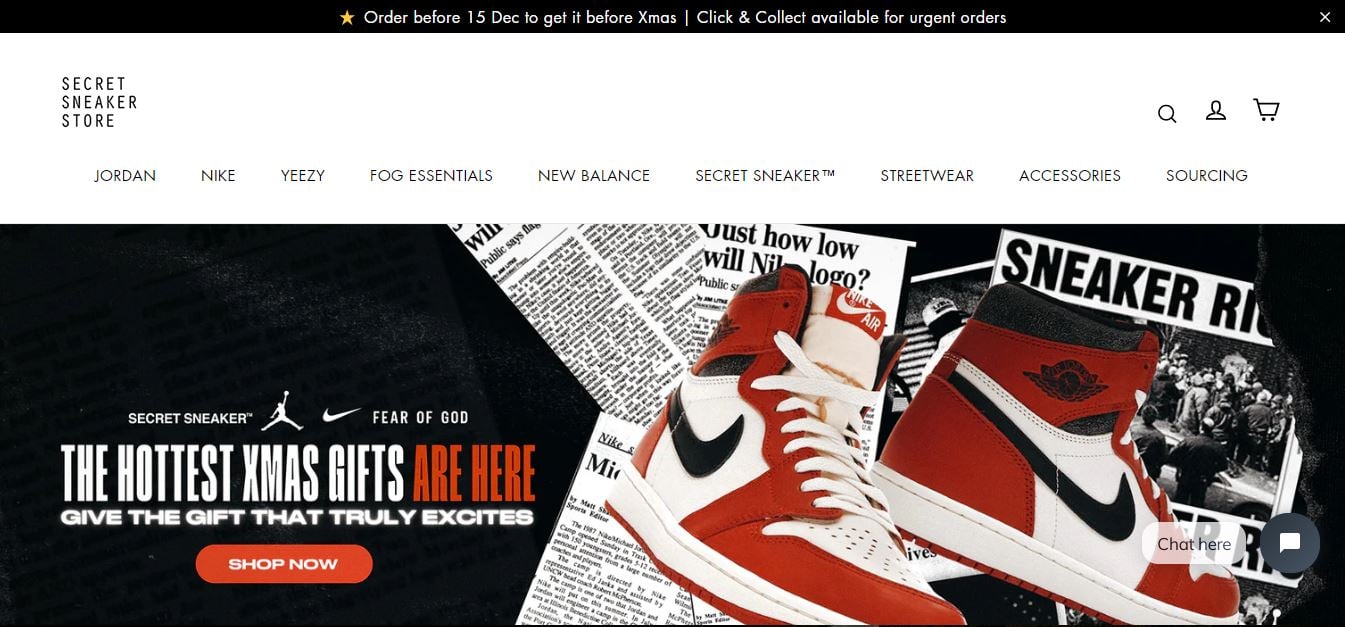 The simplistic design and all-white backdrop make it simple to see the sneakers' presence.
The SSS team designed their navigation with the insight that their audience is interested in brand-celebrity partnerships. Both brands and particular collaborations are available for browsing. The options on the left also make it simpler to browse by color, price, size, gender, and item category, which is another area where Zappos' impact can be seen.
In the gallery view, you will quickly skim by price, brand, and model.
People have access to their order history and contact information management.
SSS provides YouPay, which enables you to transmit your shopping cart to a third party so they may pay for the item on your behalf, in addition to credit card, Paypal, Laybuy, Afterpay, Zip, NihaohPay, and LatitudePay.
AFEW Store
Brothers Marco and Andy started Düsseldorf-based AFEW in their father's garage in 2008. The founders still view the company as their family business even though it is now among the well-known high-end Shopify sneaker stores on a global scale.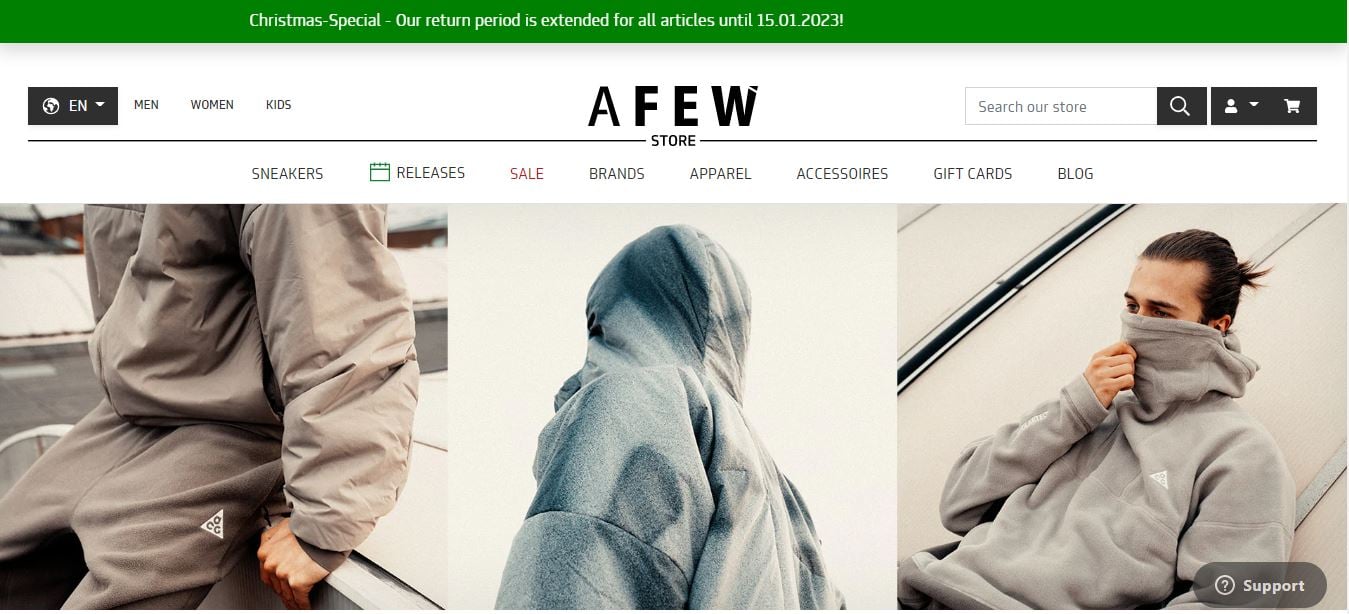 AFEW features a simple layout with lots of empty areas to display its products.
Brand, model, and pricing information are all visible on the gallery page.
Customers may register for an account to check their order history and follow the progress of deliveries.
Customers can use a credit card to make their purchase or use Google Pay, Amazon Pay, or Paypal to complete an expedited checkout.
Customer trust is increased via live chat, and this online retailer provides a contact option on the website.
Customers feel more secure knowing the shipping and return policies are in the footer, where they are easy to discover.
Raffle entries are available straight on the product page for customers. Even a timer is included to instill a feeling of urgency in individuals.
Men's Luxury Boutique
Men's Luxury Boutique, one of the excellent Shopify shoes stores with headquarters in London, sells shoes with cutting-edge and futuristic designs. Their website doesn't provide much information about the company's history, but it places a lot of emphasis on its social media presence.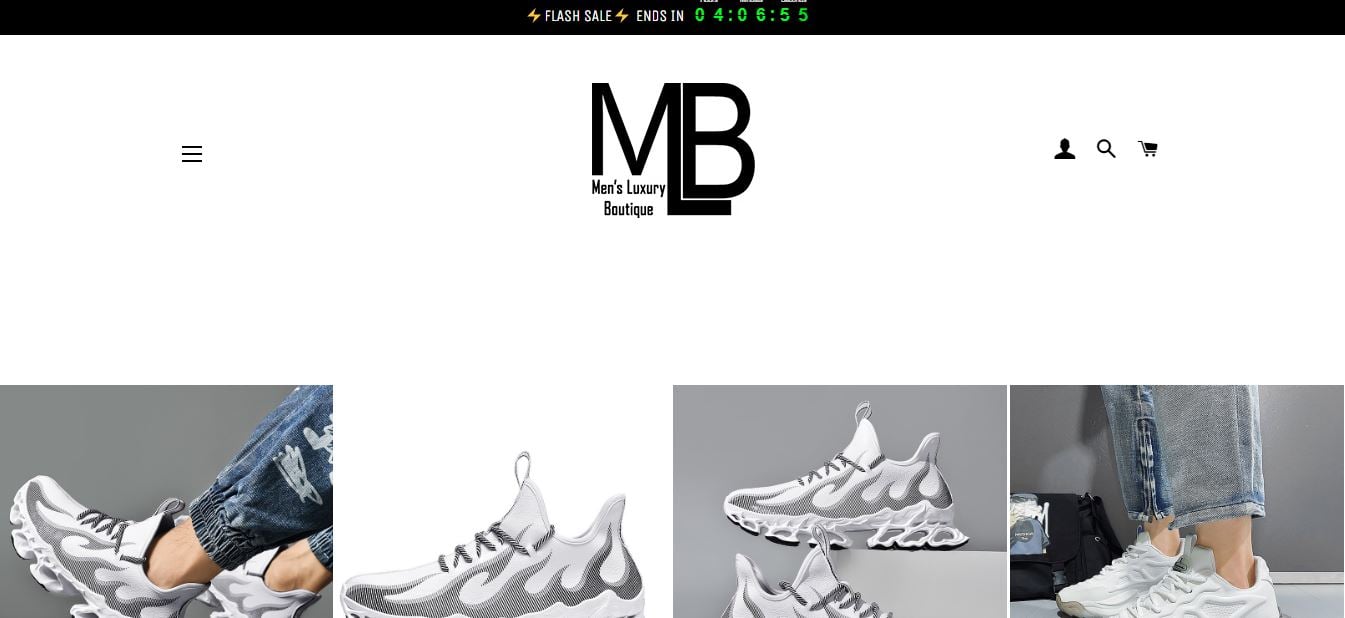 Because of the layout's simplicity and clarity, the striking shoe designs stand out.
Clear product information: it's simple to quickly identify the brand, model, price, and color.
Customers have the option to register and see their histories.
Customers may use Google Pay or a credit card to make payments.
Shoppers can readily locate the information on shipping and returns because it is at the bottom.
Sneaker Politics
After being inspired by the experience nature of shoe shops in the northeastern United States, Derek Curry started Sneaker Politics in Louisiana in 2006. In the American South, he wished to foster that experience and community. Although it took him 15 years to get that footing, Sneaker Politics' revenues in 2020 surpassed $70 billion.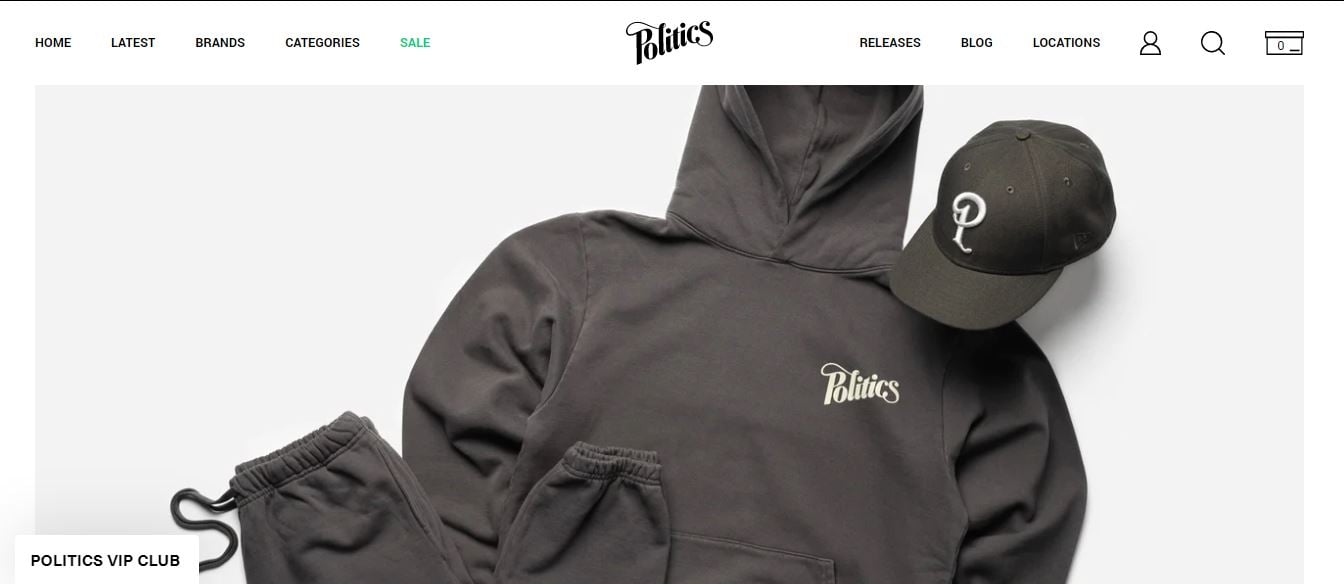 The straightforward color scheme and basic style draw your attention to the sneakers.
The website offers filters so users may narrow down their selections as well as global navigation for those who just want to explore.
Product information is simple to find: the price, brand, and model are all included in the gallery view.
From the gallery view, adding goods to your basket is quick and simple.
Quickly manage your addresses and examine your order history.
Flexible payment methods: Sneaker Politics accepts credit cards, PayPal, AfterPay, and Sezzle for buy-now, pay-later transactions.
Kith Europe
In 2010 in New York, Ronnie Fieg established Kith. It has two physical locations, both in New York, but it also has a global presence online.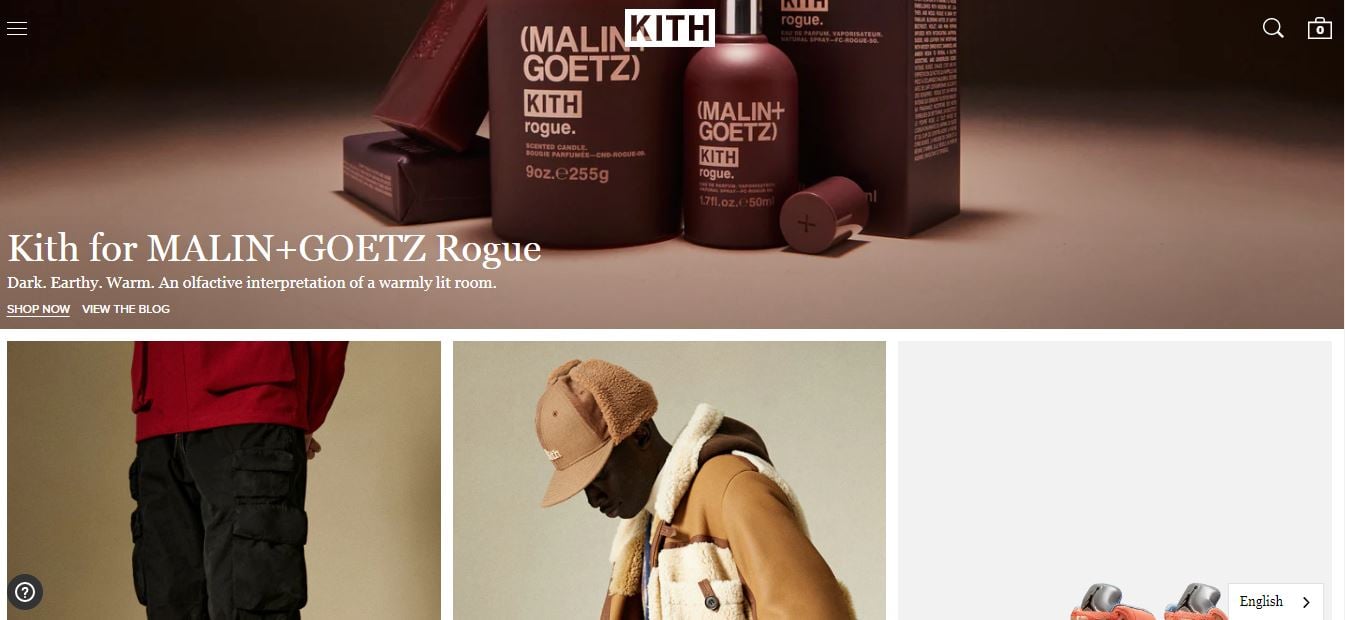 The basic design and ample white space highlight the sneakers.
You might select from simple categories using universal navigation, like men, women, and kids. Once you've found the category you seek, you may further refine your search by brand and product type using another sub-navigation. It is simple to narrow down the product list using the filters on the right.
Finding product information is simple: using the gallery view, you can quickly browse shoes by brand, model, and price.
Right from the gallery view, you could add an item to your basket by clicking over it.
Customers get access to their history and contact information management.
Kith EU accepts payments through credit cards and PayPal, among other methods.
With a simple click of a button, you may access the website in both English and French.
3 main points of setting the best Shopify shoe stores
Setting up your store
There are a few things to consider while starting up your Shopify shoe store. You must first choose the type of shoes you intend to sell. Are you intending to offer shoes for men, for ladies, or for both?
Once you've made that decision, you need to build your shop and select a domain name. You have two options: either utilize the Shopify domain name generator or think up something on your own. Just make sure it's simple to spell and remember!
It's time to start adding items after you've selected your domain name and established your business.
Moreover, setting up your shoe store in the digital space requires careful planning and an eye for detail. An integral step in this process is choosing the right agency to bring your vision to life. Partnering with a seasoned agency such as Magenest can be a pivotal decision. With our expertise, particularly in Shopify website development services, Magenest can craft a bespoke eCommerce platform that encapsulates the essence of your brand and caters to the discerning needs of your customers. A robust and user-friendly website is the cornerstone of online retail success, and with Magenest's prowess in Shopify solutions, you can ensure that your shoe store has the strong online foundation it needs to thrive in a competitive marketplace.
Choosing the right theme
There are a few considerations to take while selecting a theme for Shopify shoes stores.
To ensure that the theme appears excellent across all devices, you must first confirm that it is responsive. Second, pick a theme with lots of features and customization possibilities so you may adapt it to your needs.
Thirdly, you need to ensure that the theme is compatible with all potential Shopify applications. Take your time and choose a theme you enjoy because there are many excellent ones that fit all of these requirements.
Finding the right shoe suppliers
You must locate the appropriate suppliers if you want to effectively sell shoes on Shopify.
There are a few things to bear in mind, even though this might be challenging. First, you need to ensure that the supplier is reputable and provides high-quality goods.
In order to benefit from each transaction, the supplier needs to give reasonable rates. And you should be concerned about inventory or shipping expenses, and make sure that the supplier provides drop shipping.
In other words, you must choose a reputable shoe supplier who can offer you high-quality goods at competitive prices. Online searches and trade exhibitions are also good places to discover vendors. Once you've located a supplier, you can start including them in your store and selling their goods.
In Conclusion,
The best Shopify stores for sneakers and shoes have managed to create an online presence that is both informative and engaging. By providing customers with a variety of content, these businesses are able to convert browsers into buyers. If you're looking to create a successful eCommerce store in this industry, be sure to take cues from the examples we've highlighted in this post. If you need help building Shopify shoes stores with the same level of aesthetic, don't hesitate to drop us a message. Our Shopify experts are only one message away from you.