If you're a business owner, then you know that keeping track of your finances is essential. With the right accounting software, you can make managing your money a breeze. In this blog post, we'll discuss some of the best accounting software for Shopify businesses. Keep reading to learn more!
What features does the top Shopify accounting software have?
The top accounting programs for Shopify share several characteristics, including: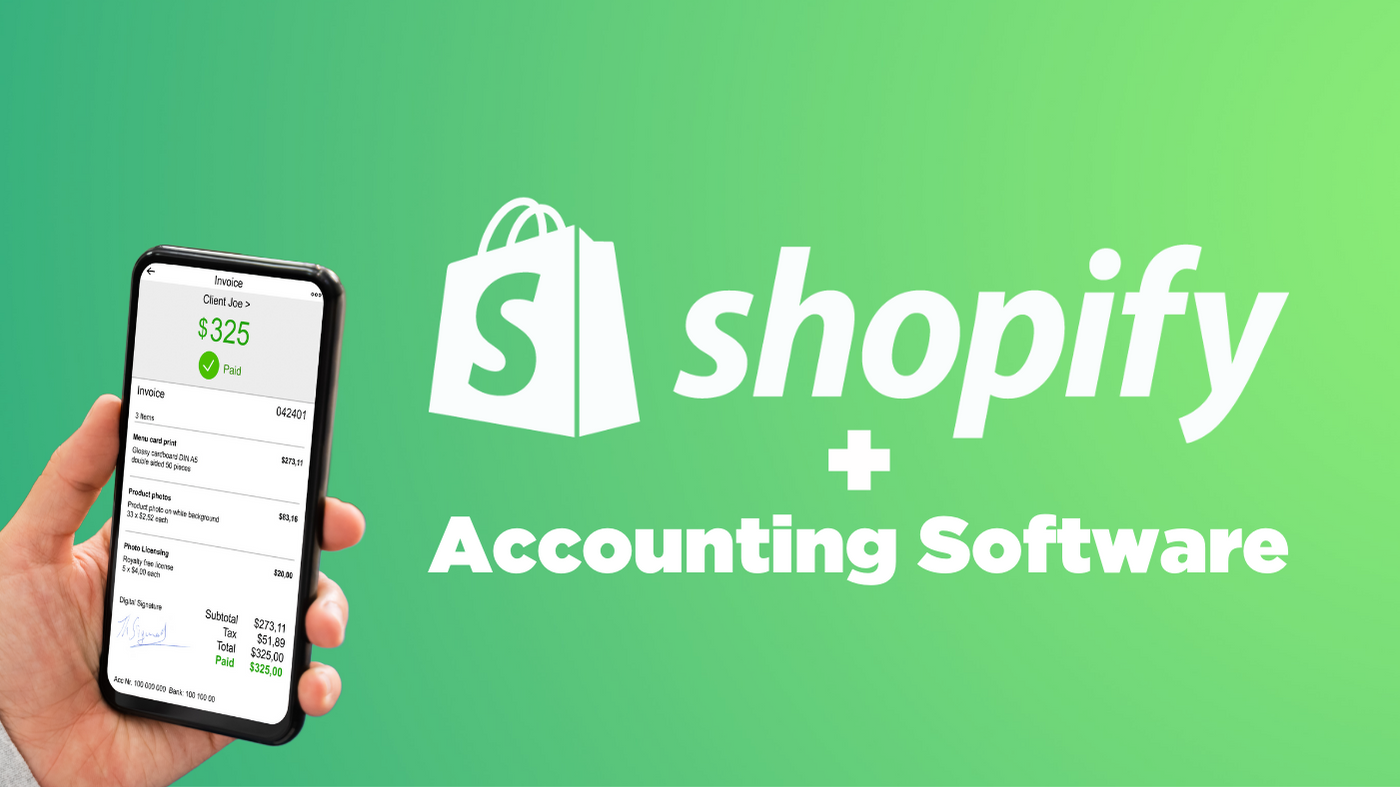 Easy to integrate with other tools: In addition to working well with Shopify, your software should get along with the other eCommerce solutions you use, such as order shipping apps and payment processors.
Cloud-based: Cloud-based solutions give you simple access to your current data across devices and prevent issues that could occasionally arise when attempting to manually sync information.
Able to satisfy present and future reporting requirements: While providing the detailed reporting tools you require right away, a solid Shopify accounting system should also be scalable as your company grows.
Simple to use across all platforms: The options listed below all have at the very least a web application as well as mobile apps for iOS and Android devices.
In-depth reporting: Accounting software will typically have basic reporting, but if you want to grow your eCommerce business, you'll need to make sure the software you purchase has advanced, in-depth reporting features.
Sales tax configuration: Figuring out the sales tax can be challenging for internet firms. Select accounting software that streamlines the process of computing, collecting, and paying sales tax.
High-quality support: The best Shopify accounting software provides dependable help choices, ideally around-the-clock assistance. Reading reviews of such apps on Shopify from other business owners is a fantastic starting point.
Best 8 Accounting Software for Shopify
QuickBooks Online
In the last three decades, QuickBooks has significantly expanded to lead the industry as the most cutting-edge accounting system for both offline and online retailers. If you are searching for the best accounting software for Shopify store, QuickBooks is one of the well-known options out there.
Due to its extensive feature set, which includes more than 200 connectors, many currencies, payroll support, inventory management options, flexible invoicing, etc., QuickBooks Online continues to be in the spotlight.
As an integrated Shopify accounting system, it has drawn 2.2 million users, including owners of Shopify stores.
Key features:
Sync QuickBooks Online with Shopify's inventory management system — Keep an eye on your orders and the supply of raw materials. This will enable smooth data synchronization between your manufacturing and financial operations.
Invoice customers intuitively – you can create personalized templates, send invoices, and automatically send reminders to them. Sending payment links to consumers will streamline the procedure all around.
Track diverse revenue and expenses excellently – you can connect your numerous payment methods to QuickBooks Online, such as credit cards, bank transfers, and PayPal. Your earnings, losses, and outlays are shown on a single platform with attractive charts on top.
Advanced reporting – It's simple to browse, print, and alter profit/loss, expense, and balance sheets to produce interactive reports. The capacity to monitor cash flow and avert any undesirable occurrences is even more essential to the business's day-to-day operations.
Xero
Shopify store owners are not the only ones who favor the Xero accounting program. It has a solid reputation in the eCommerce retail industry across all industries.
Its extensive collection of accounting tools, which are gathered in one suite to create a full-stack accounting system, is what business owners and accountants like about it, making it one of the best accounting software for Shopify stores.
Xero manages all aspects of payment processing, including transactions in more than 160 different currencies, several payment gateways / POS software connections, paperless expense management, and bookkeeping.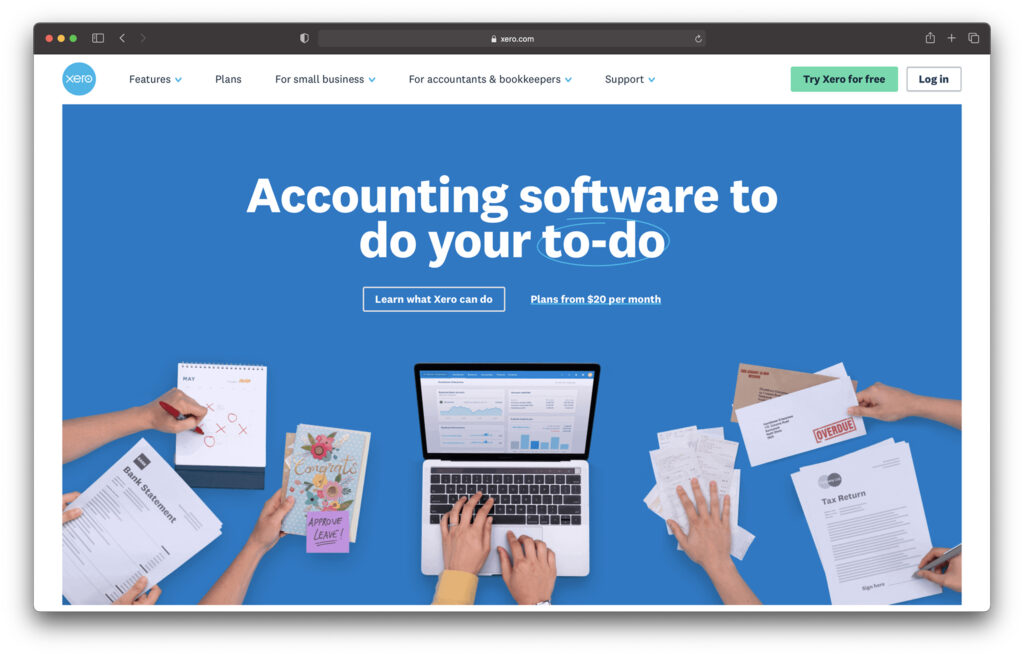 Key features:
Depreciation on fixed assets – the ability to calculate depreciation on your assets gives you a precise picture of your manufacturing overhead. However, a GAAP requirement that will also save your accountant a lot of time is more important than that.
Mobile app – this might not seem like a big thing at first, but you can't deny that being able to manage your money while on the road is a useful tool for any business.
Smart contact management – Xero may unintentionally find a place in your marketing tools by combining your money with groups of contacts and clients. You can offer personalized discounts, for instance, by discovering lower sales groups in your contacts list.
Detailed reporting – the system can produce 65 reports based on the fundamentals of payrolls, profit/losses, and balance sheets. But it offers an equity report that lists the owner's investments and equity withdrawals, something that the majority of competitors don't. Even though it might not apply to everyone, it is a strong feature for the firms it does.
Sage Business Cloud Accounting
Sage Business Online Accounting most definitely reflects the thing like good things come in small packages. This is a solid contender for the best accounting software for Shopify store since instant invoice reporting allows you to track down inaccurate bills without digging through the accounts. For small enterprises, it is powerful yet user-friendly accounting software.
With the ability to create invoices, keep track of customer payments, and connect to your bank, everything operates in real time.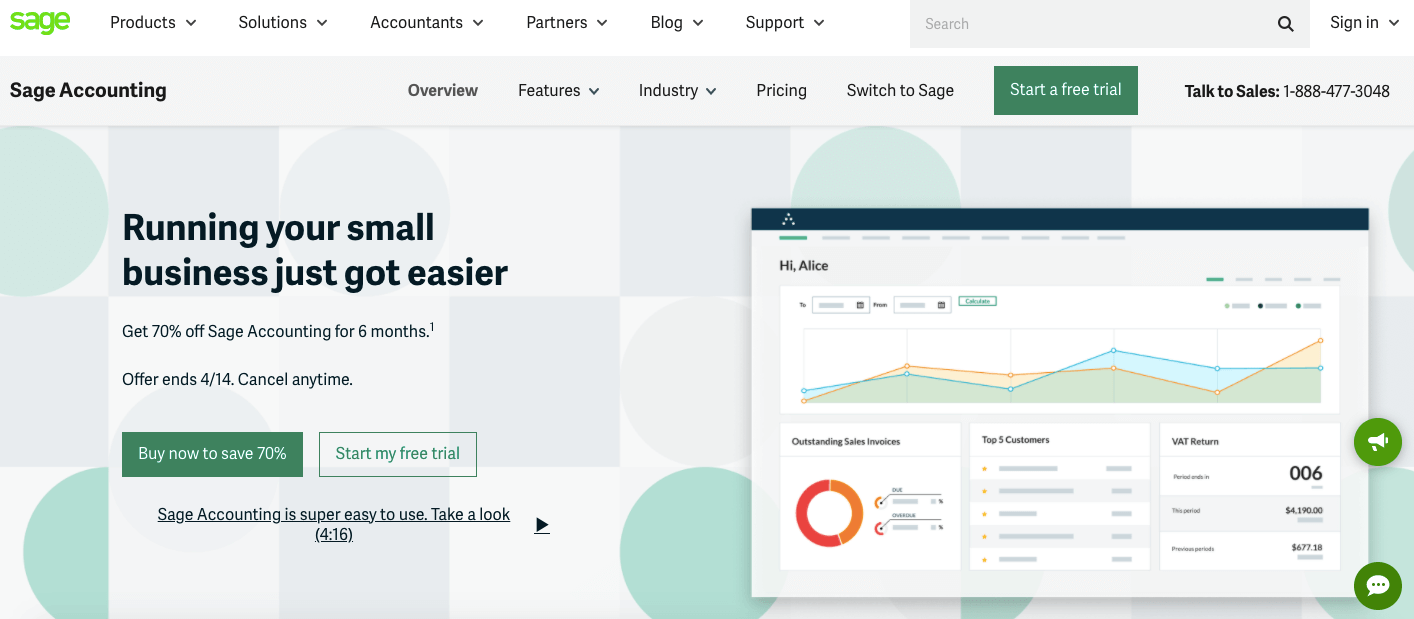 If you're looking to scale, it might not be a long-term option. But let's say you operate at a lesser level. In that case, it can be the most user-friendly for any novice, which is undoubtedly a key factor when deciding on the finest accounting software for Shopify firms.
Key features:
Automatic transaction matching: After establishing a connection with your bank account, Sage employs machine learning to gradually memorize your preferences. This tiny tip could help you avoid wasting numerous hours filling out data.
Instant invoice reporting: Sage Business Cloud Accounting allows you to track down overdue invoices by simply consulting the lists that the system compiles. This is a simple and obvious remedy if you frequently encounter this problem.
Simple to use: The amazing visual interface makes it easy to use, making up for the lack of more complicated functionality. Compared to its competitors, using this software will feel like a walk in the park.
Freshbooks
When looking for the ideal accounting software for Shopify, often the simplest solution is the most suited.
Furthermore, Freshbooks makes up for its lack of advanced functionality with a user-friendly and quick-to-navigate layout. It has one of the greatest customer assistance systems, and its accounting and billing processes are easy to understand. They also urge consumers to call them for human assistance rather than just relying on publications.
And when looking for the best accounting software for Shopify users, assistance should not be undervalued. The initial learning curves are not particularly steep, but with some direction, you will probably benefit much more.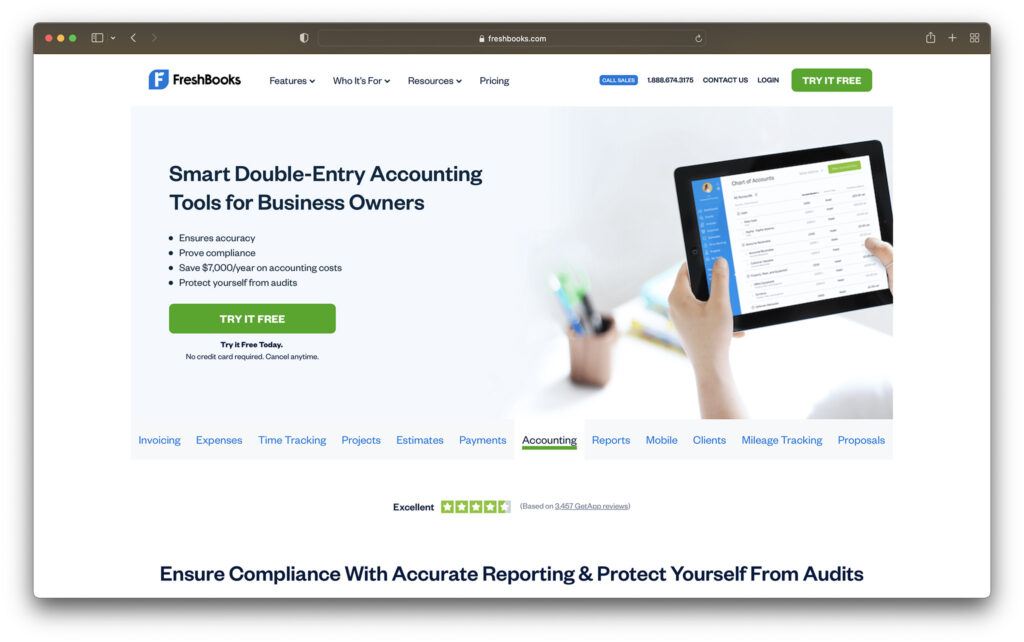 A minor drawback is that connecting to Shopify requires the OneSaas app. However, the fact that it streamlines tax payments with its pre-defined classifications more than makes up for it. Additionally, every item from your Shopify store will be automatically transferred, allowing you to start properly determining selling prices.
Key features:
Tax categorization: Since the tax categories are already included in your spreadsheets, you won't have to waste time analyzing them.
Project tracking: To make sure you aren't spending more than you should be, track your projects' expenses separately. You can utilize Freshbooks for project management and deliverables, which is much more significant.
Team permissions: Within the conditions you specify, give others access to your accounting and costs.
Zoho Books
Zoho Books is known for being one of the best accounting software for Shopify store. It offers comprehensive accounting features and integrates with Shopify. It also allows you to manage invoices, track expenses, and reconcile bank transactions, streamlining your e-commerce accounting processes.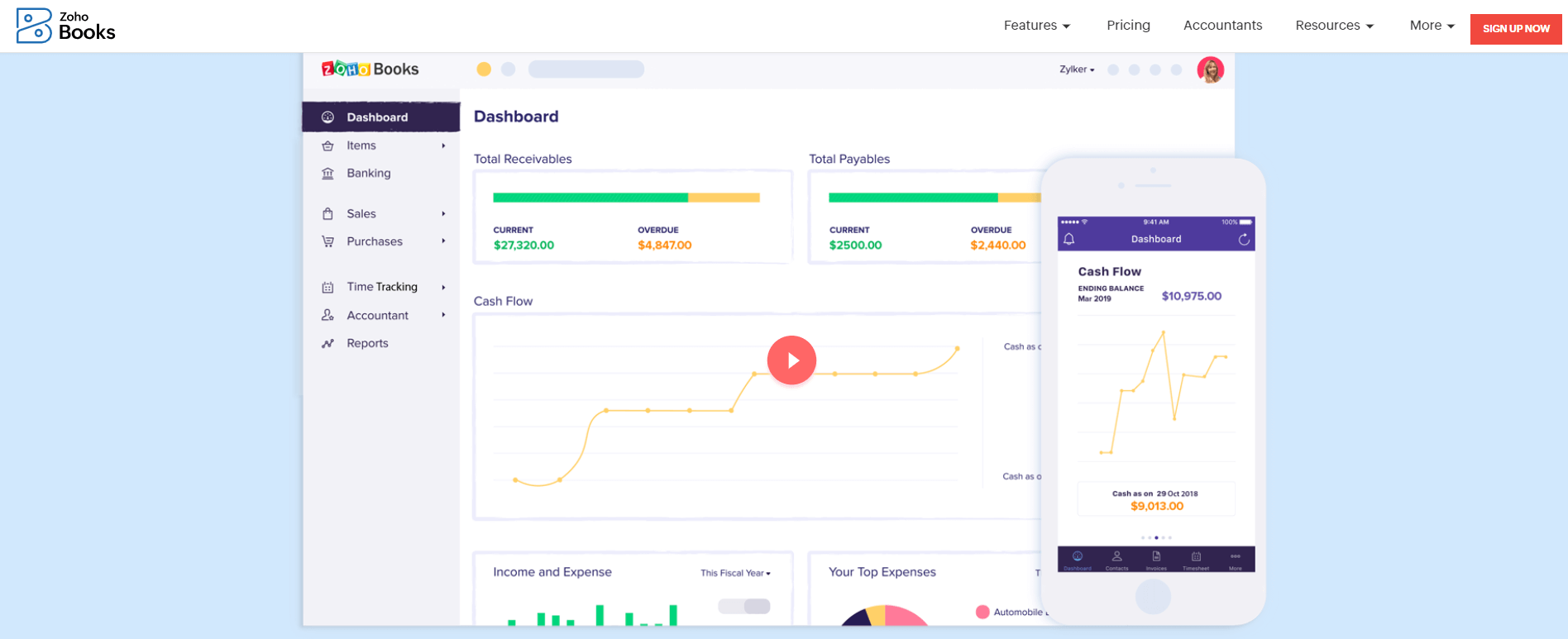 Zoho Books is a cloud-based accounting software designed to simplify and streamline financial management for businesses of all sizes. It offers a comprehensive suite of features that help you handle your accounting, invoicing, expense tracking, and reporting needs. Whether you're a small business owner, a freelancer, or a growing enterprise, Zoho Books aims to provide user-friendly tools to manage your finances effectively.
Wave
Given that Wave won't cost you a penny, why not have a look? You might not anticipate a free option to be on our list of the top accounting software for Shopify.
To sync orders and payouts, it can be coupled with Shopify via third-party software. To track your basic accounting requirements, such as cash flow, sales, purchases, and payroll, it might be a fantastic alternative.
When things get tough, your accountant can use it because it is simple to read and distribute. This has made Wave one of the best accounting software for Shopify store, especially for entrepreneurs.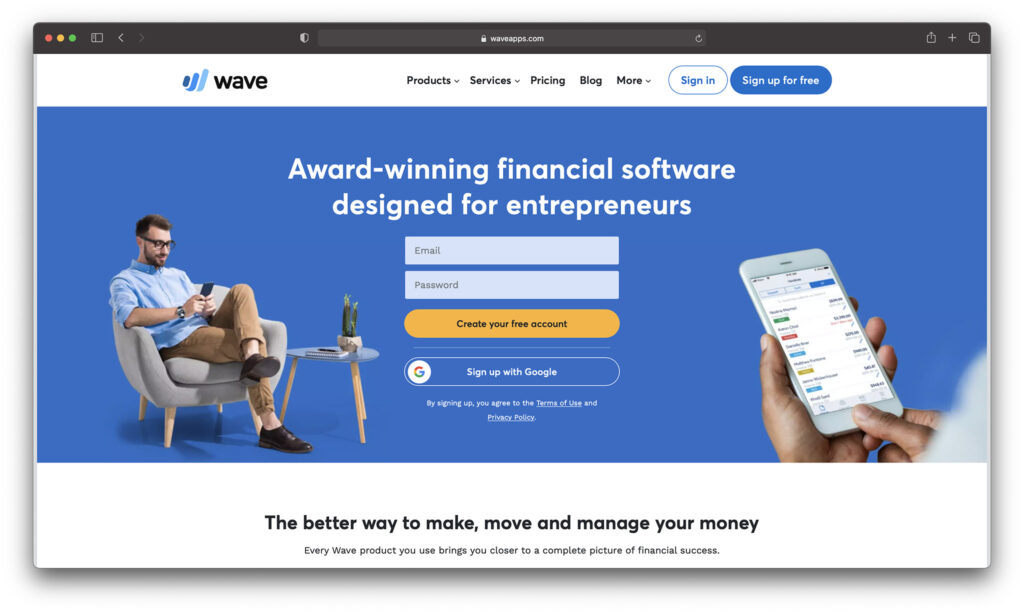 There are some restrictions because you won't be obtaining advanced reports or connectivity with inventory management. However, Wave will be able to meet your demands if you intend to continue operating a modest one- or two-person business.
Key features:
Fast setup – This software's simplicity is both a strength and a potential weakness. Without any prior training, it's incredibly simple to get going.
Even though Wave is free, you can link it to your bank and credit card accounts to have Wave download transactions for you automatically. You'll spend far less time entering data as a result.
Secure data – the system encrypts and read-only all of the bank information that is recorded. You may be confident in the security of your data because Wave has PCI Level-1 certification for bank account and credit card information.
TradeGecko
TradeGecko is an inventory and order management software that integrates with Shopify and also offers basic accounting features. It can help with tracking sales, managing orders, and handling inventory, making it suitable for businesses with more complex needs.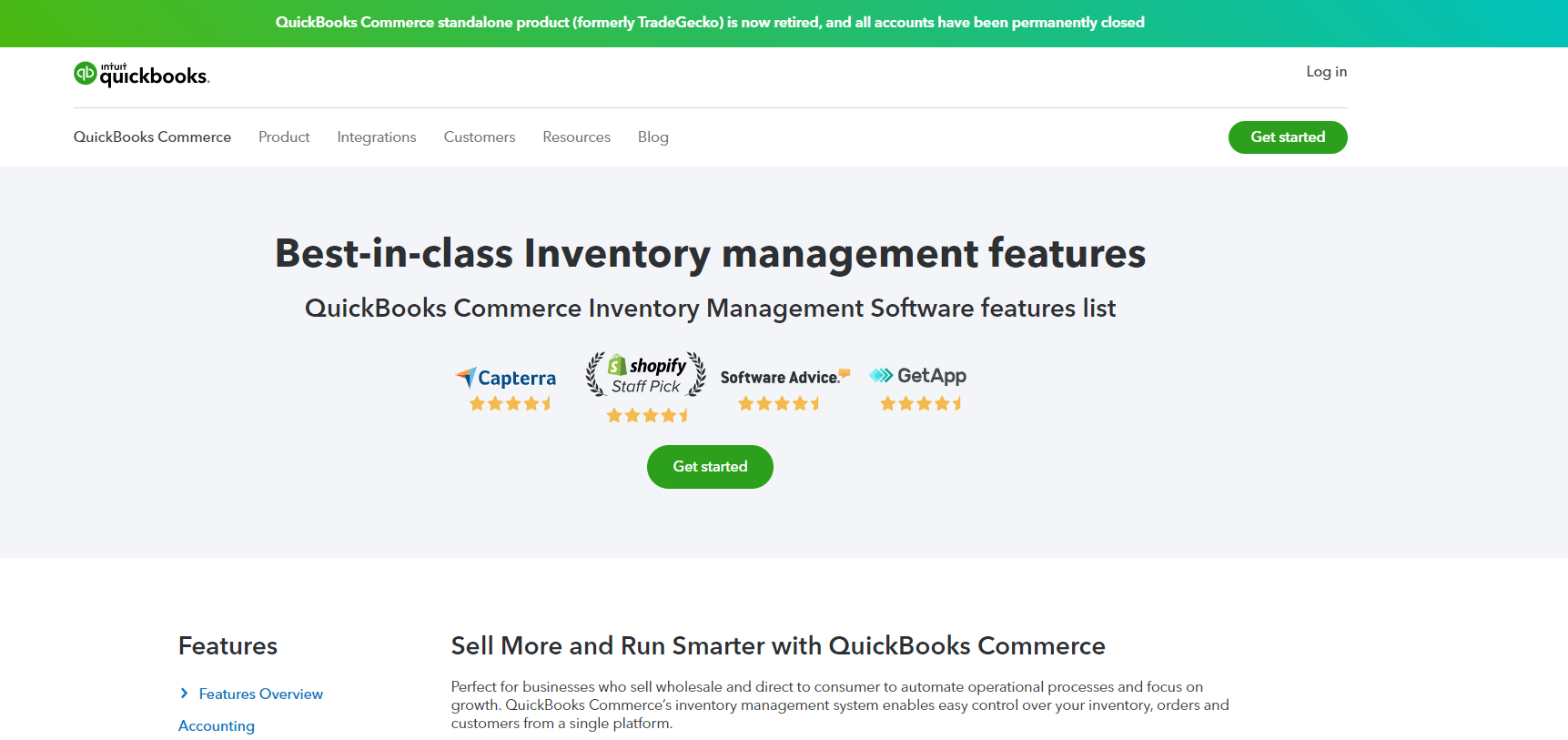 TradeGecko is an inventory and order management software designed to streamline and optimize the operations of businesses, particularly those in the eCommerce and wholesale sectors. With TradeGecko, businesses can efficiently manage their inventory, sales, purchasing, and order fulfillment processes. The software offers a range of tools and features that help businesses of all sizes maintain control over their inventory and improve their overall efficiency.
Botkeeper
Botkeeper is a cutting-edge AI-based accounting solution that "learns" your company without requiring a lot of manual setups.
The software was created in 2015 to allow companies to benefit from artificial intelligence while utilizing remote accounting specialists to automate and validate revenue and expenses.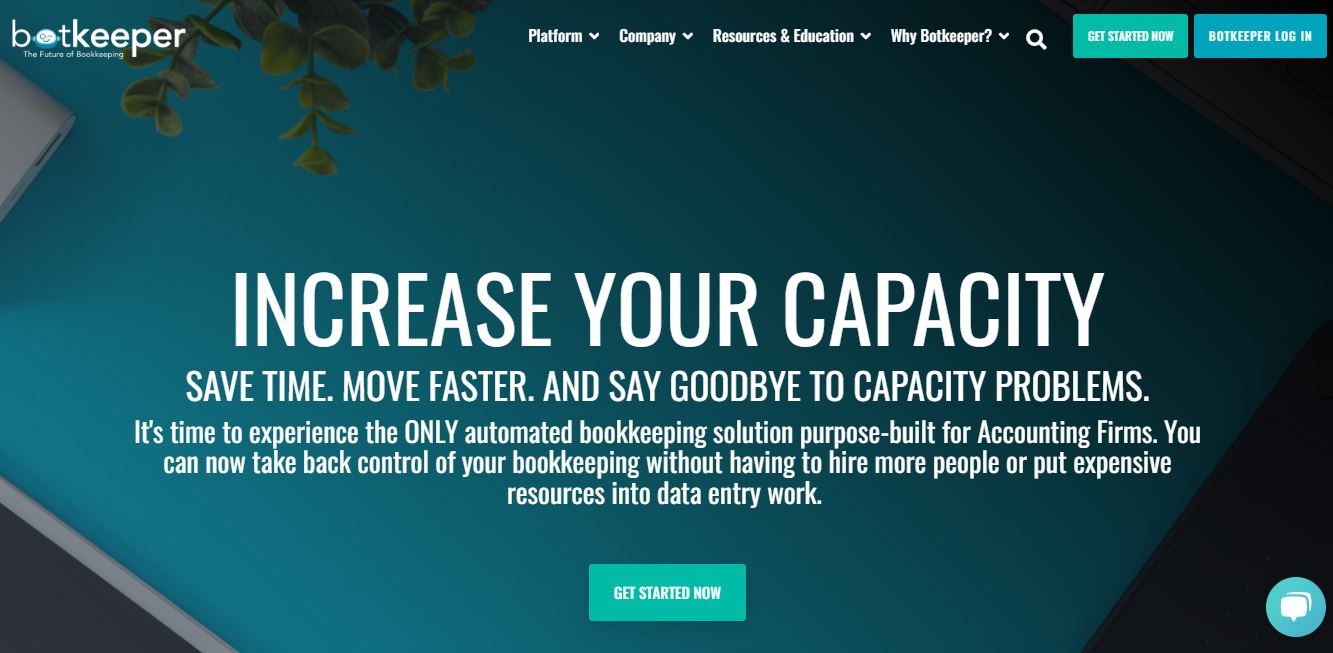 Therefore, Botkeeper is more of a full-stack accounting system that uses machine learning and AI to automate your routine bookkeeping tasks, with support from a team of qualified accountants. It can take care of everything necessary, freeing you up to concentrate more on other business operations.
They can work within a Shopify POS payment processor and do have specific Shopify app connectors. This allows them to get all the necessary data.
In conclusion,
We hope this article has helped you find the best accounting software for Shopify stores. Each of the programs we've featured has its own unique benefits, some even require to be integrated into the website at the development stage. So be sure to take the time to research each other to find the right fit for your company. Thanks for reading. If you wish to receive updates like this from us, please consider subscribing to our newsletter right below.