When it comes to eCommerce, you may hear your customers complaining, "I ordered this three weeks ago, and I haven't received it yet.", "I received the iPhone, but the screen broke." These are statements that no marketers or sellers want to hear. When customers' problems are not resolved, customer satisfaction would decrease, leading to low sales and dropping revenue. Nine years ago, it was acceptable for customers to wait for less than 5 days to receive the packages. However, things have changed, such things as waiting for items is reduced to 48 hours on average. Consumers nowadays are expecting to receive their items right away, and are willing to pay more for that kind of responsiveness. To do that, the order fulfillment in e-commerce must be processed quickly.
But here is the new dilemma for eCommerce firms: People expect better prices, timing solved, and customization. The question remained, how can businesses meet those requirements to better experiences for customers? In this article, let's look at what is order fulfillment in e-commerce and tips of order fulfillment for small business.
What is order fulfillment in eCommerce?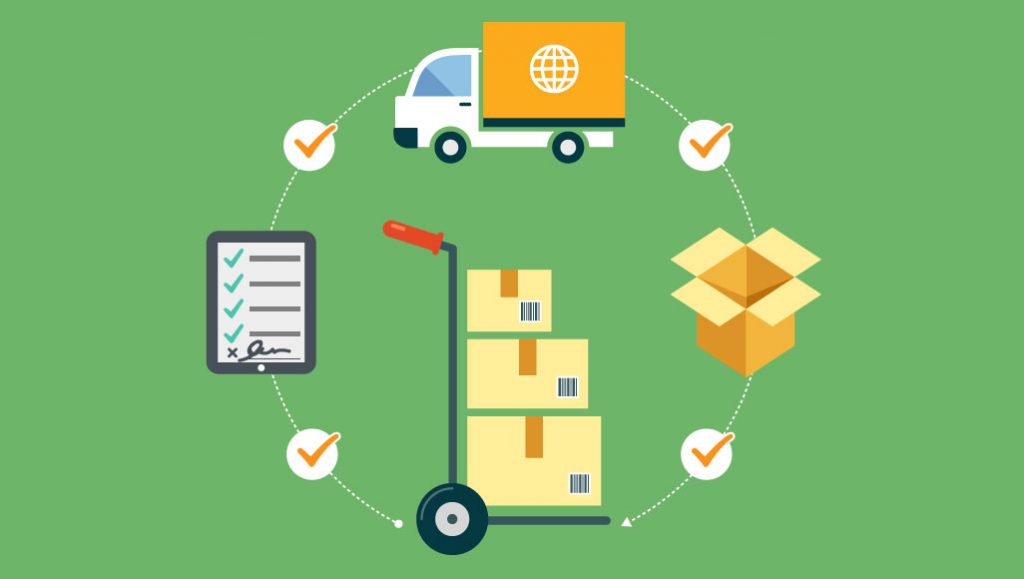 At its simplest, order fulfillment in eCommerce is defined as a one-stop solution process that starts from a point of ordering/making a purchase to the point of the manufacturer's pack and delivers them. This may all include: receiving, possessing, packaging and delivering products to end-users – customers. This process can be generated through the retailer itself, or outsourced to third parties (specialist order fulfillment companies).
To many people, this job seems quite simple and leisurely. However, with the strong development in economics and eCommerce as well, these require a large number of orders. Besides, order fulfillment in e-commerce is a process that requires professional, scientific knowledge as well as high technology to be able to process orders in the fastest way while still ensuring accuracy. For many businesses thereby, they find the process of order fulfillment in e-commerce quite expensive and time-consuming. A third company that specializes in providing order fulfillment in e-commerce services comes into play.
How can firms optimize the process to meet those needs?
Determine your firm size and orders volume
It is urgent to define the number of products you are selling and also monthly order volume then starting with the order fulfillment solution which works best for you.
For small businesses with small scale, due to low order volume, keeping fulfillment in-house rather than outsourcing may be more cost-effective. You probably don't need a full inventory or warehouse management system to maintain track of your inventory and operations if you sell a small assortment of products and only dispatch a few orders per week.
For big firms with large scale, as your business is growing to exceed and your order value is continually increasing, partner-shipping with third parties or maintaining track of inventory and warehouse system is a need.
Order fulfillment options
Third-party logistics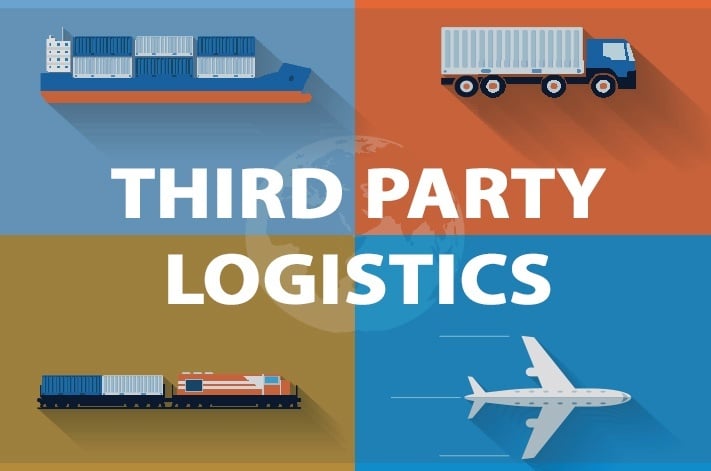 With the continuous improvement of technology and equipment, as consumers now need speed and convenience, businesses are required to improve their efficiency and specialization. A need for outsourcing order fulfillment in e-commerce logistics is thereby urgent. Another driving factor for outsourcing logistics is that most e-commerce companies do not have scale. They can afford the huge cost of cutting-edge ERP (Enterprise Resource Planning) software that needs to remain competitive. As computers become more and more popular, investment in the latest technology will continue to increase. This is a compelling case for large-scale, multi-location, and professional third-party logistics providers.
Merchant fulfillment
Merchant fulfillment, also known as in-house fulfillment or self-fulfillment, refers to an eCommerce seller who completes the entire order fulfillment process without the assistance of a third party. When they initially started out, many online businesses chose to fulfill orders in-house. This frequently entails holding goods and packing orders from the comfort of one's own home.
Merchant fulfillment offers greater control over your retail supply chain than outsourcing, but it's also more expensive and difficult to scale as your company grows. You have two options when your order volume becomes too high to continue completing orders from home: Invest in fulfillment infrastructures, such as warehouses, staff, and equipment, to expand your merchant fulfillment operations. or outsource to a 3PL.
Dropshipping
Manufacturing and order fulfillment are handled in a much more hands-off manner. The manufacturer creates stores and ships inventory. When a consumer puts an order, the manufacturer receives the information. The product is sent straight to the customer from the producer.
Dropshipping appeals to many new eCommerce enterprises because of its low entry hurdles and low expenses. Manufacturers, on the other hand, are frequently located overseas, which means that shipping takes much longer and is potentially more expensive than fulfilling orders domestically.
Reverse logistics – a risk or a chance to be better?
As if the pressure to create and meet demand is not enough, e-commerce must find it hard to deal with a huge number of goods. Reverse logistics definition, according to The Council of Logistics Management, is "the process of implementing, controlling, and planning the cost-effective flow of finished goods, raw materials, and in-process inventory. The flow is from the point of consumption (i.e. the customer) to the point of origin (i.e. the manufacturer), to properly dispose of these or to recapture value."
Some reverse logistics examples are:
The return of goods by customers.
The return of unsold products/materials by distribution partners due to contract terms or unqualified quality.
Packaging reused.
Repairs and maintenance agreements.
Returns or overstocking prompt the sale of products to a secondary market.
Reverse logistics is becoming more common as market characteristics such as rising customer return rates and a requirement for recycling and re-use become more prevalent.
Reverse logistics is not always a risk for firms, it is a chance to raise the quality of goods or even a way for manufacturers to satisfy their customers by providing qualified products.
Effective order fulfillment in e-commerce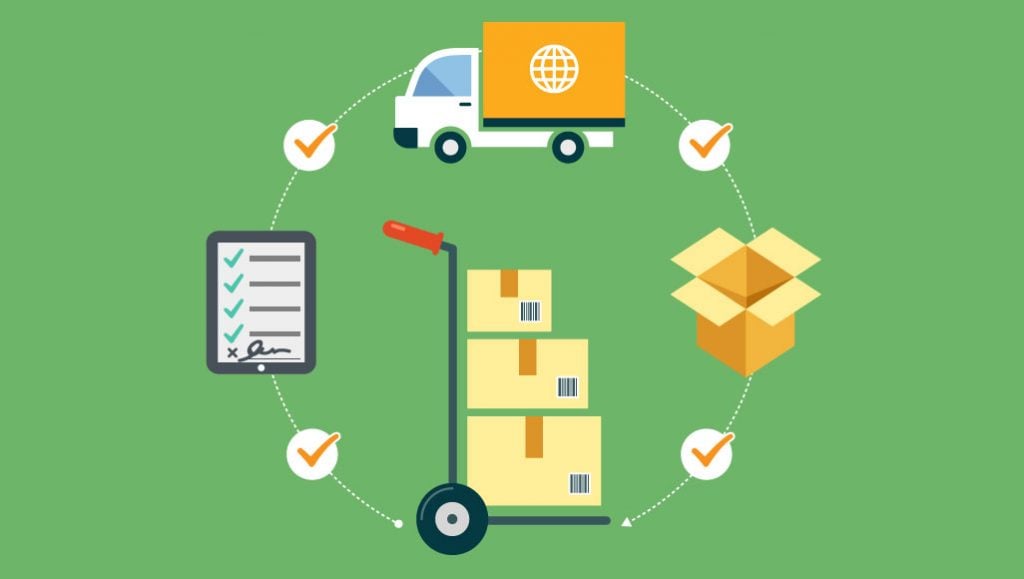 E-commerce businesses must pay attention to all the following factors in order to increase the effectiveness of order fulfillment in e-commerce:
Speed: The goods must get there on time.
Accuracy: The exact product ordered must be there.
Scalability: Of course you can get the goods there, but as you grow, does your achievement ability grow with you?
Wave: Holiday seasons and other occasions lead to a surge in shoppers' traffic. You may have ensured that your website can withstand the wave.
Order fulfillment eCommerce for small business
When orders follow each other in rapid succession, it is often a matter of looking for solutions to manage the warehouse as optimally as possible. Processing orders quickly, limiting the risk of errors and smart design are important in this respect. Which strategy you should use depends, among other things, on the number of orders to be processed per day. We discuss the strategic choices you need to make and assume at least fifty daily orders.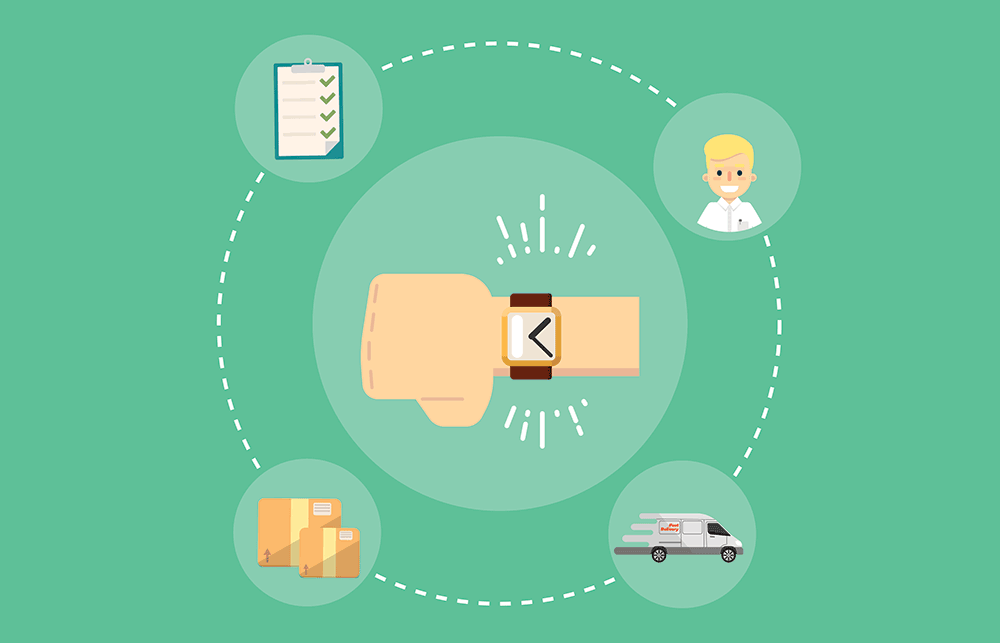 # Choose the Right Strategy
If you only need to process a handful of orders per day, you can perfectly manage warehouse management manually. Investing in automation is then not profitable and you can perfectly perform each picking separately. However, when you need to process more orders, automation becomes necessary (around fifty orders per day). With several hundred orders per day, you have to automate a number of tasks and take them off the hands of the staff. This includes the use of packaging machines and e-commerce warehousing and order fulfillment software which will easily pay for itself. Outsourcing is not necessary at the moment but can happen at peak times. As soon as you have to process more than a thousand orders per day, you can permanently outsource part of the work.
# Get Fast Order Picking
Optimizing the working environment is recommended from as little as fifty orders per day. You can do this in several ways. For example, the smart placement of the products helps to limit the distance to be traveled. Products that are often ordered are then nearby. Also, consider combination orders and group products in a smart way. The use of warehouse labels and color codes is recommended. If you have to process heavy orders, the use of pallet trucks and forklifts is also recommended. The use of a WMS (warehouse management system) that knows where the products are and provides instructions for order picking is interesting from a few hundred orders per day. If you do not use WMS, you can create fixed paths by means of arrows and signaling tape.
# Automate the packaging process
Once you have to process a few dozen orders per day, the use of a packaging machine is recommended. A good packaging machine ensures firm and safe packaging, possibly in combination with filling material. In addition, it can speed up the packages quickly. Automatically creating and sticking shipping labels is also recommended, not only to save time but also to limit the risk of errors.
# Be smart with stocks
In the warehouse, you will soon be faced with a dilemma. Stocks are crucial to guarantee fast delivery times, but on the other hand, you also have to use the available space wisely. Therefore, check what the bestsellers are and stock up. Use statistical data and adjust the stock held in the past, because during the winter period customers simply order different products than during the summer. Customers also order more specific products during certain sales periods such as Valentine's Day or Christmas. You can then limit the stock for other products. Possibly you can via drop shipping contact your supplier's stock directly. Then it is of course extra useful if you can link your software with that of your supplier.
Conclusion
Order fulfillment in e-commerce offers a better experience for consumers by providing products with qualified quality and thereby raising consumer satisfaction over the brand, leading to high sales. Small businesses with small scale and low order volume are advised to choose a proper strategy for determining order fulfillment options and improve automation in the whole process. It is the fulfillment in eCommerce order that leads firms to a higher level that can meet new consumers' needs.