If you have got a mobile application, then you need to know what mobile push notifications are. Some of you may understand what a mobile push notification is and how it functions, however, would you say you are successfully utilizing them for your potential benefit? Mobile push notification is an extraordinary showcasing instrument for anybody with a mobile app since they help you stay in contact with your clients. Simply ensure you utilize this procedure carefully.
Mobile push notifications have become a new mobile marketing phenomenon with the increased popularity and availability of smartphones. Nowadays, it is a common marketing format that is used for both promotional and transactional purposes. Mobile push notifications help companies advertise their products and services, increase customer engagement and brand awareness as well as app retention. It is a useful channel to disseminate information (with the help of a mobile app) to a vast amount of users simultaneously.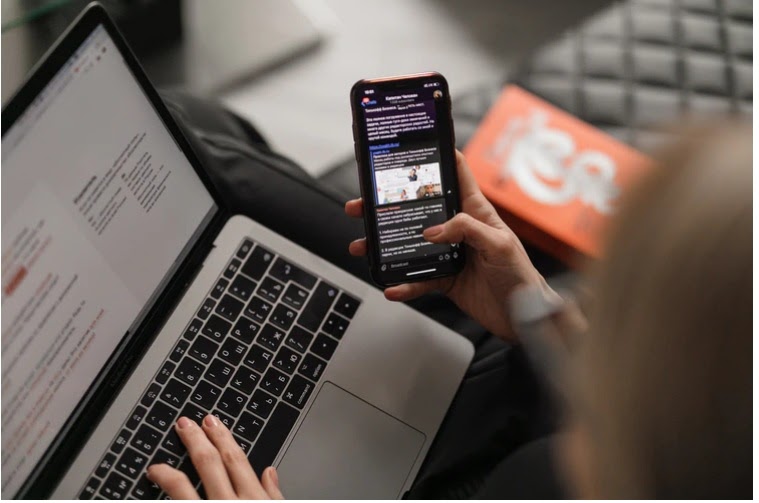 On the other hand, if you go overboard and use this method too often, it can cause users to mute your push notifications. Therefore, this blog would cover the ultimate guideline about mobile push notifications for those who do not understand about them or do not know how to manage and use them in the most effective way.
What are mobile push notifications?
Mobile push notifications are messages sent by an application to a customer's mobile device. You can send push notifications to customers who have installed your mobile app and opted-in to receive messages. On the other hand, app publishers can send them at any time; users do not have to be in the app or using their devices to receive them. They can do a great deal of things; for instance, they can show the most recent games scores, get a client to make a move, for example, downloading a coupon, or let a user think about an occasion, like a flash sale.
Mobile push notifications look like SMS text messages and mobile alerts, but they only reach users who have installed your app. Mobile push notifications are originally used to convey item refreshes, updates, personalized offers, breaking news, and any information that is integral to the functionality of the app and requires special attention or needs to be actioned quickly.
The difference between push notifications and text messages
Although there are lots of similarities, mobile push notifications are not the same as text messages. Both of these messages go straightforwardly to the client's telephone and seem to be comparable on their lock screen, however, they are still altogether different. For notifications to show up on a lock screen properly, you need to have a restricted character limit.
Text messages can be longer in light of the fact that the client can free it up to peruse the whole message. But if your push notifications get cut off on the lock screen, it is going to hurt your conversions. That is why push notifications with fewer words have higher click-through rates.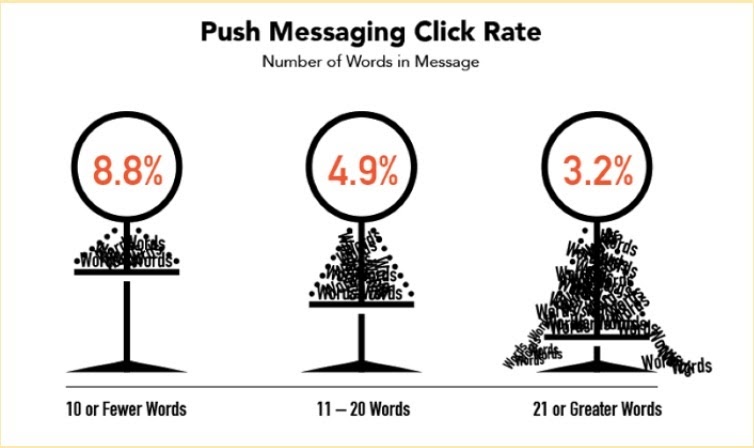 At the point when you swipe to open a mobile push notification, it will have a similar impact as a text message. A text message will bring you to your messaging app, while mobile push notifications without app will bring the user to whatever app sent the message. Push notifications is completely free for users to receive. That is not always the case with text messages.
If your organization sends SMS messages as a special technique, you might need to reexamine this strategy. Contingent upon the client's phone plan, they may need to pay to get SMS messages. Besides, several individuals cooperate with SMS special substances as spam. Despite the fact that you may approach a client's telephone number, sending spontaneous SMS messages is unlawful.
Individuals get these messages constantly from random numbers. You do not want your company to be associated with spam. Mobile push notifications are much better because the user knows exactly who it is coming from. It is clear that the message is from the app that they have installed on their device.
>> Read more: 11+ Benefits of mobile app eCommerce that you must know
Different types of mobile push notifications
When personalized, mobile push notifications advertising receives a high open and active click-through rate (CTR), and can be quite possibly the best ways for portable applications to connect with their client base. However, their interruptive nature means that there is a fine line between keeping users engaged and annoying them outright. For instance, a push message that notifies you regarding a traffic jam close to your home just before you are about to head out to work in the morning is a helpful message, whereas a message about traffic in a foreign city, or a message sent at 4:00 AM is not nearly as welcome. If the messages are seen as an undesirable interruption, this may persuade the client to head into their settings and turn off notices for that application. To clarify this, here are some few basic types of mobile push notifications:
Banner notifications: they can contain the start of a message (on account of a chat application), or contain cautions for occasions like deals, sports scores, or flight registration.
Badge notifications: this sort of notification seems as though a red badge applied to the application's symbol, as a rule with a number (to alarm you, for instance, of unread messages or new web podcasts on your gadget).
Alerts: dissimilar to push notifications, alarms stay on-screen until you physically delete them.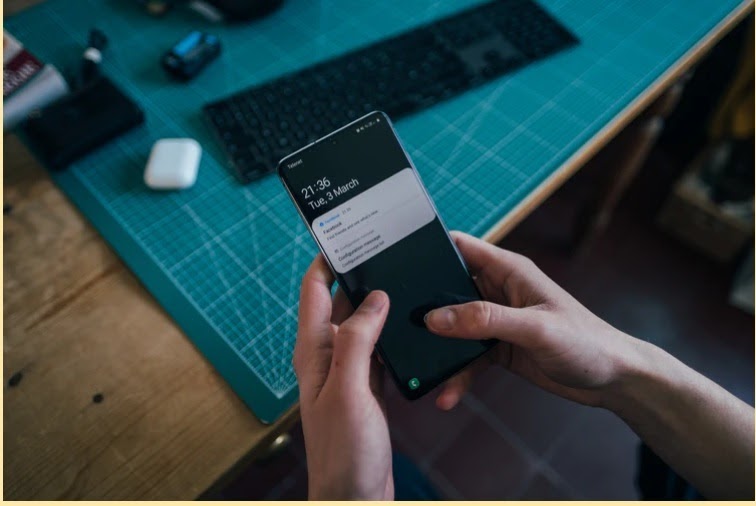 The benefits of mobile push notifications eCommerce
Mobile push messages can be utilized to boost customer engagement with your mobile application, and improve client conversion and retention.
#1. Stimulate user engagement
Applied carefully to your messaging strategy, mobile push notifications can gigantically affect engagement by pushing your customers back into your application. If it is done wrong, push notifications can cause customer opt-out, app removal, and bad publicity. On the contrary, if it is done right, mobile push notifications can open up a line of communication that is closer to the customer than any other technology currently available. Studies show that mobile push notifications can reduce churn, and push disablement has decreased where users receive less than five mobile app notifications per week.
This implies clients gradually become more open to getting and drawing in with mobile push notifications whenever kept non-nosy and at a reasonable frequency. Still, it is vital to define your consumer "sweet spot." 37% of application users would handicap mobile push notifications if they got somewhere in the range of two and five messages week by week. Increase that number to six or ten mobile push notifications weekly and another 33% of respondents would stop using the app altogether. Clearly, it is a delicate communication channel, so strike a balance to avoid annoyance.
#2. Increase conversion
An ongoing mobile push message, sectioned or generic, makes a desire to move quickly. It can productively retarget clients and trigger instant purchases. However, there is no guarantee the customer will complete the intended action. Sending smart, behaviour-based mobile push notifications can increase change rates by 4X.
#3. Improve customer retention
Did you know that nearly 90% of apps that are downloaded onto a mobile device are opened once, and then they are never used again? Only 16% of users will try out an app more than twice (Digital Trends).
Fortunately, expanding your messaging strategy with mobile push notifications architecture can increase your mobile consumer engagement and app retention.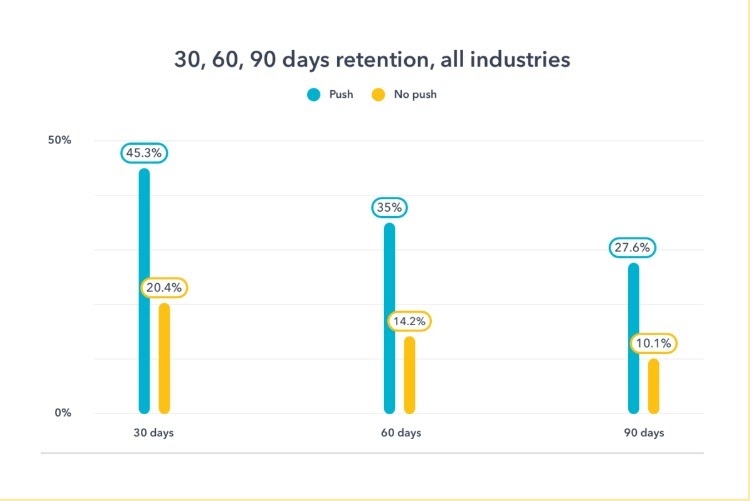 #4. Personalization matters
Do not just send the same message to everyone who has your app. You have got to make sure that each notification speaks to your audience. It is easy to send personalized mobile push notifications because your app will have access to the user's profile. For example, if you are a retailer with a mobile app, you can use a customer's purchase history to send them a valuable message.
Let's say one of your customers has purchased a snowboard, goggles, a winter hat, a snowboard helmet, winter gloves, and a ski jacket over the past few months. Sending them a notification for limited snowboard ties would be close to home dependent on their buy history.
Here's another example. Suppose you own a little neighborhood café that serves real Mexican food. Your application has a mobile food ordering system. If the last multiple time somebody requested something, they requested a steak burrito, you can send them a push notification about their order. 20% off of your favorite steak burrito if you order now. Personalized mobile push notifications like that will improve your conversions. This relates back to our last point about commitment and maintenance. In the event that the notifications are customized, it will build your open rates and lead to higher maintenance.
How mobile push notifications work?
Some of the factors in sending a push notification include:
Operating system push notification service (OSPNS): Every mobile operating system (OS), including iOS, Android, Fire OS, Windows, and BlackBerry, has its own help.
App publisher: The application distributor empowers their application with an OSPNS. Then, the distributor transfers the application to the application store.
Client app: This is an OS-specific app, installed on a user's device.
Open rates depend on how interesting mobile push notifications are
If people do not want to hear from you, they will turn off push notifications. This contact method puts the client in unlimited oversight, which is not quite the same as text messages. Although the right mobile push notifications can have high open rates, sending too many notifications will backfire.
More than half of app users say that they find mobile push notifications to be an annoying distraction. 26% of users like push notifications because they enjoy getting updates about their interests. An additional 20% of users say that push notifications help enhance their productivity.
So the key for you is to make sure you are providing value for the users who want notifications without annoying the users who find them distracting.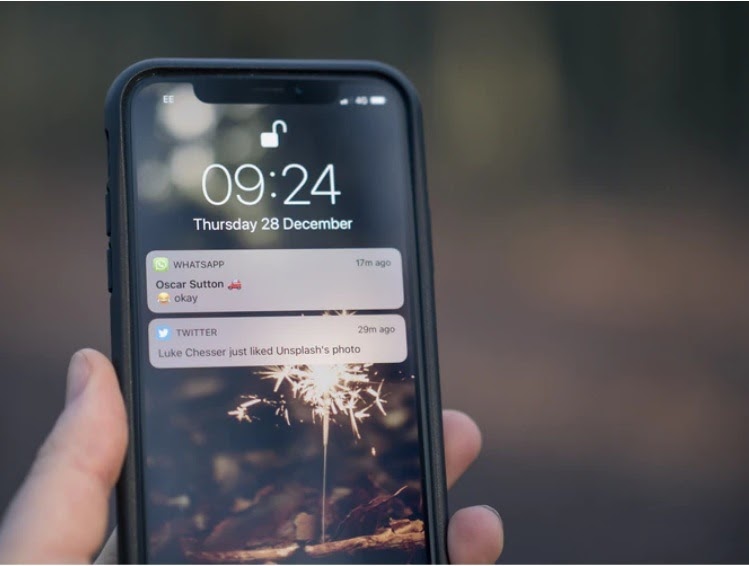 Geofencing technology in mobile push notifications
Since you do not want to send push notifications too often, you have got to come up with a good reason to use them.
Big businesses are using geofencing technology paired with mobile push notifications to drive sales from customers who downloaded their mobile app. Here is how it works. Set up your application to follow the clients' area, with their permission obviously. At that point, you can send an ideal pop-up push notification dependent on their area in the event that it falls inside your geofencing range.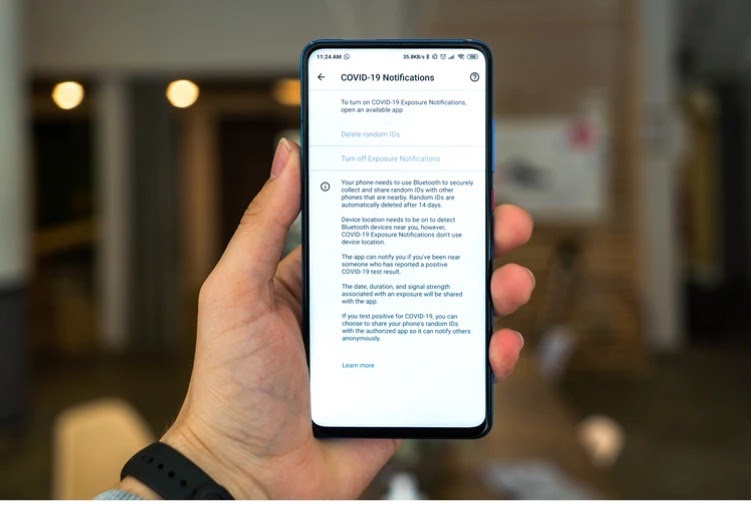 Top 3 best mobile push notifications providers
Choosing the right push notification provider is going to make your engagement strategy much easier, as it will be easy to set up and send notifications to your engaged users.
A portion of these push notification services are more notable than others, yet all have solid usefulness. We have included information on their pricing options, as some cater more to smaller businesses, while others target high growth or enterprise companies. Either way, it is going to be worth taking a look at the options before deciding on the service you will choose. Here are the three mobile push notifications best practices we are going to be looking at:
OneSignal
OneSignal is one of the leading mobile push notification services. It is used by companies like Uber, Adobe, Conde Nast, Skyscanner, to name a few, so if you go with OneSignal you will be in good company. It is also free to use.
Like Google or Facebook, the data your notifications provide to OneSignal are the reason it is free to use, however they will not be sending ads to your users.
You can send mobile push notifications, web push notifications, in-app notifications, as well as email notifications. When you build mobile apps for News publishers, online businesses and eCommerce brands, OneSignal all have a deep push notifications eCommerce system – so our users have complete flexibility to send push notifications according to their needs.
Google Firebase
Like some other Google business tools, it is not difficult to utilize and does as guaranteed, yet as it is not particularly intended for Push Notifications (dissimilar to a portion of the other push notification services referenced here), you can anticipate a few trade offs. All things considered, what you probably will not get in additional highlights and usefulness, Google compensates for with examination coordination.
Leanplum
Leanplum covers the entire range of crowd correspondences: email showcasing, versatile warnings, application inbox messages, and then some. It is one of the main portable promoting stages, offering a total tool compartment including all you will require for scaling a fruitful push notification technique. What's more, it comes total with A/B testing, mechanization apparatuses, and pop-up message personalization included so you can get considerably more out of your ongoing client warnings.
Final Thought
Based on everything that we have outlined you can see how push notifications can help your app and your business. It is definitely better to use push notifications as opposed to text messages to contact your customers. Just make sure you do not send them too often, or else users will opt-out of receiving them.
Send mobile push notifications based on the user's location to enhance their experience and add value. The right mobile push notifications, such as personalized content, can help you increase engagement, retention, and acquisition. Make sure you keep the user's device in mind when you are sending these out.