If you own an independent mobile application, you may also have known what push notifications are and how they work; however, have you used them effectively to benefit app social marketing strategy?
"People will repeatedly use my mobile app because I have published one". If this line reflects exactly your thinking, then you may be in for a huge surprise. According to statistics reported in 2017, users opened approximately 30 mobile apps per month and 10 per day. Yet the apps installed on the device's home screen are more often to account for the majority of time spent on phones of users, leaving other installed apps untouched.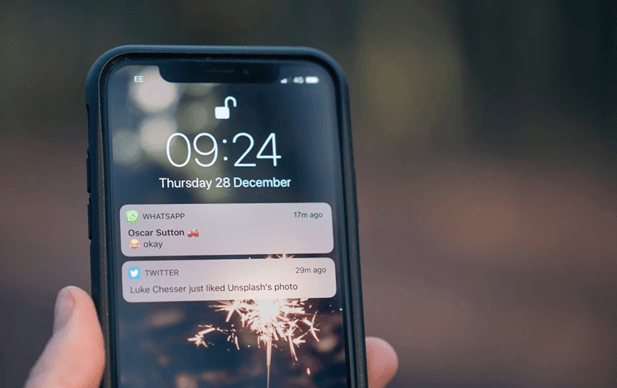 Also, according to recent data collected, if an app is not opened in the first 7 days after installing, there is a significantly high possibility that it will never be in use again by the device owner. As a matter of fact, while it's true that users really spend most of their mobile-using time in mobile apps, these mobile apps still lose 80% of their audience within the first 3 months.
To put it another way, just "staying" there, in consumer's device inventory items doesn't mean that the apps marketers have fulfilled their responsibilities. Beside prompting users to install an app, the app owners need to keep looking for updated and unique ways that lead to more app usages. Especially these days, when the mobile app ecosystem has become too cramped and no longer allows too many players in the field, the attention of the users, which is often limited, is spread among a wide range of apps from various categories. And with the right implementation of push notifications strategies, all of those problems may be solved.
What is a push notification?
Push notifications are messages that spring up on the mobile devices of the users. Application distributors can send them whenever they feel appropriate to trigger the app usage or app opens; clients don't need to be in the application or using their devices to get them. They can do plenty of things; for instance, they can show the most recent sports scores, get a client to make an action, for example, downloading a coupon, or notify users about a forthcoming occasion, like a flash deal.
Push notifications appear as though SMS instant messages and mobile alerts, however, they just arrive at clients who have your applications installed. Every mobile platform has support for push notifications — iOS, Android, Fire OS, Windows and BlackBerry all have their own administrations.
These sorts of mobile apps push notifications are the most ideal route for organizations and advertisers to speak with their clients, however, if not finished with a careful technique set up, these pop-up messages can irritate clients and lead to them dropping the application totally.
Push notifications are a great marketing tool for those who have been developing or owning a mobile app with the main purpose of retaining, increasing interaction with customers.
On the other hand, using this tool requires a clear strategy and process. In the event that not finished with a careful technique set up, these pop-up messages can lead to an immediate and severe drop in terms of user experience. This is definitely something no app owner wants to happen. 
>> Read more: What are mobile push notifications? How it works in ecommerce?
How to differentiate direct messages and push notifications?
Above, we have mentioned that push notifications are like another form of messages. It is visible that push notifications and sending messages have one thing in common: the notification is sent directly to the customer's device and displayed on their screen. However, they still have different points to distinguish:
Push notifications have a limited character to appear on the device's lock screen. Therefore, the more attractive, short and concise the information conveyed will be able to "touch" immediately to the user, making the reading rate higher. Otherwise, text messages can be longer because the user usually opens them to read the entire messages.
The number of push notifications implemented by an app owner does not affect the total cost. It even leads a link that takes the user directly to the landing page or immediately opens the application.
In contrast, SMS brand name messages have a rather high cost, usually around 300 – 500 VND/subscriber. So using SMS is not the optimal solution for small and medium-sized companies in terms of budget.
In addition, the mode of blocking advertising messages and spam is one of the disadvantages when businesses use SMS messages. In that case, push notification becomes a smarter choice because users know exactly that the information comes from the application installed on their device.
Nevertheless, all these push notifications can be disabled completely by adjusting certain settings in the mobile apps, which causes a high risk that makes these apps no longer able to send notifications to the users again. To avoid this grave risk, the app developers need to create thorough and interesting notifications and consider to send them on a relatively regular basis to minimize the chance of disturbing the users.
Push notifications benefits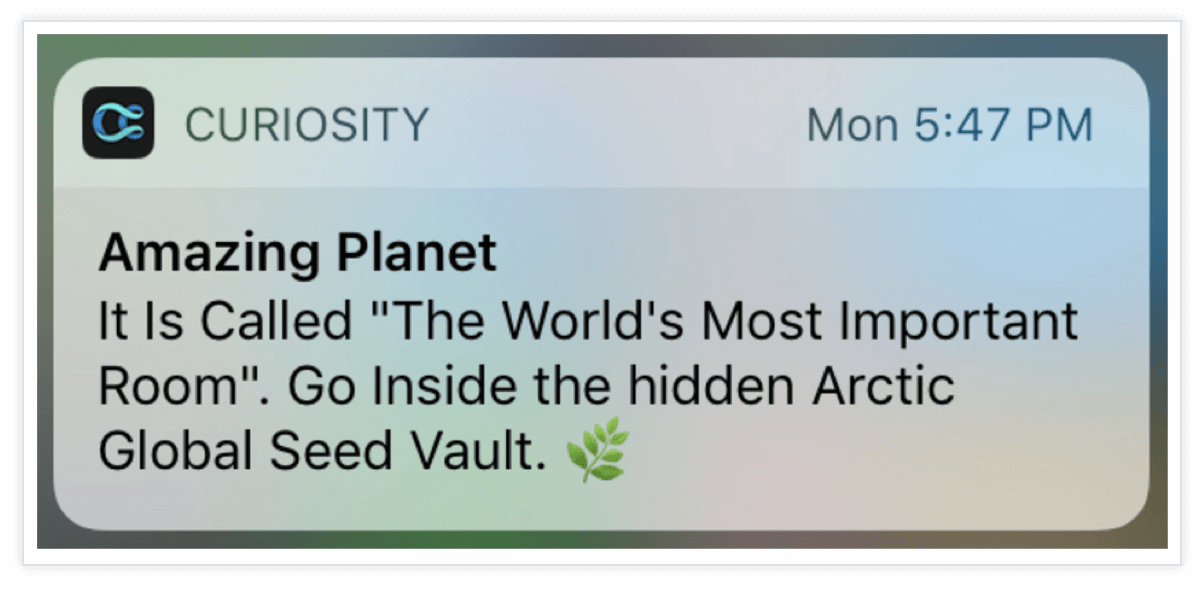 Below, we will investigate how your business can profit by utilizing push notifications on your mobile apps.
Enhance the user's experience
Push notification is just one of the commonly used marketing tools, but if you know how to implement it the right way, you can take advantage of it to improve the user experience. No need to be fussy, just answer correctly 2 immediate queries:
What are the reasons why people use your app?
How can your push notifications gain your users good experience?
The Uber App is a prime push notifications example. They use push notifications to make it easier for users to use their apps. Below is an example of one of their announcements:
"Uber rates are based on supply and demand. So if the user opens the app to request a ride but sees a premium, they can wait to book a ride."
Then, Uber sends a message like this to help users get the lowest possible fee, which can be seen as an act of increasing the value of the message. As can be seen clearly, the message is also an advertising tool, not too revealing and still enhances the customer experience.
After requesting a ride, Uber continued to send messages that were useful to users. Instead of letting customers wait for 10-15 minutes, Uber will update the driver's status and license plate information when they start to leave and are on the move.
This strategy is also perfectly suited to other service industries, such as food delivery applications. Instead of reporting driver status, send order status updates to your customers. Help increase engagement, conversion rates and customer retention.
Boost engagement rate of users
Compared to other forms of marketing, push notifications have a much higher open rate. See the difference between push and email notifications in terms of open rates, clicks, and engagement.
That's probably because not everyone is notified whenever they receive an email. People receive a lot of emails in a day, they don't want their phones to vibrate all the time.
But since push notifications don't happen as often, app users are more likely to be interested. This is especially true if you follow the advice we have given so far and submit timely and value-added advice.
The right push notifications can increase engagement. Customers with high engagement will continue to use your app and support your brand. As a result, you will make more profits.
Target the right audience
Mobile applications can request a client's consent to get to know their location. In the event that they grant it to you, you'll get a great chance to customize the client experience with location-specific push notifications. A mobile application can send offers that are pertinent to clients in a particular area dependent on their time zone. You can target clients as per nation, state or city. For instance, Waze works effectively helping its clients to remind them of nearby traffic circumstances and give gas station updates like gas cost. Also, you can make clients aware of flash sales, discounts or specials when they're in a specific area. Push notifications dependent on a client's location can assist you with drawing in clients with a serious level of personalization and pertinence.
You can send push notifications to clients depending on their interests and favors as well. Like Netflix, you can utilize application and client information to reach out to the right target clients. Netflix sends push notifications to clients who might be keen on a show. For instance, you may get a notice that a new series is presently streaming while others are notified that another season or sequence of Penthouse is up. It's tied in with focusing on the correct customers.
Boost conversion rates
Timely promoting messages are the most ideal approach to expand the conversion rates of the users since they can alert clients or make an urgent desire to take action quickly. For instance, La Redoute had a problem with the high rate of abandoned purchases. In detail, these people added things to their carts yet left the store prior to finishing their purchases. To fix this issue and recover lost clients, La Redoute began a push notifications campaign where clients would be notified in case these customers left the store with a product still in their cart. With the assistance of push notifications, the organization expanded its retargeting CTR (click-through rate) by a few times contrasted with conventional mobile advertisements.
With these push notifications in the mobile apps, you can trigger instant purchases and reduce significantly the rate of abandoned carts. Send your clients useful messages and let them know about limited discounts or restricted-time offers in your online shop. Notwithstanding this data, push notifications can offer instant buying with a single tap.
Strategies to enhance push notifications efficiency
Push notifications play no less than a vital role in contributing to the success of an app and keeping users. Sometimes, for some reason users may forget about your installed app, in those cases, having a reminder notification is a way to pull the user back to open the application, the reasonable notification will help users use the application more often, increase more frequent usage, sometimes stimulate users to purchase in-app, increase engagement,…
But if used incorrectly, you can easily make users hate an application. Notifications are like a double-edged sword, using them properly can make users love your application more, asserting the user's position in the head, but applying inappropriately, this is almost the fastest way that makes users delete your app from their device.
Be careful in sending regular notices
Consider sending regular notifications, these repeated and useless notifications can also annoy users and do harm to their experience with your app. Sending too many notifications can gradually cause users to ignore your application, not care, and ignore the messages you convey. That is why you need to develop a system to balance message delivery so that users can receive it in the most comfortable way.
Unfortunately, currently, there is no shared recipe for how many push notifications a day is appropriate. It also heavily depends on the type of application and the group of users. For example, with social networking applications or certain types of games, it may be necessary to send regular notifications because users who interact regularly will need to receive notifications to remind them, keep them updated on what is going on. even without accessing the app or game. Whereas sales or news apps should not send out notifications on a regular basis.
If the messages you send are getting a lukewarm response from the user, it may mean that you are not sending the correct push notifications to your users. On the contrary, try a push notification like 'There is an event, the gift in the application waiting for you to receive'. The goal is for users to look forward to your messages, see them in a positive light, and respond to them using your app. When opening a notification, the user needs to be directed to a place that is directly related to the content of the notification.
Customize notification content based on customer experience
Each push notifications cost you nothing and has different values for each different user. Why do users have to receive push notifications like "Does your pet miss you?" Meanwhile, they are interested in issues of "pets need to be fed".
What do you want your users to do using your app? Purchase? Play, use the app for as long as possible? Or invite your friends to use the app more? Clearly defining the goal of each campaign and how to convey the message to the user must be clear, concise, easy to understand. You can use funny, witty words, but make sure it doesn't confuse the user in knowing what they need to do.
Final Thoughts
Based on everything we've outlined, you can see how push notifications can help your app and business. Definitely better to use push notifications instead of text messages to get in touch with your customers. Just make sure that you have known well about what to avoid and what to adopt to optimize your push notifications efficiency.
Send push notifications based on the user's location to enhance their experience and increase their value. Appropriate push notifications, such as personalized content, can help you increase engagement, retention, and conversions. Make sure you keep in mind the user's device when submitting this information.