Choosing the right eCommerce platform for your business can be overwhelming. Magento vs Prestashop are two of the most popular platforms on the market, but which one is right for you? In this blog post, we'll compare Magento vs Prestashop to help you decide which platform is developed for you. Keep reading to learn more!
Magento vs Prestashop Overview
About Magento
Magento was first released in 2008 and has since become a favorite among online retailers. It is an open-source platform that offers a lot of flexibility and customizability. There are also many extensions available to add extra features or customize the look and feel of your store.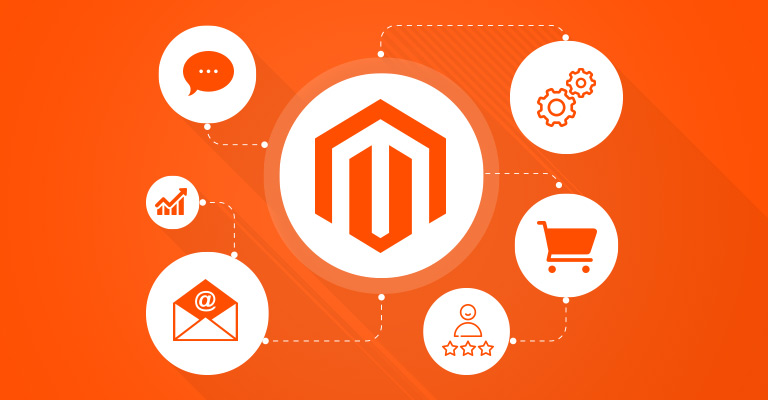 Magento Commerce is an ideal platform for eCommerce businesses because it offers a range of features that help you manage your business. For example, Magento's Order Management module enables customers to place orders and track their shipments with ease while also providing tools like customer reviews on products or shipping rates across various countries in order to make informed decisions when purchasing online. Additionally, The commerce edition comes with bundles of more specialized functions such as B2B capabilities which aren't present within open-source counterparts; this means if someone wants those extra ideal rights they must pay licensing fees whereas community-founded projects don't require any payment upfront.
Pros:
Give the user an opportunity for optimized management.
Integrate business-to-business capabilities to assist wholesalers in improving the consumer experience.
Business intelligence reports provide up-to-date information.
Intelligence in the workplace.
Excellent control of orders and inventory.
Cons:
It took a long time to get a website up and running.
The prohibitively high cost of ownership.
Requirements for the usage of technology.
About Prestashop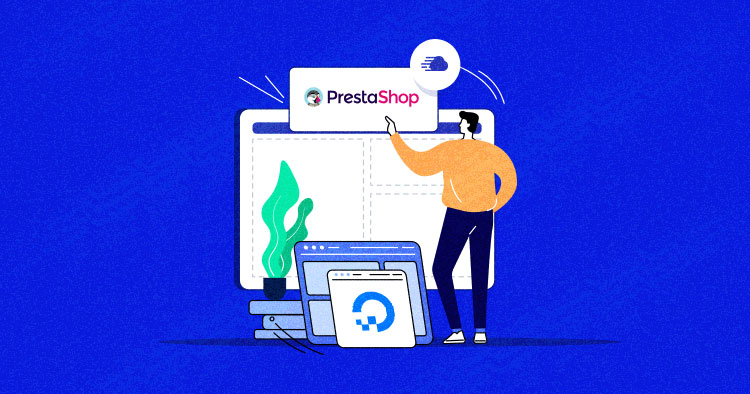 Prestashop, meanwhile, was launched in 2007 and is also an open-source platform. It is slightly less customizable than Magento, but it is much easier to use, making it a good choice for beginners. It also has a larger community of users and developers, so you can find help and support if needed.
Pros:
Easy to install, with a simple design and back-end interface.
The license is not required to start up a business.
Shop sections can be customized with ease.
Numerous currencies and languages are supported.
Paying online has never been easier thanks to services like PayPal and Google Checkout.
Cons:
Scalability is limited.
PrestaShop's designs are amateurish and lack a polished appearance.
There is no official assistance team.
Magento vs Prestashop Comparison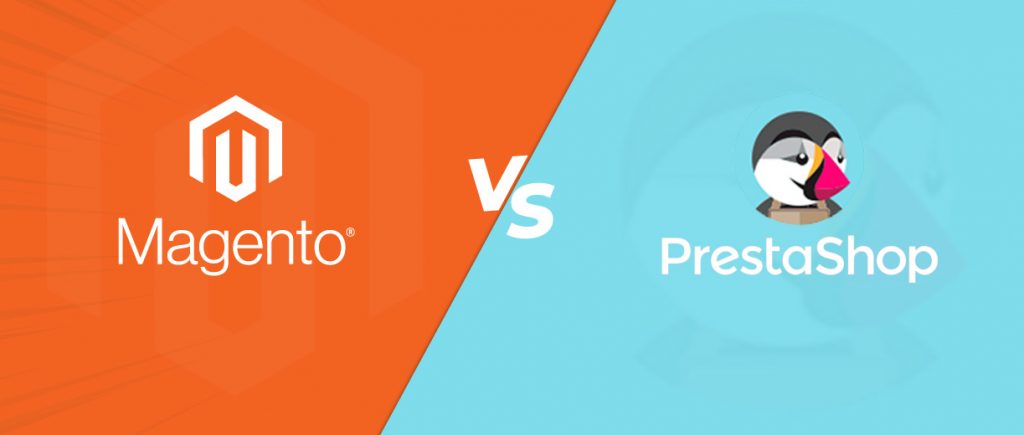 Performance & Scalability
Magento is known for its high performance and scalability. It can handle large volumes of traffic and transactions without any problems. Magento is a powerful and scalable platform capable of handling 500k visits per day. It has been optimized to work with thousands of products while maintaining stability and scalability requirements for large enterprises.
Prestashop, on the other hand, is not as scalable as Magento. It can struggle when handling large amounts of traffic or orders. The ideal Prestashop size is between 100-500k products. This number will not cause website performance issues but it's best if you stay below this range because of database limitations on large brands with more than 500K items in their catalogs.
Easy of Use
If you're an internet merchant looking to take your business to the next level, then Magento may be just what you need! This solution will allow for unlimited capabilities and ease in managing online stores on daily basis. You won't have any problems running this software thanks to its simple interface that can also be available 24/7 through phone or email support options so if there ever comes a time when things go wrong with server crash etc. On the other hand, it is more complex and can be difficult to learn for beginners.
We all know that Magento is a powerful platform for online retailers, but if you're looking to get started with your own website and don't want the heavy lifting of maintaining an entire eCommerce store on just one software package then PrestaShop might be the perfect. It has been designed from day one as a simple web-based solution which means there are no confusing APIs or databases needed in order to make changes; everything can easily be accessed through its dashboard once installed onto server space (which also makes technical support easier). Plus users have access whether they're browsing through smartphones/tablets.
Pricing
When it comes to Magento, there are two different plans available. The free open-source version can be downloaded and installed on your website without any restrictions while Commerce pricing depends entirely upon the store's average gross sales revenue per year.
Unlike Magento Open Source, Prestashop does not require any licensing costs. This means that it is completely free to download and use for eCommerce stores online – no matter how many products or items in total you want your site with. However, the business still needs to purchase hosting domains, or else they will be limited in their options for starting online stores with this system because of its inability as well at being able to handle large quantities of sales by itself.
The table below covers the pricing tiers for Magento Enterprise and Enterprise Commerce Cloud.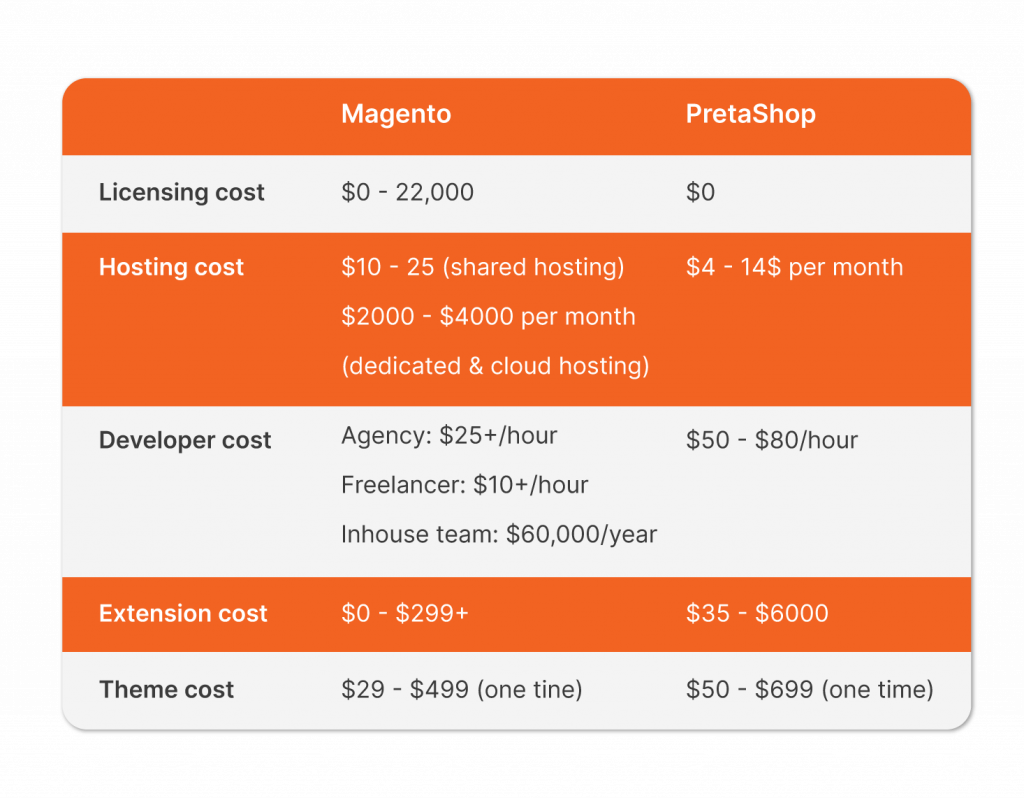 Support
Magento offers better support than Prestashop. It has a large community of developers and experts who can help you with any problems you may have. With nearly 455216 members and more than 163969 posts available on Magento forums, you'll have no problem finding a certified solution partner to help with your peculiar tech assistance when needed. However, if you need any peculiar assistance then there's no better place than this certified solution partner which deals with all sorts of problems faced by customers on their platform.
In contrast, Prestashop lacks a large community and offers less support. However, if you need help figuring out which package will work best with your needs then there's always the option of getting in touch through our Advisors program.
Design & Theme
Magento offers more options for designing your store. It has a wider range of themes and templates to choose from. You can find many storefront designs and themes on the marketplace or third-party sites like Themeforest, with hundreds to choose from!
When it comes to design, Prestashop may not be as powerful or extensive. The themes are also less aesthetically pleasing than Magento's richness in colors and customizations for each individual store owner's needs.
Payment Method
Magento's payment options are more diverse than those of PrestaShop. It has integration with PayPal, as well as support for other platforms such as Stripe and Braintree. In addition, it also natively integrates various gateways through its extension system.
Prestashop does not support all types of card transactions which means your customers might be limited in their options when paying with a credit card on file at the checkout page – even if they have an excellent customer experience otherwise. So it's important for entrepreneurs who want their business seen by potential customers and clients alike might consider adding additional options to their shop module.
Security
When it comes to comparing security between Magento vs Prestashop, Magento has you covered. With better features and fewer hacking attacks than PrestaShop. Plus Commerce edition makes compliance easier by offering integrated payment gateways where credit card data is passed directly from the consumer's browser straight into their bank account – no need for extra steps or third-party plugins like other platforms do today. For this version alone there are also scans available that can detect any potential risks.
With so many security modules available for Prestashop, you can ensure that your store is fully compliant with all regulations and laws. For example, the Official GDPR Compliance ensures top-notch data protection standards are maintained throughout every aspect of operation which will keep customers satisfied knowing their personal information remains safe in their hands meanwhile enhancing brand image.
SEO
Magento is a great platform for those looking to rank higher in search engines. It has better SEO features than Prestashop, and it also provides other advanced marketing tools such as customer segmentation or targeting discussed above with its analytics report generator feature set.
Prestashop does not have as strong an SEO toolset as Magento, and as a result, it will not help you rank as well in search engines.
eCommerce Functionality
Considering the sheer volume of eCommerce opportunities that Magento offers, it's no wonder why so many people are switching over. Magento is an excellent framework for building powerful eCommerce stores. It offers more functionality than Prestashop, with features like promotions and private sales that can't be found on other platforms – plus customer segmentation.
While Prestashop is less complex than Magento, it does have some limitations that might prevent you from using the platform for all its potential. For example, there are no options or features to integrate with other marketplaces besides eBay and Amazon – which limits how many customers can be reached online.
Magento vs Prestashop: what is the better choice
Magento is a more robust platform with more features and flexibility than Prestashop. It can be a bit more difficult to set up and manage, but it offers a lot of power and control over your eCommerce store. If you need a lot of customization or unique features, Magento is probably the better choice.
Prestashop is simpler to use and set up than Magento, making it a good choice for smaller businesses or those who don't need all the bells and whistles that Magento offers. It's also a bit more affordable than Magento. However, it doesn't offer as much flexibility or control over your store as Magento does.
Whichever platform you choose, make sure to carefully research your options and choose the platform that best suits your needs. Magento vs Prestashop: what is the better choice? The answer depends on your business size and needs.
In Conclusion
Magento vs Prestashop are both excellent eCommerce platforms. They have their own unique strengths that can make them a great choice for your online store. If you're not sure which platform is right for you, contact us and we can help you decide. We have years of experience working in developing eCommerce websites that can help you start selling online quickly and easily. Contact us now!