Magento 1 vs Magento 2, tough choice. How can you choose? Is Magento 2 worth migrating to? Magento 2 was released in 2015, and it is living up to its promise of being a better and more optimized version of the Magento 1. Magento 2's increased performance and new features make shopping faster and easier for consumers.
Is that really the case? Let's dive into Magento 1 vs Magento 2 comparisons for the answer.
Advantages of using Magento for building eCommerce site
First, let's go through why should you use Magento by looking at its advantages:
Powerful Platform & Feature-rich
Magento is a powerful platform that can manage whatever amount of products or orders your online store generates. To put it another way, it's a platform that can hold hundreds of items while remaining stable.
As a result, if you've been using Magento since the beginning, you won't have to worry about scalability or performance as your company grows. The platform also offers features like product and inventory management to make the website easier to administer. It also allows you to set up filters and navigation so that you can locate what you're looking for more quickly.
Limitless customization
Every organization has its own style and personality, as well as the products and services it sells and provides to customers. To stand out from the crowd, you should also personalize your website. How do you go about doing it using Magento? In terms of installing themes and extensions, Magento makes it easier than any other platform.
You may use Magento to create a One Step Checkout procedure. This condenses all of the checkout phases onto one page, making it easier for users to complete their transactions and minimizing your checkout abandonment rate. Remember to add user-friendly features like fast view, international currencies, and languages to expand globally, manage many storefronts from one location, and Ajax-friendly designs, among other things. You can use as many plugins as you want to optimize the performance of your online store.
SEO-Friendliness
It's simple to optimize product pages and descriptions with Magento. Because it was built with SEO in mind, it generates SEO-friendly URLs. Magento-powered websites are also responsive, ensuring that your store is accessible across all devices and browsers. In addition to the increased SEO, your store will shine in terms of consumer experience.
Faster Loading
In the world of millennials, a website's loading speed is vitally significant. According to Google statistics, 50% of users abandon websites that take longer than 3 seconds to load. Is it possible to make use of this by using Magento? Yes, one of Magento's primary advantages is the website's speed. Magento allows you to keep load times low regardless of how busy your store is.
Flexible Content Management
When it comes to Magento's main advantages, Content Management is also quite versatile. It allows business owners to customize their merchandise and make their stores more user-friendly. Magento features a simple page editor called What You See Is What You Get (WYSIWYG) for anyone who wants to customize the store's functionality. This software allows you to edit web pages with ease without having any technical knowledge.
Advanced Reporting
As we all know, reporting is crucial in an eCommerce store. Magento includes a lot of high-end reporting features, including about 20 reports that may be accessed via the web interface. All of the relevant information, such as orders, customers, and items, is available in the reporting component. More interestingly, the Magento report is updated on a regular basis to reflect the most up-to-date information.
The number of orders, average order value, taxes, and shipping cost collection, as well as the number of registered accounts, product orders, and insight into best-selling products, are all included. You can effectively manage your eCommerce business with the most up-to-date intelligence, data, and metrics.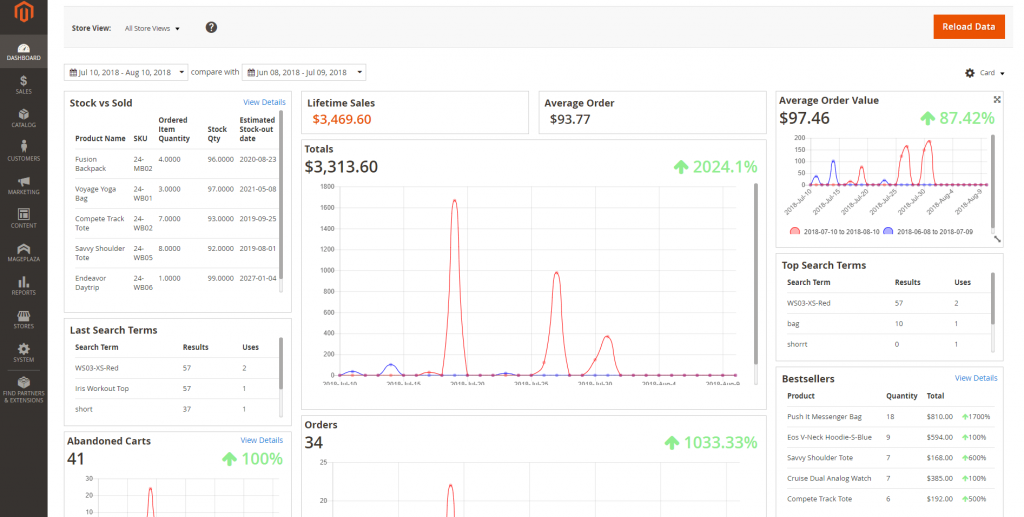 Now, if you have fallen into the advantages of Magento, what Magento version should you use? Or if you are using Magento 1, should you migrate to Magento 2? Indeed, Magento 1 vs Magento 2 is an endless topic for discussion in the Magento community. And to assist you in making your decision, we will go into Magento 1 vs Magento 2 comparison to make the overview picture clearer.
Magento 1 vs Magento 2 comparison: Top 9 outstanding differences
Enhanced performance
To begin with, Magento 2 was developed from the ground up with performance in mind. As a result, Magento 2 has a 30 percent to 50 percent faster page load time than Magento 1.
According to studies, Magento 2 can handle up to 39 percent more orders per hour than Magento 1, has 66 percent faster add-to-cart times, and can give near-instant server response times for catalog browsing with the right hosting setup. Ideally, faster site performance means more user interaction, more products added to the shopping basket, and more sales with fewer abandoned carts.
Because Magento 2 has better capabilities, it can handle more traffic. Magento 2 can handle ten million page visitors per hour, but Magento 1 can only handle 200,000. Magento 2 CE can process 50,000 orders per hour at checkout, while Magento 2 EE can process 90,000 orders per hour.
How did Magento 2 enhance performance and reduce server load so dramatically? The following are some of the highlights of Magento 2's performance improvements:
Ajax Cart: Magento 2 now contains an Ajax Cart out of the box, without the need to install a module. Ajax Carts use javascript to allow customers to add goods to their shopping cart without having to reload the page. This reduces the stress on your hosting hardware and gives your customers a more responsive experience.
Cache: Caching systems save frequently viewed page elements in order to provide them to your visitors faster. Magento team 2's caching mechanism has been greatly improved, and it now includes native support for cache solutions like as Varnish (Varnish is a popular HTTP accelerator).
PHP 7: It is the programming language on which Magento is based. Magento 2 has been tuned for PHP 7, which performs better than prior PHP versions.
Improvements on the Hosting Environment: Magento 2, particularly the Enterprise Edition, contains new features and functionality that make it easier to spread the load on your hosting infrastructure over numerous servers and handle huge traffic surges.
Extensions
Magento 1 Extensions
On the Magento marketplace, a considerable number of extensions for Magento 1 are still accessible. However, conflicts between plugins are a common problem for Magento 1 users. Several extensions try to override the same feature. As a result, manual work will be required to correct the problem, which will cost you more effort, time, and money.
Magento 2 Extensions
Because of the Magento team's constant monitoring, the quality of the Magento 2 extension has constantly improved. Before being published on the app store, each plugin will be checked by Magento's experts. On the marketplace, only high-quality coded extensions will be accepted. Duplication control is also used by the team as one of the Magento marketplace's primary features. To avoid conflicts, the plugins' permit code will automatically block overlap instead of overriding it. As a result, there's no need to be concerned about Magento 2 extensions that aren't worth the money.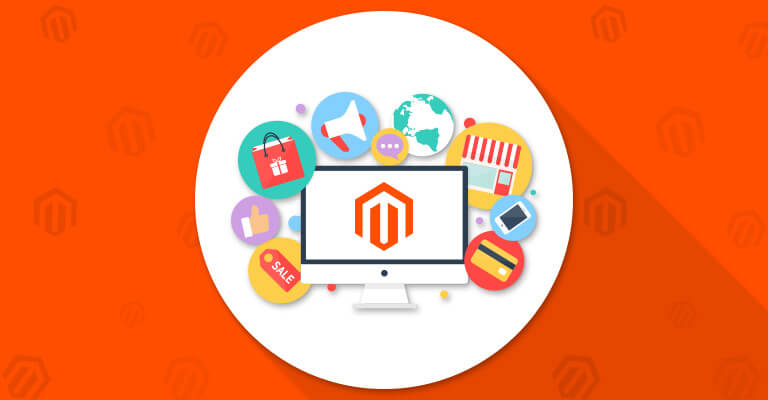 There are numerous third-party extensions for Magento 1 on the market. Installing Magento 1 extensions, on the other hand, is tough because it takes a long time, even for experienced developers. Furthermore, they may run into issues using Magento 1 extensions.
Aside from that, with all of the new technologies built into Magento 2, the process of installing extensions and updating features has been much easier. Take a look at Magenest robust Magento 2 extensions if you're seeking ways to optimize your Magento 2 store.
Dashboard
Magento 1 Admin Dashboard
This version of Magento comes with a functional admin panel. It's simple and basic to use. In fact, the Magento team makes the most of the drop-down list in order to construct a complicated structure that is nevertheless user-friendly. The dashboard displays information about your store such as lifetime sales, average orders, and the past five orders, among other things. You may also check the details by navigating to other categories such as products or orders. Still, the admin panel, on the other hand, appears to be out of date, and switching between sections takes a long time.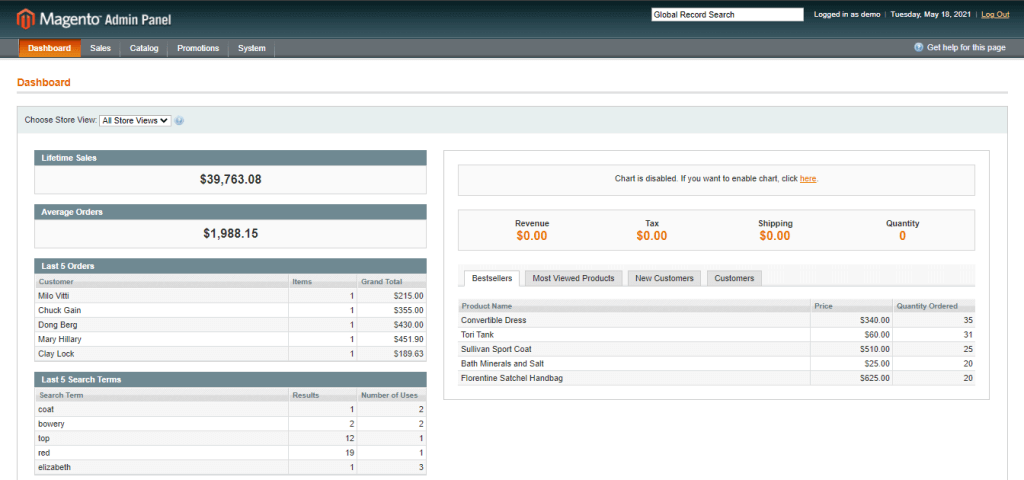 Magento 2 Admin Dashboard
The admin panel of Magento 2 is user-friendly, straightforward, and easy to manage. It shows a variety of options and data, including last, new, and average orders; lifetime retail sales; top search phrases; income tax; bestsellers; and the number of products and shipping costs, all of which can help you track your e-commerce business's success. You can also quickly create adjustable goods and customize data grids with Magento 2.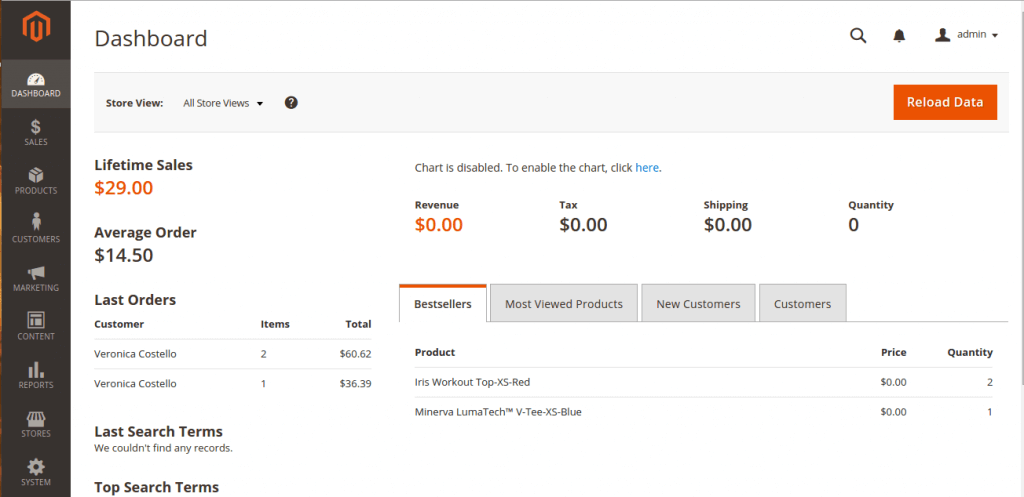 The Magento 2 admin panel is an upgraded version of the Magento 1 admin panel. The structure, look, and basic functionality of the Magento 2 management center have all been improved. For example, the brand new main menu bar has been moved to the right side, making it easier to browse and providing more room for displaying crucial detail. Furthermore, the new style with warm color tones is more eye-catching and gives the user a modern and professional sense.
Search Engine Optimization
Magento 1 Security & SEO
As you may know, Magento is no longer responsible for Magento 1 security since its end of life in June 2020. As a result, if you opt to stay, your site will face major risks such as hacker attacks or system failures.
In terms of SEO, Magento 1 isn't particularly SEO-friendly. This version of your site does not support schema.org or rich snippets. Furthermore, Magento 1's two largest SEO flaws remain its poor loading time and lack of mobile compatibility.
Magento 2 Security & SEO
Magento 2 has a number of built-in security features. For passwords, one of them is SHA-256 (Secure Hash Algorithm 256), which eliminates the possibility of a dictionary attack. Additionally, Magento 2 includes the Signifyd fraud protection technology. This method enables the platform to identify and reject orders that appear to be frauds while also providing 100% chargeback protection.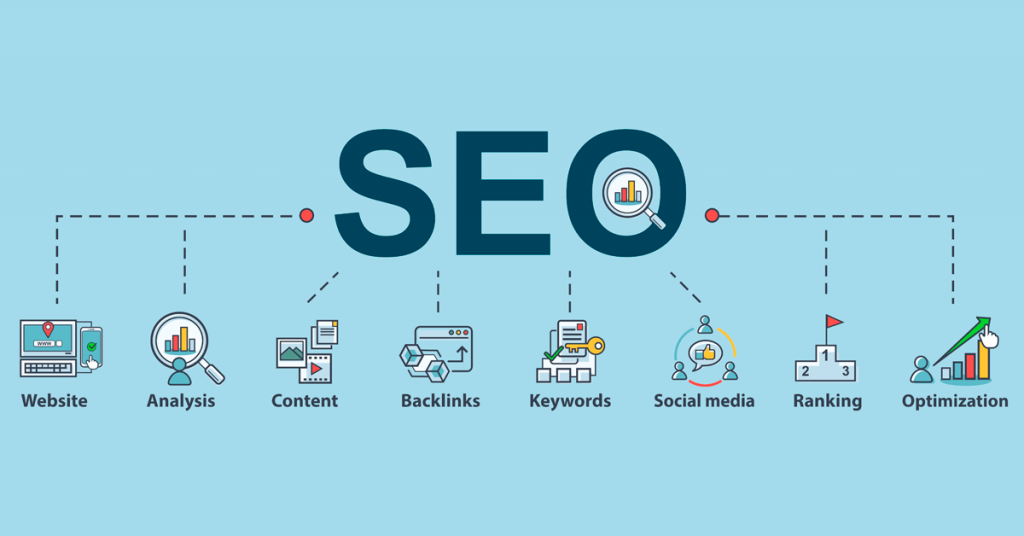 Furthermore, Magento 2 is unquestionably superior to Magento 1 in terms of SEO. Many important Magento features have appeared in Magento 2 as a result of Magento 1's absence of basic SEO functionalities:
Schema.org is used to improve your store's search engine rankings.
Rich snippets on Magento 2 catalog pages make it much easier for search engines to crawl your product data.
To avoid duplicate content issues, canonical tags are included.
Meta Title, Meta Description, and Meta Keyword: Meta tags for individual pages are enabled in Magento 2.
Mobile-Friendly: Magento 2 is suitable for mobile devices. It is also a SEO ranking criterion that you should keep in mind.
Default theme
Magento 1 theme
This eCommerce system comes with a default theme called Luma on both versions of Magento. You have the option of customizing this theme, purchasing a new theme from the marketplace, or creating one from the ground up.
However, Magento 1 Luma theme is a little out of date and not mobile device-oriented, which is bad for SEO.
Magento 2 theme
The new Magento 2 Luma theme is far more attractive than the default Magento 1 theme. Furthermore, this new Luma theme is a clean, eye-catching theme that is totally responsive to any device, making it much easier for your customers to shop on the go. In addition, Luma's checkout process has undergone a considerable adjustment in the latest edition. Magento 2 reduces the checkout procedure to two steps, compared to six in version 1. As a result, you'll have a better client experience while also increasing your conversion rate.
Pricing
Magento 1 Pricing
You can choose between two Magento 1 plans: Magento Community and Magento Enterprise (including Magento Enterprise Cloud and Magento Enterprise). The Magento community is free to download and install, however, building a decent store would cost somewhere between $1,500 and $5,000. Magento Enterprise, unlike the community edition, is not a free plan. It will cost you around $18,000 in the beginning, and the fee will be increasingly dependent on your store's sales.
Magento 2 Pricing
Magento 2 offers two plans, similar to Magento 1: Magento Open-source and Magento Commerce (including Magento Commerce and Magento Commerce Cloud).
You can download and install Magento Open-Source for free, just like the Magento community. Magento Commerce is another alternative for Magento 2 retailers. It is suitable for big brands and businesses. Your annual total sales revenue is the base for determining Magento Commerce pricing.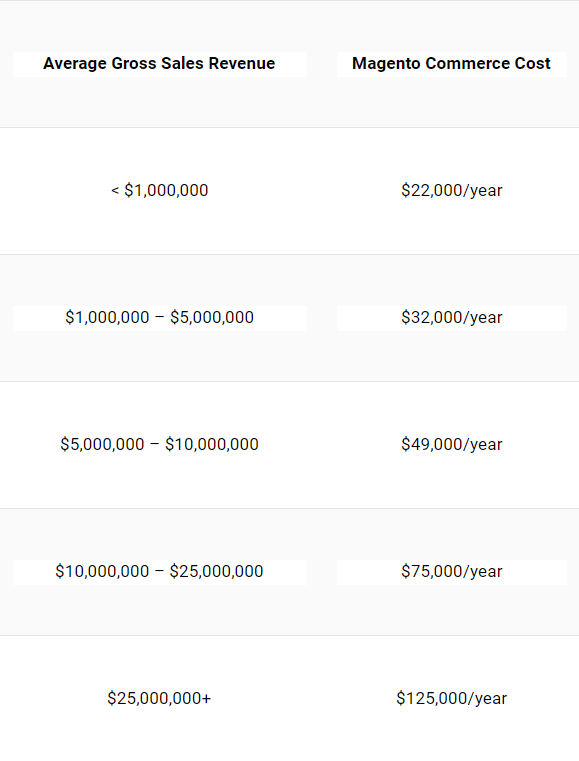 Let's look at a brief comparison of the two versions in terms of upfront costs:
Community Editions: This edition in Magento 1 vs Magento 2 are completely free.
Enterprise Editions:
Magento 1 EE license cost (starts at): $18,000 per year.
Magento 2 EE license cost (starts at): $22,000 per year.
When comparing Magento 1 vs Magento 2, this is the only part of the conflict where Magento 1 triumphs over Magento 2. However, with so many upgrades, new functionality, and the most recent features, it's more reasonable to see why the Magento 2 subscription is more expensive.
Architecture and built-in technology
Magento 1's biggest flaw is its store performance, they have improved this in Magento 2.
The Magento team has drastically altered the stack by incorporating a number of new technologies, including Apache, Composer, Symfony, and Nginx 1.7.
Differences in Architecture:
Magento 2 supports the latest PHP versions, which is a notable architectural difference. These versions incorporate security enhancements that slow down the store.
Due to bundled and condensed JavaScript, there is a reduction in unneeded browser operations on the client's side.
For static content, advanced browser caching is available.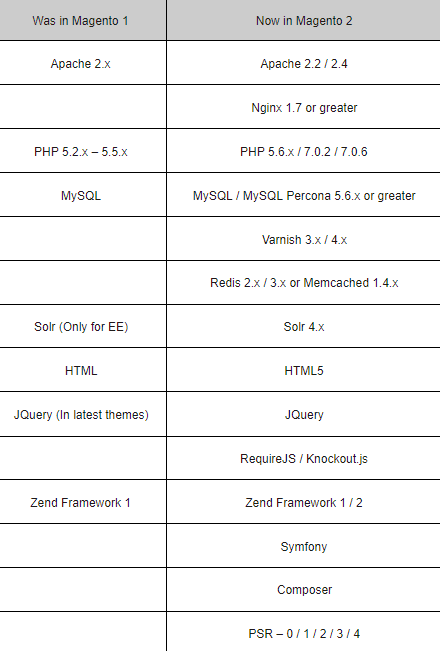 Differences in Built-in technology: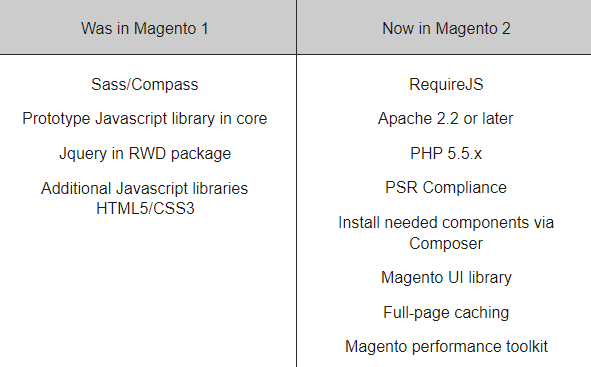 Magento 1 vs Magento 2 Sum-up: Should you upgrade to Magento 2?
Yes. With all the Magento 1 vs Magento 2 comparisons above with Magento dominance, I think the answer is crystal clear. All businesses that are now using Magento 1 will see a considerable increase in revenue as a result of moving to Magento 2.
Moreover, Magento 1 support is no longer available. If you haven't got any plan to migrate to Magento 2 yet, make one.
In case you are looking for a way to quickly migrate your Magento store or are in need of a Magento agency to take care of building your customized Magento 2 website, Magenest is the one. We have been serving thousands of customers including big brands like Heineken, Nestle, Universal, etc. Let us help you from here!