Before developing a Magento eCommerce website, businesses have to know what Magento hosting is, how to host Magento websites and choose a suitable hosting service from one of the best Magento hosting providers. In this blog, we will compare top Magento hosting companies based on features, pricing, and security to help you pick up the greatest one!
The basic concept of Magento hosting and Magento hosting providers
What is Magento hosting?
Magento hosting is a web hosting plan that works compatible with the eCommerce platform Magento. However, only the Magento Commerce version includes the hosting services in its package. That means the users of Magento Open-Source have to find their own hosting provider. Fortunately, a Magento site is possible to host on any server, whether dedicated hosting, VPS hosting, or cloud hosting.
What are Magento hosting providers?
As Magento website hosting isn't included in the package of Magento Open Source, you need to find a hosting provider for your website. Luckily, most of the hosting providers support a wide range of services, allowing you to focus all of your time and efforts on building your business.
At least, the hosting providers offer a domain name, storage space, backups, SSL certificates, etc. The exact range of services will be determined by the plan you choose, and your ideal plan will be determined by factors such as the total number of monthly visitors, the number of products on offer, and so on. With that in mind, let's take a look at our list of the 10 best Magento hosting providers right below.
Top 10 best Magento hosting providers
HostGator
HostGator is one of the world's largest and oldest website hosting companies, with over 2.5 million websites under its management. Considered one of the best Magento 2 hosting providers, HostGator offers extensive features, both security-related and otherwise. Magento hosting on shared, enterprise, reseller, and cloud plans is version 2.0 compatible, while Magento hosting on VPS and dedicated plans is version 2.1 compliant.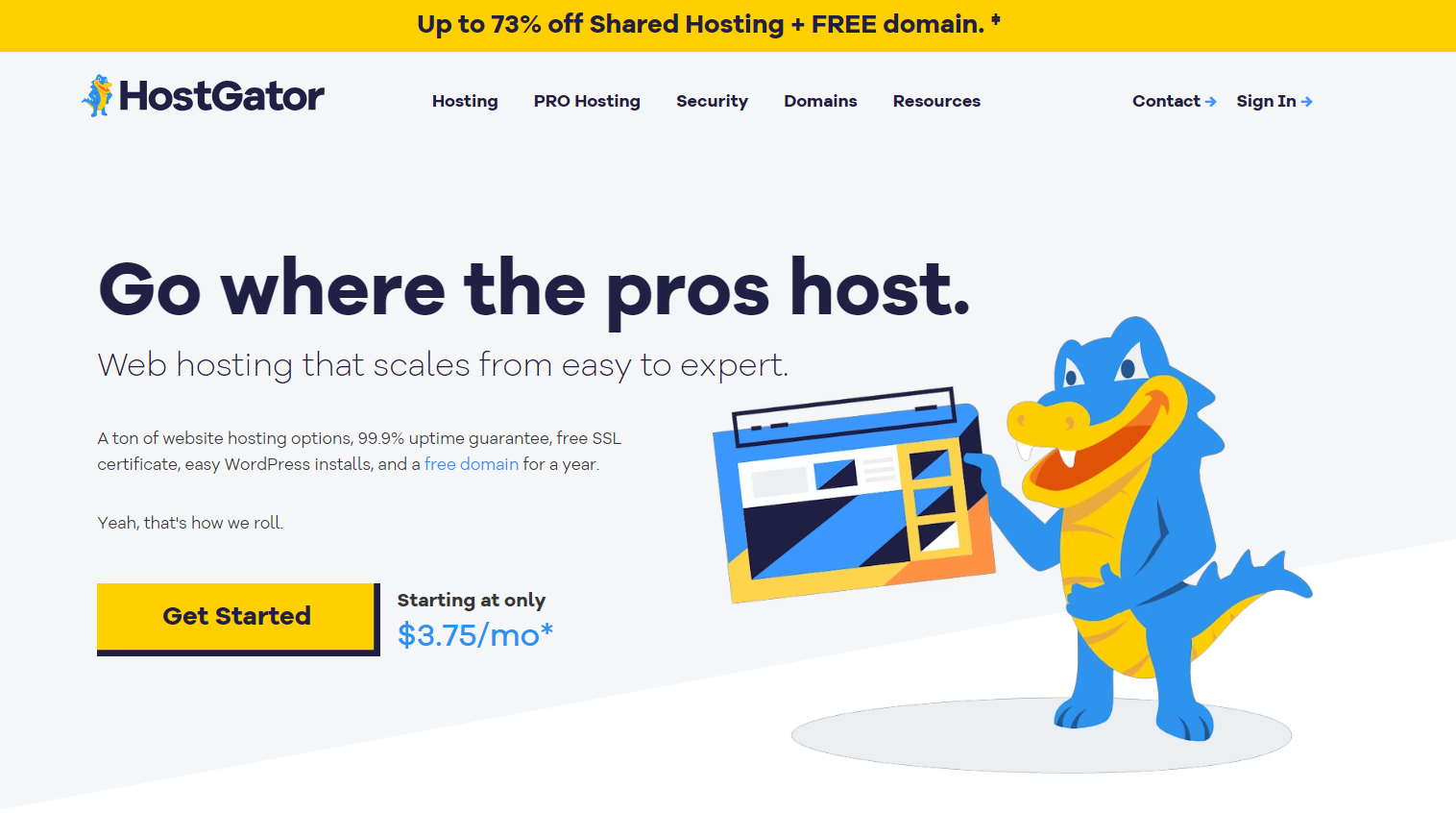 Features
Clear and pre-determined storage limits
Bandwidth Allowance
Manage email accounts associated with web domains
Control Panel Integration
CMS Support
Web Framework Support
Integrate with eCommerce tools
Data management
Security Tools
Pricing
Magento hosting is available on HostGator's shared hosting plans, which start at Because most eCommerce stores will benefit from the additional power and security of HostGator's VPS plan, we will focus on this hosting solution.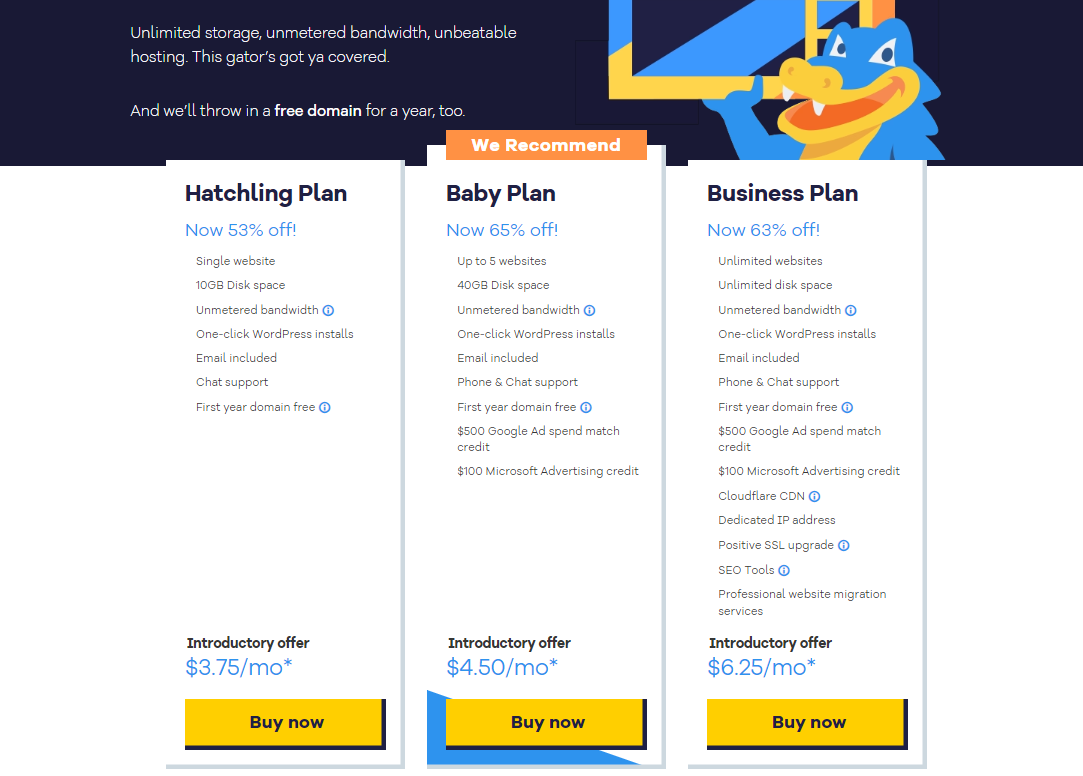 Three VPS options are available from HostGator:
Snappy 2000 costs $23.95 per month.
Snappy 4000 costs $34.95 per month.
Snappy 8000 costs $59.95 per month.
Each of the three plans includes two IP addresses. Snappy 2000 is the cheapest plan, with 2GB RAM, 120GB storage space, and 1.5TB bandwidth. The Snappy 8000 plan is the most expensive, with 8GB of RAM, 240GB of storage space, and 3TB of bandwidth.
Security
In terms of security, HostGator is on the basic side. You do receive the absolute necessities, such as SSL and a server-level firewall. However, be prepared to break the bank for any further features. You will also receive a server-level firewall to safeguard your website(s) from unwanted or harmful traffic.
InMotion
InMotion has been a trusted US-based web hosting provider for over 15 years. With the best hosting for Magento 2 like InMotion, you can select the most appropriate plan from their list. You can manually install Magento for free (with the help of this instruction) or pay $5 per month to use the Softaculous auto-install service.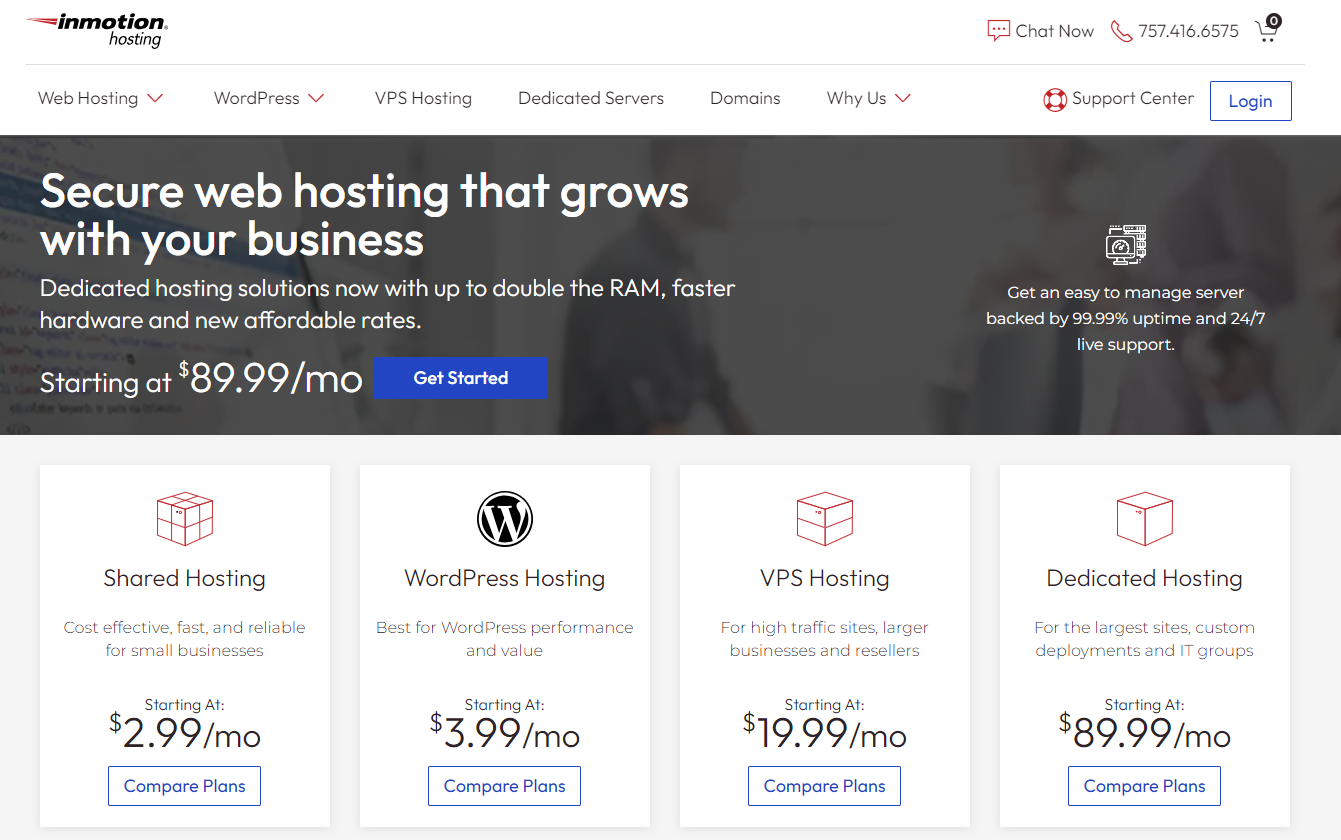 Features
Storage Capacity
Allowance for Bandwidth
Integration
Email Hosting
CMS Assistance
Support for web frameworks
Security tools for eCommerce
Integration
Data management
Pricing
Magento hosting is available on InMotion's 4 managed VPS plans, which start at:
VPS 4GB RAM: $14.99/month
VPS 8GB RAM: $24.99/month
VPS 12GB RAM: $34.99/month
VPS 16GB RAM: $44.99/month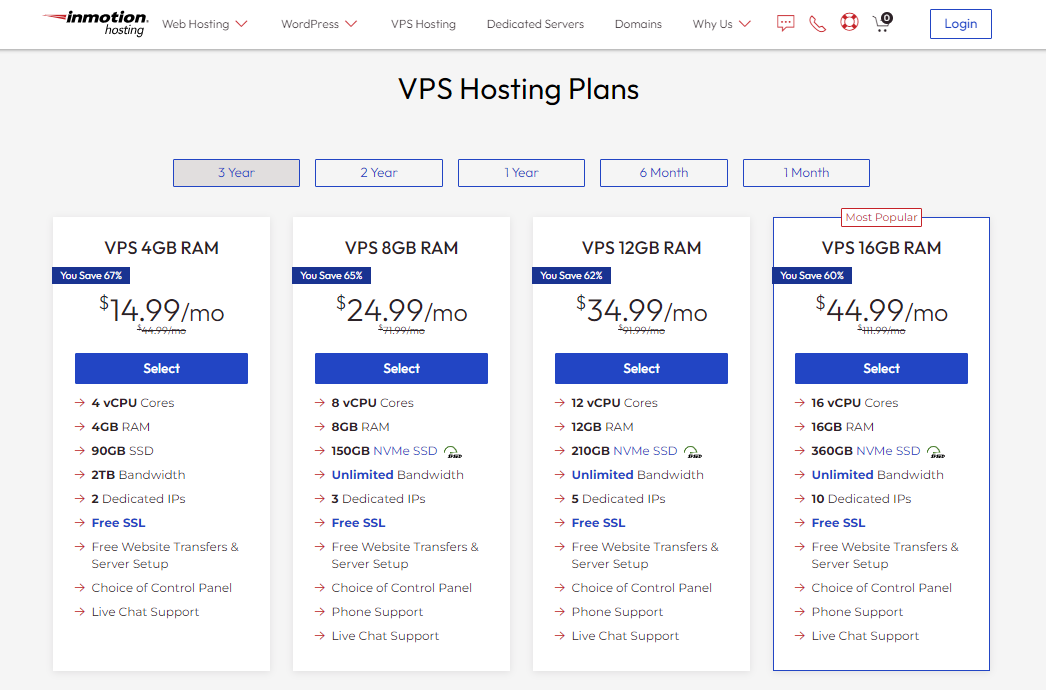 The cheapest plan only includes 4GB of memory and 90GB of disk space, while the most costly plan has 16GB of memory and 360GB of disk space.
Automatic data backups and unrestricted MySQL database support are included in all three levels. InMotion's VPS plans also provide Max Speed Zones, or the opportunity to host your website in several data centers. To put it another way, your default location will not be thousands of kilometers distant.
Security
All of InMotion's plans include free SSL certificates, Secure Shell access, and HotLink protection, which stops users from stealing your website's traffic. InMotion also offers Real-Time Spam Filtering for email security, as well as complimentary DDoS attack protection from network security firm Corero. Due to its robust security capabilities, InMotion becomes one of the best hosting companies for Magento!
A2 Hosting
A2 Hosting has been one of the best hosting Magento providers ever since the software was released in 2008. It takes one step further than a one-click installation by pre-installing Magento on shared hosting accounts. Whether it's Magento hosting or not, A2 Hosting is known for its in-house security measures and its money-back guarantee at any moment.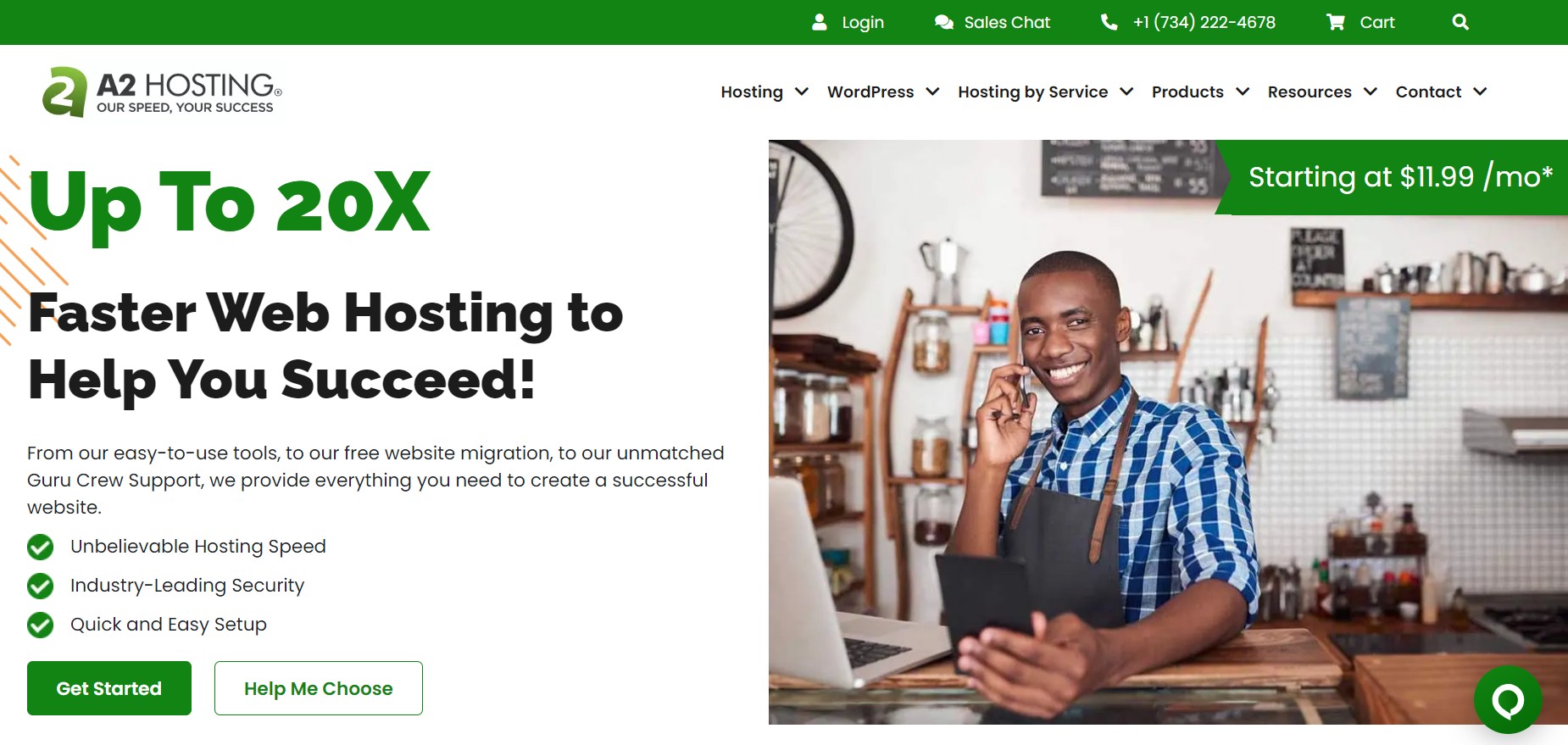 Features
SSD drives improve performance and speed.
Cloud hosting improves security.
Cloudflare CDN speeds up site loading.
Several backups
Storage and data transport are both unlimited.
All hosting options include 24/7 support.
A 99.9% uptime guarantee is provided.
Secure your website with a variety of SSL certificates.
20X faster loading time.
Pricing
WARP 1: $155.99/month
WARP 2 AMD: $185.99/month
WARP 2 TURBO AMD: $215.99/month
WARP 2 INTEL: $185.99/month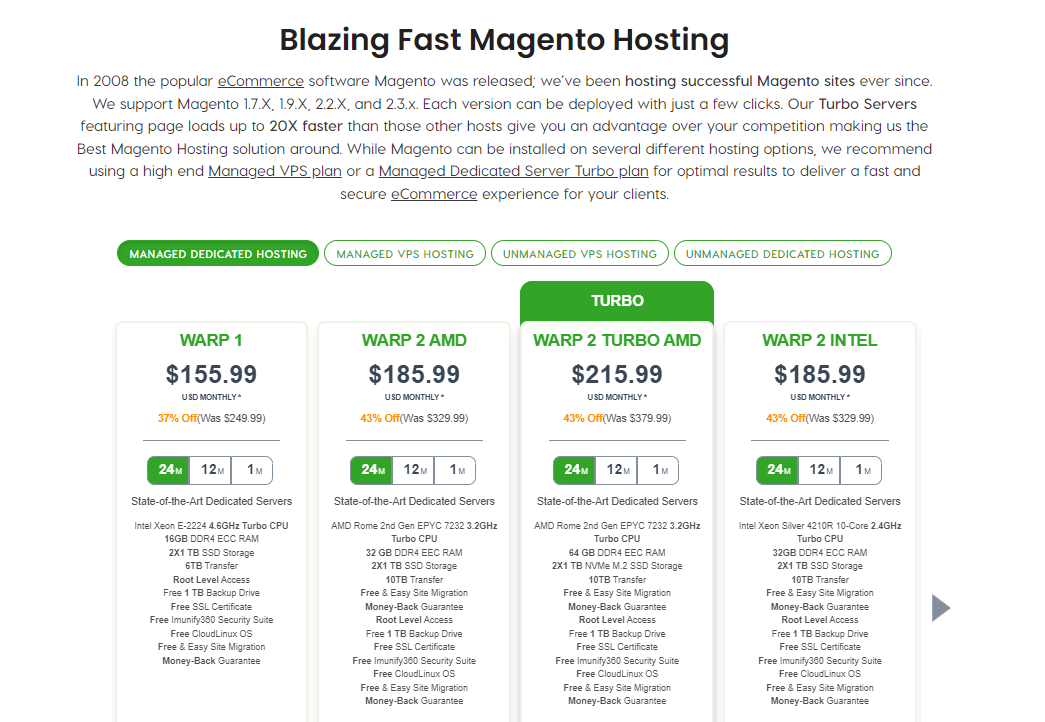 Security
In addition to the standard benefit of a free SSL certificate, A2 Hosting offers its own Perpetual Security program, which includes:
HackScan security
Firewall with two hosts
Hardening the server
The DDoS defense has been strengthened.
Besides, every A2 hosting package includes free perpetual Security initiative features. Due to these outstanding features as well as their security capability, A2 Hosting is considered the best Magento web hosting.
Nexcess
Nexcess is a top-rated Magento hosting provider that offers a wide range of features to help you power and grow your online store. Their platform has been specifically optimized for Magento, so you can be sure that your site will run smoothly and efficiently on their platform. The thing that sets Nexcess apart from its competitors is its budget-friendly and reasonable pricing to its users.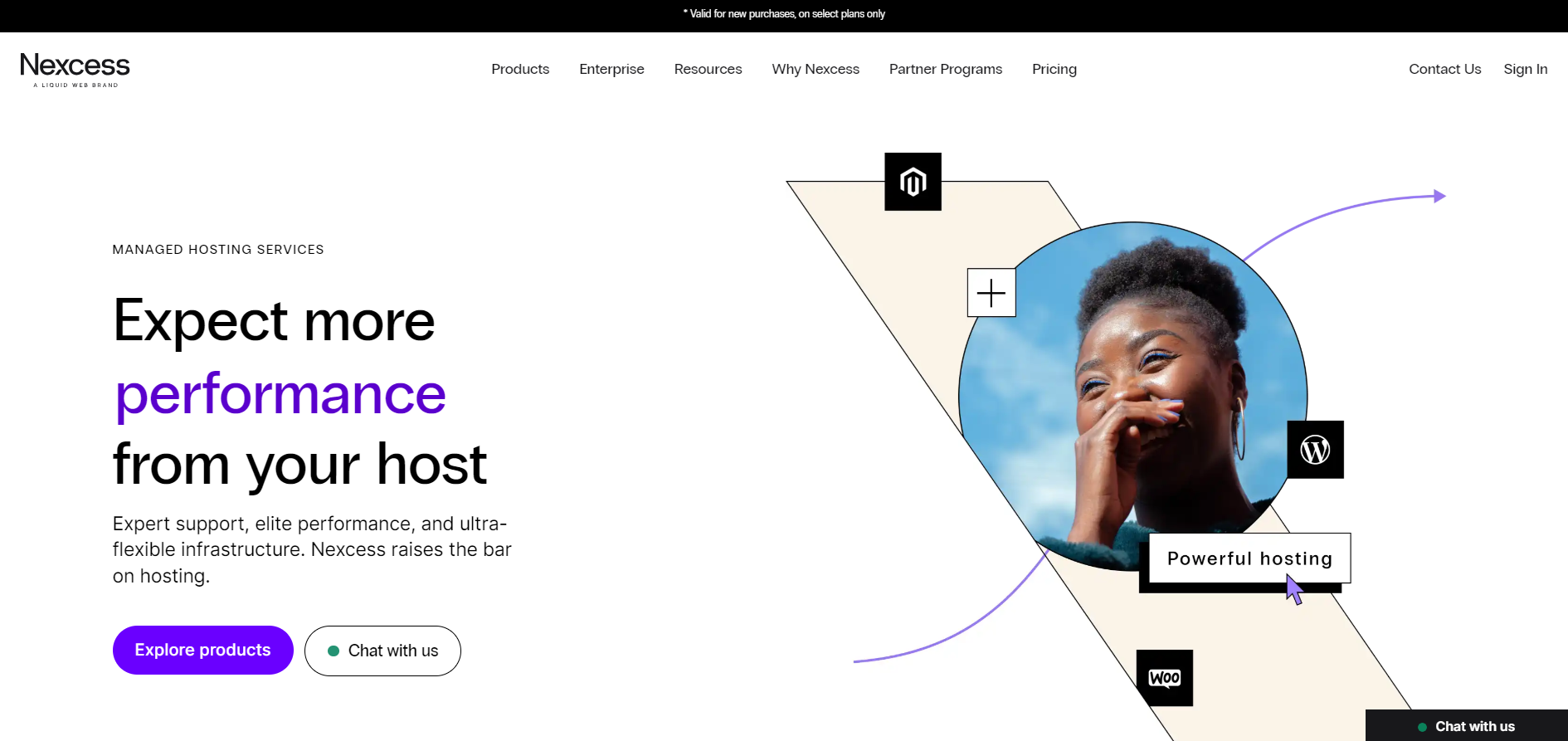 Features
Easy and quick migration with no downtime
Instant asset-caching
Ability to manage teams with user control
1-click install procedure
Automatic daily backups to prevent data loss
Inbuilt security
Pricing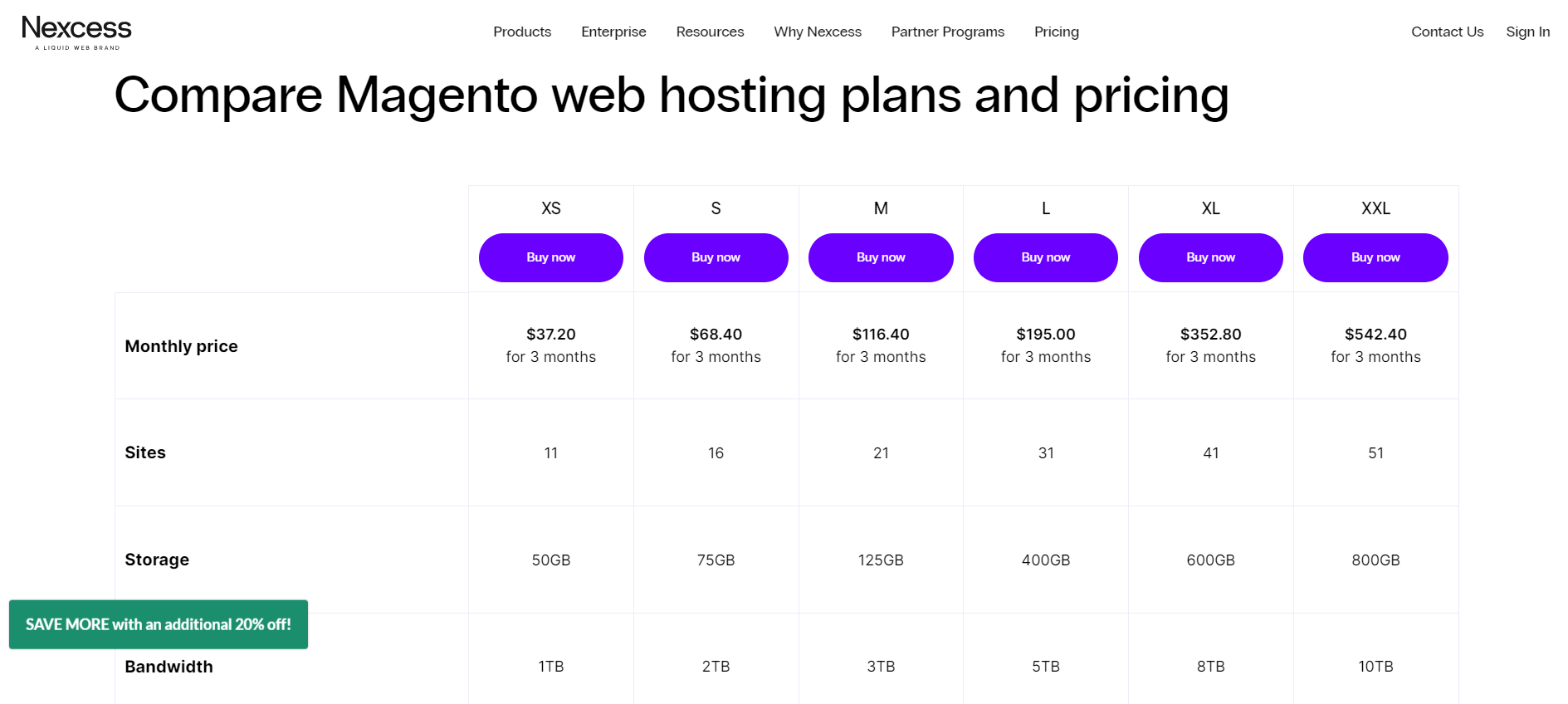 Nexcess also offers a wide range of pricing options to fit your budget and your needs. They offer 6 distinct plans ranging in price from $62/month to $904/month. These plans provide the same features in different volumes. You can also make use of their 30-day free trial first.
XS: Billed at $37.20 for 3 months and then $62/month
S: Billed at $68.40 for 3 months and then $114/month
M: Billed at $116.40 for 3 months and then $194/month
L: Billed at $195.00 for 3 months and then $325/month
XL: Billed at $352.80 for 3 months and then $588/month
XXL: Billed at $542.40 for 3 months and then $904/month
Security
In terms of security, Nexcess is very competitive. They offer a wide range of security features, including SSL certificates, malware scanning and removal, and backups. They also have a team of experts who are available 24/7 to help you resolve any security issues that may arise. However, due to missing measures like DDoS protection and Web Application Firewalls (WAF), it fails to land a place among the most secure hosting solutions.
Magemojo (Webscale)
It has been one of the outstanding Magento hosting services from its beginning and still remains one of the market's leaders today. Its objective is to provide the most powerful, dependable, and feature-rich Magento hosting to merchants, developers, and agencies.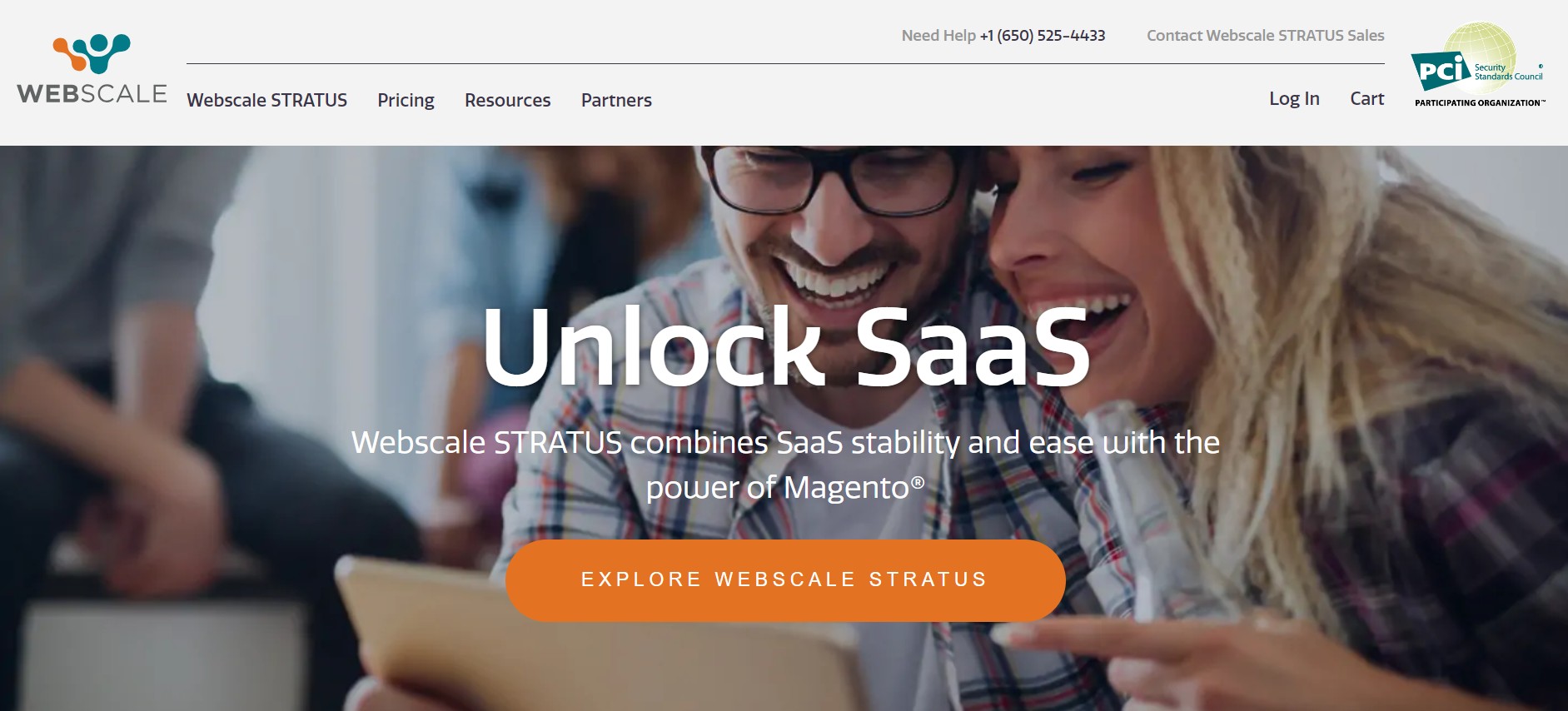 Features
Professional Magento 2 support, including third-party extensions and themes.
Magento 2 is extremely optimized.
Free Magento 2 website migration
It only takes one click to deploy a staging site.
Amazon 4-layer DDOS defense that scales automatically
Premium CDN for free
Pricing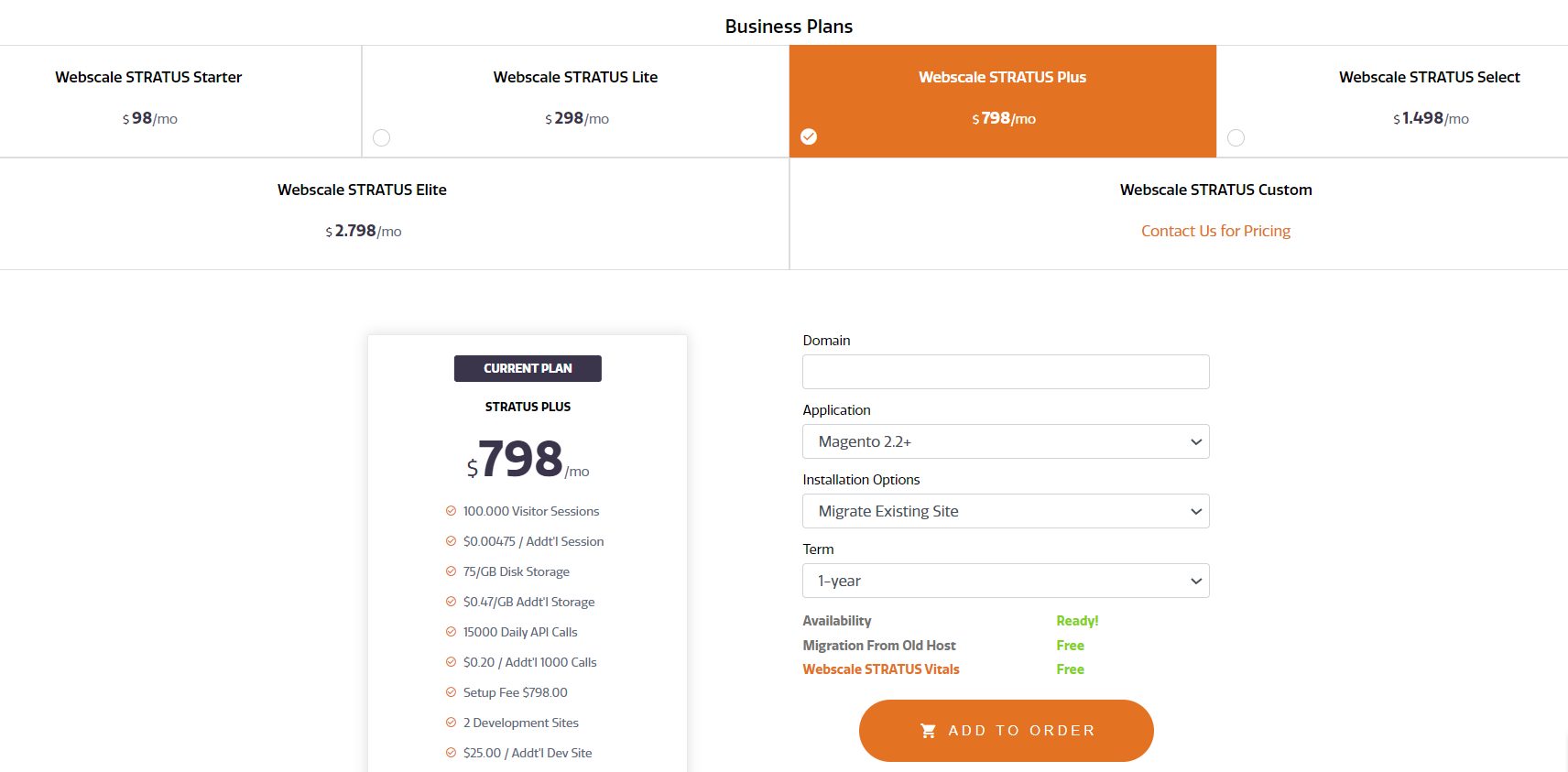 Stratus Starter: starts at $98/month
Stratus Lite: starts at $298/month
Stratus Plus: starts at $798/month
Stratus Select: starts at $1498/month
Security
To safeguard your store, they employ a Magento-specific Web application firewall, PCI Level 1 compliance, and malware scanning. Furthermore, they undertake frequent examinations at no extra cost to predict and eliminate problems before they occur.
SiteGround
With SiteGround, you can be sure that your hosting will be fast and reliable. It provides hosting services for both small and large businesses.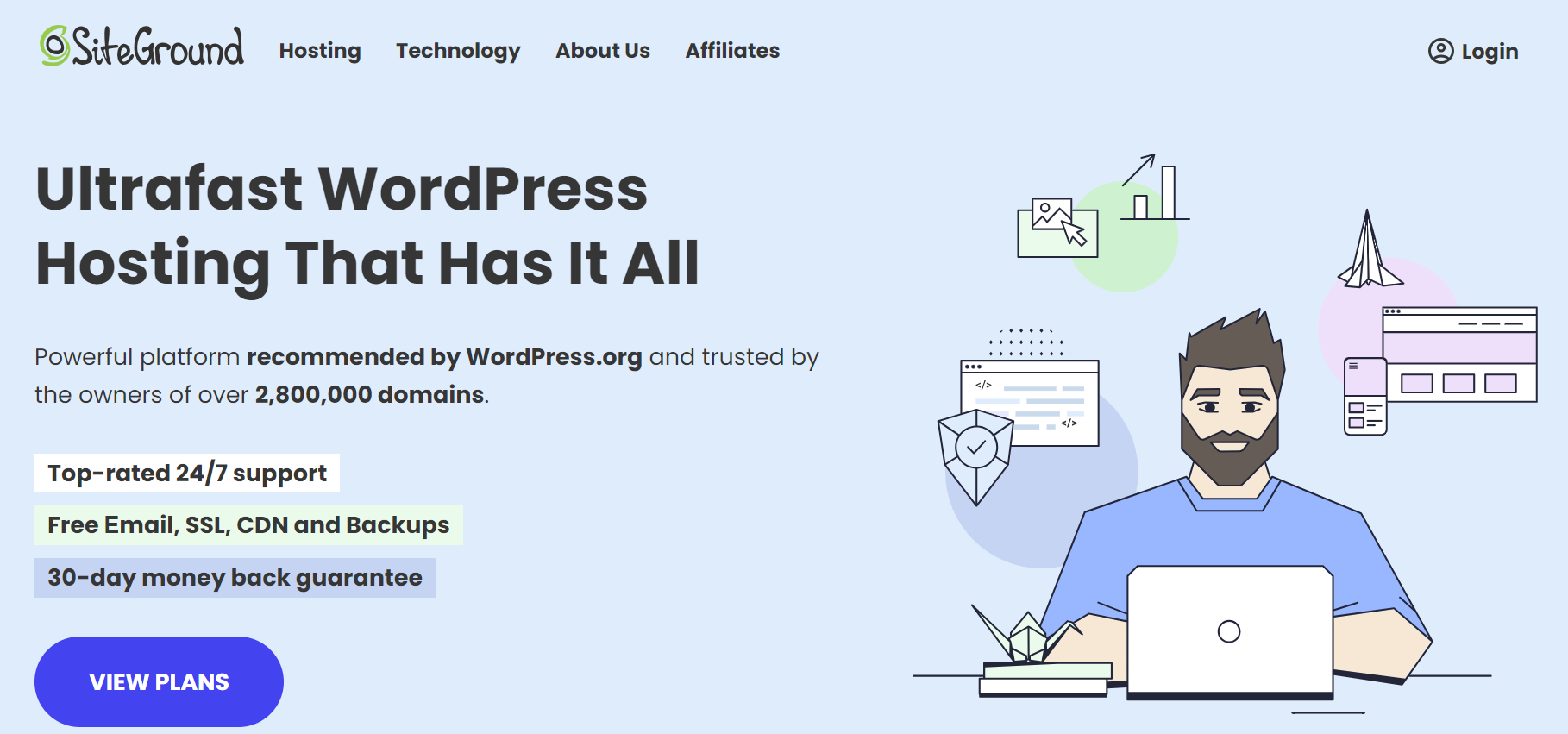 Features
Free SSL Certificate to protect private information
Free CDN to keep images and videos off of your server
White-label Hosting & Client Management to serve agencies and designers
Top-notch support
Expert configuration
Pricing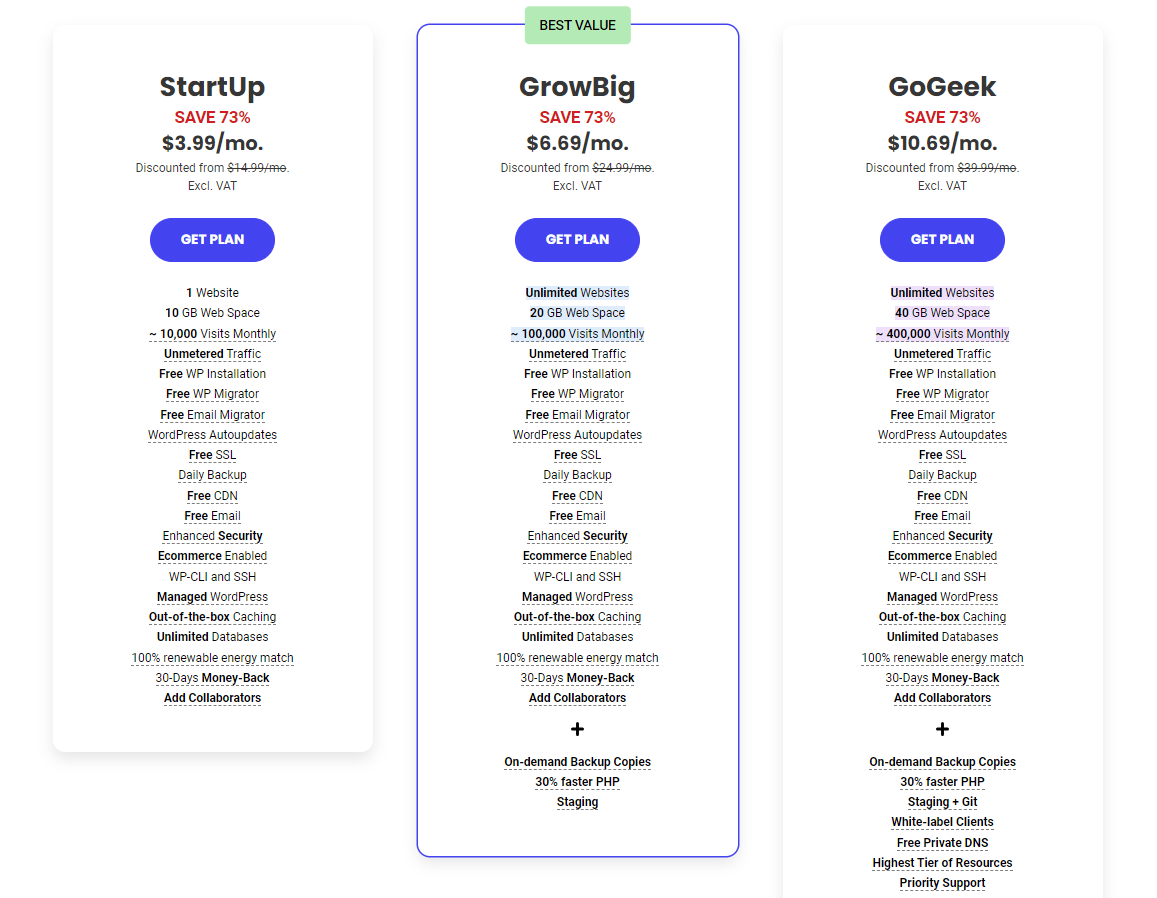 SiteGround is very flexible in its hosting plans and quite affordable. In general, SiteGround offers 3 shared plans with the cheapest plan starting at $3.99 monthly and these higher plans are $6.69 and $10.69 per month.
Security
SiteGround goes above and beyond with security features thanks to some of the great features and tools, including:
Smart firewall configuration
AI-powered anti-bot filtering
24/7 active server monitoring
Distributed backups
Advanced WordPress security features
Free SSL Certificate
GoDaddy
GoDaddy provides a wide range of hosting options, including shared hosting, WordPress hosting, VPS hosting, and dedicated servers. Their servers are dependable and fast. We'll concentrate on GoDaddy's Business plan since it's a unique hybrid of shared and VPS hosting, combining the strength of a VPS with the ease of a shared server.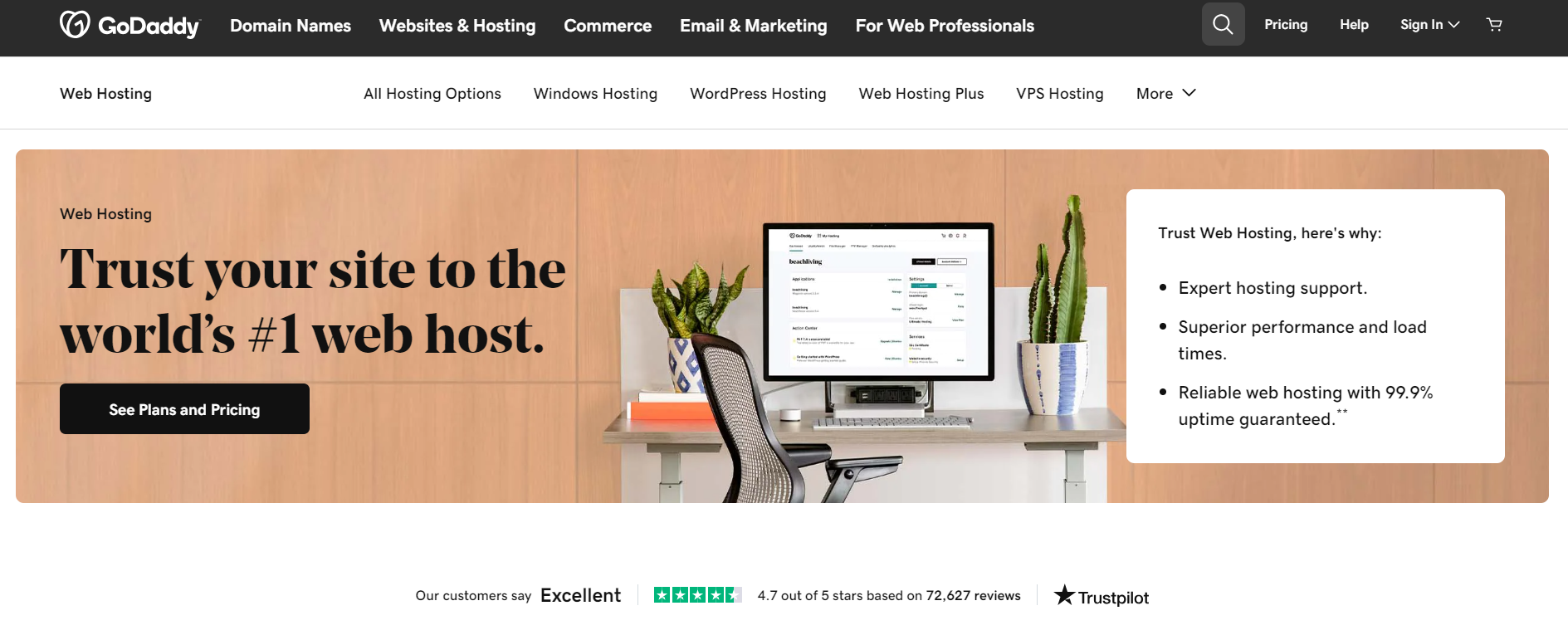 Features
Unmetered traffic
Databases and websites are not restricted.
All hosting options include 24/7 support
Guaranteed 99.9% uptime
Free Office 365 email
Pricing

Economy: $5.99/month
Deluxe: $7.99/month
Ultimate: $12.99/month
Maximum: $19.99/month
Security
On all of its plans, GoDaddy offers 24/7 security monitoring and free DDoS attack protection, and all of its Business plans include a standard SSL certificate for free. GoDaddy provides distinct website security products in addition to its hosting options, which are worth investigating. The Essential plan is the lowest and monitors, alerts, and cleans your site.
Hostinger
Hostinger's Magento plans include the most recent MySQL upgrades as well as a multi-tier Litespeed cache layer to assist your eCommerce shop in handling as many requests as feasible. This European hosting company prioritizes cart speed.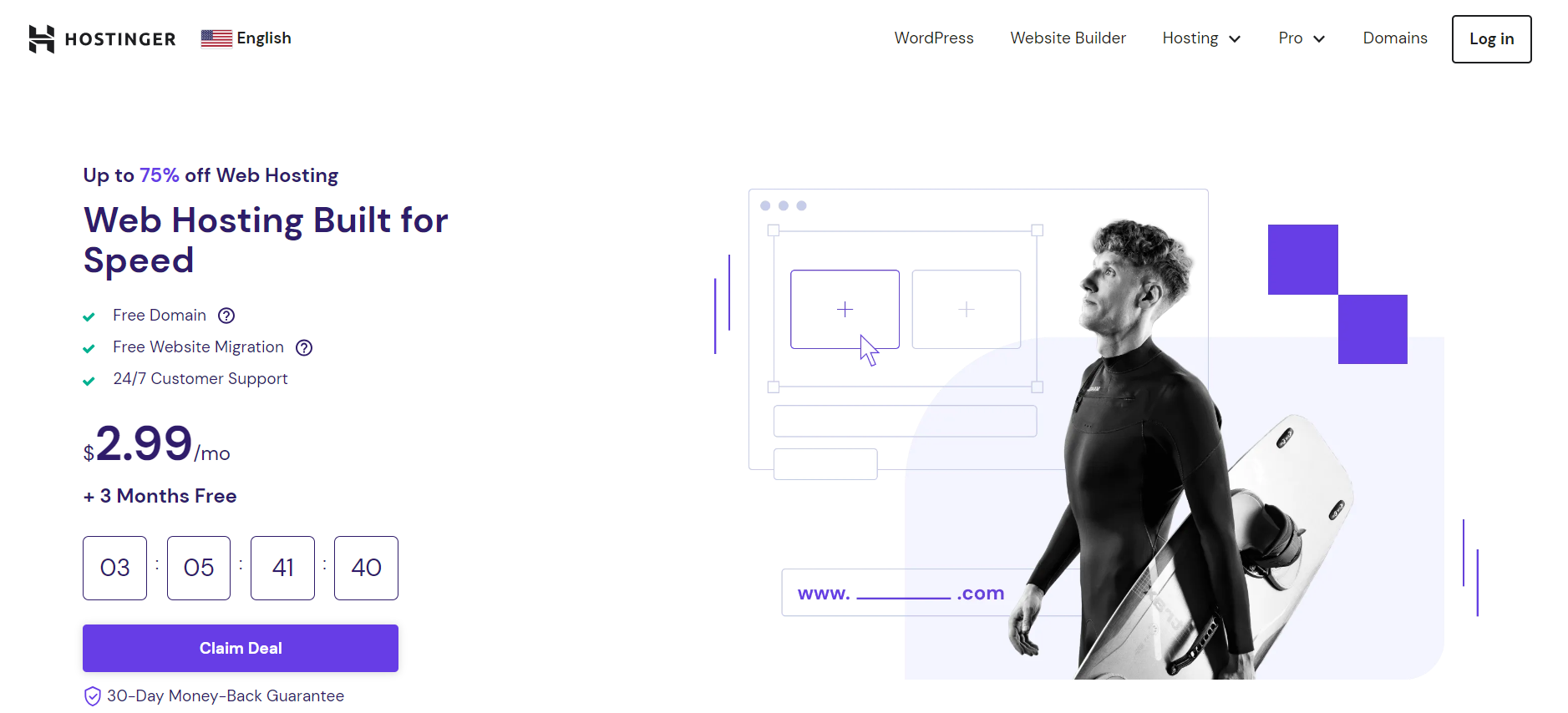 Features
SSD storage
Easy-to-use control panel
Free SSL Certificate
A 30-day money-back guarantee
Fast loading
Weekly backup
Pricing

Cloud Single: $9.99/month
Cloud Premium: $11.99/month
Cloud Business: $15.99/month
Cloud Startup: $24.99/month
Security
All of Hostinger's cloud hosting services include a free SSL certificate, as well as Cloudflare-protected nameservers and enhanced security features. Hostinger has also implemented two-factor authentication for its users, which means you may identify yourself as the owner of your account by using both your email address and phone number.
Scala Hosting
Scala Hosting is a great option for businesses that are looking for fast and reliable hosting. It is an independent United States-based hosting provider that offers terrific speed, excellent customer support, and a wide range of features.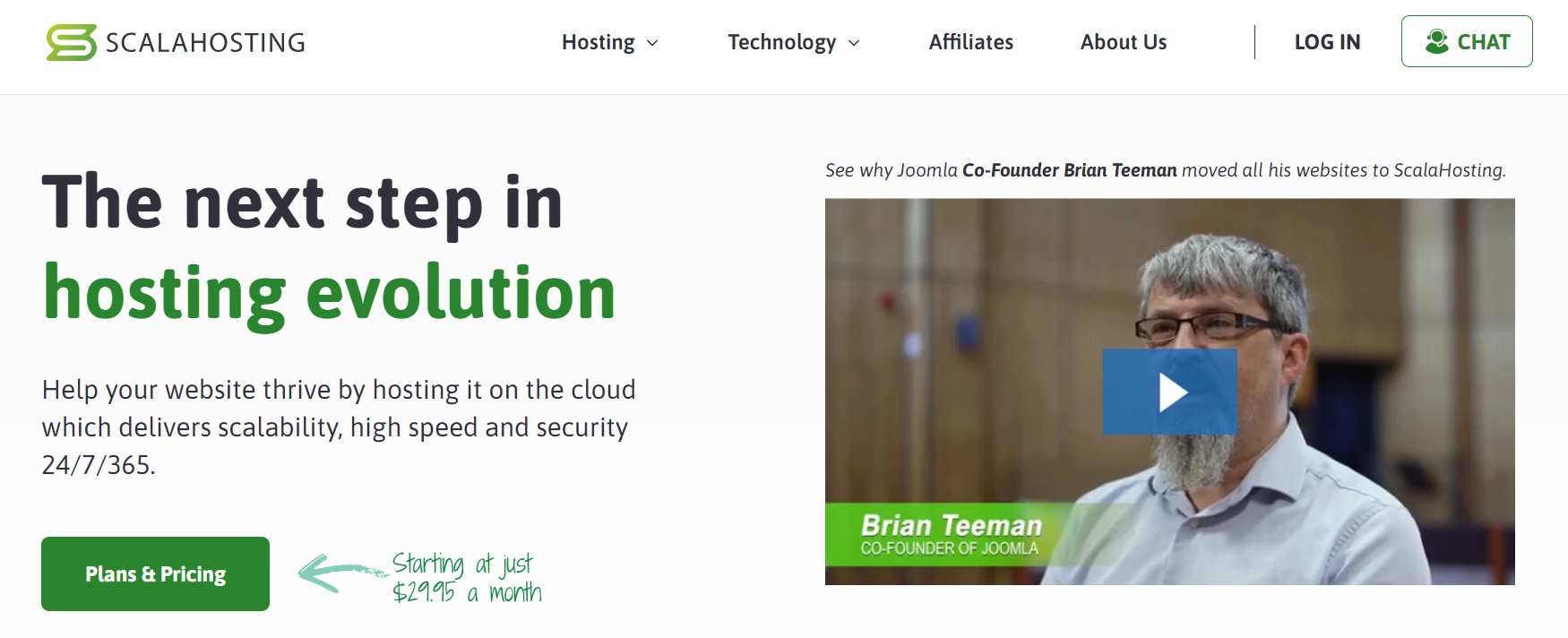 Features
Free Domain and Site Migration
Free SSL and CDN
1-Click WordPress Install and Unlimited Email Accounts
30-day Money-Back Guarantee
Easy-to-Use Control Panel
Pricing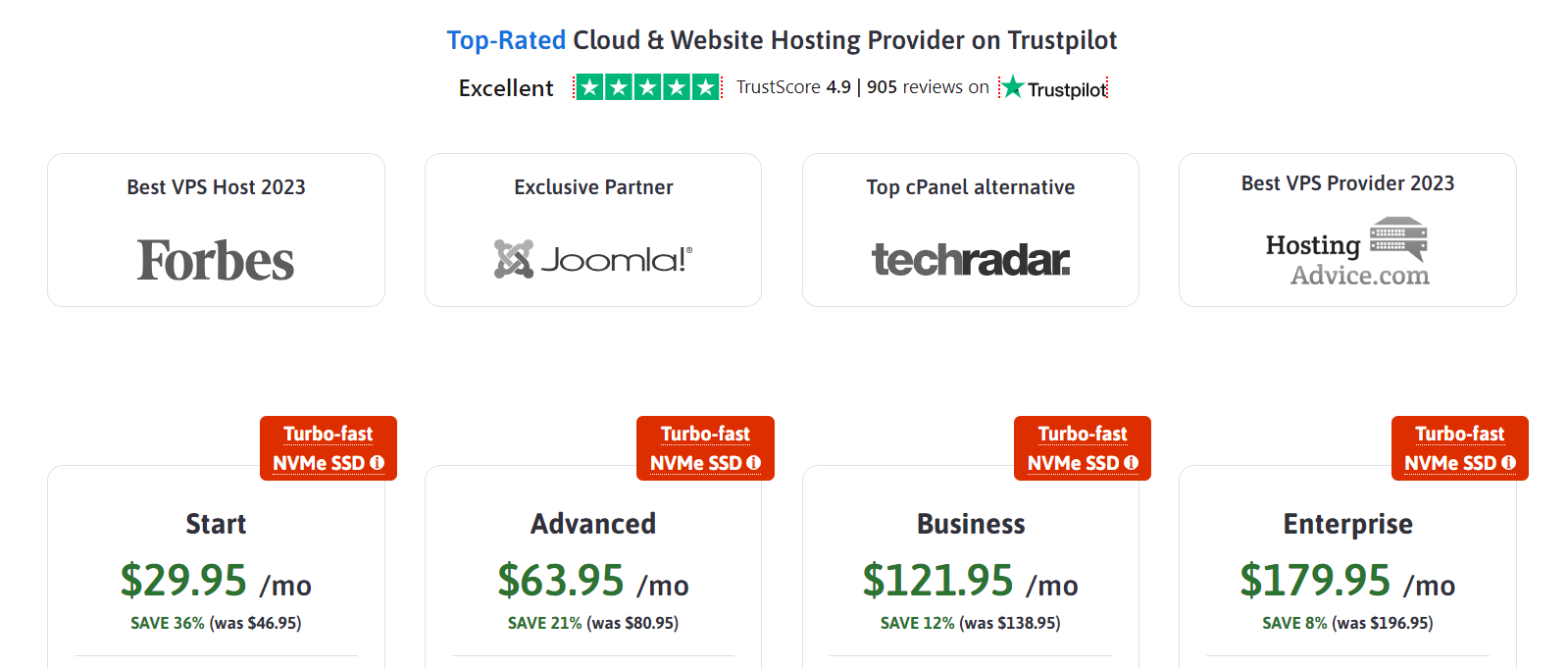 Scala Hosting is a reasonably affordable hosting provider that starts at a minimum of $29.95 per month or $179.95 per year. Moreover, you have a 30-day money-back if you're unsure whether the plan's the right fit for your business.
Security
Scala Hosting takes security very seriously, thanks to its SShield cybersecurity software to safeguard user data and protect against attacks. This security suite monitors your websites 24/7 and alerts you right away if your site goes down.
Cloudways
When looking for the best Magento hosting providers for your upcoming online businesses, Cloudways is always the first option to consider.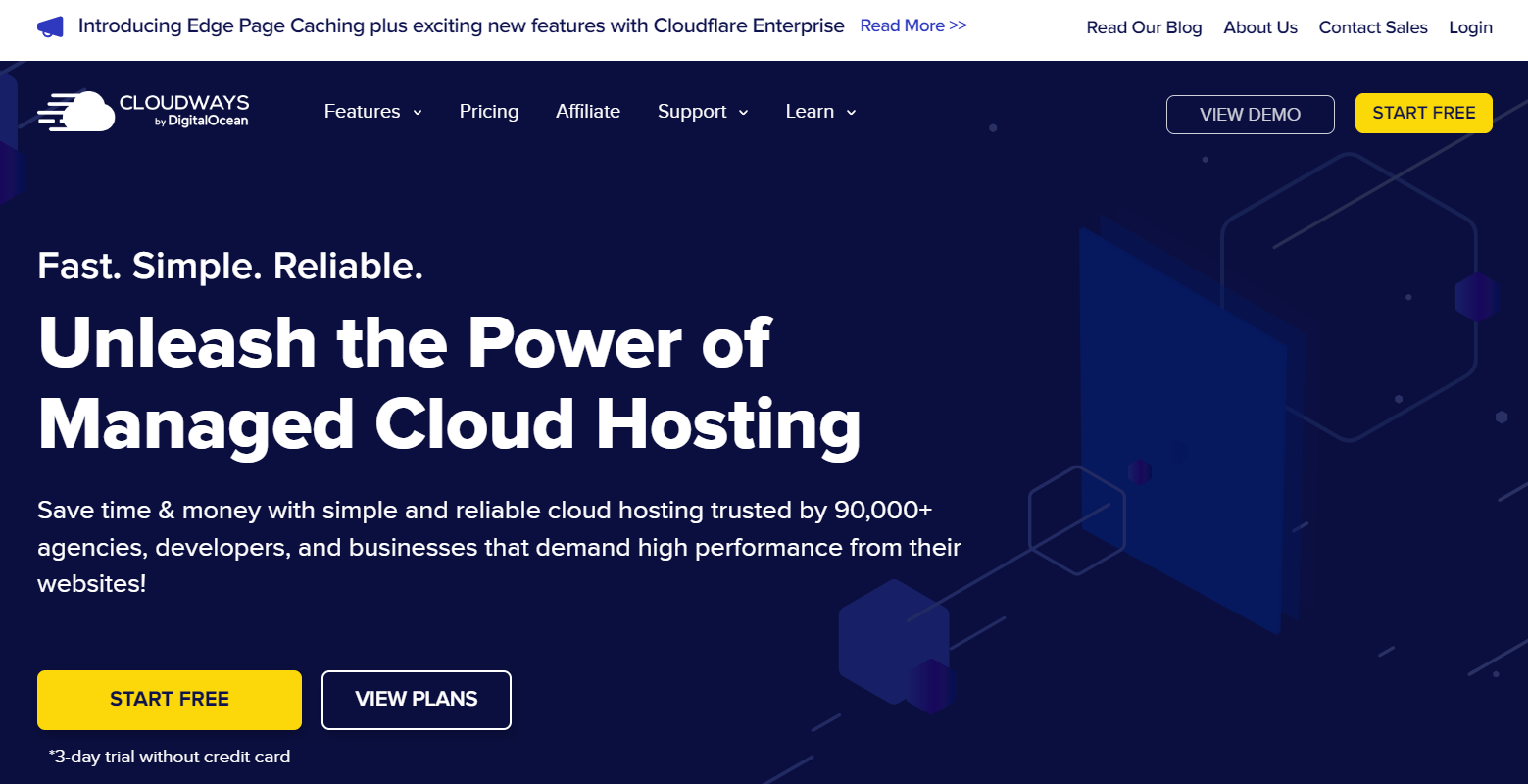 Unlike other services, Cloudways provides you with five hosting options from which to pick from five world-class cloud providers: Digital Ocean, Linode, Vultr, Amazon Web Services (AWS), and Google Computer Engine (GCE). You can also decide whether to hire them on a monthly or hourly basis.
Features
Hosting that is managed
Software Selection Scalability
Billing by the hour
24/7 support
There is no contract
Free movement
There are no restrictions
Advanced features like Redis, Memcached, and Varnish, complete SSH and SFTP access
Simple, low-cost incremental backups
Staging environment
Pricing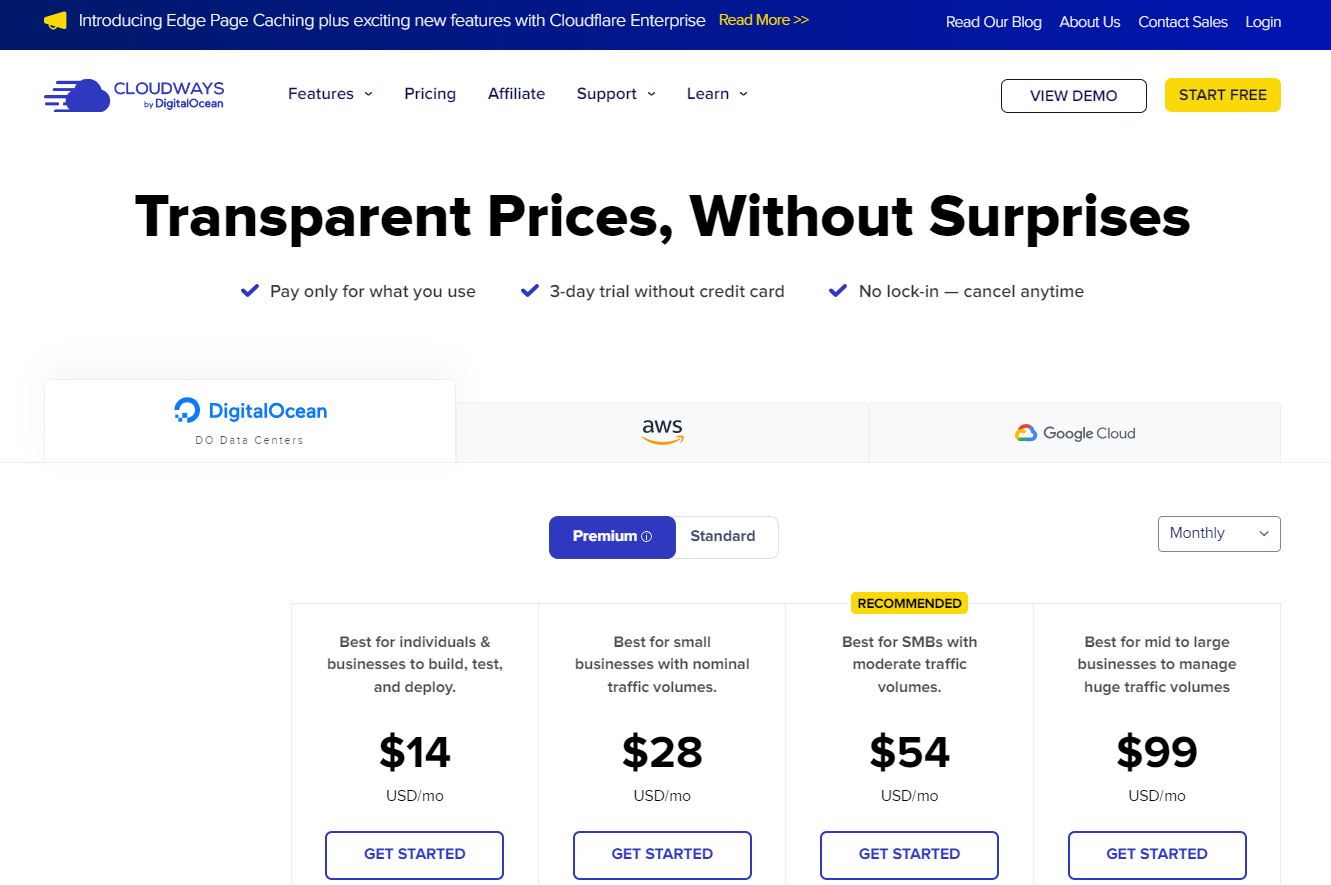 Cloudways provides managed cloud hosting plans, allowing users to choose from 3 providers: DigitalOcean, AWS, and Google Cloud.
DigitalOcean plans: $14 – $99/month
AWS plans: $38.56 – $285.21/month
Google Cloud plans: $37.45 – $241.62/month
Security
Cloudways protects your account with two-factor authentication, you can set up IP whitelists so that only particular people can access your database or filesystem, and they have bot protection to assist secure your site from attack attempts.
Wrapping up
In this blog, we recommend famous Magento enterprise hosting providers that help you know which one is the most suitable hosting provider for your Magento websites. Hope that after comparing features, security capabilities, and pricing, you can choose the most suitable Magento hosting provider for your businesses. If you are in the process of building or upgrading your Magento websites, check out the 15 best Magento sites in 2022 for the most updated insights and practices, or our Magento 2 development services to see how Magenest can help you with your Magento 2 eCommerce stores.