Progressive Web Apps (PWAs) have revolutionized how online stores provide customers with a seamless shopping experience. By leveraging the features of a website and native mobile app, PWAs come with lightning-fast page speeds and optimized mobile performance for customers.
However, building a PWA from scratch can be time-consuming and require a high level of technical expertise, but Magento 2 PWA themes can assist in resolving all issues. You can save money and time on development while providing customers with a quick, easy, and aesthetically pleasing shopping experience.
There are plenty of Magento PWA themes available that come in all shapes and sizes. Deciding on the best-fit theme can be a daunting task. This article provides a comprehensive guide on how to choose a PWA theme for Magento sites and examines some common mistakes when making the decision. We also offer a list of the top 7 paid and free Magento PWA theme providers that are worth considering for your Magento store. Let's dive in!
What is a PWA Magento theme?
Before investigating how to choose a PWA theme for Magento, let's go through an overview of PWA.
Progressive Web App (PWA) is a type of web application that leverages modern web capabilities to deliver an app-like experience to users. It combines the best features of both web and mobile applications, offering users various functionalities similar to a native app. Due to its simple development process and effective user engagement, PWA has gained considerable popularity since it was first introduced to the market.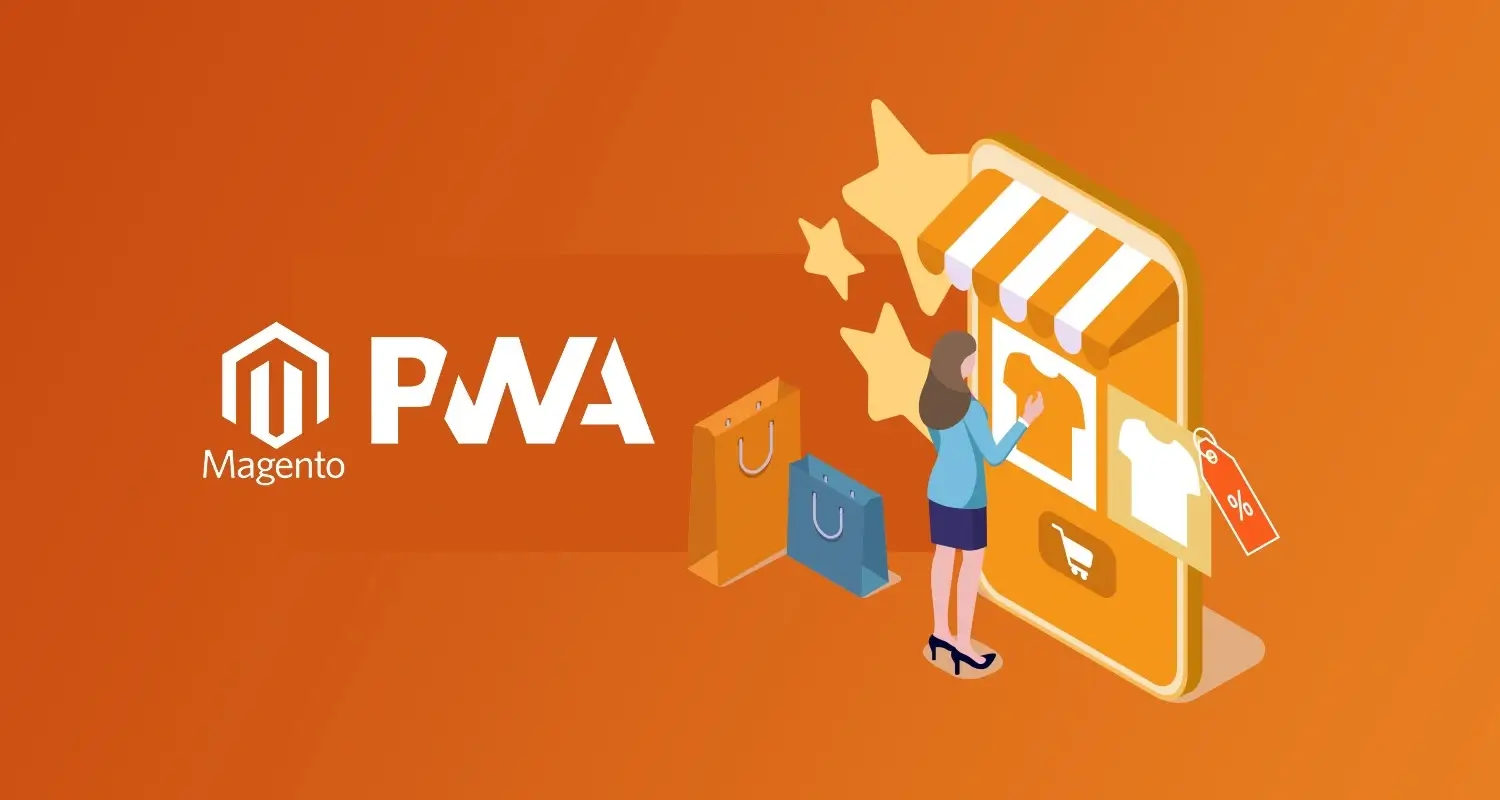 PWAs are developed using standard web technologies such as HTML, CSS, and JavaScript, along with additional capabilities such as APIs, and hide browser controls such as the URL toolbar. This allows PWA to deliver all the features that you would expect from mobile apps. Some dominant PWA features include:
Responsiveness: The layout and functionality of PWAs are highly responsive, allowing them to adapt to various screen sizes and devices, thus providing a seamless experience on desktops, tablets, and smartphones.
Offline support: By caching and storing data in the background, PWAs can function effectively regardless of the network conditions, whether offline or with low connectivity.
App-like experience: Designed to appear and function like native apps, PWAs are accessible from the home screen, have their own icon, and operate in a separate window. They can also provide features such as push notifications, which support the re-engagement of users.
A PWA Magento theme leverages these features along with their advantages, implementing them into the design and functionality of online stores built on the Magento platform. This is a special type of Magento theme and is only available for Magento 2, allowing for the transformation of your Magento 2 store into a PWA.
How to choose a PWA theme for Magento
With the utilization of PWA technologies, building a PWA storefront for Magento 2 brings considerable purposes for your eCommerce store. When comparing Magento PWA themes with regular themes, PWA themes not only make your eCommerce store more responsive and visually appealing but also enhance user engagement and the overall performance of your stores. Therefore, how to choose a PWA theme for your Magento 2 is a crucial question to ask. Making the right decision is the optimal way to best leverage PWA capabilities as well as make big changes in the overall user experience.
Here are some recommended steps to choose the perfect PWA theme for your own Magento stores:
List down requirements
The first and foremost step you should do in the very beginning is to define your specific requirements for your PWA Magento theme. Make a list of all your expectations in advance. Consider aspects such as design elements, color schemes, layout, and the overall user experience you want to offer, along with all essential features and functionalities that necessitate for your stores' growth.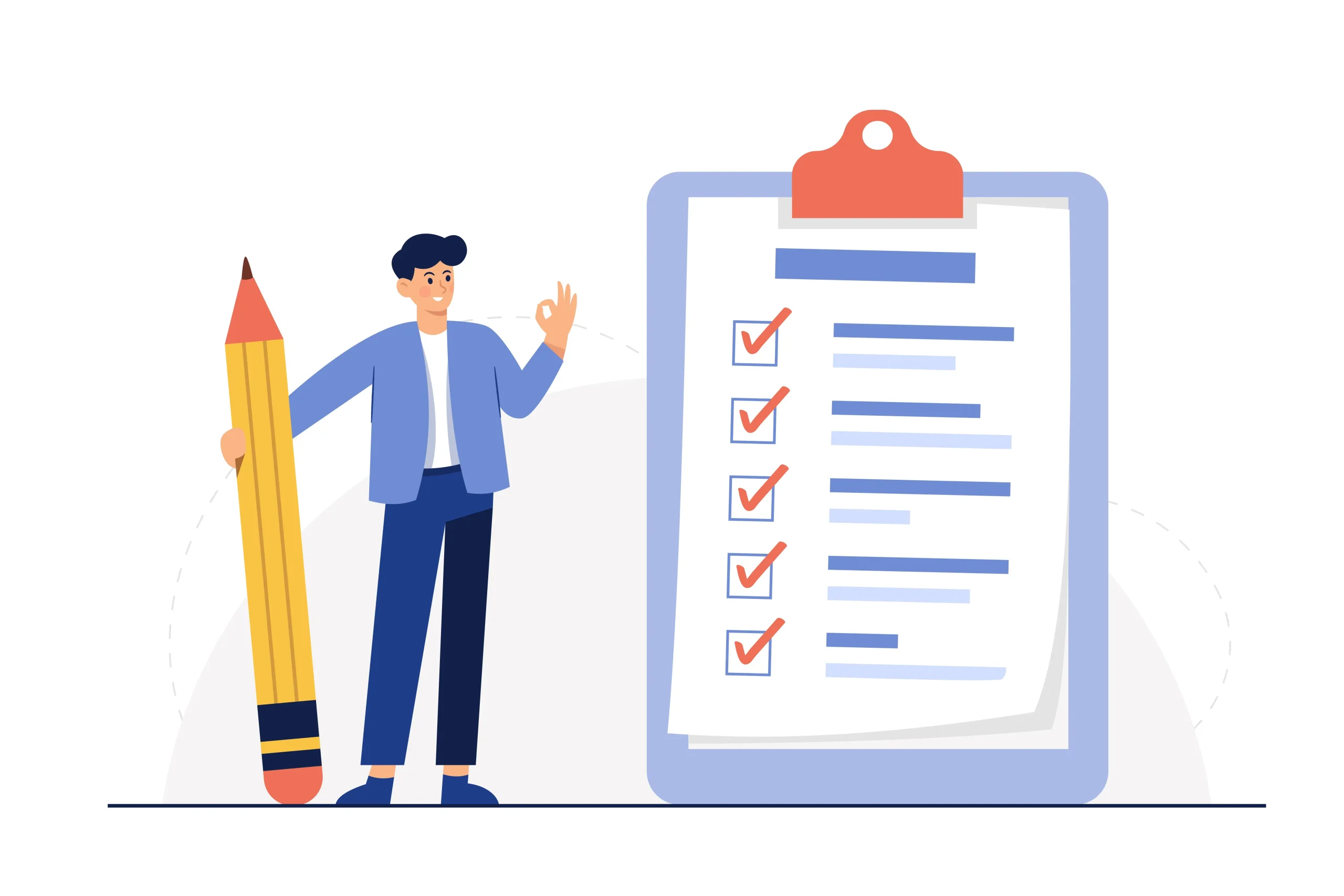 This list of detailed specifications will help you narrow down the range of possibilities, eliminating the irrelevant PWA themes, and thereby concentrating your effort on the choices with higher possibility. Make sure to be precise about your needs, as this results in better navigation throughout the process of building PWA for your Magento sites.
Consider your budget
While investing in a high-quality theme can yield significant benefits, it's essential to strike a balance between your budget and the features you require. The budget may be a concern when choosing a Magento PWA template, especially when your businesses have limited financial resources.
The cost of Magento 2 PWA theme highly depends on the features and functionalities you require for your store. The more complex the theme is, the more expensive it will be. If you have a limited budget and expect a cutting-edge PWA theme, you may choose an unsuitable theme for your store, resulting in poor performance. Therefore, you need to compromise with your requirements, making sure they align with your available budget.
Fortunately, there are numerous themes with varying price points available for Magento 2 PWA, so you can certainly find one that fits your budget and requirements. However, you should still conduct thorough research to ensure you get the best value for your money. Keep in mind that a well-optimized PWA theme can lead to higher conversions and customer satisfaction.
Check the demo
When it comes to Magento PWA themes, you should always request a demo of the PWA theme before making a final decision. This step will help you to check if all qualities are met and whether this theme is the right choice for your stores.
Taking time to review a demo can save you considerable time and effort in the long run. A demo will allow you to experience the theme firsthand, test its functionalities, and evaluate the user interface. You can check whether the theme:
Is user-friendly
Easy to customize
Enhance the speed of the overall store
Make smoother navigation
Offers multiple filter options
Provides catchy pages, etc
In general, you need to check how your store's performance is improved after using the PWA theme and ensure that it reflects your desired design and features. You should also look at the theme's documentation and support resources to help you maximize its effectiveness.
Look for a suitable design for the Magento PWA theme
To make the best decision, prioritize a template that suits your businesses. Consider factors such as whether it complements your products, resonates with your brand identity, and is attractive enough to provide a delightful shopping experience to your customers. Make sure that the theme supports all the features you require.
In case you cannot find a suitable ready-made template, themes with customizable elements are also great options. These themes' designs are easily tailored to match your brand aesthetics and specific needs. However, customizable themes may require a higher budget, you should date back to your available budget and determine requirements to make the best-optimized decision.
Compare different themes
When choosing the best PWA theme for Magento, comparison between different themes is also important. Don't settle for the first PWA theme you come across, there may be many other options out there that are more suitable for your Magento stores.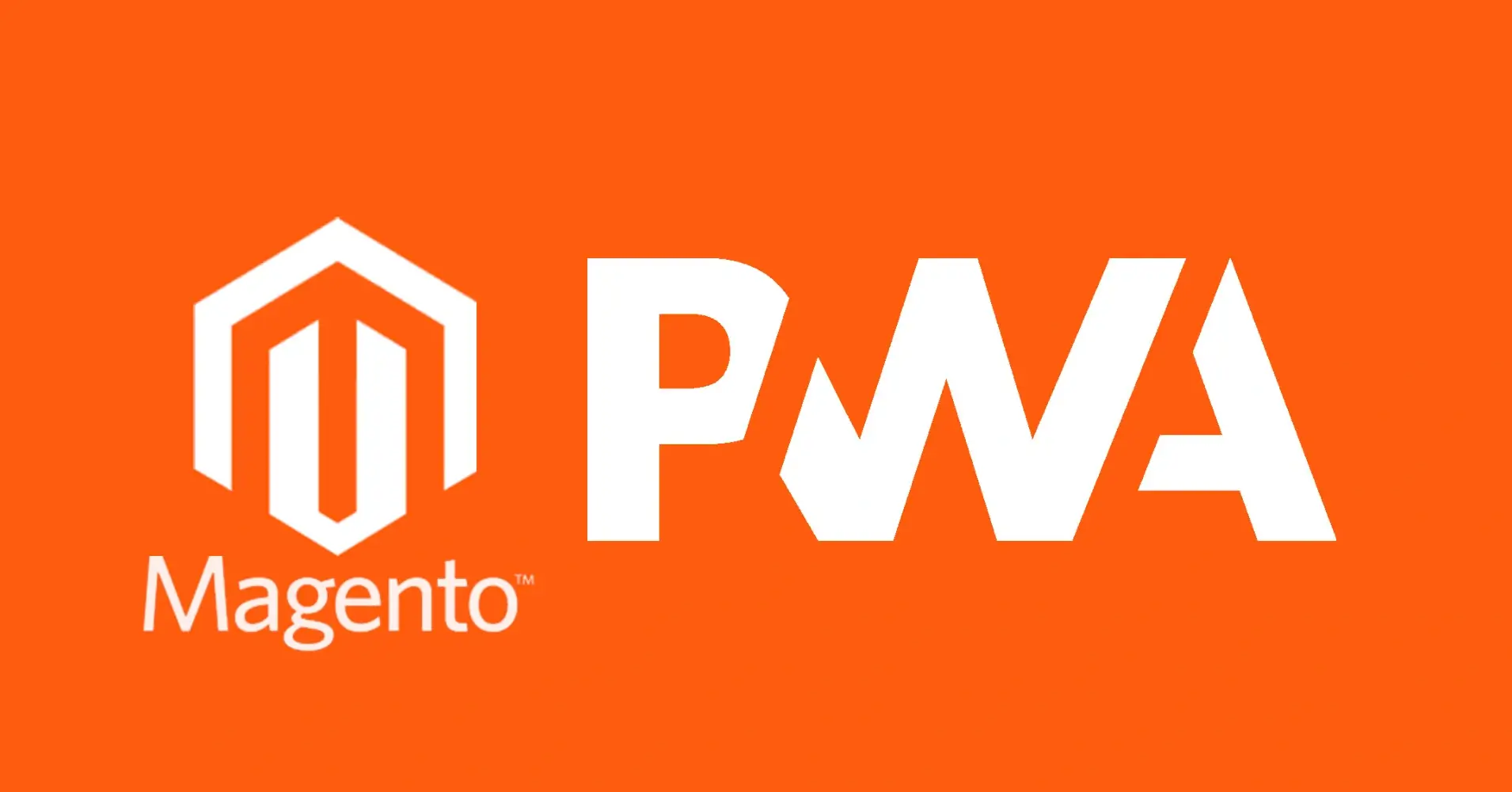 Explore multiple options and compare them based on your requirements, design preferences, and your estimated budget. You should also compare factors such as:
Loading speed and responsiveness
Compatibility with the browser
Mobile-friendliness
Ease of navigation
If considering these factors does not help you make a conclusion, call for a third-party's perspective for an objective viewpoint with valuable insights you may have overlooked, therefore making a more optimal decision for your Magento PWA theme.
Directly work with the developer
If you've discovered a Magento PWA theme that's a good fit for your store but still need further details to make a decision, reach out to the theme's developer or development team directly. Request customization from the developers according to your specifications.
In this way, you will be assured that your chosen theme is capable of being modified to meet your specific needs. You also have access to features and customizations tailored to your business's requirements. In addition, communication with developers offers valuable insight into the theme's capabilities, the level of support offered, and the development team's responsiveness to any potential issues. In addition, valuable advice and direction on how to use the themes most effectively will be provided.
Understand post-purchase support
Even if a PWA theme looks great in a demo, this does not guarantee that it will perform flawlessly in production. Any PWA theme may experience sudden disruptions and necessitate updates, compatibility fixes, or occasional technical support. Consequently, you must ensure that the provider offers reliable post-purchase support. The service providers should provide ongoing support to ensure that your online stores are always functional and up-to-date.
Choose a reliable provider of Magento PWA themes
Last but not least, find a trustworthy provider of Magento PWA themes. Magento has a large community with various solution partners and innovators, thus navigating the sea of providers and ensuring you're not falling victim to fraud can be a daunting task.
You should opt for a reputable and reliable provider. Check their websites to ensure that their pricing and services are transparent. Read user reviews and testimonials to determine the quality of their themes and the level of customer satisfaction. A reputable provider should offer thorough documentation, well-documented themes, regular updates, and secure coding techniques.
You can also investigate their credentials by examining the provider's years of experience, portfolio, and successful case study. Don't hesitate to consult the company to evaluate whether they can provide detailed and precise guidance for your businesses.
Common mistakes to avoid while choosing a PWA theme
Strict budget constraints
While budget considerations are essential, being excessively budget-conscious may limit your options to PWA themes of inferior quality. For example, if you require a cutting-edge theme but have a limited budget, you may end up with free themes, which may negatively impact your page's performance.
A low-cost theme typically lacks essential features and proper optimization; as a result, it may not meet your basic requirements and deliver a subpar user experience, negatively affecting sales and customer satisfaction. Therefore, you should carefully consider your business needs and available budget, focusing on finding a theme that strikes a balance between these two factors.
Choosing an irrelevant theme for your store
It is a critical error to choose a PWA theme that does not align with your store's niche or intended audience. Your stores will become less attractive to buyers, customer engagement will decrease, and the bounce rate will increase. Moreover, when the theme does not match your brand identity, it disrupts the consistency of your brand image. Your stores' organic traffic may also be negatively affected.
To avoid this mistake, you should ensure that the theme's design and features align with your brand identity and cater to the preferences of your customers. Choose a color scheme that can serve both of these purposes. Additionally, a simple theme is a solution to mitigate the slow-performing problem. A theme that resonates with your store's offerings will create a cohesive and enjoyable shopping experience.
Incomplete demo testing
Demo testing is often ignored by store owners when they have chosen a theme that they think is suitable for their store. However, relying solely on a brief demo or not testing all aspects of the PWA theme thoroughly can lead to unpleasant surprises after implementation. Your stores either become slow or fail to attract customers' attention.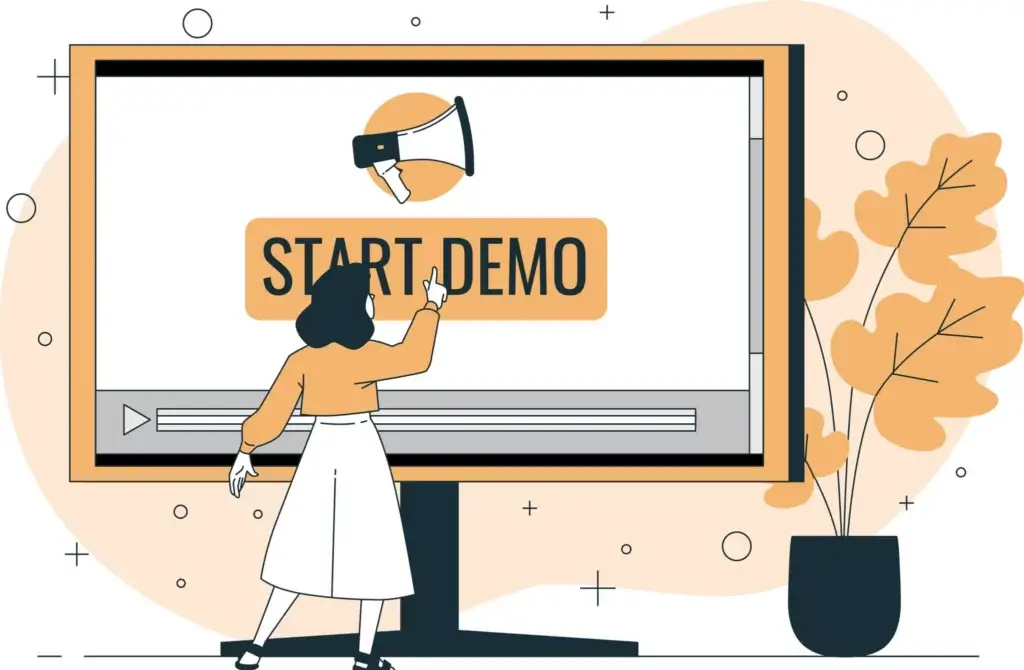 It's essential to conduct a thorough theme-based audit of your stores. Explore all features, user interfaces, and navigation paths to ensure the theme meets your requirements. Request a comprehensive demo and consider seeking feedback from your team or potential users. If any obstructions are encountered, you may choose a different PWA theme to best ensure the performance of your PWA.
Sacrificing performance for aesthetics
An aesthetically pleasing design is essential, but it should not come at the expense of performance. A PWA theme that prioritizes visual elements usually overloads speed and responsiveness, resulting in slower page loads and decreased user experiences.
Therefore, instead of putting too much concern on the theme's aesthetic design, you should prioritize designs that are appealing enough to align with your brand image and your target customers' preferences. Choose a theme that balances aesthetics with optimized performance to best leverage the advantages of PWA Magento functionalities.
Ignoring responsiveness and customization options
Mobile responsiveness is a core feature of PWAs, as it ensures a seamless experience across various devices. Ignoring this aspect can alienate mobile users and result in lost sales. Additionally, overlooking customization options may prevent you from aligning the theme's design with your brand's identity.
This mistake can be avoided by conducting thorough research and comparing themes and their functions. Demo testing must be carefully carried out as well to determine if the theme's responsiveness and customizability meet your needs. In addition, you should determine if the theme providers offer ongoing support for your customization needs and troubleshooting if issues arise.
Why you should choose a PWA theme for Magento websites
Not that you've received a clearer picture of how to choose a PWA theme for your Magento sites, but why you should convert your sites into PWAs? Below are the benefits that a PWA theme can bring to your Magento stores.
Responsive web experience
A PWA theme ensures that your Magento website is fully responsive, adapting seamlessly to various screen sizes and devices. Your websites are accessible on any device, from desktops, tablets, or smartphones, as long as it has a browser. Moreover, with a cross-browser interface of Magento 2 PWA, users can also access your website from any location.
No matter what devices your customers are on, or wherever they are, the PWA theme will deliver a fast, consistent, and user-friendly experience with high-quality visuals. This results in improved search engine rankings and encourages higher user engagement.
Better UX
The Magento 2 PWA themes are designed to provide an exceptional user experience. Customers are served with a smooth app-like interface with a full-screen display, network independence, background syncing, and little data usage, among other factors. These features facilitate intuitive navigation, quick interactions, and immersive shopping experiences.
The PWA themes are also optimized for performance, with features such as lazy loading of images, minification of CSS and JavaScript files, compression of resources to reduce page load times, and caching to speed up responsiveness. Due to the enhanced UX, Magento PWAs are excellent solutions for eCommerce businesses to achieve higher customer satisfaction and increased conversion rates.
Performance and loading speed
PWA provides an app-like experience that is optimized to load quickly, even in low-network environments.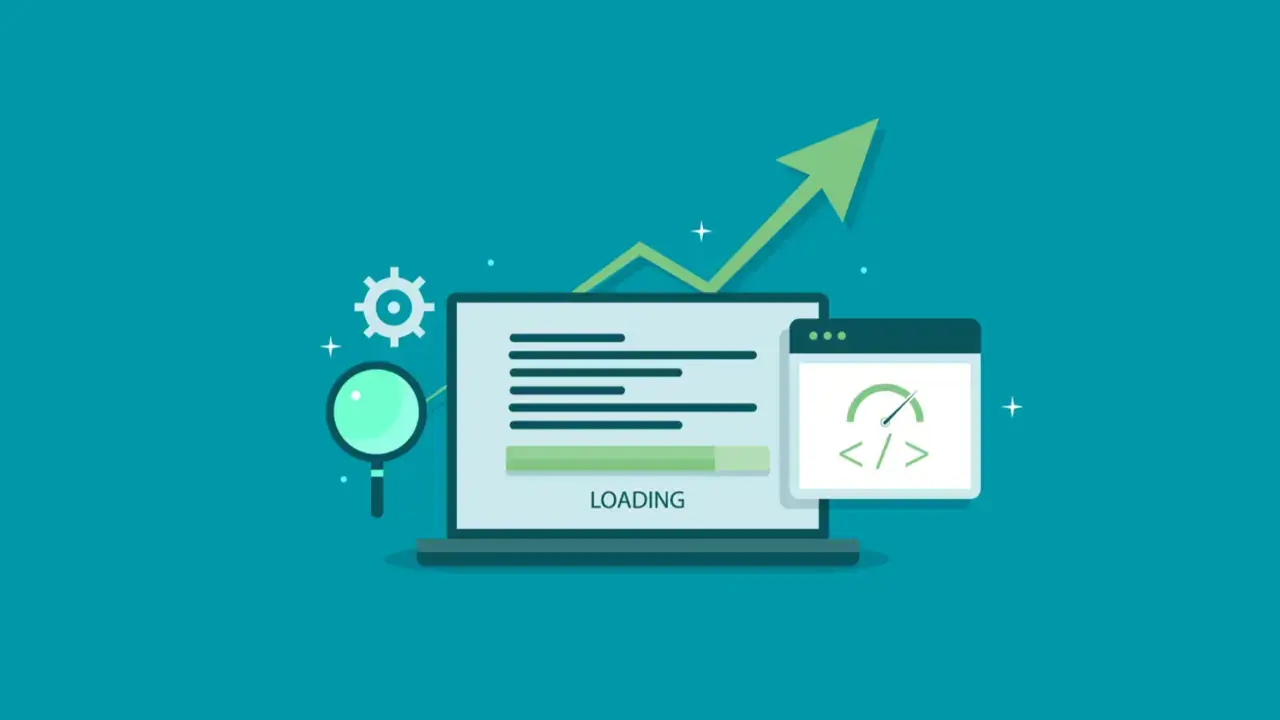 By utilizing service workers and caching strategies, PWAs reduce page load times and enhance the browsing experience. Moreover, PWAs require a minimal amount of internet to load, allowing users to enjoy the optimal functionality of PWA themes without worrying about an interrupted connection. This increases the performance of your Magento stores, resulting in increased customer engagement and retention.
Cost-effective solution
Choosing a PWA theme for your Magento website is a cost-effective solution compared to building and maintaining separate native mobile apps.
These themes are built on Magento API, which reduces significant development times compared to traditional web applications. In the case that you want to transfer your store to another platform, Magento 2 PWA themes help simplify this process, allowing you to complete it all by hand. This reduces the need for technical assistance, eliminating the efforts and additional costs for the services.
With PWAs, you only need to care for one web app instead of multiple apps in various app stores. This requires less maintenance effort and development teams, reducing the costs required with them, thus making PWAs a cost-effective solution while still providing a native app-like experience to users.
Easy and effective re-engagement
Besides increasing customer engagement, PWAs also enable easy re-engagement with customers through push notifications.
Magento 2 PWA themes transform your Magento stores into PWA which includes all functions of a native app. Push notifications are brief, condensed messages that alert users of updates, new information, or the need to perform a specific action. By using this strategically, you can send timely and relevant updates, product information, offers, or reminders about abandoned carts, effectively driving repeat visits and encouraging customers to complete their purchases.
Native app-like performance
PWAs are designed to look and function like native apps, providing users with an immersive and app-like experience. They are accessible from the home screen, have their own icon, and operate in a separate window.
The pop-up feature ensures that users don't have to reload the website whenever they want to open a new page so that all the tasks will be performed flawlessly as if they were an app. Users can easily interact with your app, navigate it, conduct standard product searches, and make purchases, having a seamless shopping experience overall.
SEO friendliness
SEO is crucial for improving your website's visibility and is an important aspect of your inbound marketing strategies. PWAs are inherently SEO-friendly, as they are served through URLs like regular websites. Additionally, Magento 2 PWA themes are optimized to accelerate page load times and reduce browser stress. This will result in better visibility and higher ranking in search engines for your Magento stores, therefore attracting more customers and increasing conversion rates.
Best Magento PWA theme providers
Acknowledging the promising future of PWA for web development, eCommerce merchants are increasingly interested in providing Magento PWA Development services. In addition, researching and comparing different providers is an essential step in the process of determining how to choose a PWA theme for your Magento site. Below are some dominant names among the best Magento PWA Development company and providers for you to choose from.
Magenest
Established in 2015, Magenest is proud to be among the most reliable Magento 2 development agencies that a full-scale digital solution for businesses, irrespective of their industry. The structure of these solutions is highly modifiable and can be tailored to the specific requirements of your industry and business.

Understanding the benefits of PWA to eCommerce performance, Magenest offers Magento Development Services to bring an exceptional mobile-first experience for your customers. We are proud to have a team of Magento-certified developers who are ready to deliver the best personalized PWA development service, including custom PWA design for your Magento sites.
Price: Contact for custom prices
Compatibility: Magento 2
Main features:
Native-app like
Fast, seamless, engaging, and natural UX design
SEO support
Cross-platform compatibility
Scalability through advanced technologies
BSS Commerce
With 10+ years of experience, BSS Commerce is a Global Full-service eCommerce agency that provides cutting-edge technology solutions to B2B, B2C, and B2B2C businesses. They are empowered by partnerships with multiple eCommerce providers, including Magento, serving 100k+ customers in 150+ countries and regions.
As the leading Magento PWA and Mobile App Solution Provider, BSS Commerce offers a FREE Magento 2 PWA Theme, which comes as a solution for you to increase traffic and conversions of your Magento 2 store.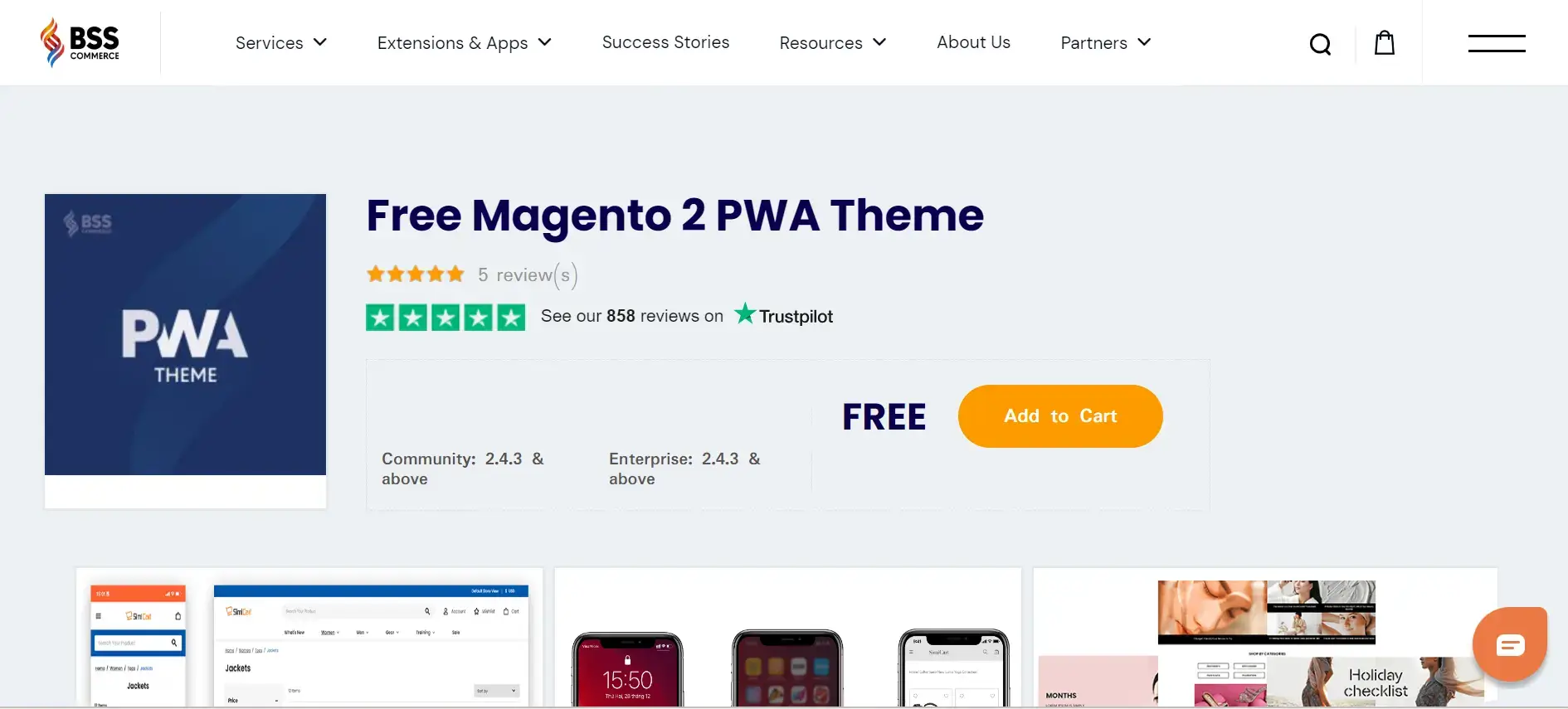 This is an open-source PWA theme for Magento 2, built with PWA Studio. It provides fast loading time, helping you transform your store into a headless storefront in a quick, engaging and mobile-friendly way.
Price: Free
Compatibility: Magento 2.4.3 & above
Main features:
Lightning-fast loading speed
App-like UI/UX
70+ pre-built templates
Support all Magento 2 features
GoMage
GoMage is a USA-based Magento provider. With a team of 22 PWA developers, they provide trustworthy Magento PWA Development services that have completed 4 successful projects, serving merchants eager to enter an eCommerce future characterized by instant page loads and high mobile conversions. Twitter, Alibaba Group, Starbucks, and Pinterest, just to name a few, have placed their confidence in this service.
GoMage Magento 2 headless PWA Storefront, or GOPWA, is the perfect solution for effortlessly building a robust and feature-rich Magento 2 PWA store. Ranked as the top Magento company by Clutch in 2023, GoMage offers a PWA theme that is designed to empower easy, hassle-free storefront content editing and website management. You'll get all of the benefits, including:
Increase customer engagement by up to 66%
Accelerate performance x2-4 times
Higher engagement rate to 25%
Raise average session duration to 30%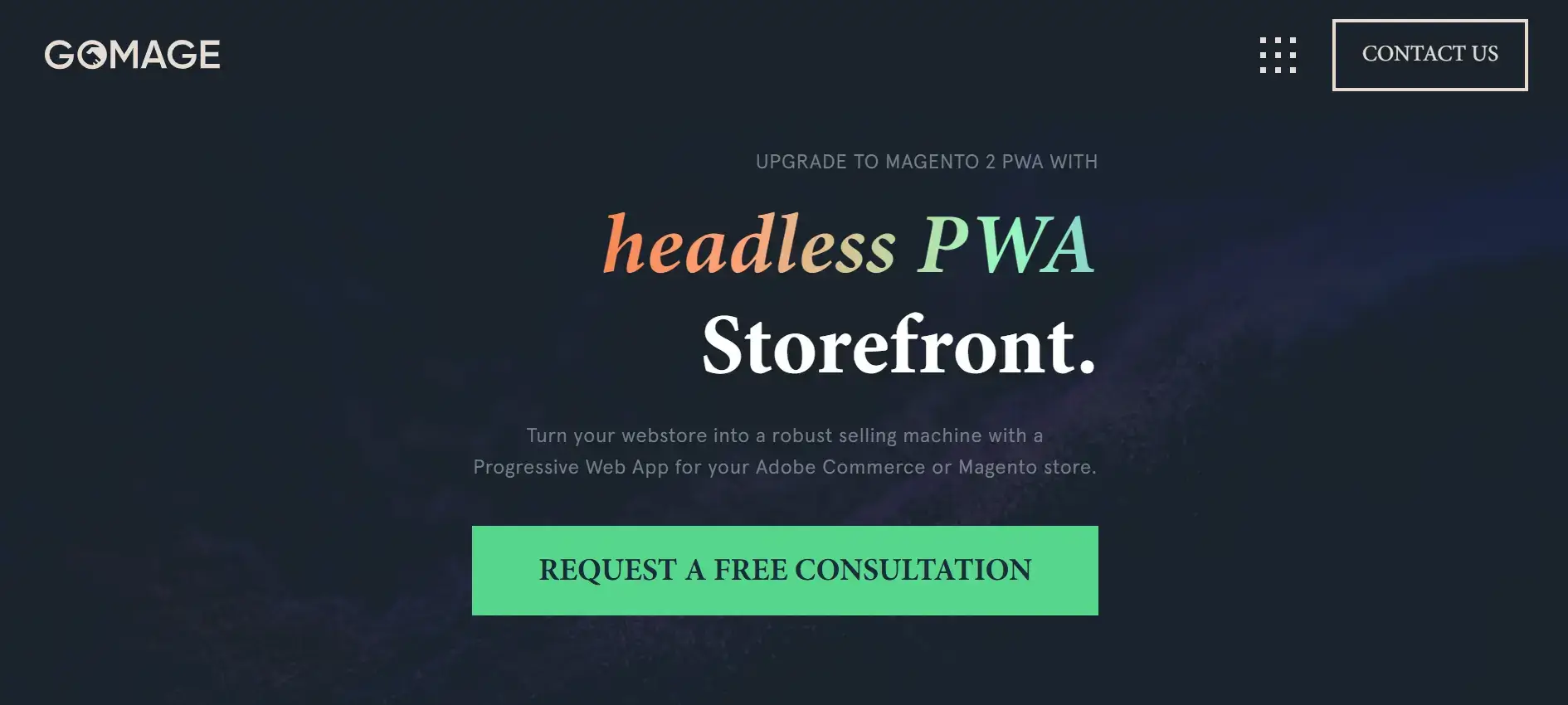 From a range of built-in speed optimization practices that accelerate performance up to 4x — and up to a rich collection of UX/UI features and integrations for omnichannel marketing. GOPWA covers everything you needed.
Price:
Open Source: $1,799
Commerce: $2,299
Compatibility: Magento 2.4.X
Main features:
Simple installation and maintenance process
Fully adjustable and customization
Offline mode support
Cross-platform compatibility
Add to Home Screen available
Not overuse resources and storage
High-in-demand integrations
Mageplaza
With 9+ years of expertise, Mageplaza is a leading Magento agency and the most feature-rich extension developer for Magento 2. The company offers a wide variety of well-coded, fully-featured & innovative extensions with top-notch Magento specialists, customer-center assistance, and innovations in every phase.
Mageplaza's Magento 2 PWA theme is specifically designed to assist merchants in providing their customers with an exceptional shopping experience. It comes with great UI/UX that looks and feels similar to a native, installed application, including all of its dominant features such as:
Home screen shortcut
Splash page
Full-screen option
Push notifications
Automatic updates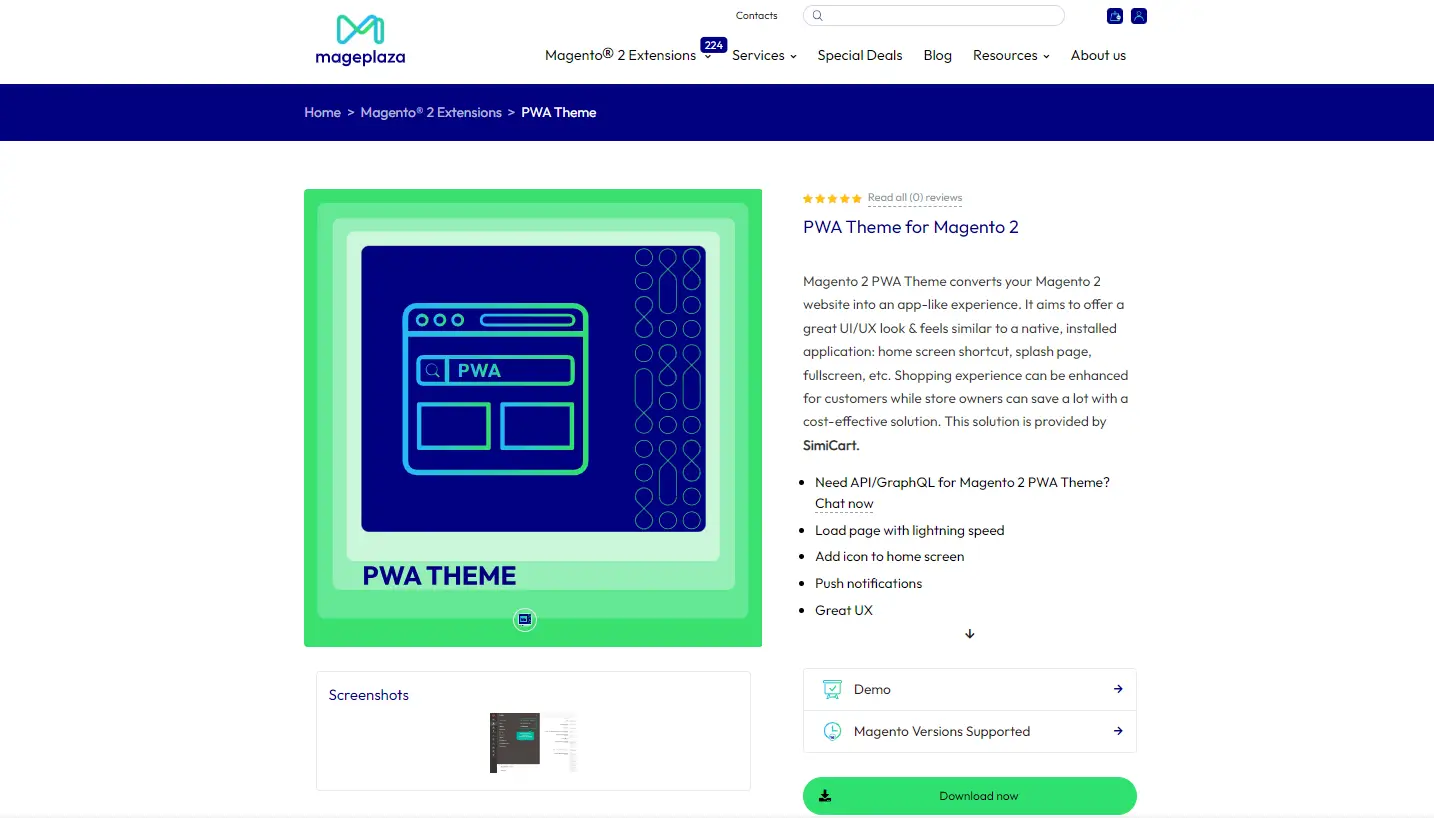 The shopping experience is enhanced considerably as customers engage with your website in the same way they do with a native mobile app. Store owners can save a lot with this cost-effective solution, while still experiencing increased visitor engagement, store conversions, and revenue.
Price: FREE
Compatibility: Magento 2.2.x, 2.3.x, 2.4.x
Main features:
Lightning load speed
Offer app-like feel
Low storage space and cost requirements
Built-in SEO support
Onilab
Throughout a decade of industry experience, Onilab, an eCommerce development company, has advocated a user-centric and mobile-first approach as the primary conversion driver. With a focus on online store performance, Onilab empowers eCommerce businesses with PWA solutions that provide:
Higher conversions
Better speed
App-like experience
Improved SEO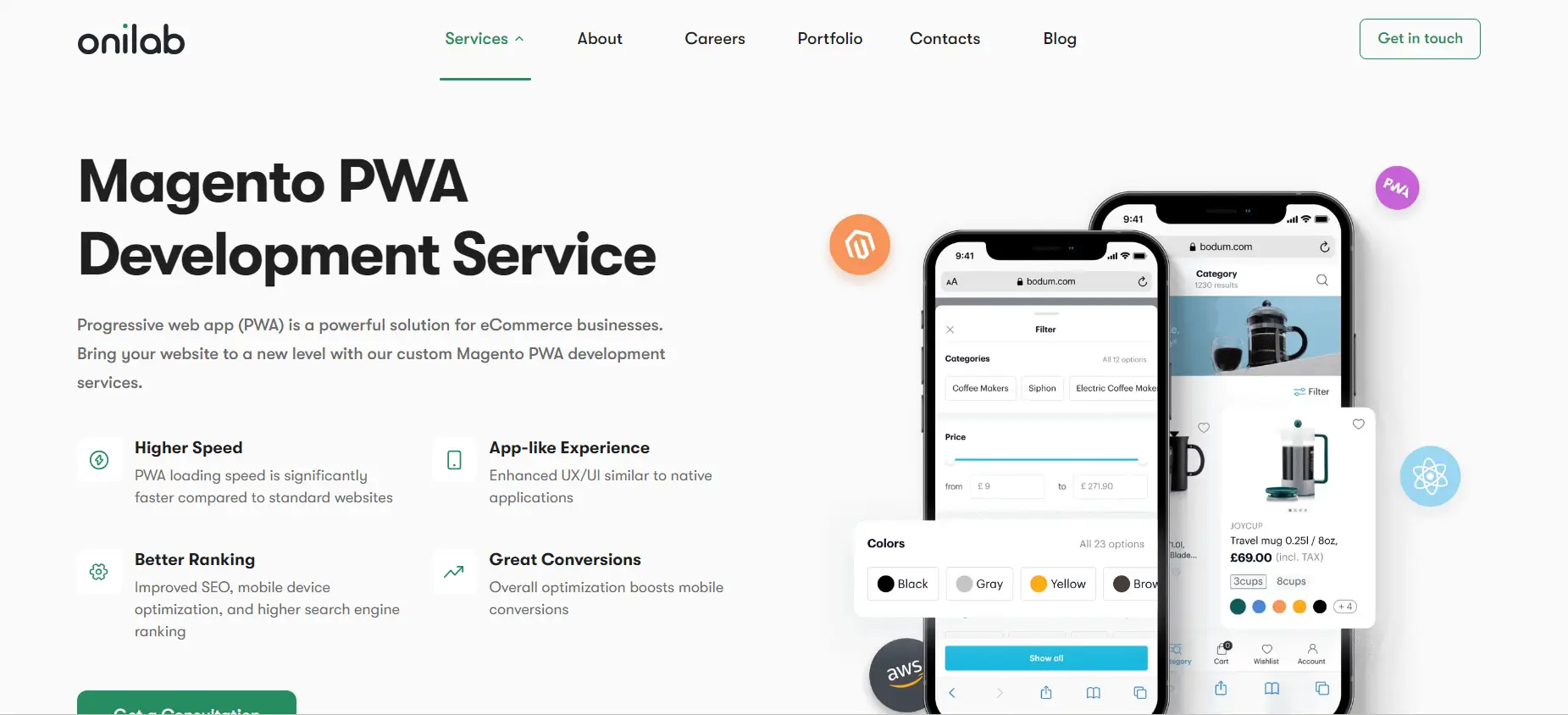 Onilab Magento PWA Development Service is comprised of a team of experts who have in-depth knowledge of the Magento progressive web app development process. The company provides a customized approach to each project which can be tailored to serve any needs of businesses. They work toward the objective is to developing a world-class PWA that provides flawless UX/UI, top performance, and an exceptional shopping experience for eCommerce stores.
Price: Custom
Compatibility: Magento 2.3.x & 2.4.x
Main features: Onilab offers various custom Magento PWA development services to meet all your needs
Development
Performance optimization
Migration services
Integration
Theme development
QA verification
UX/UI design
Project consultation
Audit
Tigren
Tigren is the leading eCommerce agency that provides cutting-edge solutions for small and medium-sized businesses. With 11+ years of experience along with exceptional expertise, Tigren offers diverse eCommerce services, including PWA development.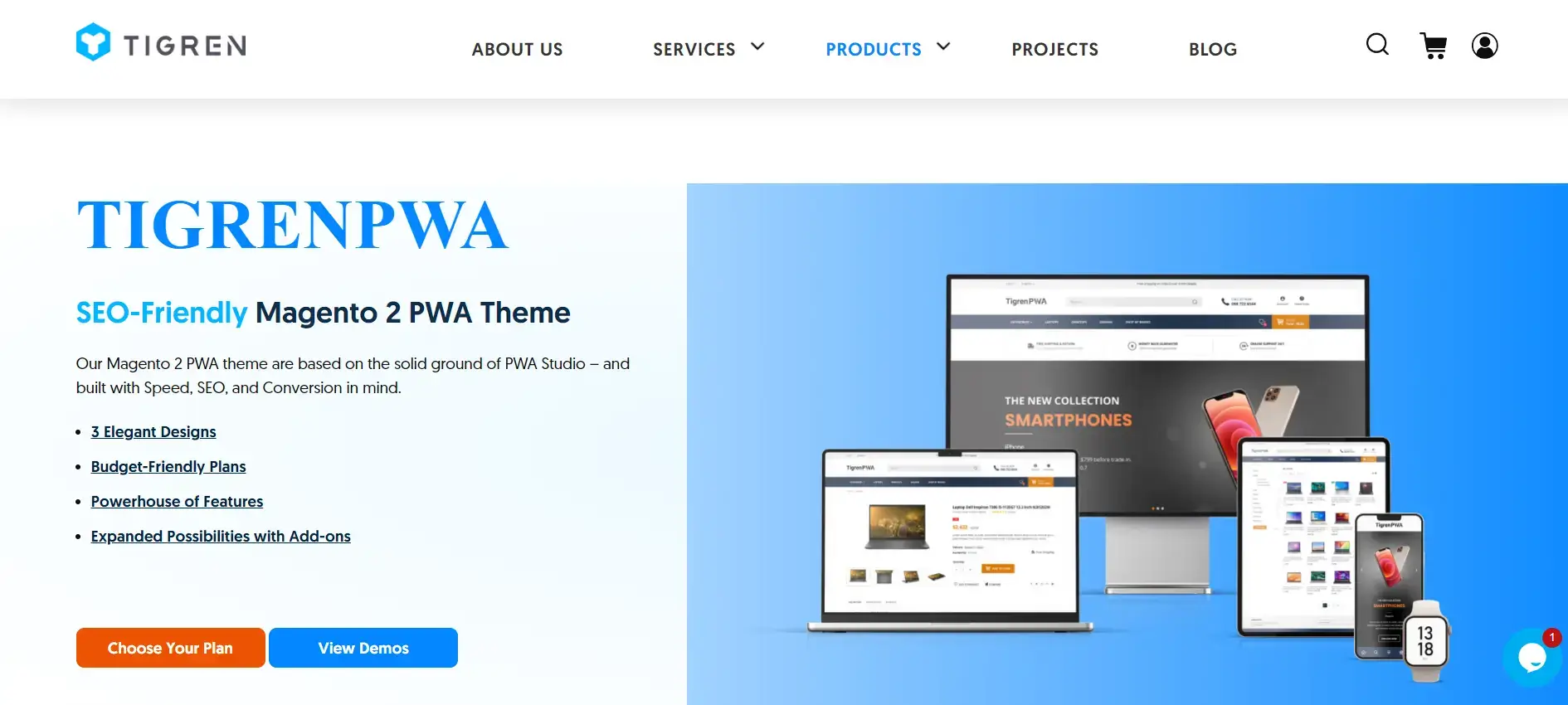 Tigren has been delivering PWA Development Services since 2017, leveraging cutting-edge technologies to provide both ready-made and custom PWA solutions to serve different business needs. They prioritize high quality and competitive costs for their service, covering all dominant features of PWA from lightning-speed pages, app-like interface, offline mode support, cross-platform availability, and more.
Built on the solid ground of PWA Studio, Tigren Magento 2 PWA theme prioritizes Speed, SEO, and Conversion. They offer 3 ready-made Magento 2 PWA themes, which trim down your development timeline from month to hours. You'll also receive a cost-effective solution without sacrificing quality and still get all the necessary functionalities you need.

Price:
Lite: $199
Pro: $499
Custom: contact for personalized prices
Compatibility: Magento 2.3.x & 2.4.x
Main features:
3 ready-made themes
Fast loading time within 0.8 second
Combination of PWA, Magento, and Pro features
SEO optimization with featured category text and fastly CDN integration
Expanded possibilities with 20+ add-ons
SimiCart
SimiCart is a Magento provider that has 10+ years of experience and expertise in helping store owners with their digital business transformation. They offer a Magento PWA storefront, serving merchants turning slow sites into lightning-speed sites,  providing an unrivaled shopping experience. 
Lightning-fast website
Native app-like experience
Drag-and-drop page builder for customization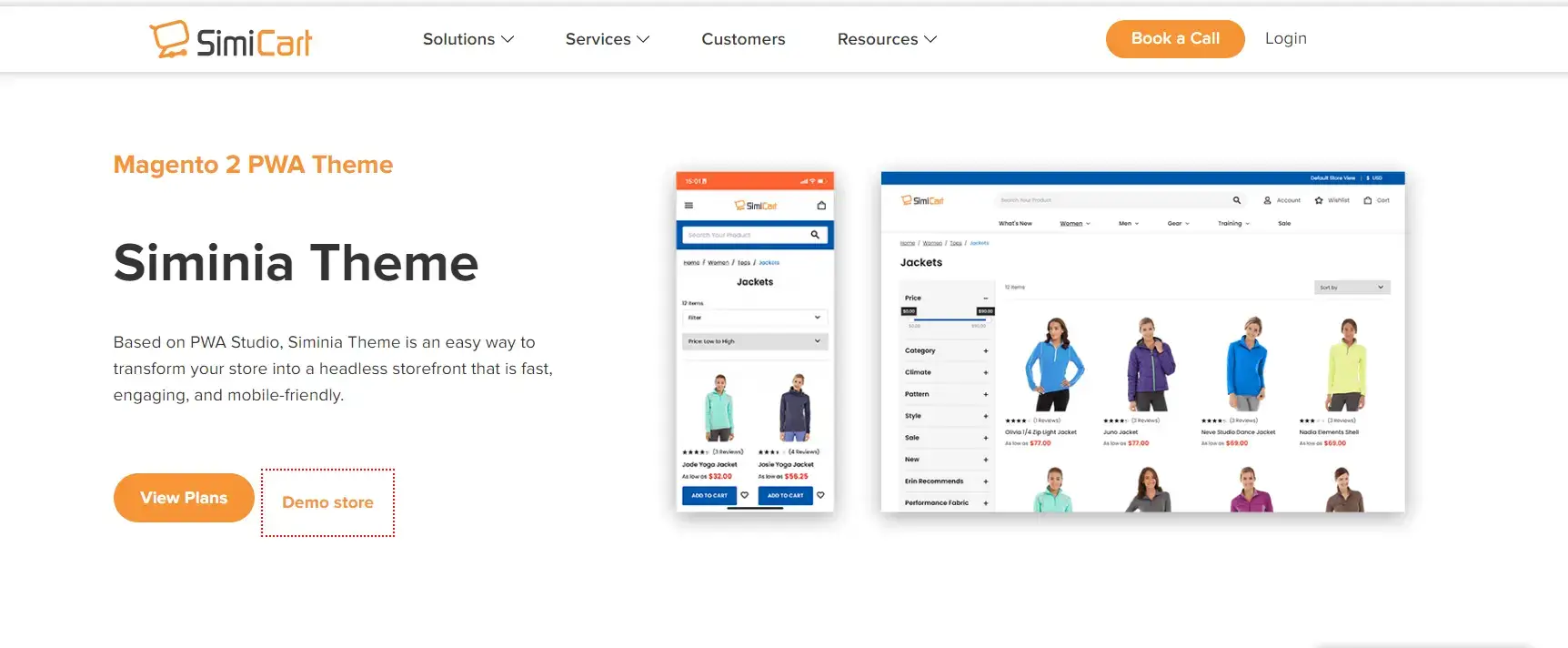 The open-source PWA Magento 2 theme from Simicart is an excellent way to transform your store into a responsive, mobile-friendly, headless storefront. It is based on PWA Studio and provides a simple, user-friendly solution for enhancing the online shopping experience of your customers. It aims to be stable and easy to maintain, so it can still function well without worrying about future upgrades of Magento.
Simicart is now a part of the BSS family. Together with Magestore and BSS Commerce, their solutions are strengthened to bring greater value, and a faster and more affordable ecosystem for eCommerce store owners.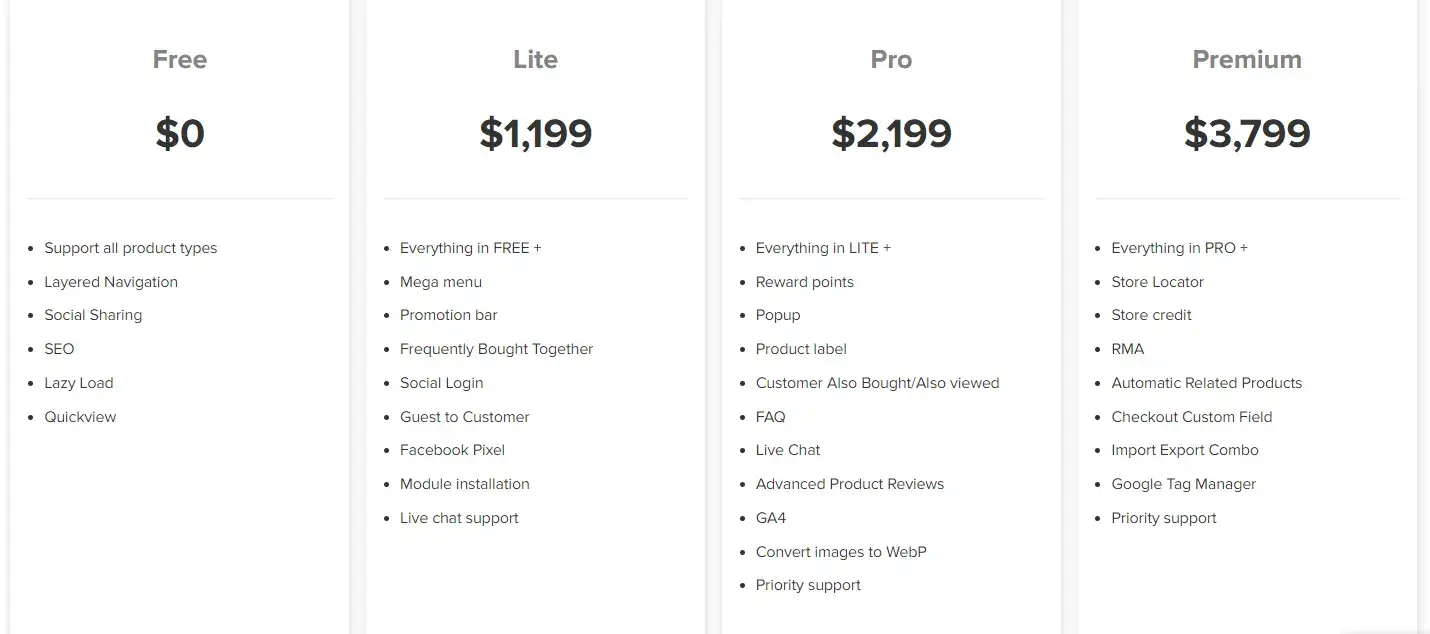 Price:
Free
Lite: $1,199
Pro: $2,199
Premium: $3,799
Compatibility: Magento 2
Main features:
Support most Magento 2 features
Effortlessly drag and drop PWA pages
90+ pre-built templates
Responsive frontend across devices
Beautiful UI/UX design
Add icon to home screen
Push notification
Offline support
Wrapping up
Magento PWA theme is undoubtedly the ultimate solution for eCommerce business owners to create powerful and engaging stores in a quick and effortless way. They provide greater flexibility than traditional Magento websites and enable merchants to create a unified, device-optimized user experience.
How to choose a PWA theme has been a concern for many Magento merchants. Some important aspects to consider before deciding on a PWA theme are the specific requirements of your businesses, the estimated budget, and the amount of customization you need. There are numerous Magento PWA theme providers offering a variety of free and paid themes with various features, making it easier than ever to select the best provider who can meet your needs.
If you are still unsure of how to choose a PWA theme that works best for your Magento 2 stores, don't hesitate to contact us for consultation. Our qualified experts will be sure to provide you with the best guidance on the process of converting your Magento sites to PWAs, as well as ongoing support for your eCommerce success.