Merchants in eCommerce are increasingly interested in Progressive Web Apps (PWAs) due to their extensible features, which surpass the performance of both native apps and standard web browsers. Creating a PWA site on Magento offers the best of both worlds: store owners can take advantage of the most powerful eCommerce platform available, while also leveraging the latest technology to scale their businesses to new heights. This combination can lead to significant benefits for online businesses seeking to improve their performance and reach more customers. If you are looking to create an exceptional PWA for your online store, then you need to work with the best Magento PWA development company and providers. In this article, we have compiled a comprehensive list of these companies to help you make an informed decision when selecting the right partner for your project.
About Progressive Web App (PWA)
Progressive Web Apps (PWA) are web applications that utilize modern web capabilities to deliver an app-like experience to users. PWAs are designed to work seamlessly across all devices and platforms, including desktop, mobile, and tablet. They offer several benefits over traditional web applications, such as fast load times, offline capabilities, push notifications, and a seamless user experience.
One of the key advantages of PWAs is their ability to provide a native app-like experience, without requiring users to download and install an app from an app store, in fact, they can be up to 300 times lighter than native apps. This makes PWAs more accessible and convenient for users, as they can simply access them from their browsers.
Another advantage of PWAs is their ability to load quickly, even on slow or unreliable networks. PWAs use techniques such as caching and preloading to ensure that they load quickly and smoothly, providing users with a fast and seamless experience.
The Best Progressive Web App Development Company For Your Consideration
Once you have decided to transform your website experience with a Progressive Web App (PWA), it's important to choose the right Magento PWA development company for your Magento store. We understand how crucial this decision is, which is why we have worked tirelessly to compile a list of the best agencies that have helped numerous other online stores. Below, you can find the PWA features and services offered by each agency.
1. Appnovation
Appnovation is a well-known digital solutions agency that offers a wide range of services to help businesses transform their online presence. One of their key areas of expertise is in developing Progressive Web Applications (PWAs) for Magento stores. They have successfully delivered PWA projects for many clients across various industries, which has helped them gain extensive experience and knowledge in the field.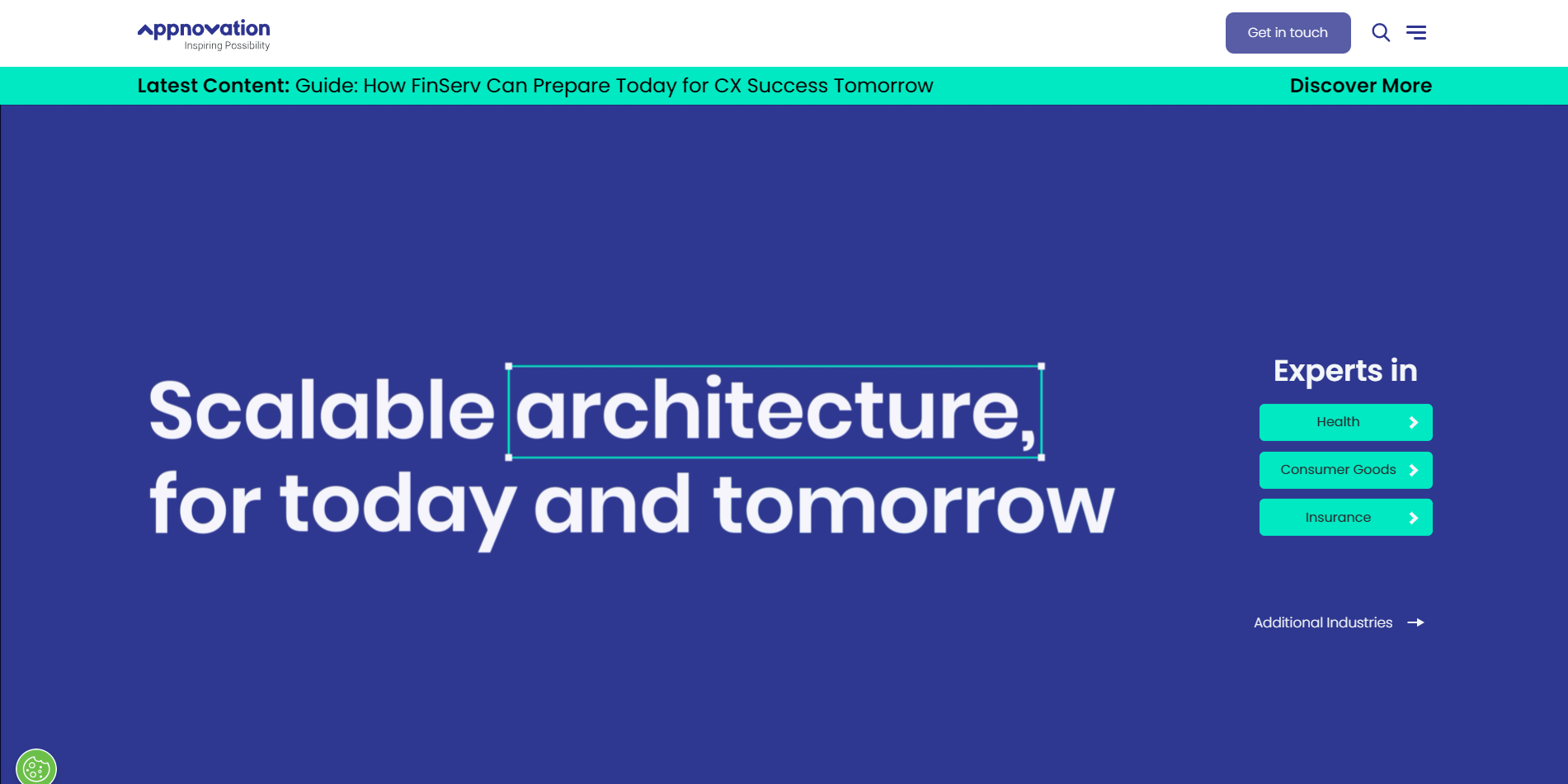 Appnovation's approach to PWA development for Magento stores is based on a thorough understanding of the client's requirements and business objectives. They follow a customer-centric approach, which means they design and develop PWAs that cater to the specific needs of the end users. Their team of certified Magento developers and UX/UI designers work collaboratively to deliver high-quality PWAs that provide a seamless and engaging user experience.
Outstanding features:
Speed and load quickly on all devices
Visually appealing and easy to use
Offline capabilities
Push notifications
Integration of PWA with third-party services
Maintenance and support services
BrainVire
Brainvire is a global information technology consultancy and solutions provider that specializes in delivering innovative and scalable Magento eCommerce solutions. With a team of over 800 employees, Brainvire has been providing custom software development, mobile application development, and digital marketing services to clients across various industries, including retail, healthcare, finance, and more.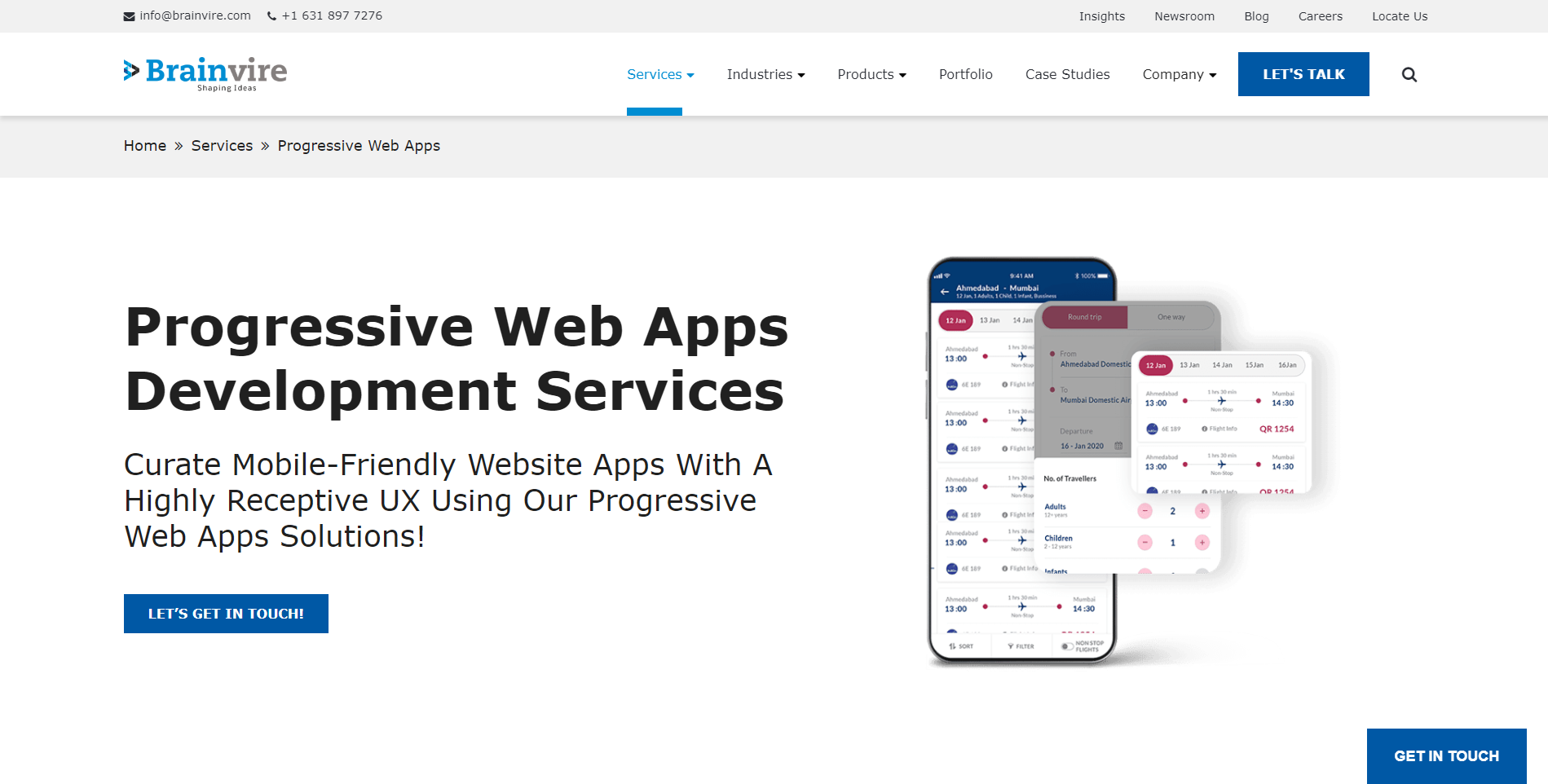 With their expertise in Magento and cutting-edge PWA technologies, Brainvire helps businesses create fast and responsive web applications that offer a seamless user experience across all devices. Their team of skilled developers works closely with clients to understand their unique needs and develop customized solutions that can help them achieve their business goals. Whether it's building a new PWA site from scratch or optimizing an existing Magento site for PWA, Brainvire has the expertise and experience to deliver exceptional results.
Outstanding features:
Offline capabilities
Push notifications
Full-screen mode
Responsive on all devices
Fast loading speed
Secure and reliable
Maintain and update services
Magenest JSC
Magenest is a global software development company that specializes in providing end-to-end solutions for eCommerce businesses. Founded in 2015, the company is headquartered in Vietnam and has expanded its services to cater to clients worldwide. Magenest offers a wide range of services including web and mobile application development, custom software development, and digital marketing solutions. The company has a team of experienced developers, designers, and digital marketing experts who work together to deliver innovative solutions that help businesses grow and succeed in the digital age.

One of their services includes Progressive Web Application (PWA) development for Magento stores. They specialize in building PWAs that offer fast loading times, offline accessibility, and push notifications, among other features.
Outstanding features:
Fast loading times, even in low network coverage
Offline accessibility
Push notifications
Responsive across any device
Seamless and intuitive design
Ongoing support and maintenance
Webkul
Webkul is a software development company that offers a range of eCommerce solutions and is one of the best Magento PWA providers. They specialize in developing scalable and robust PWA solutions that enhance user experience and drive conversions for online businesses. With a team of over 400 professionals and 10+ years of experience, Webkul has successfully delivered PWA projects for clients across various industries. Their services include PWA theme development, PWA extension development, and PWA customization to meet specific business requirements.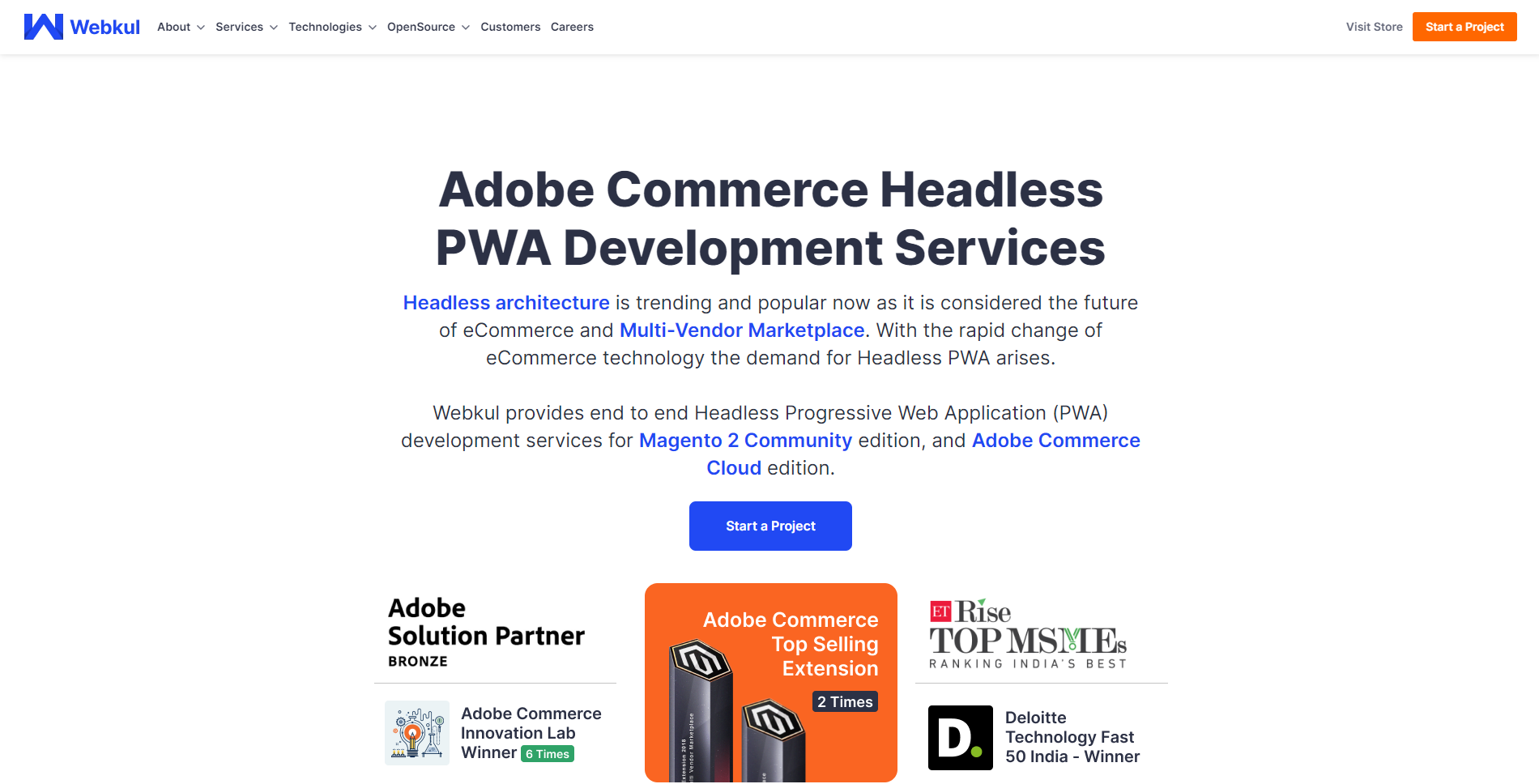 Outstanding features:
Optimized for mobile devices
Seamless and intuitive design
Scalability
Secure and reliable
Support and maintenance services
Fast loading speed
Offline functionality
ScandiPWA
ScandiPWA is an open-source frontend solution for building Progressive Web Applications (PWAs) on top of Magento. It provides a modern and flexible frontend architecture that is designed to enhance website performance and provide a native app-like experience to users. ScandiPWA is built on top of React and uses GraphQL to interact with Magento's backend. It offers a range of features, including fast loading speeds, offline capabilities, push notifications, and more.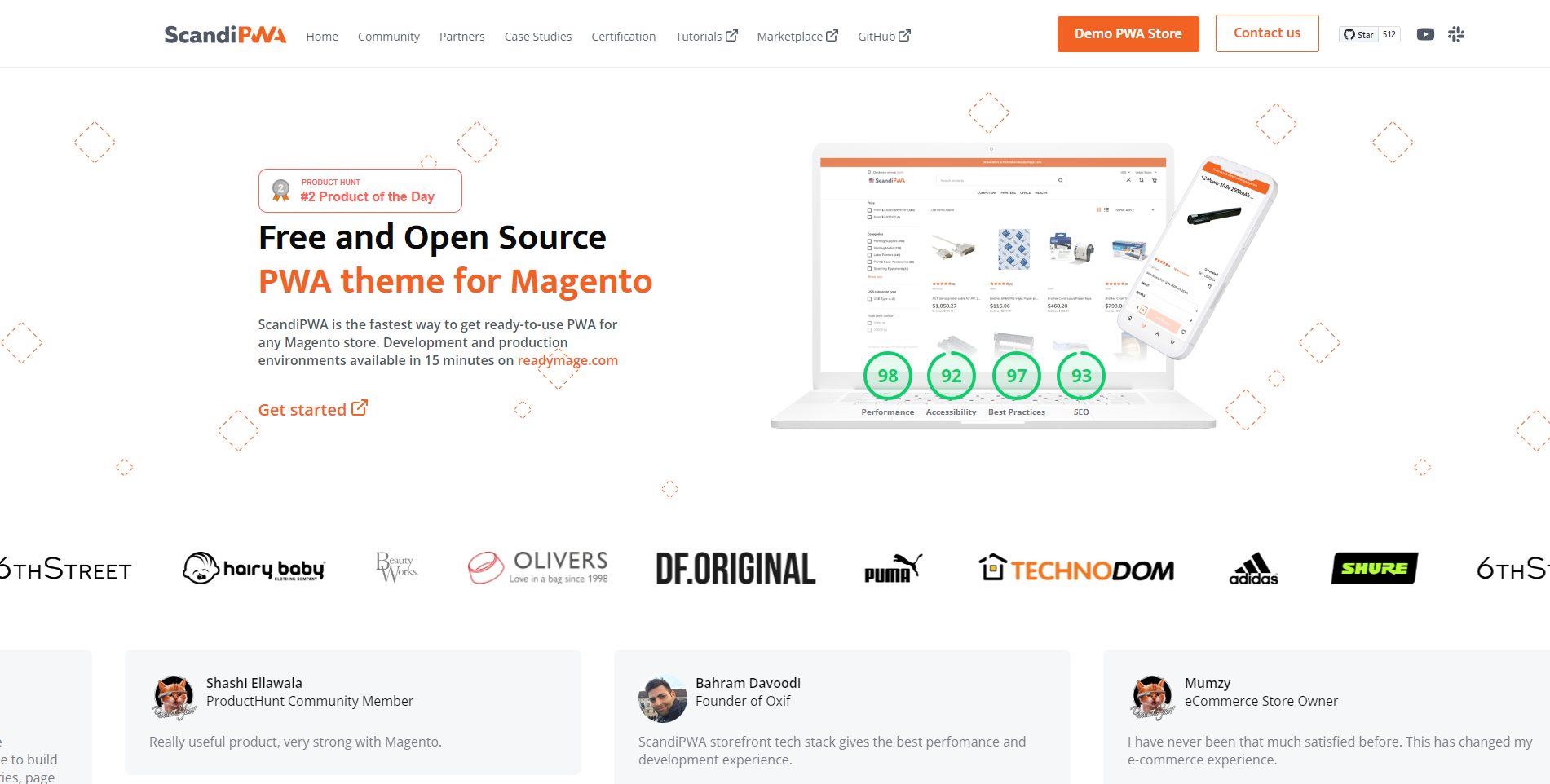 However, unlike other PWA solutions, ScandiPWA is not a standalone storefront that requires backend transformation, which can potentially slow down performance, cause bugs, and require more maintenance resources. ScandiPWA is a Progressive Web Apps theme that can be easily installed on any Magento 2.3.x platform. This makes it a Magento-first solution that retains the same backend that your developers are already familiar with while adding all the advantages of Progressive Web Apps technology.
Outstanding features:
Fast loading speed
Add to Home screen option
Homescreen App save
Boost mobile conversion
Offline functionality
Push notifications
Native app experience
Priority in organic search
Onilab
Onilab is a full-service eCommerce development agency that provides various services, including Magento development, PWA development, website design, and digital marketing. We can say, this agency provides the best Magento PWA Solution that you can find. The company specializes in creating custom eCommerce solutions that help businesses of all sizes to grow and succeed in today's digital landscape.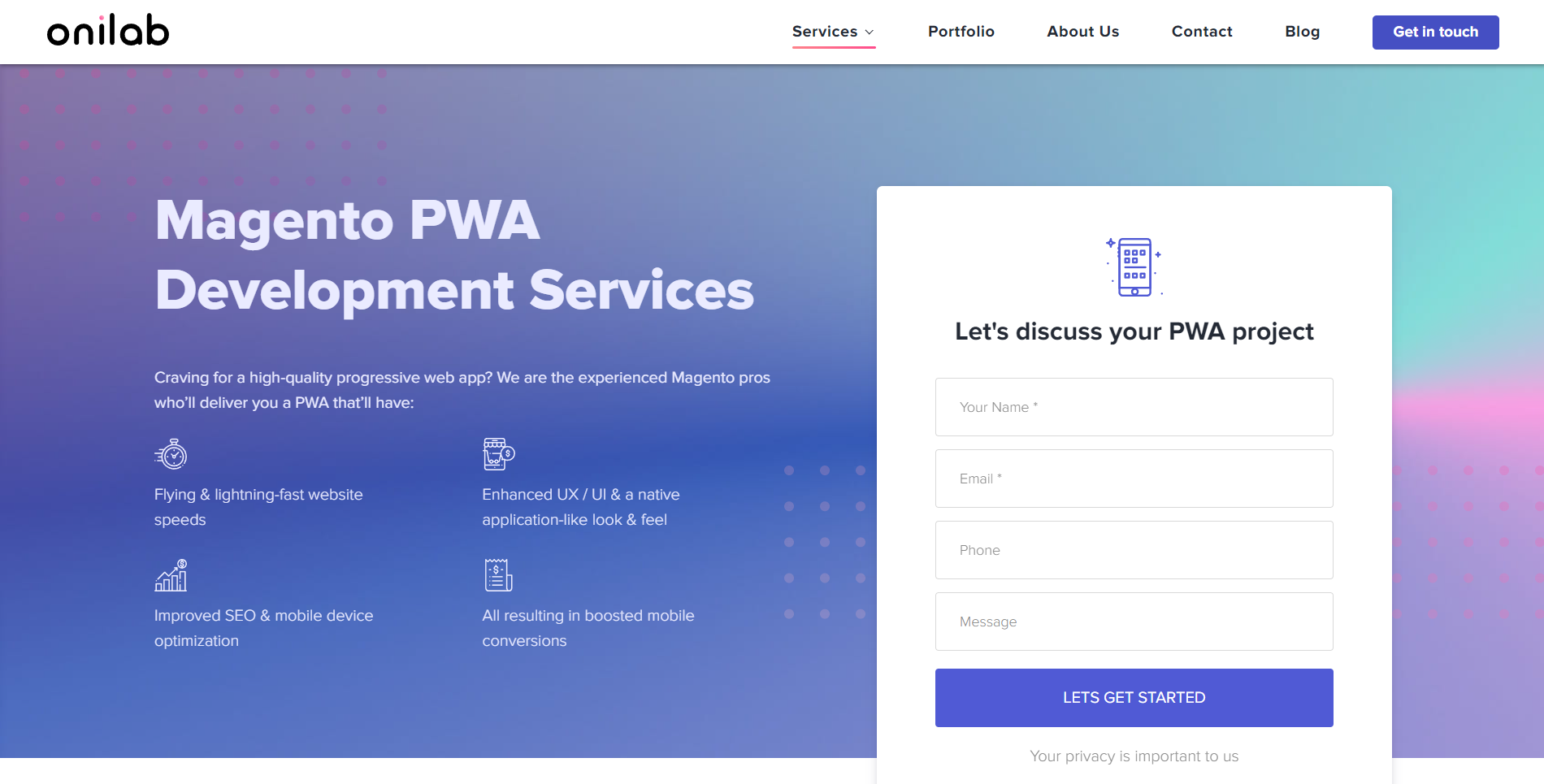 Onilab has successfully completed over 10 Magento PWA development projects for a variety of businesses, including eCommerce stores and booking services. By implementing Progressive Web Apps technology, Onilab has helped its clients increase conversion rates and uptime while offering competitive pricing. The team at Onilab is dedicated to delivering high-performance websites in a timely manner, and they offer ongoing support to ensure their clients' continued success. With over 7 years of experience in eCommerce, Onilab has expanded to 3 continents and served more than 60 customers with the help of their team of 80+ certified experts.
Outstanding features:
Boost mobile conversion
Fast loading speed
Native App look and feel
Unbeaten UX/UI design
Add to home screen functionality
Push notifications
SEO-friendly
BSSCommerce
BSSCommerce offers a complete range of Magento PWA development services to boost the performance of your website. Their team specializes in developing PWA websites using Magento PWA Studio, Vue Storefront, ScandiPWA theme, or any other theme of your choice. BSSCommerce provides technology consulting, development, and acceleration services to ensure your website achieves the desired page speed and optimized user experience. They are committed to high Magento coding quality standards and offer full integration with other third-party solution providers. Additionally, you can take advantage of their FREE PWA extensions that come with free 1-year support and lifetime updates.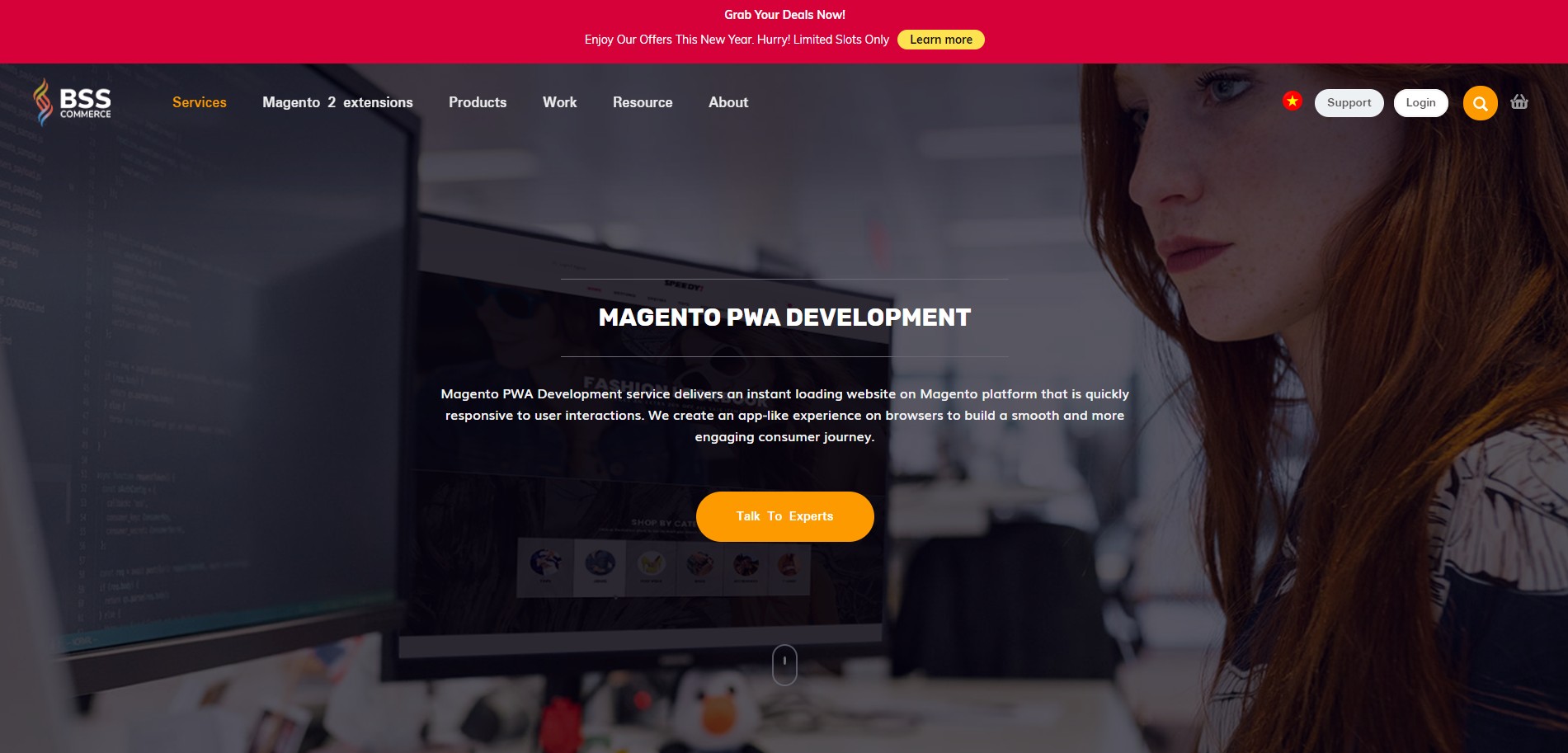 With over 9 years of experience in eCommerce and Magento, BSSCommerce has served more than 21,000 clients worldwide. Their team consists of 100+ Magento-certified developers and ISTQB+ QAs who will deliver your projects on time and cost-effectively. BSSCommerce has received over 600 5-star reviews on TrustPilot for its dedicated team and high-quality products.
Outstanding features:
Lean code for a lightweight website
App-like experience
Magento PWA extensions
Fast page speed
SEO-friendly
Responsive across any device
Unlimited scalability
Dedicated support
Dinarys
Dinarys is a company that specializes in developing custom software solutions for businesses. They provide services such as web development, mobile application development, eCommerce development, and more. The company has expertise in Magento PWA development and offers services to create high-quality Progressive Web Apps for Magento stores.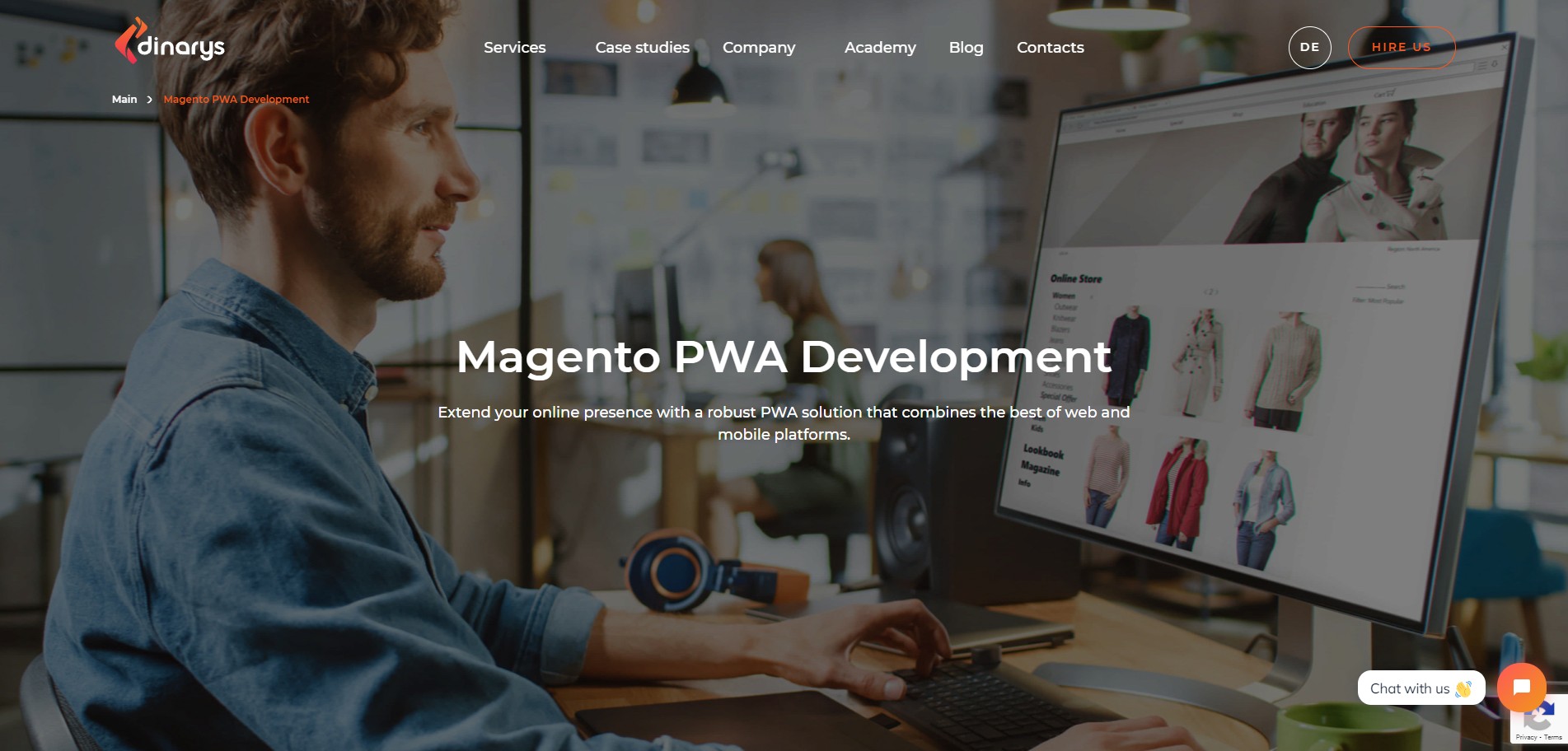 The Dinarys team offers comprehensive Magento PWA services, from consultation to UX/UI design proposals, development, integration, and optimization to ensure a well-balanced, high-performance, and fully functional solution. Their slogan, "Perfection from back to front" reflects their commitment to upholding the highest eCommerce standards and staying at the forefront of innovation. Since its establishment in 2014, they have completed numerous projects for clients in the US, Germany, and Ukraine, ranging from corporate websites to eCommerce marketplaces.
Outstanding features:
Push notifications
Cross-platform compatibility
SEO-friendly websites
User-friendly features
Fast loading speed
Intuitive UX/UI design
ScienceSoft
Sciencesoft is a software development company that offers a range of services, including Magento PWA development. They have a team of experienced developers who specialize in creating fast, reliable, and engaging progressive web applications for Magento stores. With a focus on delivering high-quality solutions, they provide a full range of services, from consultation and design to development and maintenance. Founded in 2003 and mastering Magento in 2011, Sciencesoft has a long history of delivering successful projects across various industries, including healthcare, finance, and retail. They are committed to providing their clients with cutting-edge technology solutions and exceptional customer service.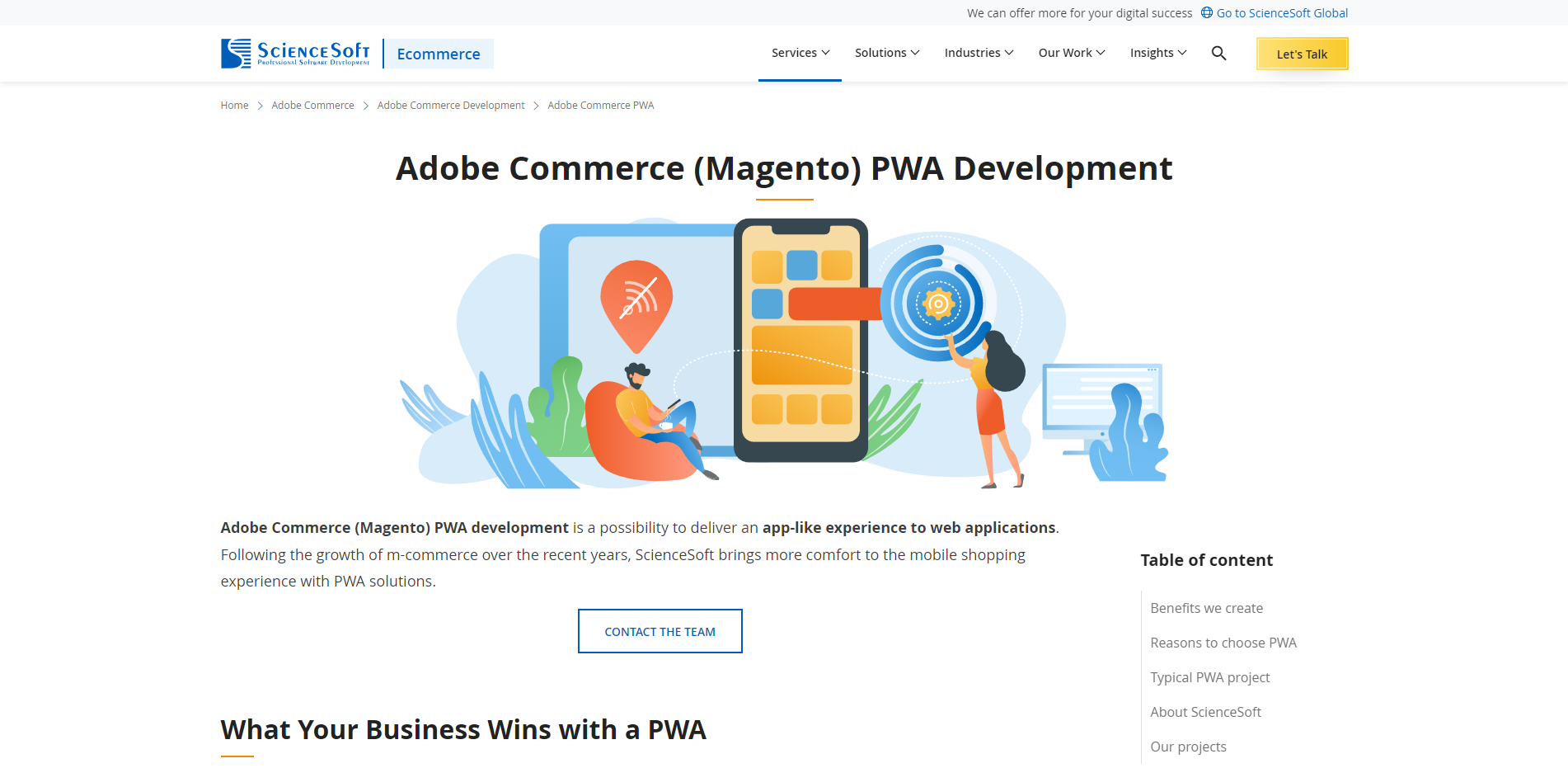 Outstanding features:
Full services: from development to support and maintenance
Instant updates across multiple devices
Add to home screen functionality
SEO friendly
Offline feature
Seamless performance, even with poor internet connectivity
Divante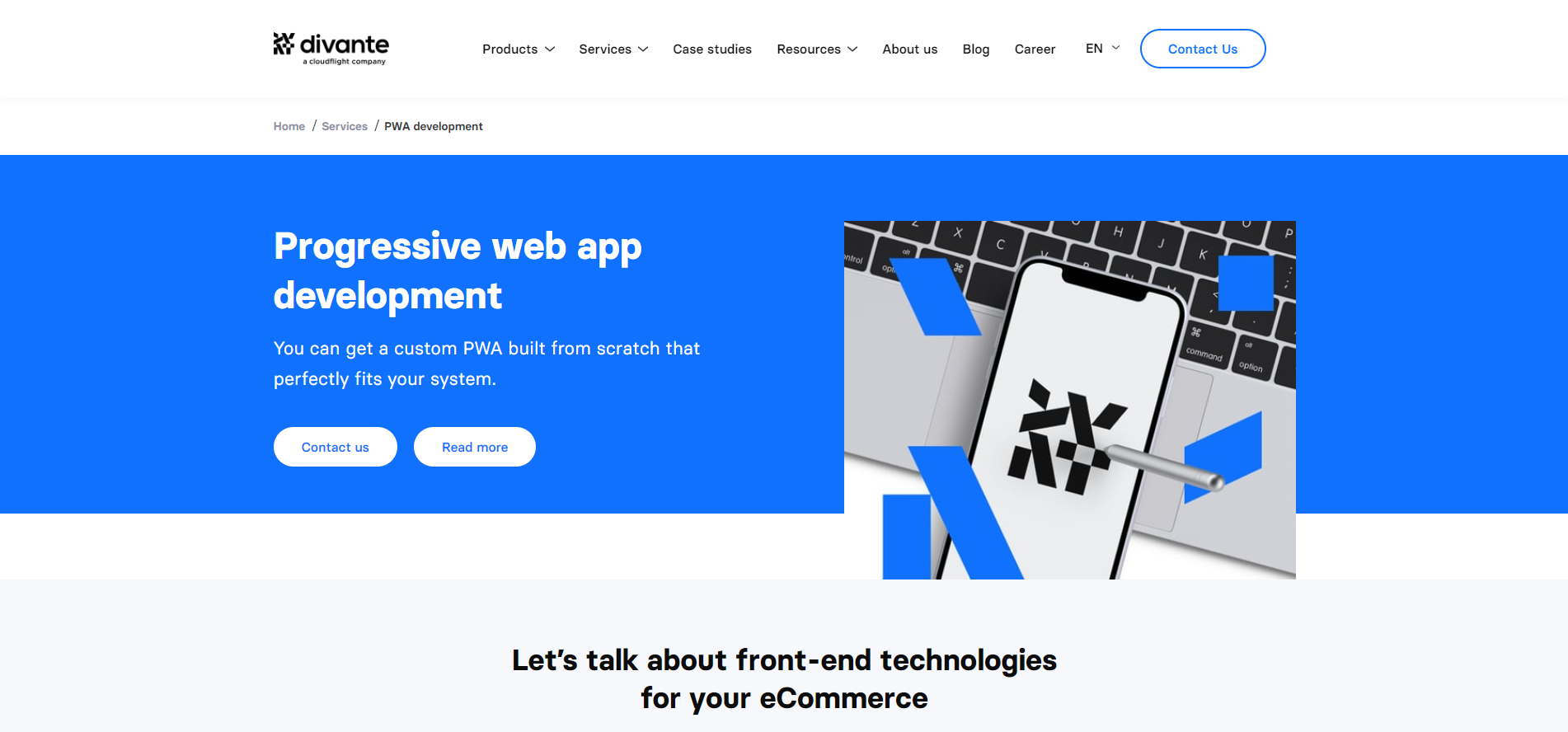 Divante has been working with top global companies since 2008, achieving significant success in many of its Magento PWA development projects. As a leading eCommerce solution provider, Divante takes a customer-centric approach and designs customized PWA solutions for each business. With a top-notch technological stack that includes contemporary JS, microservices, and headless architecture, they build PWA solutions for both small and large enterprises. Additionally, they work with existing PWA solutions such as SAP Spartacus, Vue Storefront, and Storefront Cloud.
Outstanding features:
Multiple technology stacks
Offline functionality
Boost mobile conversion rate
Smooth purchasing experience
Improved uptime during peak holiday seasons
Criteria To Choose The Most Suitable Magento PWA Development Company
Choosing the right Magento progressive web app solutions is crucial for the success of your business. A good Magento PWA development company can provide you with a scalable and high-performing PWA that can improve your website's user experience and increase your conversion rates. To choose the most suitable company for your business, you need to consider several factors.
Company's Portfolio
To assess a company's abilities, take a look at its portfolio. Examining their portfolio can help you evaluate their relevant experience and determine if their design templates align with your vision or interests. This will give you insight into the company's operations and serve as a testament to the strength of their expertise in service design and development.
The Credibility Of The Company
Checking the credibility of the company in the market is crucial. You can do this by reviewing their online reviews or testimonials. The quality of service and customer satisfaction is reflected in a company's reputation. To assess the company's expertise in Magento PWA development, it is essential to evaluate its previous PWA projects. Contacting their previous customers for feedback can help you determine the quality of their work.
Excellent Services
Providing high-quality service is important when it comes to Magento PWA solutions since it's a relatively new technology. To develop a great PWA, a range of solutions is available that can be customized according to the website's requirements and circumstances. Therefore, it's important for service providers to offer top-notch services that ensure quality and meet the diverse needs of their customers.
Reasonable And Transparent Pricing Plans
Budget plays a vital role, especially in the early days of a business. Therefore, it's important to ensure that the company you select offers cost-effective solutions within your budget. Additionally, service packages should have transparent pricing, and you should be cautious of companies with low prices as they may have hidden costs later on.
Dedicated Support
Once your PWA version of your website goes live, you may require assistance with some tasks such as server administration or digital marketing. Working with a service provider who can handle all of these requirements can save you time and reduce operational complications. It's best to opt for a company with experience in handling all your current and future needs, as it can provide better returns on your time and money investment.
In Conclusion,
Switching from a traditional eCommerce store to a PWA can be a daunting task for merchants who are not familiar with this new technology. However, selecting the right service provider can guarantee the highest level of security and SEO performance. We believe that the agencies we have listed are among the best Magento PWA development company you can rely on. Feel free to contact us with any questions you have, and we will help you find the optimal approach for your business with this new technology, or subscribe to our newsletter for the most up-to-date news & insights.