In the dynamic and highly competitive world of eCommerce, gaining customer trust is of utmost importance. Product reviews, which are considered the eCommerce equivalent of word-of-mouth marketing, are crucial for establishing credibility, encouraging customer engagement, and increasing conversions. In this article, we'll provide a step-by-step guide on how to add product reviews on Shopify store, as well as recommend a few additional apps and provide some helpful tips. Whether you're a seasoned entrepreneur or just starting out, learn how to harness the potential of customer feedback and elevate your online business to new heights.
How to add product reviews on Shopify store
The first and foremost step you need to do is log in to your Shopify account. If you don't have an account yet, check out our 1-hour course on How to start a Shopify store.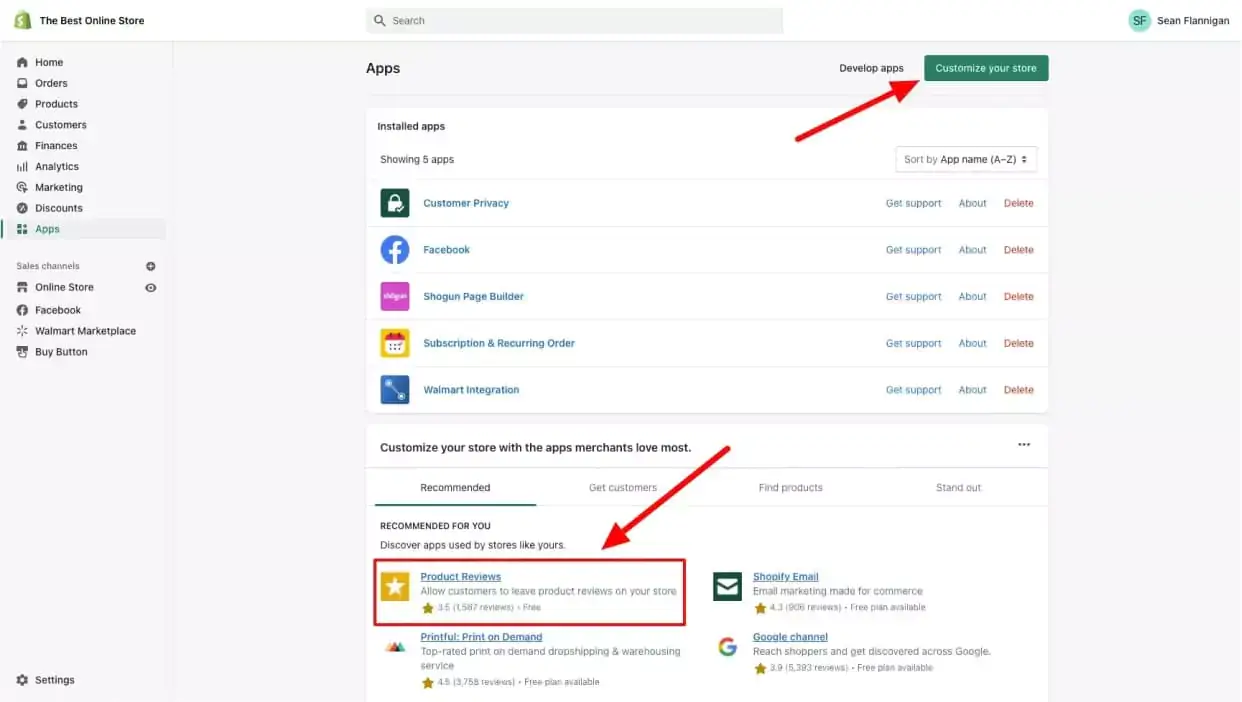 Now that you're on your Shopify admin dashboard. From here, clicks on Apps in the left-hand navigation menu. Then click the green Customize your store button, which will then lead you to the Shopify App Store.
Step 2: Search for Product Reviews in the App Store
On your Shopify App Store interface, click on the search bar to search for Product Reviews. The results page will then appear, where you can find the Product Reviews app.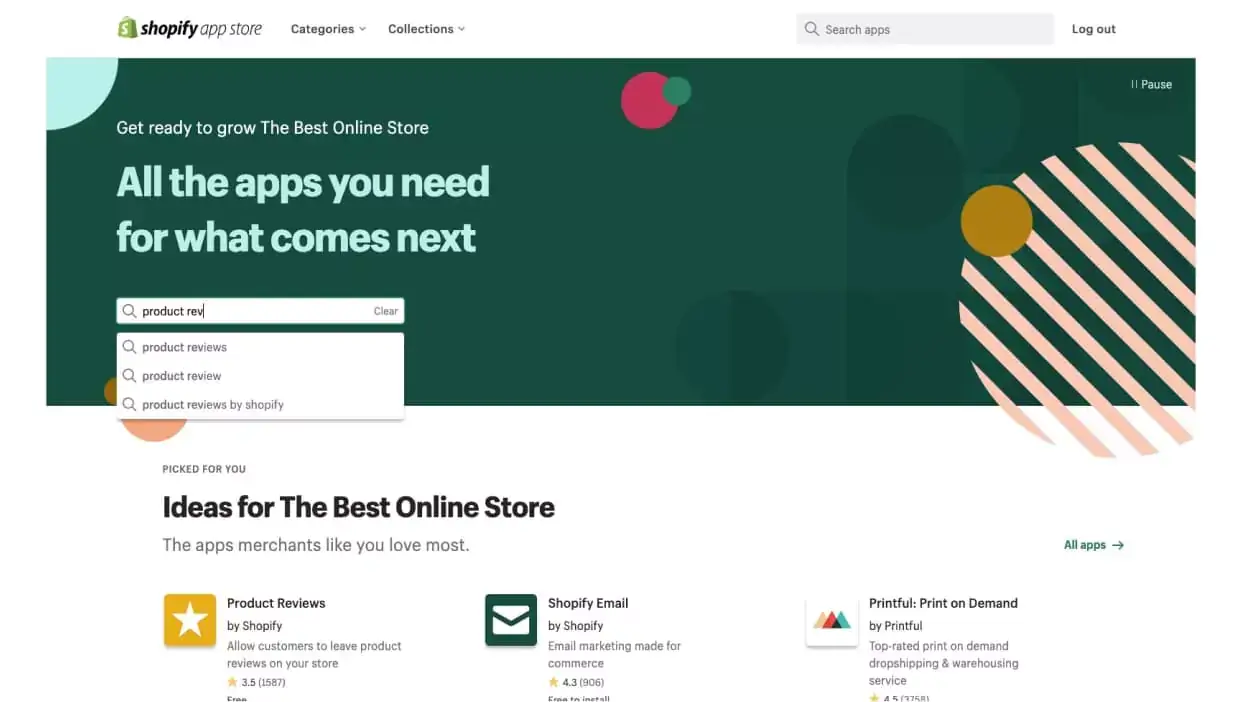 Shopify also recommends apps on your dashboard, so you can also access the Product Reviews app directly from your main page.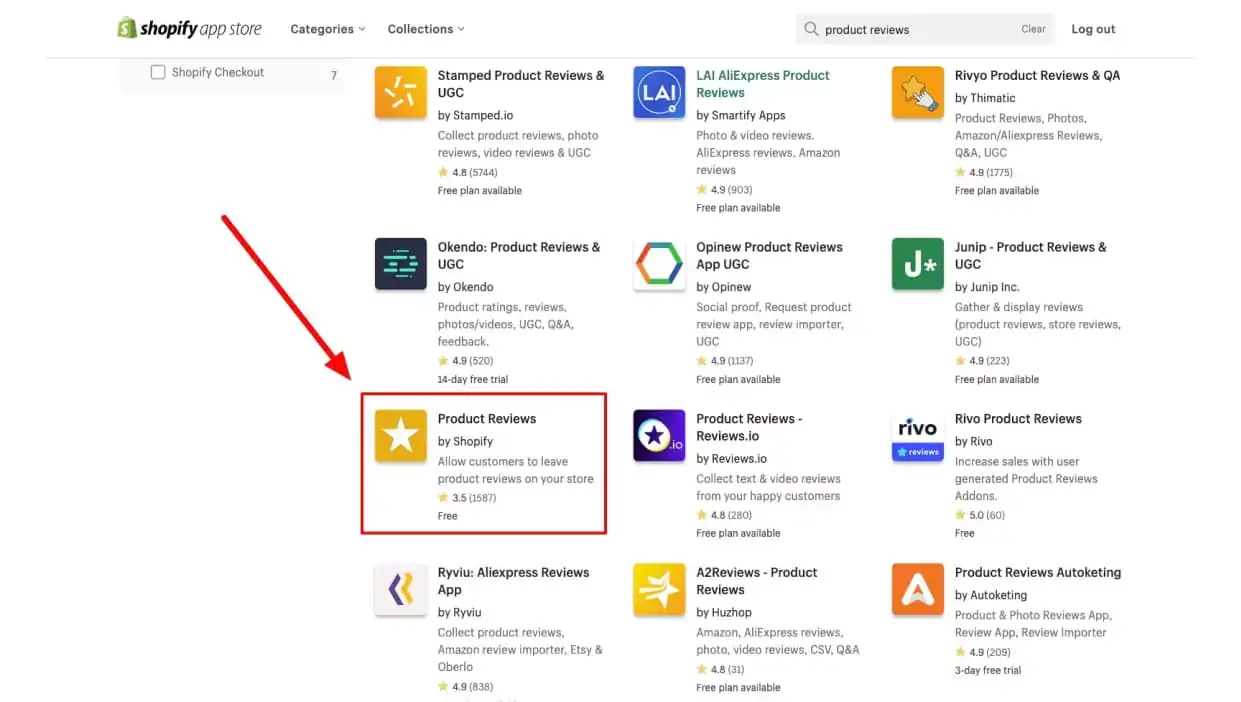 Although there are over 7000 apps to choose from in the Shopify App Store, Shopify's Product Review app is the simplest way to add product reviews, and most importantly, it's free.
Step 3: Add and install the Product Reviews app
Go to the Product Reviews page, click the Add app button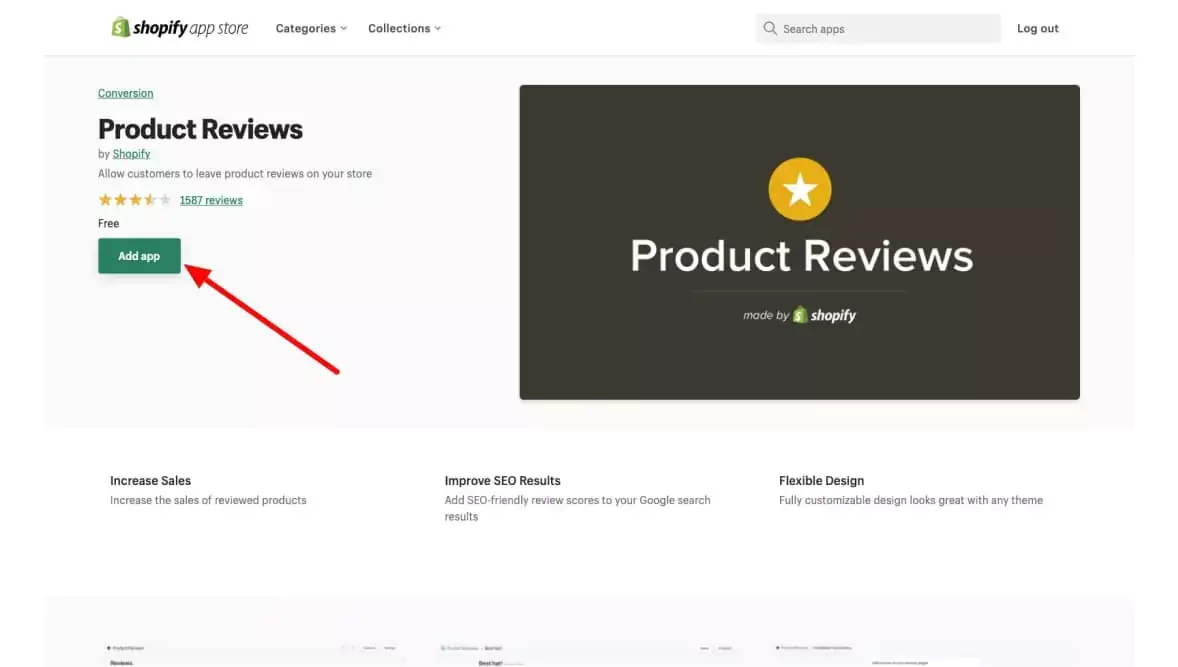 This step will take you back to your Shopify dashboard, where you will see the app's permissions and privacy policy information for the app to function. After you read it, click Install app to proceed.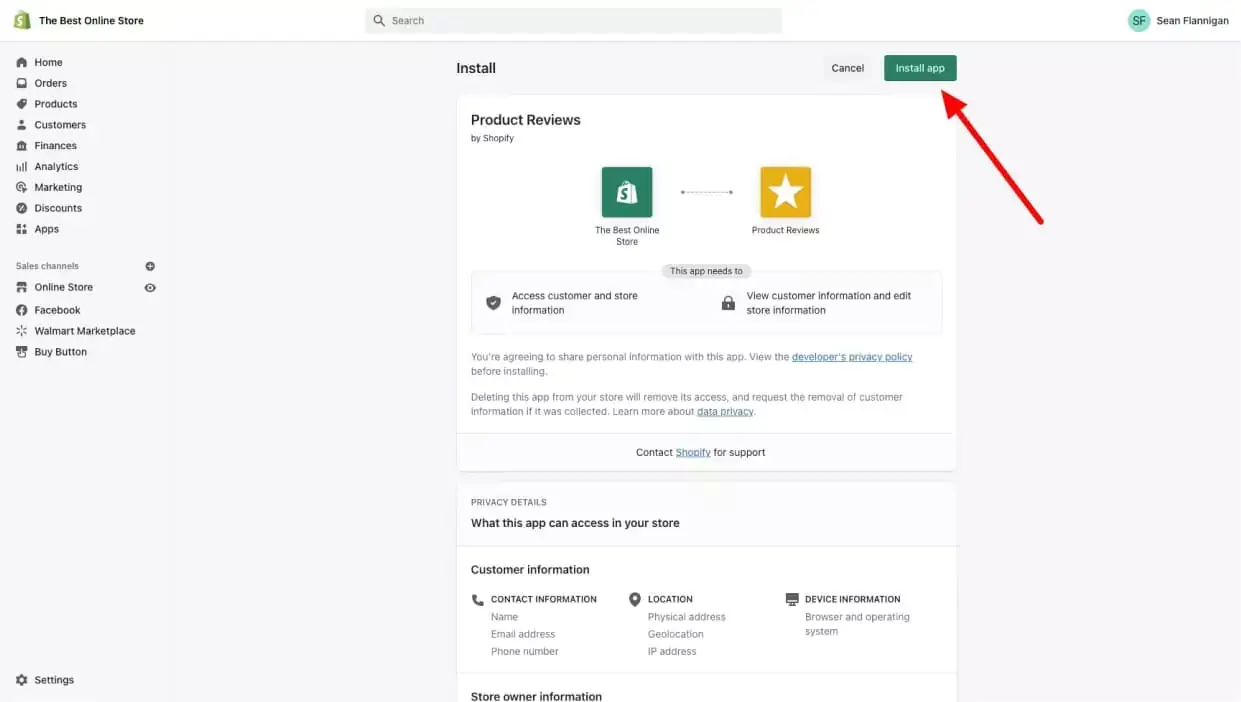 Now that you have successfully installed your review app on your Shopify store. You'll be able to see a Product Reviews tab under the Apps menu item.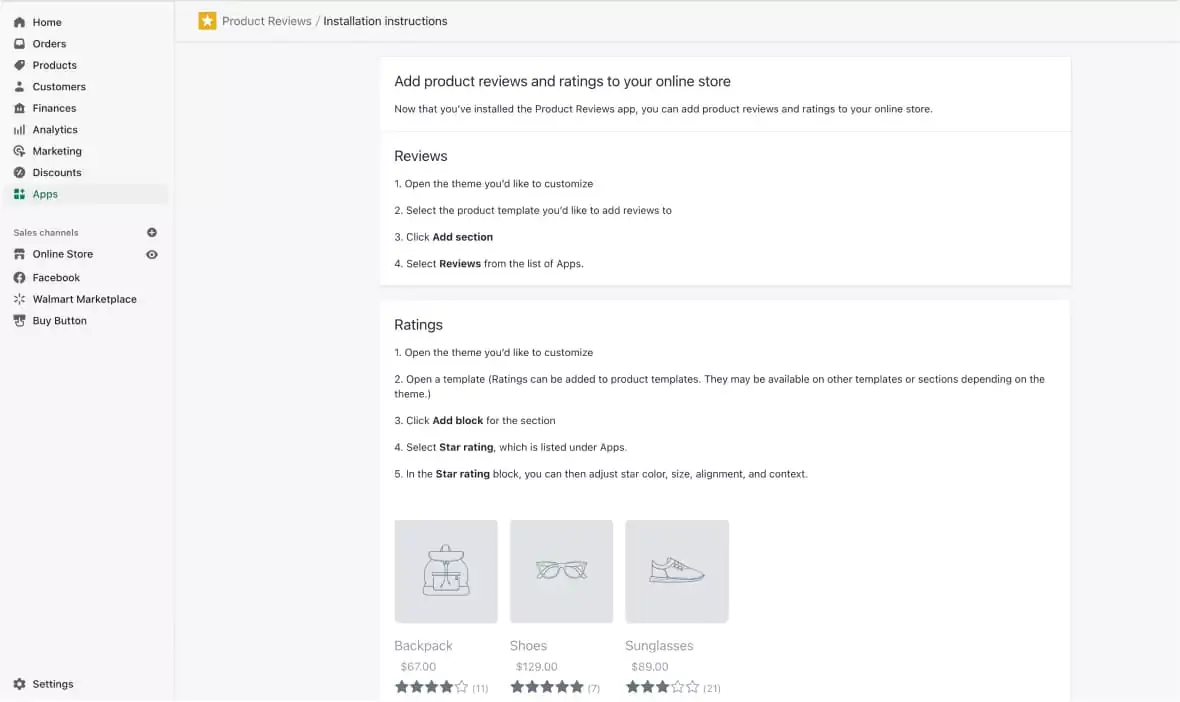 If you're not sure where to begin with adding reviews, Shopify already has you covered. In the app settings, you can find Installation instructions for a quick tutorial on adding reviews to your product templates.
Shopify is renowned for being the top user-friendly eCommerce platform, thus, adding product reviews to your Shopify product page is also as easy as adding any other block or section.
After having the app set up, you'll need to get the theme editor to start making your customizations.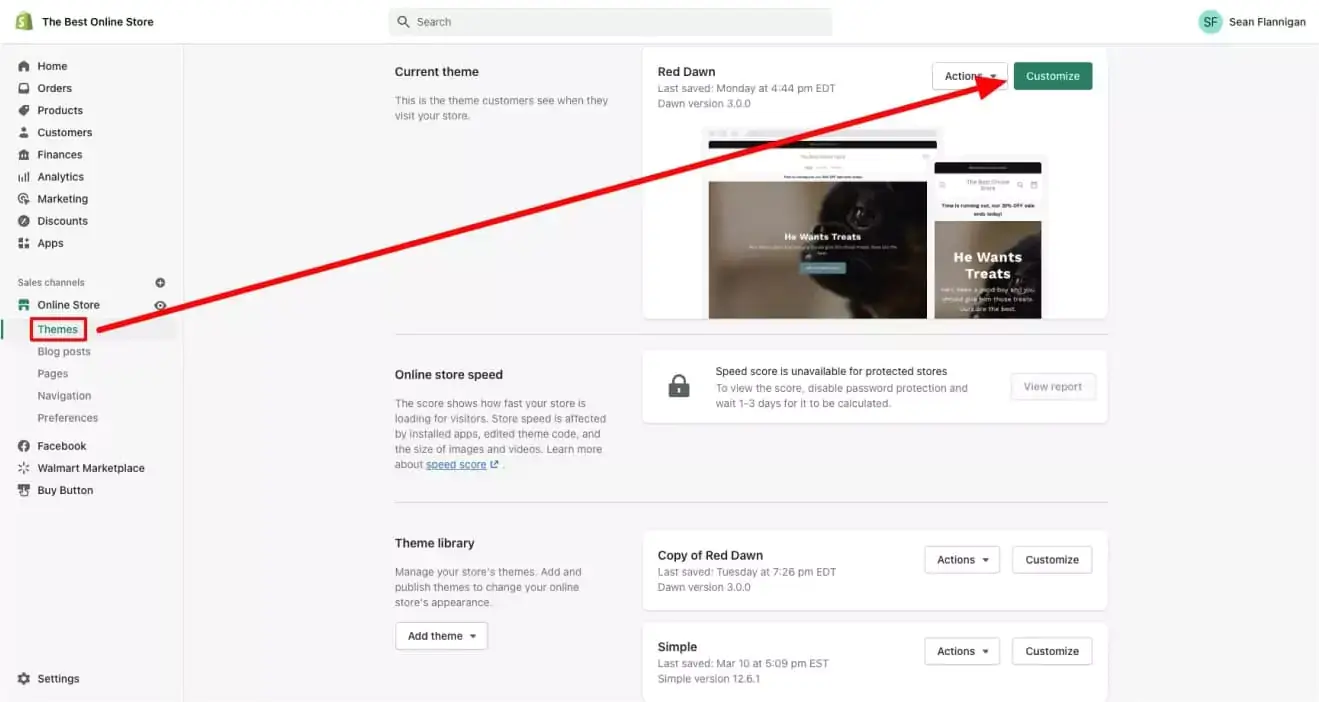 Next, you will go to the Online Store on the sidebar and click Themes, you'll now see the Customize button on the top right of your screen. This will navigate you to the theme editor page.
Step 5: In the theme editor, find the product page template
You now have access to the theme editor homepage. Navigate to the dropdown menu at the top and click on Products.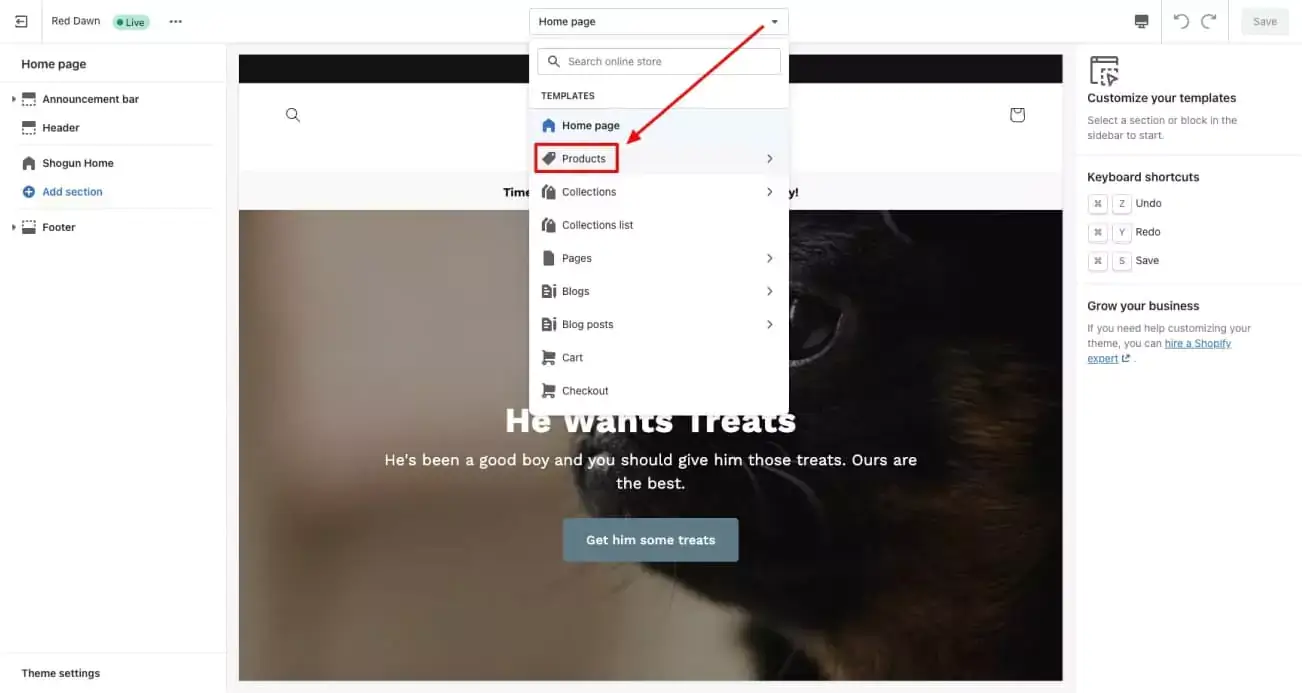 Then click on the Default product to start editing.
Step 6: Click "Add section" and find the reviews section under "Apps"
On the sidebar of the Default product editing page, scroll down in the Product information section, and click on Add block. Then, find the Apps section and you'll see the options to add Reviews or Star rating.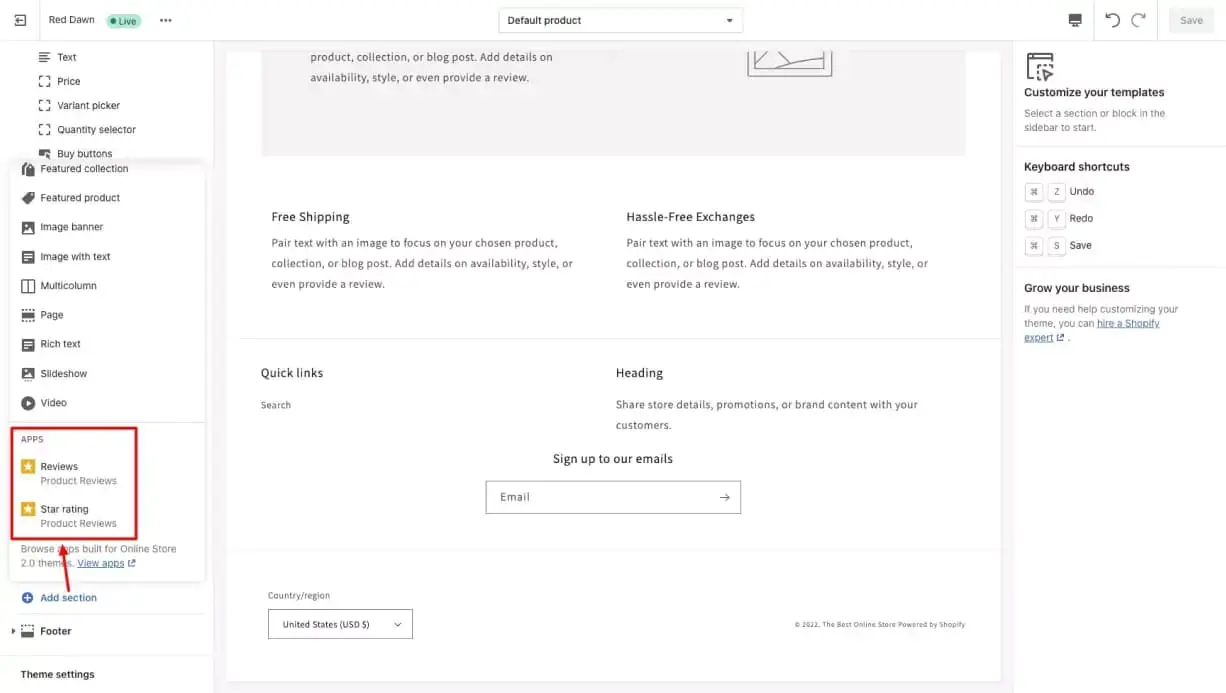 The Reviews block will display complete customer reviews, whereas the Star rating block will only display the average star rating from all of your reviews.
Step 7: Customize your Product Reviews block(s)
Being a free app, Product Reviews offers limited customization options.
As you click on each review option, the editing bar will appear on the right side of the screen. For Star rating option, you can customize the star color, size, alignment, badge text with no reviews, and the product. All changes must be done within the app itself.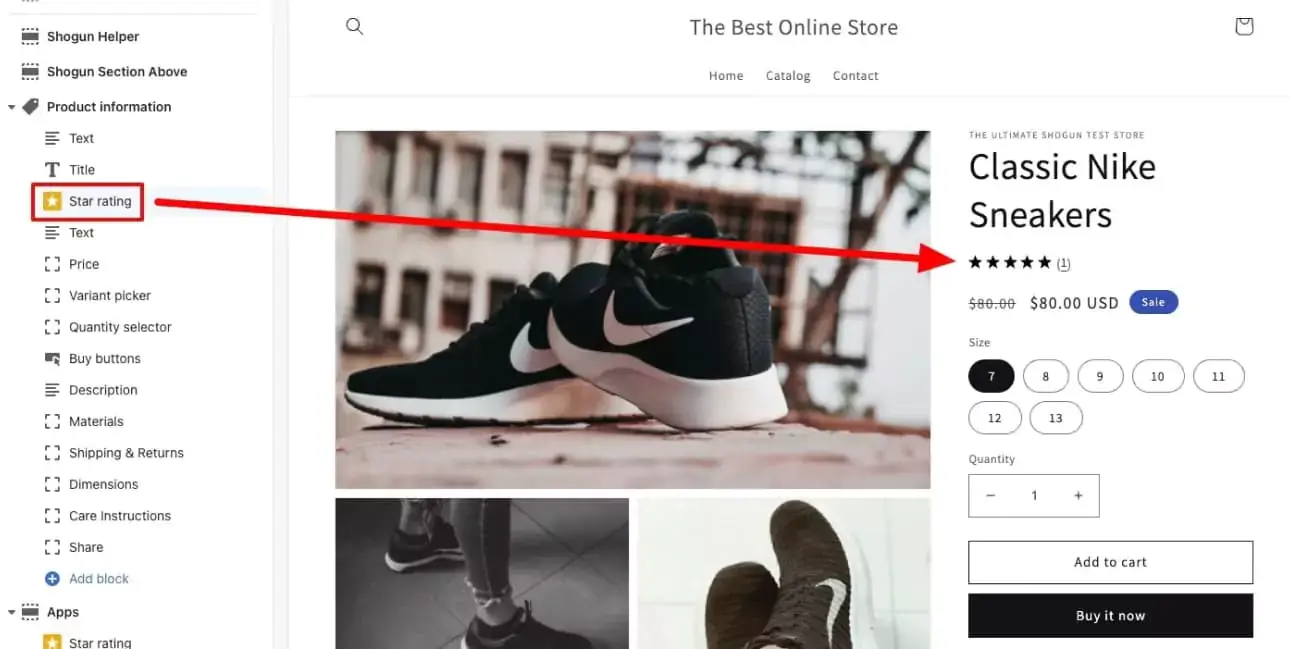 Similar to other sections and blocks, you can drag these review options up and down the page to position them wherever you believe your customers will be most interested. For example, you can place the Star rating right underneath your product description, above the pricing section, or near the add to cart button, literally anywhere!
If you still desire additional customization options for Product Reviews, you're in luck because this app offers other options which are accessible within the app settings.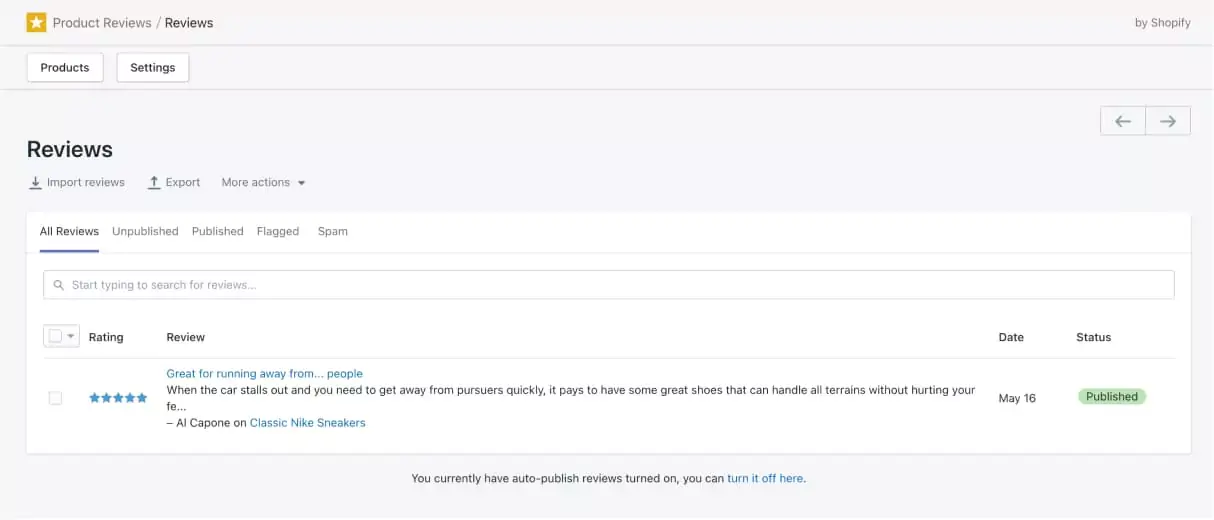 To find them, go to Apps page and click on the Product Review apps. This is where you can easily view and moderate reviews. By default, reviews are published automatically. If you choose to moderate content prior to publication, you can do so on this page.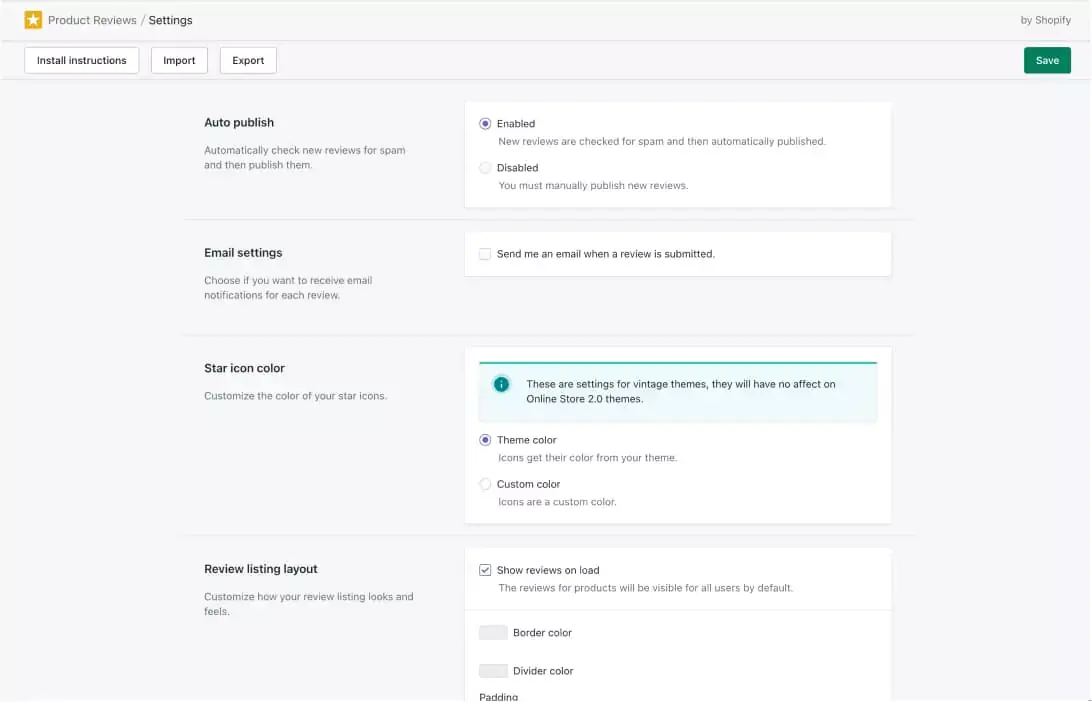 Here, you can enable or disable auto-publishing, receive email notifications for new reviews, change the color of star icons, and modify the review listing layout within the settings. Additionally, you can edit the headlines and text used for each section of the review listings, as well as the text and functionality of the review form itself.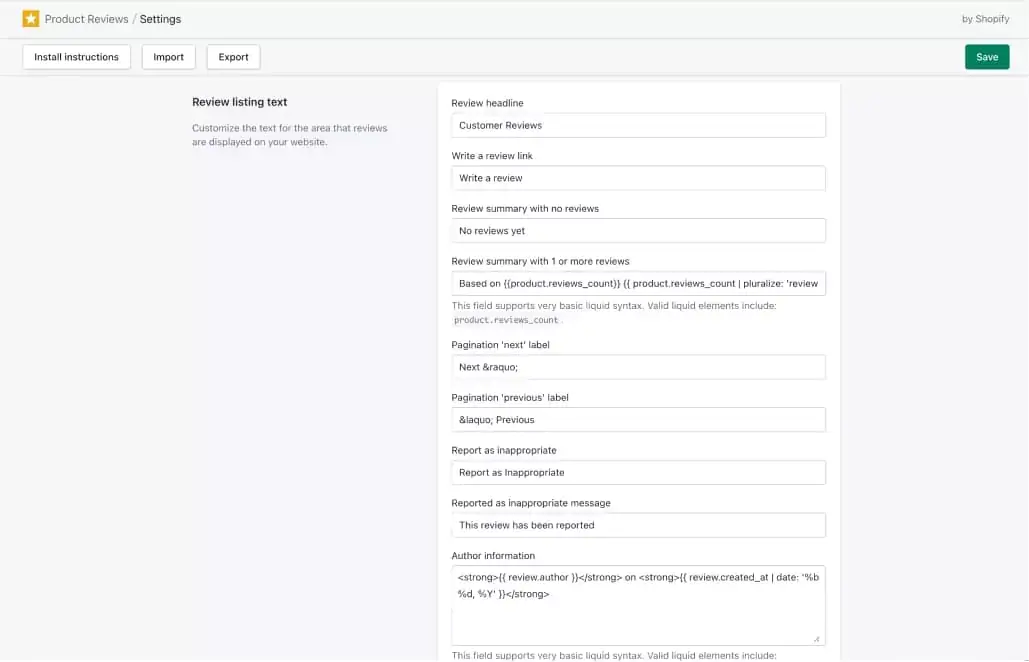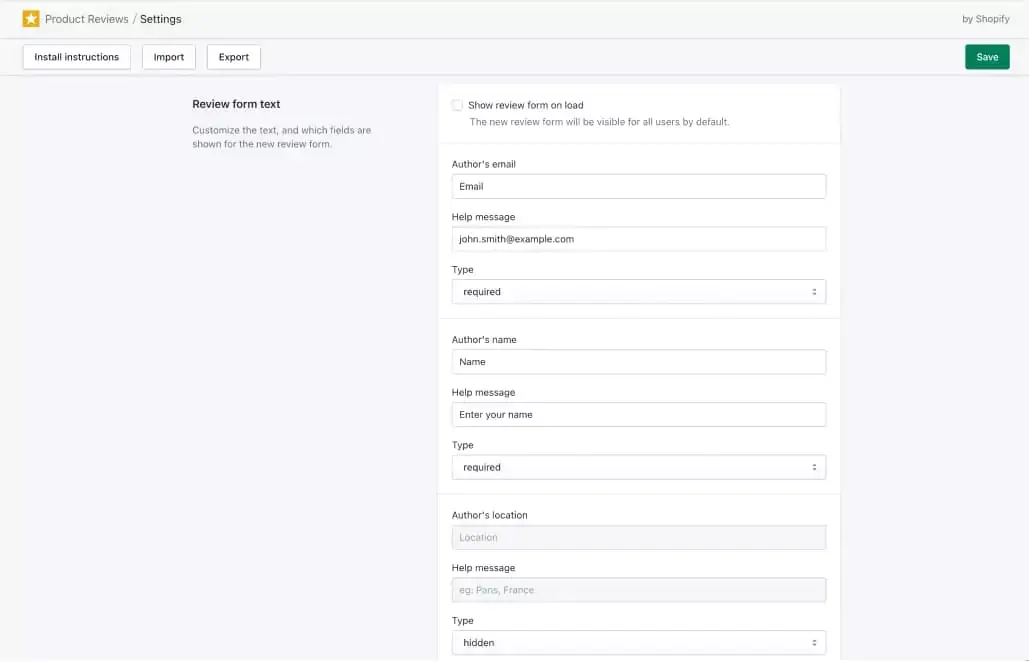 These are all customization options available on Product Reviews. Premium apps, such as Yotpo and Judge.me, come with greater capabilities for customization and functionalities, which will be listed below.
Why need to add product reviews to your Shopify store
Among many marketing efforts, the most effective strategy for increasing sales in a sustainable way is the old but gold word-of-mouth method. For eCommerce, this technique takes the form of online reviews, where customers are allowed to share their experiences, either praising the product's virtues or warning others of its flaws.
According to a report by PowerReviews in 2021, over 99.9% of customers read reviews when they shop online. Another BrightLocal survey reveals that 49% of customers place the same amount of trust in product reviews as they do in personal recommendations from friends and family. Consequently, a lack of product reviews can be a factor in customers deciding not to purchase your products.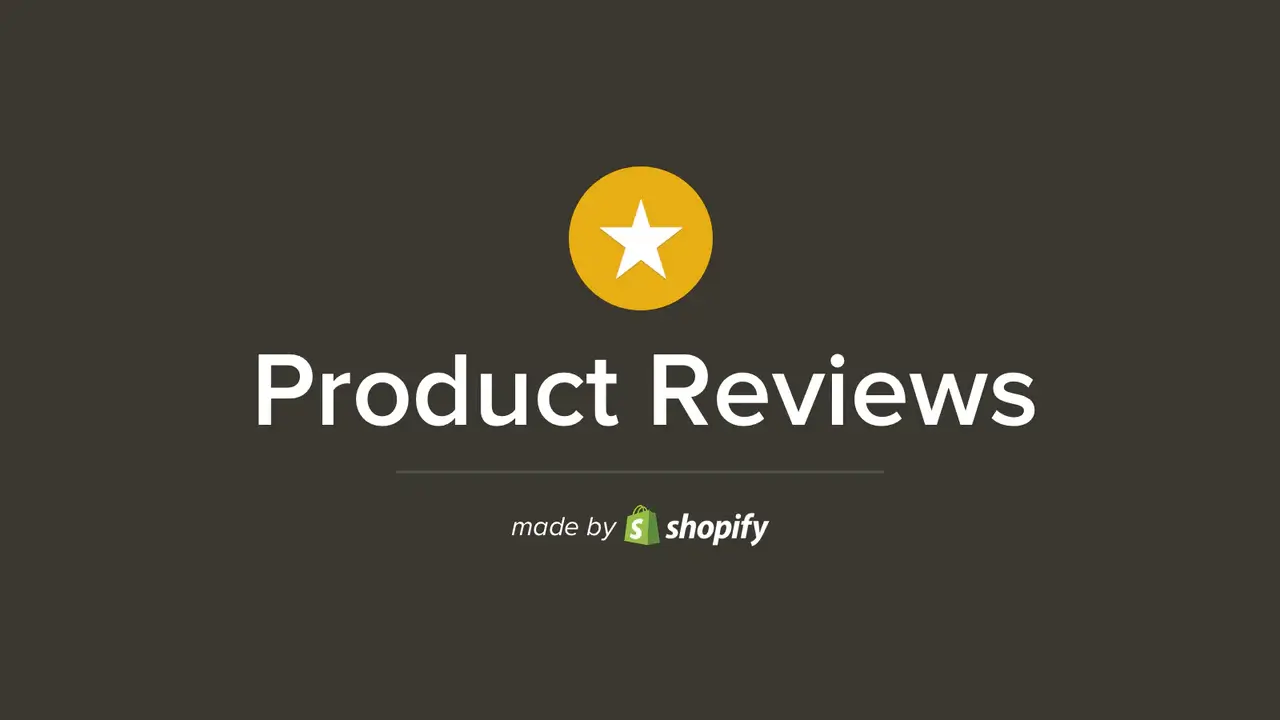 Product reviews are undeniably a prevalent and trusted tool. There are plenty of compelling benefits that product reviews bring to both your businesses and your customers:
Build trust and credibility: Displaying product reviews enables your customers to gain insight from the experiences of others and demonstrates that real people have purchased and enjoyed your products. This opens up a level of trust and credibility, especially for new or skeptical customers.
Informed purchased decisions: Product reviews often offer valuable insights into product quality, features, and performances that are not included in product descriptions. These insights are derived from the perspective of users themselves, thus helping other potential buyers make more informed decisions, reducing uncertainty and buyer's remorse.
Enhance SEO and search visibility: User-generated content can boost your SEO visibility by adding fresh and relevant keywords to your product pages, generating more valuable content that Google shows for relevant searches. This results in higher search engine rankings as well as increased organic traffic.
Product development insights: Negative reviews are inevitable for any eCommerce product. However, these reviews provide important insights into areas for improvement. Moreover, reviews help reflect the customer journey, revealing their preferences, needs, and desires. You can use this valuable data to refine your products, enhance customer service, and address common concerns for further business development and innovation.
Social proof: Adding reviews is among the most common ways of having social proof. Each rating and review serves as a vote from the public, increasing your brand image and reputation. Genuine and positive reviews distinguish your brand from competitors. You can use these reviews to emphasize the distinctive benefits and features of your products, thereby establishing a compelling value proposition.
Best Shopify Product Review Apps
Yotpo
Yotpo is one of the biggest names among the best Shopify Product Review apps, helping brands collect product reviews that drive social proof.

With AI-powered review widgets, Yotpo makes it simple for eCommerce brands of all sizes to collect high-quality, purchase-influencing product reviews. It automates the process of requesting customer reviews after purchase and allows businesses to capture Q&A, images, videos, and ratings.
The partner integrations of Yotpo enable brands to display reviews and star ratings on social media platforms and search engines such as Google. With Yotpo, the synergies between SMS and loyalty can also be uncovered.
Features
Stand out on search engines with Google Seller Ratings and Google Shopping Ads
Integrate your testimonials with our SMS, customer loyalty, and subscription product synergies.
Utilize our marketer-friendly tool to personalize your reviews widget.
Collect and display Image and Video testimonials to demonstrate social proof
Utilize Smart Filters to increase buyer confidence by displaying pertinent content.
Pricing
Free
Growth: starting at $15/month
Prime: starting at $119/month
Judge.me
Another exceptional product reviews app is Judge.me, which offers a fast-loading, fully customizable review that serves 38 languages.

Judge.me allows shop owners to schedule automatic emails after any order fulfillment or delivery to request reviews or import them from other apps. It also helps display reviews and UGC on the storefront widgets, shares them on social media, and adds stars on Google for SEO.
This app has gained considerable interest among eCommerce merchants dues to its user-friendly interface, easy setup, and seamless integration with other platforms. It comes with moderation tools and customizable widget texts, colors, and themes, which can be tailored to serve business-specific needs.
Features
Unlimited email review requests with photo and video attachments, as well as email-based review forms
Display star ratings, store and product reviews, trust badges, and a carousel of testimonials.
Share ratings on Facebook, Instagram, Twitter, Google Shopping, and rich snippets.
Group and synchronize product reviews across multiple products and stores
Engage your reviewers by integrating Q&A, coupons, and email marketing into your website.
Pricing

Free
Awesome: starting at $15/month
Loox
If you want to look for an app that focuses on photo and video reviews, Loox is the right choice for you. Their core function is the ability to collect product reviews with photos and videos and aesthetically display those reviews.
By providing discounts for referrals, Loox also provides merchants with valuable assistance in reaching new audiences. Additionally, the app supports multiple languages, allowing retailers to tap into customers beyond their borders.
Last but not least, Loox is a fully-customizable solution, allowing you to make modifications and integrate with your familiar tech stack to best fit your brand look and match your specific requirements. It also allows for auto-pilot operation which saves you considerable time while still maintaining excellent performance.
Features
Send review request emails automatically and offer discounts for adding a photo or video.
Display reviews using the Grid, List, Carousel, Popup, and Sidebar widgets.
Google Shopping and Integrations. Loox is an official Google Partner for Reviews.
Create referral links automatically to reward customers for referring friends.
Displaying reviews within post-purchase upsells can increase order value.
Pricing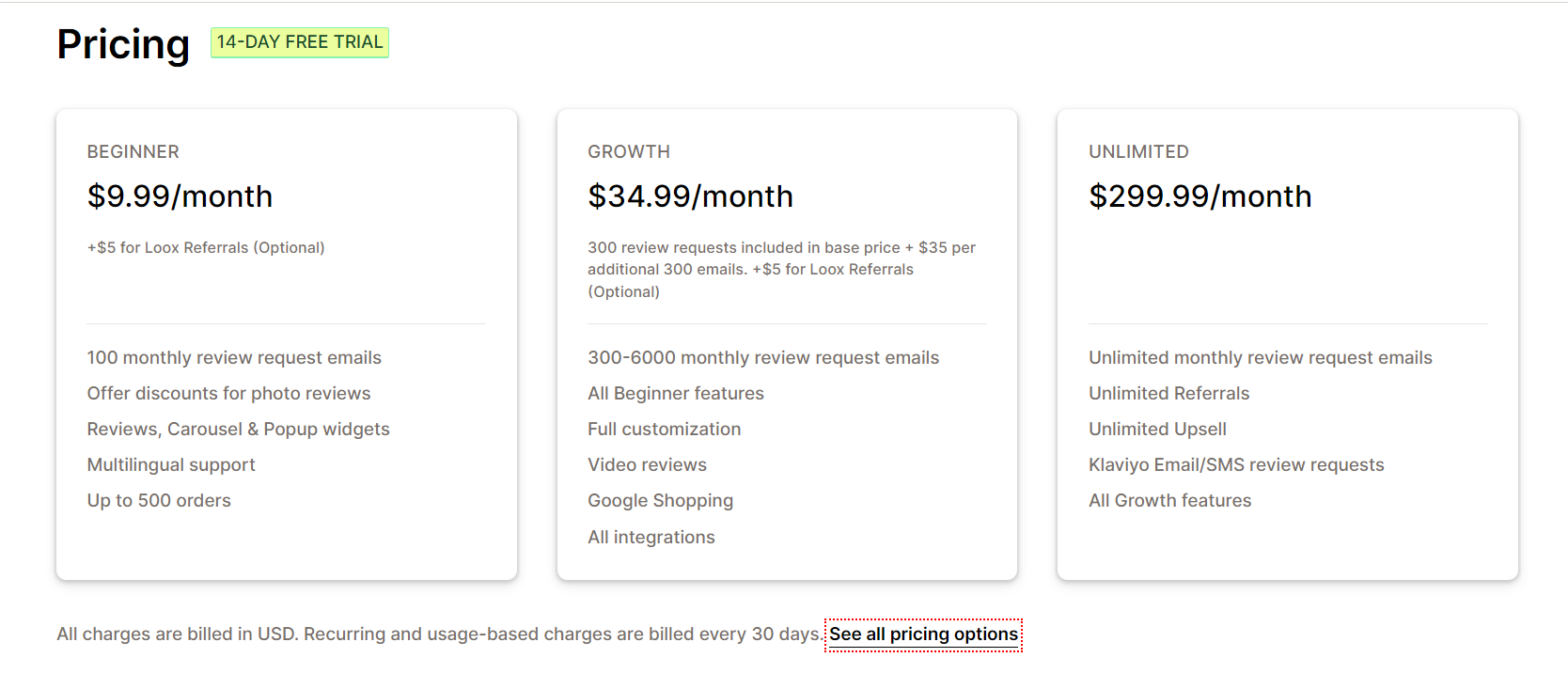 14-day free trial available
Beginner: starting at $9.99/month, +$5 for Loox Referrals
Growth: starting at $34.99/month, 300 review requests included in base price + $35/additional 300 emails. +$5 for Loox Referrals
Unlimited: $299.99/month
AfterShip
AfterShip, or Automizely, Reviews is a one-step reviews app that enables online store owners to automatically collect reviews across multiple touch points or import them in bulk from AliExpress or a CSV file. It allows for product display with photos and videos as well as a star ratings feature.

This app is highly recommended for its excellent customer service and user-friendly interface. With AfterShip, you'll receive a wide range of features, smooth operation, and seamless integration with Shopify. It offers easy setup and an effective collection and display of reviews. The best part is that Automizely is completely free, making it an excellent choice for Shopify app subscription cost-conscious users, including small businesses and beginners.
Features
Automated review request emails to improve review generation and NPS
Displaying reviews on Google, social media, and a company's website builds a brand's credibility.
Automated email flows to engage customers based on review ratings and NPS
Review social media referrals with incentives to expand the reach of your brand.
One location to edit, respond to reviews, and efficiently monitor performance
Pricing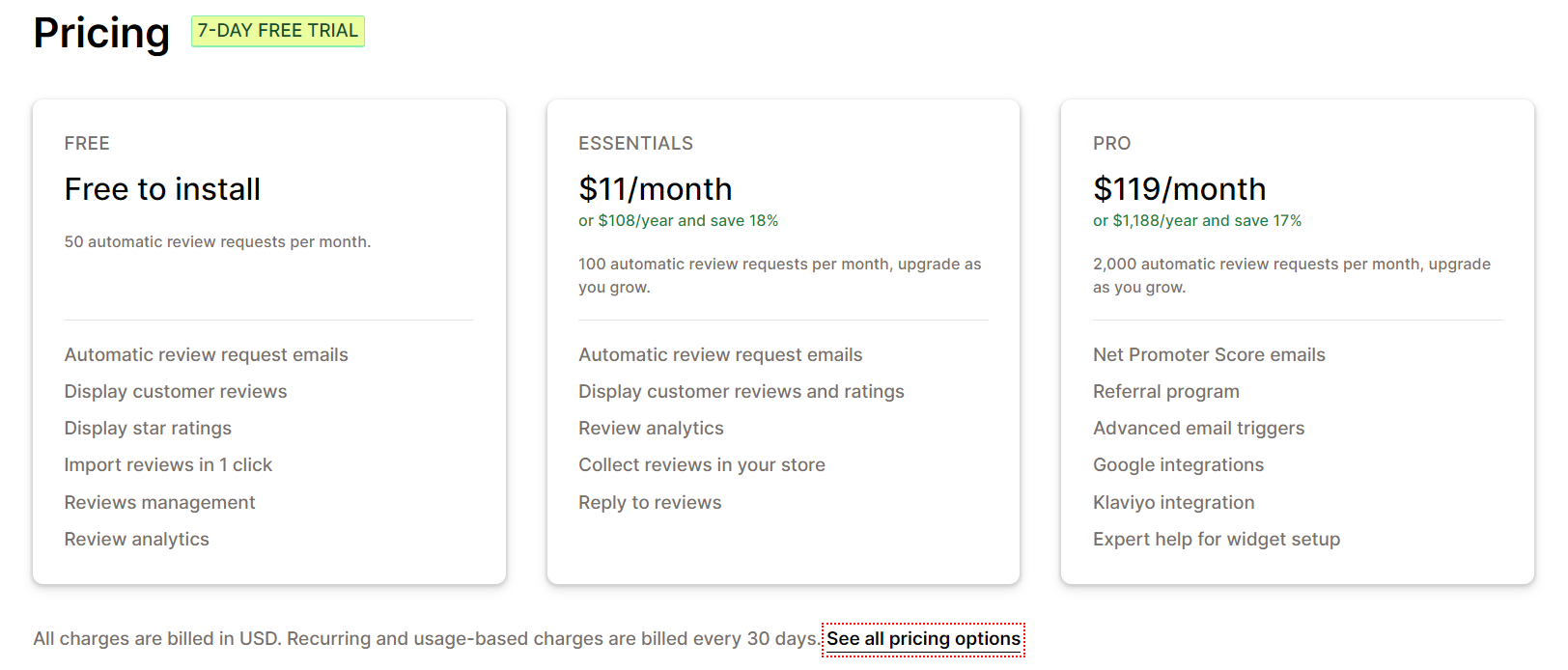 7-day free trial available
Free: 50 automatic review requests/month.
Essentials: starting at $11/month, or $108/year, 100 automatic review requests/month
Pro: starting at $199/month, or $1,188/year, 2,000 automatic review requests/month
Fera
Another name that comes on the list is Fera. This is the ultimate app for showcasing your product reviews without sacrificing your brand's aesthetics.

The unique feature that Fera provides is verified customer badges which are used to display a rating specifically for the verified customer reviews. To encourage customers to give reviews, you can offer discounts and cash back, or give points for them. Moreover, with the ability to reply to reviews, moderate content, and touch-up misspellings, Fera is able to make your product reviews look absolutely perfect.
Feature
Import and synchronize product reviews from Amazon, Etsy, Facebook, Google, and other sites.
Customize review widget styles to match the look and feel of your website.
Display product ratings and reviews in Google Search and Google Shopping
Automatic post-purchase review request emails for the collection of images and videos.
Incentivize customer reviews with discounts, points, and cash-back offers.
Pricing
14-day free trial available
Free
Startup: starting at $9/month
Small: starting at $29/month
Medium: starting at $99/month
Ali Reviews
Ali Reviews is another excellent product reviews app on the list, with tons of great-looking widgets that you can place throughout the customer's shopping experience.

Ali Reviews allows you to collect, manage, and show UGC and product reviews within one app. Sending automated email and SMS requests for testimonials to your customers will allow you to obtain positive feedback with minimal effort. Certainly, you can import existing AliExpress reviews to increase customer confidence. And display reviews on key pages (Home, Product, Cart) using appealing widgets without slowing down your website.
This application also provides excellent SEO support by displaying star ratings on Google Shopping and analyzing rich snippets to increase traffic. AliReviews can significantly contribute to the creation of higher-quality reviews, which in turn increases sales.
Features
Add review widgets in multiple languages to any page to instill consumer confidence.
Automatically collect customer testimonials and images using predefined Email & SMS templates
Import reviews from AliExpress Reviews, DSers, and Ali Orders with a single click.
Utilizing an incentive program and follow-up emails, we encourage customers to post reviews.
Boost website traffic with Google Shopping Ads, rich snippets, and social media.
Pricing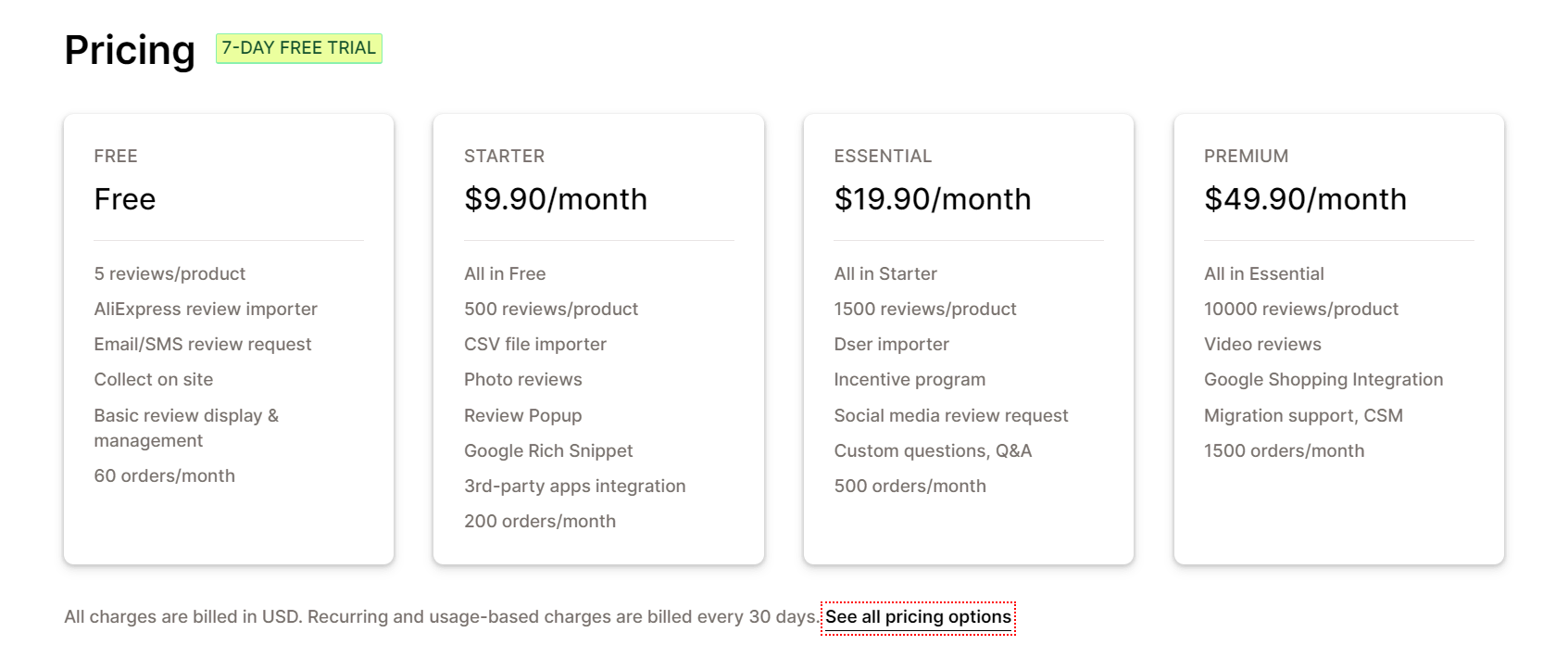 Free
Starter: starting at $9.9/month
Essential: starting at $19.9/month
Premium: starting at $49.9/month
Points to pay attention to while adding reviews to Shopify
Now that you've acquired a comprehensive understanding of how to add product reviews on Shopify. Here are some points to consider while adding reviews to your Shopify stores to better improve their performance.
Business's specific needs
Different businesses will have distinct needs for product reviews for their stores. Therefore, it is important that you identify the specific requirements of your businesses.
Determine whether you just need basic product review features or more advanced solutions to choose the best-fit app. Shopify's Product Reviews app is the best choice for the basic function of adding reviews and is also free to use, making it a suitable solution for small and budget-constrained businesses.
However, if your business operates on a larger scale, offers a diverse selection of products across multiple categories and platforms, or sells internationally, the basic functions of Product Reviews may no longer be optimal for your needs. Fera and AliReviews are recommended apps that import data from other platforms, while Loox, Judge.me, and AliReviews offer multilingual support.
Product page arrangement and design
Before adding reviews, it is absolutely necessary to have a product page that is well-organized and easy to use. Make sure that the reviews section is positioned logically within the layout. This will provide customers with easy navigation to the review section.
Visibility is key when it comes to reviews and ratings. If you position the reviews so that they are either near the page's top or alongside the product details, you increase the likelihood that prospective purchasers will see them early on in their shopping experience and be more likely to engage and contribute their own feedback.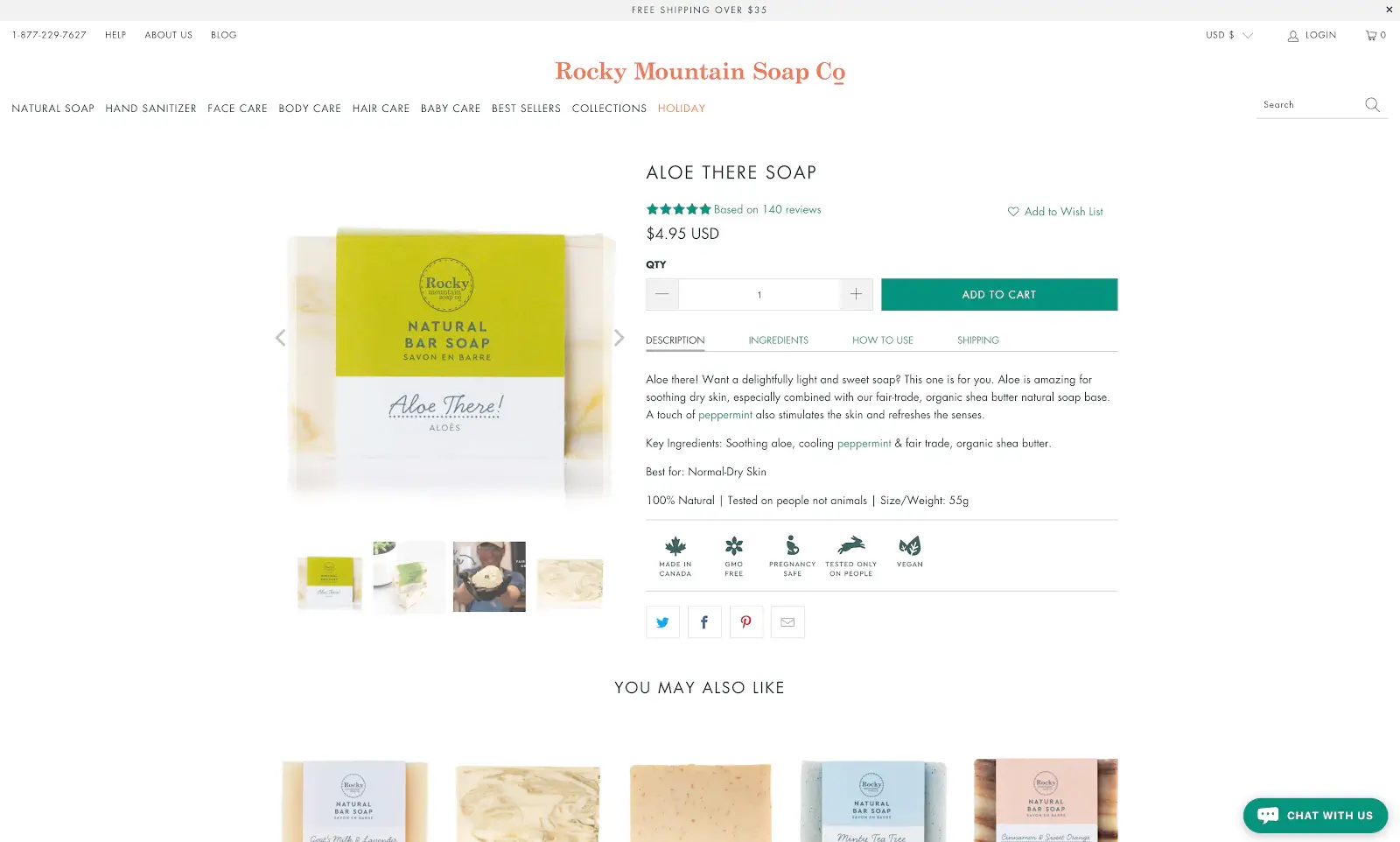 Moreover, you should also make sure the reviews section design matches the overall aesthetic of your store. Use suitable fonts, colors, and layouts that contribute to the consistency of your brand image. This practice reassures visitors that reviews are an integral component of the shopping experience, as opposed to an afterthought.
Keep in mind the authenticity of reviews
Ensuring the authenticity of reviews is paramount to maintaining trust with your customers. To enhance the authenticity, you should encourage customers to provide detailed reviews that go beyond just a star rating.
A detailed review brings more authenticity than just a star rating. To enhance authenticity, you should ask customers for specific feedback about their experience with the product. Ask about how they used the product, what they liked, and any potential areas for improvement. Encouraging customers to include photos and videos with their reviews, and providing visual proof of their experiences are also effective strategies. Discounts, reward points can be utilized for incentives, which are available in some apps like Loox and Fera. Loox is also the best app for photos and videos review, along with AfterShip.
To further ensure authenticity, you should consider implementing a review moderation process to filter out spam or inappropriate content. This feature can be found in most product review apps. Another method is using verified buyer badges which enables enhanced trustworthiness for the reviews. Fera is the app that first comes to mind for this feature.
Conclusion
Reviews come in both positive and negative forms, which can make or break you. Nevertheless, they are still great supporters of your eCommerce growth due to the benefits they bring to every party, including your businesses, product development, and your customers.
In this blog, we've provided a step-by-step guide on how to add product reviews on Shopify store as well as recommendations for some of the best apps to best support you in this practice. Start utilizing this amazing and easy-to-use feature today to boost the performance of your Shopify eCommerce stores!
If you need further support to increase your Shopify store performance, our Shopify Development Services always have your back.