Creating a successful eCommerce brand from scratch is a difficult responsibility. To take the pressure off, plenty of entrepreneurs outsource Shopify development companies to manage this task for them. They can help you claim your domain name, create engaging page layout designs, and launch campaigns that drive customers to your website while boosting sales. Without these services, the store would likely look unprofessional and provide no profit whatsoever.
In this review, we will introduce you to experienced Shopify Development Companies who have an extensive understanding of the marketplace and industry.
Top 10+ Shopify Development Companies and Agencies
Webkul
Webkul is a Shopify development agency that can take your business to previously unimaginable heights. After gaining the trust of users, Webkul now boasts an impressive customer base across 80.000 customers worldwide. Not only are their modules incredibly easy to install and require minimal coding capabilities, but they also provide customized features for enhanced functionality and a convenient user experience. With an average rating of 4.2 on the official Shopify store, customers are constantly praising and endorsing their innovative solutions.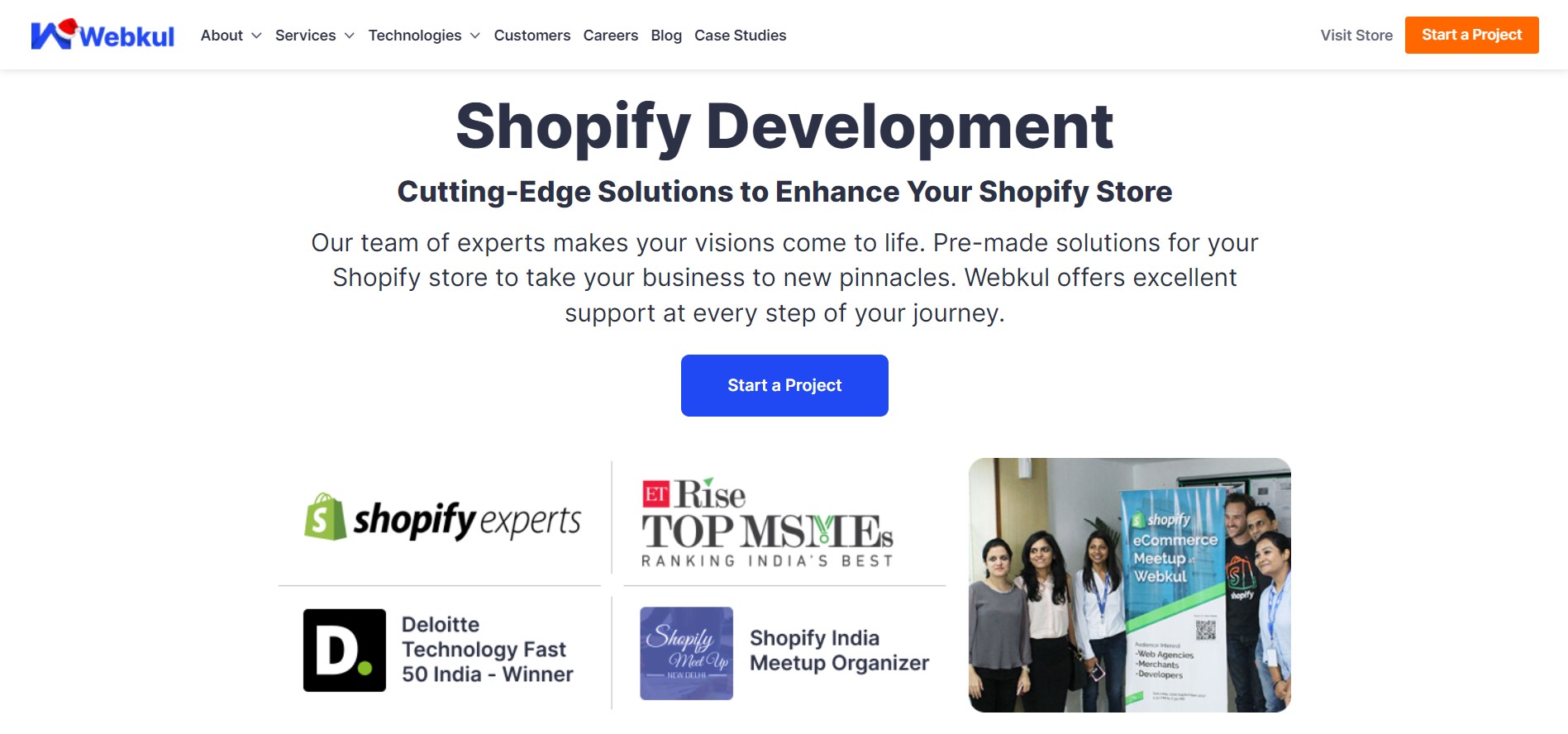 Additionally, their experienced team of professionals has been providing SAAS-based development and other sector services for over a decade. They completely understand the intricate and critical objectives needed to succeed in business, so they've created multiple custom SaaS development solutions that are built specifically to help you reach new heights with your venture.
Uncap
Established in 2014, Uncap has established itself as one of the premier Shopify development companies in the USA. Their primary mission is to support small, medium, and large business owners to scale their eCommerce operations with a successful and earnings-based platform. Regarded as a top Shopify web development company for 2021–2022, Uncap promises businesses from all backgrounds an effective means of selling products online by providing superior service at every step.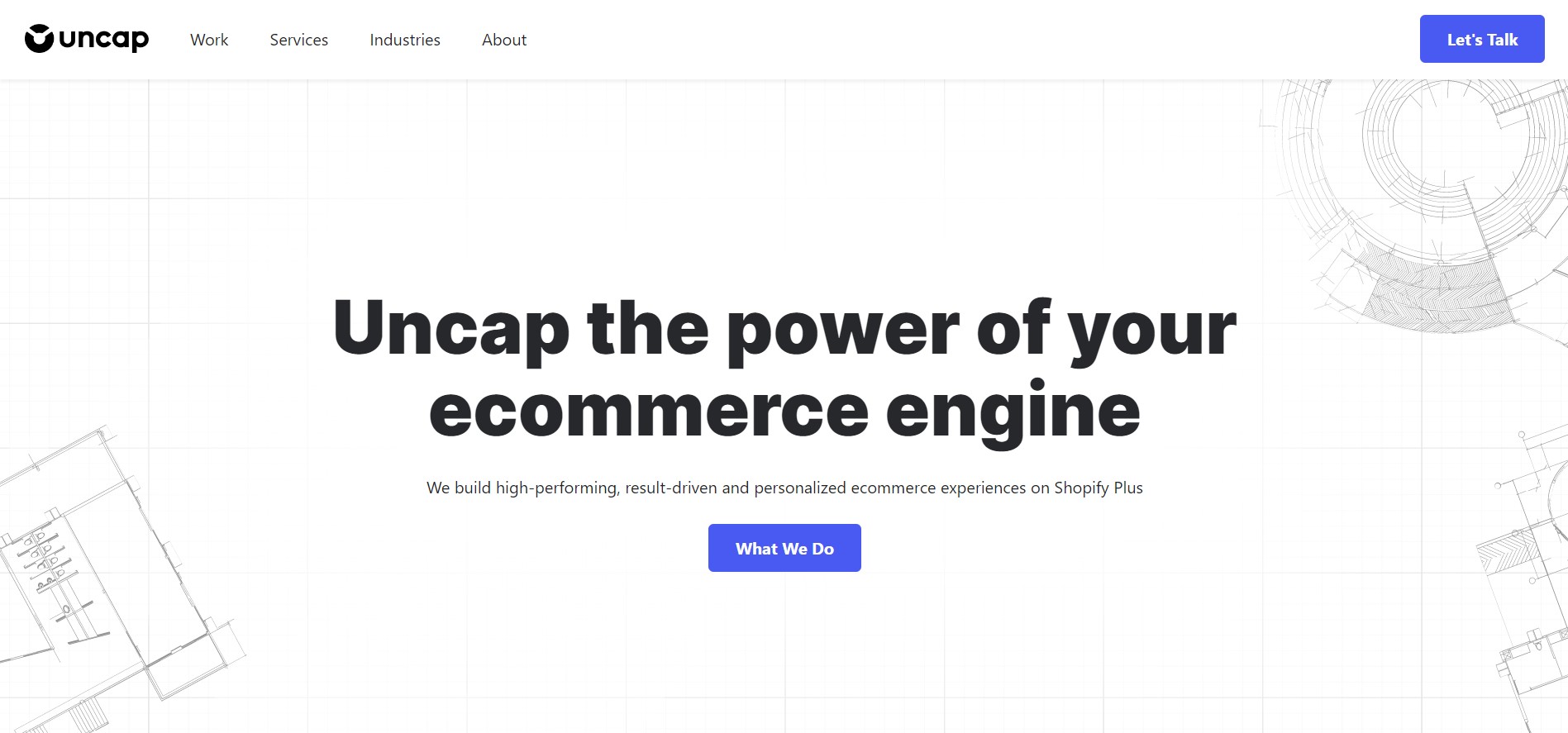 With years of knowledge and expertise, the company's designers know precisely how to create a top-rated website with enough potential to become an internationally renowned selling platform. Additionally, their team is always seeking out up-to-date technologies and innovations in the market. This insightful information along with their high degree of skill helps them construct remarkable eCommerce sites. Plus, utilizing A/B testing, segmentation, and heat maps produce data-driven sources for optimal results.
Magenest
If you are new to Shopify, migrating from another platform, or looking for ways of enhancing your existing store, Magenest is the top Shopify development company that has got it all. With many years in the business and some incredibly sophisticated stores already developed under their belt, we can provide you with a stellar team of expert developers who will take care of every aspect so that you can concentrate on other areas within your business. Magenest is currently the leading provider among worldwide Shopify development agencies offering excellent Shopify services.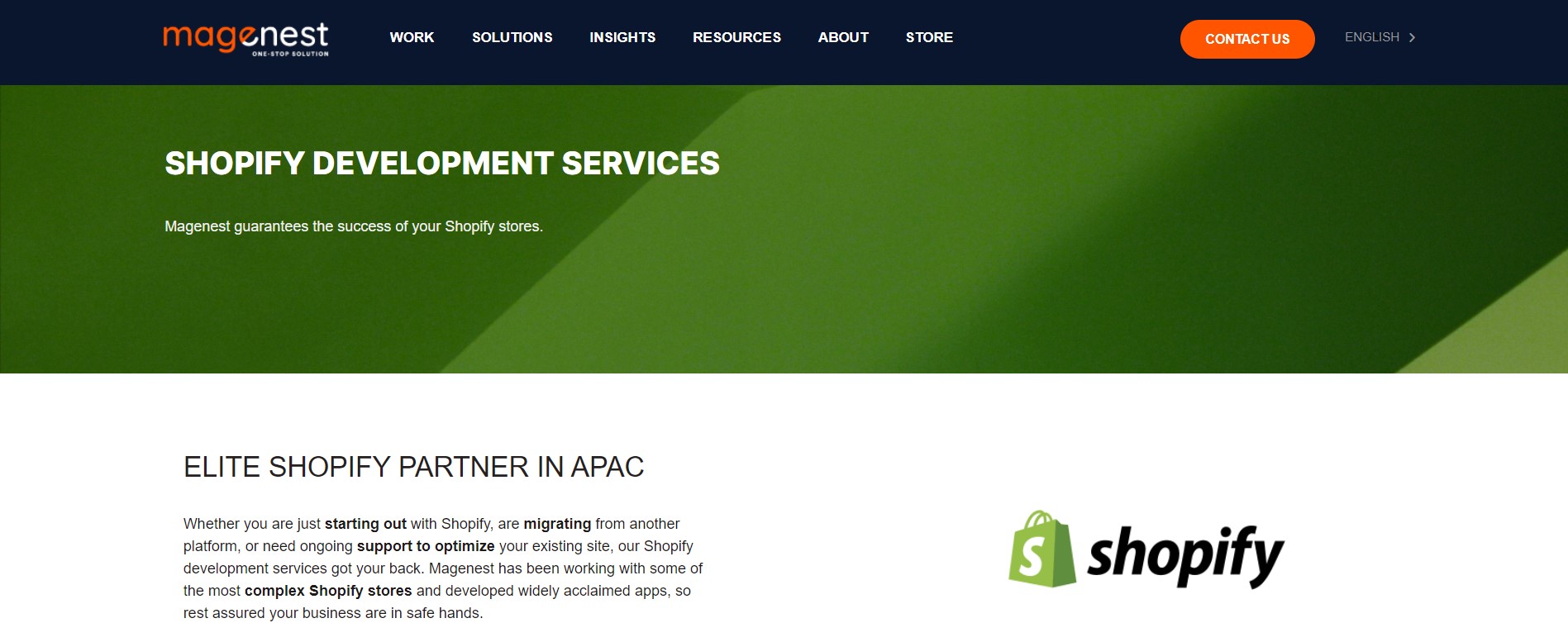 At that time, Magenest is providing many types of eCommerce services, that cover all the aspects of building a complete Shopify store. That includes Shopify store development services, Replatform to Shopify, UX&UI Design, Optimization and Maintenance, Custom App Development, and Digital Marketing. We apply an agile Shopify development process that helps you create a Shopify store as fast as possible. Our support team is so dedicated, that's always ready to help you solve any problems in the installation and configuration process.
Sunrise Integration
When it comes to finding a Shopify website development company for elevating your business, Sunrise Integration should be at the top of your list. Not only do these experts specialize in app development, API, and liquid programming but they are also fully equipped to customize any website according to client specifications as well as offer support with third-party integrations.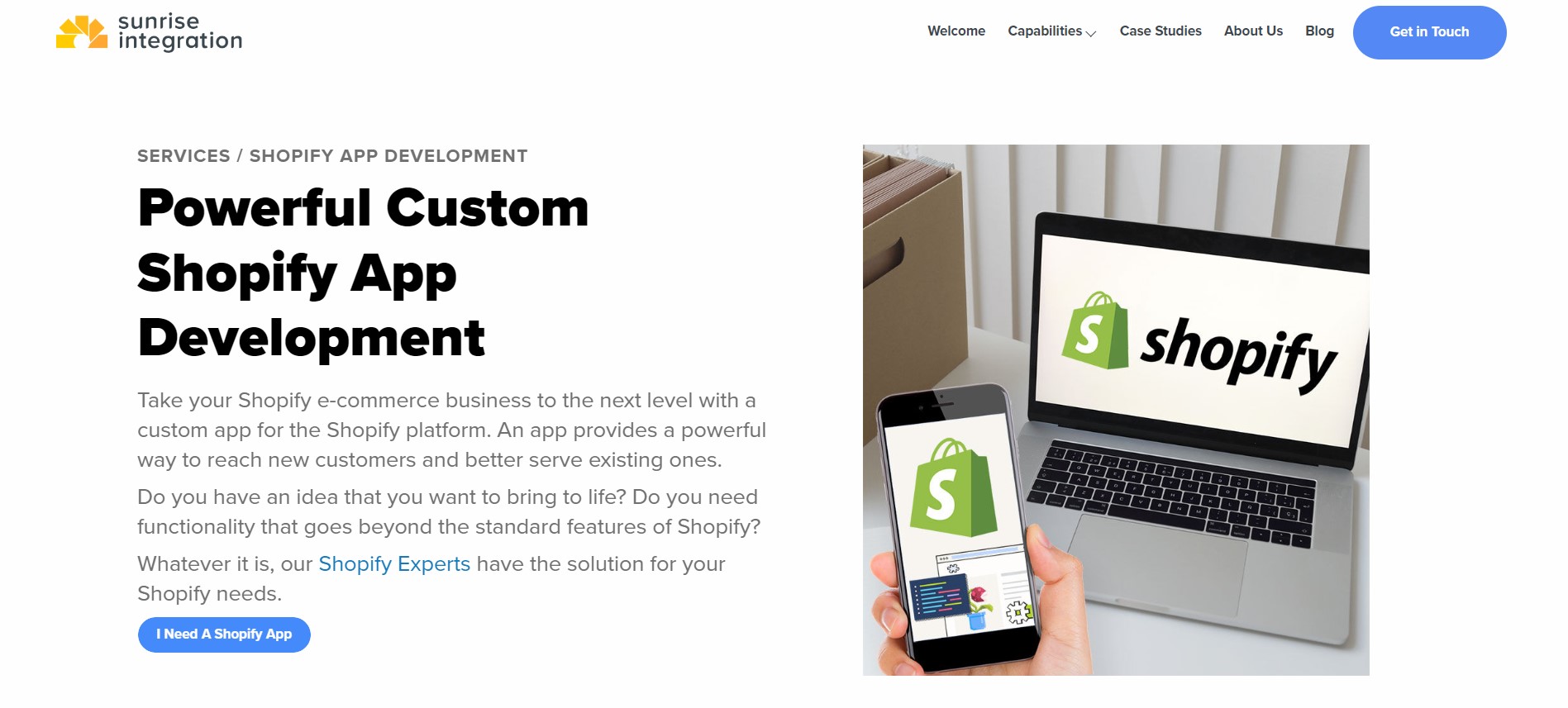 With over a decade of expertise in the industry, this company guarantees top-notch results. By constructing an efficient and advanced Shopify or POS app, they can help your business reach new heights of popularity. Moreover, their services include building and launching your application on Shopify App Store as well as hosting it securely on the AWS platform – all without any difficulties.
Lounge Lizard
For over two decades, Lounge Lizard has been the go-to marketing and Shopify website development agency. With their full suite of services, they are an ideal partner to help you set up your Shopify store from A-Z as a certified Shopify Partner. For any business owner who wants to build a successful eCommerce Shopify shop without hassle, trust the experts at Lounge Lizard for guaranteed results.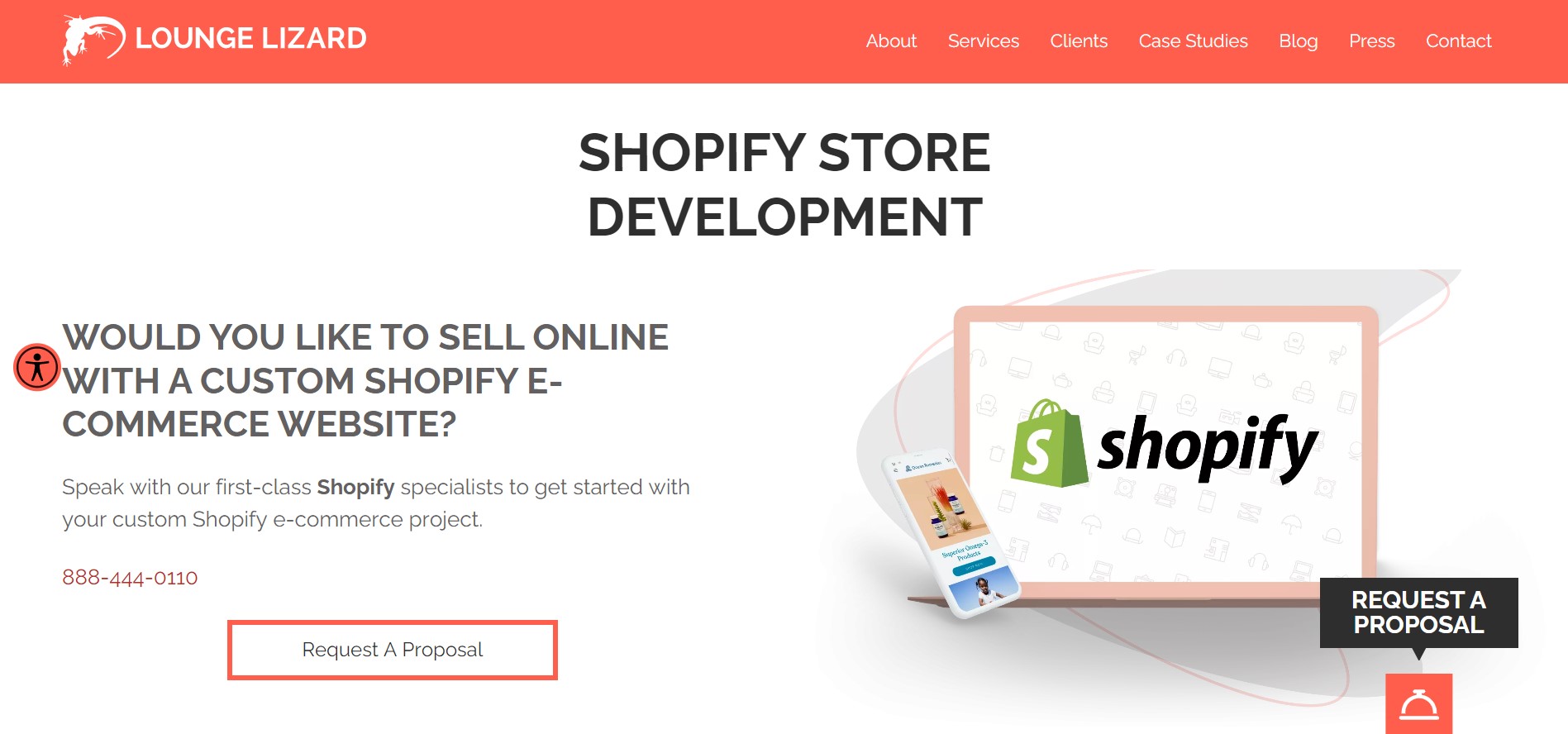 Their team of experts is committed to creating cutting-edge websites and apps that will amplify their clients' online presence. They meticulously analyze customers' objectives to ensure the ultimate product meets and exceeds all expectations. With years of expertise in Shopify, SEO, and digital marketing, rest assured that you will be provided with the best services to help elevate your business. In addition, their versatile skillset also includes mobile app development and custom branding strategy formation, all ready to meet any PPC UI/UX or content creation needs you may have.
WebDesk Solution
WebDesk Solution is an eCommerce development firm delivering solutions for Shopify, BigCommerce, Shift4Shop (formerly 3dcart), Volusion, Prestashop, and beyond. Their professional team not only builds amazing products but also evaluates your industry carefully to understand what the competition does and who makes up your target audience. With WebDesk Solution you can trust that their services will exceed expectations.
As a certified Shopify partner, the company can assist you in any area related to this platform. Their experts create visually appealing storefronts for those who are just starting their business journey and help established merchants maintain their eCommerce sites. They work hard and smartly so that your store stands out from competitors, resulting in increased customer engagement which is essential for business growth.
Lantern Sol
Making a name for itself as one of the top Shopify development companies, LanternSol has extended its services to customers across continents. This firm is committed to taking a strategic approach with Adherence and a Decisive demeanor to ensure integrity throughout every project they take on. With this steadfast commitment, LanternSol continues to be an industry leader that delivers amazing results you can trust.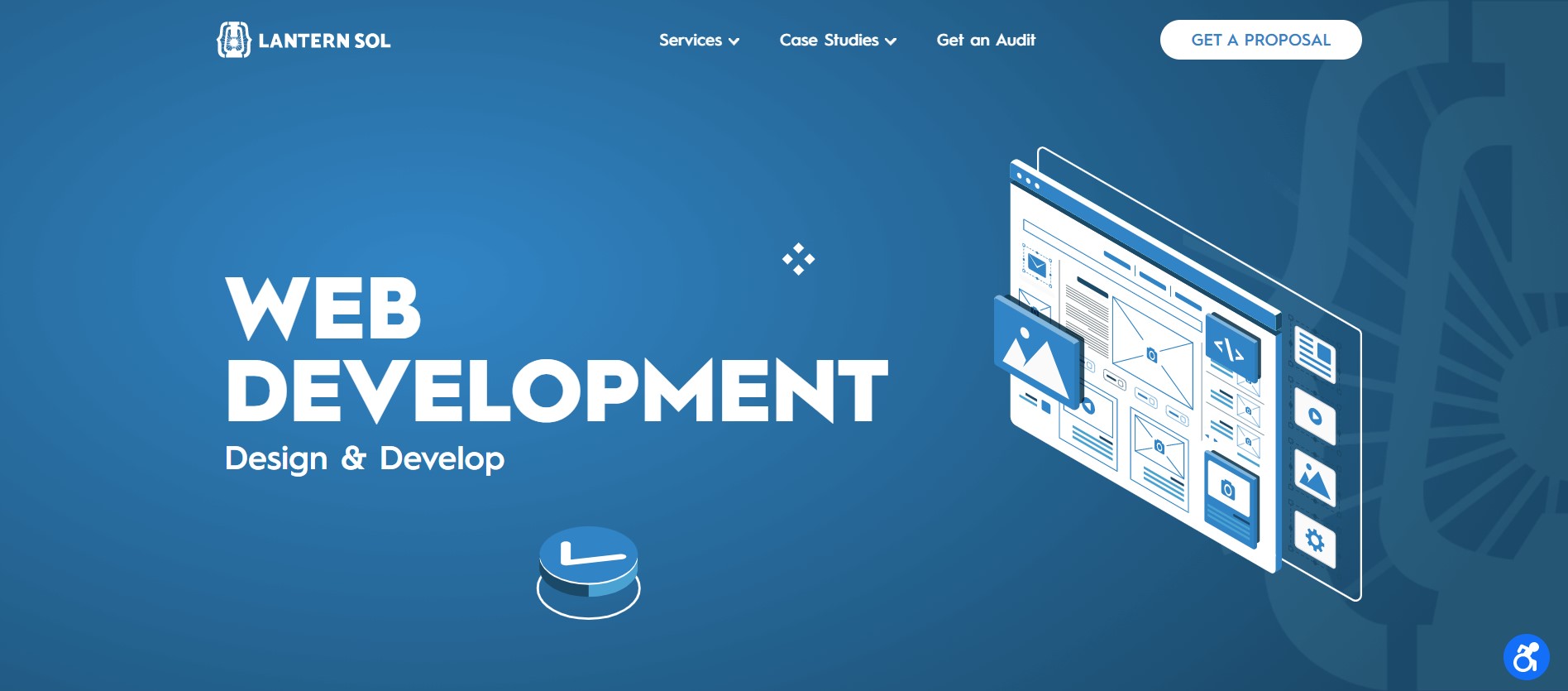 Their team of highly skilled and motivated experts is unrivaled, they take initiative and execute directions without fail. With their expertise and knowledge, you can rest assured that your project will be completed with the utmost care. As one of the leading Shopify development companies in 2021–2022, choosing LanternSol guarantees success. What's more, depending on your package you can ask for revisions multiple times. Plus, before the final product is released there are a few steps that must be completed such as design approval, implementation, and development validation.
WebFX
WebFX is a top-of-the-line digital marketing agency that offers an all-inclusive approach to Shopify optimization. Their team of experts does their utmost to optimize your online store, customize themes, set up conversion tracking, and rank you higher on Google search engine results, allowing big and small businesses alike the chance to reach their objectives with Shopify.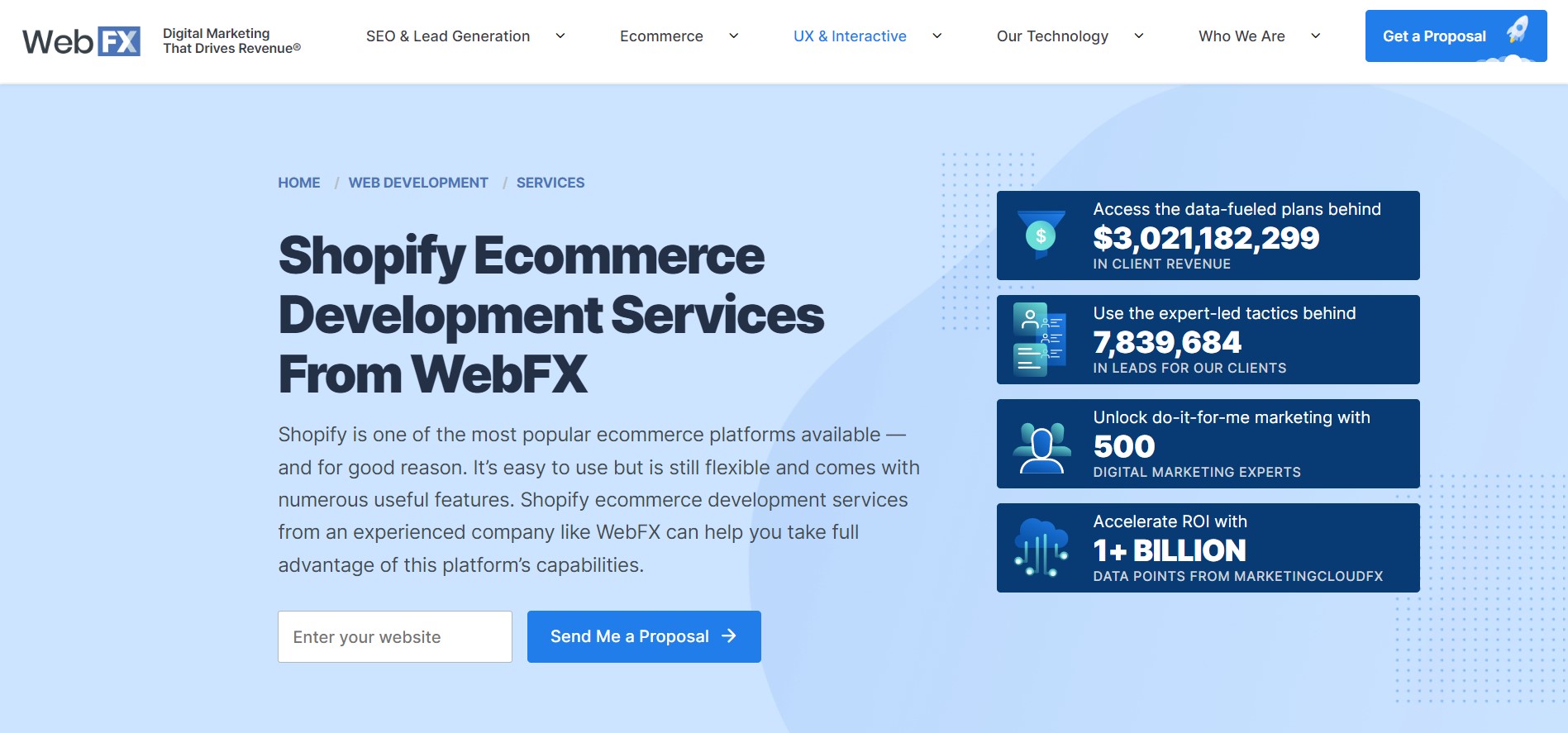 With immense years of industry experience, WebFX experts create perfect sites with a holistic approach to Shopify optimization. They not only refine the back end but also enhance the front end of your website to boost traffic flow and provide an improved user experience while concurrently saving time for their clients. Their expertise is unrivaled in optimizing websites.
Codup
The Codup team of specialists has an incomparable level of expertise related to Shopify, making the setup and configuration effortless. Moreover, they take all your requirements and desires into account while designing a webshop that exceeds any expectations you may have had. Through their services, you can expect to launch your eCommerce website in record time.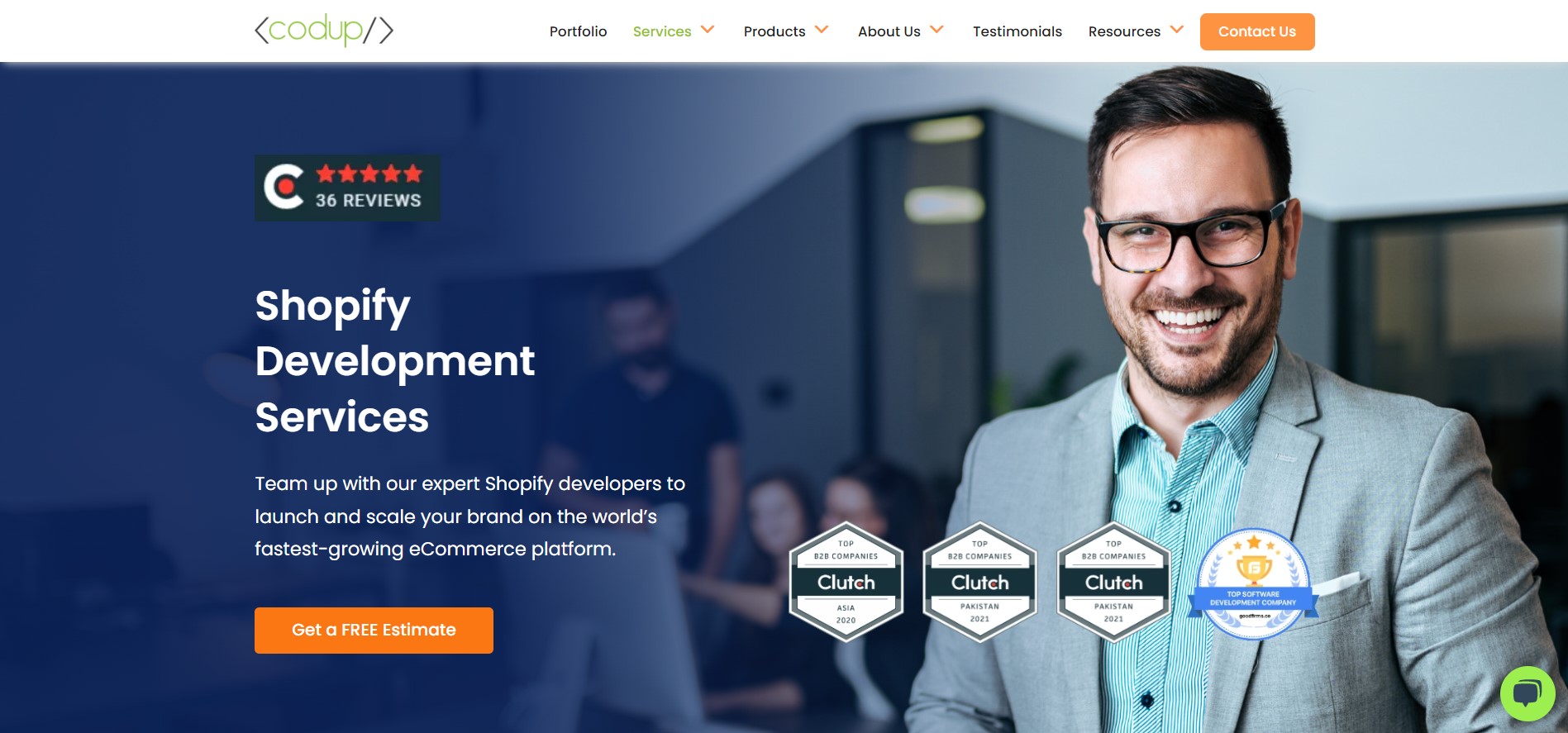 Codup, a Shopify web development agency, stands out for its mastery of Liquid, an impressive template language that allows intricate designs and remarkable functionality. If you're looking to create or edit your theme, this is the place to go. On top of that, Codup offers seamless API integrations too, making it one of the best Shopify development companies around.
Quantum Mob
Quantum Mob stands out from the competition by prioritizing stability in its end-products. They offer solutions of exceptional quality for companies at varying budget levels, no matter how big or small they are. It is their ambition to ensure that all businesses can benefit from their services and be satisfied with the results.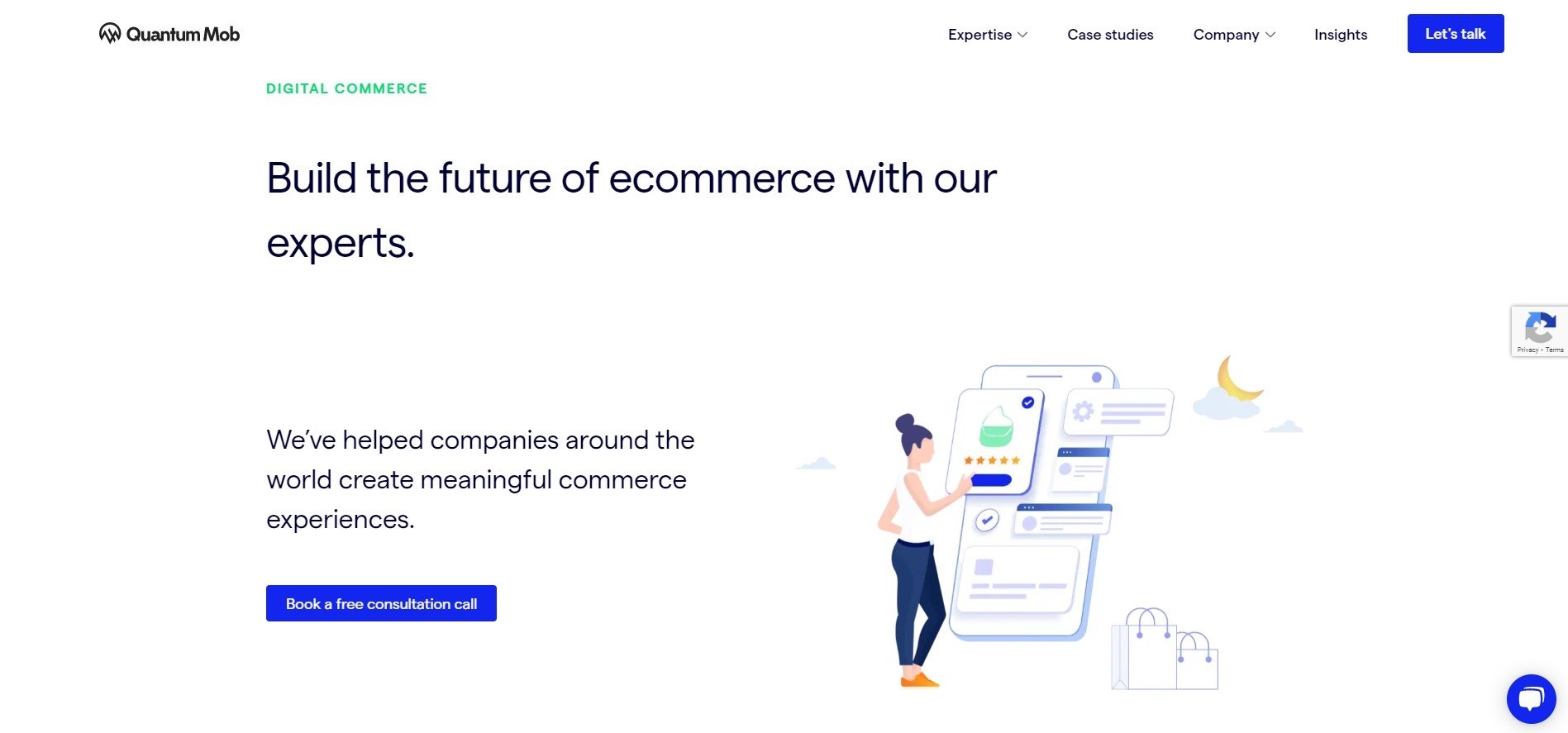 For the past 5 years, Quantum Mob has brought its expertise to industries like healthcare, advertising, and finance. As one of the leading Shopify development companies in 2021–2022, they utilize Agile methodology to guarantee impeccable web or mobile applications while producing high-caliber eBusiness products for customers alike. Quantum Mob is a top Shopify development agency that puts forth exceptional results when it comes to creating powerful solutions for clients everywhere.
Avex
Avex, a Shopify Plus agency, takes great pride in its ability to craft immersive online experiences. Working with several lifestyle brands, the company has implemented and maintained profitable eCommerce solutions through unique insight into design creativity and technology. Avex combines these elements for unbeatable results every time.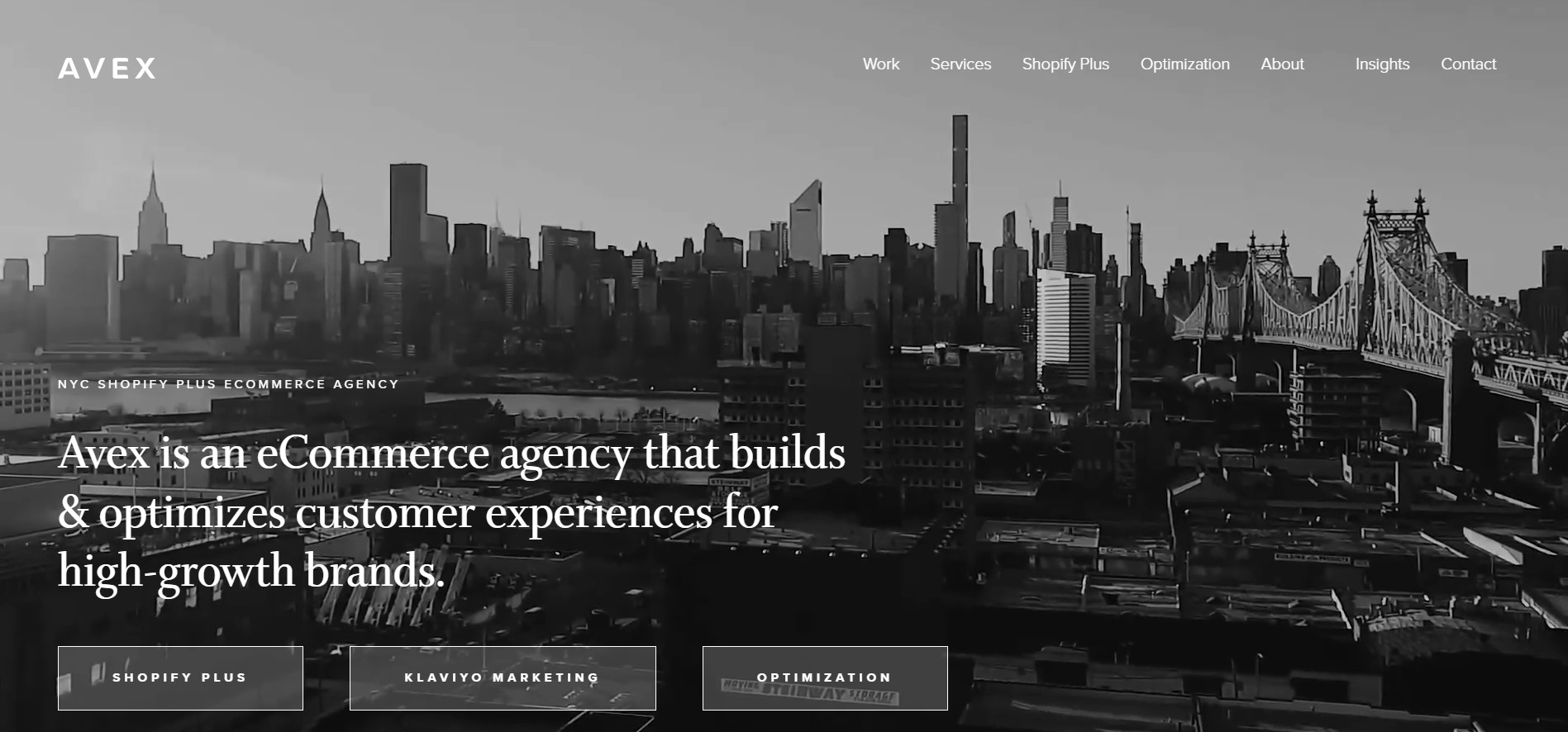 How to Choose a Shopify Development Company
It can be difficult to find the optimal Shopify eCommerce development agency for your project with so many options available. It all comes down to a few key elements such as budget, timeline, and the specifics of your task. Depending on how in-depth or urgent it is, you will likely have to pay more accordingly. While cost may be an essential factor when making this decision, don't let it overshadow other equally important considerations.
Before undertaking any new project, it is essential to ensure that you are well aware of:
Having a clear vision of the result: This is crucial when creating or customizing your Shopify store. It's important to visit other online stores and use them as guides to communicate exactly what you're looking for, which will make it simpler for development services to provide accurate quotes. By having well-defined expectations at the start of your project, you can ensure that everything goes smoothly from beginning to end.
Setting an affordable budget and timeline: Considering the features that you need versus what would just be nice to have will keep your project on track, within your desired financial limit, and in line with expectations. While costs may vary depending on the scope of work and size of the project, generally speaking, small projects are estimated at $1500 – $3000, medium-sized projects run up to around $5000, whereas larger-scale initiatives easily exceed the $20000 mark.
What to Look For In Shopify Development Companies
Website and portfolio: When you're searching for reliable Shopify Development Companies, the first thing you should do is check out their website. A credible company will have an up-to-date portfolio as well as links to the websites they've created. Analyze these sites carefully and assess if the style aligns with what you are striving for. If there isn't any eCommerce store in their showcase, it's time to look elsewhere. Don't overlook this step, it is essential to find a dependable development company that is perfect for your business's needs.
Pricing plans: A reputable Shopify Development Agency should have clear pricing plans. These may not be visible on their website, but they should still be able and willing to provide you with an approximate cost after learning more about your project. If possible, create a detailed description of what you're looking for. If the developer is unwilling or unable to give an estimate without this information, then perhaps it would be best to search elsewhere.
Communication skills: These are of utmost importance when selecting a Shopify development company. Once you reach out to the developer, be attentive to how quickly they respond and if what they say is easily understood. As much dialogue will take place during your project with this individual, their communication skills must exceed expectations in terms of both clarity and speediness.
Guarantee and Testimonials: To ensure that you're getting the best product possible, make certain to check if your web development company offers a satisfaction guarantee. If these details are not visibly available on their website, be sure to ask for more information once you reach out. Additionally, look out for customer testimonials, they can serve as an indication of excellence and should always appear on any reliable agency's page.
Questions You Should Ask When Connecting with Shopify Development Companies
How much experience do you have with projects like mine? Does that expertise fit within one of your areas of focus? Can you provide specific instances for a project similar to this one?
Inquiring about their experience demonstrates the relevance of their skills to your project's unique needs. It's crucial to partner with a company that understands the intricacies of your industry or project type. By asking for specific instances of similar projects or case studies they've undertaken, you gain insights into their capabilities and their ability to tackle challenges similar to yours.
What software and tools do you use to assist with project management? Does the team solely rely on email communication, or can access be granted to additional project management platforms?
This question gives you a glimpse into their project management efficiency. Effective tools for communication and collaboration enhance transparency and streamline the development process. It's beneficial to work with a company that employs modern project management software or platforms, as this indicates organized teamwork and clear communication channels.
Could you share with me your development process details? What are the steps involved and what documents do I need to provide for us to begin our collaboration?
Understanding their development process is essential for aligning expectations and ensuring a structured approach to your project. A well-defined process showcases professionalism and helps you anticipate each phase of the project. Knowing which documents you need to provide demonstrates their commitment to smooth and successful collaboration.
What type of post-development support is available? If any problems have arisen, how could you support me?
The availability of post-development support can significantly impact your experience after the project is completed. Robust support reflects their dedication to your project's long-term success. By clarifying their support mechanisms, you can be assured that any issues or challenges that arise after implementation will be promptly addressed.
Are you able to assist me with migrating from the X platform to Shopify?
If you're considering a platform migration, this question is pivotal. A successful migration requires expertise in data transfer, integration, and ensuring a seamless transition. Partnering with a company that has experience in handling migrations ensures that your data and functionality are preserved, minimizing disruptions during the transition process.
In Conclusion,
If you're looking for expert Shopify development companies to assist in building your online store, look no further. All of the companies we've highlighted possess immense expertise and know-how when it comes to crafting eCommerce stores that are both visually appealing and user-friendly. So don't hesitate any longer, pick one from this list or seek out another option that fits your needs. At the end of the day, we want you to find exactly what will make your store a success.
If you want to get more information about how to build your online store, reach out to Magenest now!