Did you know that Australia is a hot spot for online shoppers? In fact, the country ranks in the top 10 for eCommerce activity. There are over 10 million people in Australia, and each one of them is a potential customer for your business. But with so many eCommerce businesses competing for attention, how can you make sure that yours stands out from the rest? If you're looking to start an online store, or just want to browse some of the best ones around, look no further – we've compiled a list of the top eCommerce sites in Australia! Read on to find out any insights that might help you improve your own online store. Let's get started!
The Top 10 eCommerce Sites in Australia
eBay Australia
eBay is a popular website for Australian users to buy and sell items. With over 54.3 million unique visitors per month, there's no shortage of things that you can find on this site! From fashion clothes or electronic gadgets, if it exists in our world, then chances are someone has already listed them here with eBay Australia.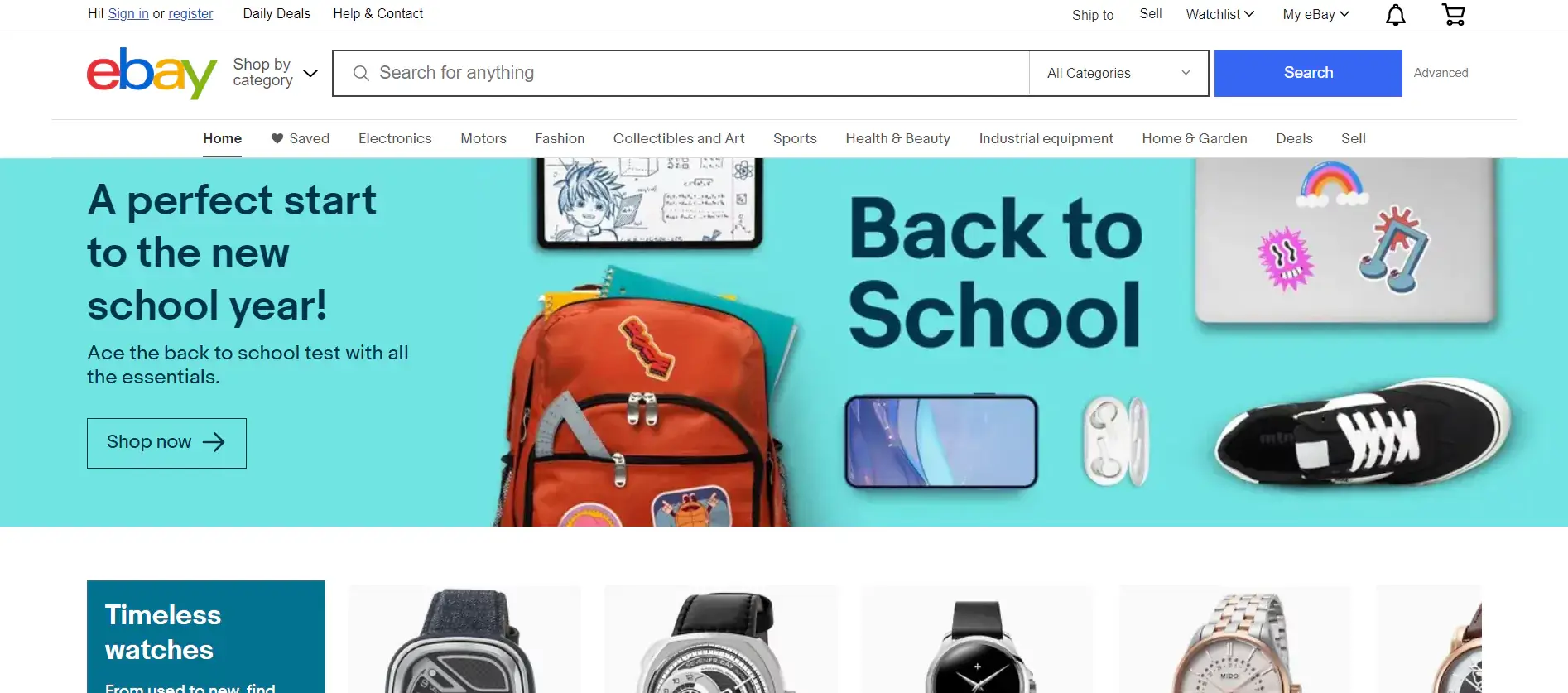 A great way to explore all these possibilities would be by browsing through some buyer guides which will help narrow down your search even more.
Amazon
Amazon is the largest online retailer in the world, with over 35.9 million unique visitors per month, ranking it among the top eCommerce sites worldwide. Despite the fact that Amazon has been shipping to Australia for a long time, the company only established a presence in the country in 2017 and has already climbed to third place in the list of top eCommerce sites in Australia.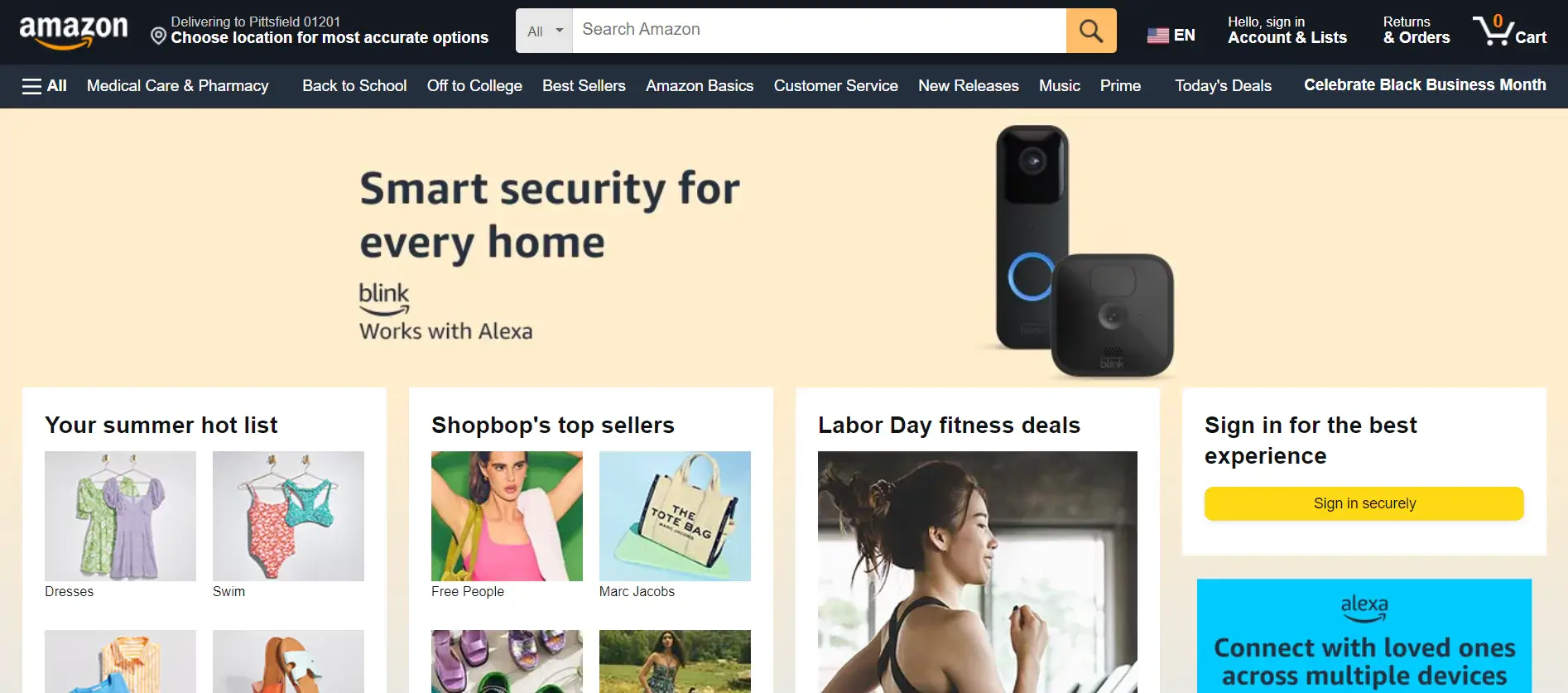 Amazon has anything for anyone. This global marketplace offers a variety of product ranges, from books and toys to electronics and fashion.
Woolworths
If you're looking for a great deal on groceries, look no further than Woolworths. You can find any grocery you need for your daily life within Woolworths's comprehensive website. They receive 24.1 million visits for average monthly traffic.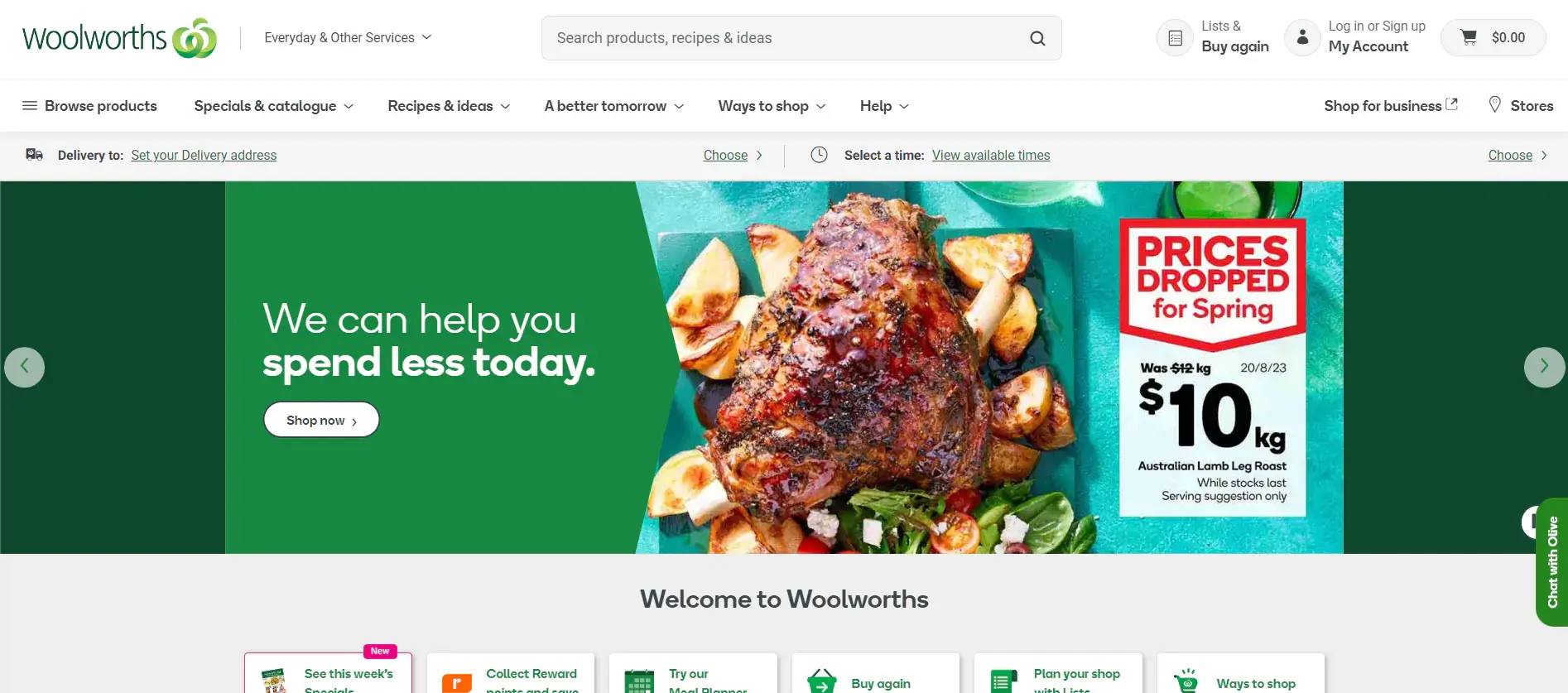 The brand also offers over 200 stores nationwide and free home delivery service available in selected areas. The convenient location makes it easy to shop there, whether you need groceries or household items. Furthermore, Woolworths has also created Wpay, a payment solution that provides businesses with end-to-end service.
JB Hi-Fi
Founded in 1974, JB Hi-Fi is a leading retailer of electronics and entertainment products. For more than a decade, JB Hi-Fi has been the country's leading online retailer of electronic goods, and its e-commerce site was launched in 2000. Its estimated monthly traffic reaches 12.9 million visits. They've also expanded to New Zealand.
Today, JB Hi-Fi offers a wide range of items including categories for computers and tablets, TVs, headphones, speakers and audio, smart home, mobile phones, gaming, drones and robotics, and home appliances.
Big W
Another popular name in the list of top eCommerce sites in Australia is Big W. Founded in the 1950s as a subsidiary of Woolworths, Big W is an Australian chain of discount department stores. They developed an eCommerce site to display their 40,000+ products with 11.0 million visits each month.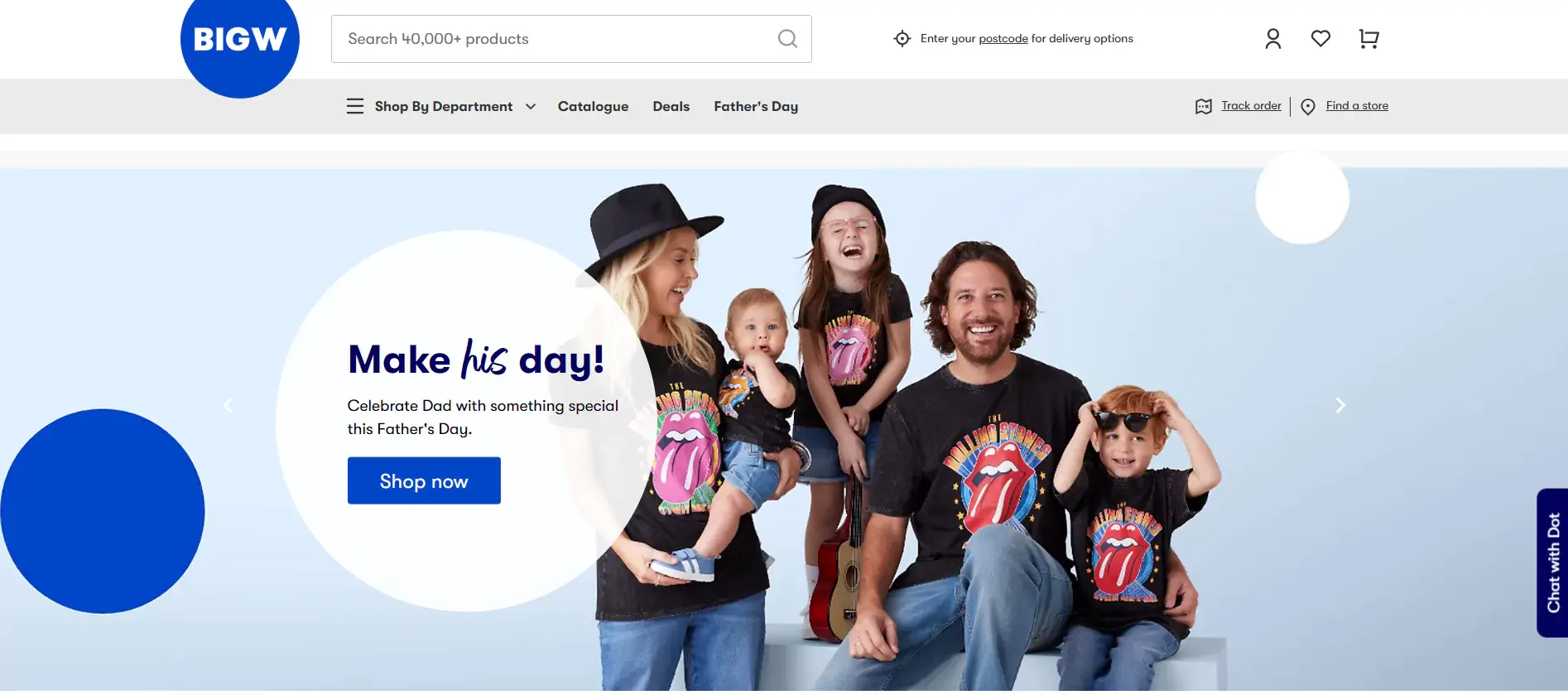 Big W now operates more than 180 brick-and-mortar stores across Australia. The company stocks a wide range of products, from homewares and clothing to toys and electronics. 
Chemist Warehouse
Australia's largest pharmacy chain, Chemist Warehouse, offers competitive prices on a wide range of health and beauty products. They own a large retail chain with over 350 stores across Australia.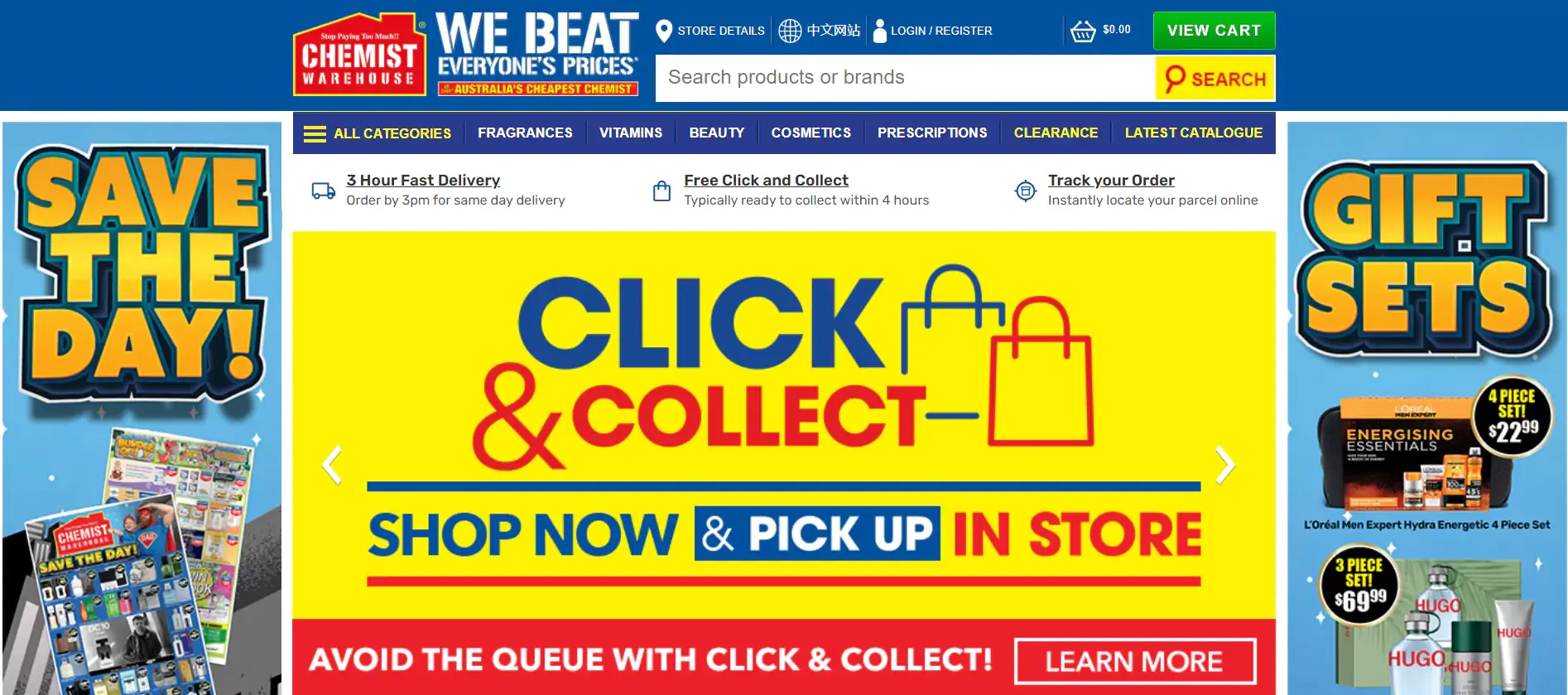 Chemist Warehouse brands itself as a discount retailer that follows a franchising model and sells online through its eCommerce shop. By sending dynamically personalized communications to its well-categorized customers, Chemist Warehouse, with 10.9 million monthly visitors to its websites, has enhanced conversion by 85% and raised digital income by a factor of two.
Coles
Coles is a one-stop shop for all your grocery needs. They've been in operation since 1914, and they operate more than 800 supermarkets throughout Australia!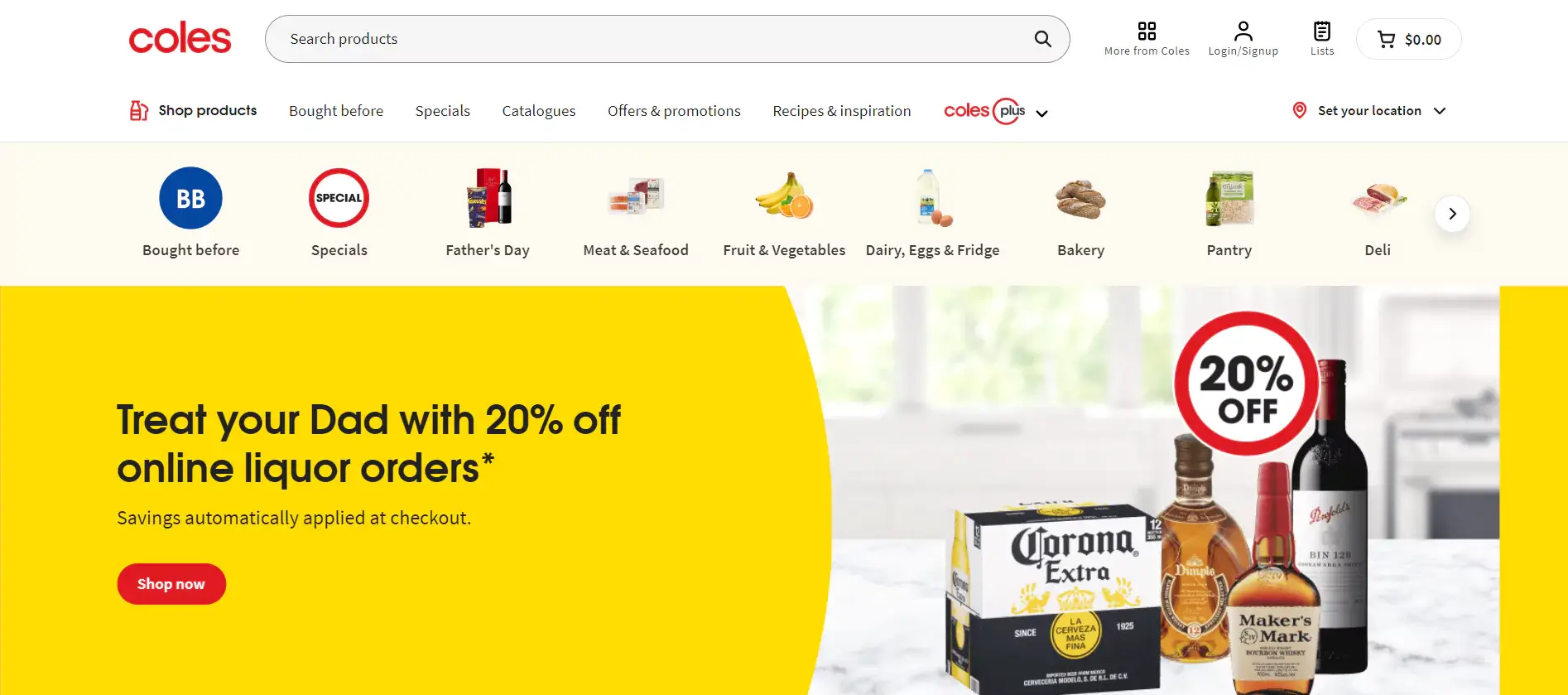 Their online store not only sells groceries but also consumer products like cosmetics & home appliances. With a large customer base of 15.2 million monthly visits, Coles is definitely an Australian-based company that has everything you require right at its fingertips.
Kogan.com
Kogan is one of the most well-known top eCommerce sites in Australia, with over a million customers and 8.1 million monthly visits. In February 2015, Kogan Pantry was launched in Australia, expanding the company's reach from its initial focus on televisions to include additional categories in the Australian online retail sector, including groceries.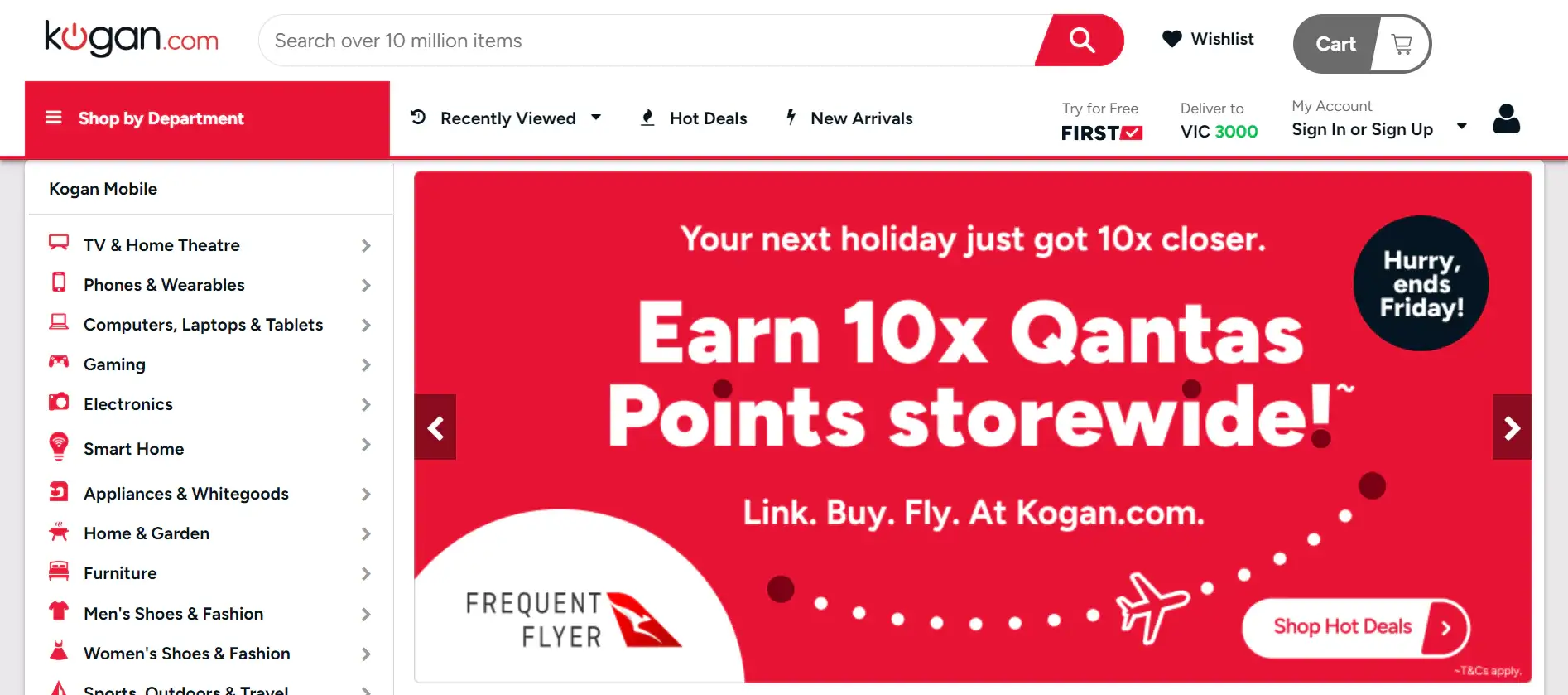 Today, Kogan.com offers products in a wide range of categories, including consumer electronics, home and garden, furniture, office supplies, baby and children's products, and many other areas.
Officeworks
As a member of the Coles Myer group of enterprises, Officeworks was created in the year 1994. It has had significant expansion over the last two decades, and in 2007 it inaugurated its 100th store.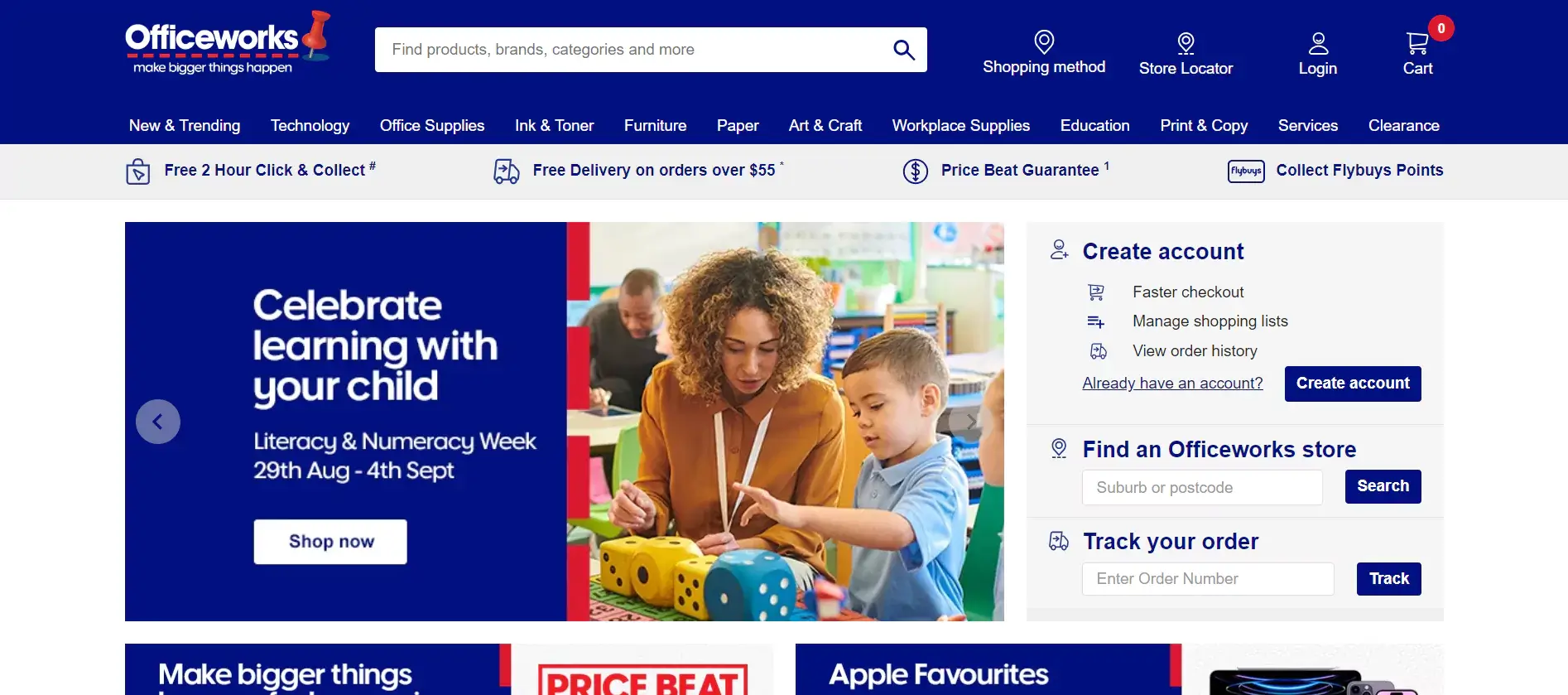 Australian office equipment company Officeworks is one of the country's most well-known brands. It has 160 brick-and-mortar stores in Australia, with a total of 7000 full-time workers. It now offers a diverse selection of items for use in companies, workplaces, schools, and institutions, as well as for personal use. You can also find all Officeworks products on their eCommerce sites, which receive 8.0 million visits each month.
Myer
The Australian retail chain, Myer is one of the most popular department stores in Australia. Consumers have the option of purchasing the company's extensive selection of goods across a variety of categories, such as clothing and food, either in-person at the company's store or online through its vibrant eCommerce platform.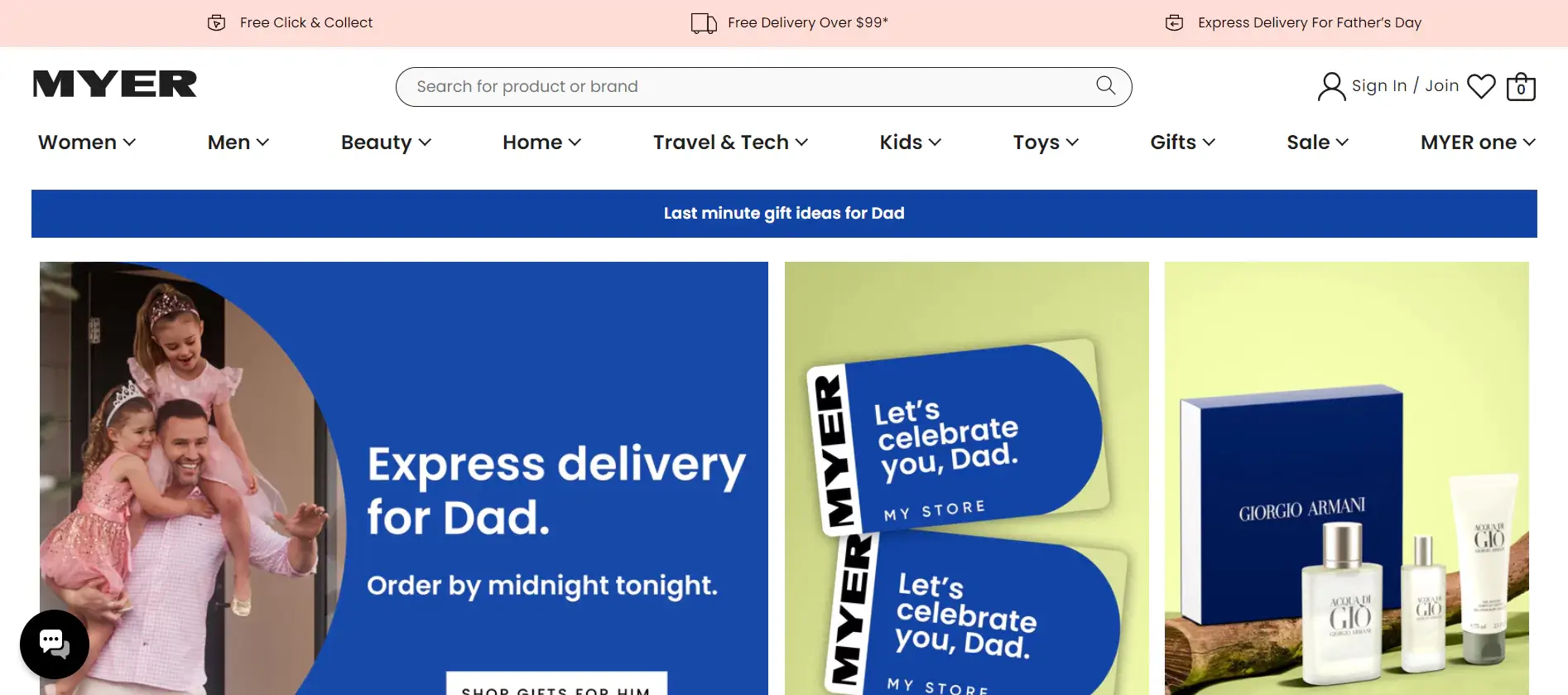 Myer operates more than 60 stores across the entirety of Australia. They also developed a web store for customers who would rather do their shopping virtually. This is a colorful website with a comprehensive design for customers to easily find and purchase their products. It receives 9.5 million visits estimated for each month.
Tips for growing your eCommerce store alongside the Top eCommerce sites in Australia
To optimize the chances of reaching potential customers and converting them into buyers, it's crucial to list your products on both your own eCommerce website and other top eCommerce sites in Australia. While competition may be fierce, there are ways to stand out and grow your business. Here, we share valuable tips to help you enhance your eCommerce store and take advantage of the top eCommerce sites in Australia. Whether you're just starting or looking to take your business to the next level, these tips will help you succeed. So, let's dive in!
Building a strong brand identity
In today's competitive eCommerce landscape, having a strong brand identity is crucial to stand out among the crowd. To create a memorable and distinct brand, start by defining your unique selling proposition (USP) and core values. Consistently convey your USP through all aspects of your business, including your website design, product packaging, and content. Invest in professional logo design and use consistent branding elements across all marketing channels. Remember, a strong brand identity will not only help you attract customers but also foster loyalty, ultimately giving you an edge over your competitors.
Focusing on customer experience and satisfaction
Exceptional customer experience and satisfaction are essential to compete with top eCommerce sites in Australia. To achieve this, prioritize user-friendly website navigation, quick page loading times, and mobile optimization. Offer multiple payment and shipping options to cater to diverse customer preferences. Additionally, provide responsive customer support through various channels such as live chat, email, and social media. Encourage customer feedback to identify areas for improvement and regularly update your website to enhance user experience. Remember, a satisfied customer is more likely to become a repeat buyer and recommend your store to others.
An effective digital marketing strategy is key to gaining visibility and attracting customers in the crowded eCommerce space. Start by optimizing your website for search engines (SEO) to increase organic traffic. Use email marketing to keep your customers informed about new products, sales, and promotions. Develop a strong presence on social media platforms that are popular among your target audience, such as Facebook, Instagram, and Pinterest. Engage with your followers by sharing valuable content, showcasing your products, and encouraging user-generated content. Collaborate with influencers to reach a broader audience and increase brand credibility. Remember, a well-executed digital marketing strategy will help you compete with top eCommerce sites and grow your business.
Offering competitive pricing and promotions
To stay competitive in the Australian eCommerce market, it's essential to offer attractive pricing and promotions. Conduct thorough market research to understand your competitors' pricing strategies and identify opportunities to differentiate yourself. Offer competitive prices without compromising on product quality or customer experience. Regularly run promotions, such as discounts, flash sales, and bundle deals to entice customers and encourage repeat purchases. Implement a loyalty program to reward your most loyal customers and foster long-term relationships. By offering competitive pricing and promotions, you can level the playing field with top eCommerce sites and attract more customers to your online store.
Conclusion
If you're looking for some inspiration for your eCommerce store, or just want to see what the competition is up to, take a look at our list of the top eCommerce sites in Australia above. These businesses are doing something right – they've all managed to make it into the top spots on Google and attract hordes of online shoppers.
So, what can you learn from them? How can you apply their tactics to your own business and start seeing results? Contact us today and we'll be happy to help. We have years of experience working with businesses of all sizes and can provide you with expert advice on how to take your eCommerce store to the next level. Or you can easily and directly access our Magento development services. We have plenty of Magento-certified developers and specialists, who are always ready to help you build your own Magento online store, or migrate your existing one to Magento from another platform.
In case you have limited technical knowledge but still want to implement your own online store, Shopify is the most optimal choice. Please, feel free to refer to our seasoned Shopify development services, we are delighted to help you in the way of digital transformation.