Did you know that Australia is a hot spot for online shoppers? In fact, the country ranks in the top 10 for eCommerce activity. There are over 10 million people in Australia, and each one of them is a potential customer for your business. But with so many eCommerce businesses competing for attention, how can you make sure that yours stands out from the rest?
If you're looking to start an online store, or just want to browse some of the best ones around, look no further – we've compiled a list of the top eCommerce sites in Australia! Read on to find out any insights that might help you improve your own online store. Let's get started!
The Top 10 eCommerce Sites in Australia
​​#1. eBay Australia
Website: ebay.com.au
Estimated monthly traffic: 54.3 Million visits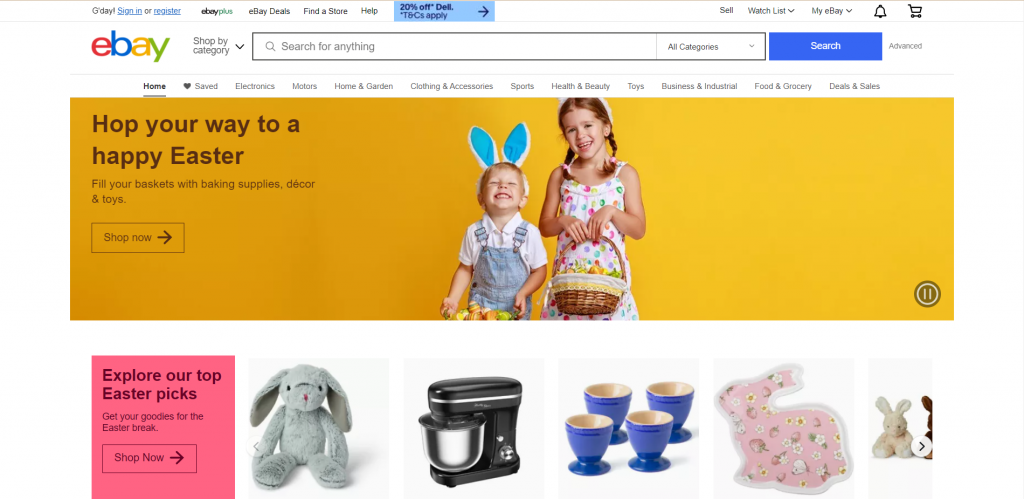 eBay is a popular website for Australian users to buy and sell items. With over a 54.3million unique visitors per month, there's no shortage of things that you can find on this site! From fashion clothes or electronics gadgets – if it exists in our world then chances are someone has already listed them here with eBay Australia.
A great way about exploring all these possibilities would be by browsing through some buyer guides which will help narrow down your search even more.
#2. Amazon
Website: amazon.com.au
Estimated monthly traffic: 35.9 Million visits
Amazon is the world's largest online retailer, with over a 35.9million unique visitors per month. Despite the fact that Amazon has been shipping to Australia for a long time, the company only established a presence in the country in 2017 and has already climbed to third place in the list of top eCommerce sites in Australia. It offers a huge range of products, from books and toys to electronics and fashion, Amazon has something for everyone.
#3. Woolworths
Website: woolworths.com.au
Estimated monthly traffic: 24.1M visits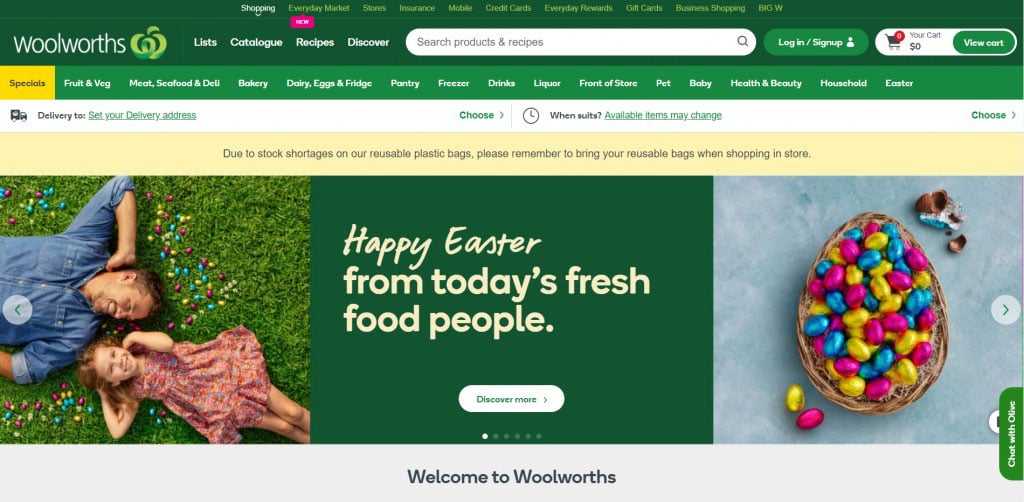 If you're looking for a great deal on groceries, look no further than Woolworths. With over 200 stores nationwide and free home delivery service available in selected areas. The convenient location makes it easy to shop there, whether you need groceries or household items. Furthermore, Woolworths has also created Wpay, a payment solution that provides businesses with end-to-end service.
#4. JB Hi-Fi
Website: jbhifi.com.au
Estimated monthly traffic: 12.9 Million visits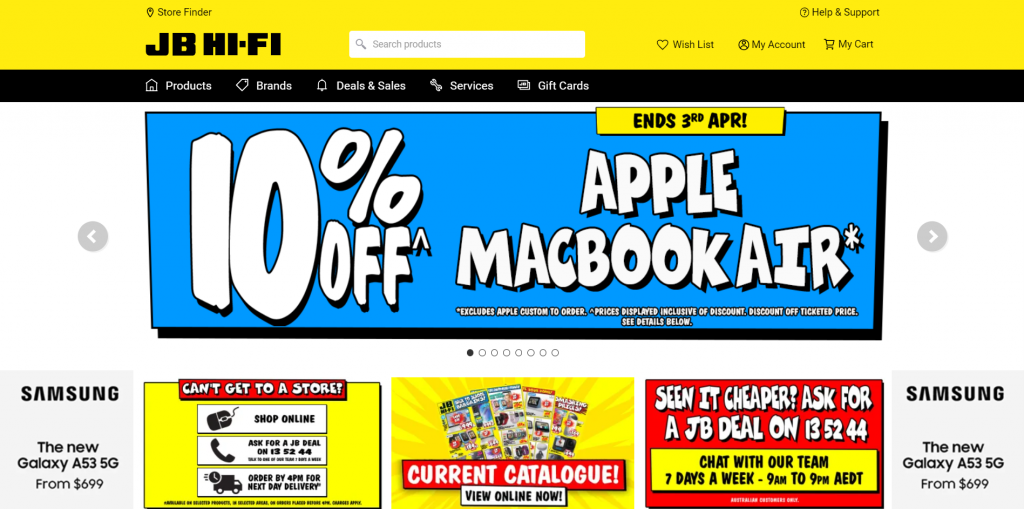 Founded in 1974, JB Hi-Fi is a leading retailer of electronics and entertainment products, JB Hi-Fi. For more than a decade, JB Hi-Fi has been the country's leading online retailer of electronic goods, and its e-commerce site was launched in 2000. They've also expanded to New Zealand.
Today, JB Hi-Fi offers a wide range of items including categories for computers and tablets, TVs, headphones, speakers and audio, smart home, mobile phones, gaming, drones and robotics, and home appliances.
#5. Big W
Website: bigw.com.au
Estimated monthly traffic: 11.0 Million visits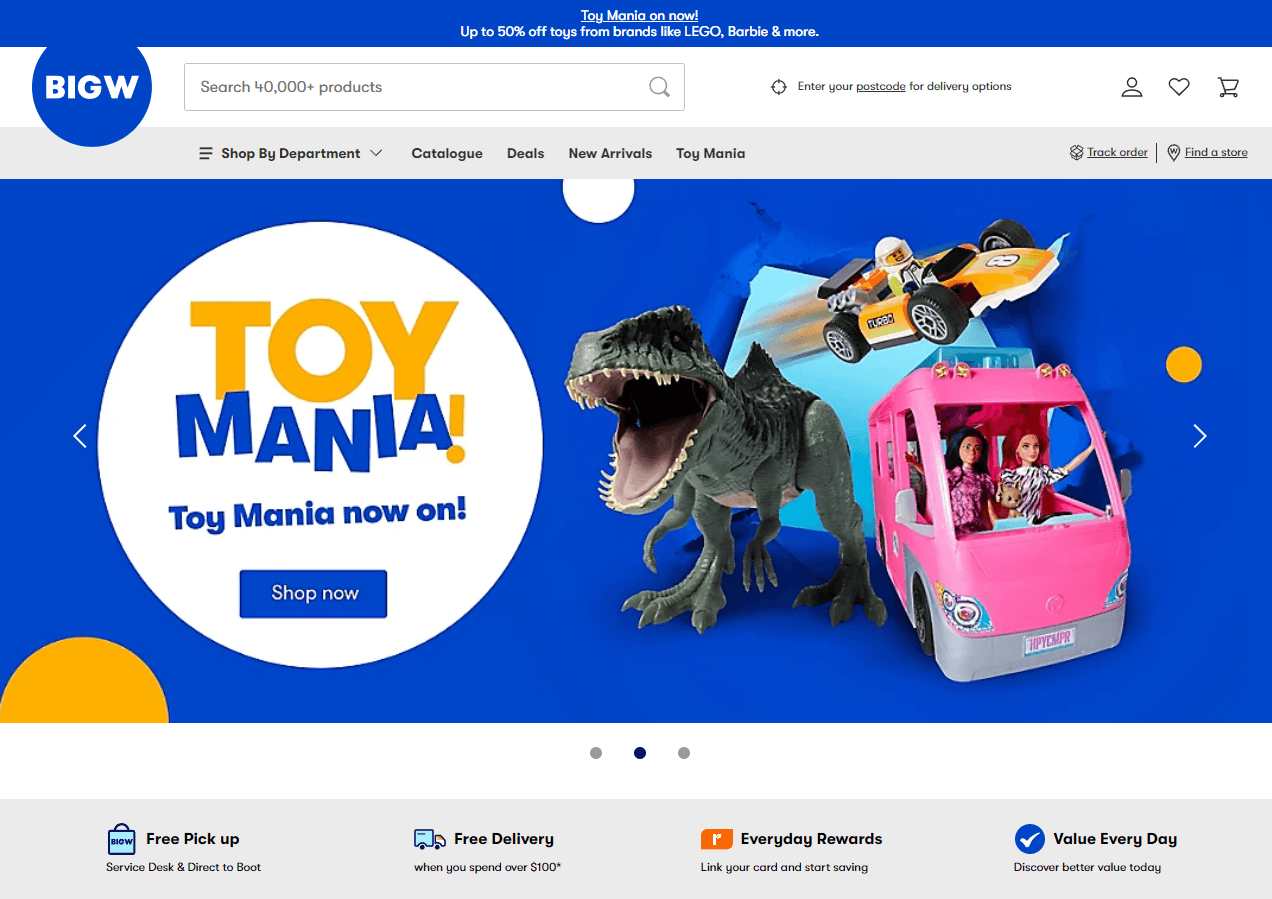 Another popular name in the list of top eCommerce sites in Australia is Big W. Founded in the 1950s as a subsidiary of Woolworths, Big W now operates more than 180 brick-and-mortar stores across Australia. Big W stocks a wide range of products, from homewares and clothing to toys and electronics.
>> Read more: Top eCommerce websites in the World
#6. Chemist Warehouse
Website: chemistwarehouse.com.au
Estimated monthly traffic: 10.9 Million visits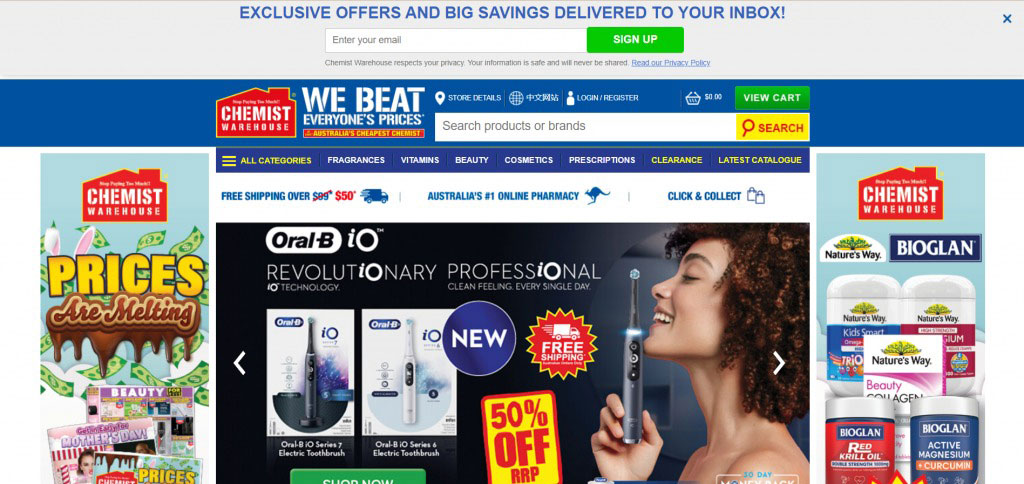 Australia's largest pharmacy chain, Chemist Warehouse, offers competitive prices on a wide range of health and beauty products. Moreover, Chemist Warehouse is a discount retailer that operates throughout Australia using a franchising model and sells online through its e-commerce shop. By sending dynamically personalized communications to its well-categorized customers, Chemist Warehouse has enhanced conversion by 85% and raised digital income by a factor of two.
#7. Coles
Website: coles.com.au
Estimated monthly traffic: 15.2 Million visits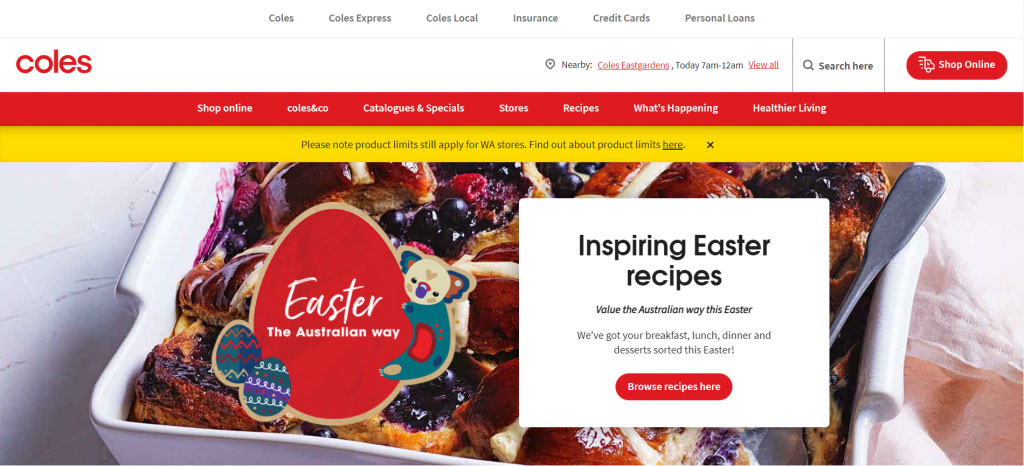 Coles is a one-stop-shop for all your grocery needs. They've been in operation since 1914, and they operate more than 800 supermarkets throughout Australia! Their online store not only sells groceries but also consumer products like cosmetics & home appliances too – making them an Australian based company that has everything you need right at its fingertips.
>> Read more: Top 10 ecommerce websites in ASIA
#8. Kogan.com
Website: kogan.com
Estimated monthly traffic: 8.1 Million visits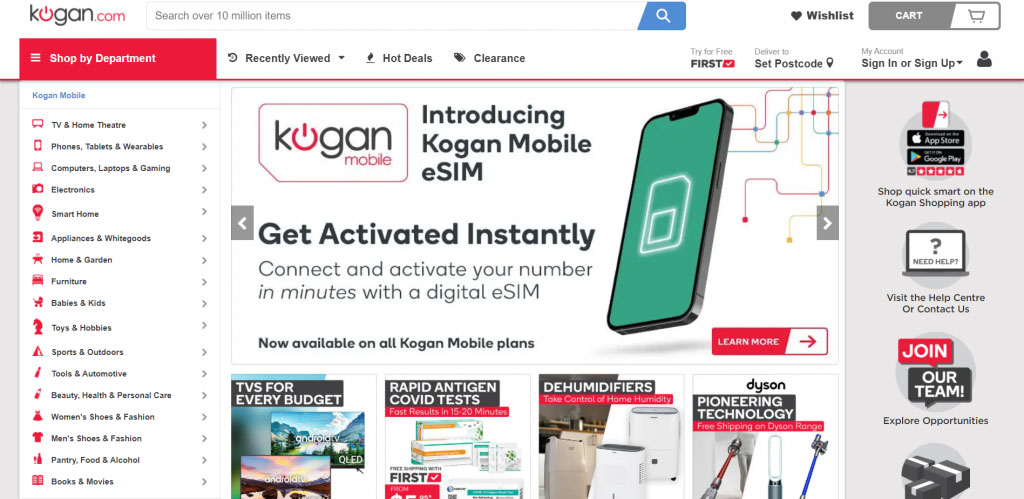 Kogan is one of the most well-known top eCommerce sites in Australia, with over a million customers. In February 2015, Kogan Pantry was launched in Australia, expanding the company's reach from its initial focus on televisions to include additional categories in the Australian online retail sector, including groceries.
Today, Kogan.com offers products in a wide range of categories, including consumer electronics, home and garden, furniture, office supplies, baby and children's products, and many other areas.
#9. Officeworks
​​Website: officeworks.com.au
Estimated monthly traffic: 8.0 Million visits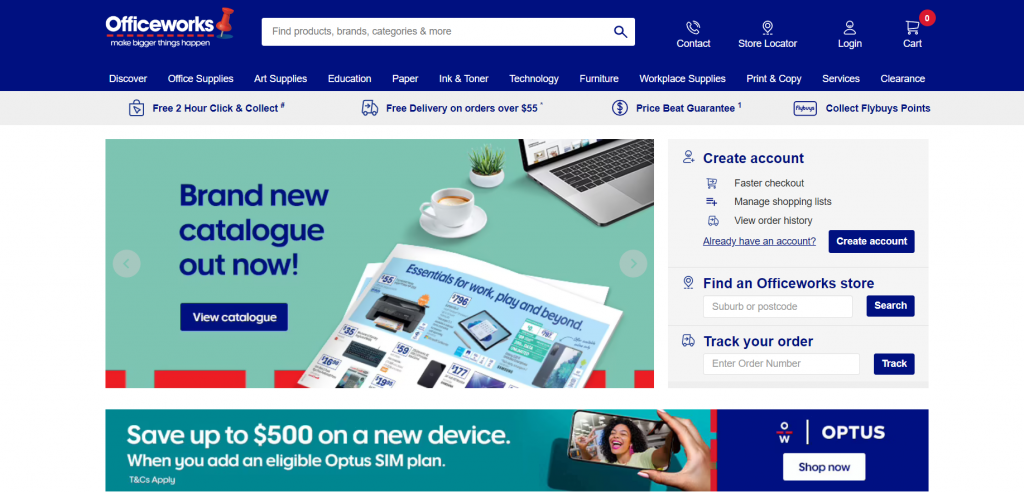 As a member of the Coles Myer group of enterprises, Officeworks was created in the year 1994. It has had significant expansion over the last two decades, and in 2007 it inaugurated its 100th store.
Australian office equipment company Officeworks is one of the country's most well-known brands. It has 160 brick-and-mortar stores in Australia, with a total of 7000 full-time workers. It now offers a diverse selection of items for use in companies, workplaces, schools, and institutions, as well as for personal use.
#10. Myer
Website: myer.com.au
Estimated monthly traffic: 9.5 Million visits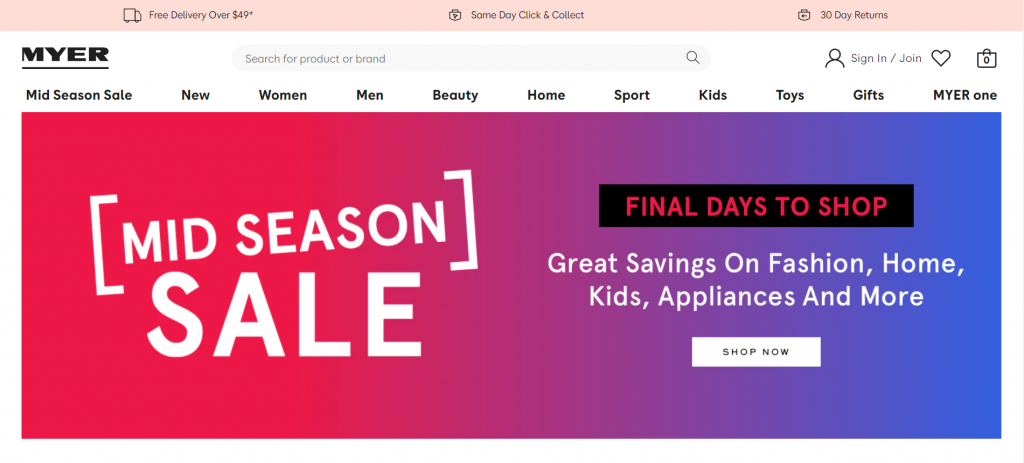 The Australian retail chain, Myer is one of the most popular department stores in Australia. The company provides a wide range of products across many categories including clothing and food for consumers to purchase at their store or online through its colorful eCommerce platform. They have more than 60 stores nationwide in Australia as well online for those who prefer to shop there instead.
Conclusion for Top eCommerce Sites in Australia
If you're looking for some inspiration for your eCommerce store, or just want to see what the competition is up to, take a look at our list of the top eCommerce sites in Australia above. These businesses are doing something right – they've all managed to make it into the top spots on Google and attract hordes of online shoppers. So, what can you learn from them? How can you apply their tactics to your own business and start seeing results? Contact us today and we'll be happy to help. We have years of experience working with businesses of all sizes and can provide you with expert advice on how to take your eCommerce store to the next level.