Optimizing customer experience enhancement in the "landing" of the 4.0 era and the branding operator of businesses in Vietnam is getting more attention than ever. Not only a reminder, a suggestion in the mind of the goods, but a well-known experience optimization strategy will also be a weapon to help businesses have a competitive advantage in the trade war.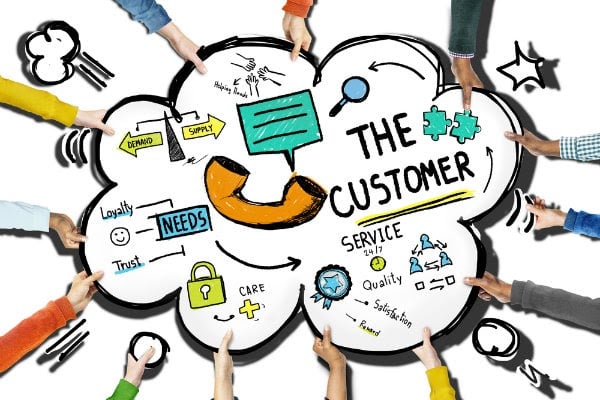 You can understand that customer experience is an interaction between a customer and a business, the perceptions and comments of customers for that business. And economists Pine and Gilmore affirm that: "Customer experience is the sum of all the experiences a customer has in the relationship with a supplier of goods and services during the process. The two sides have a relationship of purchase and sale of goods."
Through this affirmation, we understand the characteristics of the customer experience, integrating the customer and the business company through products and services, and from these characteristics, we can build a customer experience strategy.
In today's market, there are many different experiences:
The first: is the positive outlook and customer trust of the products and services of a business. And tend to continue using that product or service.
Second: is the negative customer experience for that business, when the business creates low-quality products and does not meet the needs of customers or poor customer service attitude.
Third: Experience neutrality. When customers have used your products and services but they do not let the client feel and evaluate the products after using them. You will have to find the reason for this neutrality to enhance the client experience.
The role of customer experience enhancement
Customer experience enhancement is an extremely important tool in helping businesses grow. It helps you make the right and best decisions to guide and grow your business, and especially for the company's revenue stream.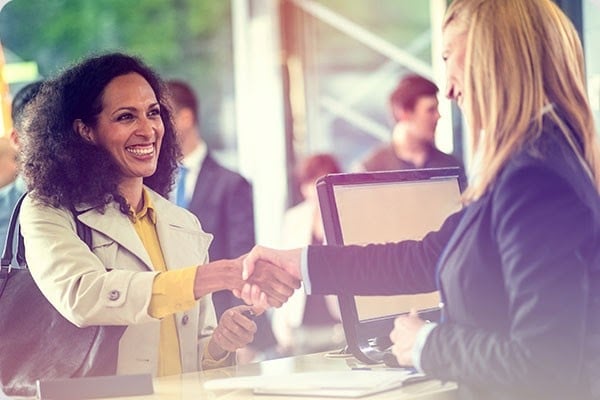 This strategy is also seen as a bridge between customers and businesses, helping businesses need and know what to do when receiving the most sincere feedback from customers. Based on the customer experience strategy, businesses can determine the right tasks to do and how to become more effective.
Closer to customers: When implementing a customer experience enhancement strategy, you will be exposed to more customers, and better understand their demands. This strategy will help you engage with your customers closely.
Introduce the brand to the market: Implementing a customer strategy not only helps you connect with customers but also promotes the brand, creating a reputation for your business. You should implement some promotions and discounts that both help you experience your customers and thanks to that purchasing power they also advertise the name of your business.
Customer experience map – one of the ways to enhance customer experience
A customer experience map is one of the important factors supporting business development and bringing many benefits to help business operations become more and more efficient.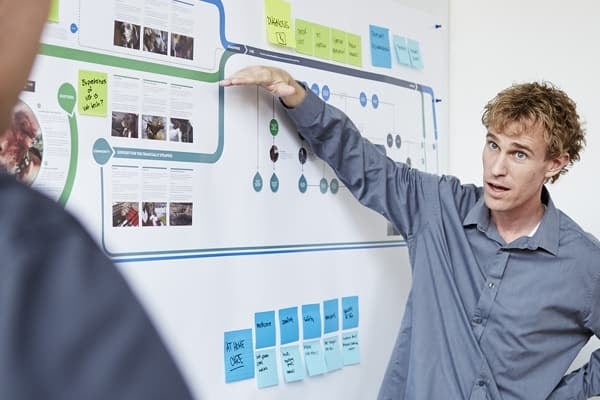 What is a customer experience map?
A customer experience map is a tool to help businesses better understand what customers think and feel about the products and services they have used. And each customer will have their own itinerary to experience, creating diversification in map shape.
The experience map also shows customers who visit the store, visit a website, or call you, what they feel. And when they buy, what information, support, and how to care from your sales and marketing department. Or even when they have problems with your product or service, what should businesses do to provide timely support?
It's especially important for the customer experience map to get back to your business. And the map itself helps businesses improve, capture their own values ​​to build the most appropriate strategies to support current customer development.
In addition, future customer experience maps will help businesses add and change the features of products and services in a completely new way to create attractive customer experience enhancement.
Ways to build customer experience map
To build a customer experience map, you must first understand the customer journey. Let's learn the 3 stages right below:
Stage 1: Before buying
According to information gathered from many surveys, for a customer, before purchase, he experiences 3 behaviors as follows:
The first is Awareness. This is when the buyer has no knowledge or contact with your business. It is they who are realizing they have a problem and need to be resolved most thoroughly and thoroughly.
Next is Consideration. At this point, the buyer has determined what he needs and wants and begins to take action to find the safest place to come up with a solution to his problem.
After going through the above two actions, the buyer comes to Decision – the buyer chooses the solution by himself and chooses the company to accompany him throughout the immediate journey after the very research process.
Stage 2: Purchase
In this second stage, the customer conducts 2 actions that are to purchase and use the product. And this is also the prerequisite step leading to the decision whether customers will continue to use your company's products or not.
Stage 3: After purchase
When finished using, customers generate within themselves the perception of your product or service. If the experience is good, they will recommend relatives and friends to join. On the contrary, they are negative feelings, they will surely boycott and not return to your business.
12 Strategies for customer experience enhancement
Here are 12 ways to create a customer experience enhancement that can help you increase their satisfaction, decrease your customer churn rate, and thus increase sales.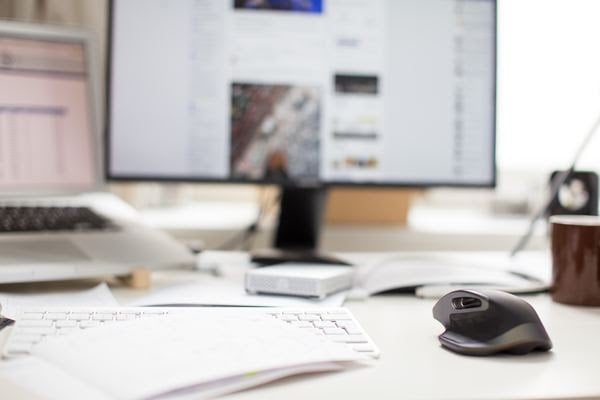 Know your customers well
We have mentioned this many times – if you do not know exactly who your customers are then how will you know what they need and your company can meet your needs.
You must get a great idea of ​​the customer experience enhancement
Before creating a customer experience strategy, we talked about what to do to make the customer experience great. Find out your company's ideal experiences – how you want your customers to feel comfortable interacting with the company. Once you've decided on your version of the best customer experience, focus your efforts on delivering that experience.
Enhance consumer experience using Omnichannel
Instead of taking a multi-channel approach, go to the local channel and allow your customers to interact with you and be served through any channel. It eliminates the non-linking systems and interactions between different departments.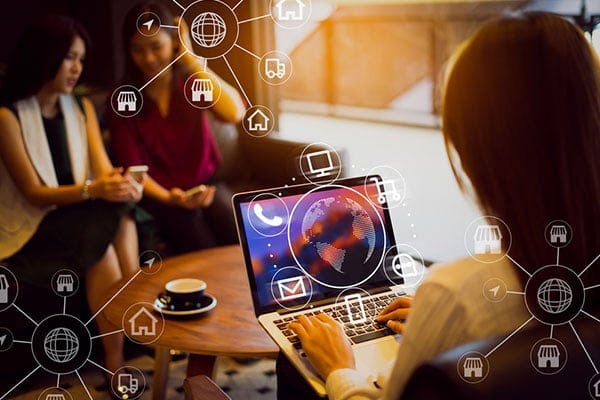 Develop a customer experience management program
Customer Experience Management is the art of managing, tracking, and designing customer interactions at all touchpoints to meet customer expectations and beyond.
We can list a few benefits of customer experience management such as increased customer loyalty and word of mouth marketing. Work to develop active customer management programs in your company to proactively improve the customer experience at every step along the customer journey.
Let customers be proactive with your services
Modern customers don't want you to help them – they want self-service. According to CRM Magazine, 45% of companies providing self-service on the web or mobile report an increase in website traffic and a decrease in phone requests.
Post resources, books, and FAQs on the company's website to help customers find solutions to their problems on their own. When thinking about something, what should you do – wait for an agent's answer, or go to the website/forum yourself to find the answer?
Use innovation in customer experience journeys to increase customer loyalty and company revenue
Look at the customer experience at Apple, Disney, and Tesla – what are they doing differently? They use innovation in their approach to connect with their customers and stand out from other customers. Innovative solutions are not only authentic and effective but also cost-effective.
Improve the efficiency of the Call Center
To really gain a competitive edge in customer experience enhancement, it's important to improve Call Center performance. Segment your customers with data analytics, IVR, and call routing and focus on KPIs and overall business performance metrics. Empower your agents with an omnichannel customer experience platform to give them a holistic view of all customer interactions and facilitate smart customer interactions and improve their productivity agent.
Development of Company Culture focuses on Customers
Don't try to create a single team to manage the customer experience enhancement in your organization. To do this, it is necessary to develop a customer-centric culture in the company.
Leverage analysis of customer experience enhancement
With the advent of artificial intelligence and big data, companies don't really have a hard time setting up some sort of analysis to know whom they contact. Use the power of customer experience analytics to measure customer experience metrics, demographics, and other customers in real-time.
Improve your company's customer experience strategy
We talked about best practices for optimizing your customer experience strategy when we came up with how to build it.
If you already have a CX strategy in place, the best way to continue to improve the customer experience is to optimize that strategy. Be clear about your CX goals and what you plan to do to achieve them. Build customer intimacy by personalizing your offers.
Rewards for loyal customers
Your customers will retain loyalty if you send them your rewards by offering them incentives like guides, e-books, discounts, etc. This will allow you to keep those most loyal clients as well as actively spreading their brand name.
The best way to engage your customers is to use social media channels. If they follow you or join you, it seems like they like what you have to offer or what you choose to stand up for. Use this to build rapport and have interesting conversations with clients.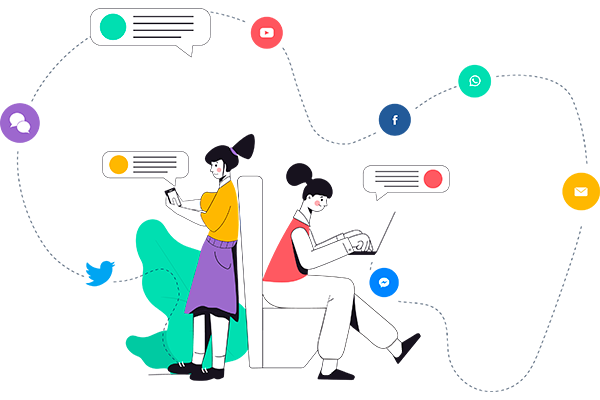 Some brands actually do their best to engage users in a fun way. NASA's Curiosity Rover has its own social media with millions of followers, and regularly shares humorous posts. Wendy's, too, the sharing of strange messages and texts is guaranteed to make guests smile.
Final words
Today, customer expectations are higher and faster than ever before, along with the development of social networks. Customer experience enhancement is a factor that needs constant nurturing and care. When your business has a user-focused strategy, it's easy to see the positive effects of customer loyalty, retention rates, and stunning revenue growth.