While customer research should be a frequently conducted task, many businesses are ignoring it and losing, thus, opportunities to make a profit. In essence, it is part of overall market research, providing more in-depth information about your customers' needs and preferences so that you can choose products and tailor strategies accordingly. So how to research customers accurately and reliably? There will be no better answer than creating a customer experience map. It is a very useful tool that delves into a company's customer experience research from the customer's point of view.
However, many people still confuse between a customer journey map and customer experience map definition, or about how to apply the map to their eCommerce business, etc.
If you're one of them, rest assured that all will be covered in this article. From the question "What is a customer experience map?" to its usage, we will provide you with full instructions in the following sections.
What is a customer experience map and how does it work?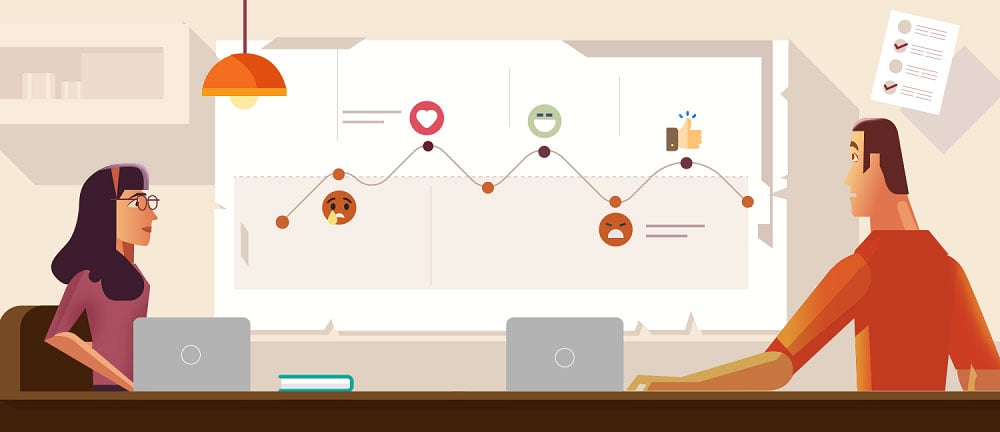 Customer experience map definition
Reading the psychology of others, such as customers, is very difficult, especially for businesses with large numbers of customers corresponding to their business size. To be able to see through such complex things, they need to spend time and effort researching from the A-Z and most importantly, they have to take the stand of their customers. When they do that, it means they're trying to create a customer experience map.
As a general rule, a customer experience map often breaks down your company's relevant activities, lists the touchpoints, the channels to reach the customer, and shows any interactions that take place here.
In a more understandable way, as its name implies, it is exactly a map with countless points, links, customer thoughts, and experiences while moving or stopping on those "streets". And the points and links here are the processes that your company accesses to customers, such as emailing, marketing, consulting, sales, installation instructions, or shipping, etc.
What your customer experience map can show you
A customer experience map is the result of comprehensive observation and access to your customers' moves as they decide to research and buy products from you. It shows the level that your customers respond to those approaches. If the buying process goes well, of course, the customer will appreciate it and vice versa, for example, the transport vehicle has an accident that causes damage to the goods, he will not feel satisfied because he'll have to wait another day to receive the goods.
But it's not that simple…
Please note that the customer experience map does not depend on or get influenced by a particular unit or product/service. It covers the entire buying process from beginning to end and focuses only on the behavior of the person you're targeting for. Therefore, if any of your customers are not satisfied after making a purchase, you will need the customer experience map to objectively understand and evaluate all that could have happened before.
Customer experience map vs Customer journey map
When you search for the keyword "customer experience map" on the Google search toolbar, 80% of the results returned are related to "customer journey map". In essence, these maps match each other at many points regarding their purpose and creation, but they are not exactly the same.
So, what is a customer journey map?
If it and the customer experience map are somewhat similar, then how can we distinguish between them?
And when should you use a customer experience map instead of the other?
Well, we will examine each aspect and see if there is any way to fully explain them in detail, although the difference between these two types of maps is quite clear and easy to understand.
Of course, they do have a few coincidences, of which the easiest to identify is helping you define the overall picture of when a buyer purchases from your company. They are both based on an end-to-end focus on the client's buying journey.
When we talk about how they work, while, as we mentioned above, the customer experience map focuses on analyzing the buyer experience, the customer journey map only provides a horizontal view without going in-depth. In other words, the first one may include information on the other map but it emphasizes emotion and interaction more on the buying journey, while the following map just focuses on the buyer cycle and steps.
Consequently, it can be said that the customer experience map is more optimal when it comes to helping businesses know where the problem or difficulty is happening. On the other hand, it requires more time and effort to analyze everything from the customer's point of view, not yours or your business's.
Why you should use a customer experience map

Here's something we can both agree on:
The better businesses understand their customers and define their needs, the more successful they get in improving sales, right?
This means that using a customer experience map will have some positives in the long term, and they'll lead to the outcome we both foresaw: growth in sales. As you see and improve those elements from the map, the overall performance of your company is enhanced from start to finish.
The question here is, what are those benefits specifically?
Let's see.
Smooth workflow
For companies, keeping departments working effectively together is truly complicated by the differences in roles, duties, or culture, etc. The cooperation to work together seems to be more difficult as their business expands because in this case, there is also a geographical difference. When your customers encounter a problem on their shopping journey, if you cannot see the root of the problem, a conflict of responsibility will be likely to arise among these groups.
Conversely, if your company can apply the customer experience map thoroughly, then everyone will be able to see the overall picture. It will then stimulate conversations to adjust performance and engage departments with each other better in order to improve this experience.
Enhanced marketing
The first step for potential customers to know about your company's products is to perform well on marketing projects. It is also a cross-cutting task at the next steps if you want to turn potential customers into loyal consumers and expand your business. As such, marketing plays a particularly important role in the buying journey of customers.
By using a customer experience map, you will understand how people are listening to and interacting with the marketing documents that your company provides. At that time, you will evaluate whether the message has been delivered precisely, or any useless projects are wasting the company's advertising spending, etc.
Better sales training
In the buying process, sales interaction points cannot be lacking. If you can recognize the good sales content and resources, your sales team will have a powerful tool to build trust with customers and increase the number of contracts closed.
Besides, you will be able to identify the difficulties that customers are facing in the company's sales channels. For example, your customers do not know how to pay on the website because it is too complicated, leading to the company's loss of revenue. This is a really useful point of a customer experience map for you to improve and further enhance customer service.
Improved customer retention
After the customer has paid for the items, the buyer cycle is still not finished. The following stage is called after-sales service support. Understanding this stage will result in superior customer satisfaction, improved customer retention, and then brand loyalty. It can even lead to word-of-mouth marketing.
3 Easy steps to design an effective customer experience map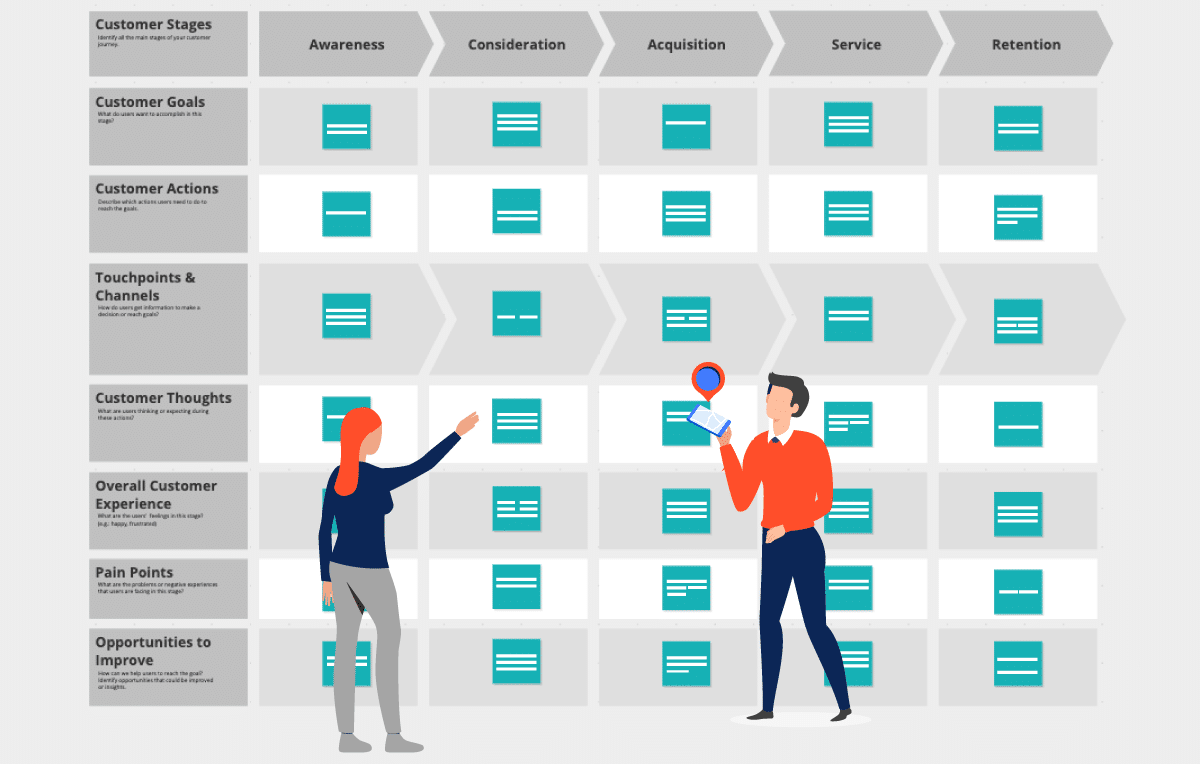 Step 1: Visualize the data
You might be wondering:
"Which data should I need to design a customer experience map?"
Let's see what you've got.
Product information? Check.
Customer shopping history? Check.
Personal information? Check.
Customer chat and review? Check.
Payment gateways? Check.
…
But stay with me. You have too much data, and creating the map with the information listed in no direction will take you a long time while some of the information can be missed.
Our advice is to put the data in a visual form which can be timelines or wheels according to the progression your customers make.
This approach varies from business to business, but a spreadsheet will usually include Touchpoints, Customer Thinking and Feeling arranged in stages of the buyer cycle, and Recommendations for Customer Experience Improvement. In which, these phases usually start from Awareness, move to Consideration, Acquisition, followed by Service, and end at Retention. This process is customizable depending on your company's business type.
Pro tips: To avoid complicating your customer experience map, use symbols (icons, arrows, etc.) to illustrate the information.
Step 2: Assess the data
There are many ways to mine the data above from your customers and employees. Among them, the most popular are surveys, interviews, web analytics, and social media (messages, comments, and reviews), etc. From these methods, you will learn the purpose and effectiveness of each touchpoint. From there, it'll accurately represent the thoughts and experiences of customers on the journey.
Step 3: Use the data
From the data collected and analyzed, the customer experience map will provide an overview that can be easily read by any department. Alternatively, use the map as a catalyst for your company to consider what touchpoints or channels should be scaling up and improving.
In addition, there are several tools available that make it easier for you to map customer experience like Smaply, UXpressia, CFN Insight, Experience Fellow, or MindMeister, etc.
eCommerce customer experience map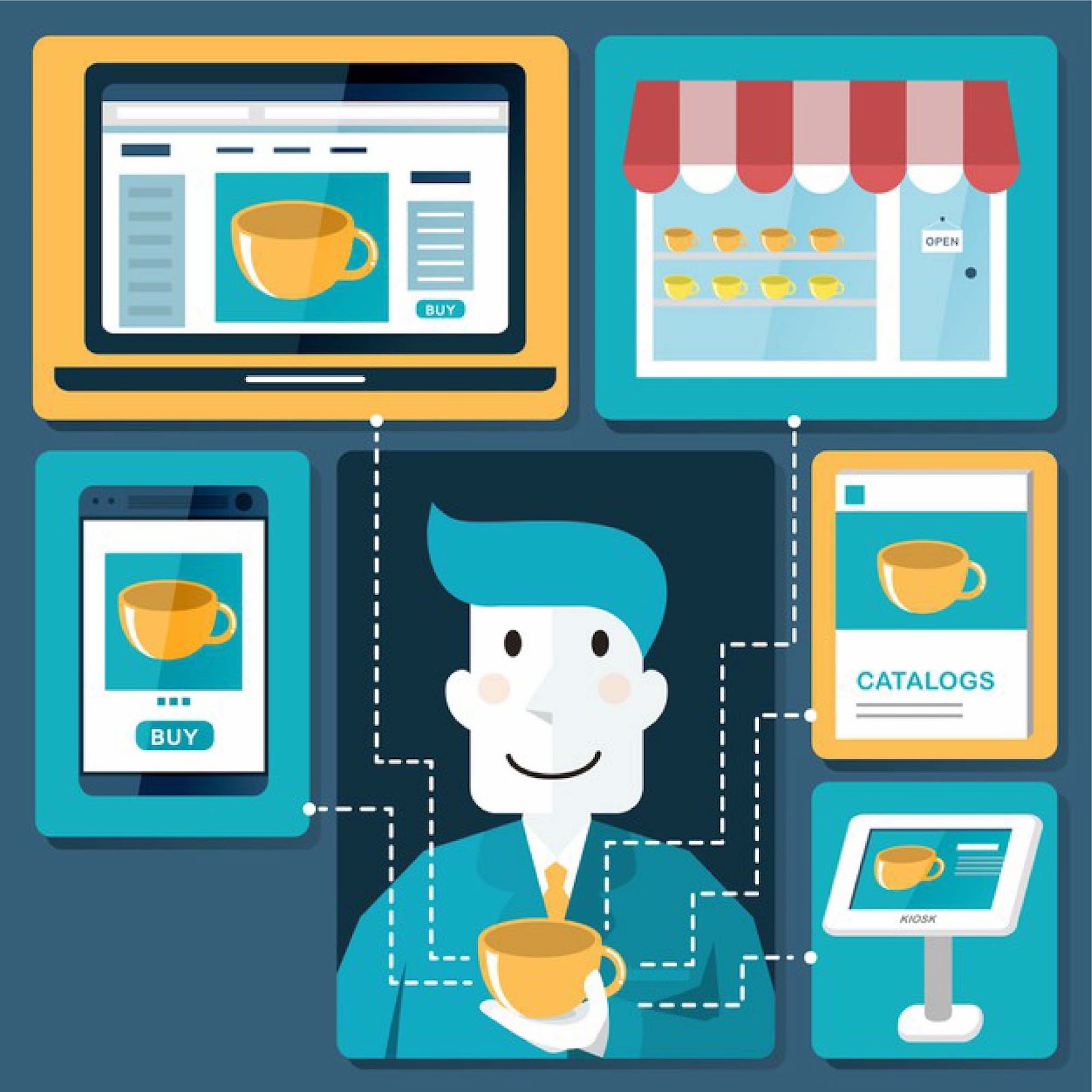 eCommerce is an opportunity for sellers to open an online store at a low cost and reach a larger number of audience compared to the traditional business. Remarkably, consumers are also arguably the ones who benefit the most when eCommerce businesses try to compete on price to attract customers.
Price competition can help vendors achieve certain success but it, unfortunately, can make them focus on selling the product and forget the customer experience. This will lead to long-term business failure. Accordingly, even though you do online business, you'd better know the eCommerce customer experience map in order to reduce marketing costs and improve sales.
Except for click-and-mortar businesses that use the eCommerce and retail customer experience map combination, most online stores' customer interactions take place on the internet. It means that the investment in a popular eCommerce platform like Magento is extremely essential. These providers will help you to attract traffic as well as optimize your website in terms of structure and content. Even more, it allows buyers to interact with sellers and leave reviews on their eCommerce stores.
Our one more tip is that you should also personalize the user experience based on customer data collection. In this way, they will feel cared for, happy, and want to interact more with your website.
Finally, we would like you to keep in mind about product shipping and delivery because it is quite complicated as the customer experience also relies on third parties – shipping providers.
Since the customer has ordered (and possibly paid for) the items, if there is any problem during the shipping, you will lose customer trust even though it is an issue you cannot completely control. Thus, try to deliver the goods as accurately and quickly as possible. And if there is any difficulty, notify your customer promptly.
Final thoughts
Overall, a customer experience map covers many processes, from marketing to branding and sales, so we can affirm that it will bring a lot of benefits to the overall health of your company.
Just remember you have to build and implement it based on customer research, that is, stand in their position to evaluate your performance. Otherwise, it turns out to be useless becoming process flows driven by the internal.
Hope the information that Magenest provides will be helpful to the growth of your business, though feel free to reach out to us with any further questions. Also, don't hesitate to like and share the guide with others. Thank you.