CRM automation is the use of technology to simplify and accelerate sales and customer management processes. It can help your team manage customer interactions more effectively, track leads, and improve sales productivity. There are many CRM automation solutions available, so it's important to choose one that fits your needs. This article will discuss the key functions of CRM automation and some of the best solutions available.
What is CRM Automation?
Let's dig deeper into the definition of CRM automation and how it works.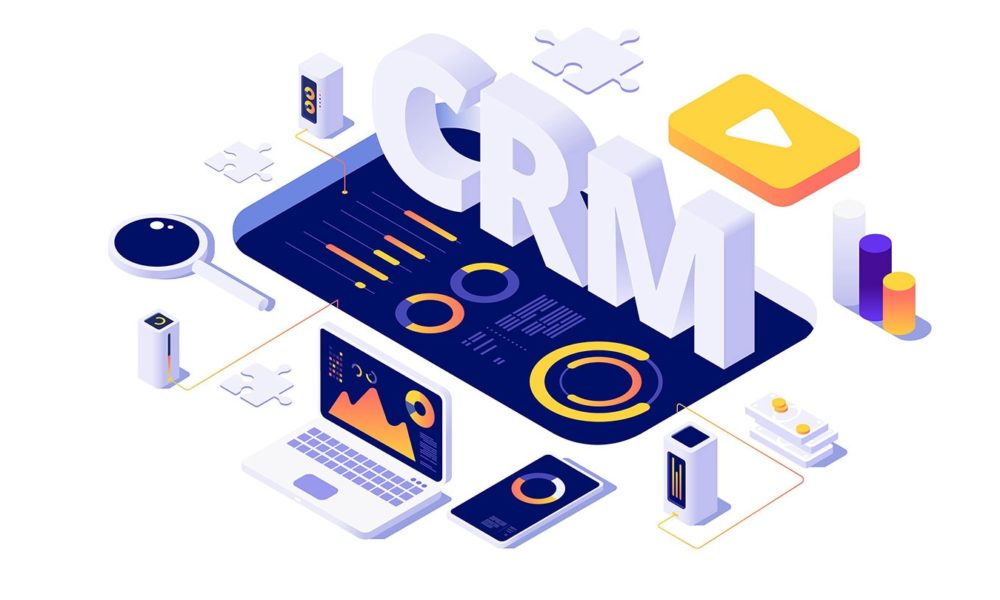 Definition of CRM Automation
CRM automation is the capacity of a CRM system to automate monotonous, manual procedures to optimize operations and boost productivity. A CRM can be automated to perform a variety of marketing, sales, and service-related tasks.
CRM technologies aim to make it simpler to handle all of the external relationships and interactions crucial for corporate success. Automation can free up time to concentrate on more strategic, important activities. Companies have been able to automate CRM to accomplish these objectives, largely thanks to the tremendous improvements in AI capability over the past few years.
Marketing Automation vs. CRM
Marketing departments employ automation in CRM 76% more frequently than sales departments and 139% more frequently than finance departments. Marketing automation must be mentioned in any discussion of automated CRM. Although it is occasionally mistaken for CRM, they are not the same.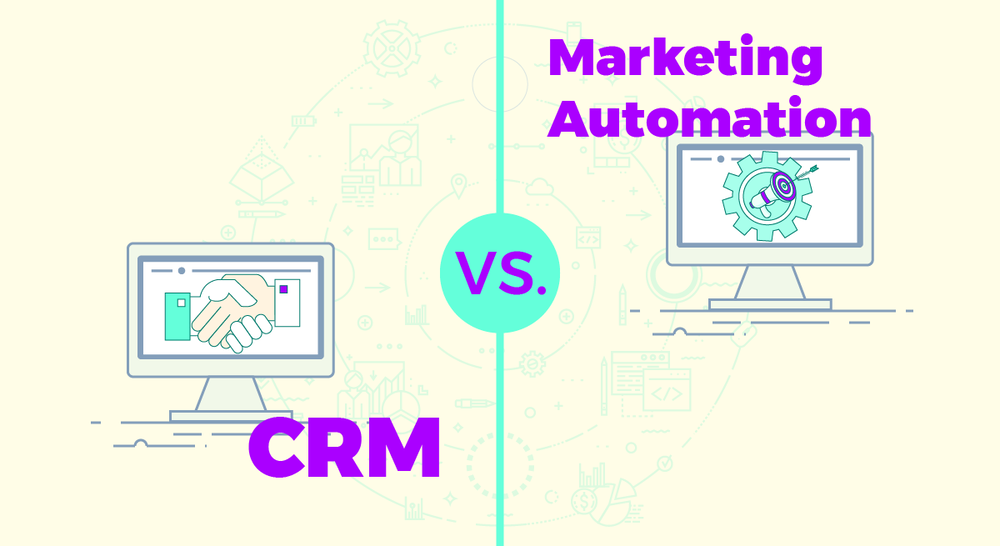 The top and middle of the funnel are served by marketing automation. It also focuses on automating repetitive duties that the marketing department encounters at various points throughout the client lifecycle. This includes everything from the moment they enter the system until they become a customer and beyond.
Meanwhile, CRM is mostly concerned with the bottom phases of the funnel. However, it usually entails a far larger approach that takes into account the full life cycle of your customer connection.
Key functions of CRM automation tools
Although CRM automation programs execute a wide range of tasks, we have highlighted the top 5 crucial functions you should check for before purchasing a CRM tool.
Contact management
Contact management is a basic feature provided by most CRM automation software to assist in the administration of contact data for prospects and customers, including fields such as name, email, contact details, social profiles, and company information.
The contact management function should be available on a clean and well-organized user interface that allows quick responses to search queries and easy access to client data.
Lead management
Salespeople can monitor lead activities with the aid of the lead management feature in CRM automation. This comprises lead identification, lead scoring, lead pipeline management, lead workflow management, and lead tracking. For salespeople to interact with leads and prospects successfully, this feature keeps them informed on the most recent data.
Documentation management
A ton of documentation is involved in the sales process, including RFPs, quotes, invoices, transactional documents, sales templates, and contracts. These documents should be kept in a location where sales representatives may easily gather, upload, and share them. Consequently, CRM automation includes documentation management as a core feature.
Integration
CRM automation must make it easier to integrate with other apps and tools like email systems, calendars, project management tools, and so on. Email integration allows salespeople to keep track of their conversations and properly segment their contact lists.
Calendar integrations can help you schedule calls, meetings, and reminders with prospects and customers. It also allows for company-wide collaboration for the sales staff and ensures that all interaction history with a specific customer is available in a single location, eliminating reliance on a single individual.
Reports and analytics
One of the key features of CRM automation is reports and analytics, which promotes data-driven decision-making and aids in streamlining sales operations. Reports and analytics are crucial to automating your CRM, from sales performance analysis to sales forecasting.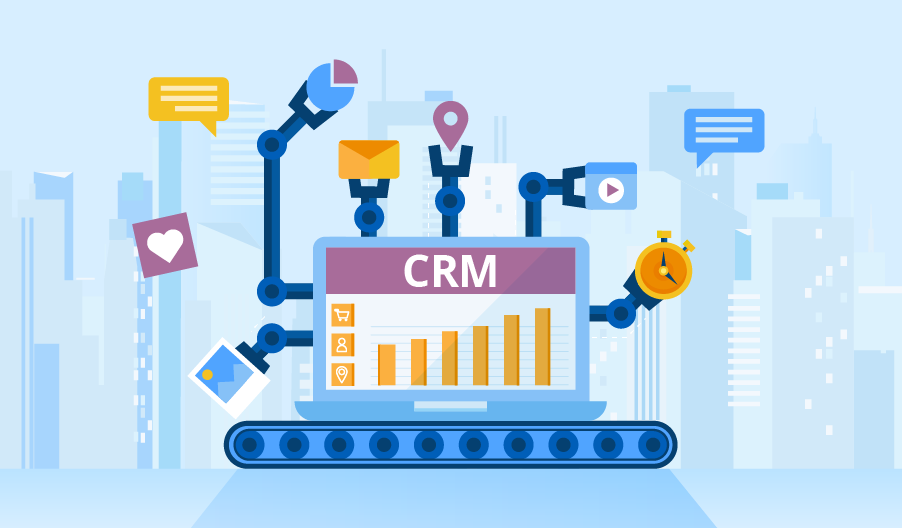 Types of CRM Automation Tools
Tools for CRM automation come in a variety of forms. In this article, we divide the different CRM tool categories based on two characteristics: the installation type and functionality.
Types of CRM automation tools based on installation
On-premise CRM automation software: As the name implies, on-premise CRM automation tools are not online and may only be accessible from specific networks and authorized devices. They are chosen by businesses that handle sensitive data and are well-liked in sectors including banking and finance, defense, healthcare, municipal, state, and federal government organizations, among others.
Cloud-based CRM automation software: CRM automation systems that run in the cloud or on the web are frequently offered as SaaS applications. Cloud CRMs are the go-to CRM automation software for small businesses as well as major corporations due to factors like no installation or maintenance fees, real-time data access from any device and location, adjustable space-to-pricing options, etc.
CRM automation tools based on functionality
Operational CRM automation software: With capabilities like lead management, email sending and automation, lead scoring, and marketing automation, these tools offer automation features for sales and marketing tasks and make it easier to follow client activity.
Analytical CRM automation software: Analytical automation platforms are strong engines that collect and process massive amounts of data, delivering precise reports and analyses to sales teams so they can make data-driven decisions.
Collaborative CRM automation software: Collaborative CRM automation tools are perfect for businesses dealing with enormous volumes of data analytics, forecasting, and team collaboration because they are primarily focused on Customer Experience (CX).
Main CRM automation benefits
We've discussed how CRM automation helps your sales and marketing teams be more effective. But in a less broad sense, what does that mean? Here are just a few of the numerous ways automating your CRM might benefit your company: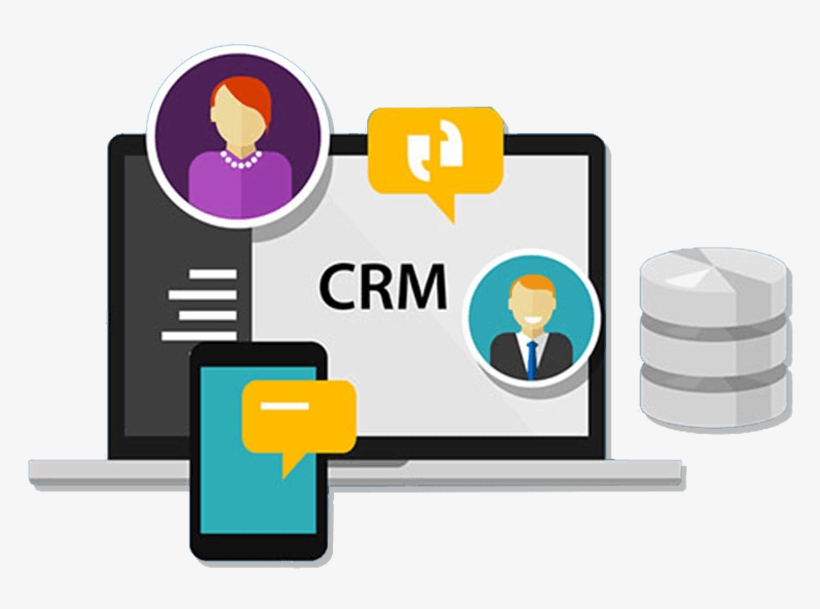 Increase Productivity
Duplicate, boring chores can be reduced to a single click by investing time in creating processes and triggers. This then enables marketers, sales representatives, and customer service representatives to focus on tasks that are more important than paperwork, such as lead development, lead nurturing, and phone calls directed at leads.
Improve Pipeline Performance
Automating your customer relationship management can help teams produce more MQLs and SQLs with higher qualification rates because they can follow up more quickly.
Shorter, Better Sales Cycle
Your teams may gain greater value from CRM data using automation. It can manage customer research, quote generation, and even legal paperwork, shortening the sales process. Lead scoring is improved because all of the potential customer's info is at their fingertips. As a result, it is easier to connect high-performing sales representatives with high-value leads.
Better Data, Bigger Picture
When you can bring in multi-source marketing data and have it at your fingertips, your marketing initiatives will be more accurate. The big data picture of metrics used to target your marketing efforts is far more complete, delivering significant insight for difficult decisions.
Higher Customer Engagement
More accurate data translates into more specialized sales encounters. You can match strong account managers with prize acquisitions for better customer retention, just like you can match sales with leads.
Improve Customer Satisfaction
Incorporating chatbots into the customer care process is one feature of many CRM automation platforms. These helpful software bots can assist in quickly identifying customer concerns and resolving them with the proper action, whether that means initiating a phone call request from a CSR or responding to a query.
CRMs can be used for almost any situation, industry, or business size
The cloud, artificial intelligence, and robotic process automation have enabled CRMs to be customized to practically any circumstance, industry, or business size.
Healthcare
Automated CRM is being used in the healthcare business to coordinate appointments, issue patient reminders, and handle insurance pre-authorizations. Some hospitals are even utilizing artificial intelligence-powered automated solutions to identify prevalent health conditions based on blood work findings.
Simply reducing the amount of time spent digitizing patient information and insurance documentation can save money in man hours. Automation technologies, on the other hand, are being employed to transform patient care.
Fitness
Following the epidemic, a variety of online and virtual training activities have been incorporated into mainstream fitness. Personal fitness apps are now pre-installed on phones, and people can purchase automation-powered fitness mirrors.
Because fitness companies are typically short on staff, automated CRM software is a godsend. For example, it enables businesses to enhance client retention efforts by relieving personnel of backend administrative work. One-on-one care is a significant influence on membership cancellation.
eCommerce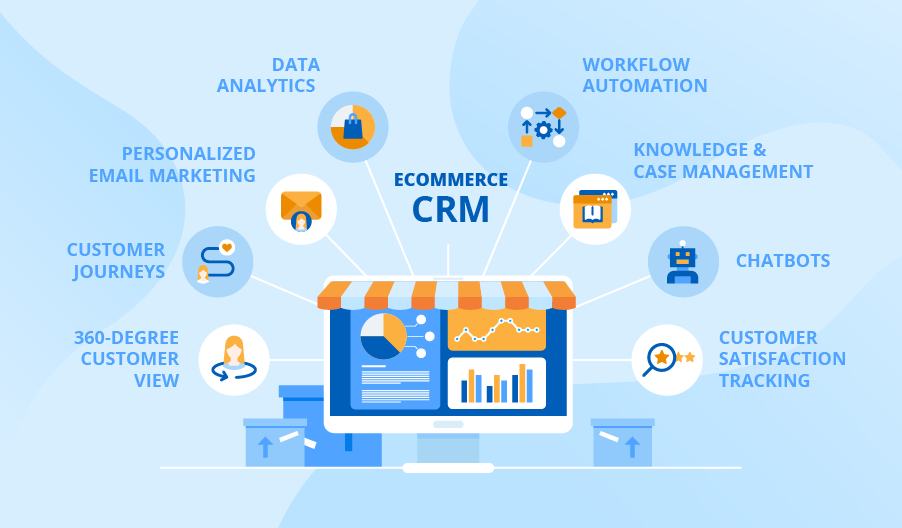 One business owner might manage a sizable eCommerce site with only a little running expenses because of the abundance of automation and third-party connection possibilities. A single CRM automation platform can gather data from several touch points and use that data to run sophisticated customer segmentation models. It can manage customer re-engagement activities, help nurture leads, and update contact information for both old and new customers.
Legal
Because attorneys are paid by the hour, time spent on administrative tasks can be costly. Automation can assist cut down on time by handling hour monitoring and appointment scheduling, among other administrative activities.
Many attorneys have been able to reclaim their time because of chatbots and CRM automation. They enable organizations to focus on more profitable work by assisting them in prioritizing new client leads and providing a responsive customer experience to existing clients. Automated CRM solutions also enable law firms to respond to sales leads more quickly, increasing the likelihood of qualifying such prospects.
Retails
CRMs are used by brands to capture real-time customer interactions. They collect data from all channels and use it to create tailored advertising. This is where CRM automation can help.
CRM automation aids large corporations with various products by facilitating customer data integration, segmentation, and marketing response. Among other advantages, automation decreases the possibility of errors, such as merging client data from two similar but distinct customers by comparing several data points. And all of the operations are done in a fraction of the time that manual processing of this type of data would take.
Sales
Sales teams have discovered that incorporating automation into CRM software allows them to better manage the sales cycle in all aspects. The primary goal of sales is to turn leads into new clients, and CRM automation makes this task considerably easier.
Automation enables sales to track every client interaction as they progress down the pipeline: every call, email, download, and so on. As a result, team members can ensure that leads aren't flooded with emails, phone calls, texts, and so on; rather, leads receive just the correct amount of interaction to help them convert.
Best CRM Automation Systems
Based on our research, the following systems have been identified as the best CRM automation software on the market.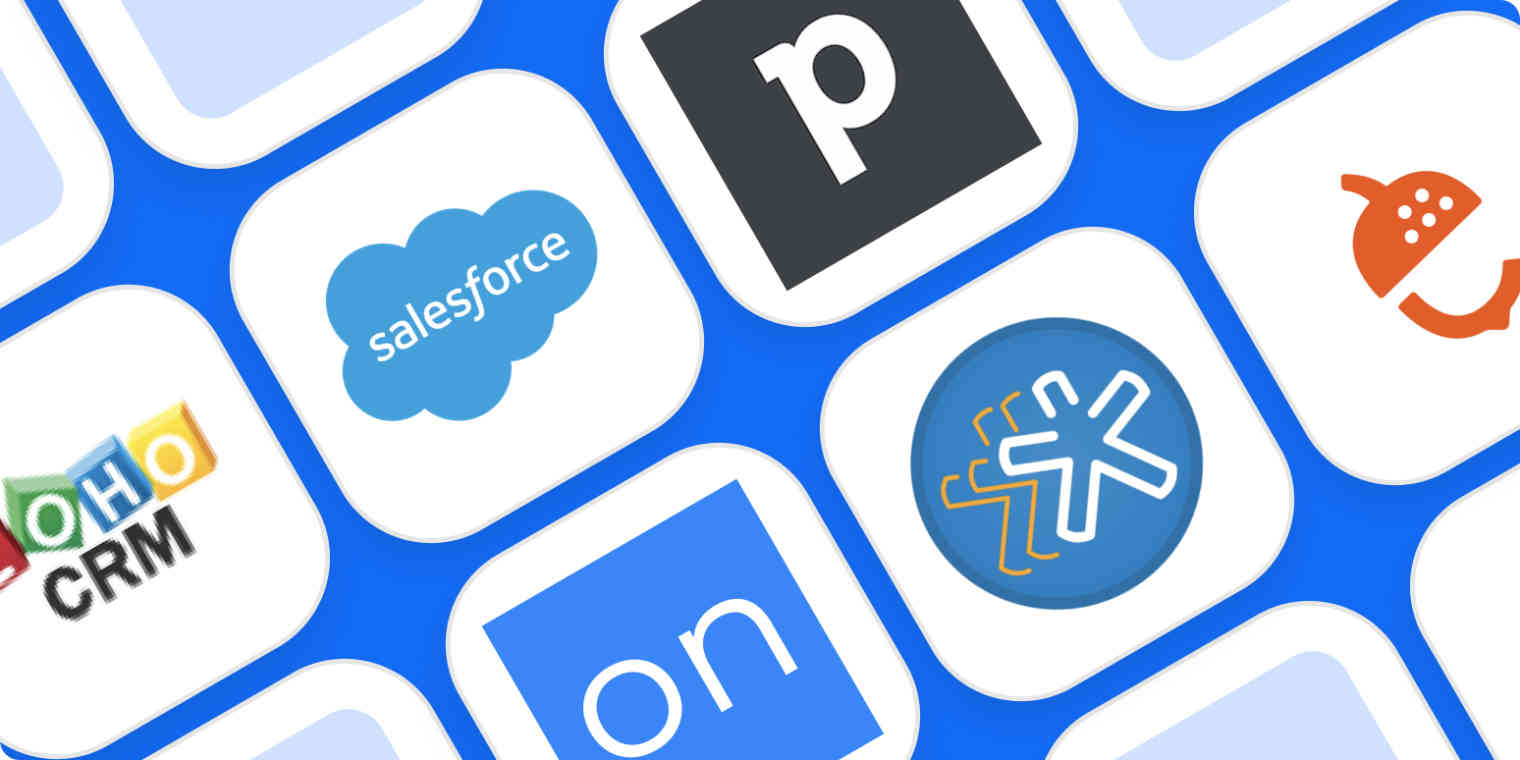 HubSpot Sales Hub
By automating sales processes, HubSpot Sales Hub is a cloud-based tool that helps businesses save time. Through features like sales automation, management playbooks, automatic reminders, dynamic dashboards, and document tracking, it enables lead nurturing, higher conversion rates, and effective pipeline management.
It doesn't require any technical knowledge due to its code-free interface. Through the app store, you can expand your capabilities and establish connections with external systems.
Creatio
Creatio is a low-code solution that assists businesses in digitizing operations and optimizing customer and employee experiences. To create complicated integrations and custom apps, you can use ready-to-use templates and connectors. Email marketing, pipelines, dashboards, project management, SLAs, and other features are also available.
Salesforce Sales Cloud
Salesforce Sales Cloud is a cloud-based, customizable solution that helps B2B and B2C enterprises streamline sales and customer service activities.
With capabilities such as sales forecasting, real-time tracking and intelligence, automated workflows, and collaboration tools, it aids in customer retention, process optimization, and improved communication. It includes a native mobile app for iOS and Android smartphones.
Freshsales
A cloud-based technology called Freshsales helps companies to customize interactions and accelerate sales cycles. Its main features include dynamic forecasting, activity timelines, chatbots driven by AI, and predictive lead scoring.
The "growth" package offers robust CRM automation that lessens the need for manual labor for routine tasks. The "enterprise" plan gives you access to sophisticated modifications, governance, and controls.
Zendesk Sell
Zendesk Sell is a sales-focused CRM tool that aids organizations in maximizing productivity, improving pipeline visibility, and providing better customer experiences. It provides email intelligence, activity reporting, phone analytics, and reporting features, making it appropriate for both B2B and B2C businesses. Web, Android, and iOS users can access the platform.
To conclude
If you're looking for a comprehensive CRM automation solution that can take your sales and marketing to the next level, we've got just what you need. Our team of experts is standing by to answer any questions you may have about our solutions and how they can benefit your business. Contact us today to learn more about how CRM automation can help streamline your sales process and improve your bottom line.