There are a lot of choices to make when it comes to picking the best Magento development company for your needs. With so many different companies out there, it can be hard to know who to trust. But don't worry, we're here to help.
We've compiled a list of the best Magento development company in USA, based on our own independent research and customer reviews. So whether you're looking for a company that can help you with Magento 1 or Magento 2 development, or you just need someone to take care of your eCommerce hosting and maintenance, we've got you covered. Check out our list and find the perfect company for your next project.
Top 13 Best Magento Development Company in USA
Rave Digital
Rave Digital is a top-rated Magento Certified, Professional Solutions Partner focused on Open Source eCommerce platforms. They provide end-to-end cutting-edge solutions for both B2B & B2C companies, government, and non-profit sectors. With 50+ certified developers, they have helped 600+ business owners to increase online revenue for their stores. Rave Digital has actively pursued projects with a high level of technical content, cost-effectiveness, timeliness, and application value since its inception.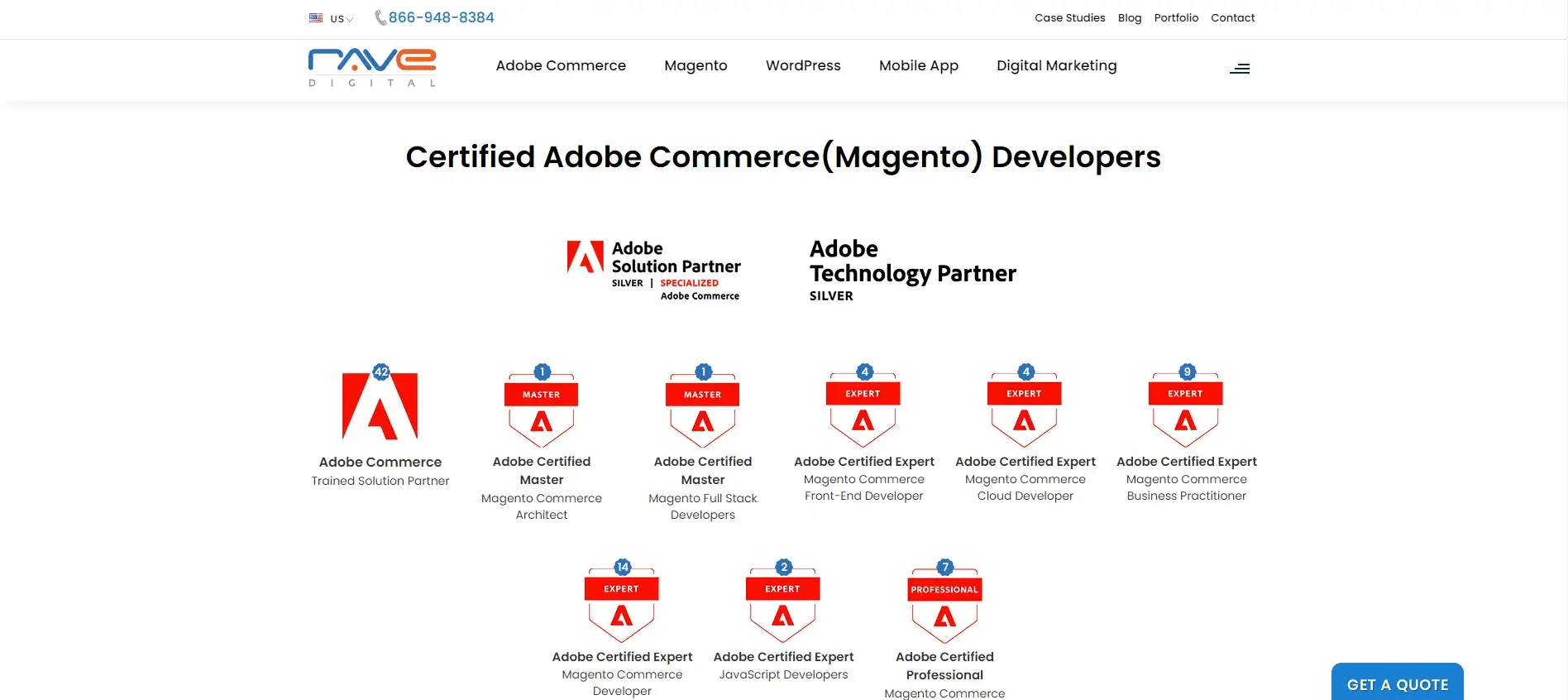 Rave Digital provides services across various platforms, each including strategy, maintenance, support, and extensions.
Adobe Commerce Development
Magento Development
WordPress
Mobile App
Digital Marketing
Magenest
Founded in 2015 as a Magento Extension Provider, Magenest quickly grows into Magento eCommerce development services after the announcement of the Magento 2 platform. With 150+ certified Magento developers, 100+ successful projects, 2000+ satisfied customers, 100+ extensions, and 130+ countries and territories, Magenest is now one of the most trustworthy Magento Business Solution Partners in the APAC region.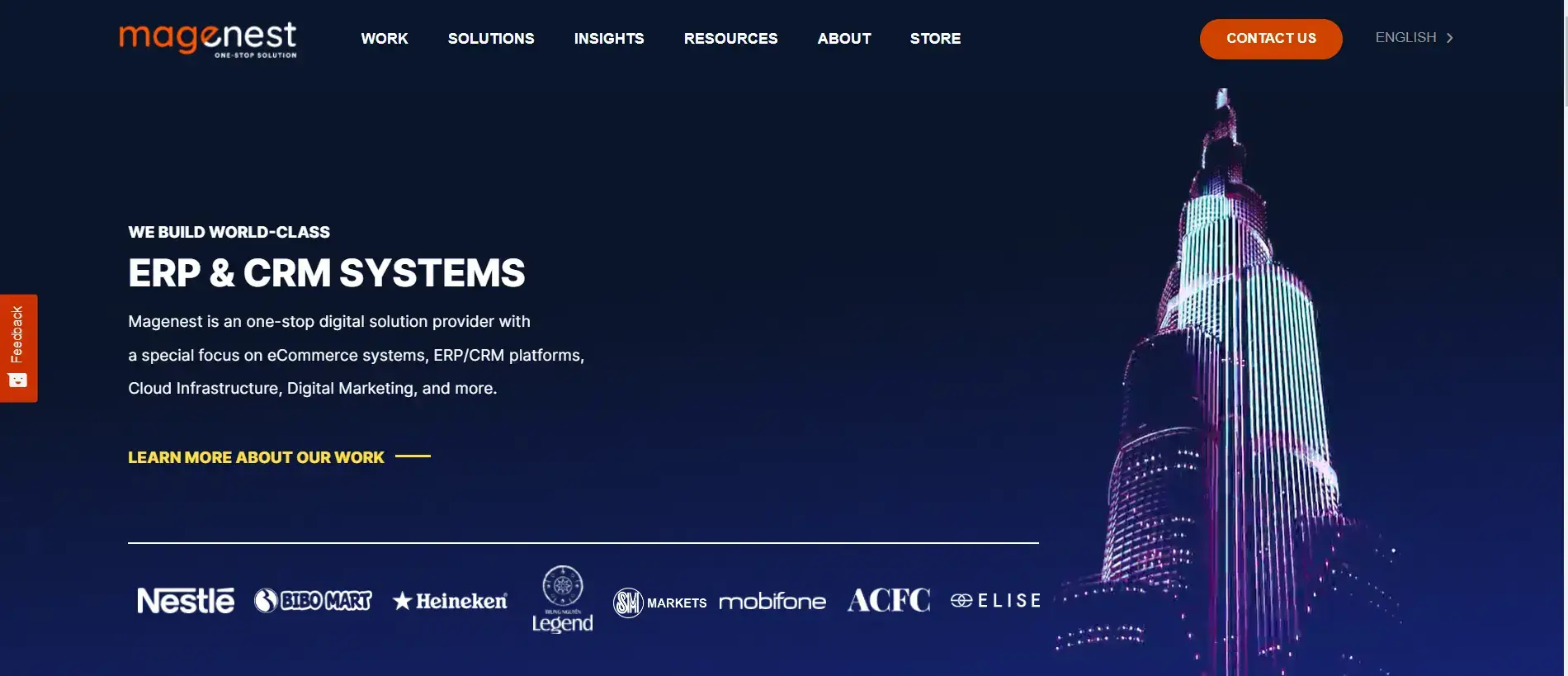 Not only providing eCommerce solutions, but Magenest has also evolved into a top-tier end-to-end digital solution provider for customers, irrespective of their industry. Magenest has been delivering its own one-stop solution package to numerous clients in the US, including but not limited to services like eCommerce systems, ERP, CRM platforms, Cloud Infrastructure, Digital Marketing, and more. With expertise and years of experience working with numerous customers and various programming logic, business workflows, and management styles, Magenest is dedicated to helping businesses succeed in the digital age and strives to deliver high-quality solutions that meet their unique needs. Check out our Magento 2 services for more information.
Netsmartz
Netsmartz is a Magento development company in USA. With a development team from a pre-vetted pool of the top 3% of developers working from 10+ global locations, Netsmartz is trusted by 500+ clients, mid-sized enterprises, and startups for their digital transformation. They offer agile teams to cover the entire spectrum of software requirements and development services that are scalable for both early-stage startups and multinational corporations.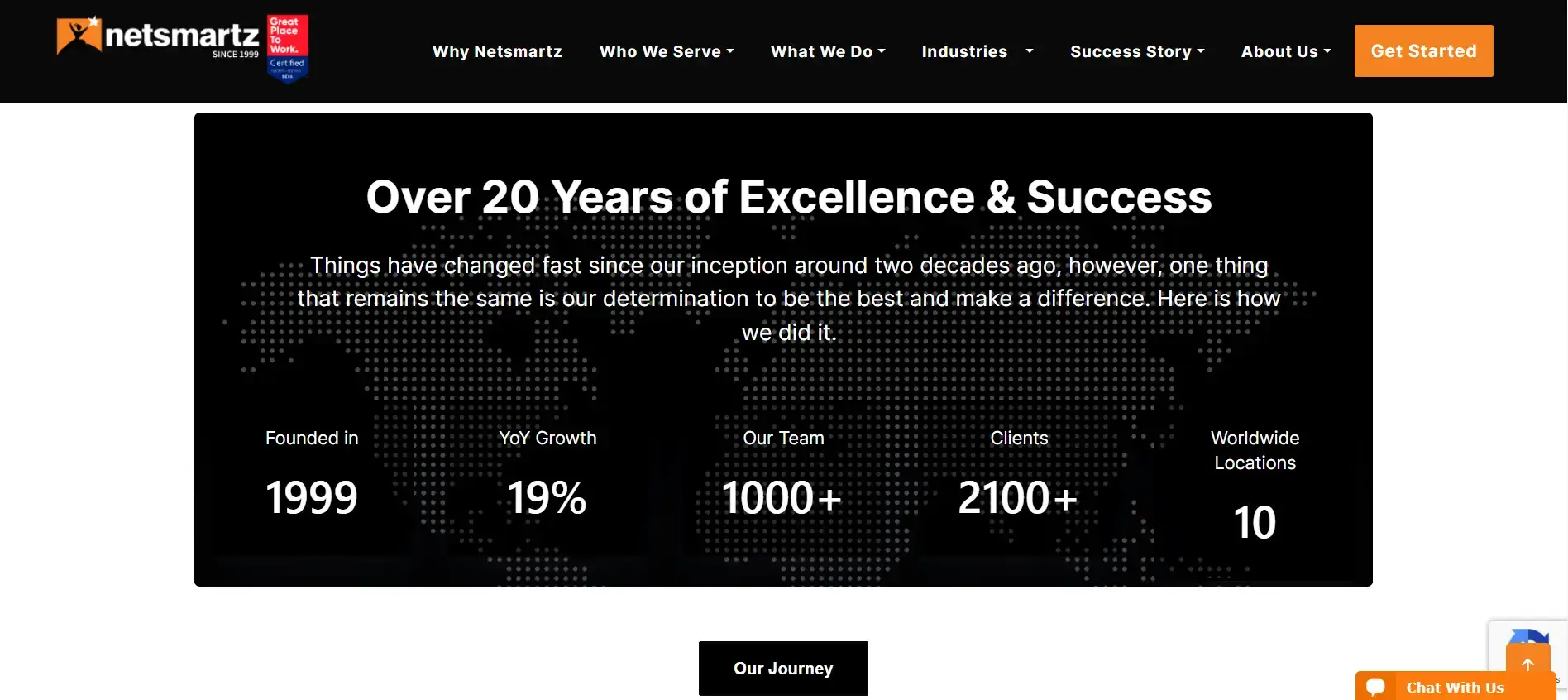 Netsmartz's team with a pool of 1000+ vetted and certified developers that have worked on projects across 40+ skill stacks like Node.js, Python, Testing/QA, Ruby, React, Java, and more. Additionally, Thus, there's no limit when choosing what type of project will be satisfying. Whether you're interested in creating an app or building more complex systems, Netsmartz has the talent that can help your business meet the challenge.
Mageplaza
Mageplaza has empowered 117k+ global clients since its launch in 2014. Some prominent brands that are customers of Mageplaze can name Acer, Asus, Canon, IBM, etc. This is hard evidence that Mageplaza is receiving complete trust from clients worldwide.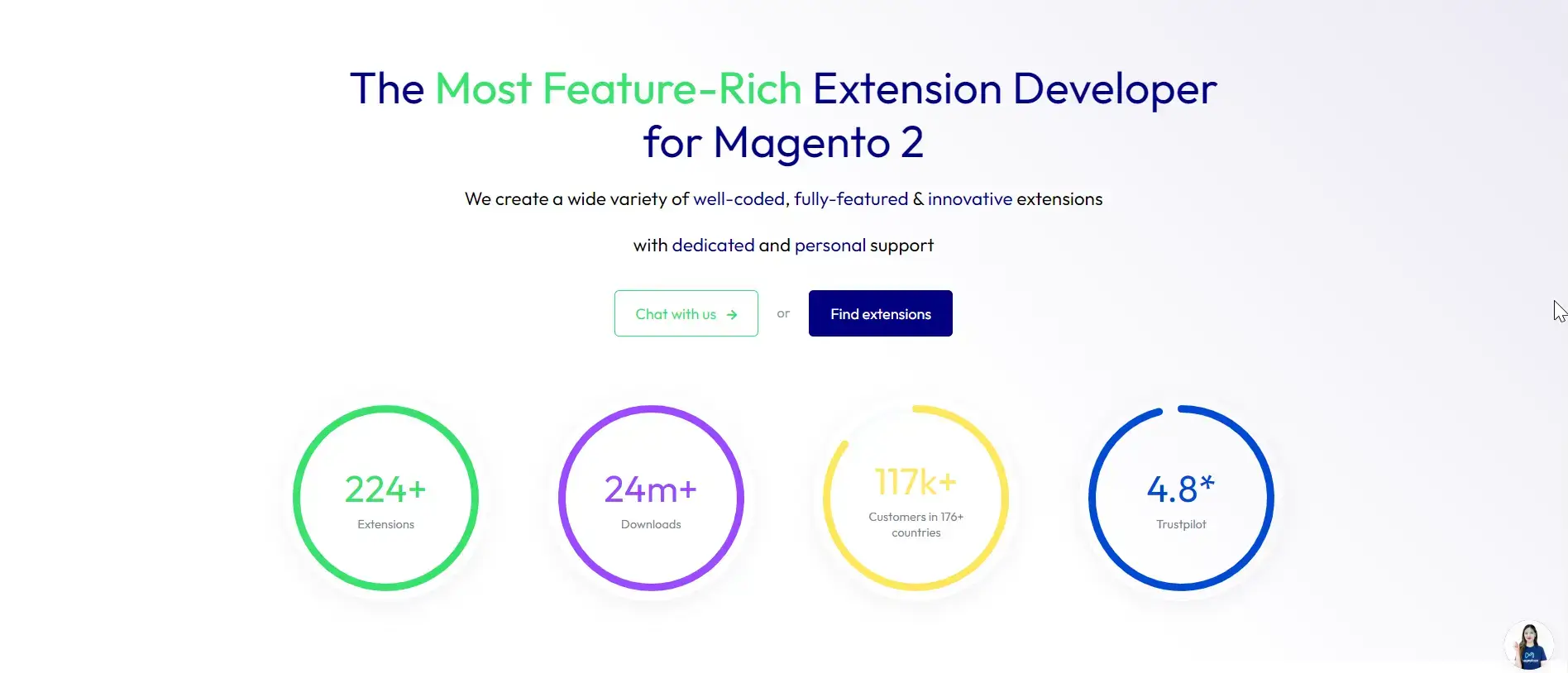 When it comes to providing the most feature-rich extension for Magento 2, Mageplaza can come as the top agency. They offer a wide variety of well-coded, fully-featured, and innovative extensions with dedicated and personal support for businesses. There are 224+ extensions available, all of which are fully compatible with the most recent versions of Magento and with one another.
In addition to providing a large selection of Magento 2 extensions packed with features, Mageplaza is dedicated to supplying numerous Magento development services. They offer a trained and committed staff, including Magento developers, UX/UI designers, marketing experts, and customer service agents.
Brainvire
Brainvire is now well-known as a top Magento development company in USA. With 20+ years in operation, Brainvire owns 20+ offices worldwide, accomplished 2000+ projects with 1500+ staff, and receives 95% customer retention. The company works with the purpose to create applications and plan digital transformation journeys for enterprises on the global front. They provide various services such as product ideation and development, digital transformation, cloud transformation, and eCommerce along with other cutting-edge solutions to their clients in the field of information technology consulting firms.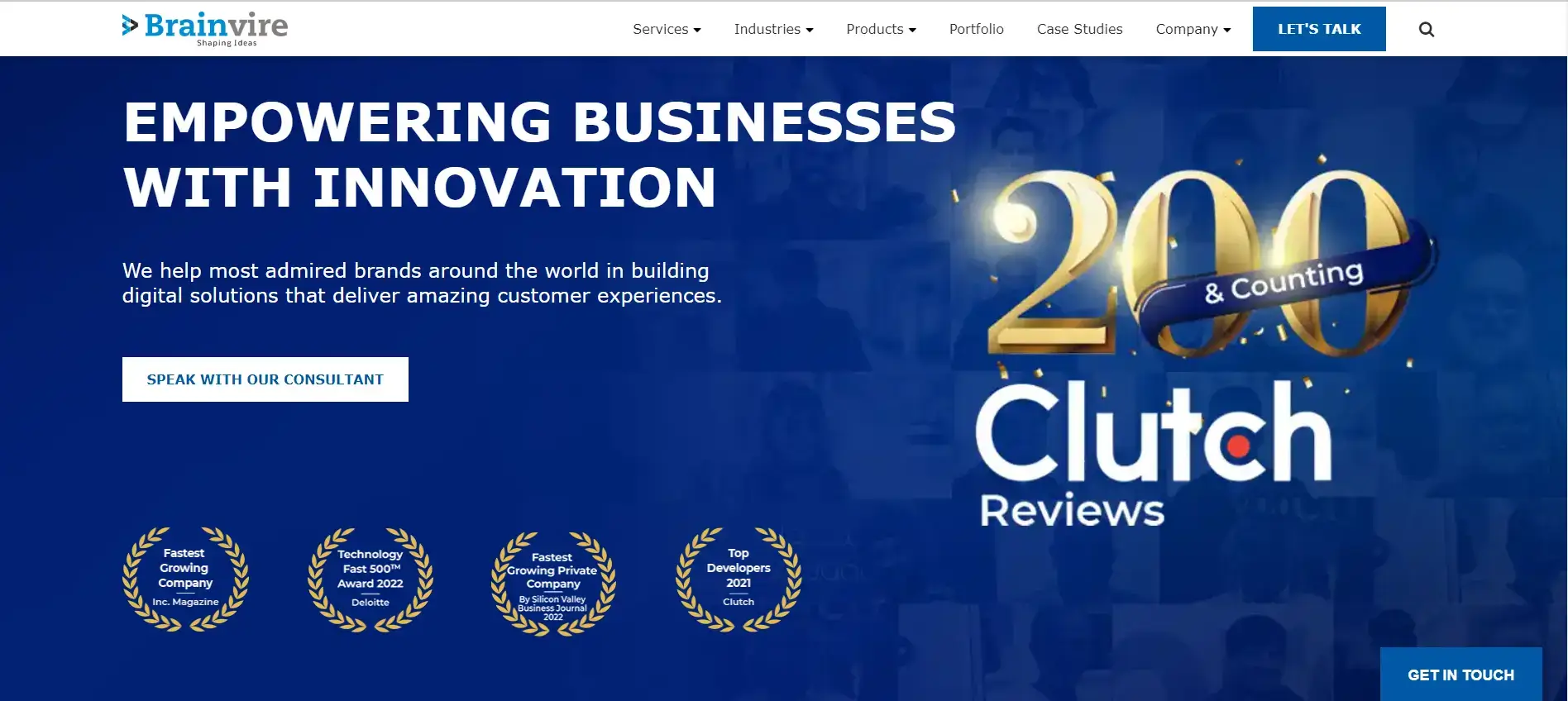 Aiming to be recognized as a Ditital Enabler, Brainvire has been selected by proven brands as their trustworthy tech partner, including Magento. Being Adobe Solution Partner Gold, Brainvire offers a wide range of services, including
eCommerce Website Development Services with quick accelerator for both B2B and B2C businesses.
eCommerce Web and App Development, combined with modern technologies such as quick deployment, mobile-friendly, superior UI/UX.
Customized eCommerce Web and App solutions
Expert eCommerce Web Developers with value-added features: chatbots, AR/VR, POS, ERP/CRM Integration.
Ciklum
Ciklum is a software engineering and solutions firm with its headquarters in Kyiv, Ukraine. The company also has offices in the United States, as well as other countries. Ciklum is an organization that not only concentrates on software engineering but also offers eCommerce and mobile app development, application testing, IT strategy consulting, and staff augmentation.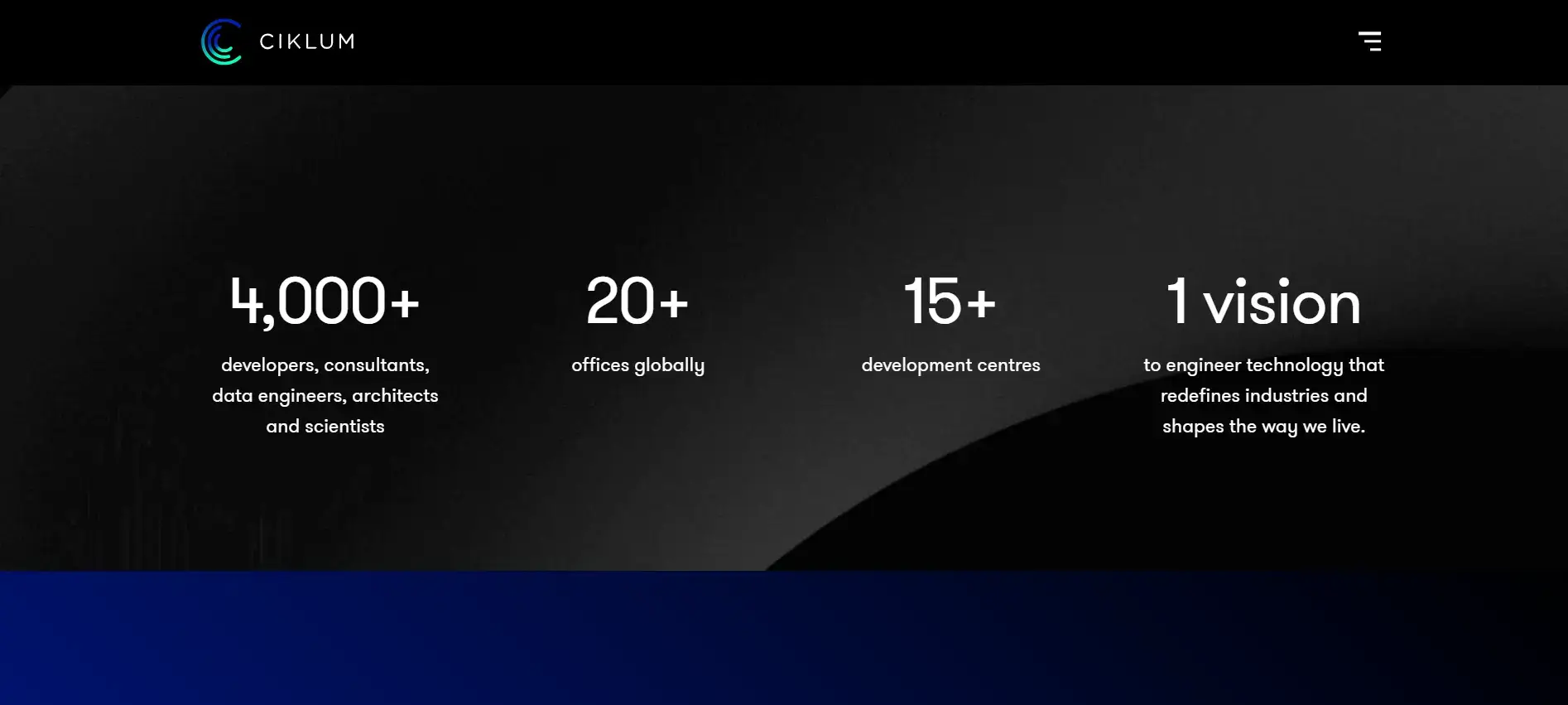 With 4000+ developers, consultants, data engineers, architects, and scientists, 15+ development centers, and 20+ offices globally, Ciklum is ready to solve any complex businesses challenge. This can be achieved through their three main services, including Product Engineering, Intelligent Automation, and Data & Analytics. Their customers vary from major multinational corporations to rapidly expanding startups that are striving toward an initial public offering (IPO). With Ciklum, your businesses can thrive in a world where digital, omni-commerce, and personalization determine market leaders.
​​Absolute Web
Based in Miami, ​​Absolute Web is a Magento development company in USA that specializes in custom web development of eCommerce solutions on Magento, Shopify, and BigCommerce platforms. Their goal is to build brands, businesses, and cutting-edge solutions through branding services, engaging UI/UX design, custom development, innovative and functional integrations, digital marketing plans, and professional content production.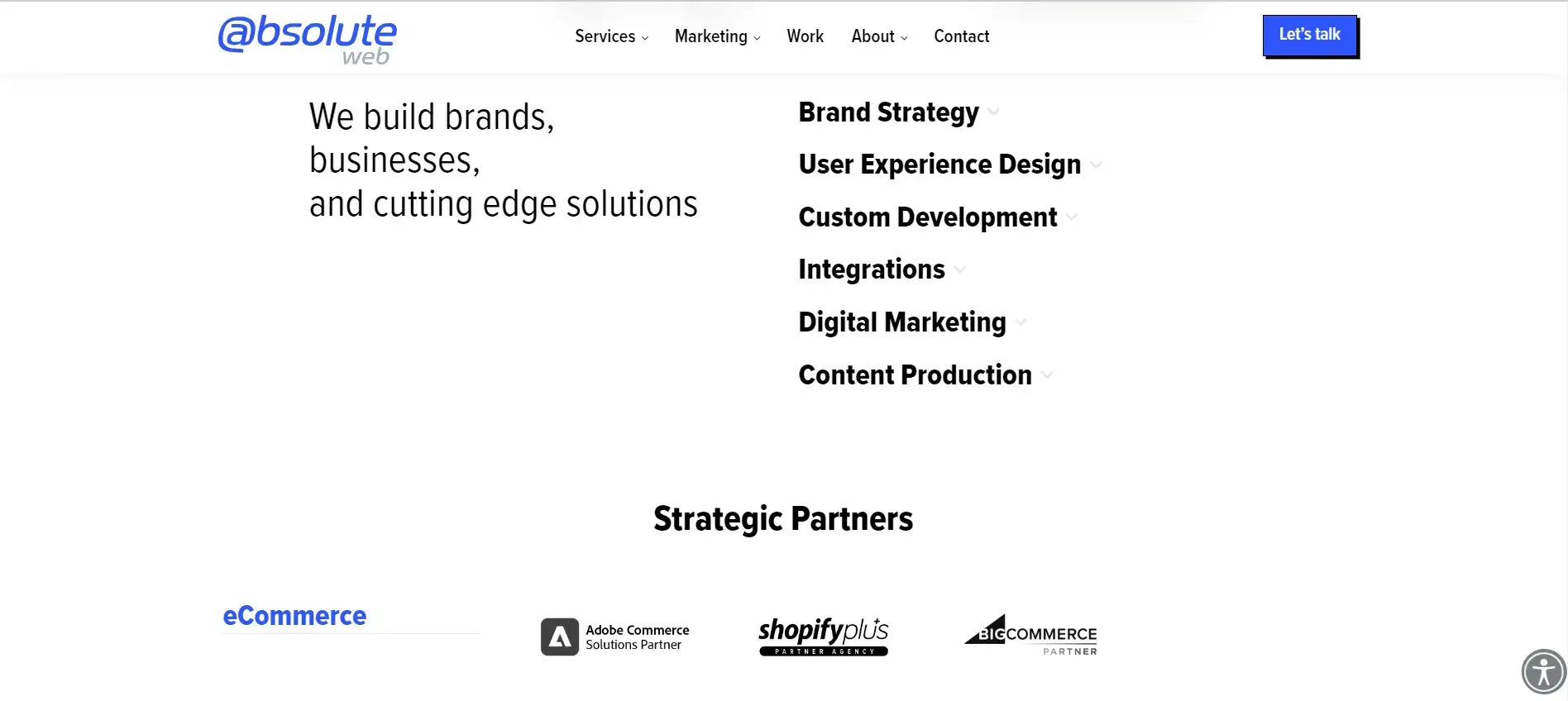 Absolute Web is also known for best-in-class design skills from their team with 12 solution architects, 56 expert developers, 10 UI/UX designers, and 17 marketing specialists, who have 24+ years of combined experience working together. They have well-utilized this professional team to provide clients with solutions that increase their business, brand, and online conversions. Notable Absolute Web's Magento services include:
Magento Solution Architecture
Platform Migration and Updates
API/Integrations
Performance Optimization
Headless and PWA
Iflexion
Hailing from Texas, Iflexion has been established as an industry leader in web solutions and enterprise apps. They not only provide clients with advanced technology that benefits both the company's bottom line (their services yield measurable financial results) but also increase employee productivity by empowering their people to do better work faster.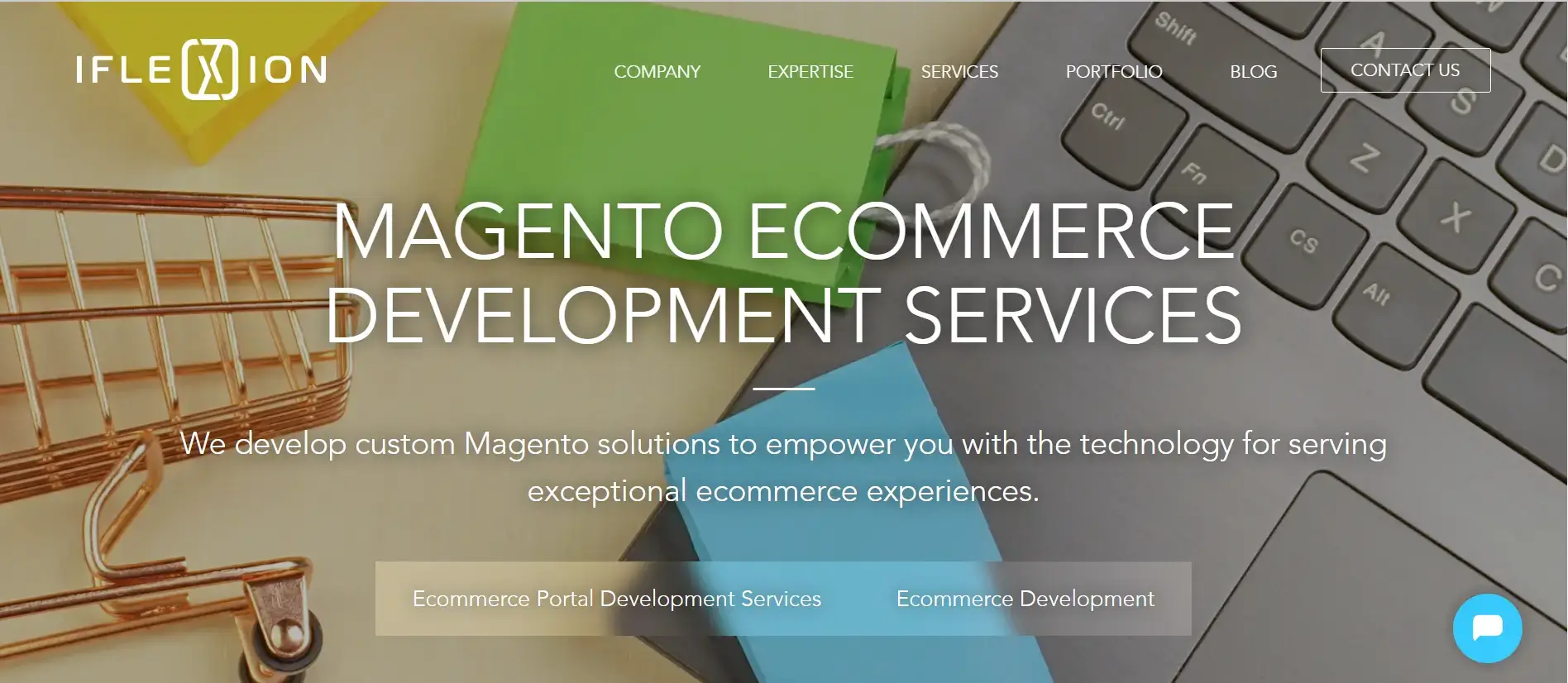 For eCommerce development, Iflexion creates the optimal combination of omnichannel presence, user-centric solutions, and know-your-customer tools to help businesses grow their revenue and increase customer reach. As a dedicated Magento developer, Iflexion leverages the robust technological ecosystem of Magento, combined with their hands-on experience, to develop custom Magento solutions for serving exceptional eCommerce experiences. Some notable Magento development services include:
Magento Development
Magento Customization
Magento Integration
Migration to Magento
The team at Iflexions believes there should be no hidden fees or surprises – they offer comprehensive customer support throughout every stage of software production & implementation which ensures all your needs will get met without any additional worries.
Evince
Another Magento development company in USA, Evince, has accumulated incredible experience developing on the platform. They have successfully completed 1200+ projects with 8000+ months of cumulative experience, a large customer base from 28+ countries, 160+ in-house employees, and a production capacity of 20,000+ hours per month.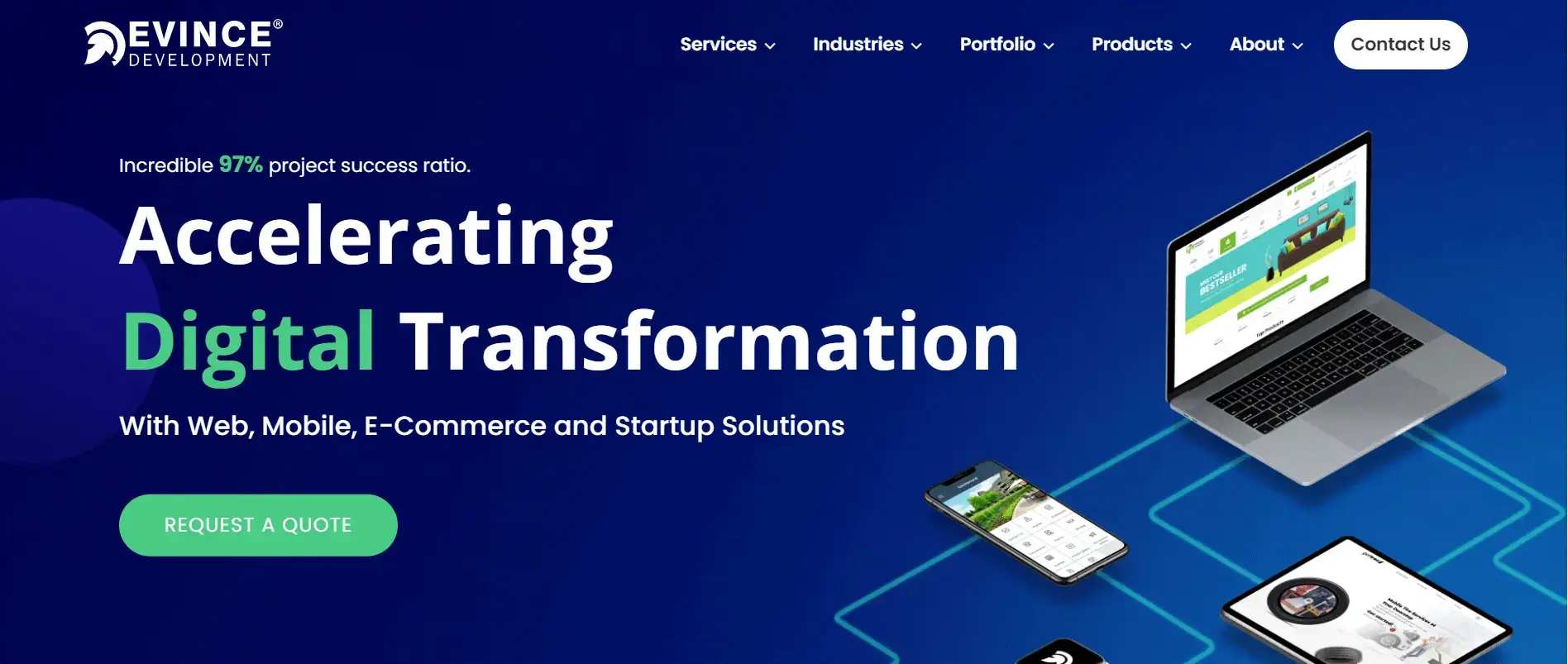 Evince specializes in various types and applications for this technology including building new sites with personalized design or just updating your existing ones. They also provide post-implementation services after our work is complete so you can continue using what makes sense to do business today while focusing more time elsewhere. Evince eCommerce development services are designed for businesses of all sizes, focusing on increasing conversion rate and user experience at a competitive cost.
With a team of experts in varying fields, Evince is able to provide unparalleled support for all your needs. Whether you need help with developing the platform or just want some advice about how best to utilize it.
Forix Web Design
Forix Web Design is a highly reputed company that specializes in custom-tailored eCommerce solutions. Having worked with Magento since 2007, along with 100+ Magento professionals who are available 24/7, Forix is qualified to serve as your assistant for your eCommerce success. Some of the most successful companies such as Adidas, Asics & GoPro to name a few, have relied on Forix's expert team for web services to boost their online presence.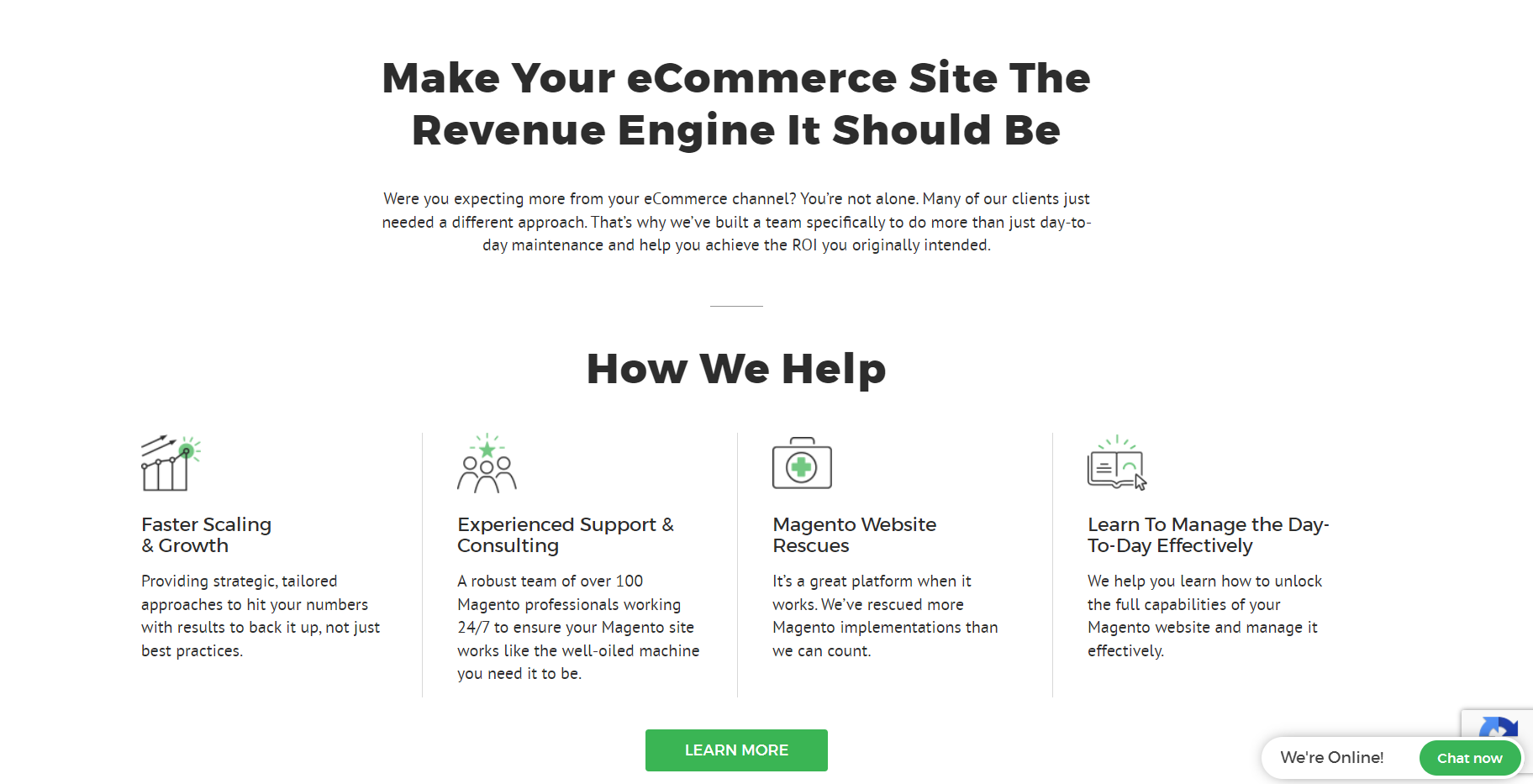 Their notable Magento services include comprehensive eCommerce Optimization and Magento Maintenance Services. Alongside this, they also provide buyer-centered strategic designs for businesses looking to grow on web platforms like Magento-certified developers.
This is the appropriate agency for you if you require specialized services. Forix has been recognized as the Best Magento Agency of The Year by CIOReivew in 2019.
Plus972
Founded in 2009, Plus972 is a boutique branding and marketing agency located in New York City with offices across North America, Europe, and Asia. They have an entrepreneurial spirit and progressive philosophy that focuses on integration, and collaboration to craft custom solutions for their clients' needs.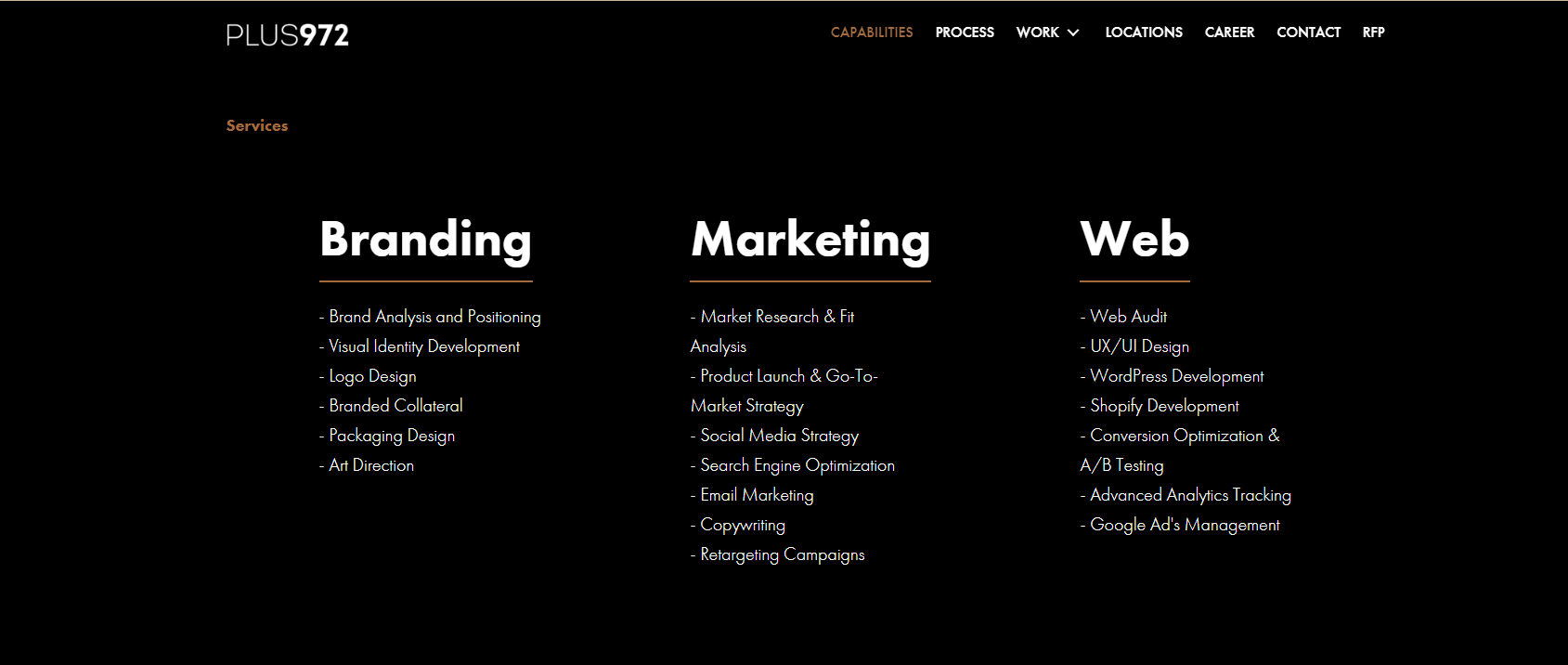 Plus972 provides various services for different categories ranging from Branding, Marketing, to Web Development. Their clients vary in many industries such as real estate, luxury, and eCommerce. Trusted by a large number of customers, Plus972 has successfully built their reputation as a marketing agency that always produces the best work for the right budget.
DataArt
DataArt is a leading software engineering firm in New York with 25 years of experience. They built their services across various sectors namely Finance, Media & Entertainment, Travel & Hospitality, Healthcare & Life Sciences, Retail & Distribution, and more. DataArt owns a team of highly-trained engineers with deep industry sector knowledge and ongoing technology research, dedicated to building elegant solutions for clients that enhances their operations and open new markets.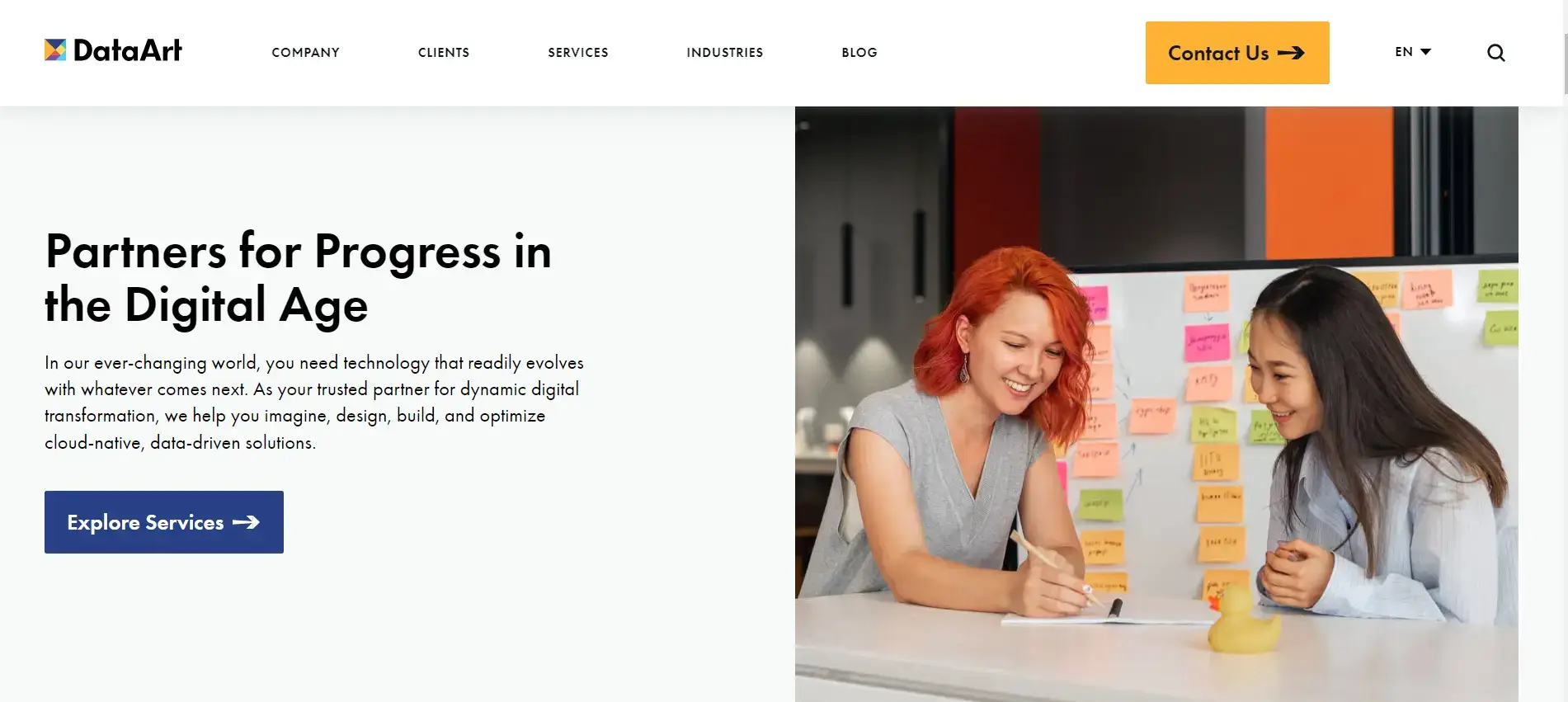 When it comes to website development services, DataArts comes with excellent technical expertise. They offer client-focused R&D and groups of experts who continuously work to improve their skills in areas like architecture, security, UI/UX, cloud, DevOps, AI and ML, Agile, big data, blockchain, and more. DataArt also provides various internal training to ensure the quality of their engineers. Therefore, if you need a reliable and highly expert development team for your Magento website, DataArt will be the best option.
Pixafy
Founded in 2010 by a team of web designers, Pixafy is an eCommerce agency based out of New York City. They position themselves as an erpCommerce™ agency focused on providing a fully integrated system of eCommerce and ERP, allowing backend data to work with other business operations for better information management.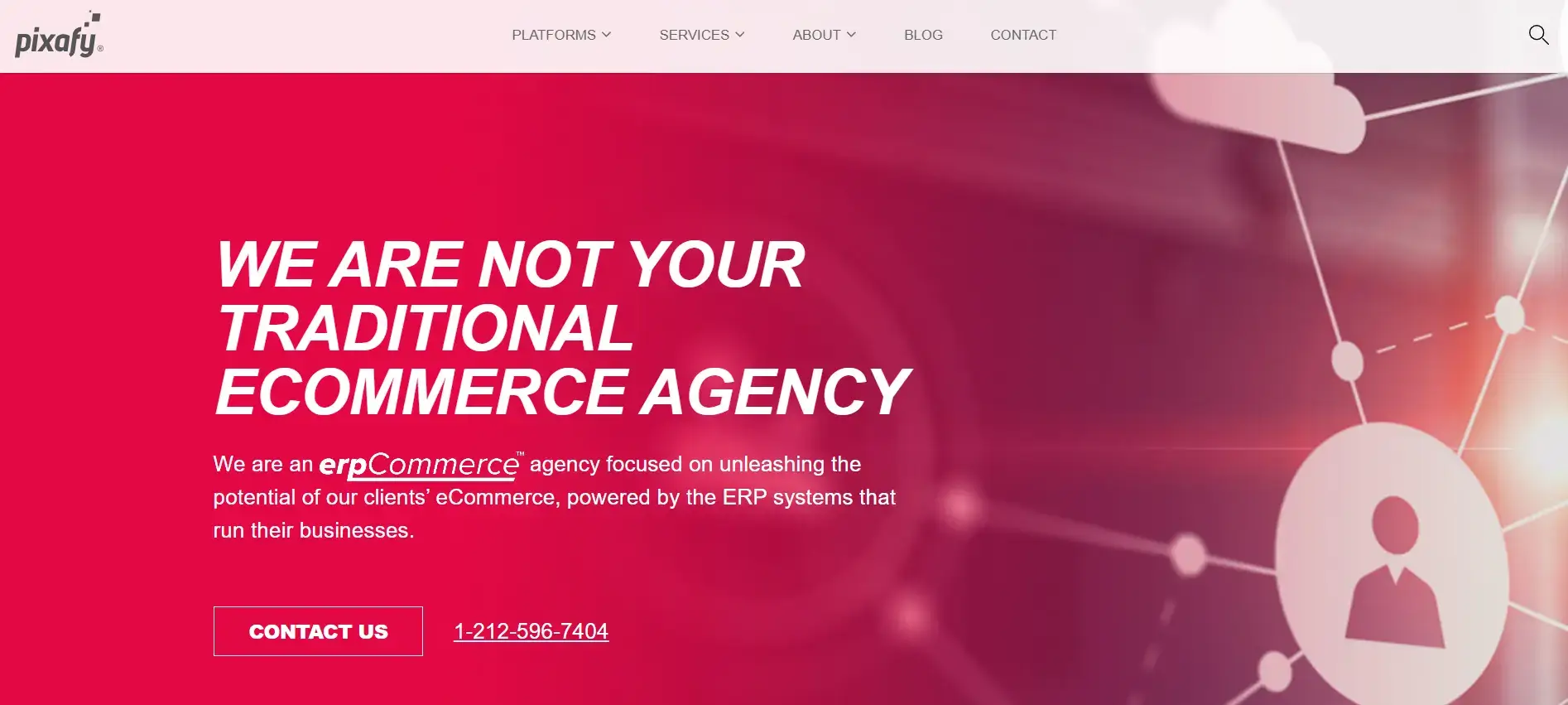 Pixafy is one of the most trusted names when it comes to eCommerce services like website design or advice on how to use social media platforms. They have worked with clients in different industries, like retail, consumer products, and education service providers. They come with a highly experienced team that includes platform engineers, UI developers, designers, marketers, and system architects, all of whom work together to make sure that every part of eCommerce is completely digitalized and that all channels work well together.
Pixafy's services mainly consisted of designing an eCommerce platform based on the Magento framework, establishing front- and back-end integrations, and implementing an omnichannel system.
Costs of Magento development company in the USA
The charges of Magento development services in the USA may vary depending on the type and size of the website you want. The total price is dependent on a number of important factors, such as the amount of customization that is necessary for your shop, the number of services and the level of complexity of those services that you desire to add to the store and the app development company that you choose for your store.
The costs for each of the three Magento web development services are mentioned below:
Price for basic Magento eCommerce website
If you only want to build a simple Magento website, you should go with the most basic version of Magento. Customers that want to get their business started quickly choose Magento's simpler version.
For the top Magento development companies, a basic Magento website starts at $20,000 and rises from there. In some circumstances, the value of this might reach up to $40,000. But this is a basic site with only a few features and raw extensions that you can optimize and utilize later when you have more resources for development.
Price for custom Magento eCommerce website
For established shops that are looking to upgrade or migrate from a different eCommerce platform, a Magento custom website is the ideal alternative. It costs between $40,000 and $100,000 to build a highly functional Magento website. Nevertheless, the costs still can go up, depending on the sophistication level of your desired extensions.
Price for Magento enterprise website
For large businesses, the Enterprise Edition of Magento is the best option, since it allows them to make use of all of Magento's features. You'd have to fork over $100,000 to make the switch from Magento Community to Magento Enterprise. And with Magento Enterprise on Cloud option, you should be expecting a price tag of $150,000 to $200,000.
How to Choose the Most Appropriate Magento Development Company in USA for Your Business
Choosing the most appropriate Magento development company in USA for your business requires careful consideration of various factors. Here are some tips to help you in the process:
Define your requirements
Before choosing a Magento development provider, it is essential to have a thorough understanding of your business's requirements for your sites. Conduct a comprehensive scan of your businesses; clearly define your objectives, customer research, competitors, and any third-party integrations needed. Factors such as technical requirements, budget, and the timeline for your Magento development project must also be considered.
This necessary data will serve as a foundation for evaluating potential providers and help narrow down your options. Having a clear picture of the specific eCommerce business functionalities in mind, you can determine whether the provider can meet your expectations and deliver the desired results, allowing you to make a more informed choice.
Research and shortlist providers
The next step you should keep in mind is to do your own research. There are numerous excellent Magento development companies in USA, but not all of them can provide the optimal service for your business. Therefore, it is essential that you choose a provider that can maximize your eCommerce performance.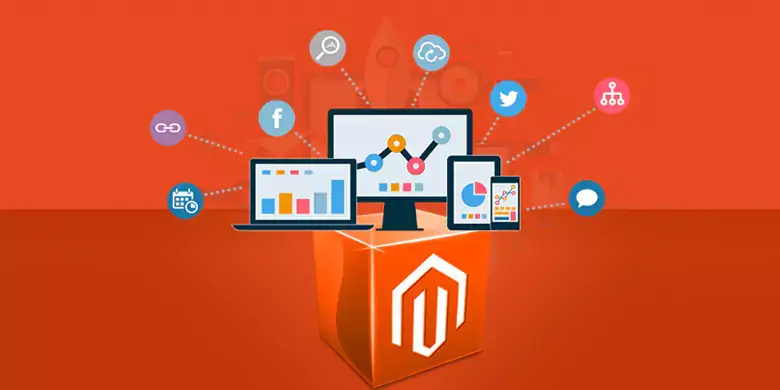 Conduct thorough research to identify potential Magento development providers in your area. You can utilize online directories, industry forums, social media platforms, or search engines to explore some names. Look for companies with a strong reputation, positive client testimonials, and a proven track record of delivering quality projects. Consider factors like experience, expertise, team size, and industry specialization.
Evaluate expertise and experience
Magento development requires great technical expertise, therefore, experience is an important factor to decide on a Magento developer.
Assess the expertise and experience of your shortlisted providers in Magento development. Look for Magento Certified Developer, Magento Solution Specialist, or Magento Business Intelligence certifications. These certifications are the evidence proving that the developers have the necessary expertise to develop a successful Magento website. Another certification like Magento Solution Partner denotes a higher level of collaboration and expertise, which is a more optimal option if your businesses require complex and high-performing Magento stores.
It is also important to look at past projects of your shortlisted Magento development providers to see if they're a good fit for your business. Some actions that can be taken include:
Evaluate the quality, quantity, and diversity of those projects
Evaluate the user experience, aesthetics, and functionality of the design.
Look for innovative capabilities, customizations, and integrations
Ask for case studies and testimonials to assess what they can offer and their experience in your specific industry or business niche.
Although not all projects necessitate seasoned agencies, experienced Magento development providers can create high-quality and functional eCommerce stores for your business. When deciding on this area, you should also consider the needs of your business.
Budget and cost considerations
Not all Magento development providers charge the same for their services. It's essential to evaluate the project budget and pricing models of your shortlisted providers to see if they fit with your financial capability.
Magento pricing for store development can be influenced by many factors such as the number of integration you need or the amount of customization you require. Building a high-quality and personalized Magento website will require a considerable budget and effort.
Therefore, you should be aware of your financial resources and the amount of money you can spend on these services. Discuss the project budget and pricing models with your chosen providers. Evaluate their cost structure, whether they offer fixed-price contracts or flexible billing options. However, it's important to balance the cost factor with the quality of services and the provider's expertise.
Consider ongoing support and maintenance
Magento websites require ongoing support and maintenance. Do the development providers have enough developers to provide ongoing support and maintenance while also fulfilling existing clients' commitments before taking on new clients' demands?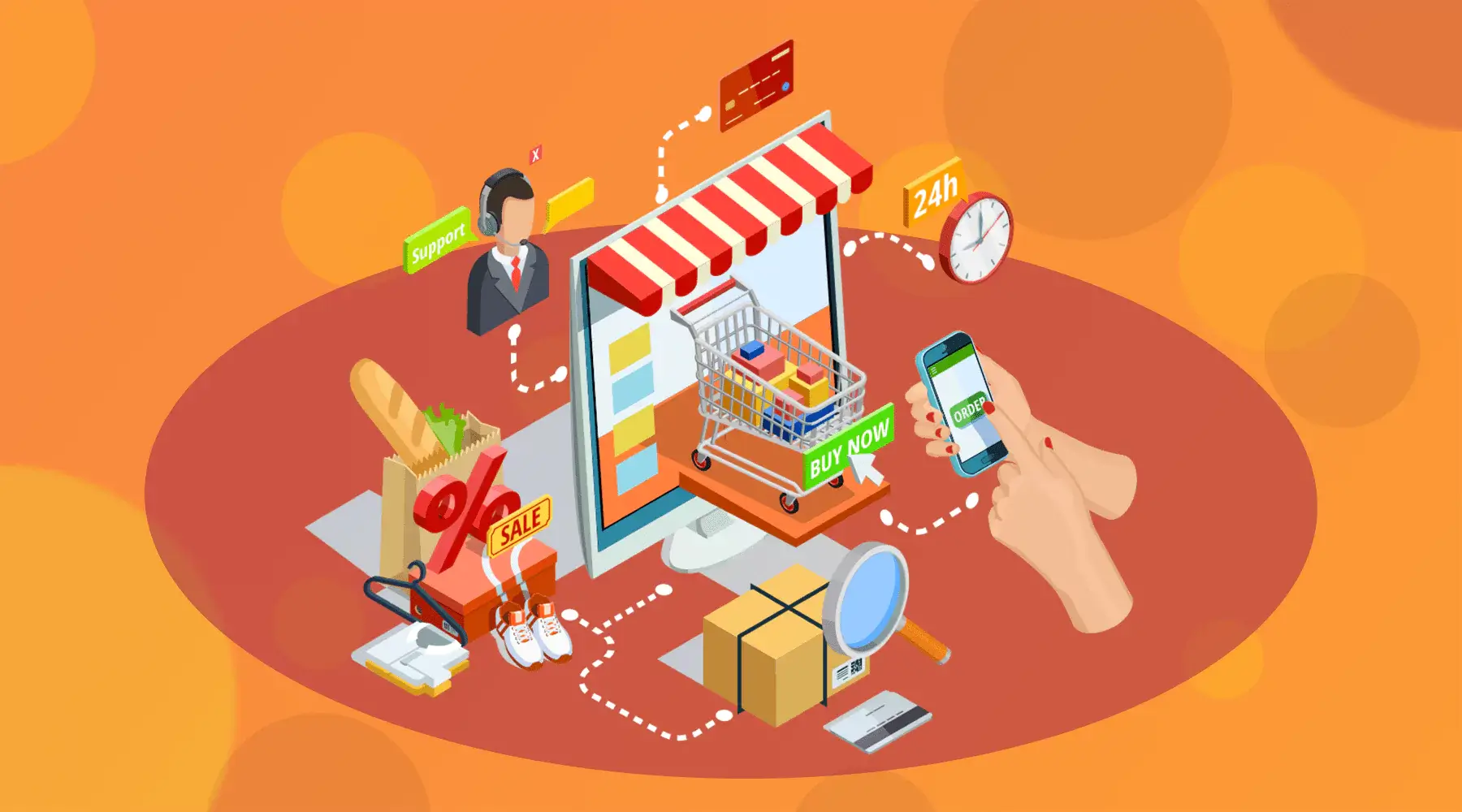 Inquire about the provider's post-development support services, including bug fixes, updates, and security patches. A reliable provider should offer long-term support to help you maintain and enhance your Magento-powered website. Moreover, you should also consider the size of their team, about whether they are fully staffed with project managers, developers, designers, quality assurance specialists, and support personnel. Other important factors can include their experience level and their areas of expertise.
Communication and collaboration
Magento development is a lengthy process, therefore, you should prioritize providers that can transfer good communication and collaboration spirit.
Assess the provider's communication and collaboration practices through their past projects, seeing how they interact with their clients. Evaluate their responsiveness to inquiries and their assistance throughout the development process. A reliable provider will have clear channels for communication, provide regular project updates, and prompt responses to your queries and concerns. They should also show a cooperative attitude of goodwill and a desire to develop an ongoing relationship with your businesses.
Request proposals and compare
Now that you have narrowed down your option, the deciding step should be requesting detailed proposals from your selected providers. A comprehensive proposal should outline the scope of work, project timeline, milestones, pricing structure, and deliverables.
The proposal reflects the provider's understanding of your requirement, thus you can evaluate the performance of that company. Consider how well they address your specific needs and whether they provide effective suggestions or solutions to your problems. Compare their offerings, project timelines, pricing, and terms and conditions, which can give you an insight into how much time, money, and effort you have to put into your Magento store's development. In this way, you can choose the Magento development provider that best aligns with your requirements, offers a comprehensive solution, and fits within your budget.
Final Thought
Magento is the most popular eCommerce platform in America. We hope this list of top Magento development company in USA above will help make it easier to find the perfect match based on what's important – budget or timing. If you want to learn more about our Magento price plans (which are surely much more reasonable than what agencies in the USA can offer) for development and design, Magento support pricing, and minimize Magento eCommerce website price for your dream project, you can contact us now. Magenest is committed to providing our customers with the highest quality services at affordable pricing.