To run a successful online business, providing an excellent user experience is crucial. Staying up-to-date with the latest technological trends, such as progressive web apps (PWA), is essential to achieve this goal. In the case of eCommerce, a PWA can serve as an alternative to a native app, allowing online merchants to focus on attracting visitors to their websites and encouraging them to make purchases, without the need for users to download a native app. Magento, a leading software company, has recently announced the launch of its PWA Studio, making it the latest addition to the growing list of companies adopting this technology. Thus, in this article, we will discuss why you should invest in Magento PWA Studio, a powerful tool for building progressive web apps.
The term PWA (Progressive Web Application) first appeared on Google in 2015, when Google made mobile-friendliness a ranking factor. This led many website owners to consider PWAs as a way to improve their search engine optimization (SEO) and other aspects of their online presence.
What Is Magento PWA?
Over the years, numerous renowned brands such as AliExpress, Debenhams, and Jumia, have developed PWAs to enhance their users' experience. The list of companies adopting PWAs continues to grow as mobile commerce (mCommerce) becomes increasingly popular. According to Insider Intelligence, mCommerce is projected to account for 42.9% of eCommerce by 2024, with a total value of $620.97 billion.
Magento PWA (Progressive Web Applications) is a new approach to building websites that combines the best features of both native apps and traditional websites based on Magento's technology foundation. It allows for a fast, responsive, and engaging user experience, without the need to download a separate app from an app store.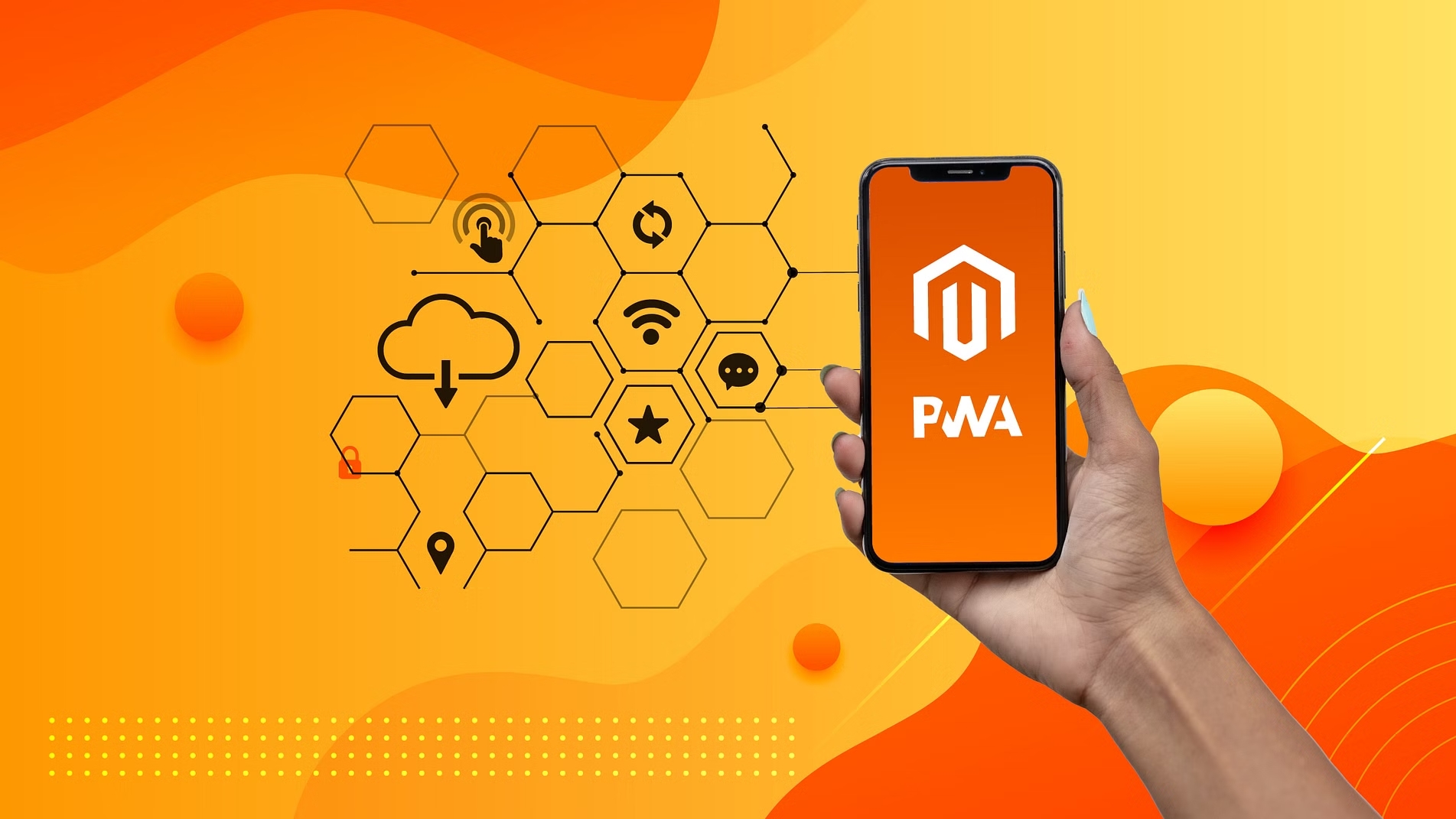 With Magento PWA, online merchants can deliver a highly optimized and seamless user experience to their customers via their Magento store. This technology is designed to improve website performance, accessibility, and user engagement by using modern web development techniques and tools.
Magento PWA is built using JavaScript, HTML, and CSS, and it leverages various APIs to provide functionality such as push notifications, offline support, and more. With the help of a service worker, the PWA can be installed on a user's device and run in the background, making it easy to access and use.
Benefits Of PWA For Magento 2 Stores
User Experience And Performance
As eCommerce continues to grow, having a fast and user-friendly website is no longer an option but a requirement. This is where Magento PWA comes in handy. Magento PWA provides online merchants with an opportunity to enhance their store's user experience and performance by combining the strengths of native apps and desktop browsing.
One of the most significant benefits of Magento PWA is that it enables store owners to leverage the speed of online browsing and features of native apps at the same time. Doing so greatly improves the user experience and performance. This essentially means that you are combining the powers of online stores with mobile apps for multiple platforms.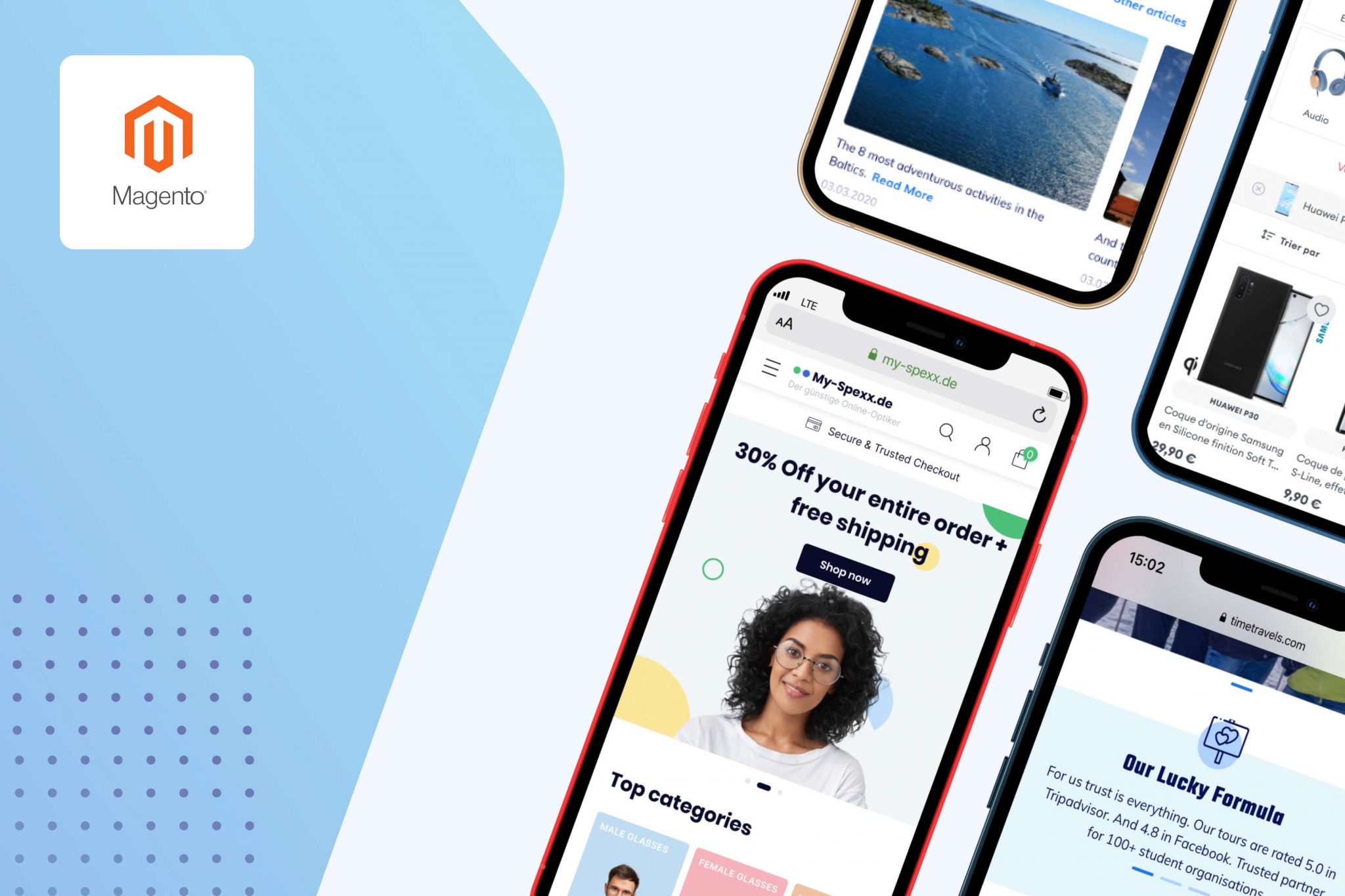 As an online merchant, Magento PWA enables you to eliminate limitations on adding new apps to your eCommerce store, including time and money limitations. With Magento PWA, you can better engage customers with app-like engagement features, irrespective of the device used for shopping.
Moreover, with the widespread popularity of Magento PWA, you can quickly locate Magento web development companies that can help you create a functional and aesthetically pleasing PWA for your Magento store.
Invest in Magento PWA studio, you can be confident that you won't lose customers due to poor user experience. Some of the benefits of Magento PWA for online stores that we can name:
Quicker webpage loading speed
Offline support
Seamless optimization across all devices
Reliable and convenient payment methods
Push notifications
SEO Capabilities
Having a great design and high-quality products won't bring in revenue if potential customers can't find your online store. In other words, without online visibility, your store won't succeed. Search engine optimization (SEO) is a crucial digital marketing technique that helps businesses achieve higher search engine rankings, increase visibility, and enhance web traffic.
Magento PWA recognizes the importance of SEO and includes robust built-in SEO features that help store owners improve visibility and increase conversion optimization for their stores. Additionally, traditional SEO features help store owners optimize their Progressive Web Apps for better visibility and increased traffic.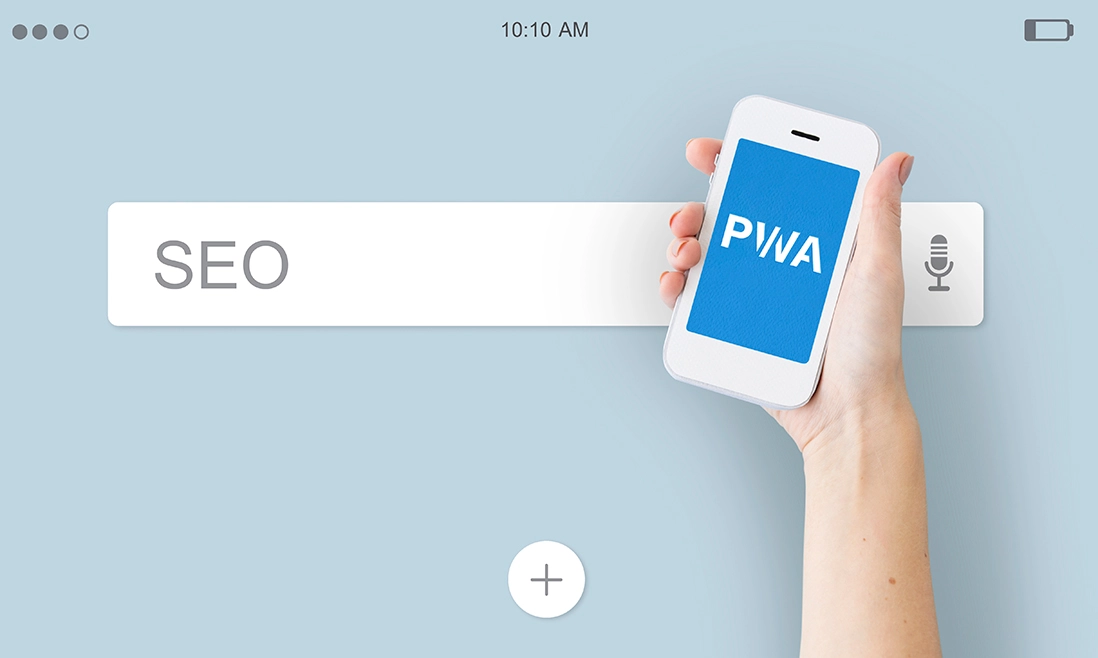 If you are already implementing SEO techniques for your online store, you won't need to make any significant changes to the PWA. In fact, Magento PWA can further optimize your website for better ranking and visibility with its powerful built-in SEO features. The only crucial consideration is to ensure that your Magento PWA is set to "Indexable."
Cost Effective In The Long Run
Another benefit of using Magento PWA is that it can be a cost-effective solution for online businesses. With Magento PWA, there is no need to invest in developing separate apps for different platforms, which can be expensive and time-consuming. Instead, a single PWA can be developed and optimized for multiple devices and platforms, reducing development costs.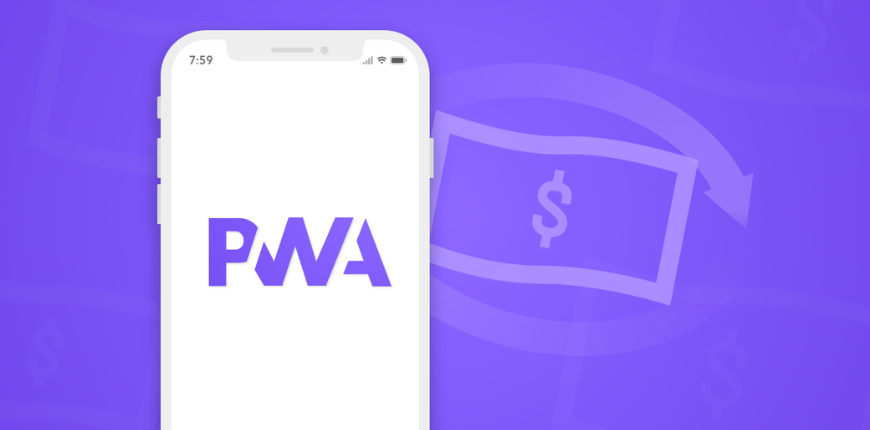 Furthermore, since PWAs are web-based, there is no need for app store approvals or updates. This can save businesses a significant amount of time and money that would otherwise be spent on app development and maintenance. Additionally, PWAs have lower hosting and server costs compared to native apps, as they use web technologies and do not require additional infrastructure.
Offline Support And Quicker Loading Page
Google statistics show that a delay of just one second in webpage loading can significantly reduce the conversion rate by up to 20%. This means that having a slow-loading eCommerce website is no longer acceptable. Ideally, a webpage should fully load within two seconds; anything longer than that could result in losing potential customers.
Fortunately, Magento PWA is known for its quick loading speed, which enhances the user experience and increases customer satisfaction. This is achieved through features such as caching and lazy loading, which ensure that the pages load quickly and efficiently. Quicker loading pages also have a positive impact on search engine optimization, as search engines tend to favor sites that load faster.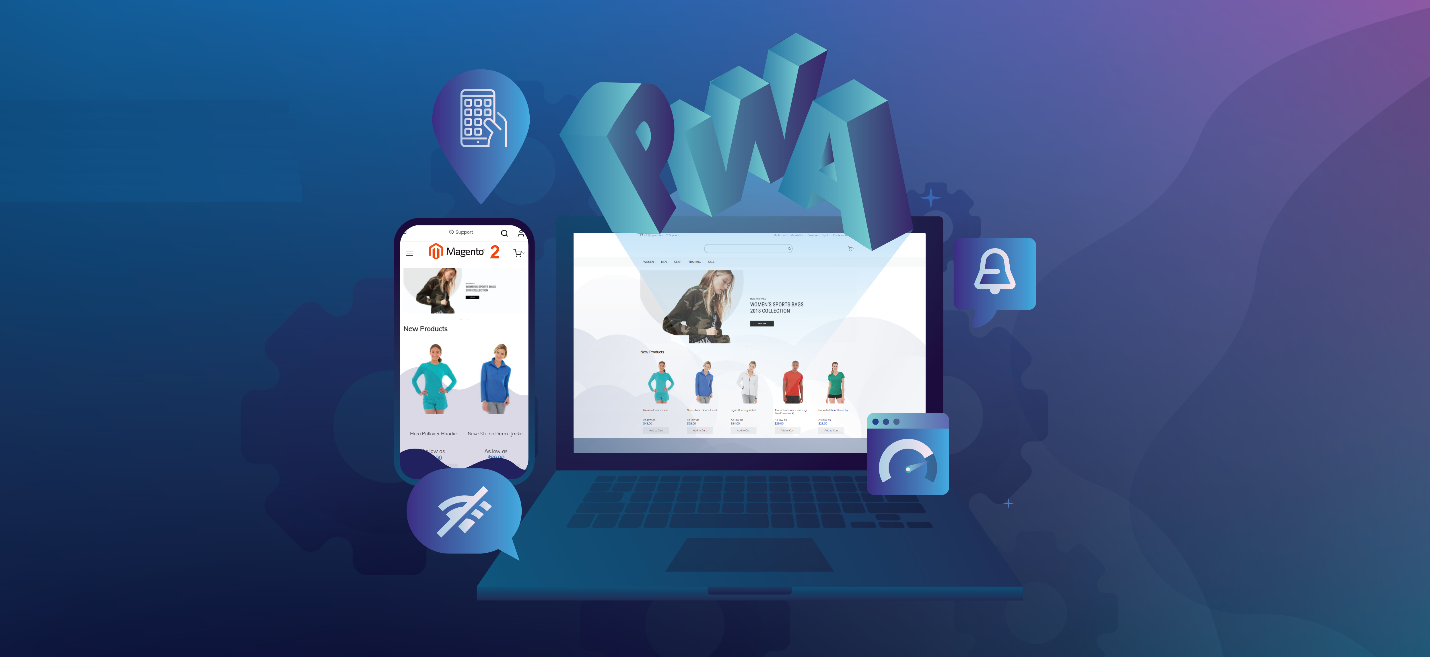 Additionally, with offline support, customers can still browse and add items to their cart even when they are not connected to the internet. Once they regain connection, the changes will be synced automatically.
Push Notifications
Push notifications are an essential feature of mobile apps, and have indisputable marketing purposes, and Magento PWA brings this functionality to eCommerce websites. With push notifications, store owners can send timely updates to customers, including sales, discounts, new products, and other relevant information.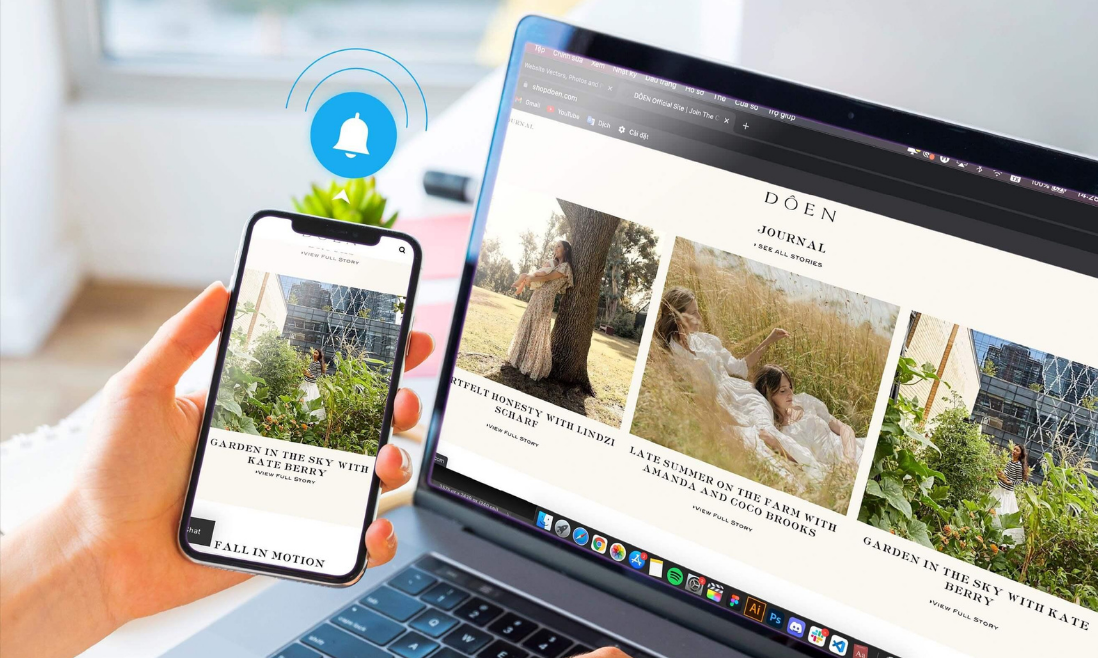 Push notifications help to keep customers engaged with your brand, even when they are not actively browsing your website. By sending personalized and relevant customer messages, you can increase customer loyalty and encourage repeat purchases. With Magento PWA, push notifications can be sent even when the customer is not actively browsing the website, making it a powerful tool for customer retention and engagement.
By implementing an effective push notification strategy, eCommerce businesses can significantly increase customer retention rates and enhance their brand value. Magento PWA notifications provide similar value to app notifications, allowing store owners to improve customer engagement and branding, resulting in higher sales and revenues.
Minimal Resources Requirement
Progressive Web Applications (PWAs) require less storage space than traditional applications, which is beneficial for users as they are less likely to be deleted when there is low space on their devices. Additionally, these PWAs can be updated easily with minimal technical resources required, saving eCommerce stores time and money. Overall, PWAs offer online merchants optimized and customized app features that complement their eCommerce websites, resulting in viable and result-oriented solutions for their online businesses.
Seamless Working Across Multiple Devices
Magento PWA for an eCommerce store has the ability to work seamlessly on every device. This means that users can access the PWA from different devices such as smartphones, tablets, and desktops, and experience consistent functionality and user interface across all of them.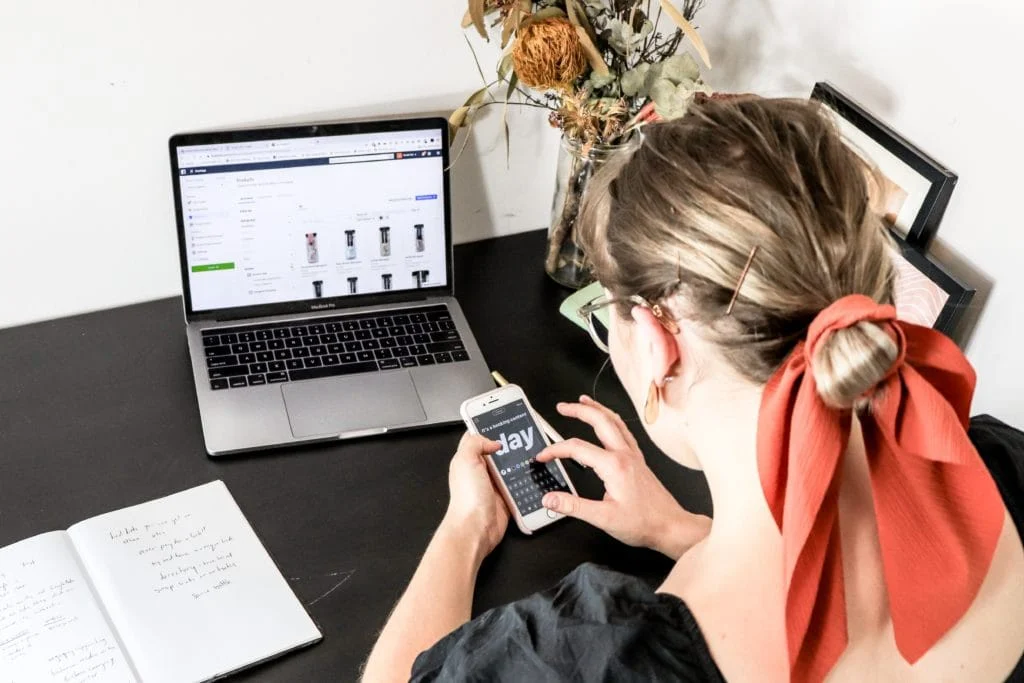 The PWA's responsive design and adaptive user interface automatically adjust to fit the user's screen size and resolution, ensuring an optimal user experience regardless of the device used. This feature is particularly beneficial for businesses with a large customer base that uses multiple devices to access their online store.
Additionally, the ability to work seamlessly across multiple devices also means that Magento PWA can help businesses reach a wider audience and improve customer engagement and retention. So with all the advantages that this tool provide provides, now you have enough reason to decide to invest in Magento PWA Studio.
What Is Magento PWA Studio?
Magento PWA Studio is an open-source set of tools and libraries that enables developers to build Progressive Web Applications (PWAs) on top of the Magento 2 eCommerce platform. PWA Studio provides a collection of development tools that make it easier for developers to create fast and reliable PWAs that provide a seamless experience across all devices.

Some of the features of Magento PWA Studio include a development environment with hot module replacement, GraphQL support, and automated performance testing. It also includes tools for managing routing, data management, and internationalization.
What Does Magento PWA Studio Provide?
Magento PWA Studio provides a set of tools and libraries that allow developers to create and manage their Progressive Web Application storefronts for Magento 2. It provides a development environment, tools for project setup and configuration management, as well as an extensible framework that enables customization of the storefront. Basically, it provides 3 components:
PWA buildpack: The PWA Buildpack is equipped with various tools for project setup, configuration management, and a flexible framework. Its library provides both basic and advanced tools for environment configuration, including complex workflows that developers need to configure and maintain. The setups and configurations can vary between projects and within each project. For example, environments for development, testing, staging, and production are created to accommodate different behaviors.
Custom React hooks: By utilizing hooks, it is possible to create functional components that share the same functionality across various class components. Venia and Peregrine libraries both offer a wide range of pre-built React hooks. React hooks can be used for setting and retrieving data, as well as for managing state functionality.
Venia theme package: Venia is the first storefront for Magento PWA that has been launched, utilizing PWA Studio's tools and libraries as part of a larger effort to increase the adoption of PWA technology. Venia storefront and its visual components can serve as a starting point for anyone who wants to develop their own PWA storefront project, similar to how Magento allows it. After installation on top of your current Magento 2 backend, Venia will work seamlessly.
Why Should You Invest In Magento PWA Studio?
Businesses should invest in Magento PWA studio because it offers several advantages over traditional eCommerce websites.
Compatibility
The compatibility of Magento PWA Studio is one of its key advantages for businesses considering investing in this technology. Specifically, PWA Studio supports up to Magento 2.3, which is the current version of the popular eCommerce platform.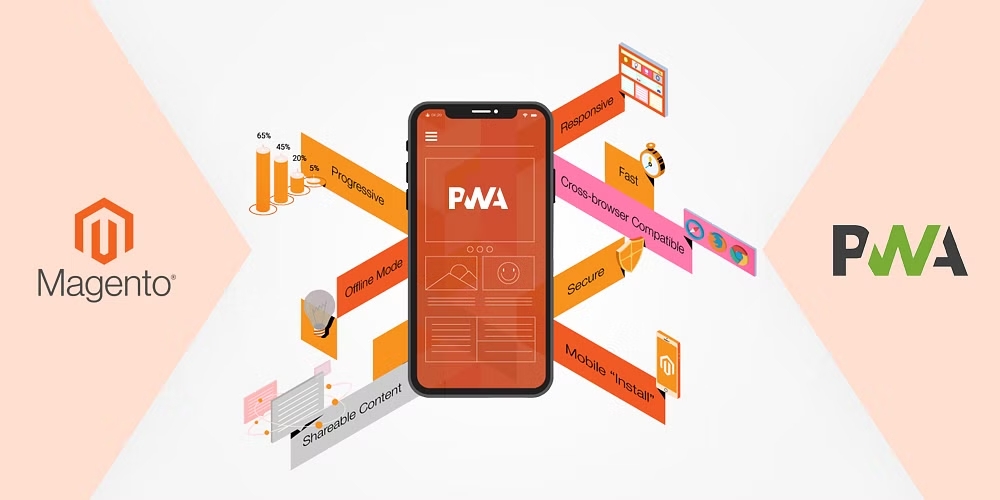 Moreover, as PWA Studio is an Adobe-Magento product, it is built with a deep understanding of the Magento coding standards. This ensures that there are no code conflict issues that could arise when integrating PWA technology with Magento. This compatibility ensures that PWA can operate seamlessly on top of the Magento platform, without any crashes or other technical issues that could harm the user experience or lead to lost sales.
Straightforward Integration To Magento 2
The Magento PWA Studio offers a fully configured and readily available package to businesses that is easy to use and implement. The application builder is pre-configured, saving developers valuable time and allowing them to remain ahead of schedule by a few hours. Furthermore, developers can remove or utilize specific PWA Studio components for Magento, making PWA development more flexible and straightforward.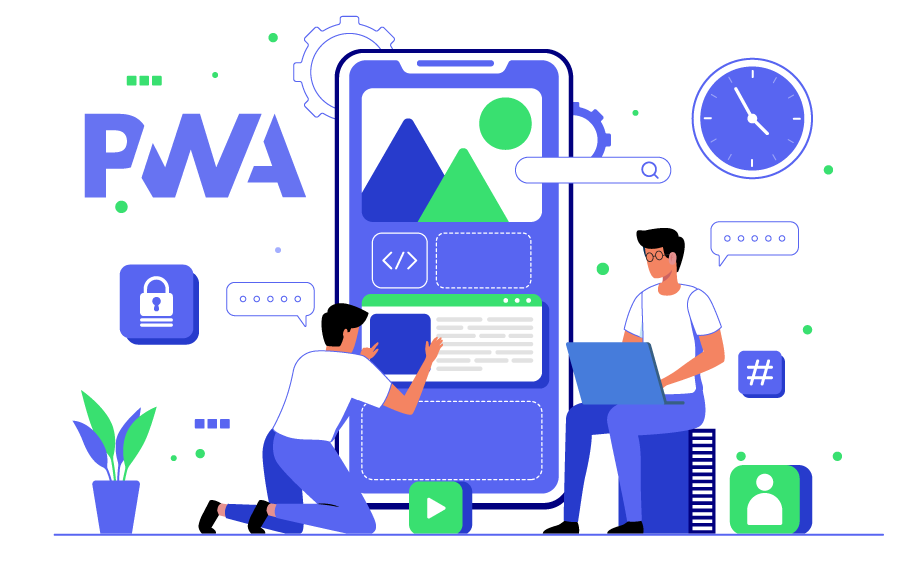 The PWA Studio also comes with a wide range of pre-built components that can be used immediately, making development faster and easier. These components can be customized to meet the specific needs of the business, ensuring that the final PWA product is tailored to their unique requirements.
Cutting-edge Architecture And Framework Application
Magento PWA Studio is built on cutting-edge architecture and framework applications, making it a reliable and robust solution for developing high-performance progressive web applications. It uses modern web technologies such as React, Redux, and GraphQL to provide a flexible and modular architecture for building PWAs.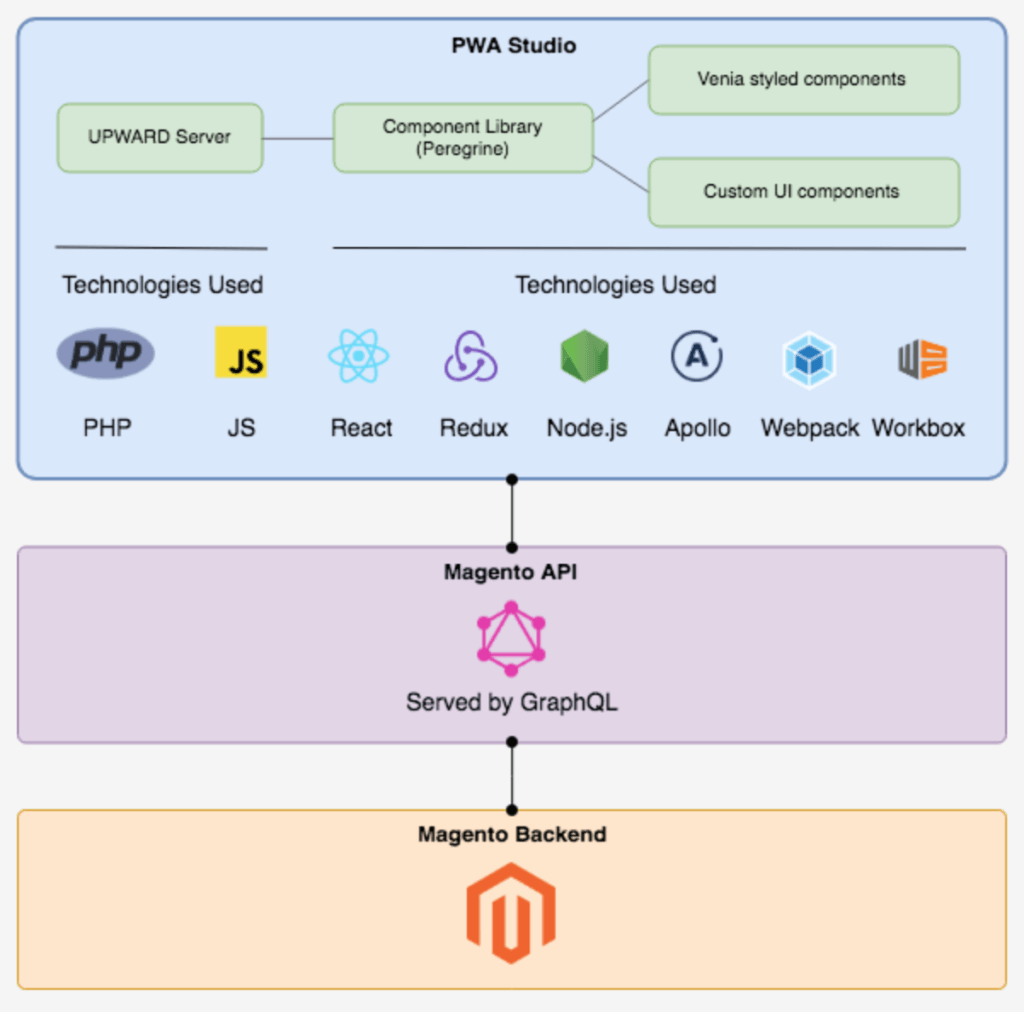 The use of these technologies allows for fast and efficient development and maintenance of PWAs. The architecture of PWA Studio is designed to provide a seamless experience for both the developers and the end users. It is optimized for high performance and scalability, making it suitable for large-scale enterprise-level projects.
Moreover, PWA Studio provides a set of tools and workflows to streamline the development process, including the Venia storefront, which serves as a reference implementation for PWAs. This allows developers to easily get started with PWA development and quickly build and customize their storefronts.
Streamlined Updating And Maintenance Process
Magento PWA Studio offers a streamlined updating and maintenance process that simplifies the process for businesses. One of the advantages is that both the Magento version and PWA Studio undergo changes simultaneously. Therefore, businesses do not need to spend time understanding Magento upgrades to adjust PWA operations, as is often the case with other PWA solutions.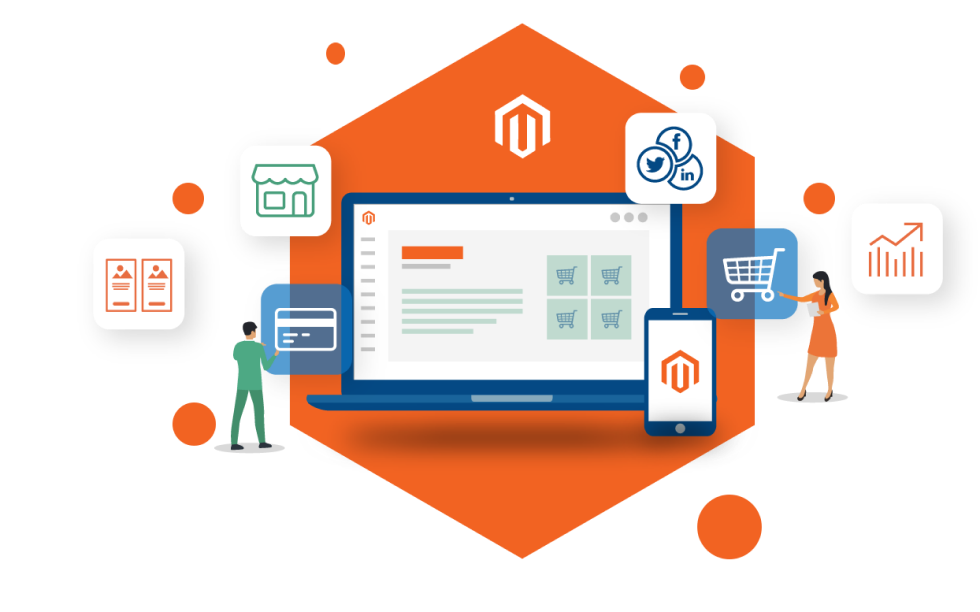 This synchronized approach helps businesses save time and effort in maintaining and updating their PWA storefront. As a result, businesses can focus more on enhancing their customer experience and growing their online presence. Additionally, this feature ensures that the PWA storefront is always up-to-date with the latest Magento features and security patches.
How Magento PWA Studio Works
PWA Studio is built on top of React and Redux frameworks, which allows developers to use modern front-end development practices. PWA Studio includes tools for project setup, configuration management, and an extensible framework. It also provides a set of pre-built components and features that can be easily integrated into a PWA project.
PWA Studio uses a modular architecture, which means that it's easy to customize and extend the functionality of the platform. This modular approach also ensures that upgrades and maintenance are streamlined and easy to manage.
Developers can use PWA Studio to create custom PWAs for Magento storefronts. PWA Studio comes with Venia, an open-source PWA storefront that serves as a starting point for developers to create their own custom storefronts. Venia can be used as a reference implementation and includes pre-built components that can be customized and extended as needed.
Who Should Invest In Magento PWA Studio
Invest in Magento PWA Studio is valuable for any business that operates an eCommerce website built on Magento 2 and wants to provide its customers with a seamless and engaging shopping experience across all devices. It is particularly suitable for businesses that want to take advantage of the latest web technologies to improve website performance, user experience, and conversion rates. Ultimately, any business that wants to stay competitive in the eCommerce industry and meet the changing demands of customers should consider investing in Magento PWA Studio.
Magento PWA Studio is a comprehensive toolkit that requires technical expertise to set up and maintain, so it is recommended for businesses that have an experienced development team or can outsource to a reliable Magento PWA Studio development partner. Magenest has a plethora of experienced Magento developers with an elite Magento PWA development service that is always ready and willing to support you on the way to leveling up your eCommerce presence. Don't hesitate to contact us right away.