Magento is the perfect platform for your next eCommerce venture. It's used by developers all over the world for creating eCommerce stores and websites. If you're looking for a quality Magento development company, then you're in luck. In this blog post, we'll share our list of the top Magento development company in India. These companies are experts in their field and can help you create a stunning website or eCommerce store. So, without further ado, let's get started.
Top 11 Best Magento Development Company in India
Magneto IT Solutions
Magneto IT Solutions is a Pune India-based company that offers eCommerce services to consumer product manufacturers and electronics retailers. They develop websites for companies ranging from groceries store owners all the way up to service industry professionals such as healthcare advisors or financial consultants who work online primarily using Magnetos' Digital Strategy Services.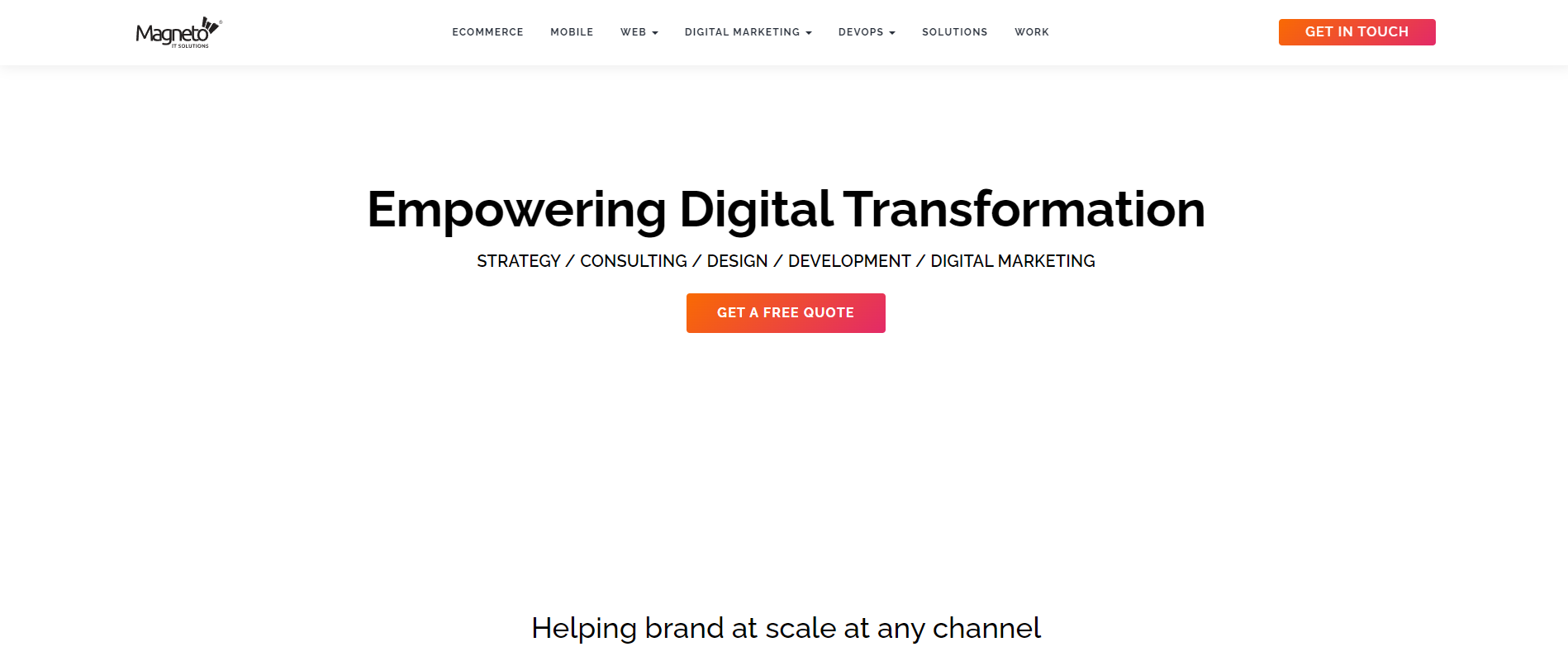 Furthermore, The team has expertise across various fields including UI/UX design which helps make user interfaces easier by providing standardly across desktop web apps; SEO strategy consulting focused on increasing organic search visibility leading to increased traffic via Google searches.
Magneto IT Solutions takes a customer-centric approach to its Magento development projects. The company believes in understanding the specific needs and goals of its clients before embarking on the development process. By closely collaborating with clients, Magneto IT Solutions ensures that every aspect of the online store aligns with its vision and business objectives. This client-centric approach has garnered the company a loyal client base, with numerous positive testimonials and success stories to its credit.
CedCommerce
CedCommerce is a popular eCommerce solutions provider in India that provides solutions across different regions globally since 2011. It enjoys a multi-level partnership with Magento – a Bronze solution partner, with Adobe-certified experts and has also won the Magento Innovations Lab 3 times in a row.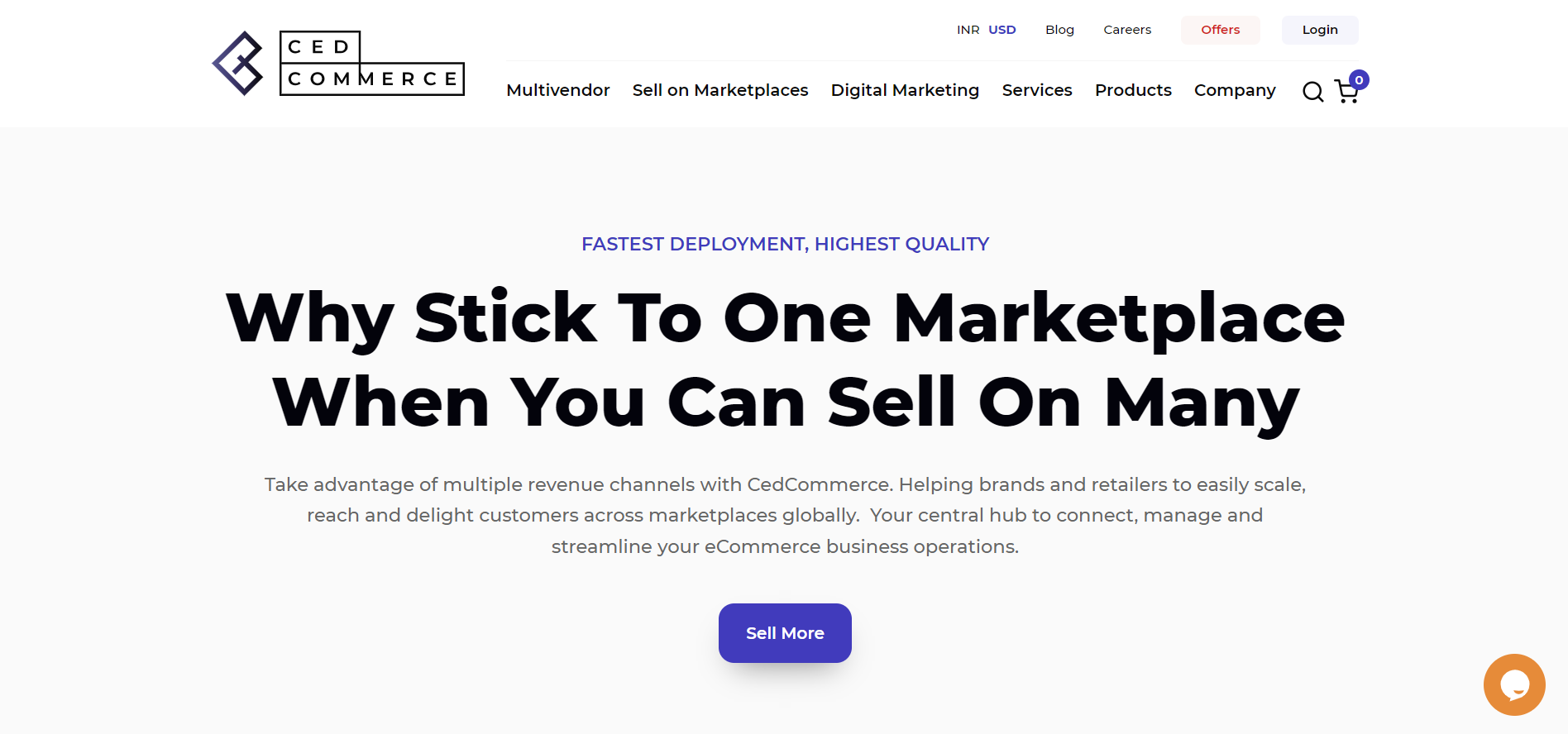 It is well-known for providing round-the-clock technical assistance to all its clients, being a client-first company. It brings expertise in developing web and mobile apps, B2B & B2C multi-vendor marketplaces, headless commerce stores, Progressive Web Apps, multi-channel stores, and all sorts of customizations for Magento stores.
Aside from Magento development, CedCommerce offers a comprehensive range of services that complement eCommerce projects. These include marketplace integration, mobile app development, omnichannel solutions, SEO, and digital marketing services. This diverse service portfolio enables CedCommerce to provide holistic solutions that cater to all aspects of clients' online businesses.
Ceymox Technologies
Another popular name on the list of Magento development company India is Ceymox. With its remote Magento development team, Ceymox offers a premium service that can be tailored to suit your needs. You have the option of hiring them as hourly outsourcing staff or contractors with more flexibility than traditional approaches in terms of hours worked per week and days off taken each month – perfect if you want some extra coverage while staying at home during prime shopping times.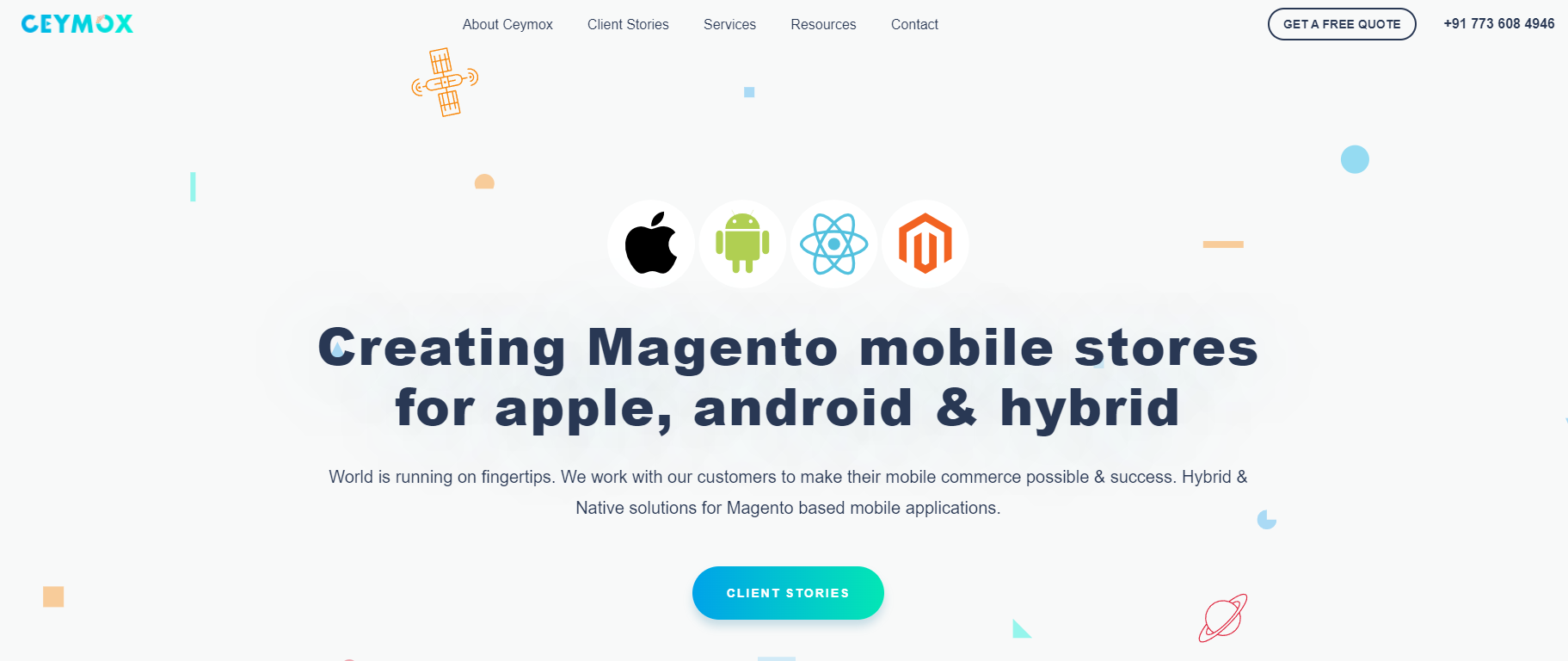 What sets Ceymox Technologies apart from its competitors is its unwavering commitment to delivering excellence. The company adheres to industry best practices and maintains strict quality standards throughout the development lifecycle. By ensuring the stability and reliability of its Magento projects, Ceymox Technologies has earned the trust and satisfaction of its clients.
Emizen Tech
The most well-known name in the list of Magento eCommerce development company India is Emizen Tech. It's a rapidly growing eCommerce development company that specializes in creating online shopping malls for small businesses across industries. They have offices located in Jaipur, India where they serve clients with custom-made solutions to meet their needs and requirements with a strong team of nearly 60 highly experienced full-stack developers. They specialize primarily as an extension to small business clients across various industries including retail & consumer products industry or arts entertainment music.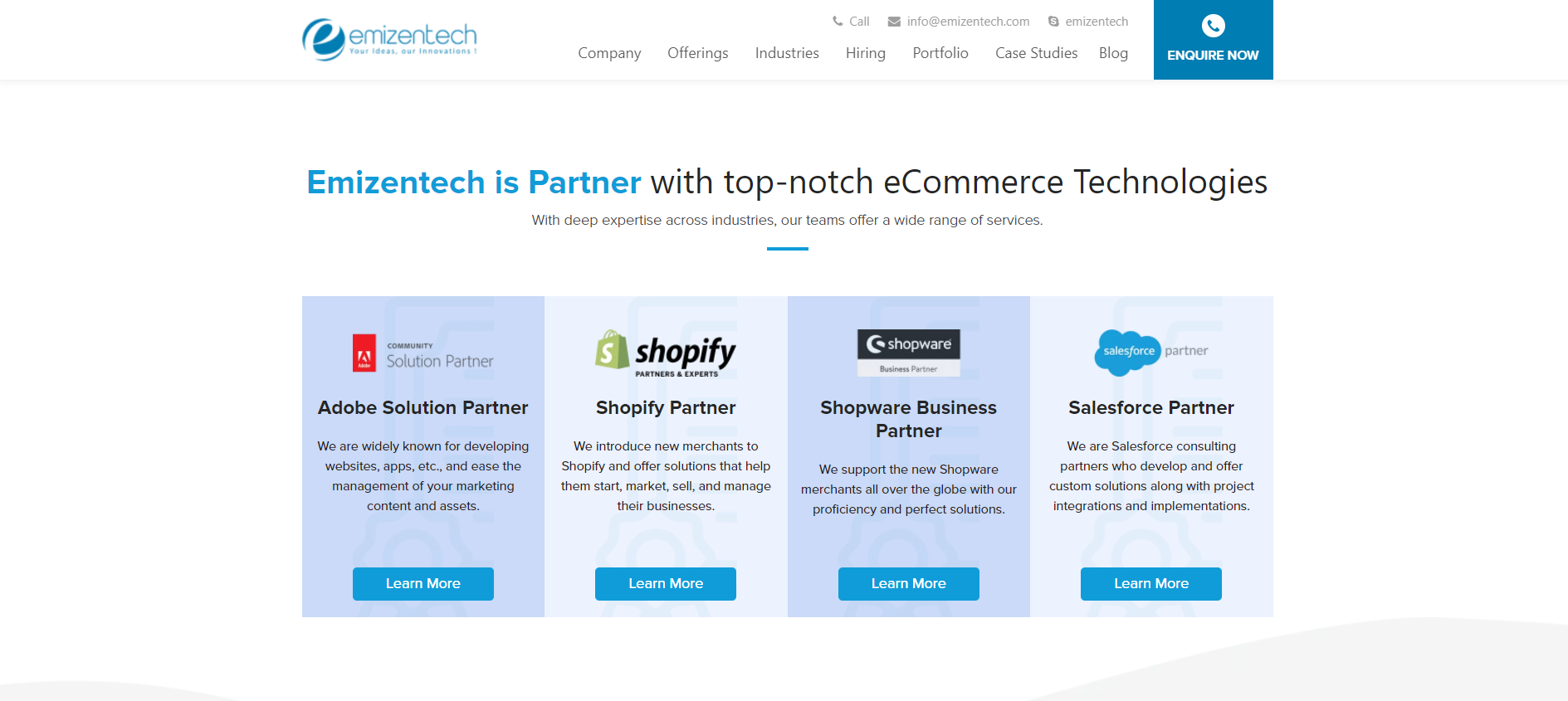 The team of Magento developers at Emizen Tech is highly skilled and experienced, possessing an in-depth understanding of Magento's features and functionalities. They leverage their expertise to create visually appealing and feature-rich online stores that enhance the user experience and drive conversions. With their meticulous attention to detail and dedication to delivering high-quality results, the developers at Emizen Tech consistently exceed client expectations.
Codilar Technologies
Codilar Technologies is a leading mobile app and Magento website development India. They specialize in eCommerce projects with their expertise ranging across all major platforms including iOS & Android apps as well websites such as Web appliers or Desktop applications depending on the requirements for your business needs.

Codilars helps B2B distributors sell products easier by implementing category pages within Magento's POS system that are optimized specifically for these types of retailers.
Netsmartz LLC
Netsmartz LLC has been providing technology solutions since 1999. With more than 460 employees, they are one of the largest IT companies in India and Canada. They offer various services including custom programming and eCommerce development to name just some of their offerings for clients across industries such as retail or transportation who need help building innovative solutions that will best fit your needs.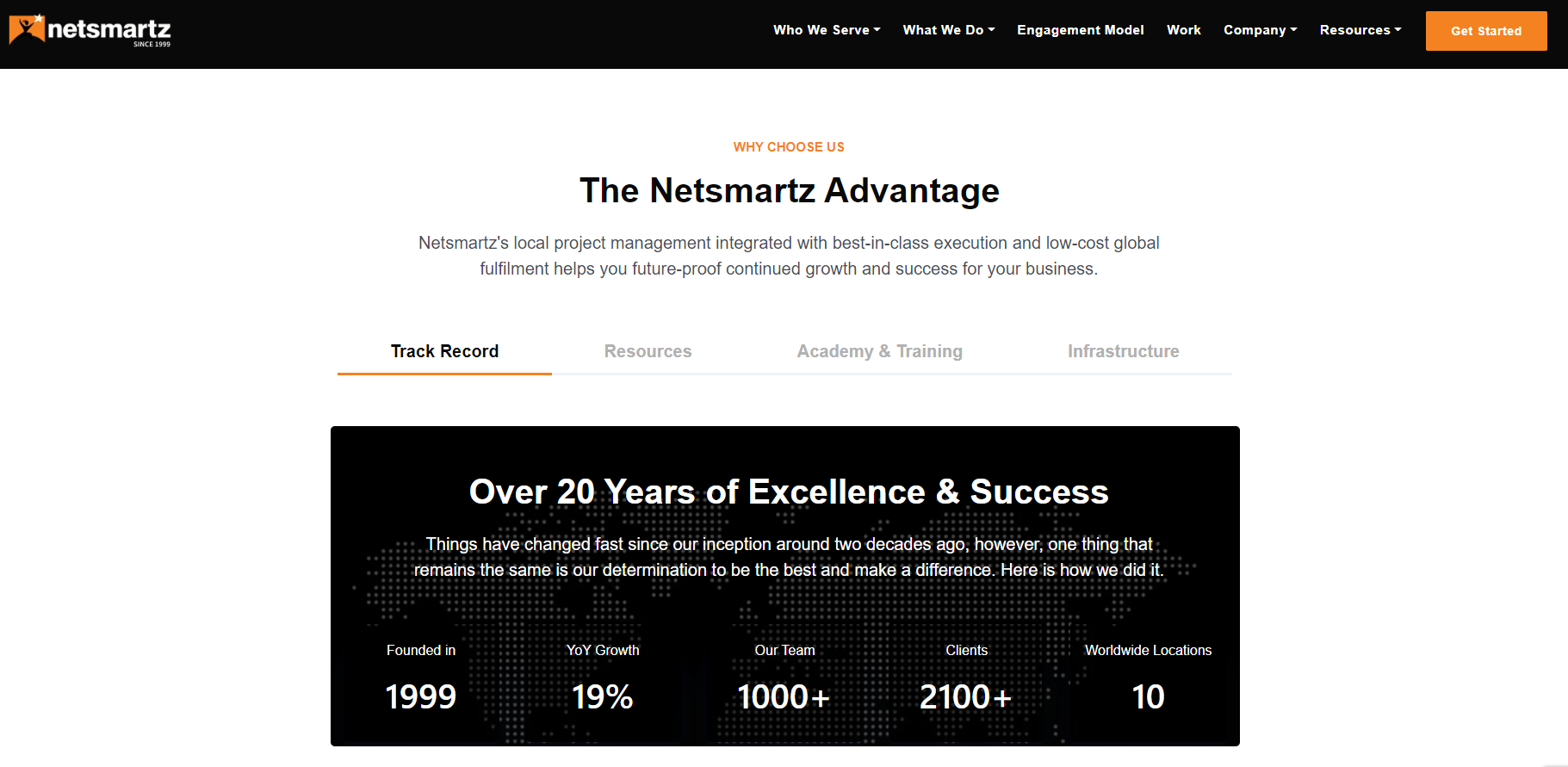 The company's goal is always customer satisfaction which can be seen by how quickly people get back up when something goes wrong–they provide support 24/7 to resolve the issue for you.
Mobikasa
If you're looking for a full-service digital agency with offices all over the world, look no further than Mobikasa. Located in New York City, Mobikasa is a full-service digital agency with offices throughout India. They specialize in digital design for mobile devices as well as UI/UX design to help businesses grow through their online efforts such as advertising campaigns or eCommerce stores.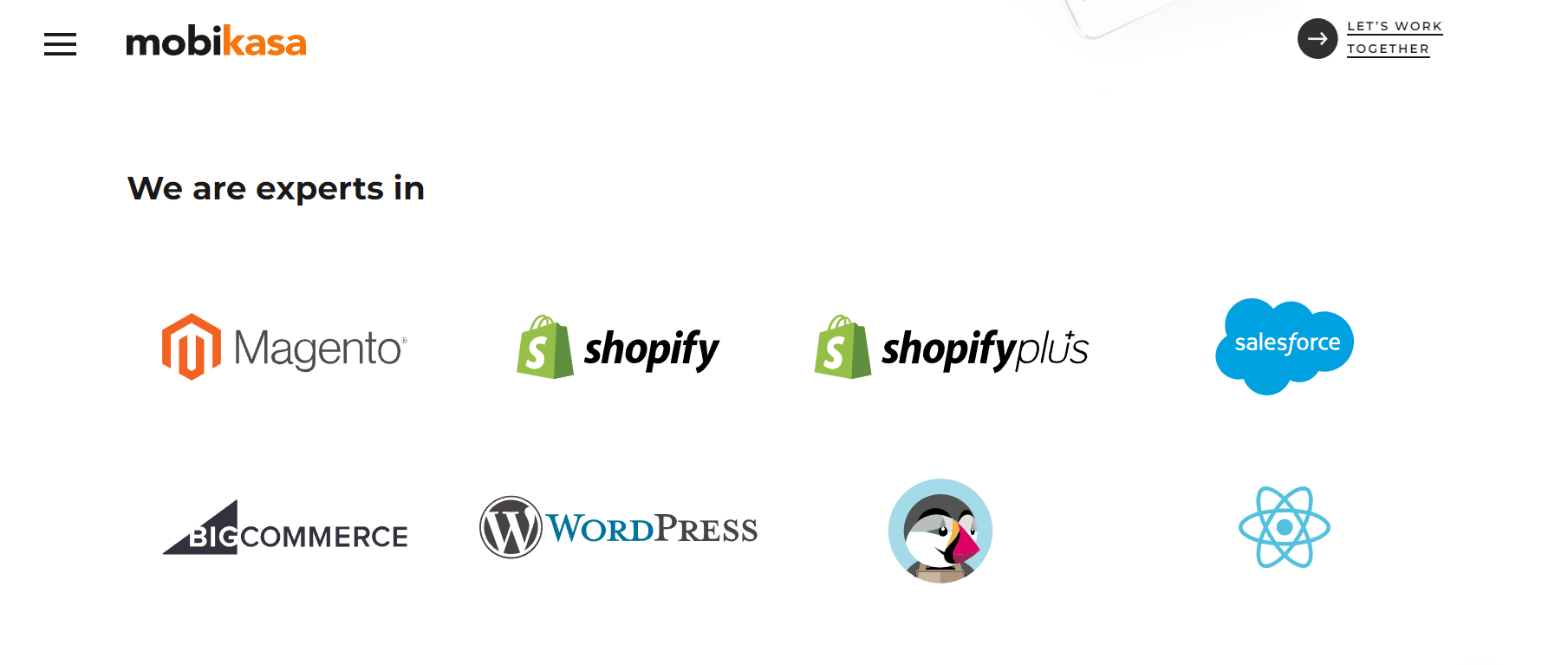 At Mobikasa, client satisfaction is at the forefront of every project. The company believes in building strong relationships with its clients, working closely with them to understand their specific requirements and business objectives. By maintaining open lines of communication and providing transparent project management, Mobikasa ensures that clients are involved throughout the development process, resulting in solutions that perfectly align with their vision.
Orange Mantra
Orange Mantra is a company that provides eCommerce services for any type of client and also offers top Magento eCommerce services in India. They provide customized development to startups and brands, retailers enterprises, or merchants with their customizable platforms like Magento which can be used in many industries such as retail; travel & healthcare industry, etc. Besides Magento 2, the team also offers PrestaShop – an open-source shopping cart software developed equally by them themselves.

In addition to Magento development, Orange Mantra offers a wide range of complementary services to enhance clients' eCommerce projects. These services include mobile app development, UI/UX design, digital marketing, and SEO. By providing a comprehensive suite of services, Orange Mantra ensures that clients have access to all the necessary tools and expertise to achieve success in the competitive eCommerce landscape.
Magenest
Magenest is a software development company that specializes in Magento eCommerce solutions. The company was founded in 2015 and offers a wide range of services including Magento development, extension development, customization, optimization, and maintenance. Magenest has a team of experienced Magento developers who work on custom projects for businesses of all sizes, from small startups to large enterprises. The company has a strong focus on customer satisfaction and works closely with clients to understand their specific business needs and provide tailored solutions.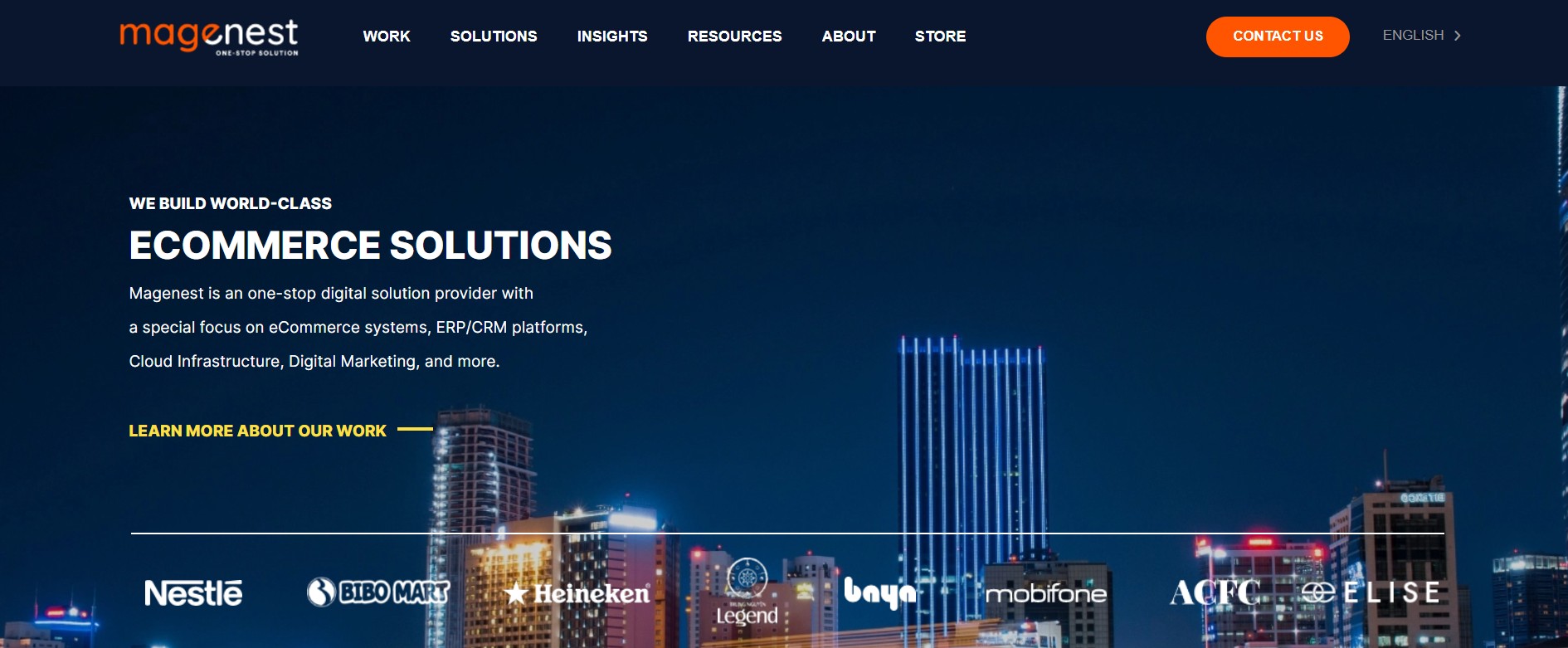 In addition to its development services, Magenest also offers a range of Magento extensions that can help businesses enhance their online stores and improve the user experience for their customers. These extensions include payment gateways, shipping methods, marketing tools, and more.
Evince
Evince is a worldwide organization that specializes in IT consulting and full-stack development. With its headquarters in Ahmedabad, Gujarat, the company has established a strong reputation for its exceptional services and expertise in the eCommerce domain. Evince specializes in Magento web development, customization, extension development, migration, and ongoing support.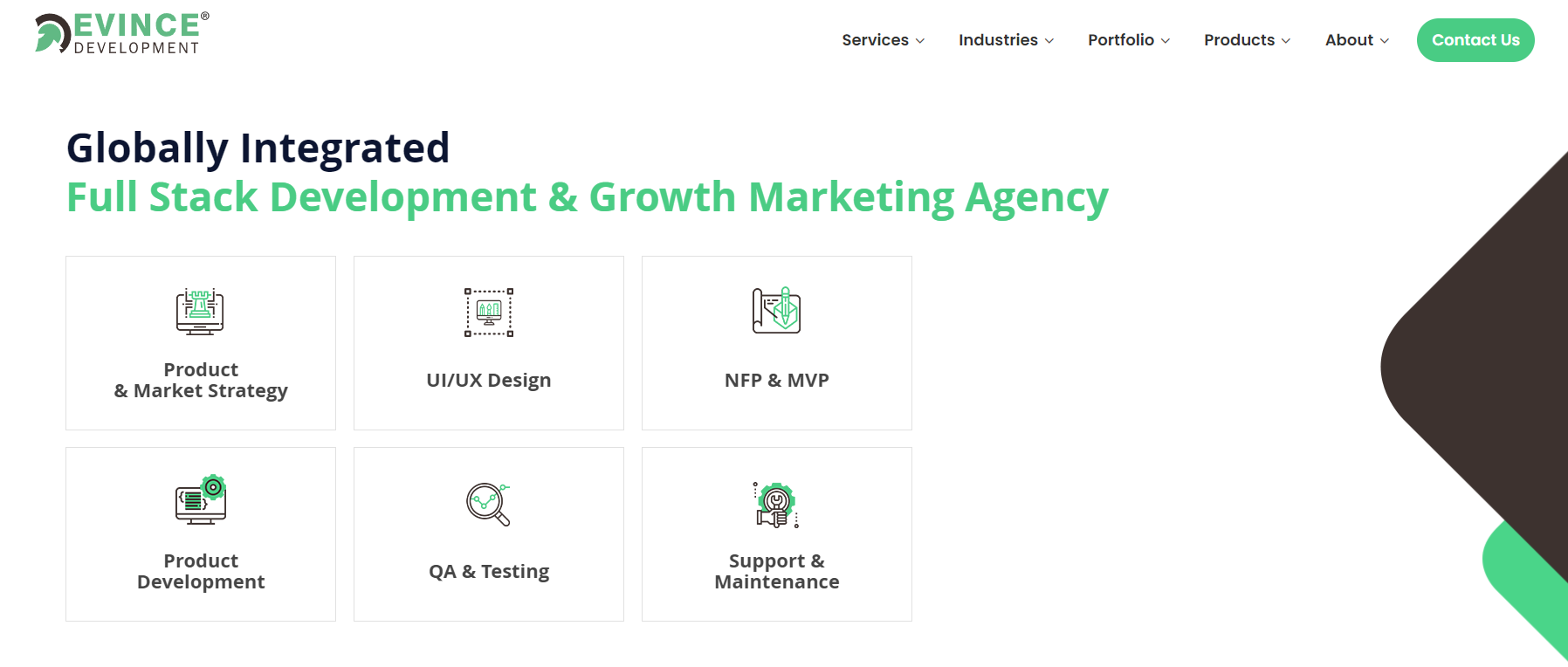 They are determined to create an environment where their clients can quickly improve digital transformation efforts while adhering strictly to industry standards with integrity at its core, all the way through a strategic approach. By closely collaborating with clients, Evince ensures that every aspect of their online stores aligns with their vision, resulting in solutions that drive growth and success.
Elsner Technologies
Elsner Technologies is one of the leading web and mobile app development companies with a global presence. They have an office in Ahmedabad, India but also offices across Switzerland, the USA, and Australia to ensure that they can meet all your needs no matter where you are based. With over 250 employees working for them, this company has grown dramatically since 2006 – They develop for every major platform and framework, complemented by their expertise in SEO; this allows them to provide unique solutions tailored specifically towards your needs.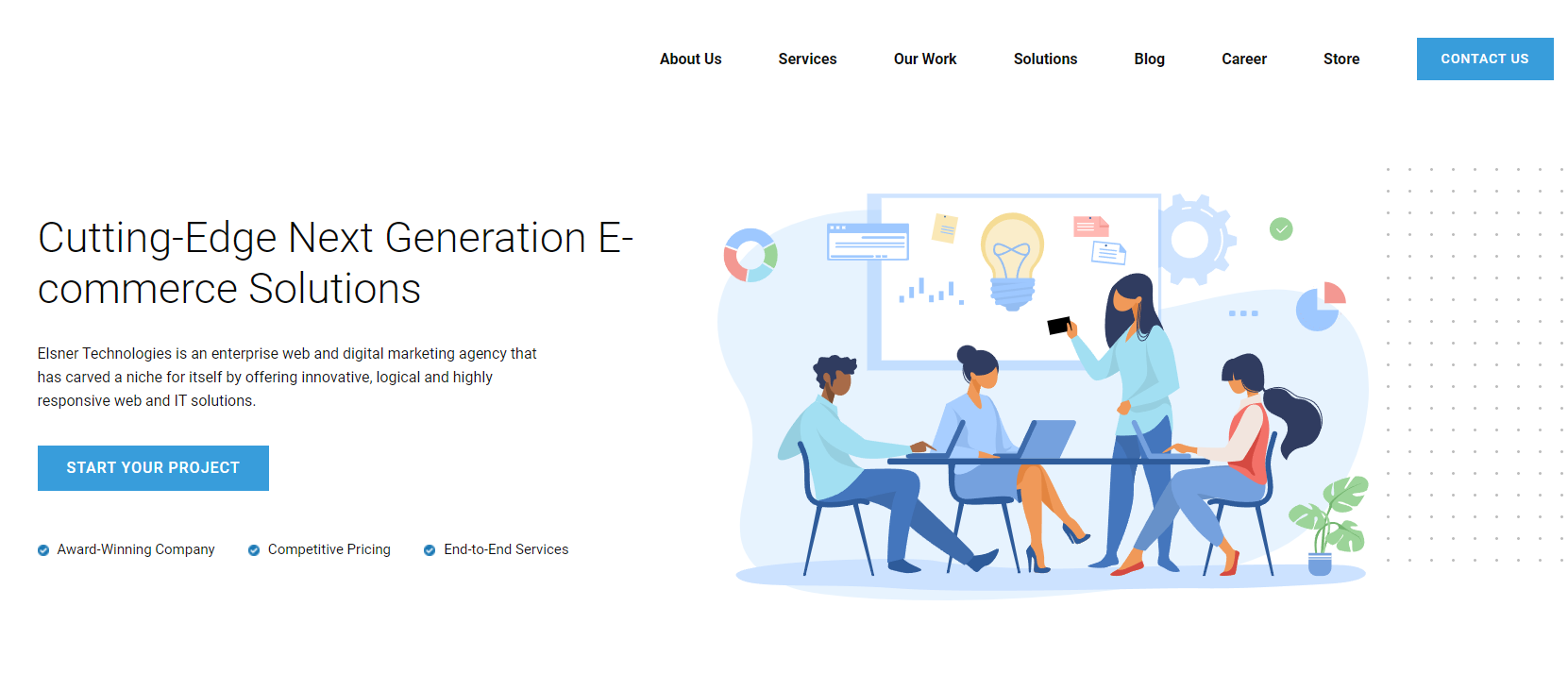 Quality is of utmost importance to Elsner Technologies. The company follows stringent quality assurance processes and industry best practices to deliver robust, reliable, and high-performance Magento solutions. By prioritizing quality, Elsner Technologies has earned the trust and satisfaction of its clients, building long-lasting relationships based on reliability and excellence.
Brush Your Ideas
The founders of Brush Your Ideas have over 10 years of experience in eCommerce and web design. They work closely with their clients, providing eCommerce development and online marketing solutions for clients ranging from small firms to large businesses such as Amazon.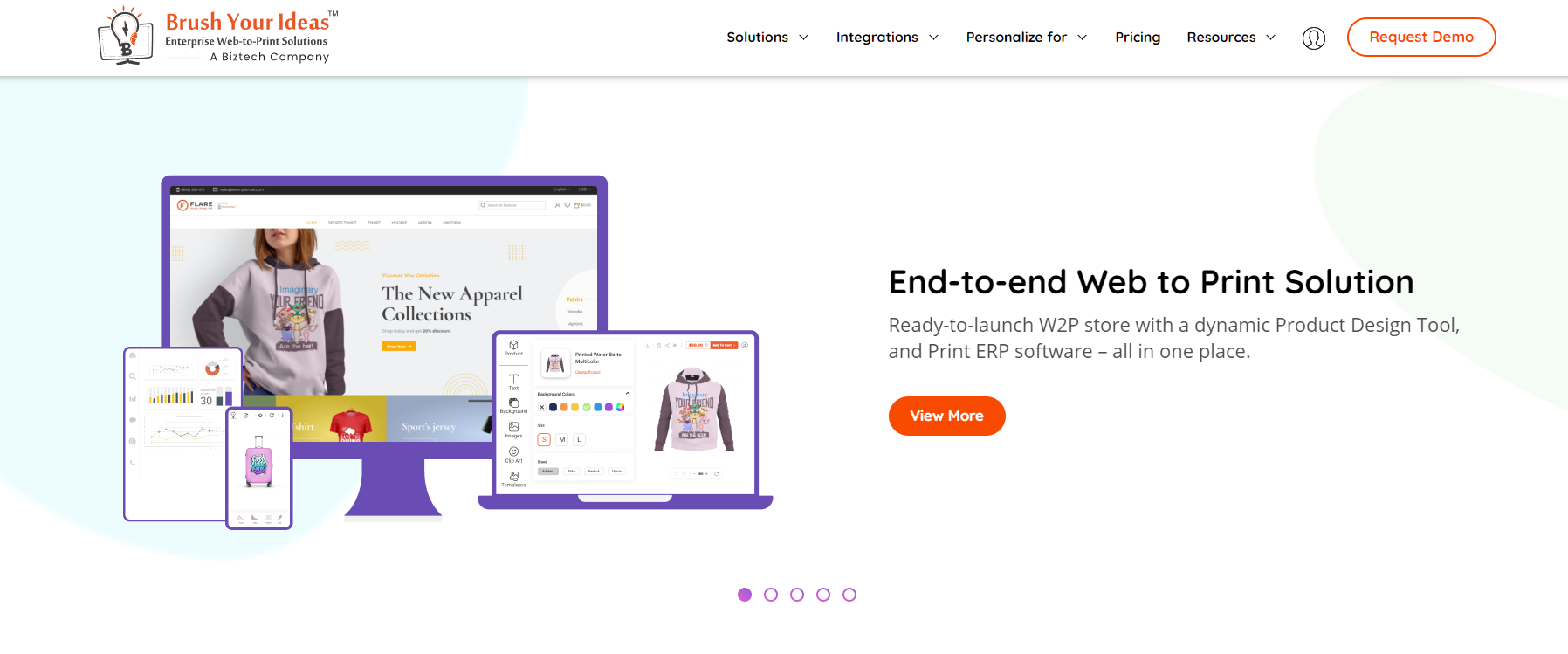 The team at Brush Your Ideas is now focused on developing a new design tool for printing firms to use with their clients, fixing any bugs that may exist in the Magento website, and updating it as well.
Tips for Hiring a Magento Development Company
Do you want to hire a Magento development service for your project, but you don't know where to start? This step-by-step guide will help you find the right partner and avoid any pitfalls along the way.
Define Your Project Scope
The first step is to clearly define the scope of your project. What exactly do you need from a Magento development company? Make a list of all the features and functionality that you need, as well as any other requirements such as language support or third-party integrations.
You need to consider factors such as design elements, user experience, payment gateways, shipping integrations, and any other specific functionalities or integrations you need. Be as detailed as possible to provide a clear understanding of your expectations to the development team.
Do Your Research
Once you know what you need, it's time to start looking for companies that can provide it. Use Google and social media to find developers with experience in Magento development. Look at their online portfolios and read reviews from past clients to get an idea of their work quality.
Consider the expertise and skill level of the Magento developers within each company. Evaluate their technical proficiency, experience with Magento projects, and familiarity with the latest Magento versions and functionalities. Skilled developers will have a deep understanding of Magento's features and will be able to provide valuable insights and recommendations for your project.
Additionally, check if the company has relevant certifications or partnerships with Magento. These credentials can indicate a higher level of expertise and commitment to staying up to date with Magento's best practices and standards.
Request a Quote
Once you've found a few companies that you're interested in working with, contact them and request a quote. Start by providing a clear and concise overview of your project. Include essential details such as the nature of your business, the goals of your project, and the specific requirements you have for your Magento development. The more detailed and specific you are, the better the development company can understand your needs and provide an accurate quote.
Discuss the desired timeline for your project. Provide the development company with an idea of when you expect the project to be completed. Be open to their feedback and suggestions regarding the feasibility of your timeline, as their expertise will help you set realistic expectations.
Compare Prices and Services
After you've received quotes from different companies, it's time to compare prices and services. Make sure to compare apples to apples, and don't just go with the cheapest option. Consider the quality of their work, their customer service, and any other factors that are important to you.
By comparing prices and services, you can make an informed decision when selecting a Magento development company. Take into account the specific needs of your project, the level of expertise and support provided, and the long-term costs to find the best fit for your requirements and budget.
Make Your Decision
Once you've compared all of the different options, it's time to make your decision. Choose the company that you feel offers the best value for your project. Be sure to sign a contract that clearly outlines the scope of work and timeline for your project.
In conclusion
Magento is a powerful eCommerce platform that offers a lot of flexibility and features for online stores. If you're looking to create an online store, or are unhappy with your current eCommerce platform, Our team of experienced Magento developers can help you get the most out of this platform and create a store that meets all your needs and exceeds your expectations.
Magenest has a wealth of experience in developing tailored solutions for various industries and cultures. With our intimate knowledge of the Magento 2 platform and its workings, we are confident in not only our ability to create new Magento websites but also our capacity to provide comprehensive integration services for third-party applications. Do you have a project that needs the expertise of a qualified development team? Contact us today – we would be happy to discuss your needs!