The eCommerce sector has seen dramatic growth since the early 2000s when Bangladesh lacked widespread internet access or a reliable online transaction system. But today COVID-19 social distancing measures significantly boosted demand for eCommerce services and led many brick-and-mortar businesses to join online sales platforms. These sites have managed to offer a smooth shopping experience, allowing people to buy their desired products with the fewest clicks possible. In this article, we have listed the top eCommerce sites in Bangladesh based on user behavior and traffic source data in 2023.
Top 10 eCommerce sites in Bangladesh
Daraz.com.bd
Established: 2010
Estimated number of monthly visitors: 10.09 million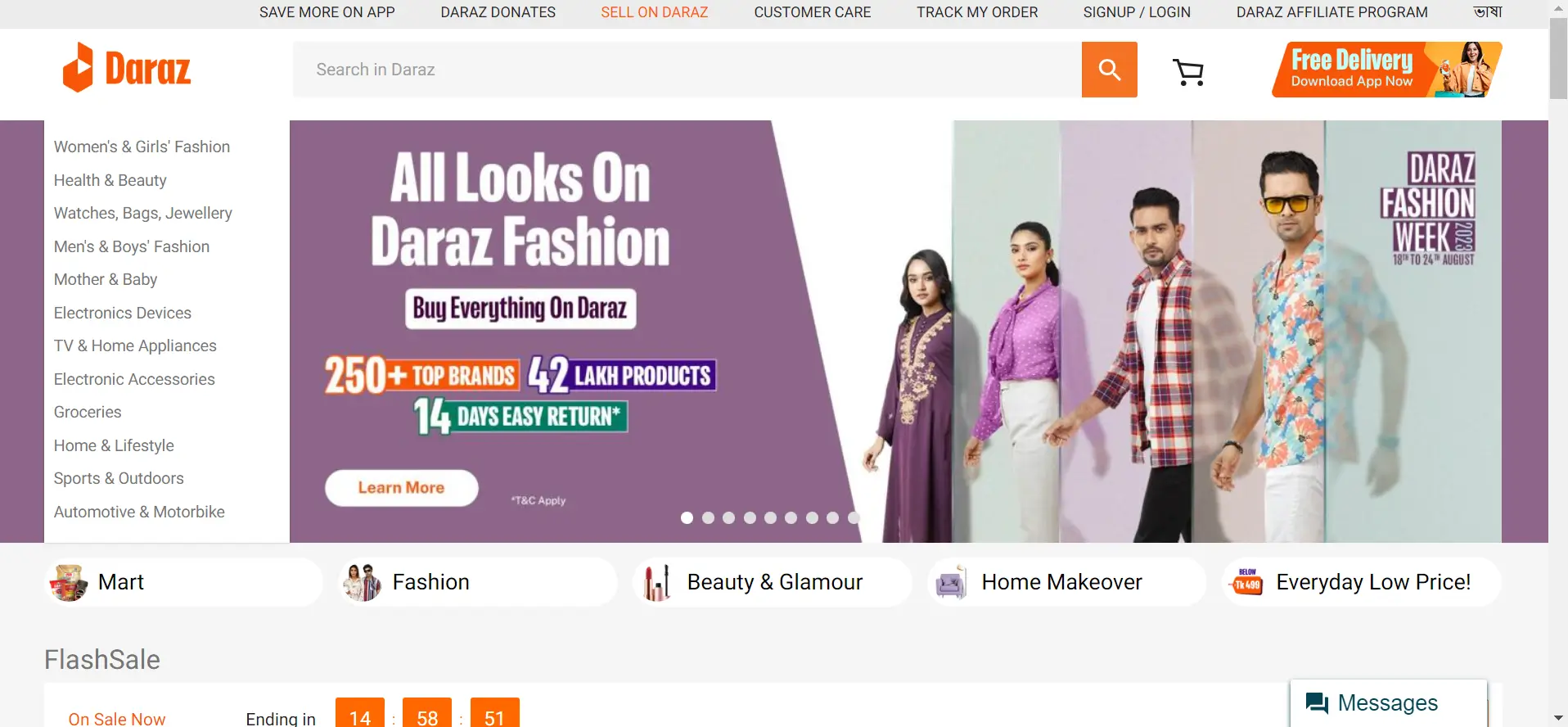 Daraz is one of the top eCommerce sites in Bangladesh the most popular and oldest, selling electronics, appliances, and clothing among other things. According to popularity, this is Bangladesh's most popular online shopping site at the moment. Fashion accessories, jewelry, footwear, furniture, gadgets, and even automobiles may all be found on this massive online shopping mall.
Numerous well-known names in the industry have worked with Daraz in the past. In order to meet their needs, Daraz has designed a custom website. In Pakistan, Bangladesh, Nepal, Sri Lanka, and Myanmar, Daraz Group operates eCommerce platforms as well as logistical services.
Daraz Group was acquired by Chinese eCommerce giant Alibaba Group in May 2018. Daraz has maintained its position as the top eCommerce sites in Bangladesh for several years.
Pickaboo.com
Established: 2016
Estimated number of monthly visitors: 361.91K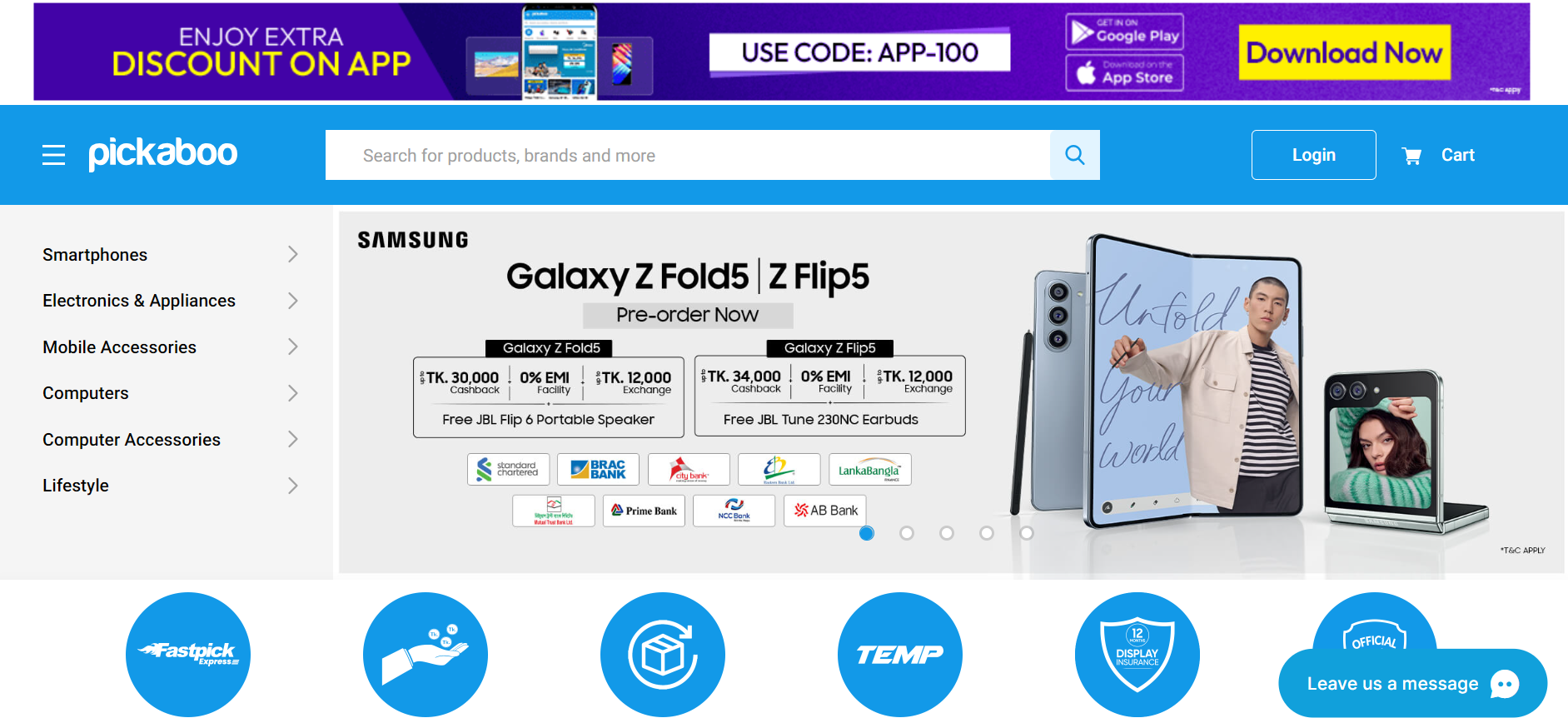 Pickaboo.com began its journey in 2016. The marketplace is committed to providing clients with the highest-quality and legitimate products, including genuine smartphones, mobile devices, computers, electronics, perfume, and watches.
Pickaboo has established a strong presence for internet customers by focusing exclusively on electric and technology things. As a result, there is no need to go shopping for devices. They also offer same-day and next-day delivery and provide a return policy in case a product is damaged. You can pay using any of the following methods: EMI payment, BKash, swipe-on delivery, cash-on-delivery, Visa Card, Master Card, and so on.
Chaldal.com
Established: 2013
Estimated number of monthly visitors: 2.04 million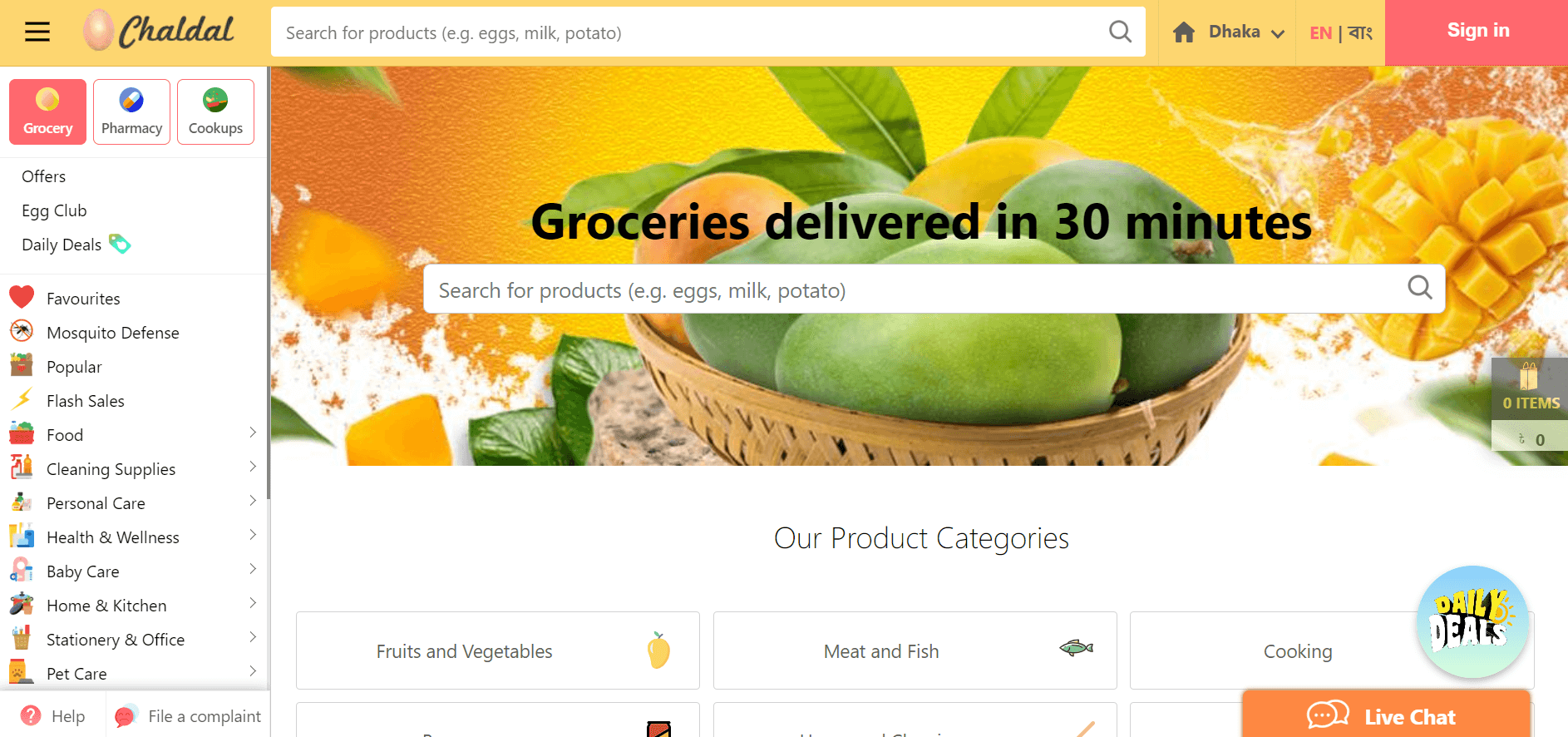 Customers may easily get all of their day-to-day food items delivered to their doorstep from Chaldal.com – known as the top eCommerce site in Bangladesh for online grocery. The online marketplace offers a large selection of home appliances, beauty & health items, and other products to its clients in addition to fruits, vegetables, rice, fish, and meat products. Chaldal aims to create a Bangladesh where people don't have to leave their homes to shop for basic necessities like food. Their main goal is to save their customers significant time while also providing them with comfort.
Sales promotional activities and interesting discount offers for its clients are organized by Chaldal.com on a regular basis and distributed through a variety of social media channels. You can get a discount of up to 3% off your first purchase if it is your first time!
With minimum orders from $100, the site will also automatically offer a free home delivery service. The Chaldal app is compatible with both Android and iOS devices. Furthermore, Payment options include cash on delivery, Master & Visa card, and, finally, bKash.
Bagdoom.com
Established: 2010
Estimated number of monthly visitors: 50k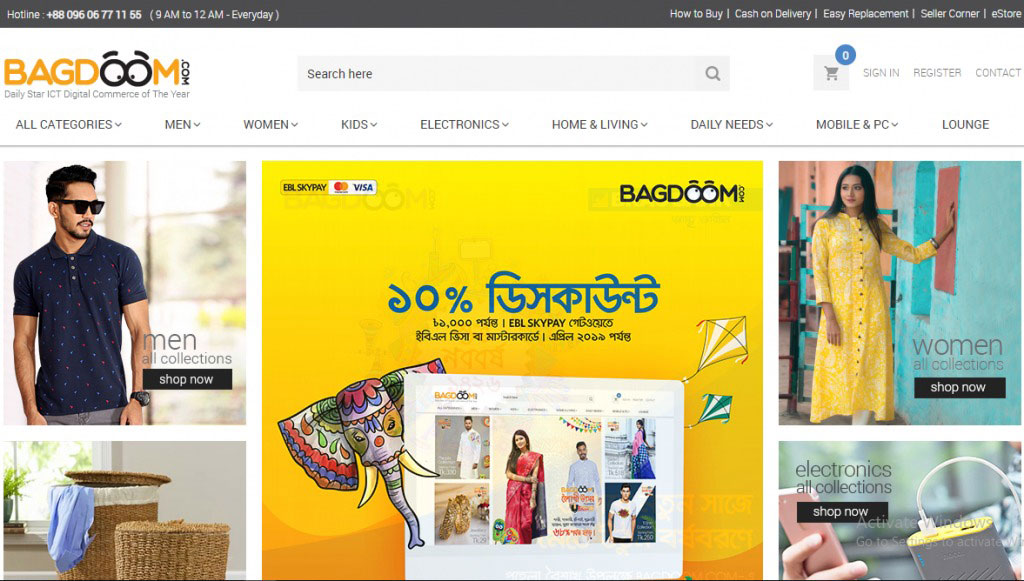 Bagdoom.com began operations in 2010. Akhoni.com has been rebranded under this name. Bagdoom offers products from both national and international companies.
With Bagdoom.com, you may find a variety of exclusive collections to suit your needs, whether you're looking to dress down or go all out. In one location, you'll find everything from local brands to bestsellers from around the world.
You'll be able to find everything you need for your everyday life here, including a wide range of lifestyle products. They make it easy for their consumers to get a replacement. A variety of payment methods are available including cash on delivery (COD), bKash, debit or credit card, and Payza.
PriyoShop.com
Established: 2013
Estimated number of monthly visitors: 190.37K

In 2013, Priyoshop.com began its adventure into the world of online shopping. Everything from clothing and footwear to jewelry and accessories is available at this store. If you want to buy something, you can order it online and it will be delivered anywhere in the world as long as you have an internet connection.
Customer satisfaction is their top priority. As far as top eCommerce sites in Bangladesh, it offers a range of payment options such as Cash on delivery, bKash, Visa Card, American Express.
Othoba.com
Established: 2015
Estimated number of monthly visitors: 543.47K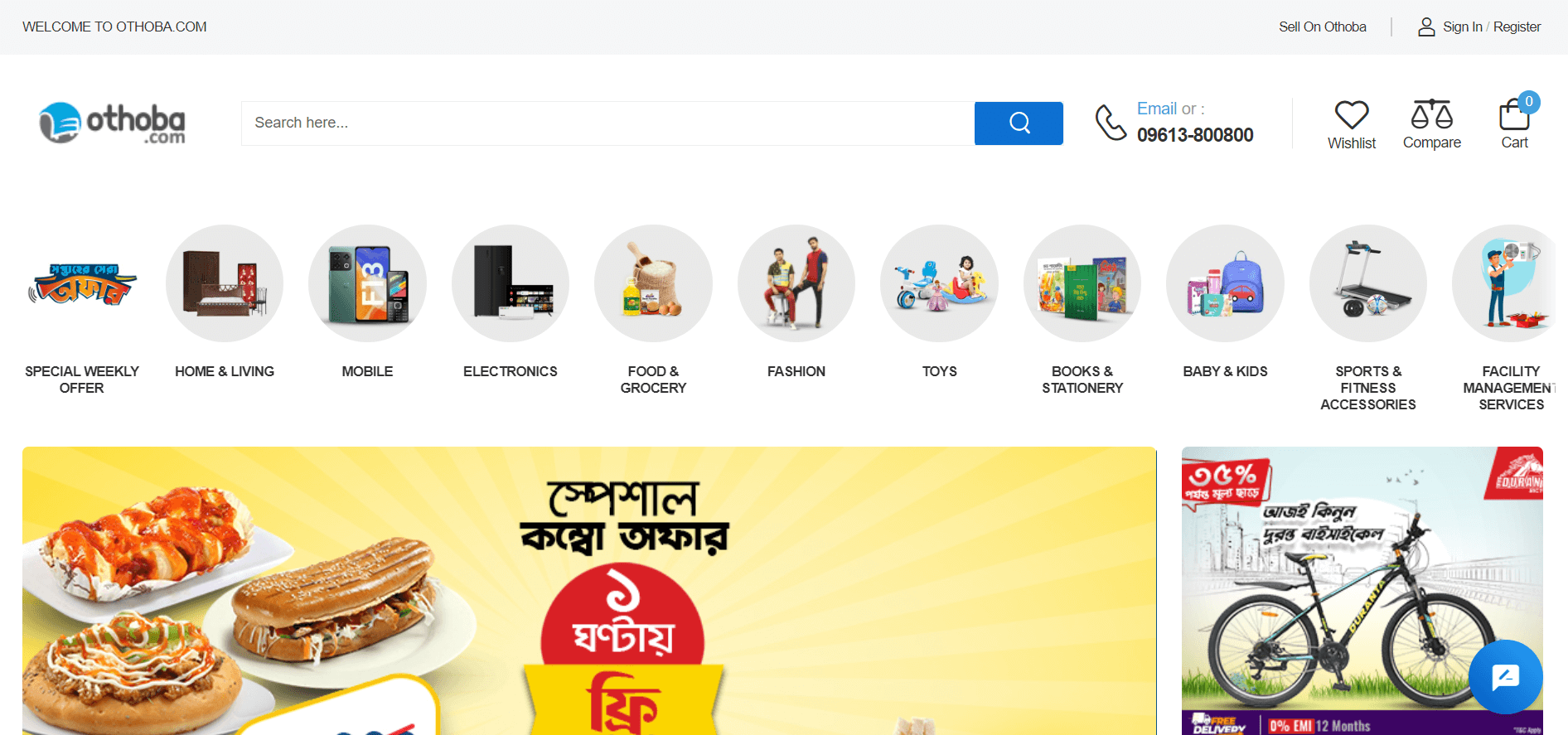 The Pran RFL group's sibling company, Othoba.com, entered the eCommerce market in 2015 and rapidly became one of the top eCommerce sites in Bangladesh. Their goal is to assist clients in meeting their daily needs by leveraging the full potential of the Internet. Their major goal is the satisfaction of their customers. They also offer a live chat feature, which allows clients to get answers to any questions they may have about a specific product.
Othoba.com offers a diverse selection of products to its clients, including apparel, electronics, jewelry, toys, accessories, makeup, home appliances, and furniture. Their items are of the highest possible quality. The website has a separate page dedicated to offering special discount deals for visitors.
Deliveries are made throughout Bangladesh, including to remote areas, by this company. Customers located outside of Bangladesh can place orders by providing the shipping address for their order. In comparison to other online buying websites, they charge a reduced delivery fee. Their return policy is valid for seven days after the purchase date. You can pay with cash on delivery, bKash, and Payza, among other methods.
Evaly
Established: 2018
Estimated number of monthly visitors: 50K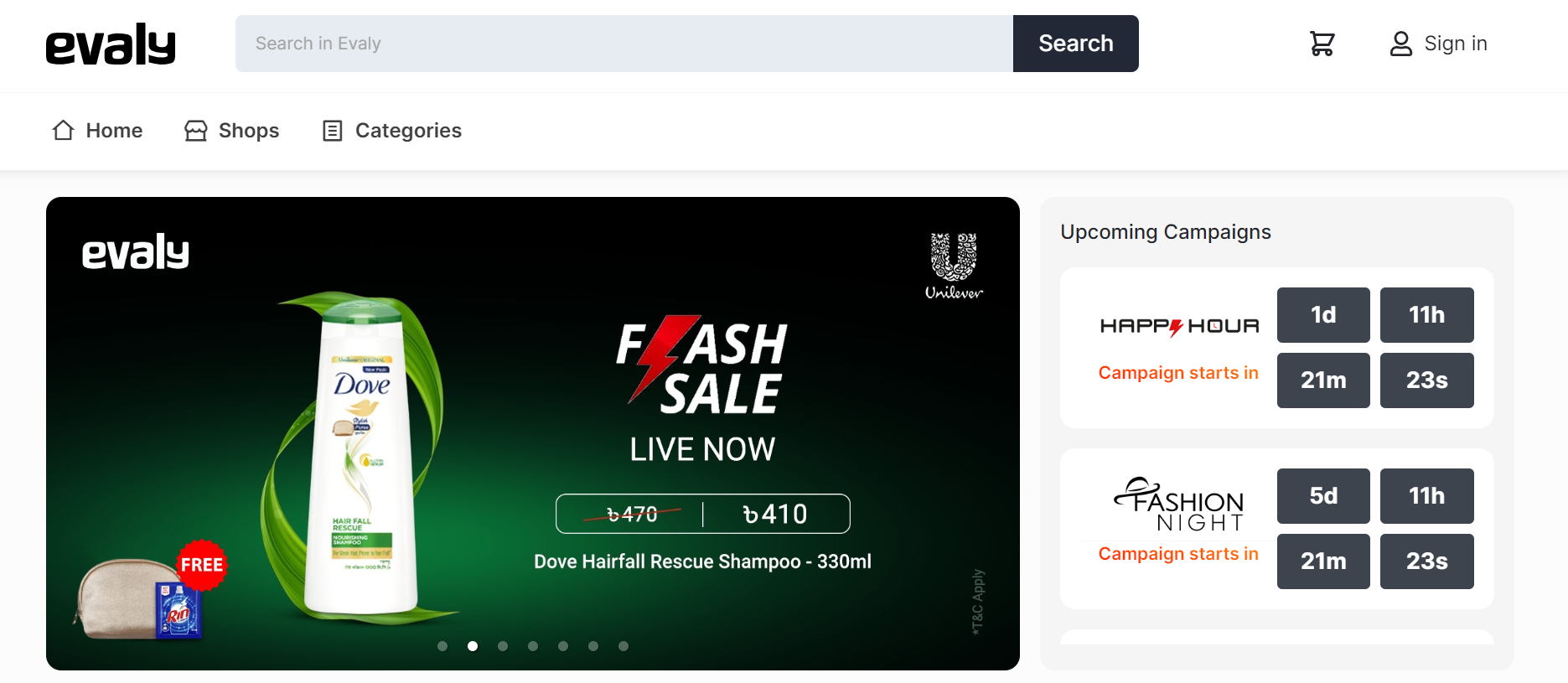 Established in 2018, Evaly is a digital platform delivering eCommerce, inventory management solutions as well as grocery stores and meal delivery services. After just two years, Evaly has secured 10,000 small and medium-sized enterprises (SMEs) on its platform. There are currently roughly 3.5 million active users on the site. There have been around $240 million in gross merchandise and 3.2 million unique orders on the site by the end of 2019.
Even though the company began as top eCommerce sites in Bangladesh, it has since expanded into other services such as food delivery and online auctions. Evaly is not the first platform to offer these services. Thanks to a unique marketing technique, it has been able to reach the general public and beat the competition. However, Evaly has encountered challenges as a result of the scam issue, which occurred shortly after the company's tremendous success. Even in the face of all the obstacles, the company continues to rise and expand its operations.
If you are a small business owner, you can use this platform to sell your products online by setting up a shop on it. The following is the method of payment: Visa Card, Master Card, bKash, Cash-on-Delivery.
Ajkerdeal.com
Established: 2011
Estimated number of monthly visitors: 78,27K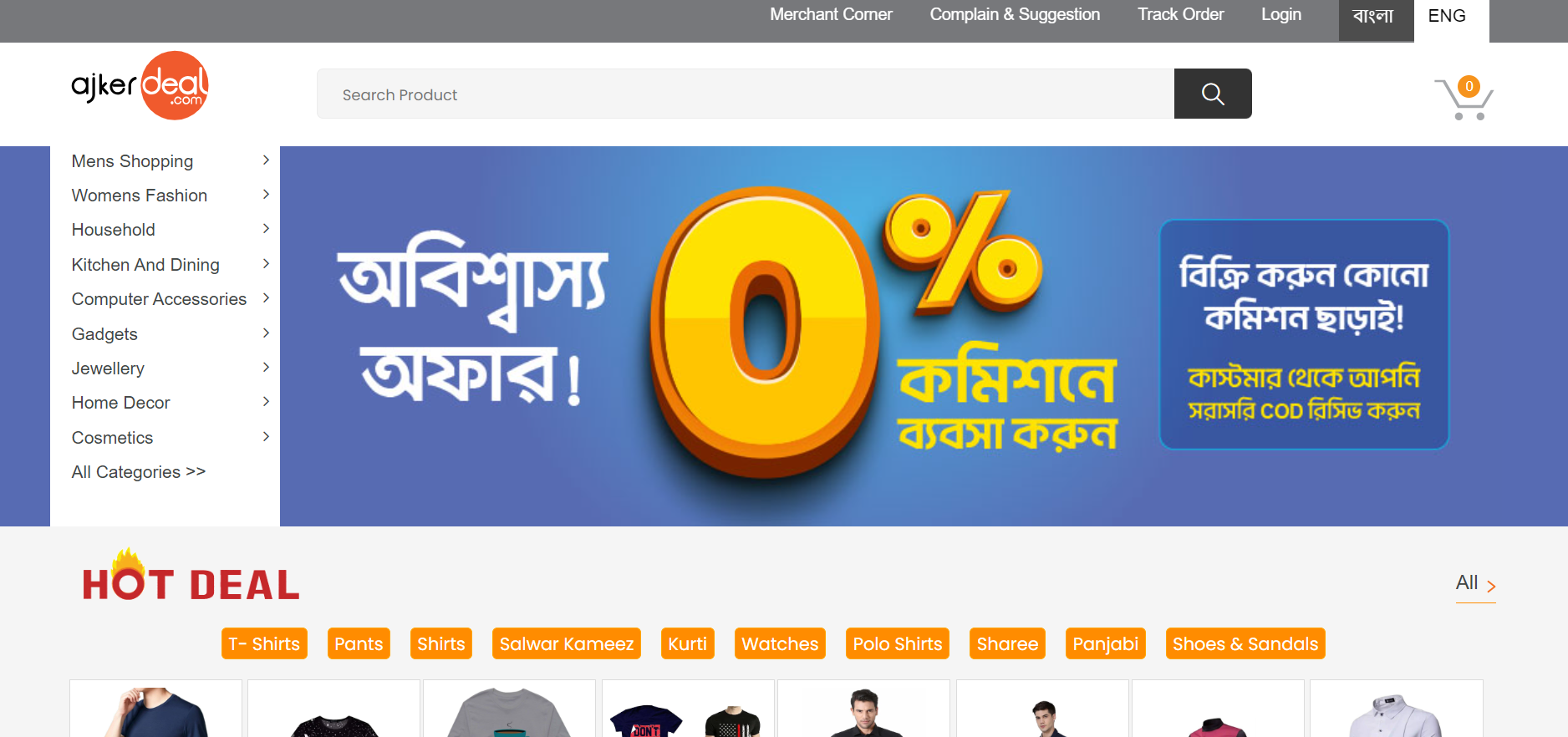 jkerdeal.com is an online marketplace where shoppers can simply find the items that they require on a daily basis. It provides its customers with daily necessities at a low cost. It sells fashion and cosmetic accessories, as well as electrical appliances and other necessities for the average family. Additionally, it offers the option of making payments via a revolving credit card account. It is the sibling firm of www.bdjobs.com – Bangladesh's largest job site – and began operations on November 19, 2011.
You can also keep track of the progress of your order for your convenience. Faulty goods are eligible for a refund under certain conditions. Cash on delivery, DBBL banking payment, bKash, iPay, MasterCard, VisaCard, and American Express are all accepted as payment methods. Customers who purchase with bKash receive a cashback offer ranging from 10% to 50%.
Bikroy.com
Established: 2012
Estimated number of monthly visitors: 2.53 million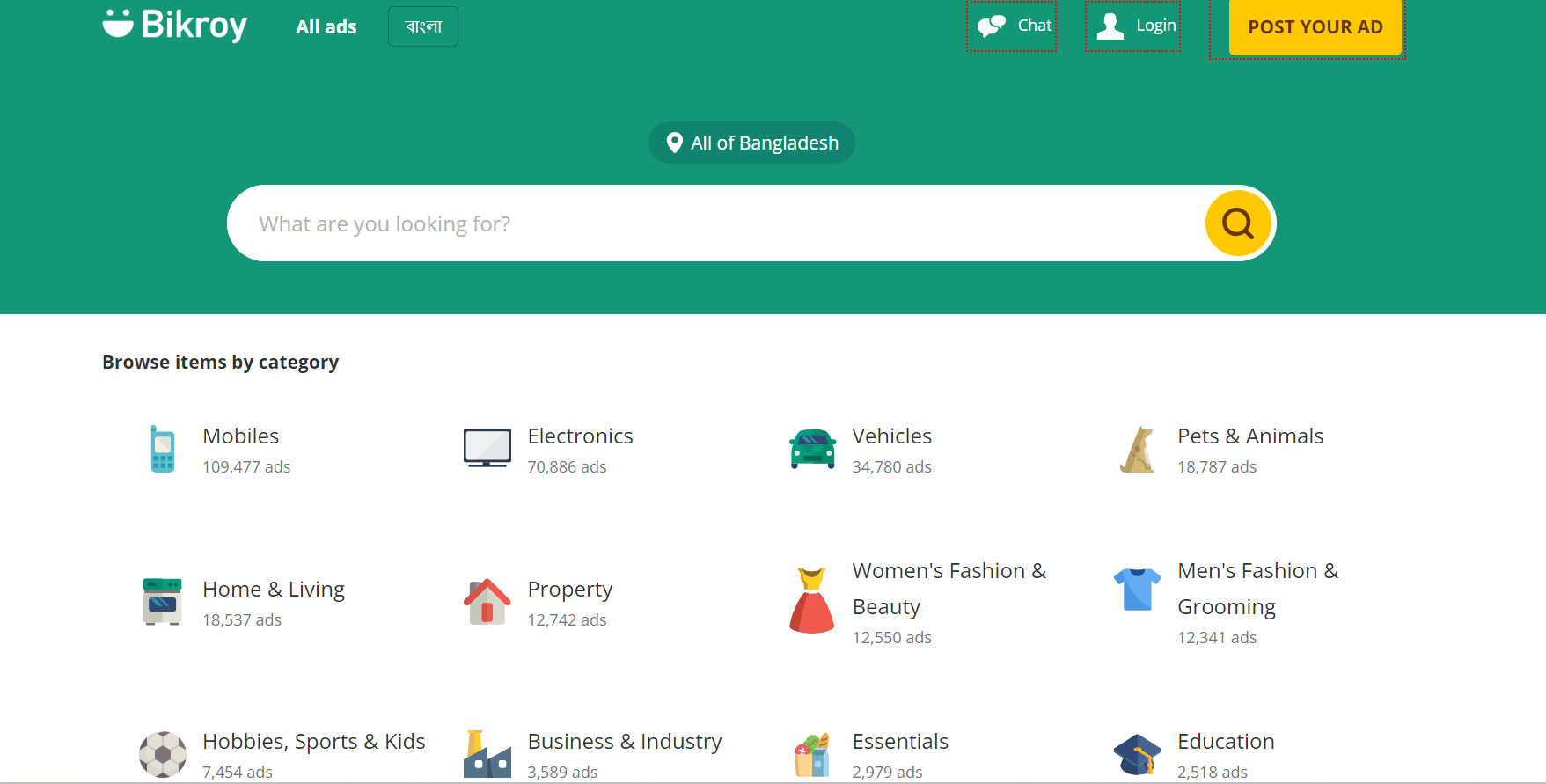 When there are so many online shopping websites to choose from, Bikroy.com has gotten the attention of customers by taking a slightly different approach to doing business online. Bikroy.com is a massive online marketplace where users may concurrently buy and sell a wide range of things at the same time.
Bikroy.com has the broadest selection of second-hand merchandise anywhere online. Depending on where you live, you can find the greatest local prices here.
Bikroy.com also provides a free advertising service for your product in 50 different regions across the United States, including Alaska. For the highest quality for its clients, the website's authority meticulously inspects and tests each product.
Rokomari.com
Established: 2012
Estimated number of monthly visitors: 920.78K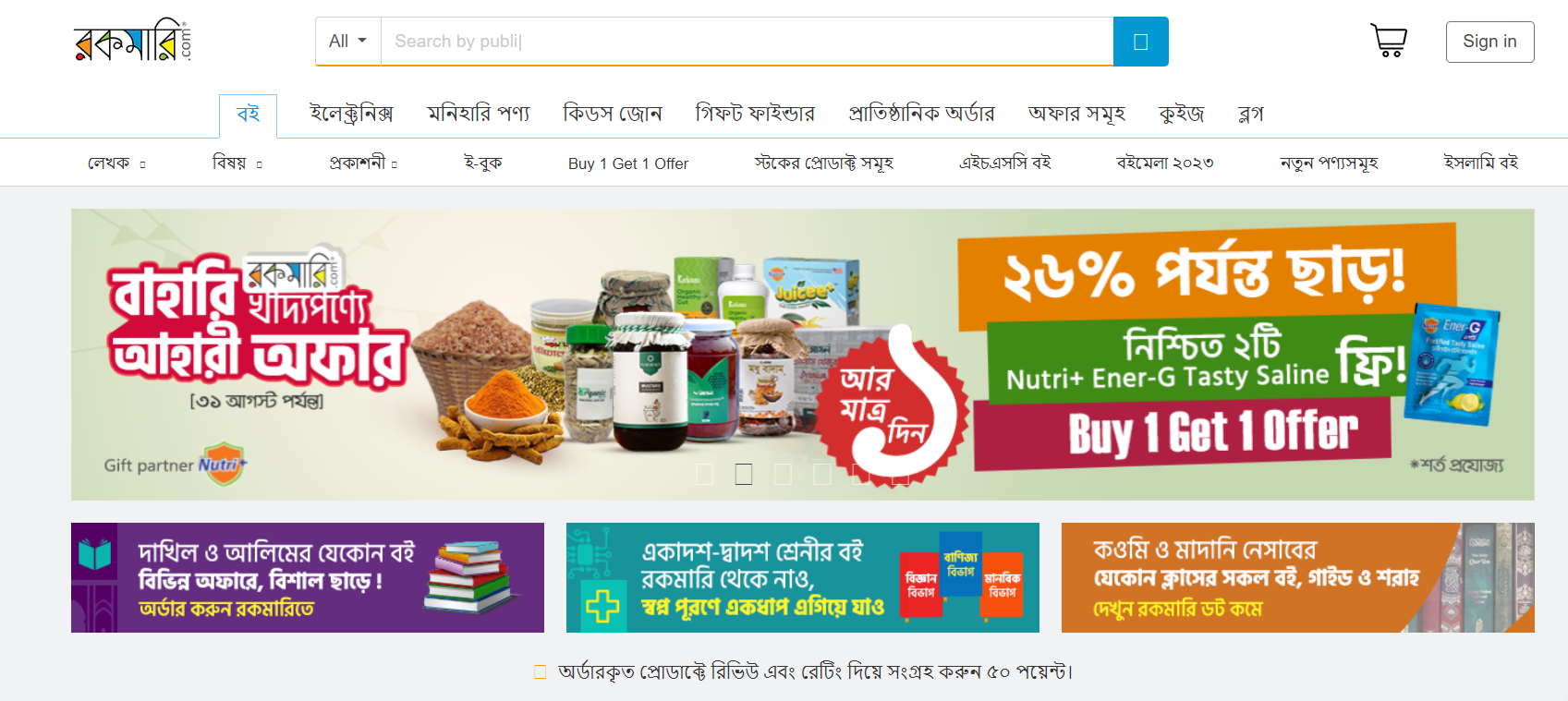 If you're looking to purchase books of varying interests, Rokomari.com is one of the most reputable eCommerce sites in Bangladesh to do so. Because of this, they have their own home delivery system in Dhaka, Chittagong, and Rangpur, which is quite remarkable considering they have only been in business since 2012. In addition to books, they also sell electronics and accessories at very competitive pricing. They offer great discounts on books and technological gadgets. Their payment options include cash-on-delivery (COD), MasterCard, VISA, Bkash, and DBBL.
Rokomari.com provides its customers with a flexible return and refund policy. Within three days of receiving the book, you can return it for a full refund. The Rokomari website makes it easy to send a book to a loved one on a special occasion with just a few clicks. bKash, cash on delivery, Visa, American Express, Payza, Master Card, Rocket, etc. are all possibilities for payment.
What do Top eCommerce sites in Bangladesh have in common?
Difference from our list of Top 10 eCommerce sites in the world, most of the top eCommerce sites in Bangladesh are local businesses. Besides that, they also share some common characteristics and features:
Diverse Product Range: These top eCommerce sites in Bangladesh sites boast a comprehensive and diverse range of products that cater to various consumer needs and preferences. From electronics and clothing to groceries and books, their extensive product offerings ensure that customers can find virtually everything they require in one convenient online marketplace.
Convenient Payment Options: Recognizing the importance of providing hassle-free payment methods, these eCommerce platforms offer a range of payment options to accommodate different customer preferences. These options often include cash on delivery (COD), digital wallets like bKash, secure credit and debit card transactions, ensuring that customers can choose the payment method that suits them best.
Focus on Quality: One of the distinguishing features of these top eCommerce sites in Bangladesh is their commitment to delivering high-quality products. They emphasize the authenticity and genuineness of their offerings, particularly in areas such as electronics and fashion, where customers' trust in the product's quality is of utmost importance.
Customer Satisfaction: Customer satisfaction is paramount for these platforms. They establish customer-friendly policies, including flexible return and refund procedures, allowing customers to initiate returns within a specified period if they are not satisfied with their purchase. This focus on ensuring customer happiness contributes to their reputation and customer loyalty.
Delivery Services: Recognizing the value of convenience, these platforms often provide efficient and reliable home delivery services. They may offer same-day or next-day delivery options, ensuring that customers receive their orders promptly without having to leave the comfort of their homes.
User-Friendly Interfaces: These top eCommerce sites in Bangladesh prioritize user experience by designing intuitive and user-friendly interfaces for their websites and mobile apps. This enhances the browsing and shopping experience, making it easier for customers to navigate, find products, place orders, and track deliveries seamlessly.
Discounts and Deals: To attract and retain customers, these platforms frequently employ promotional strategies such as sales events, discounts, and cashback offers. They may also provide exclusive discounts for first-time customers or special deals on specific products, creating a sense of urgency and encouraging purchase decisions.
Local and International Products: A hallmark of these eCommerce sites is their ability to offer a diverse product range that includes both local and international products. This allows customers to explore a rich variety of choices, spanning from products deeply rooted in the local culture to globally recognized brands and items.
Transparency: These platforms emphasize transparency in their operations. They provide clear and detailed information about products, prices, delivery times, and associated costs. By being transparent, they establish trust with their customers, ensuring they have a clear understanding of what to expect from their purchases.
Expansion and Adaptation: Going beyond traditional eCommerce, several of these platforms have expanded their services to meet evolving customer needs. This might include offerings like grocery delivery, online auctions, or even broader digital services. This adaptability showcases their commitment to staying relevant and serving their customers comprehensively.
Strong Online Presence: These top eCommerce sites in Bangladesh maintain a robust online presence across various social media platforms. They utilize these channels to promote their products, announce sales and discounts, share customer testimonials, and engage with their audience directly. This strategy helps them stay connected with their customer base and build brand loyalty.
Innovative Strategies: To stand out in the competitive landscape, some of these platforms adopt innovative marketing and business strategies. These can include unique promotional campaigns, collaborations with influencers or celebrities, and introducing novel features to enhance the customer experience. Such innovative approaches help them attract attention and differentiate themselves from competitors.
If you encounter any challenges while configuring your store, Magenest's Shopify store development services are at your disposal. We house a team of experienced Shopify experts who are readily available to assist you at every step.
Conclusion
The number of top eCommerce websites in Bangladesh is expanding rapidly daily. For online businesses, eCommerce is opening up new avenues of potential and pushing recent business transactions. It is time for you to look back at your store and move to this trend. We hope this blog will serve as a guide to helping you navigate the world of top eCommerce sites in Bangladesh. The gained insights into the thriving eCommerce ecosystem of Bangladesh can help you embark on your first digital shopping adventure.
If you're considering building your own eCommerce website and require a robust platform equipped with an impressive array of features, Shopify stands as the perfect option. Launching an online store on this platform doesn't necessitate any technical know-how, allowing you to establish your digital presence swiftly.