At the beginning of the new decade, a pandemic took us through a huge economic turmoil that affected eCommerce businesses based on fashion, luxury, electronics, self-care, cosmetics, and more.  As a result, Asia is a region of previously less-developed nations that is now becoming one of upheaval and rapidly rising stars. In this article, we break down the top eCommerce sites in Asia that have the most interesting and huge opportunities, also looking at their visit numbers and, where possible, financial results. Let's get started!
Top 10 eCommerce Sites in ASIA
Amazon
Established: 1994
Sales model: B2C, Cross-border eCommerce
Estimated number of monthly visitors: 2.45 billion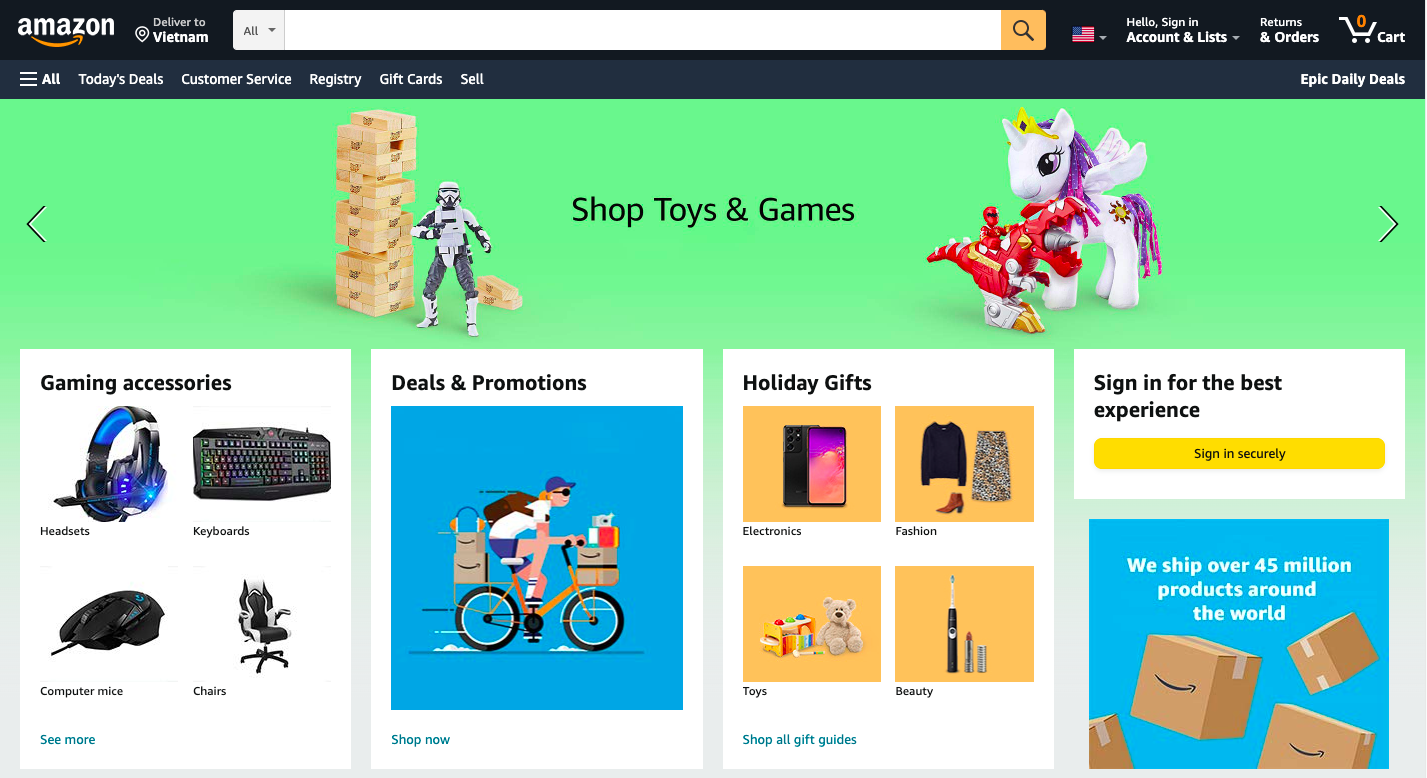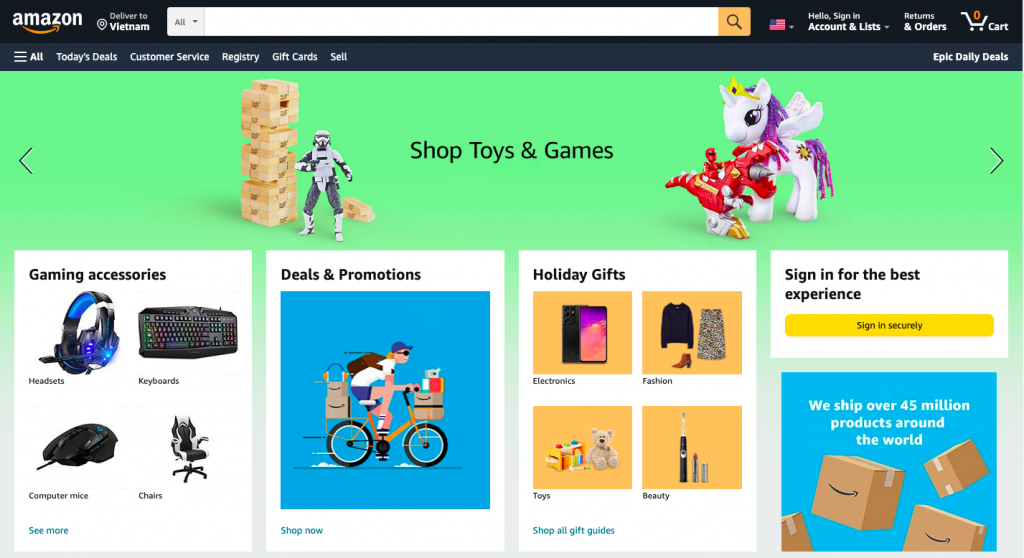 It's unsurprising that Amazon is ranked first on the list of the top eCommerce sites in Asia. Amazon marketplace is a well-known name in the eCommerce industry and one of the top eCommerce sites in the world. Amazon, in addition to having a global network, is also considered to be the leader in top eCommerce sites in Asia. Born from retail, built for retailers, with decades of experience in working with the world's leading retailers, AWS is redefining digital commerce. Thanks to AWS's fast, flexible cloud platform, retailers can focus on what matters most: creating appealing experiences that attract customers, increase sales, and deliver flawless fulfillment.
Amazon has not only increased its product and service offerings, but also entered the streaming video, cloud computing, and most recently, banking markets.
Furthermore, It serves as a hosting platform for retail websites for companies such as Sears Canada, Marks & Spencer, Lacoste, and other similar entities. The company also owns a number of subsidiary businesses, including Zappos, Diapers.com, Goodreads, IMDb, and a few more.
Alibaba
Established: 1994
Sales model: B2C, Cross-border eCommerce
Estimated number of monthly visitors: 2.45 billion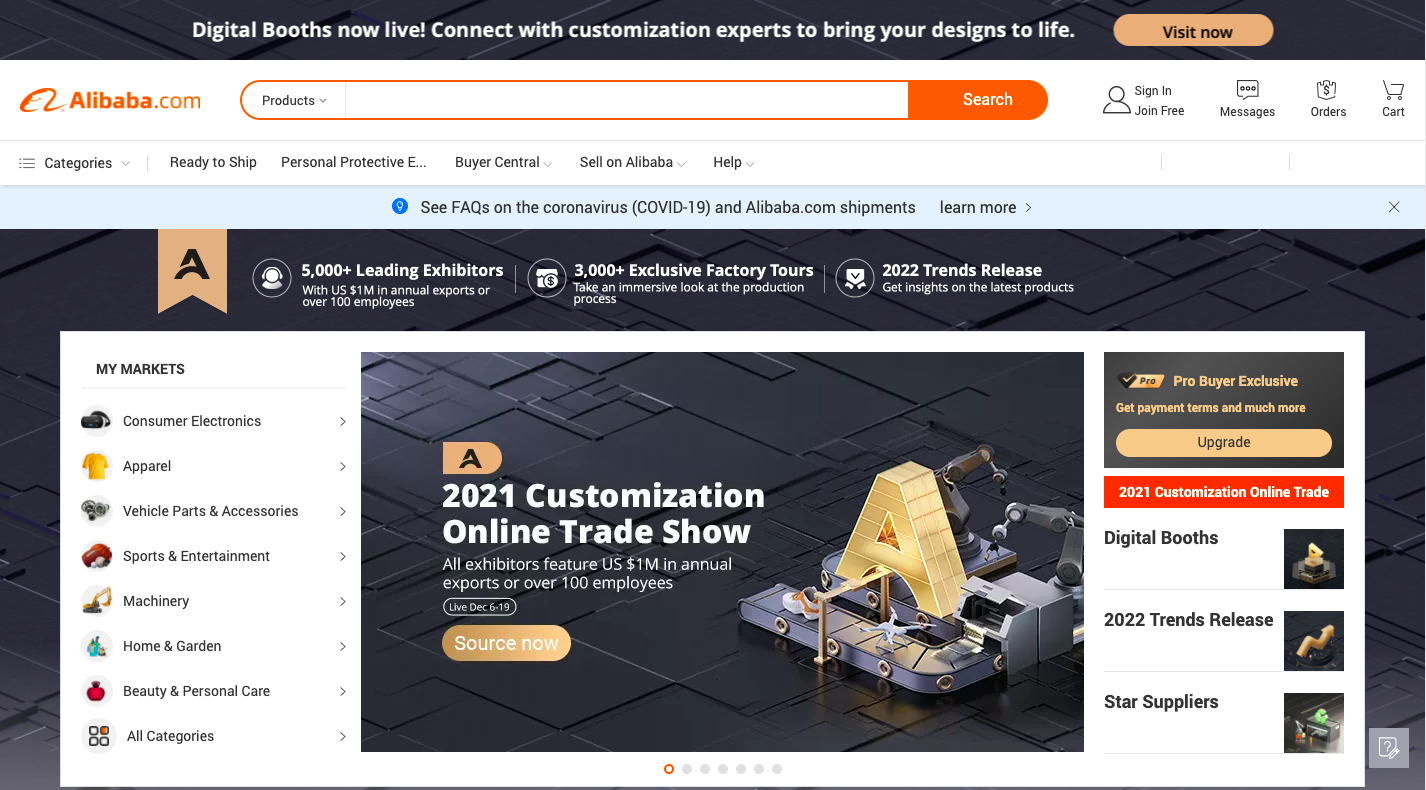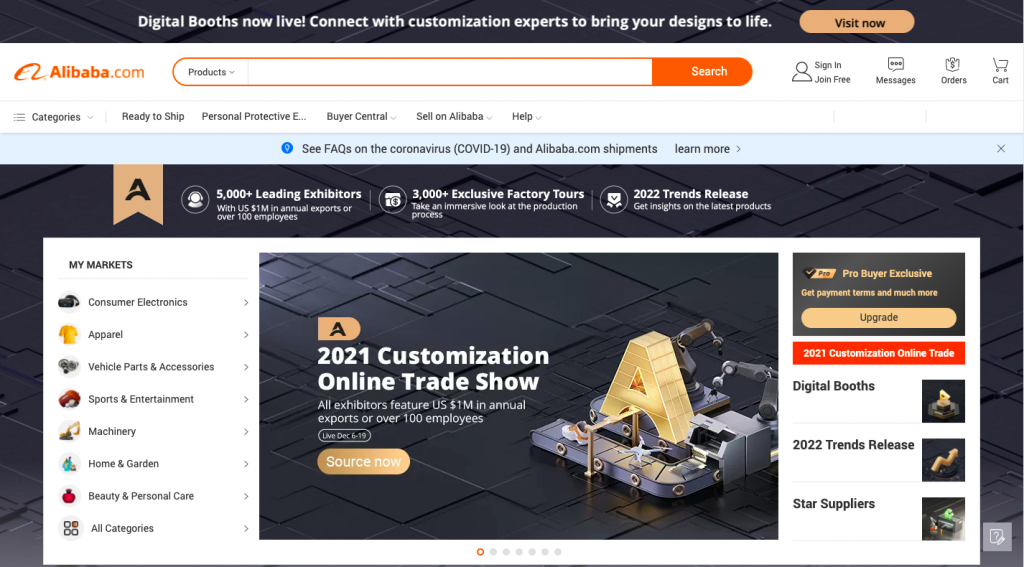 A giant of Chinese eCommerce, Alibaba is the world's largest B2B eCommerce platform and the world's most valuable company. According to the company's recent market capitalization, it accounts for 80% of all online sales in China. Currently, Over 100 million products are sold in 40 different categories on Alibaba's platform, which is available in 200 countries. There are approximately 200 businesses from around the world on a single marketplace platform, which helps connect wholesalers in China with enterprises from across the world.
The Alibaba Group has 7 affiliated entities including alibaba.com, taobao.com, tmall.com, etao.com, aliyun.com, yahoo.com.cn, alipay.com.
Key features
Product verification: Product quality is inspected and approved as a Verified Main Product.
Trade assurance: In the case of a shipping delay or a delivery error, refund the initial deposit.
Payment: Alipay (similar to PayPal) offers protection and flexibility via bank transfers, letters of credit, Western Union, and Escrow. Alipay is also available through Escrow.
Customs data: Gives U.S. retailers access to overseas suppliers' public trading records on Alibaba.
Lazada Marketplace
Established: 2015
Sales model: B2C, Cross-border eCommerce
Estimated number of monthly visitors: 20.83 million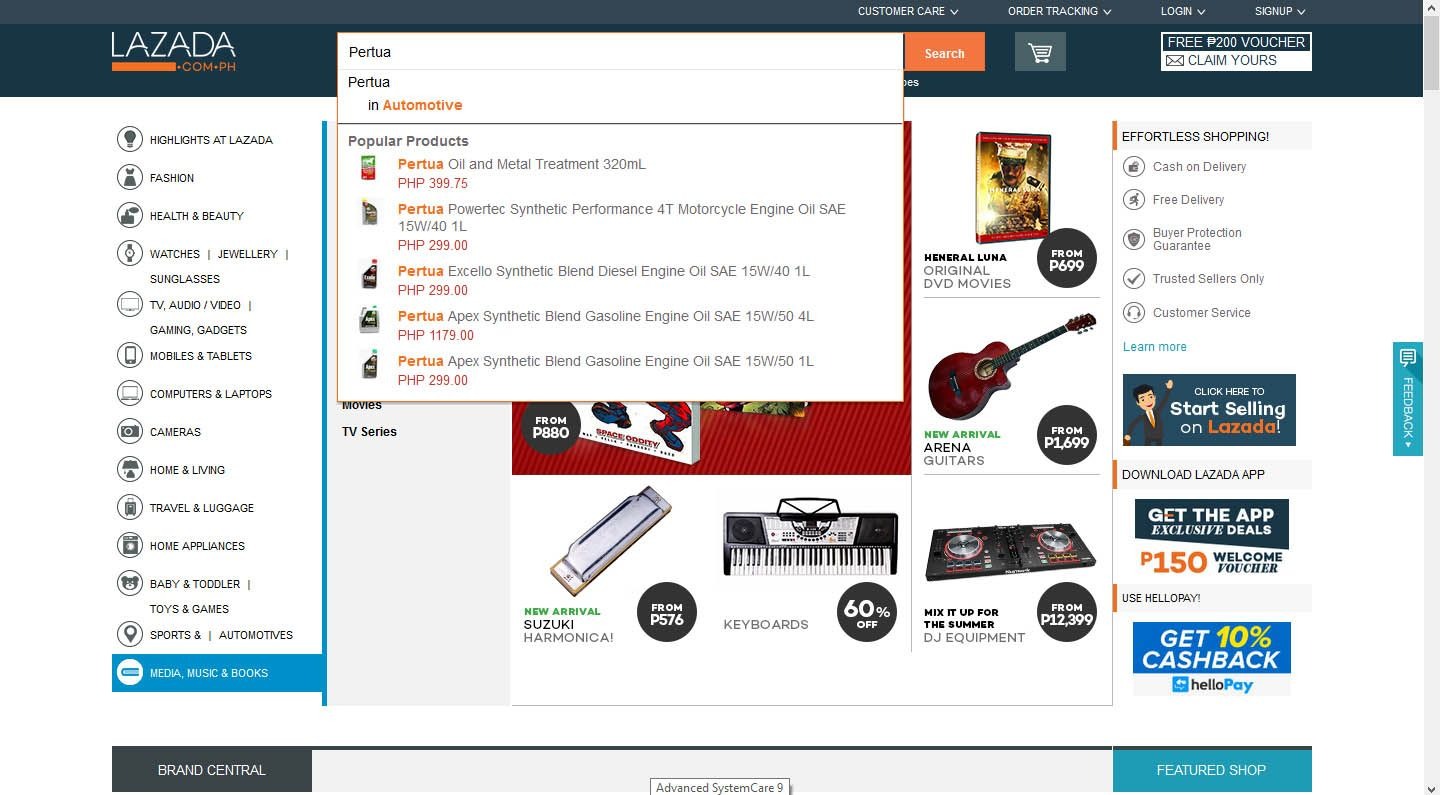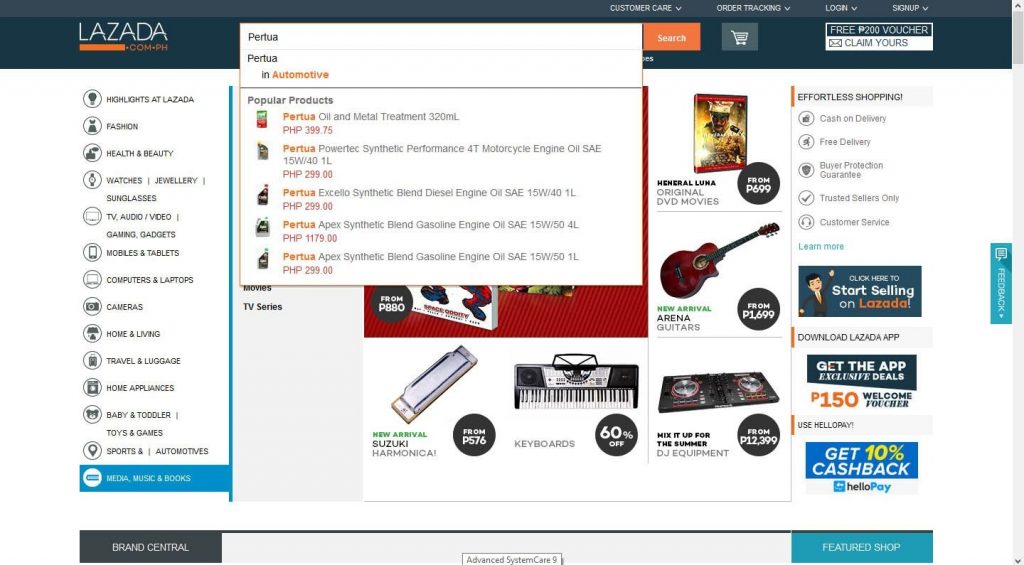 Lazada is one of Asia's most popular eCommerce sites, with over 27000 active sellers. It is the largest frequent eCommerce marketplace in Southeast Asia, attracting visitors from a wide range of countries, including the United States. The Lazada online shopping websites are user-friendly, with easy-to-search and varied shopping categories and filters (based on price range, brand, color, rating, and so on) that assist visitors in finding the exact product they need. Lazada online shopping websites are available in multiple languages.
In bulk shipping, you can send all of your products to the Lazada center where Lazada will handle the logistics. The Lazada center takes care of everything for you, including shipping, refunds, and lost items.
Lazada's most distinguishing features is the variety of payment options available to clients, including COD (cash on delivery), helloPay, BDO installments, and a Lazada wallet that can be loaded up at 7-Eleven outlets! The fact is that internet payments are not as widespread in Southeast Asia as they are in the West, therefore Lazada made a wise decision by providing a solution that was convenient for their clients.
Tmall Global (China)
Established: 2014
Sales model: B2C, Cross-border eCommerce
Estimated number of monthly visitors: 500 million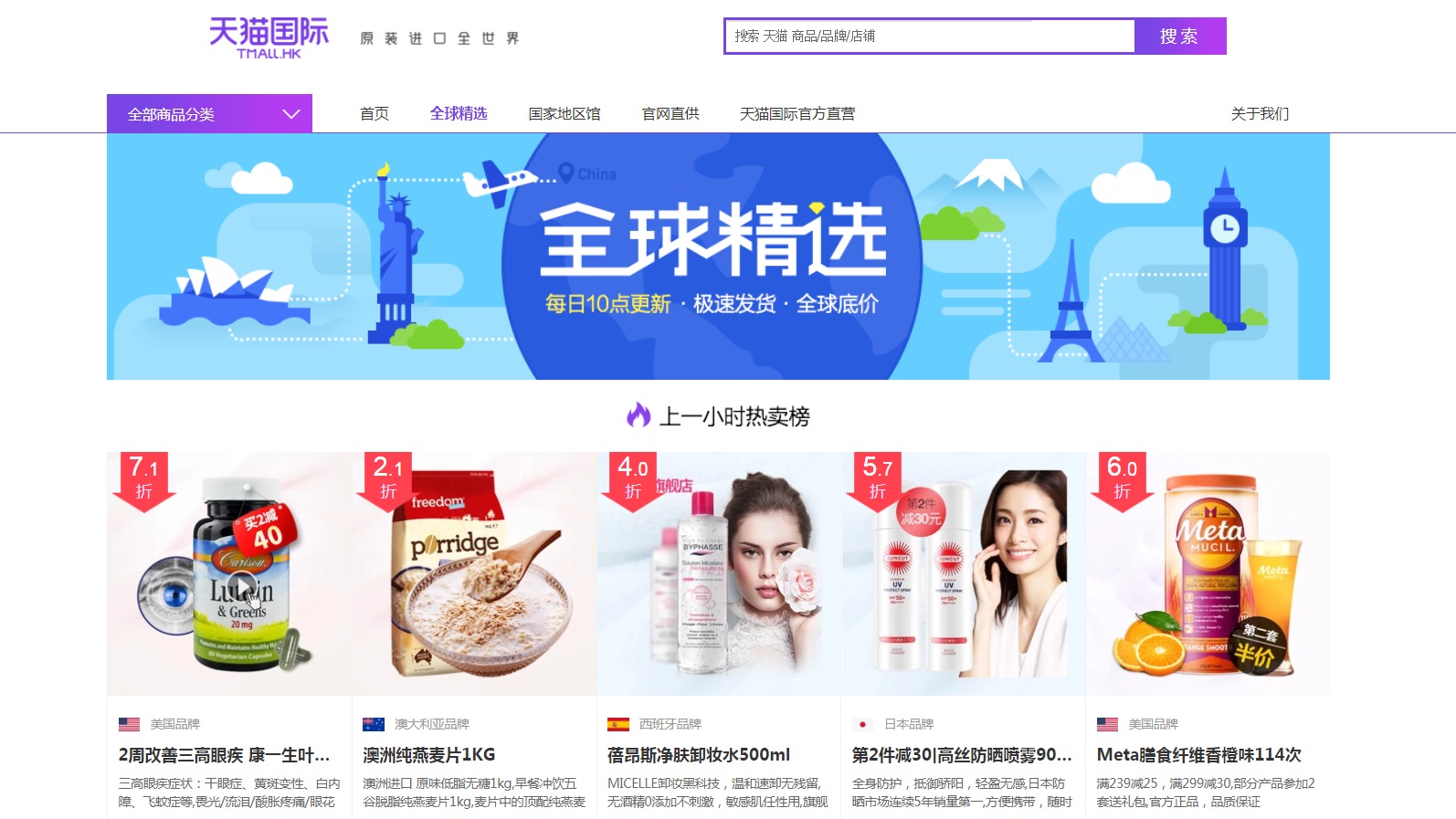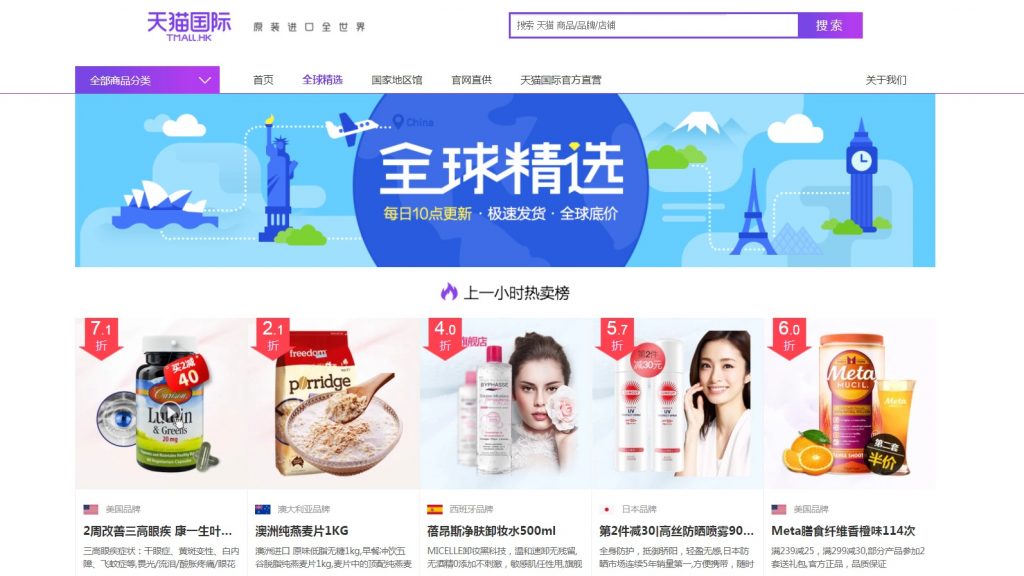 Tmall is a Chinese business-to-consumer platform that is also controlled by Alibaba. It is similar to Taobao in that it is one of the largest eCommerce marketplaces in the world, with around 500 million consumers and 40,000 dealers. Tmall sells products under categories such as Clothing, Automotive, Furnishing, Electronics, Accessories, etc.
Tmall provides dedicated warehouses for customers in China and neighboring countries to buy branded items. Rather than having to provide the entire purchasing experience, Tmall allows retailers to focus on providing the product. Burberry, Zara, Disney, L'Oréal, Adidas, Procter & Gamble, Unilever, Gap, Ray-Ban, and Levi's are just a few of the international brands that sell on Tmall.
Established: 2003
Taobao
Sales model: C2C and B2C
Estimated number of monthly visitors: 580 million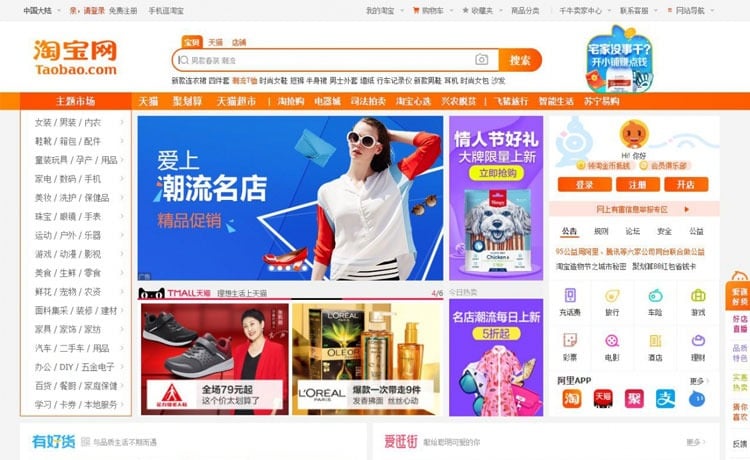 Founded in 2003, the Taobao marketplace has its headquarters in China and is one of the top eCommerce sites in Asia. It started out as a C2C website but has now expanded into the most popular eCommerce site in China for both C2C and B2C sellers. It has a wide range of categories, including Fashion, Electronics, Sports, Jewelry, Kids, Home, Outdoor, and many more.
Despite the fact that numerous eCommerce services can assist companies selling on Taobao, it is not usually the first choice for international sellers. Tmall and JD, as well as other high-end options, are more popular. In order to sell on Taobao, you must either set up a Chinese firm or deal with a Chinese importer who can assist you in importing your products. Because you are unable to sell your products internationally, you will be subject to more stringent product registration requirements.
Shopee
Established: 2012
Sales model: B2C, Cross-border eCommerce
Estimated number of monthly visitors: 68.6 million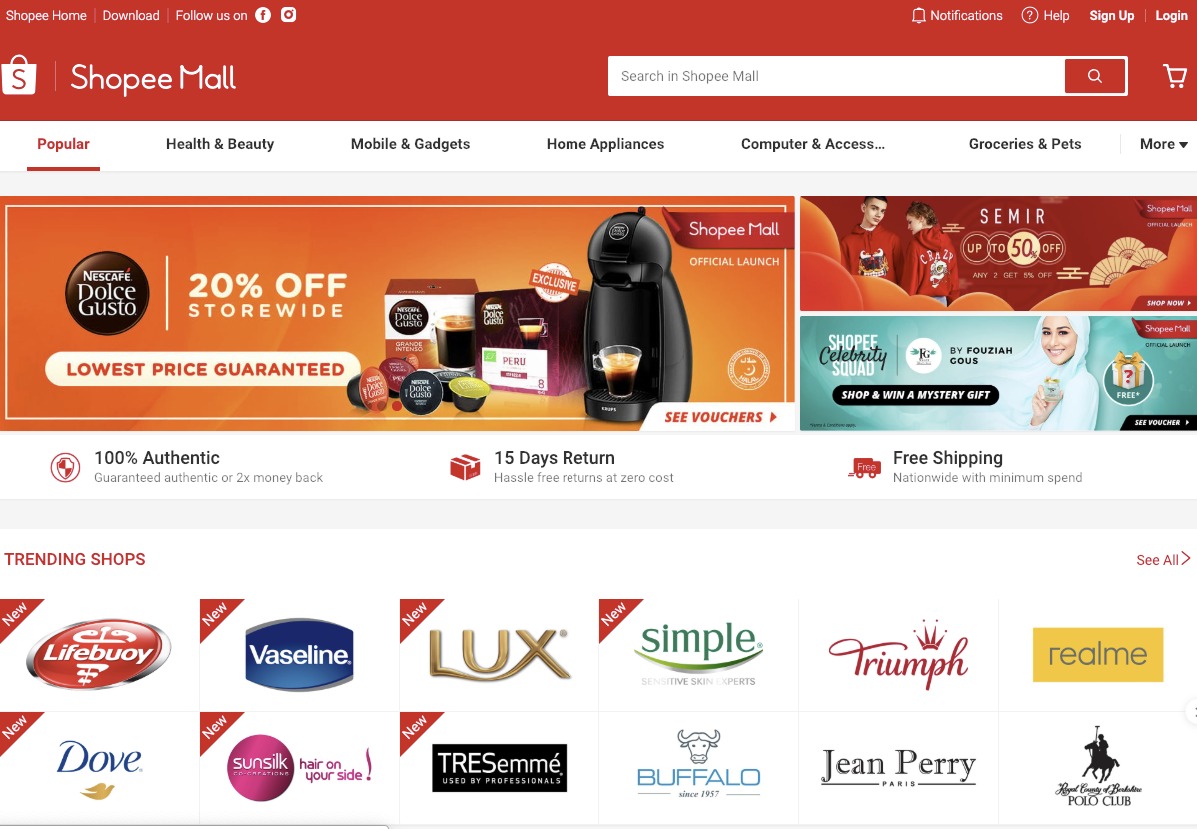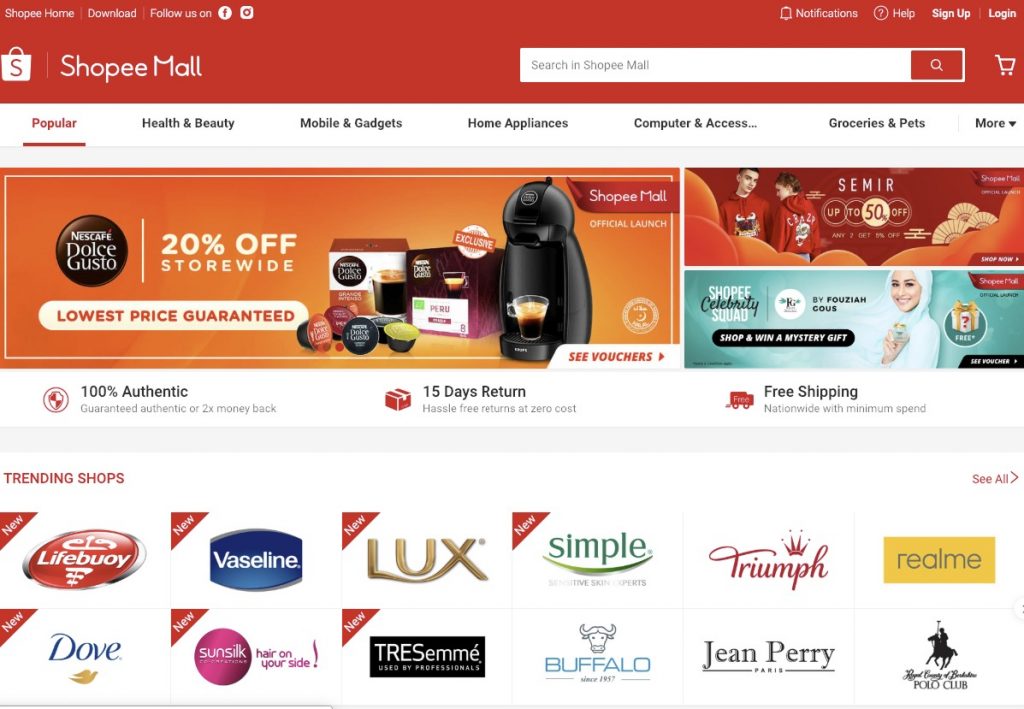 In Southeast Asia, Shopee is the name that is unsurprised on the list of top eCommerce sites in Asia. Currently, it is active in the following countries: Singapore, Malaysia, Thailand, Taiwan, Indonesia, Vietnam, and the Philippines. More than 180 million active goods from more than four million entrepreneurs were registered on the marketplace in 2017.
In addition to its own supply and logistics solutions, Shopee offers sellers a multi-lingual customer service team. Another distinguishing element that allows Shopee to stand out is an escrow service known as Shopee Guarantee, which provides payment protection for both vendors and buyers.
Shopee began as a consumer-to-consumer (C2C) marketplace but has subsequently evolved into a C2C and B2C hybrid model. Social Mobile Marketplace is how the company advertises itself on its website. As a result, It is mostly mobile-focused, which attracts online shoppers who bypass PCs and go straight to mobile purchasing.
Tiki
Established: 2017
Sales model: Business-to-Consumers (B2C)
Estimated number of monthly visitors: approximately 22.26 million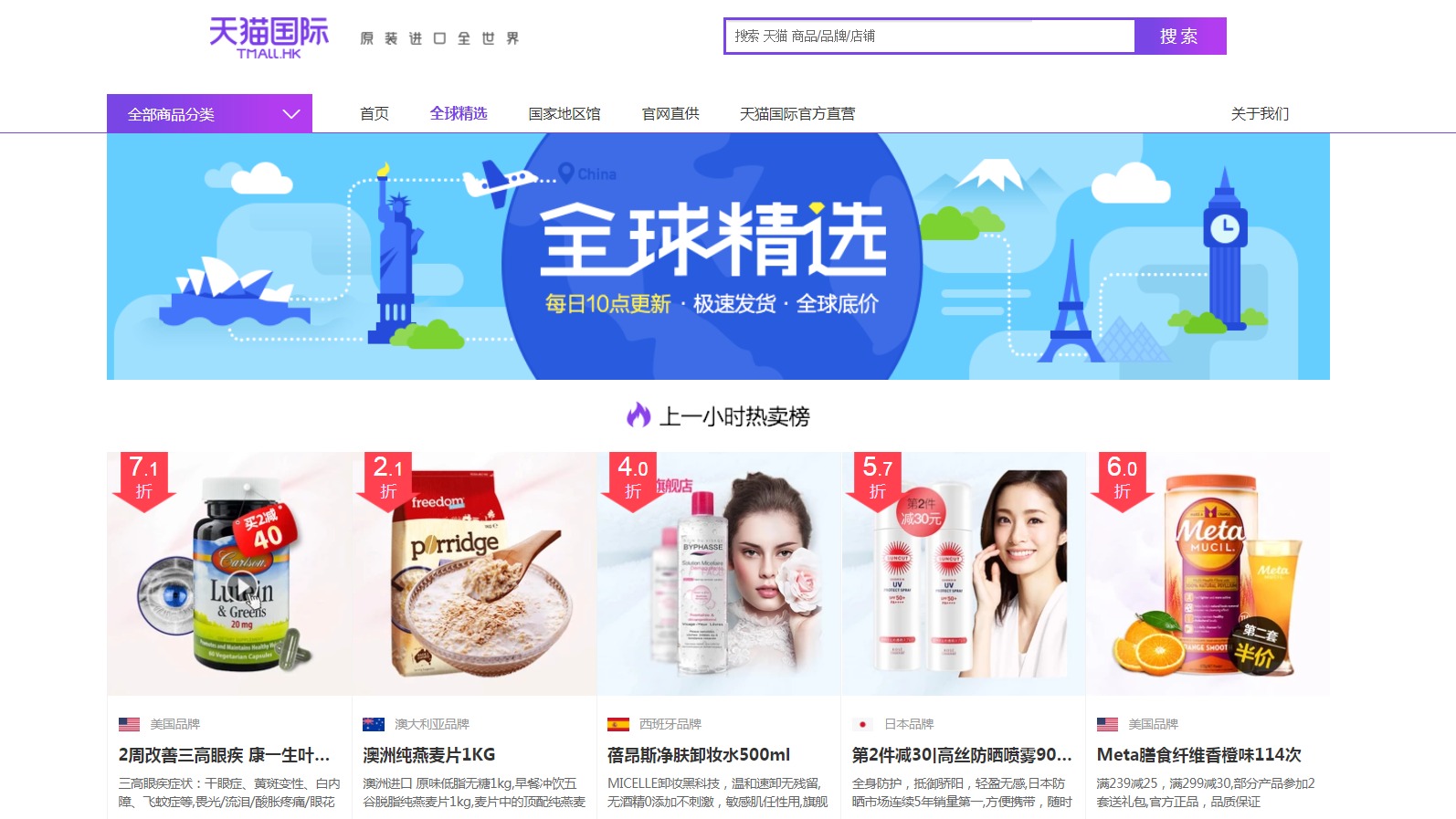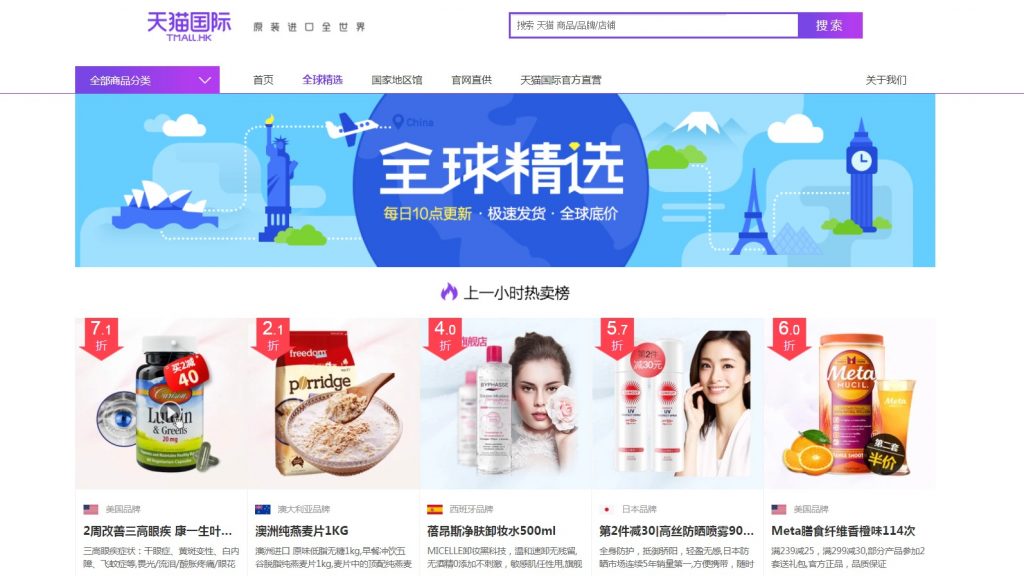 Vietnam is one of Asia's fastest-growing eCommerce markets (and economies in general), and eCommerce company Tiki aims to become the country's main retail marketplace. Founded in 2010 to offer English language books, Tiki has now grown into a multi-million dollar business selling a variety of products. It runs nine fulfillment centers across the country and operates TikiNOW, a two-hour quick delivery service. The Tiki marketplace was launched in 2017 and has grown to contribute more than 40% of total revenues,
Vendors in Vietnam can join Tiki and offer their products online. The charging schedule is wide, with fees ranging from 0.5% to 18% based on the product type. Furthermore, It is also possible for foreign enterprises to sell on Tiki by sending orders to a designated third-party logistics provider, which then handles the shipping to Vietnam and the customer on behalf of Tiki.
AliExpress
Established: 2010
Sales model: Dropship business model
Estimated number of monthly visitors: over 546 million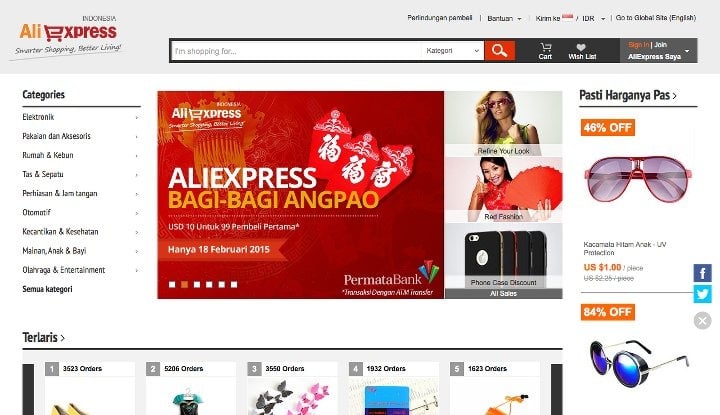 Launched in 2010, AliExpress is a marketplace run by Alibaba that caters to buyers outside of China. It is Alibaba's business-to-consumer (B2C) worldwide website, which offers foreign shoppers goods at factory-direct pricing with no minimum order size.
Dropshipping with AliExpress is also pretty easy. There's no upfront cost or fee, so you can test out products without a big financial commitment. With a global English website and 15 other languages (including Polish), AliExpress is available in 15 countries. Russia, the US, and Spain are the top three spending countries on AliExpress.
In sum, AliExpress has users from over 220 countries, more than 60 million active buyers, and over 20 million visitors daily.
Tokopedia
Established: 2011
Sales model: Online marketplace C2C
Estimated number of monthly visitors: 158 million


Tokopedia, a local eCommerce platform, has consolidated its position as a dominant player in Indonesia's vast market. With the goal of redressing inequalities throughout Indonesia and democratizing business, it was launched in 2011 by two Indonesian entrepreneurs from a tiny Indonesian city. Over the years, Tokopedia has grown from strength to strength, attracting investment from a variety of global venture capital firms, including China's Alibaba and Japan's SoftBank
Beyond being a mainstay of the Indonesian eCommerce sector, Tokopedia is well-known for its boisterous marketing campaigns, which have included appearances by international and local music singers as well as parties. Such well-known music bands like SM*SH and BTS are among the celebrity guests.
Annual revenue at Tokopedia is anticipated to be between $14 and $15 billion USD. Currently, Tokopedia and Shopee are the two most important businesses and intense competitors in Indonesia's eCommerce market, with each holding approximately 30-35% of the total market share.
Qoo10
Established: 2010
Sales model: Business to Consumer (B2C)
Estimated number of monthly visitors: 4.03 million.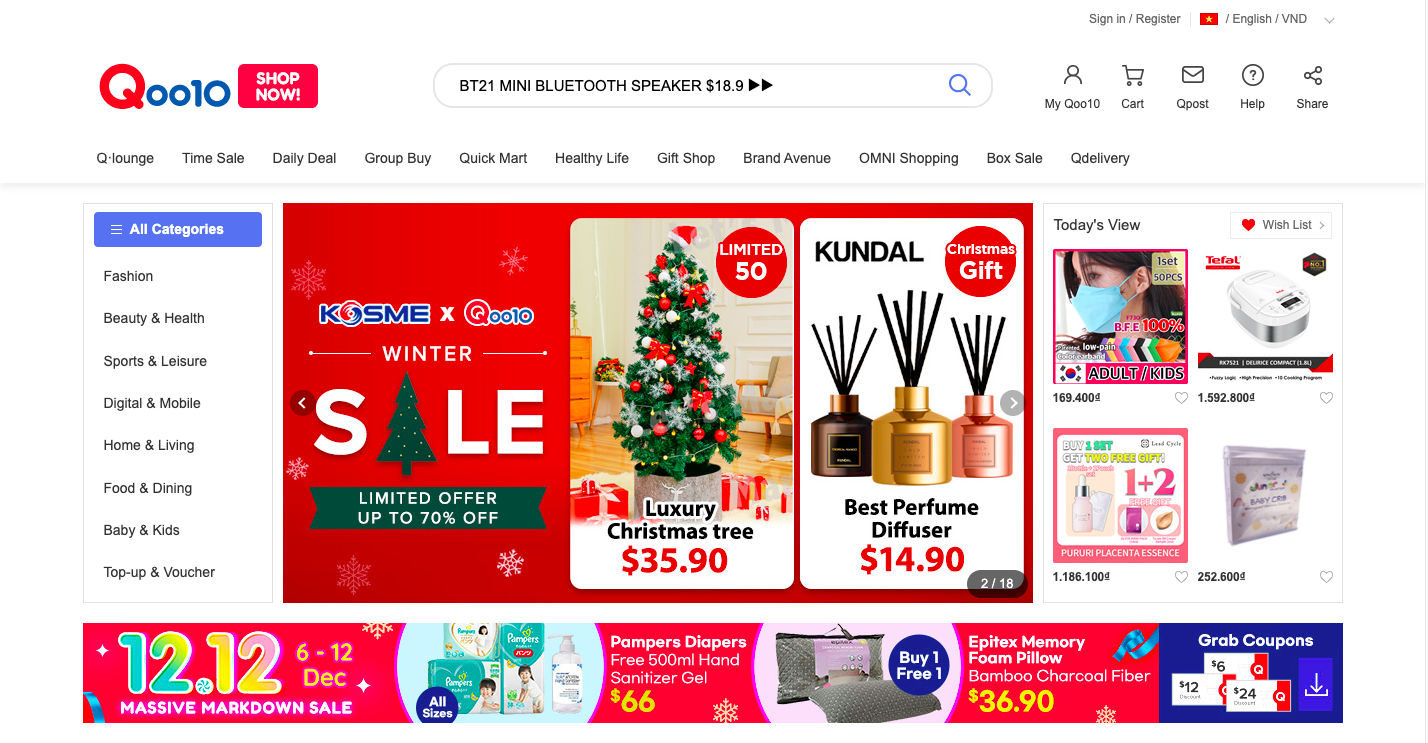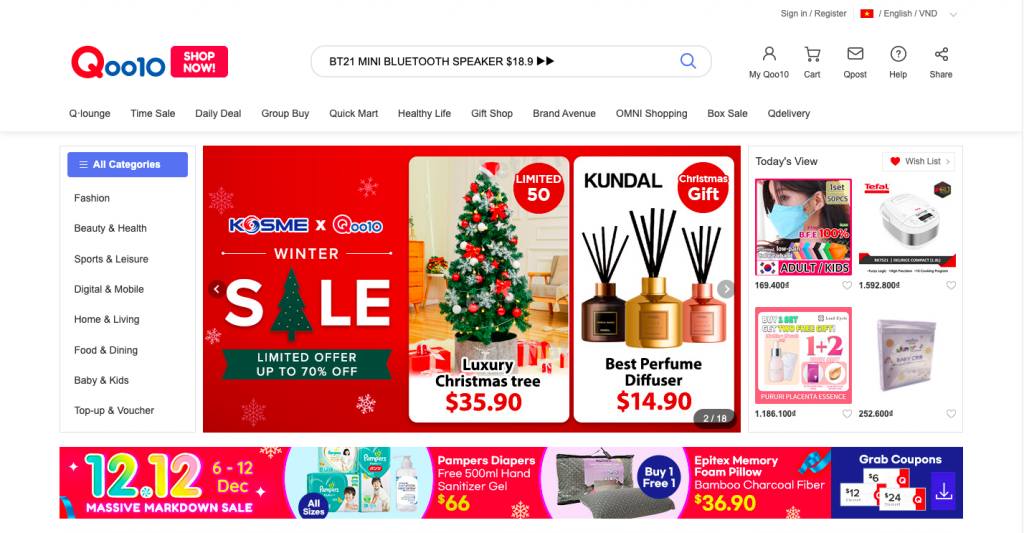 With offices in Singapore and offices in China, Indonesia, Malaysia, and Hong Kong, Qoo10 is a global marketplace that sells a wide range of products. According to Euromonitor, The company accounts for more than a third (32.6%) of Singapore's eCommerce industry, thereby surpassing Amazon, which has only about 11.5% of the local market,
For the first two years of its existence, Qoo10 was known as Gmarket, but it changed its name to Qoo10 in 2012 after a partnership between eBay and Gmarket's creator. Although, Qoo10 is now a stand-alone firm, with the exception of Japan, where it is still wholly owned by the online auction giant eBay. Selling on Qoo10 is open to vendors from across the world. In order to register, you must pay a $100 deposit, and sales commissions range from 6 to 12%.
What do Top eCommerce sites in ASIA have in common?
In the huge Asian eCommerce market, the opportunity to sell is huge. No matter where you are in the world, selling on these top Asian eCommerce sites as a seller isn't difficult. You just need to remember a few things and you'll be good to go! And, there is an obvious resemblance: they all offer great deals. Users can easily grab the greatest deals, vouchers, discount codes… on these sites. To be honest, this is the best way to push sales in ASIA since only good deals can make Asian people open their wallets.
Or in case you want to create your own eCommerce website and look for a robust platform that helps you do that with a wide range of outstanding features, Shopify is an appropriate choice. To implement an online store on this platform, you don't need any technical expertise to begin, enabling you to quickly launch and establish your online store. Additionally, if you have any trouble or encounter some obstacles in the process of configuring your store, don't hesitate to check out our Shopify website development services. We have plenty of experienced Shopify experts who are always ready to cover your back.
We hope you have found our list of must-know Asia marketplaces useful. You also might be interested in our Asia eCommerce Outlook 2020, which gives a broad overview of some of South East Asia's most exciting markets. If you have any questions or support, feel free to leave us a message.