Are you looking for the best Shopify development company in Scotland to help you with your business? The digital world is constantly growing and evolving, so it's important to keep up with the ever-changing landscape.
As such, having a reliable partner to help you create an online presence can make all the difference. With this in mind, we've put together a list of some of the top Shopify development companies in Scotland – ensuring that they have a proven track record, so your projects are well taken care of!
Codup
Codup is an award-winning software development firm with over 100 Shopify developers Scotland, QA engineers, and business experts. They all work together to ensure the success of your project. In addition, Codup has efficient methods in place that allow them to regularly get the job done well, on time, and under budget.
The company has 10 years of experience and 1500+ projects under its belt. Their team has received three straight Clutch awards and customer 5-star ratings. Leading worldwide brands such as Unilever, Dyson, Steelcase, Stitch Fix, Harrods, and others have put their faith in them.
Codup's main objective is to generate value for its clients and partners – and, in the process, for themselves! They accomplish this by developing mutually beneficial connections that persist for years. And this allows them to grow with the individuals for whom they serve.
Sunrise Integration
Sunrise Integration's roots in eCommerce date back to 1999, when it began as a dropship wholesale data feed supplier. As they continued to develop wholesale integrations for internal usage, they noticed the possibility to provide similar solutions for customers in order to assure their success. They are now a well-known market leader in enterprise eCommerce data integrations.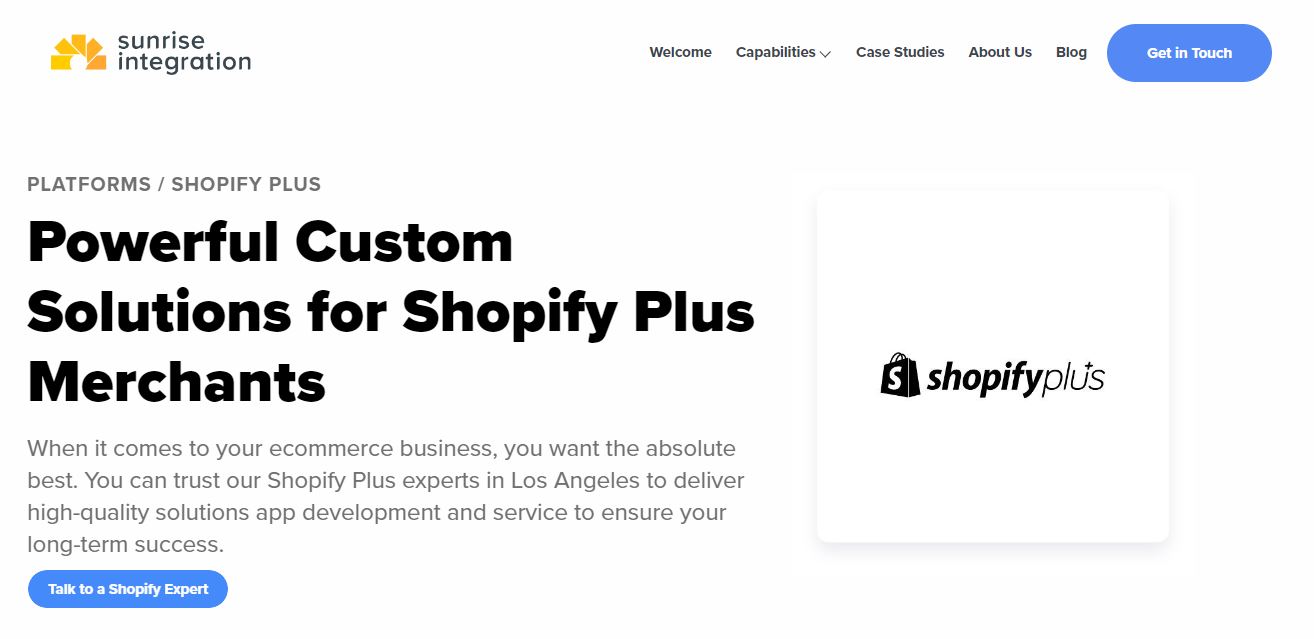 Their objective is to assist businesses to compete in their industry by providing creative integrated bespoke software. They specialize in developing SaaS (Software as a Service) applications for eCommerce and third-party logistics. In addition, this company is great at API and data exchange solutions for business software like ERP and CRM.
Their technological talents are only one component of the equation; providing great client service is another. They go above and beyond in terms of quality. And they handle their clients' SaaS solutions as if they were their own. To assist your organization in scaling, their team guarantees that the technology is designed to perform and be run in the long term.
Magenest
Magenest has quickly become one of the most celebrated web development companies in Scotland. We specialize in Shopify and have helped countless businesses to build and grow their online presence. And our experienced developers work hard to create powerful websites that generate revenue. And we always strive to provide innovations such as customized store design and effective marketing strategies that deliver real results.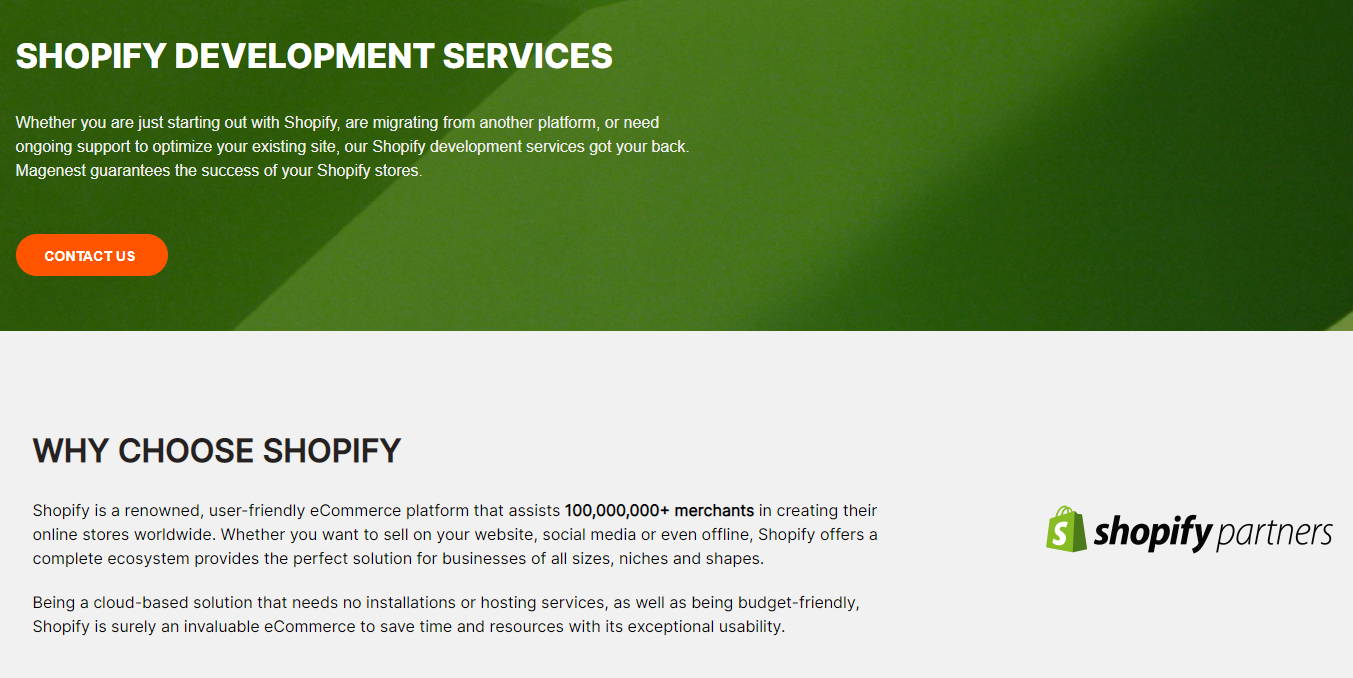 With exceptional service and commitment to customer satisfaction, it's no wonder Magenest is now considered one of the top Shopify development companies in Scotland!
Magenest's team of data integration professionals has been designing completely tailored corporate software solutions for many years. We are proud of our strong focus on eCommerce, logistics, SaaS software, and other industries. We provide high-end services and SaaS solutions for all types of enterprises, ranging from API integration and software product creation to shipping logistics.
Day Shift Digital
Day Shift Digital is a Toronto-based specialist team of Shopify professionals, representing one of the best Shopify development companies in Scotland.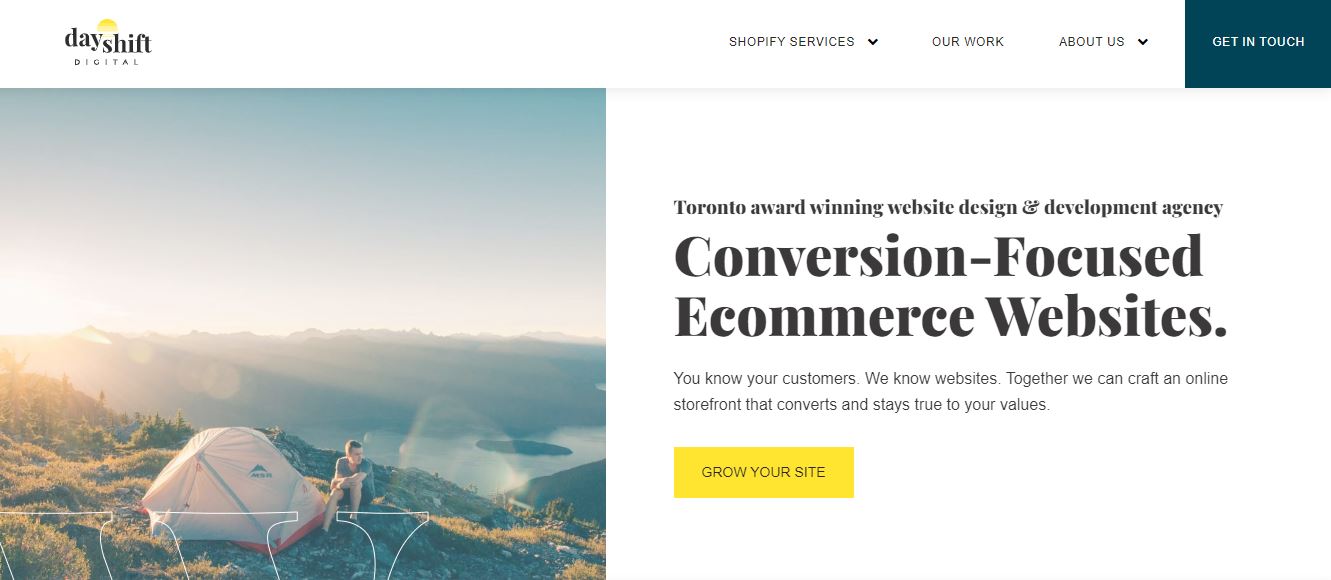 In producing projects, they adopt a collaborative method to meet each client's specific demands. They deal with a wide range of clients, although their primary concentration is on the outdoor business.
Their websites have aided groups such as Scientists in Schools, the University of Toronto, Dying with Dignity Canada, and others. They are a small, close-knit group of people who like what they do. Moreover, they are easy to get along with and genuinely care about the quality of their work.
Their objective is to create one-of-a-kind, powerful, bespoke websites with an easy-to-use backend. This allows clients to control their digital presence for years to come with no coding required.
Spectre Creative
Spectre Creative is a Glasgow-based eCommerce design and Shopify development Scotland firm. The company specializes in the development of WordPress, Shopify, and Magento eCommerce Websites and Apps. In addition, they offer the creation of sellout items, increased sales, and successful online trading for businesses.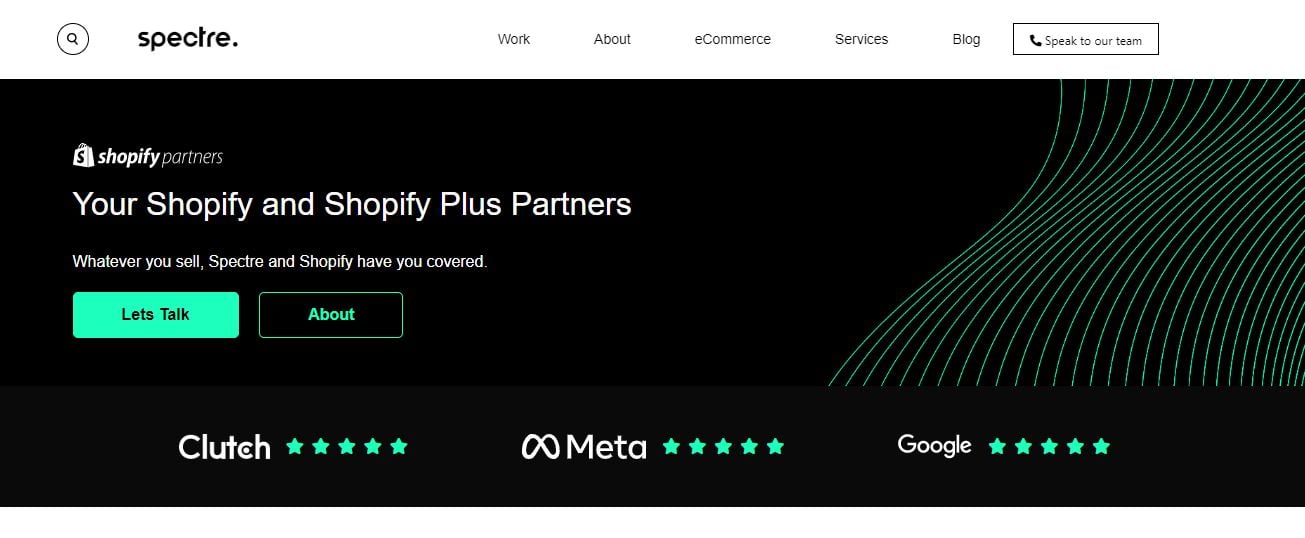 They have the skills to build a genuinely excellent eCommerce website for your business based on years of industry experience working with some of the greatest merchants.
Furthermore, Spectre is a diverse team of highly experienced and motivated professionals that are committed to providing beautiful, useful web experiences for online buyers.
A great group of individuals is serious about internet shops and their success. Every member of their staff is knowledgeable in their field and is eager to assist your eCommerce business is growing.
Hudson Commerce
Shopify is quickly gaining market traction as a full, secure, and scalable eCommerce solution that does not require hosting, updates, or maintenance.
Given their eCommerce expertise, having started as a Magento agency before broadening, Hudson Commerce is ideally suited to manage a system like Shopify.
Their team of designers, engineers, and strategists perform comprehensive planning and development of Shopify stores. Therefore, they can become either independent or fully connected with your existing systems as a specialist eCommerce firm and Shopify partner.
Above all, the organization is focused on what the platform can accomplish for you, employing conversion optimization science.
Hyperlink InfoSystem
Among Shopify development companies in Scotland, Hyperlink InfoSystem is a mobile app development firm. The company provides high-value, sturdy solutions employing cutting-edge technology. Their staff ensures that our work procedures produce high-quality mobile apps in accordance with your specifications. 
The development teams are among the finest in the industry, with experience in a wide range of sectors. Their perspective is that when designing and creating apps, they should take the user experience in mind.
The company experts have the knowledge and experience to create and maintain whatever you can think of. They strive to provide solutions that handle complicated business challenges while also offering an exceptional consumer experience. They believe that with just a few clicks, technology can alleviate your workload and boost productivity.
Nutshell
Nutshell Apps started from the need to streamline the app development process. Their entire business expertise spans over three decades. And they've witnessed technology undergo virtually continual upheaval since the introduction of the smartphone.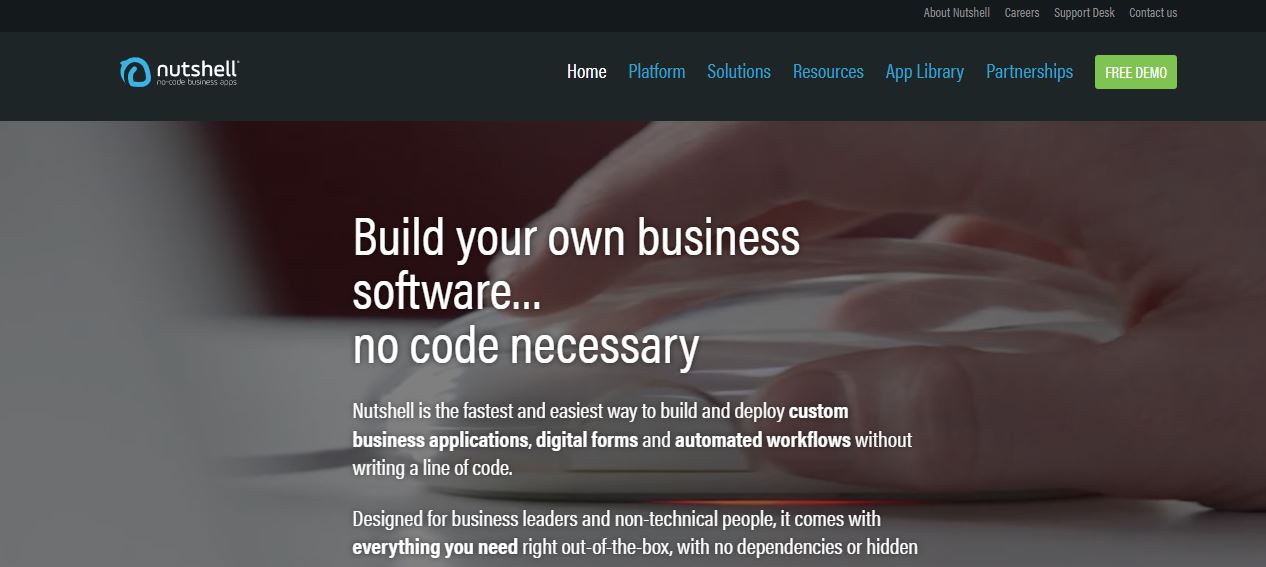 What they were making was far more than that. The eventual product was Nutshell Apps, the world's first drag-and-drop mobile app development platform that needed no code at all.
In the new no-code app development environment, their first effort was to replicate a previous concept their CEO made a few years before. What had previously taken six weeks to finish each platform was reproduced and distributed to all platforms – Android and iOS – in two days.
Since then, their mission has been to make it simple for consumers to become mobile, stay connected, and automate current paper-based operations. At the same time, this comes without burdening IT personnel or needing lengthy learning curves with complex code bases.
Refractiv
Refractiv is a group of creative problem solvers, technical masters, and creative innovators who love technology and what it can do for you.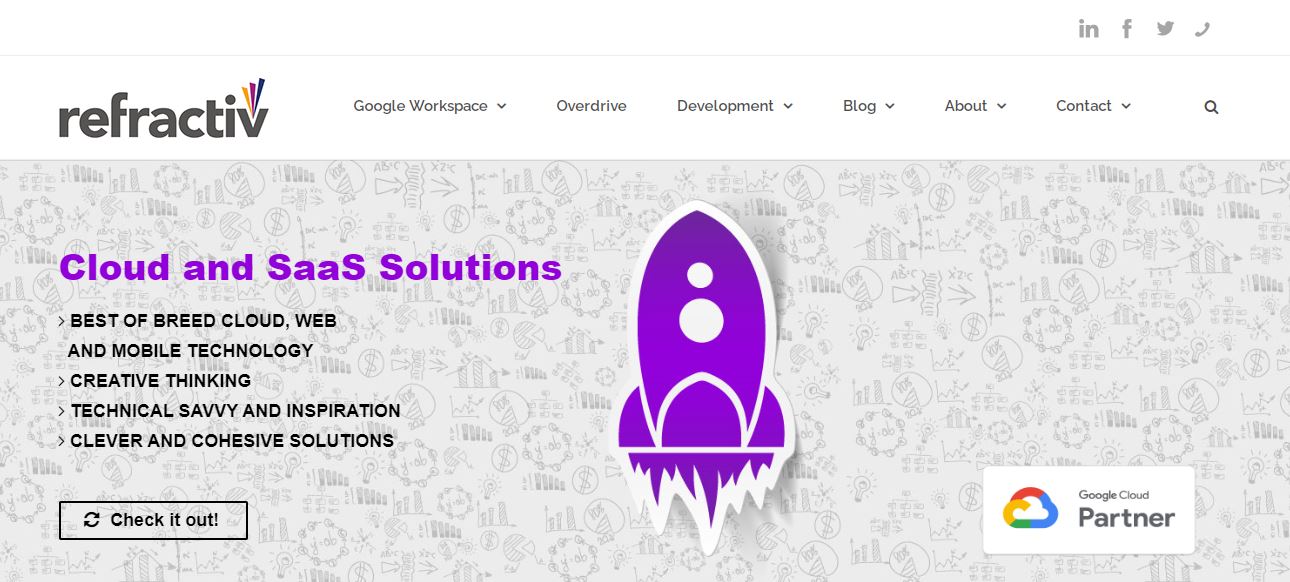 They think imaginatively about your online demands to deliver intelligent solutions to difficult problems. And they get a genuine kick out of it. They also create custom apps and install best-of-breed cloud, online, and mobile solutions. Then, they integrate everything for you into a cohesive and successful whole.
As a Google Cloud Partner, they have the knowledge and track record to rapidly and successfully transition your organization to the 'Cloud' and provide ongoing support. Not only that, but they offer excellent guidance and assistance with technology, applications, and system integration.
PurpleFire
PurpleFire team of professional Shopify developer Scotland develops custom-fit solutions for diverse retail firms of any size, thanks to their extensive knowledge in eCommerce. From small craft shops with one-of-a-kind and artistic product pages to huge and scalable online businesses with several product lines, global localization, sophisticated marketing, and complicated logistics, there is something for everyone.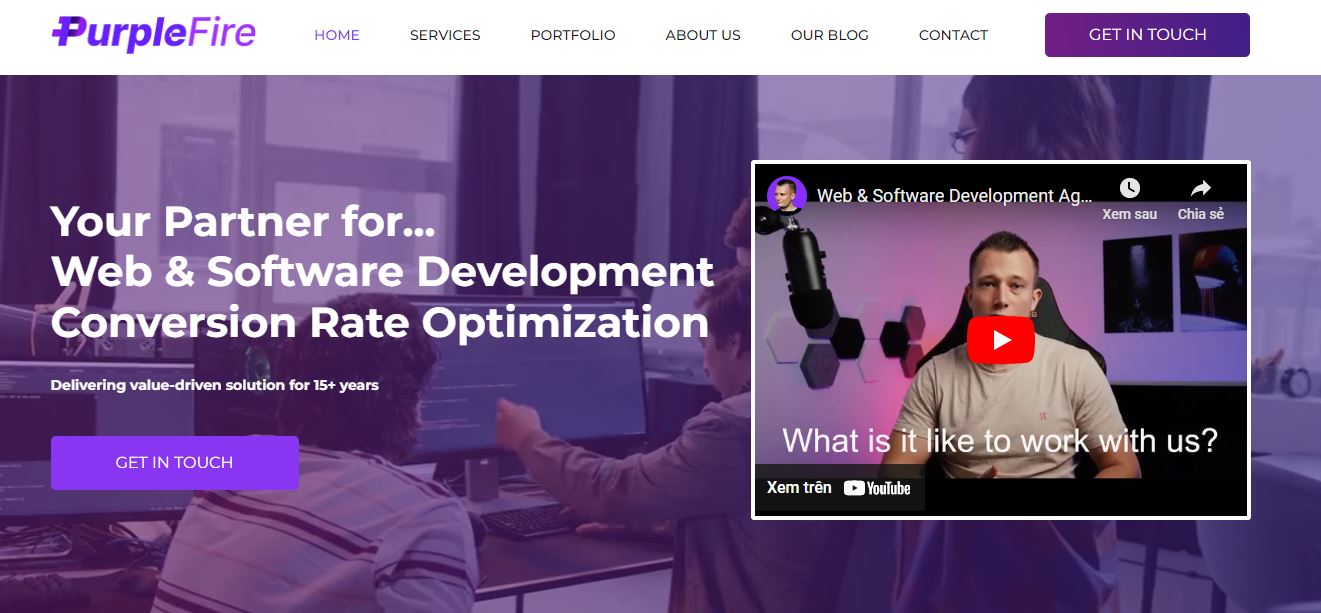 The company collaborates with all of the main eCommerce platforms, including Shopify, to incorporate numerous services and features. And they design architecture that meets the specific demands of each retail business.
Using advanced technology assists their clients in extending product lines, reaching out to broader audiences, and going global. Also, this can employ various marketing tactics and tools, producing more sales, and developing customer loyalty.
WAVEYCREATIVE
Wavey is a full-service creative firm that specializes in creating contemporary, innovative, and future-proof solutions for organizations all over the world by using our in-house system, design standards, and technological stack.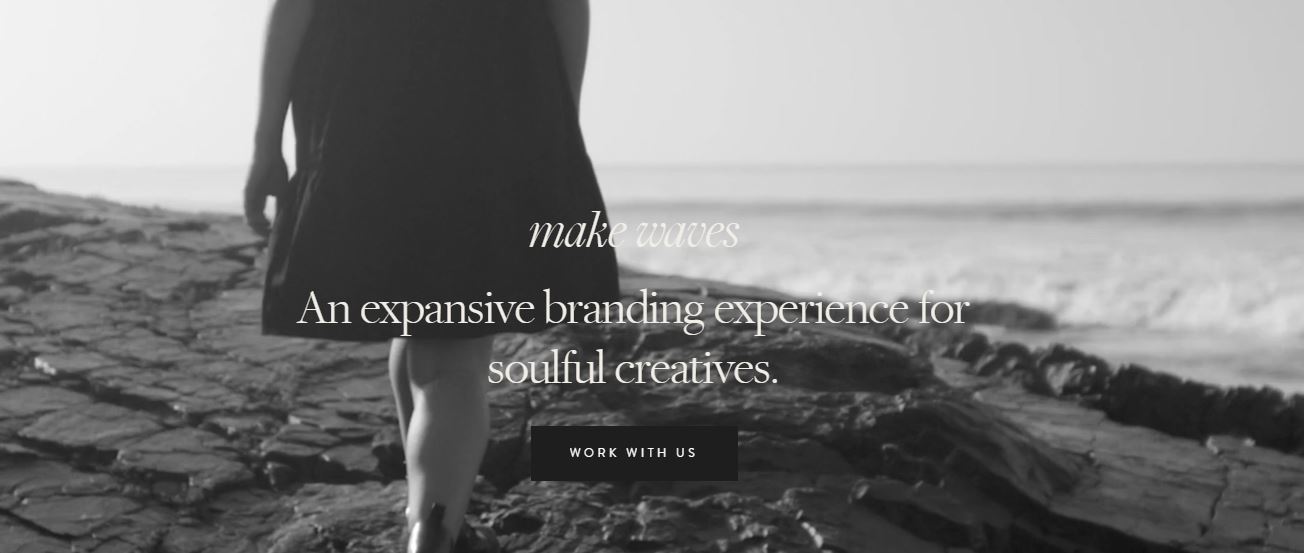 They collaborate with customers from the start to guarantee that their objectives are realized to the greatest quality. No work is too little or too large for them; they treat all clients as equals and with the respect that they deserve.
They are also hosting and security experts, having worked with a number of businesses to ensure their infrastructure is safe and out of the way of malicious actors.
Blue2 Digital
Blue2 Digital is a Broughty Ferry-based award-winning digital design, development, and marketing studio.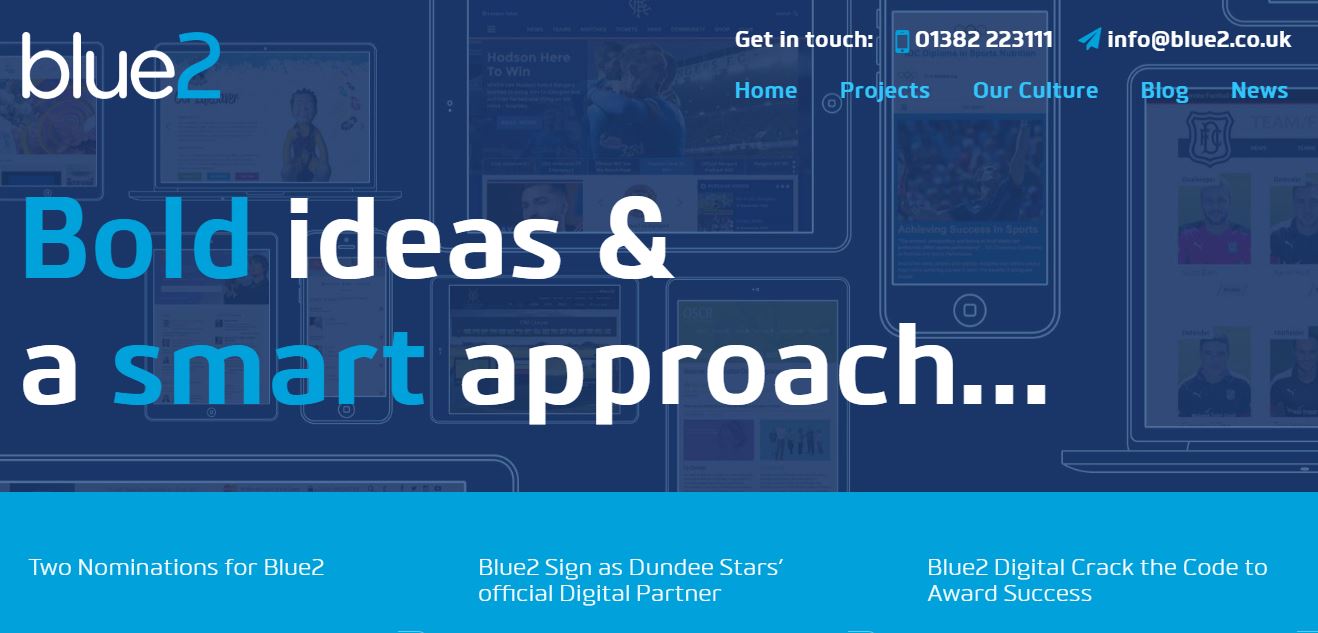 Do you want a website that delivers for your company while also effortlessly integrating with all of your third-party systems, databases, and services? Do you require a custom app, an eCommerce solution, or a seamless blend of all of these and more?
The firm creates custom-made solutions, each one adapted to your specific needs. All of their sites employ simple content management systems that are simple to use and maintain, and they give all necessary assistance.
Conclusion for Shopify development companies in Scotland
Scotland is quickly becoming a major hub for eCommerce and Shopify development companies, offering top-notch services and professional advice. The companies mentioned earlier are the perfect examples of how Scotland is leading the way in quality and innovation.
With their vast knowledge and expertise, you can be sure that your website development needs will get in the best manner possible. By using one of these top Shopify development companies in Scotland, you can get access to a wide range of features and tools to ensure the success of your eCommerce business.
Plus, they are completely committed to helping you maximize your web presence – so you can rest assured that your project will be in good hands with them. If you're looking for reliable and experienced professionals dedicated to providing superior quality service, then don't hesitate to contact us today!