As eCommerce continues to grow, protecting customer privacy has become increasingly important for businesses. A privacy policy is a legal document that outlines how a company collects, uses, and protects the personal information of its customers. For Shopify store owners, having a privacy policy is not only required by law but also essential for building trust with customers. In this article, we explore why having a privacy policy for Shopify store is necessary, how to write a great privacy policy that meets legal requirements and builds trust with your customers, and how to add a privacy policy to Shopify store.
What is a Shopify Privacy Policy?
A privacy policy for a Shopify store is a document that explains to customers how a Shopify store collects, uses, shares, and protects their personal information. It is a legal requirement for all online businesses, including those using Shopify, to have a privacy policy that complies with applicable privacy laws and regulations.
A Shopify store privacy policy typically covers the following topics:
Information collected: What types of personal information the store collects from customers, such as name, email address, phone number, shipping address, and payment information
Use of information: How the store uses customer information, including for processing orders, providing customer support, and sending promotional emails.
Protection of information: What security measures does the store take to protect customer information from unauthorized access or disclosure
Sharing of information: How the store shares customer information with third-party service providers, such as payment processors and shipping carriers.
Customer rights: How customers can access, update, or delete their personal information, and what their rights are under applicable privacy laws.
Changes to the privacy policy: How the store will notify customers of any changes to the privacy policy, and when the policy was last updated.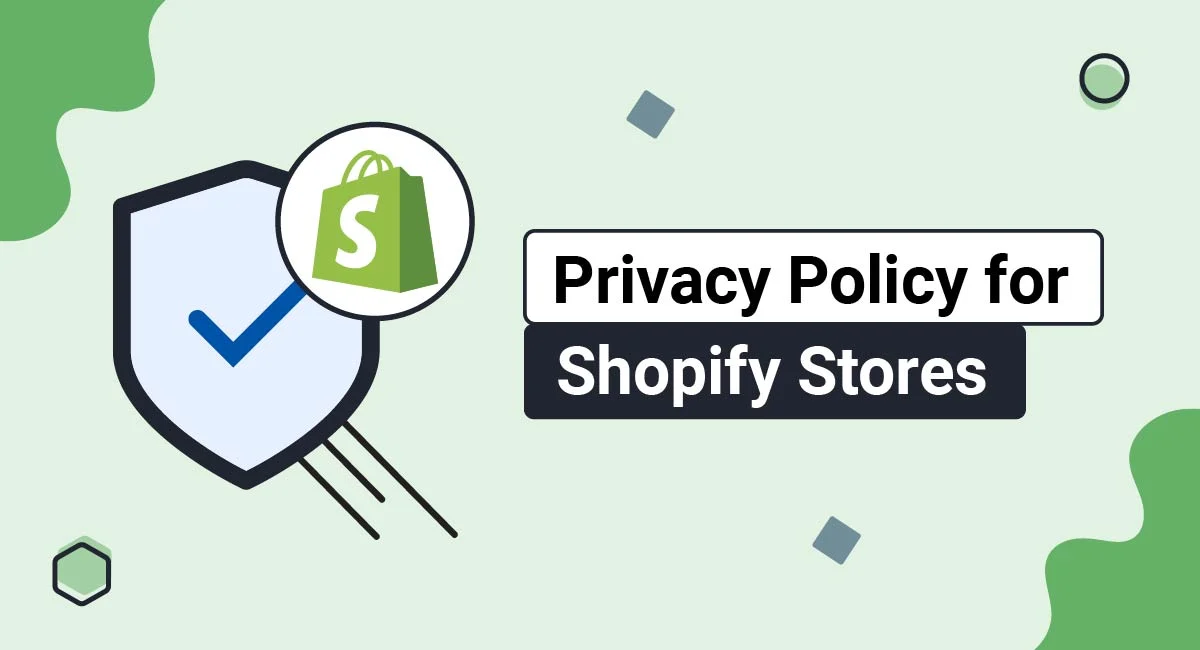 Having a clear and comprehensive privacy policy for a Shopify store can help build customer trust and confidence in the store's commitment to privacy and data protection. It also helps the store comply with legal requirements and avoid potential legal issues related to privacy and data protection.
Why Do You Need a Privacy Policy For Shopify Store?
Required by Law
As an online business owner, you are required by law to have a privacy policy that complies with applicable privacy laws and regulations. Failure to comply with these laws can result in legal penalties and fines. Privacy laws and regulations, such as the General Data Protection Regulation (GDPR) in the European Union and the California Consumer Privacy Act (CCPA) in the United States, require businesses to inform customers about the types of personal information they collect, how that information is used, and how it is shared with third parties.
There are various methods through which you may unintentionally gather personal data from customers abroad, hence the necessity of having a privacy policy that considers worldwide regulations that could be relevant to your business, rather than just the regulations of the country in which your business is situated.
Required by Shopify
As per Shopify's terms of service, merchants are required to have a privacy policy that complies with applicable laws and regulations. The privacy policy should detail what information is collected by the merchant and by Shopify on their behalf, how this information is used, and who it is shared with (potentially third-party integrations like payment processors and marketing analytics tools). Failing to comply with this requirement could result in account suspension or termination, without prior notice or reason. As Shopify may be the sole eCommerce platform for some businesses, it is important not to take the risk of non-compliance with this requirement.
Transparency
Transparency is important because it can help customers make informed decisions about whether or not to do business with your store. If they feel that their privacy is being respected and that their data is being handled responsibly, they are more likely to trust your store and make a purchase.
By being transparent, you can also differentiate your store from competitors who may not be as forthcoming with their data collection and use practices. In the age of increasing concerns about online privacy and data security, being transparent can be a valuable way to build customer loyalty and trust.
Protection of customer data
Protecting customer data is another critical aspect of a privacy policy for Shopify store. Customers expect that their personal information will be kept safe and secure when they share it with your store. Therefore, it is essential to have measures in place to safeguard customer data from unauthorized access, use, or disclosure.
In your privacy policy, you should explain the security measures you have in place to protect customer data. This may include using SSL encryption to secure transactions, limiting access to customer data to authorized personnel, and implementing firewalls and intrusion detection systems to prevent data breaches.
Marketing and advertising
Marketing and advertising are essential components of any eCommerce business, and it's essential to ensure that your privacy policy reflects how you handle customer data in this context. In your privacy policy, you should outline how you collect, use, and share customer data for marketing and advertising purposes.
For example, you may use customer data to send targeted email campaigns or display personalized ads on your website. You should explain how you collect this data and the methods you use to personalize marketing and advertising efforts. Additionally, you should disclose any third-party marketing or advertising tools that you use to help run your business and how you integrate them with your store.
It's also crucial to provide customers with a way to opt out of marketing and advertising efforts if they choose to do so. You should make it clear how customers can unsubscribe from email campaigns and how they can manage their ad preferences.
How To Write a Great Privacy Policy For Your Shopify Store?
Writing a great privacy policy for Shopify store can be challenging, but it is important to ensure that you are transparent and comply with applicable laws and regulations. Here are some tips to help you write a great privacy policy:
Use clear and concise language: Your privacy policy should be easy for customers to understand, even if they are not familiar with legal terminology. Use clear and concise language, and avoid using jargon or complex terms.
Be transparent: Customers want to know what information you are collecting from them and how you are using it. Be transparent about your data collection practices and make sure that your privacy policy reflects your actual practices.
Follow applicable laws and regulations: Depending on where your business is based and where your customers are located, there may be specific laws and regulations that you need to comply with. Make sure that your privacy policy meets these requirements.
Explain how you collect and use data: Your privacy policy should explain how you collect personal information from customers, what types of information you collect, and how you use that information. This may include using the information to fulfill orders, provide customer support, or personalize marketing messages.
Describe your data-sharing practices: If you share customer data with third-party service providers, such as payment processors or shipping providers, you must disclose this in your privacy policy. Explain how these providers use the data and what measures they have in place to protect it.
Provide customers with privacy rights: Your privacy policy should explain your customers' privacy rights, such as their right to access, correct, or delete their personal information. You should also provide customers with a way to contact you if they have questions or concerns about their privacy.
Include a section on cookies and tracking technologies: If you use cookies or other tracking technologies on your website, you must explain this in your privacy policy. This includes explaining the types of cookies used, how they are used, and how customers can opt out of tracking.
Explain data retention and deletion practices: Your privacy policy should explain how long you will retain customer data and how customers can request that their data be deleted.
Provide information on security measures: Your privacy policy should explain the measures you have in place to protect customer data from unauthorized access, use, or disclosure.
Review and update your privacy policy regularly: Your privacy policy should be reviewed and updated regularly to ensure that it accurately reflects your data collection and use practices and complies with applicable laws and regulations.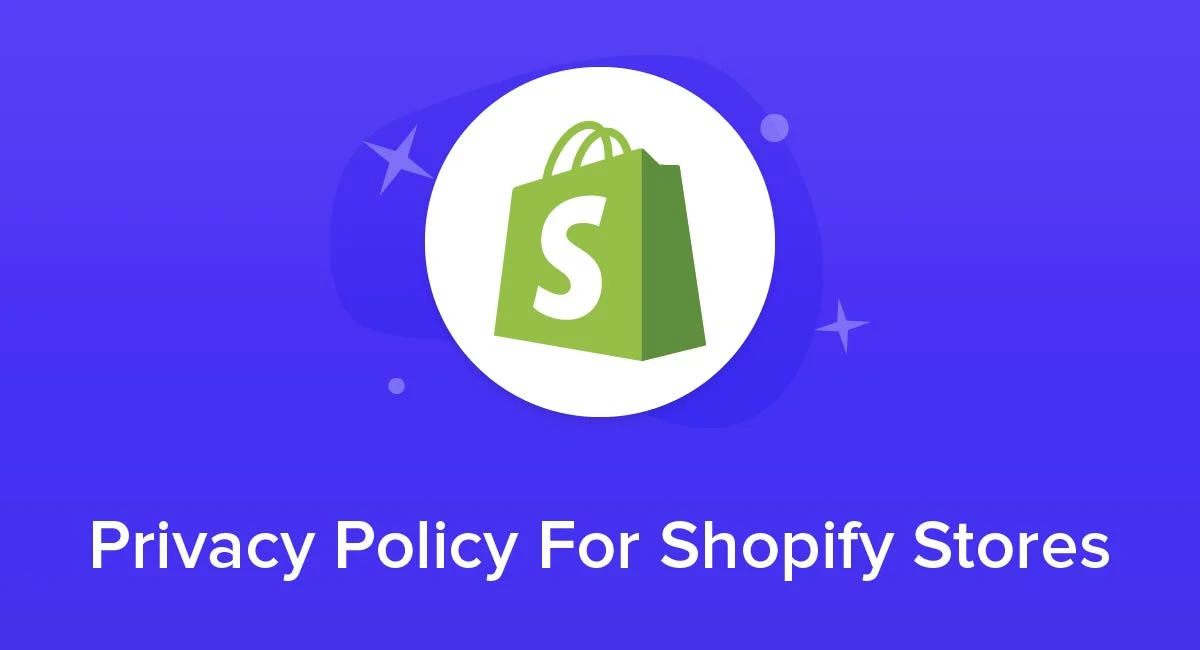 There are some ways that help you to generate an excellent Shopify store privacy policy:
Managed Solution: If you are short on time or want to avoid the hassle of ensuring accuracy, you may want to use a privacy policy generator. There are many tools that create a privacy policy for your Shopify store automatically. Instead of writing the privacy policy clauses yourself, you just need to respond to questions about how your business manages and utilizes customer data.
Use a Template: If you have sufficient time and prefer to draft some clauses or language yourself, you can refer to and utilize a privacy policy template. Many templates include all the necessary sections required to create a privacy policy for your Shopify store. Nevertheless, you are not restricted to using only the content present in templates. You can modify or delete the existing language and clauses in Microsoft Word or Google Docs to make sure the policy conveys your intended message. Conversely, if you find the content in the template appropriate, you can leave it as is and not make any changes.
How To Add a Privacy Policy to Shopify Store?
To add a privacy policy to your Shopify store, you can follow these steps:
Log in to your Shopify account and go to the admin dashboard.
In the left-hand menu, click on Settings and then select Legal.
Scroll down to the Privacy Policy section and click on the Create from template button or Create from scratch if you prefer to write your own policy.
If you choose to create from template, select a pre-written template or create a custom policy.
Edit the policy as necessary to fit your business's practices and needs.
Click on Save to publish the privacy policy on your store.
After you have added the privacy policy to your store, make sure to include a link to the policy in your website footer so that customers can easily access it.
How to Link to the Privacy Policy for Shopify store
After you have added your privacy policy to your Shopify store, you can easily link to it in your website footer by following these steps:
Go to your Shopify admin dashboard.
Click on Online Store in the left-hand menu and then select Themes.
Locate the theme that you are currently using for your store and click on the Actions button.
Select Edit Languages from the dropdown menu.
Scroll down to the Footer section and look for the text field labeled Footer menu.
Add the link to your privacy policy page in the format of Privacy Policy followed by the link (e.g., Privacy Policy: www.yourstore.com/privacy-policy).
Click on Save to publish the changes.
Now, the link to your privacy policy should appear in the footer section of your website, allowing customers to easily access it.
Conclusion
Having a privacy policy for Shopify store is not only a legal requirement but also essential for building trust with your customers. By outlining how you collect, use, and protect personal information, you can reassure customers that their data is safe with you. Shopify provides a simple and effective way to create a privacy policy for your store, with their privacy policy generator and template. By following Shopify's requirements and best practices, you can create a great privacy policy that meets legal requirements and builds trust with your customers. Remember, a clear and transparent privacy policy is not only good for your customers but also good for your business. It can help to build a loyal customer base and protect your store from potential legal issues.
If you want to develop your store, you can contact us by clicking on the button below.