Making the right decision on which eCommerce platform to use for your online business has always been a challenging decision for merchants. Today, we'll look at two of the most popular eCommerce systems on the market: Drupal and Magento 2. Both of these platforms are highly popular for their customizing capability. We'll give you a detailed comparison of the differences for better understanding and makes an in-depth look at both solutions to help you determine which one will propel your business to the next level.
Let's get cracking!
About Two Contestants: Magento Vs Drupal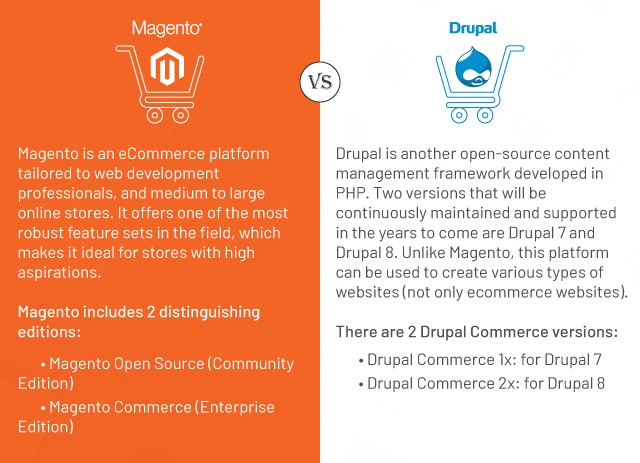 Both Magento vs Drupal are popular and used by world-class brands. So what are the things they considered choosing between? The following comparison will clear this up.
Magento vs Drupal: Full Comparisons
Features And Functionalities
The first thing that has to be considered are the major features and functions of the platforms. In spite of the fact that both Magento and Drupal provide all of the essential eCommerce characteristics that an internet shop may need to function properly, Magento is unquestionably the more spectacular of the two in terms of accessibility and prime capabilities.
With a broad variety of out-of-the-box built-in capabilities, Magento is a completely integrated platform that enables companies of all sizes to provide consistent consumer shopping experiences to their customers. It is worth noting that Magento Commerce includes several sophisticated capabilities, like visual merchandising, PCI compliance, order management, automated target rules, multi-source inventory, advanced catalog search, and much more. Additional features include Expedite restocking, Large order management, and Payments on account, among many more. Therefore, Magento Commerce is also one of the top leading eCommerce solutions for both B2B and B2B merchants.
For the most part, Drupal Commerce is a straightforward application with functionality such as the development of ordering pages and tracking orders as well as payment processing and delivery options. In addition, it also offers the following useful advantages to customers.
Content Management
When built on top of business content management systems, Drupal for eCommerce provides a platform that seamlessly intertwines content and goods, driving both online and offline sales via a smooth user experience, optimal merchandised tools, and effective SEO strategies, among other features.
Magento Commerce now offers a dedicated content management system (CMS) module that provides drag-and-drop capability as well as block-based post-construction, comparable to the current WordPress version. Although Magento Commerce is a more limited option when compared to a full-fledged content management system, it removes a whole layer of update and security management needs from a content-driven eCommerce site.
Both systems are suitable for search engine optimization (SEO), but Drupal has an edge in this area since it is configured to function as a content management system (CMS). However, since Magento's system is perfectly optimized, your website will be visible in search engines right out of the box.
Scalability
Appraising scalability is a must-do for every firm that has ambitions to grow in size. It describes the skills and proficiencies of an eCommerce website while dealing with high visitor volume and a large inventory, which is particularly important on global shopping days like Black Friday, Cyber Monday, and Single Day.
In terms of Magento, this top eCommerce platform is the ideal answer for online businesses that have a huge number of items with a variety of categorizations and a high volume of customer visits, but most importantly, that wish to expand and scale up more quickly than their competitors. Magento can provide the expanded capabilities that businesses of all sizes require. With an exceptional inventory management system that can hold countless products at the same time and has the ability to accommodate up to 50,000 visits for each hour, Therefore, Magento can meet the needs of businesses of all sizes.
In this regard, Drupal is not inferior to Magento in any way. It is not a problem to scale a Drupal website to meet your requirements among online places. As a result, several multinational corporations have selected Drupal Commerce to power their e-commerce websites. The main disadvantage is that Drupal Commerce does not classify items as thoroughly as other shopping carts.
Learning Curve and Online help
Online assistance for Drupal is available via inquiries to the Drupal community as well as the Slack support channel or forum, among other avenues. Currently, there are 20,000 questions on the website. However, even if you don't have much coding knowledge, you may work with Drupal Commerce without difficulty. Administrators and visitors alike will like how it is tidy and well-organized with a simple-to-use layout.
Magento, on the other hand, is a far more demanding e-commerce platform. Magento's official assistance is only available for problems relating to the core code. Additionally, there is an active community of third-party sales consultants and an active assistance site for Magento users. If you are not a coding expert, it is best to hire a specialist developer or a Magento business to construct and configure your online shop.
SEO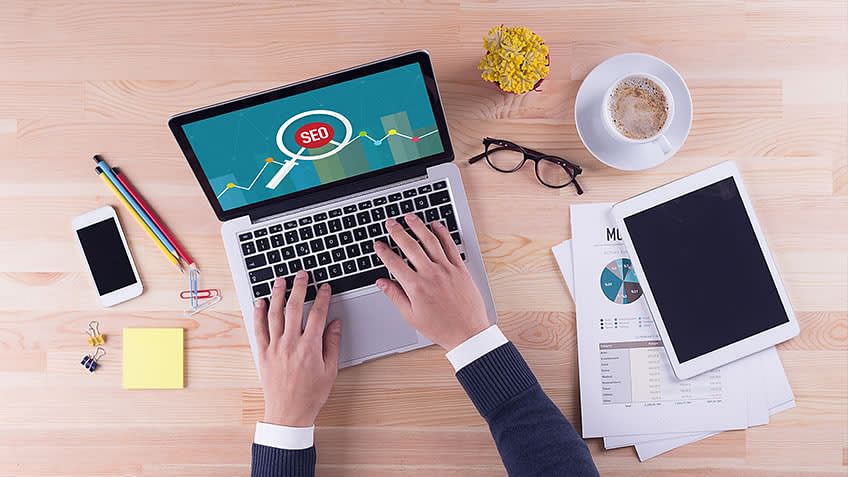 Both Magento vs Drupal Commerce are excellent choices for SEO. Magento, on the other hand, provides a number of built-in SEO tools that are available via the platform. Meanwhile, you'll have to put in some time and work into optimizing Drupal Commerce for search engine optimization.
Magento's content management system (CMS) has a robust reporting feature. It has SEO capabilities ranging from the most basic to the most advanced, such as Meta tags, Sitemaps, Canonical tags, 301 redirects, and other similar tools. It is possible to carefully monitor the flow of items and determine what areas of the store get the most attention as a result of this feature.
Similarly, Drupal is an SEO-friendly platform that offers web page administrators the flexibility to regulate every aspect of a site's design.
Pricing
Both Drupal and Magento are open sources, but they both need experts and regular maintenance, and Magento offers a variety of levels to meet the demands of various businesses.
In fact, Magento Commerce has more unique functions than any other platform, whereas other platforms need third-party modules to do the same things. Because of this, it's worth the investment. If your company has sufficient resources and high requirements for an online store, why don't you consider this option?
Magento now has three tiers: Magento Open Source, Magento Commerce, and as a component of Adobe Commerce Cloud. While Adobe Cloud hosting makes it simple to grow your business, it may also be incredibly costly. In general, developers that work with Magento are generally strongly focused on eCommerce features.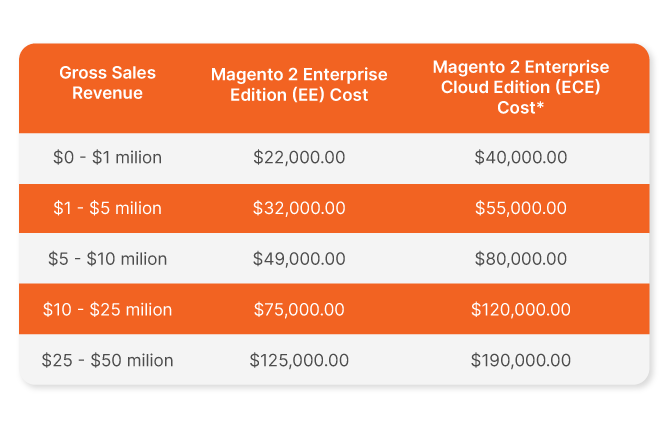 On the other hand, Drupal (with or without Drupal Commerce) is an open-source platform where the technical cost of entry is free, but the development and maintenance may run into the tens of thousands of dollars or more, depending on the scope of your website and the complexity of online functionality.
For ongoing Drupal eCommerce website maintenance, you'll need trained developers who can keep up with the framework's open-source roadmap or your customized eCommerce installation. They'll maintain the system safe and ready for modifications that may affect core code or third-party modules.
Installation & Interface
At this point, there is a separate Commerce Kickstart application available on Drupal's official website. It takes just a few minutes for Kickstart to complete its tasks. As a consequence, you should have a fully functional sample shop that includes a theme, a catalog, search functionality, and a back-office interface. In contrast, Magento's UI is mature and well-tested, but newcomers may be overwhelmed by the sheer number of options available: multiple menus, choices, and configuration options. However, learning the basics may be simplified via online training videos and courses. You can investigate more complex settings later.
In terms of installation, Magento is exceptionally easy to use – you can set up an online shop in less than 10 minutes. The level of complexity may increase gradually, but getting started is typically straightforward, and you have the option of selecting from a variety of extra layouts and plug-ins.
Meanwhile, It takes a little more time to figure out how Drupal works and where to get the crucial content. Nonetheless, the newest CMS systems are much more user-friendly than their predecessors. Additionally, you may make changes to various aspects of the site more rapidly by using the administration module display.
Magento vs Drupal – What is the better choice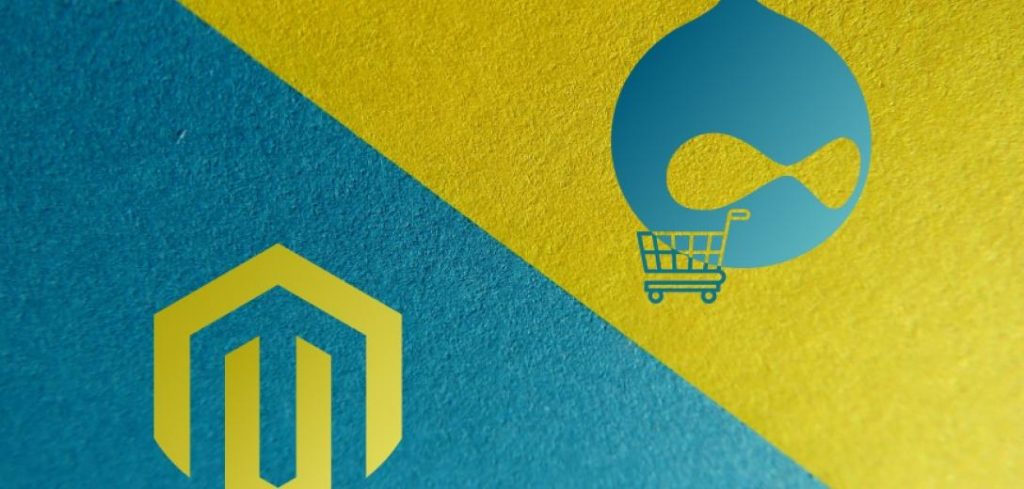 This is perhaps the most important aspect of the Magento vs Drupal argument when it comes to deciding which platform you need to run your eCommerce business through. Ultimately, the CMS that's right for you depends on what you're looking for in an eCommerce platform.
Magento is a powerful CMS that is well-suited for creating online businesses with a big investment and a strong team of professionals. If you want to present your website as a huge online shop with an out-of-the-box eCommerce experience and flawless performance, don't hesitate to use Magento as your platform.
But In order to have your site operating on a single content management system, Drupal is your best choice if you want to conduct a comprehensive redesign of it. Having said that, if you have an in-house developer, they should unquestionably be included in the decision-making process throughout the whole project.
In conclusion
Magento vs Drupal Commerce platforms have their own different specifications. And It is critical to choose a platform that has the characteristics that your company demands. If you're considering opening or upgrading an online store, It's worth investing some significant time in picking the proper option, since it will eventually play a big influence on the entire design and feel of your site.
Magenest is one of the leading Magento extension providers and web development services in the world. Magenest specializes in integrating Magento and Magento 2 with CRM, ERP, and payment systems. Now, as a top-tier Magento Solution Partner and system integrator, our philosophy is to deliver powerful extensions and effective full-stack eCommerce systems. Contact us to let us know your problems. We are willing to support you every time.