Migrating to Magento can be a huge decision. It's not only a big investment in time and resources, but it will also have a significant impact on your business. So how much will your Magento 2 migration cost? And is it worth it? In this post, we'll break down the cost of migrating to Magento, and offer some tips on how to keep your expenses under control.
What is Magento 2 migration cost?
Magento 2 migration cost can vary greatly depending on a number of factors, including the size and complexity of your website, the number of products and customers you have, and the specific features and functionality you need.
Here's a general breakdown of some of the key factors that will affect your migration cost.
Magento License Fee: If you're running a commercial site, you'll need to pay for a Magento license. The cost of this license starts at $22,000/year. You may also get cloud hosting using Magento Commerce Cloud – a cloud-based hosting option that you may use to host your Magento store. It is the hosted version of the Enterprise Edition, with a licensing charge ranging from $40,000/year to $190,000/year depending on the number of users.
Cost for Optimal Data Import: To ensure a smooth migration, it's important to import your data correctly. This can be done manually or with the help of a migration tool. If you're doing it manually, expect to pay around $200/hour for data entry. If you're using a migration tool, the cost will vary depending on the tool you choose.
Cost for Extension: If you're using any third-party extensions on your current site, you'll need to budget for the cost of these extensions on Magento 2 platform as well. You will need to map these extensions in Magento 2 and get your old extensions changed by new ones. There's a chance that you won't discover any desirable extensions in the package you've purchased. In this case, you'll need to have it constructed from the beginning. The good news is that third-party Magento 1 extensions can be moved to the newer platform; however, the cost and timing for doing so will be heavily dependent on how complicated the extensions are.
Cost for Theme Building: Magento 2 uses a new theme architecture, which means your old themes will not work with the new version. You'll need to budget for the cost of having your themes rebuilt by a Magento partner agency. The cost of this will vary depending on the complexity of your theme.
Customization: If you have any customized code on your current site, you'll need to factor in the cost of migration for this as well. Customizations can range in price from $0-$10,000.
Magento Agency Partner: If you don't have the internal resources to migrate to Magento 2, you may need to partner with a Magento agency. The cost of this will vary depending on the scope of work and the agency you choose.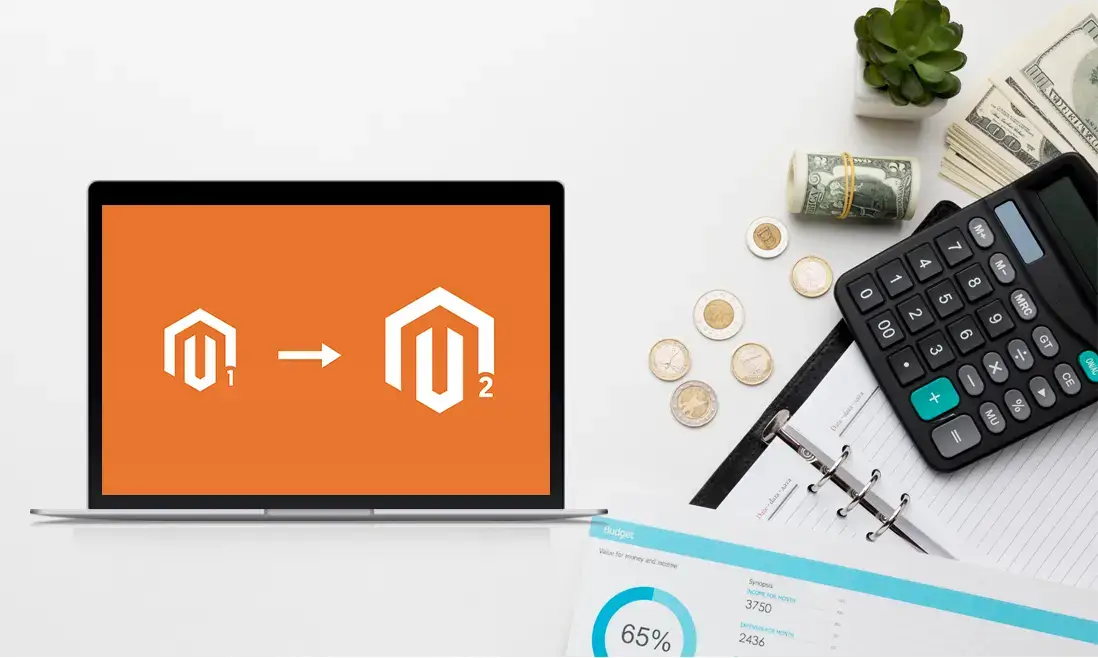 There are some general guidelines you can follow to get a rough estimate of Magento 2 migration cost. In general, smaller sites with fewer products and customers will cost less to migrate than larger sites with more complex needs. Additionally, Magento 2 migration cost can be reduced by simplifying your website design, streamlining your product catalog, and carefully planning your migration strategy.
Magento 2 migration timeline
As we mentioned, Magento 2 migration timeline is dependent on the web's complexity. It takes considerable work and time to execute a faultless data transfer of all data types, including inventories, orders, customer data, media assets, and codes.

Here is an example scale from Magenest that will assist you in estimating the length of time it will take to complete your Magento 2 conversion.
Data import requirements
Before beginning the migration process, you should take into account the data from your existing Magento 1 that needs to be migrated. This includes:
Your product catalog: Your product, product images, descriptions, etc.
Your customer data: Your customer accounts, addresses, order history, etc.
Your store configuration: Your tax settings, shipping methods, payment methods, etc.
Your theme and customizations: Your Magento 1 theme will not function on Magento 2, so you will either need to find a new theme or port your existing theme. In addition, any customizations or extensions installed on Magento 1 must be migrated to Magento 2 or replaced.
Making data import requirements is an important step in the development of your Magento Migration plan. Therefore, the time to complete this step depends greatly on your businesses. Normally, it takes 1-3 weeks for this step.
Third-party extension migration
Once you have identified all data you need to migrate, you should also check on all the third-party extensions you are using on your Magento 1 store.
Extensions are critical components that extend your Magento site's functionalities and enhance performance. However, it's important to note that not all extensions are compatible with both Magento 1 and 2. Trying to integrate them into Magento 2 will cause considerable compatibility issues.
Some extensions may not be compatible with both platforms, thus, research must be conducted to find compatible Magento 2 versions or alternative extensions for each one. This
Therefore, research must be conducted to find compatible Magento 2 versions or alternative extensions for each one. These extensions are then ported to Magento 2 by developers. They are tested for compatibility and functionality in the Magento 2 environment, resolving any conflicts or issues that may occur. The estimated time for this process will be around 2-4 weeks.
Theme
Similar to third-party extensions, the theme for Magento 1 and 2 are incompatible. You'll need to determine if your current Magento 1 theme is available for Magento 2, if not, you'll have to find and select a new theme that matches the design requirement of your stores.
Moreover, although the storefront design can be moved manually, copying all media, HTML, CSS, and other files will require more time and effort. Therefore, this process can also last for 2-4 weeks.
Customization
After your theme and extensions have been installed, you can begin customizing your store's functionality. This includes the configuration of payment and shipping options. The customization process can be around 3 weeks.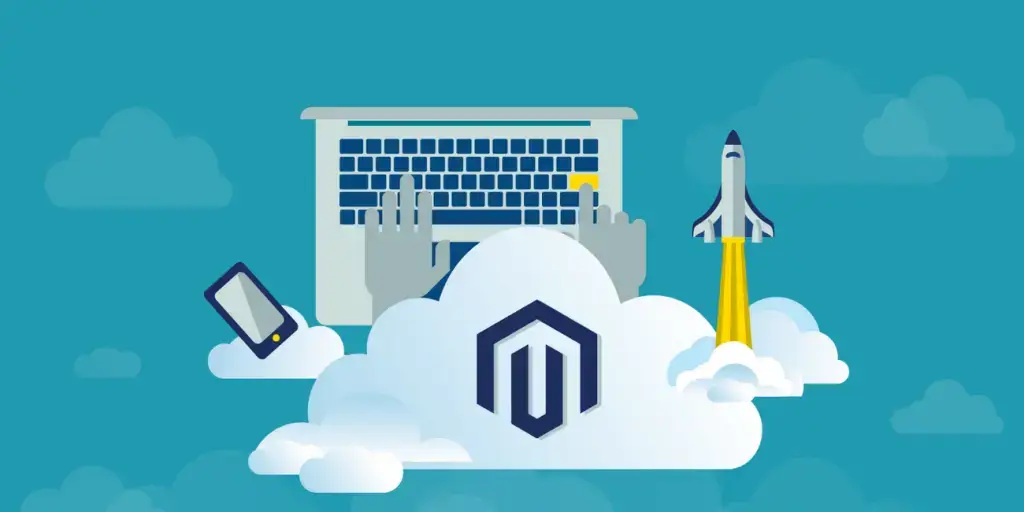 In most cases, your Magento 1 store's custom code is compatible with Magento 2. Magento provides a Code Migration Toolkit to assist you in this procedure. Due to structural differences between the two platforms, this Magento migration may necessitate additional work to ensure that the custom code integrates successfully with the Magento 2 store.
Once the core functionality has been implemented, you can begin migrating your data and information to Magento 2.
Installation and set up
When you have your Magento 2 storefronts ready, now it's time to migrate your data from your Magento 1 to 2. Magento 2 includes a Data Migration Tool to facilitate the migration process, but we always advise creating a full backup in case something goes wrong.
The installation of this tool will require your developer authentication keys. You can retrieve them from your profile on Magento Marketplace. This tool will then be configured based on the settings and scripts of your store. After your system configurations are transferred, you'll be able to migrate all of your data, including product listings, categories, orders, customer information, and more. This process will only take 1-2 weeks.
Testing
The next-to-last step is to verify that everything is operating smoothly. Be sure to conduct comprehensive testing of your entire Magento 2 website, including functionalities, data integrity, extensions, and customizations. Test the website's performance under various conditions, including high traffic loads; as well as on different devices and browsers for cross-compatibility. You should also implement security testing to identify and address potential vulnerabilities. Testing will take roughly 1-2 weeks.
The total migration time for Magento 2 is approximately 2-5 months to compete. However, it's important to note that the timeline provided above is just an estimation. It is essential to plan for contingencies and allocate sufficient time for thorough testing and troubleshooting. Additionally, seeking professional assistance from Magento experts or agencies experienced in migrations can help streamline the process and ensure a successful transition to Magento 2. You can check out our reliable Magento Development Services for further support!
Magento 2 migration cost: How to estimate & optimize the real cost
How to Minimize Magento 1 to Magento 2 Migration Cost
It is undeniable that migrating to Magento 2 promises improved performance, higher security, and new features for your store. You can find more information about the benefits of Magento 2 right here. However, Magento 2 migration cost is one of the significant concerns when planning to upgrade from Magento 1.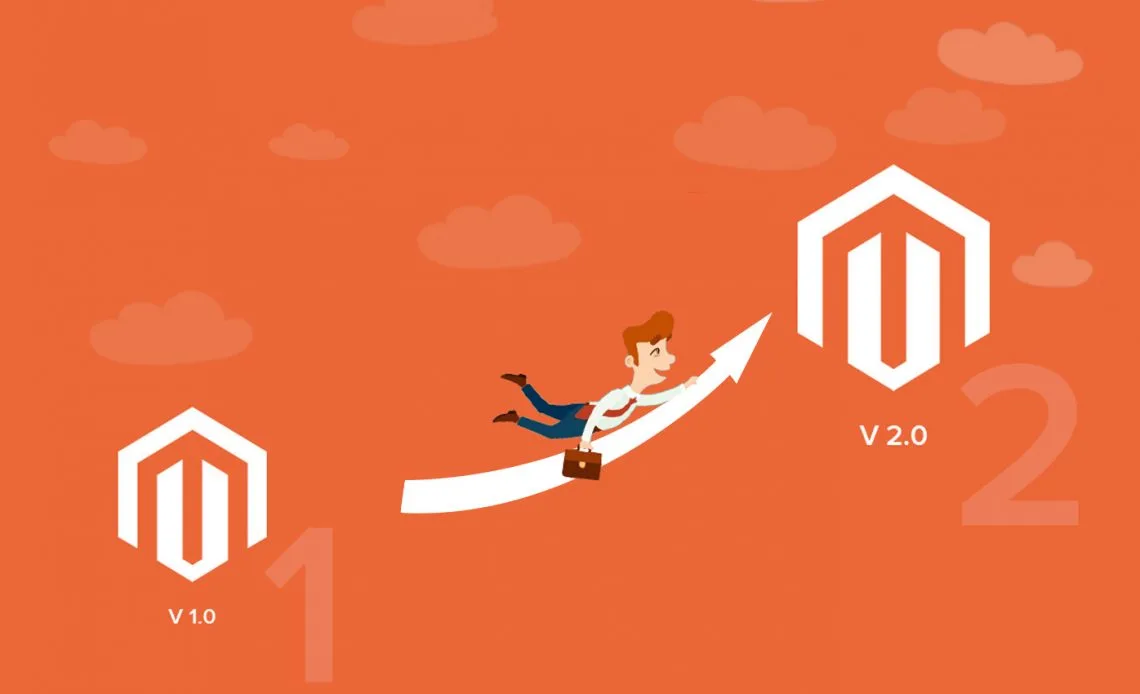 Below, we will go through these factors that affect the total Magento 1 to Magento 2 Migration cost and give you some tips on how to minimize migration costs.
Data Migration
Data migration is an easy and straightforward step that you can simply accomplish with our Magento Data Migration Tool. However, this migration tool will merely complete the data migration, migration for other sections will still require you to manually execute.
When it comes to the total cost of data migration services, it is going to cost you around $300-$2,000 (20h*$15/h to 40h*$50/h), depending on the amount of data that is required to transfer and who you hire.
Cost of Theme/Design
Unfortunately, the themes for Magento 1 and 2 are incompatible. Magento 1 theme needs to be re-coded to Magento 2 structure, which normally costs $2,000-$5,000 and takes 4-8 weeks. The other solution is to purchase a new Magento 2 theme that meets your current design requirements.
If you want to save the budget, you could try to reduce the parts that need customizing or settle for the basic design version since advanced versions are much more resource-demanding.
Cost of 3rd Party modules
Magento 1 extensions are not compatible with Magento 2 as well. Magento 1 extensions need to be either custom-built or replaced by Magento 2 extensions:
Buy and install new extensions
For a typical Magento 2 website, the cost to fully install all the extensions you used to have on Magento 1 websites would be around $300-$2000. However, for some special extensions, you have to pay up to $1,000. The installing and configuring fees would depend on the type and number of extensions that need to be installed as well as the Magento partner you are working with.
There are also cases where no extensions on the market share a similar function with the ones in need. The solution to this is to have custom functions developed. This would take more time and effort but Magento 2 extension custom development is a one-time investment. In the long run, it might be a wiser decision as you will own the source code for further customization.
Agency Charges
Labor costs are also one of the Magento 2 migration costs that you should consider. The cost of Magento migration provided by agencies in the US and the UK would be higher than that in Asian countries. The average hourly rate for US-based Magento developers is $50-$150/hour. Meanwhile, in Asian countries like India or SEA Magento developers charge $25-$70/hour on average. This price gap hardly depends on the coding quality, but rather on the difference in the living costs only.
So, in short, the choice for the Magento agency is up to the merchants. With a plethora of Magento agencies out there, it's usually tricky for business owners to find the right partners to entrust. Magenest's team has experienced-certified developers and competent talented UX/UI designers with over a dozen successful Magento migration projects in our portfolio.
Other Costs
Other costs that are often forgotten are QA/Testing, Magento 2 hosting costs (if you are planning to switch to a new hosting provider), Magento 2 SSL certificate costs, etc. Depending on the size of your store, QA/Testing might take 40-80 hours, a good Magento 2 hosting might cost you around $500-$3,000/year and Magento 2 SSL certificate would be an additional $100-$200/year.
Top Magento migration company you should choose
If you're concerned about the cost of migration, the best thing to do is to consult with a migration specialist. A migration specialist can help you assess your specific needs and develop a tailored migration plan that will minimize costs and maximize efficiency.
Magenest
With over 8 years of experience, Magenest is the leading provider of Magento migration services. We've done 100+ successful projects with 2000+ satisfied customers from 130+ countries and territories, thus, we've gained considerable experience in designing an effective plan to migrate your store to the powerful and robust Magento platform.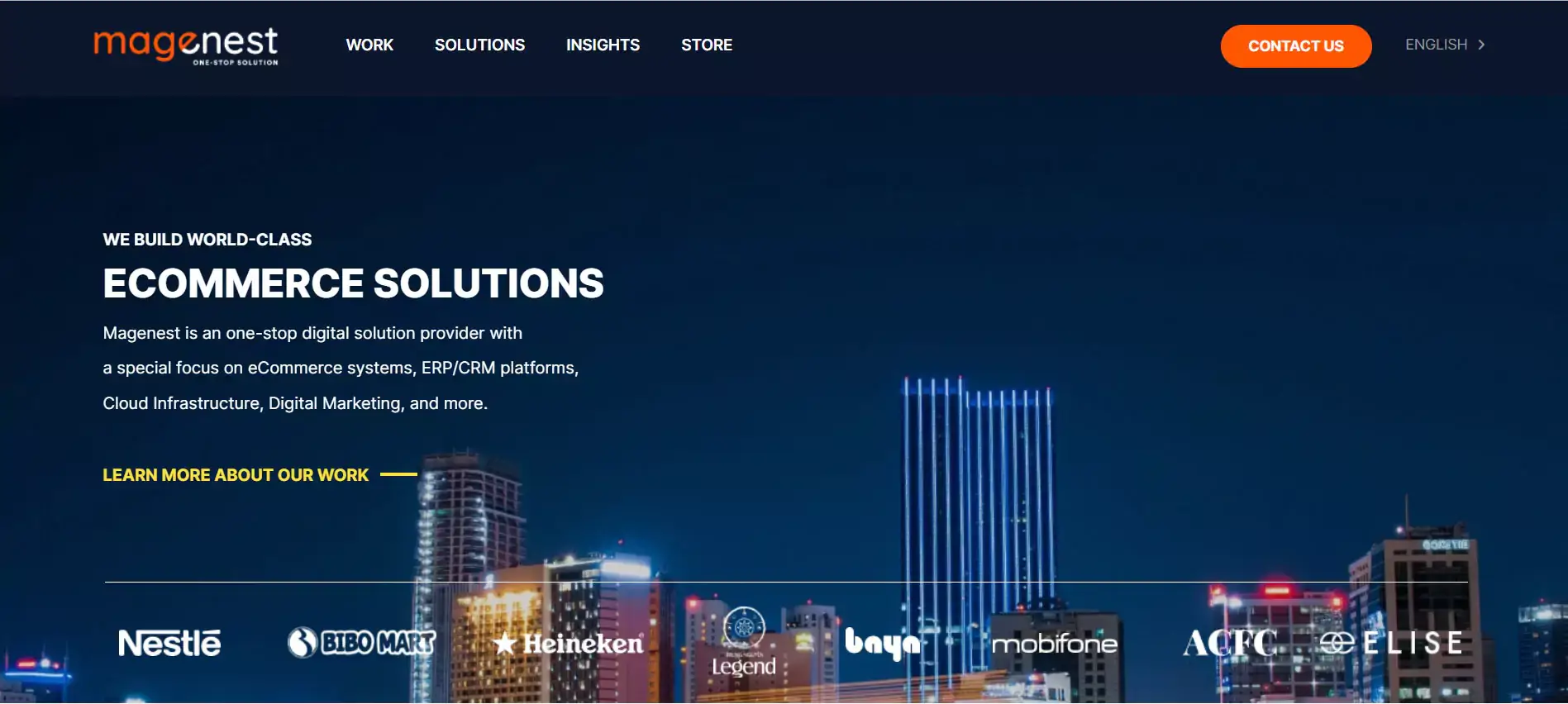 Some of our customers are Heineken, Nestle, and Universal Music, to name a few. Magenest offers you a team of 150+ certified Magento developers, who have contributed greatly to our various successful projects. Therefore, we are confident in our capacity to provide you with the finest Magento 2 migration service, alongside an amazing maintenance service, assisting you in the success of your eCommerce businesses. Contact us today to enjoy a fast and simple data migration process in a standard procedure.
Tigren
Tigren, which was founded in 2012, specializes in Magento website development. They work toward the goal of creating top-tier websites and apps that are accessible and affordable for all eCommerce businesses. Working with Tigren ensures that you will receive exceptional expertise, reasonable and affordable eCommerce solutions, and diverse eCommerce services for your websites.

Having delivered Magento 2 migration service since 2015, Tigren acquires 8+ years of experience with 500+ successful Magento 2 migration projects. They provide a straightforward migration technique, as well as a straightforward billing system. Their staff can assist you in resolving the conundrum of securely transforming your site, ensuring 100% secure data migration, and no downfall in SEO ranking after the migration.
MageDelight
MageDelight, as a Magento goods and solutions leader, is a specialist in providing smooth migration services that result in an optimized and altogether new experience. With a laser-like focus on Magento 2, MageDelight assures cutting-edge solutions for you to best utilize this robust eCommerce platform.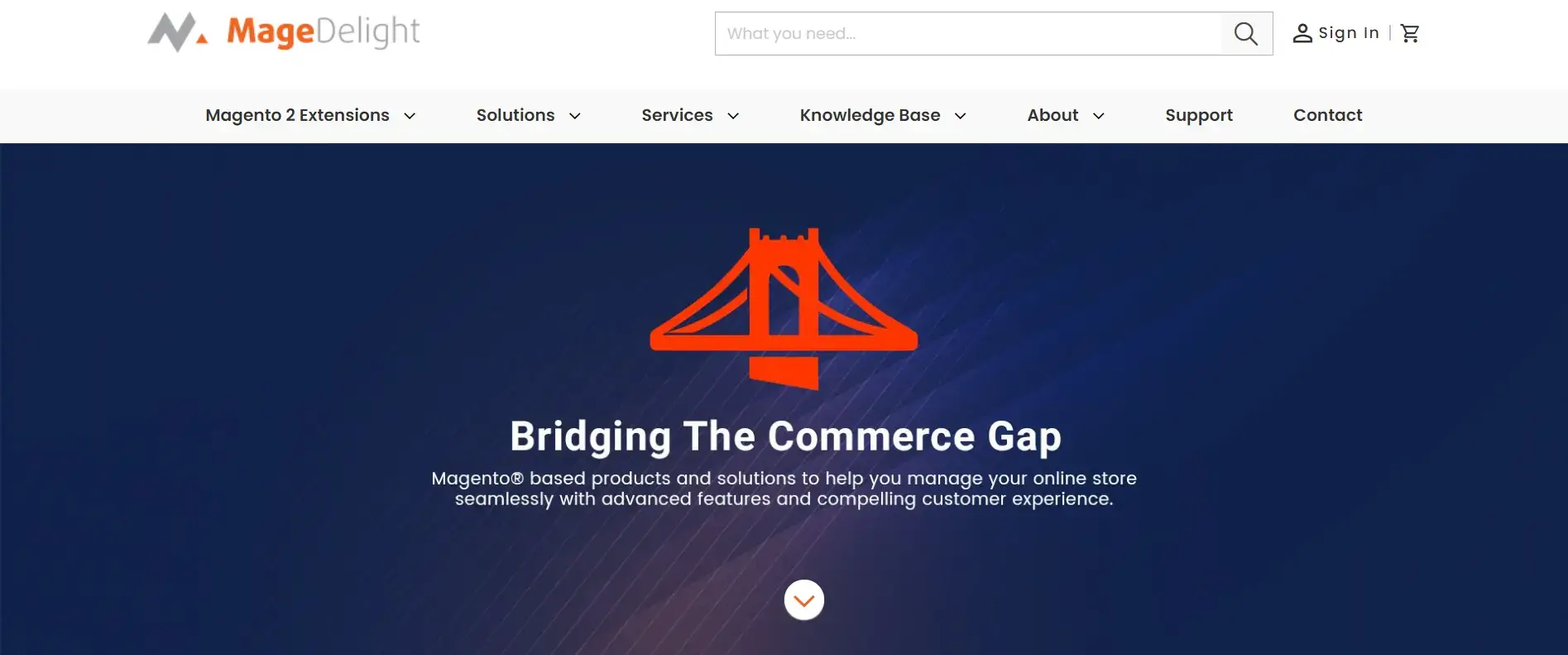 MageDelight is a Gold Adobe Solution Partner with 20+ years of industry expertise. They develop a team of 200+ skilled technocrats, including 82+ Certified Magento Developers, who are passionate about bringing you elite Magento 2 migration services. MageDeligh also provides assistance through a 24-hour support system and ensures error-free migration with no data loss.
ScienceSoft
ScienceSoft is an information technology consulting and software development firm established in the United States. With 33+ years of business excellence, they provide deep industry expertise and the latest IT advancements to deliver custom solutions and products that perfectly fit the needs and behaviors of any business.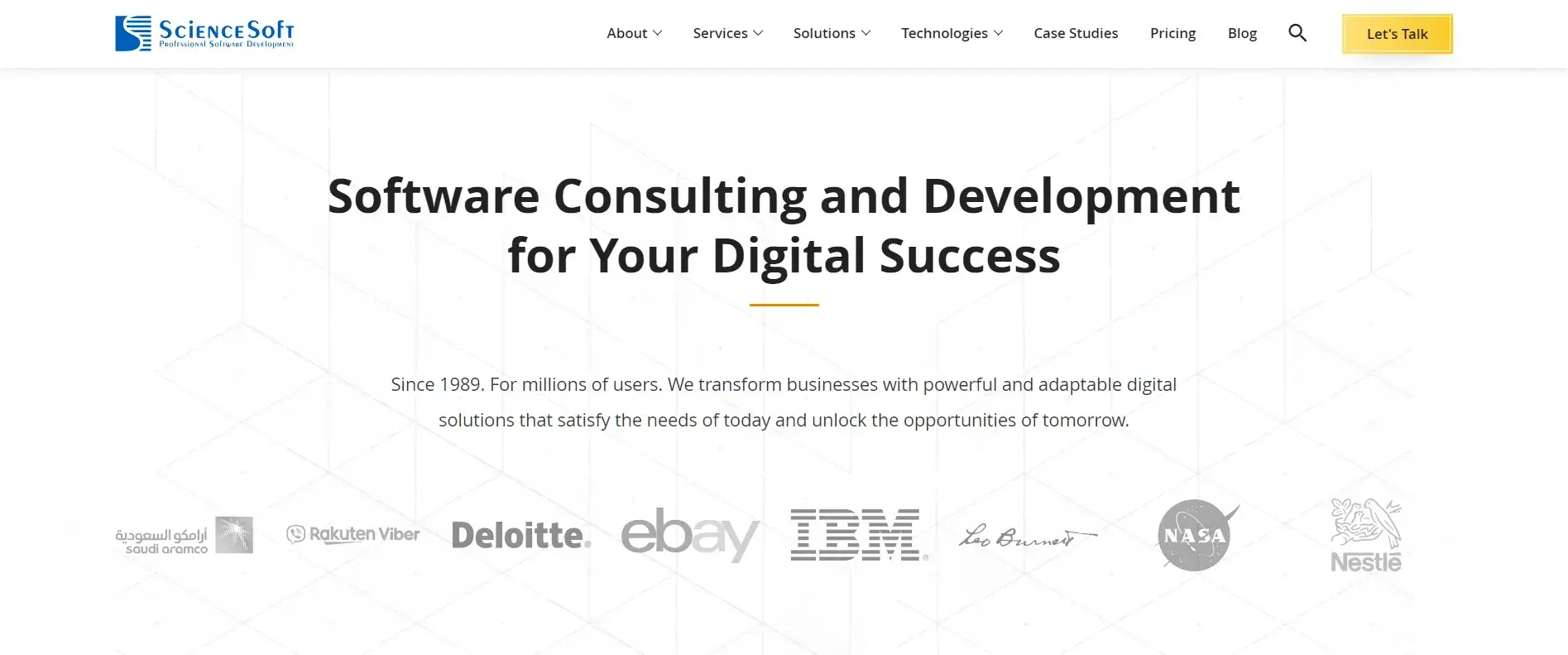 For eCommerce development services, ScienceSoft acquires 20+ years of experience in helping eCommerce businesses launch, migrate, revamp, improve, and expand their digital presence. They own a team of 750+ experts equipped with a diversity of roles, knowledge, and skills, assuring the transformation of your websites to better performance and scalable systems. ScienceSoft's full portfolio comprises 3,600+ projects, including our work for Walmart, eBay, PerkinElmer, Baxter, and IBM. The company provides Magento 1 to Magento 2 migration services, as well as migration from a rival commerce system to Magento 2.
Meetanshi
Meetanshi, with 10+ years of experience, offers a wealth of knowledge and expertise in the migration service industry, having upgraded 200+ stores successfully. They are trusted by large corporations such as LG, Nissan, and Nike.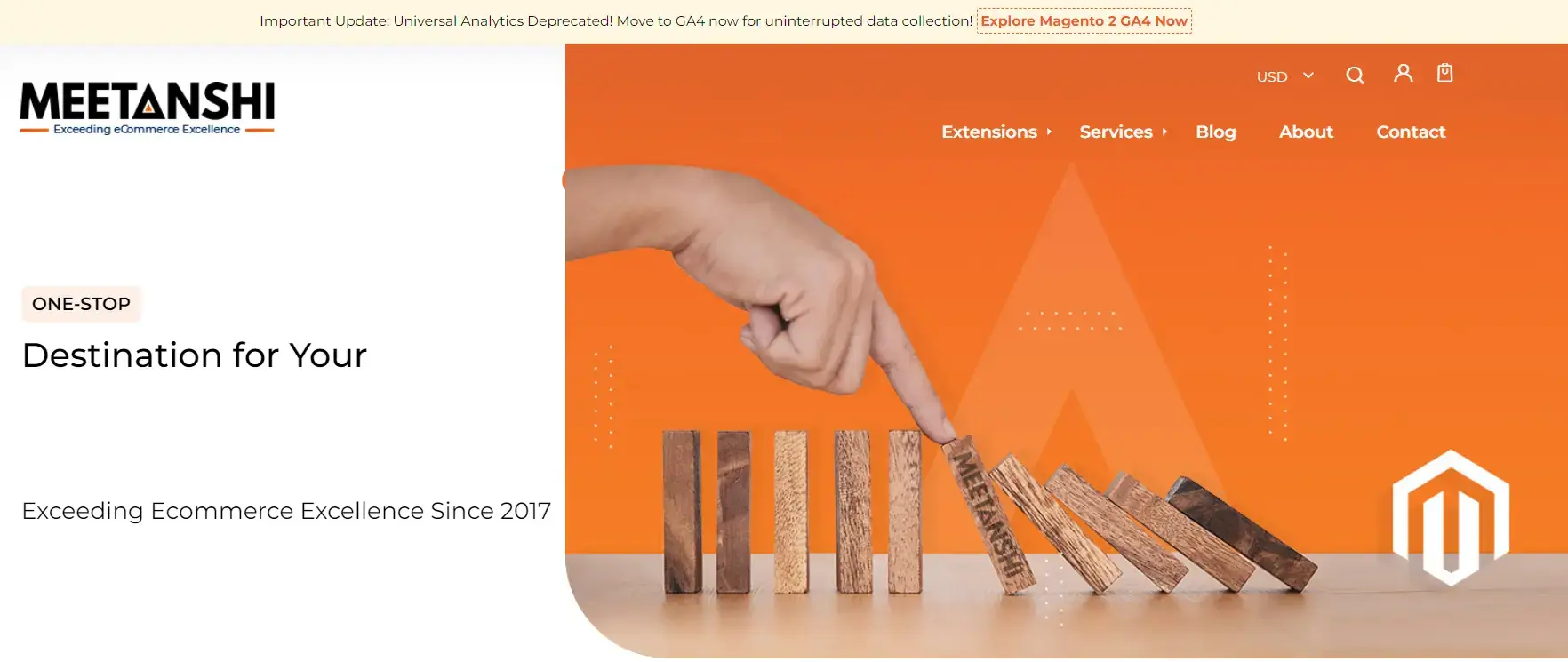 Meetanshi comes with diverse Magento development services, including Magento 2 migration. They have a team of certified Magento developers to ensure a progressional upgrade process with minimal chances of errors. They also commit to a reliable Magento 2 migration service which comes with 3-5 days delivery, 1-month warranty, zero downtime, no data loss, and 100% security for your data.
How to reduce Magento 2 migration cost
Are you worried about the Magento 1 to Magento 2 migration cost being too high? If so, you're not alone. Magento 2 migration can be a costly and time-consuming process, but there are ways to reduce the cost. Here are four tips to help you cut down on Magento 2 migration costs:
Use a Magento Migration Service
There are numerous Magento migration services available to assist you in migrating to Magento 2. Typically, these services will handle every aspect of the migration process, from data transfer to theme and extension compatibility, saving you money and time.
The agencies that provide these services have a team of skilled and seasoned developers, which results in a quicker and more accurate establishment, thereby reducing the overall duration and cost of the projects. Moreover, when you outsource the migration to experts, you can save considerable time and money on internal developer training and the resolution of migration-related issues. The experts will be familiar with best practices and potential pitfalls, reducing the likelihood of costly errors during the migration process.
Hire Magento Developers
If you have the budget, hiring a Magento developer to help with the migration can be a great way to save money, especially when you don't have an in-house development team.
Magento developers are already experts in Magento 2. They have acquired adequate knowledge, certification, and experience to deal with any aspect of Magento 2 development as well as any error that may occur. Therefore, they have the capacity to migrate your Magento 2 store in a quick and effective way. Furthermore, they can also offer more services related to the development of your site, including third-party integration, maintenance, and support.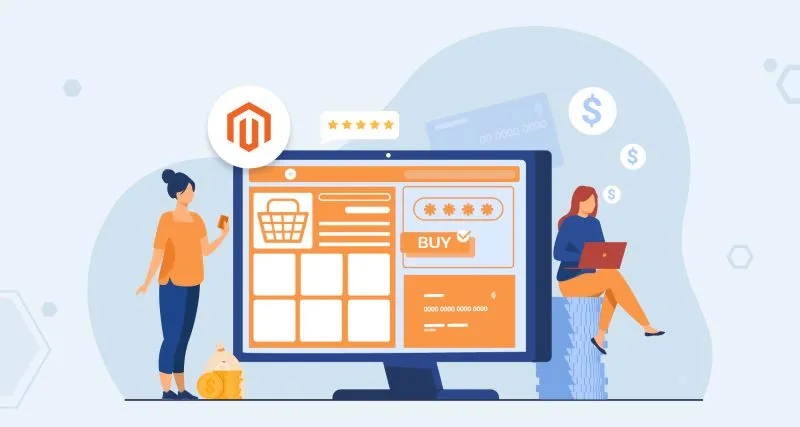 It is important to note that using a full-service Magento Migration Service or hiring Magento developers may cost a considerable amount of budget in the beginning. However, it will definitely save you significant costs in the long run, as well as assuring the best quality of your migration process and your Magento site performance.
Use Magento Migration Toolkits
There are various Magento migration toolkits available that can simplify the data migration process from Magento 1 to Magento 2. These toolkits help efficiently transfer data, minimizing manual data entry and reducing migration time.
As an open-source platform, Magento owns a strong community of developers, who provide strong toolkits available for you to choose from. They come with the ability to automate certain aspects of your migration process, saving you considerable development costs and manual efforts.
Use a Magento 2 Ready Theme
If you are starting from scratch, using a ready-made Magento 2 theme can save you significant time and money. Themes that are Magento 2-ready are fully compatible with Magento 2. They come pre-configured with all the necessary files and settings, reducing development time.
As opposed to custom themes, which require intensive design and development efforts, ready-made themes are already implemented, which reduces these efforts and results in substantial cost savings. In addition, these themes include ongoing support and updates. The cost of maintenance and troubleshooting will also be minimized, while the quality of your Magento theme remains preserved.
In addition to these steps, it is essential to carefully plan the migration process. This can be done by establishing a realistic budget that fits with your financial resources, identifying potential risks, and allocating your overall resources efficiently. Effective preparation will prevent costly delays and redo work during the migration process. This well-organized and deliberate approach to the Magento 2 migration, coupled with the right combination of internal expertise and external assistance, can significantly reduce migration costs while ensuring a successful and seamless migration to your Magento 2 sites.
In conclusion
With careful planning and execution, Magento 1 to Magento 2 migration costs can be accurately calculated. If you are looking for help in this field, we are here to assist. We have years of experience migrating all types of websites, from small businesses to large enterprise sites. Our team of certified Magento developers will work with you to ensure a smooth, seamless migration that meets your specific needs and budget. To learn more about our migration services, contact us today. We'll be happy to provide you with a consultation and estimate for your migration project.