Nowadays, every business that wants to thrive must revolve around customers or, as professional sayings, become customer-centric. Especially for tech companies, which offer scaled, one-stop solutions in the form of a service, keeping customers happy and engaged with the products is moderately becoming the top priority of the business. And the metrics or that could measure the level of happiness and satisfaction of customers are based on the success of the customer that comes from hiring the service. And to manage the success of the customer thoroughly and systematically, companies need to make use of customer success software.
1. What is customer success?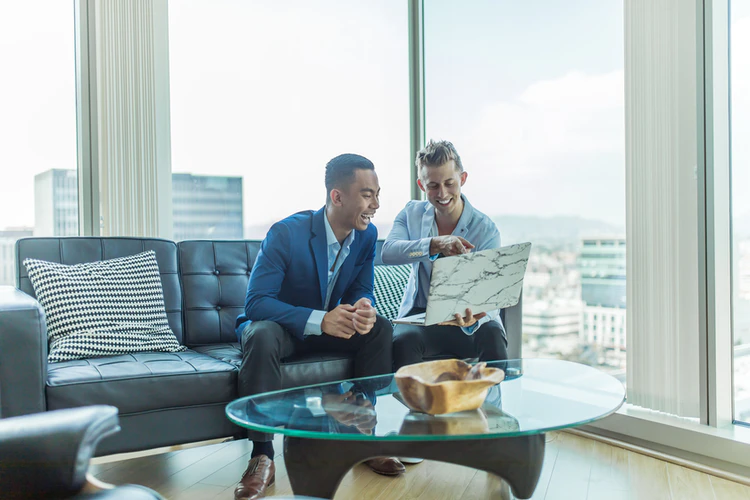 Customer success is a new model applied widely in organizing customer support departments in modern businesses, often initiated in technology-based, B2B businesses that provide customers with softwares or engineering products that offer a solution to their problems. These products or services often require customers to have certain knowledge and skills to process and make full use of them. To put it in an easy-to-understand way, if your customers can't use your product, they may consider what you create to be useless or ineffective, which results in customers' dissatisfaction and loss of trust in the company. Some customers may complain to you, but most of them may go looking for a replacement product from your competitor's businesses.
Customer success focuses on customer relationship management, tailoring customer and business goals to create mutually beneficial results. An effective customer success strategy often reduces dropout rates and increases your return profits of selling. This is the method that is intended to ensure a customer is achieving the desired results when using a product or service.
In short, customer success is the key to business growth and brand loyalty. And the customer success softwares are the highly efficient assistant of that powerful key to manage and deploy the customer success process thoroughly and systematically. Customer success is becoming one of the most common words in B2B. In fact, it is becoming one of the most important factors in all areas and fields of the business, distinguishing a stagnant company from a company that achieves strong growth constantly.
2. Customer success vs Customer experience vs Customer service?
2.1. What distinguishes customer success from Customer Service?
Customer Success can be perceived as the process in which a business that "actively" approaches customers, meanwhile, Customer Service is described as a "response" to requests from customers.
When customers have problems, they often send requests via email or phone calls expecting support to resolve the problem for them. In these cases, the customer service department often focuses on each case and proposes solutions immediately.
Whereas, Customer Success pointed out the problem – opportunity – outcome by collecting and exploiting as much data from customers as possible. Moreover, Customer Success outlines a strategy to help businesses better understand the customer experience and life cycle, thereby making improvement plans. Above all, the members of the Customer Success team must focus on customers and know how to make customers succeed, not just care about the success of their business.
2.2. What differentiates Customer success & Customer experience?
As stated above, Customer Success provides companies with a better understanding of customer experience, how customers use products/services from the customer's perspective. Whereas, the customer experience focuses on how to improve these experiences of customers on their journey.
>> Read more: Customer Experience vs Customer Service vs Customer Care
3. What is customer success software?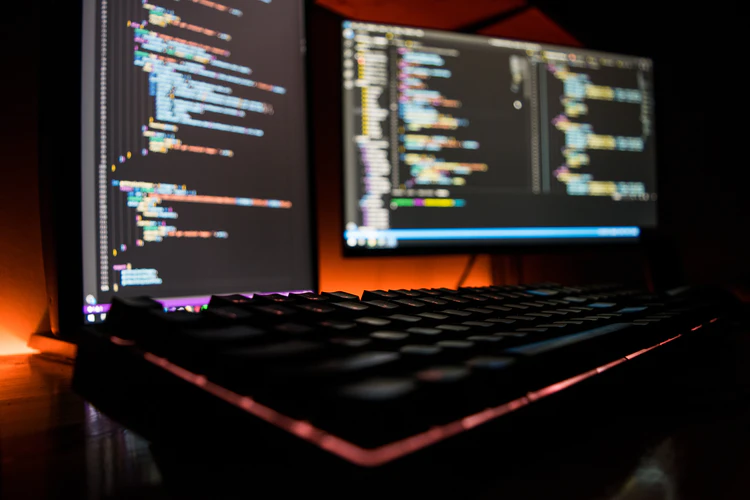 From a broad view, Customer Success Software is a unique and specialized software that provides a set of tools to assure that customers accomplish all their wishes and needs when choosing your business's products or services. These softwares help boost the comprehensive understanding of customer health and perception of the brand.
In particular, Customer Success Software can be defined as a software that is specifically designed to offer its users a comprehensive and systematic management solution of all the business's customer data collected from integrated third-party tools and softwares such as CRM services, chat, social media platforms, and more. Some of the features that top customer success softwares offers can be listed out like customer health tracking, customer personas completion, insights collecting, customer engagement analytics, etc.
4. Why businesses need Customer success softwares?
To answer the question of why businesses need to optimize by using customer success management software, we first need to figure out why technology businesses, especially in the 4.0 era, need to thoroughly apply customer success in management and optimization of the customer experience.
4.1. Why Customer success matters?
Improve the process of renewing/acquiring products and services
In the technology sector, the period of time when customers were bound and limited by technology contracts or barriers has passed. Now, the customer has much more power.
Tomasz Tunguz – Redpoint's investment expert once said: Enterprises are facing the constant change of the sales process. Every time a customer of your business sees a monthly or quarterly/year renewal fee popping up in their softwares or services, they always wonder, should they keep paying for it?
With customer success management, tech companies can better manage this renewal process so they can grow faster with fewer resources. Customer success generates the insight, organization, and human resources needed to create greater productivity, meaning, and successful renewal.
Reduce The Dropout Rates of Customers
Subscription models (recurring charges), a common model regularly applied in modern softwares, require companies to initially create a product with minimal functionality, then through an iterative process, receive feedback from the user side and improve the product over time.
Combining user feedback with positive and negative reviews will also decide to buy or stop using your product/service faster. Thereby, the Customer Success team will receive a lot of valuable feedback from customers. Combining feedback with "customer health" data, they proactively inform the product development team for improvements or additions.
Customer success help boost revenue
Jason Lemkin, CEO of Storm Ventures indicated in a recent article that successful customers bring 90% of revenue. Most of the revenue comes from the business's relationship with its customers at the after-sale stage. This is also the reason why technology companies have more opportunities to raise prices and cross-sell products. The image below details the process of generating $ 100 in revenue.
Customer Success, from there, not only creates an opportunity but also turns it into a revenue stream. The cost of acquiring a new customer is usually more than your first year of revenue. This is a common practice in the subscription business model. However, in the second year, most of the revenue is profit, marketing costs are only at the lowest level. This rate can be maintained continuously for the next many years if you do well on Customer Success. This chart doesn't even mention whether you increase the price of your product or an upsale.
4.2. How using Customer success softwares could benefit your businesses?
Customer success software tools make it easier for businesses to track the rate of customer churn, boost the customer engagement and satisfaction level, and promote customers to be voluntary advocates of the brand. Last but not least, by being provided with a better comprehensive understanding of customers' needs and pain points, businesses can come up with more solutions to satisfy all the customers' needs and expectations.
How Customer success softwares benefit SaaS business?
As cited above, the term customer success is widely used, especially in the technology companies – in which we customers can not overlook the term SaaS (Software-as-a-Service) – one of the most popular forms of cloud computing – which is defined as the software application service delivery model; where the supplier does not sell software products but sells services based on that software. To put it simply, the provider creates and maintains software that runs on the web, and the customer can access it remotely via the internet after paying a recurring subscription fee (monthly, quarterly, or yearly).
So how right customer success software for SaaS companies would make the business thrive? That's due to the requirements of the SaaS business model: non-stop customer satisfaction. In the past, companies that provide software could just sell a product or service for a whole sum of money. The after-sale stage barely existed unless there are some very serious issues and the customers reach out to the companies for help.
But things have changed. Saas companies now need to continuously make their customers satisfied and happy for profit. Rather than buying software for life, customers now can choose to buy a monthly or annually subscription to the app. That means if your customer feels that they can't get value out of the software, they would not keep purchasing their subscription. On the other hand, if they succeed with the softwares and services, they would keep buying and advocating, which generates huge profits.
How Customer success in SaaS business different from those in on-premise business?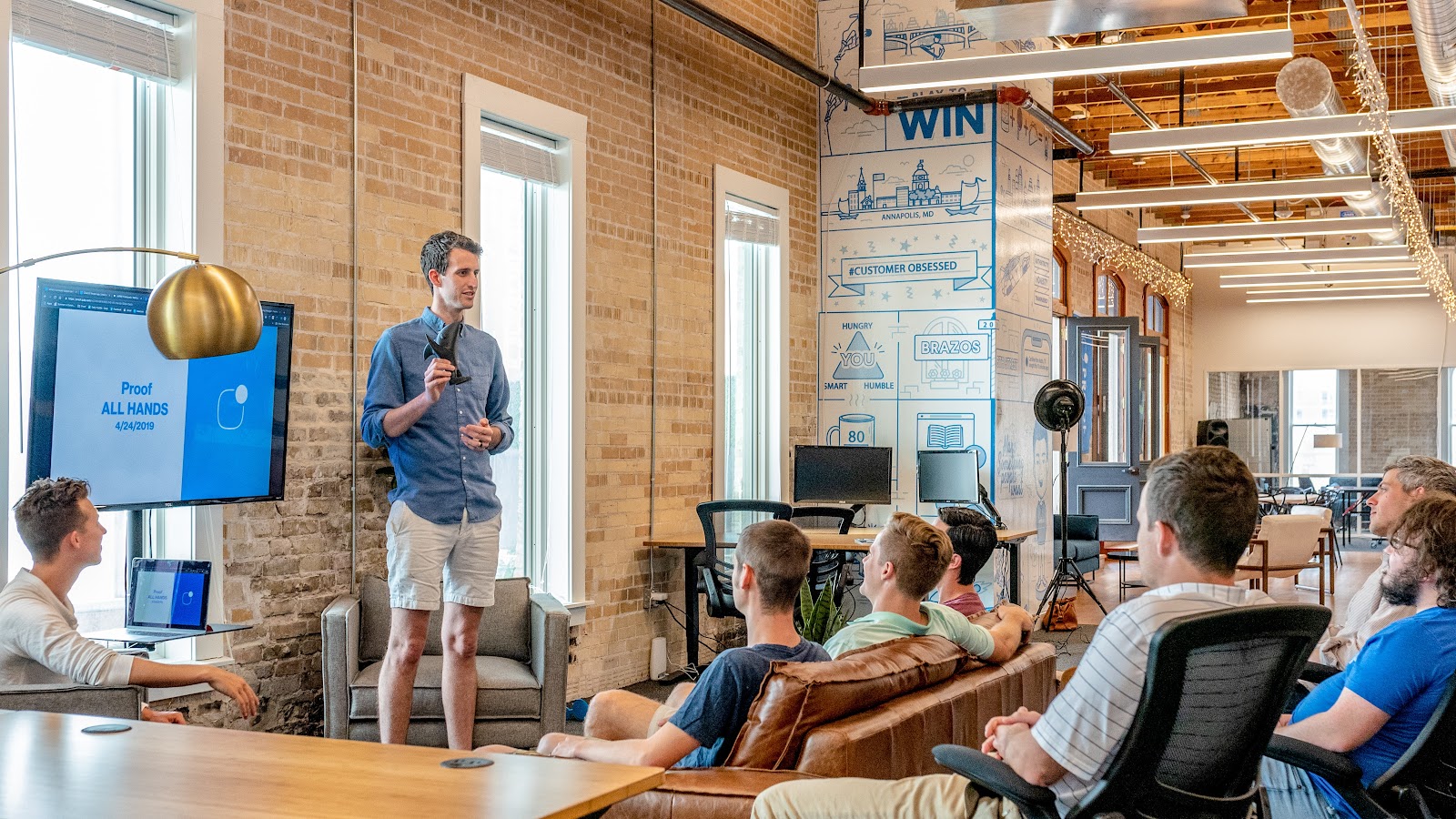 On-Premise can be interpreted as a company deciding to source their software "in-house". Instead of "on-cloud" – data over the Internet or using the provisioning and storage processes of the manufacturer, applications are maintained in the real office of the enterprise. After being placed in the company's infrastructure through the IT department, under the ownership of the business.
Unlike Saas that charges the customers constantly on their process of using, On-Premise solutions charge their users a sum of fees from the beginning. On-Premise ERP machines often require businesses to invest large sums of money before and during work to pay and manage both software and hardware, and the server and the necessary equipment to operate. There are 2 prominent differences between these two models:
Level of reactiveness
Usually, on-premise clients are not familiar with Customer Success programs. Their journey started with the sales team, just like in SaaS, then they were consulted by a team of experts to implement the solutions and trained to use the solutions. In many companies, the switch to support comes after implementation.
The lack of interactions with on-premise customers is not uncommon. Customer-vendor relationships tend to revolve around technical issues and react to customer communications. Why is that?
Reducing churn is a major challenge for on-premise businesses. For example, a customer may be angry about a feature but the vendor does not know until that customer finds and implements another solution to replace that feature.
Overall, customer success efforts with on-premise solutions are more reactive and focused on the renewal process.
Metrics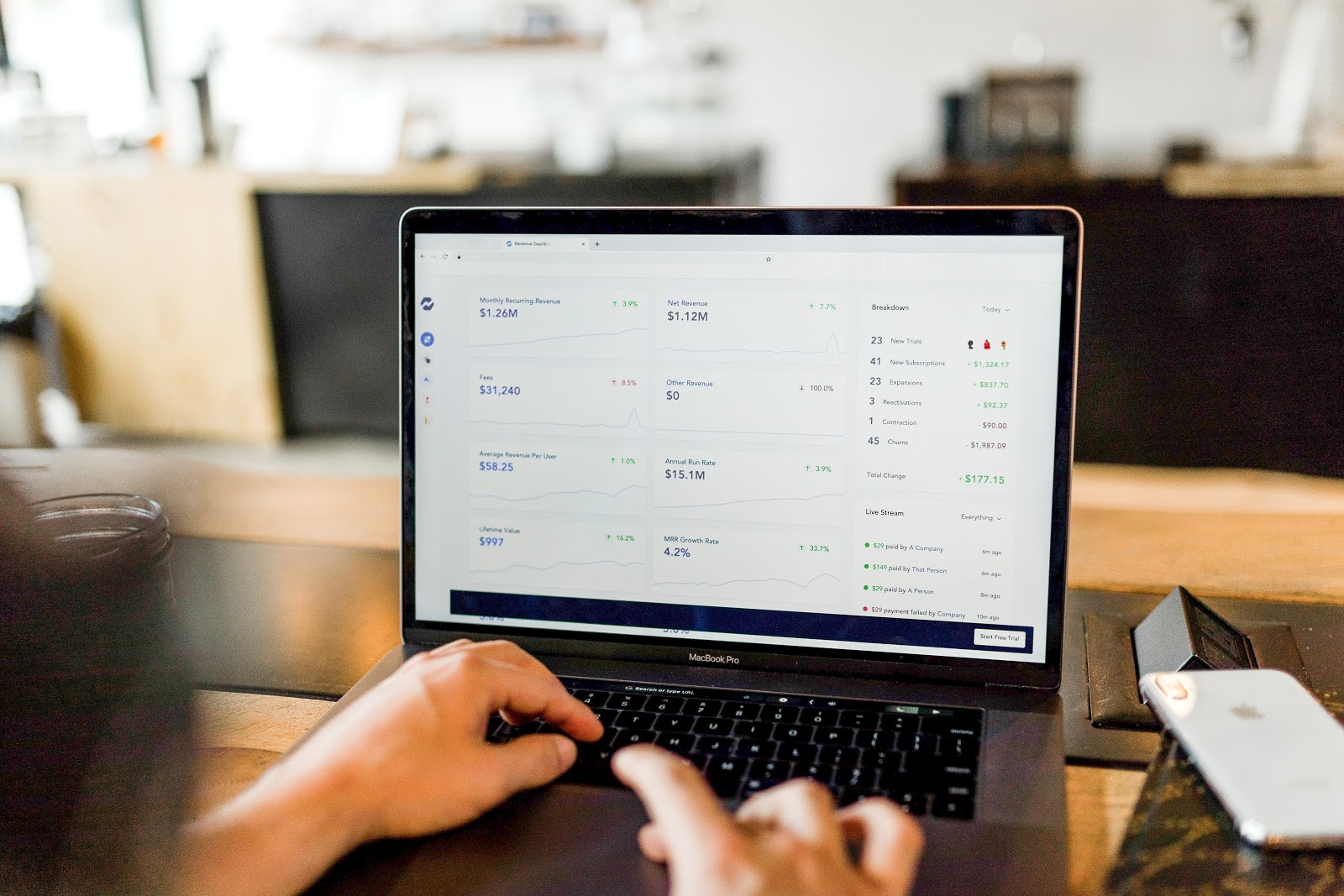 The renewal rates of on-premise customers are often higher than those of SaaS customers. This leads to the differences in the metrics measured by the Customer Success teams of these two business models. Sometimes, the success of customers using SaaS is focused on their ability to help customers grow, so KPIs include usage trends, renewal rates, ROI…
As for the CSM team in on-premise companies, there is no user data (usage data), often focusing on key metrics such as NPS Scores, Support ratings, customer feedback…
Financial metrics are also important for both of these business models, including KPIs such as renewal rates, early renewal rates, customer churn, account add-ons. For on-premise CSM teams, consistent tracking non-usage metrics and customer feedback analysis are important factors that increase the chances of interacting with customers, strengthening the relationship between customers and vendors.
5. Top 4 Best Customer success softwares in 2022
Customer Success is undoubtedly one of the most important aspects determining the growth of your whole business, and you don't want to go easy on it. Below are the brief lists of the best customer success software tools of 2022 as per the recommendations and guides of experts. Let's take a look!
# Gainsight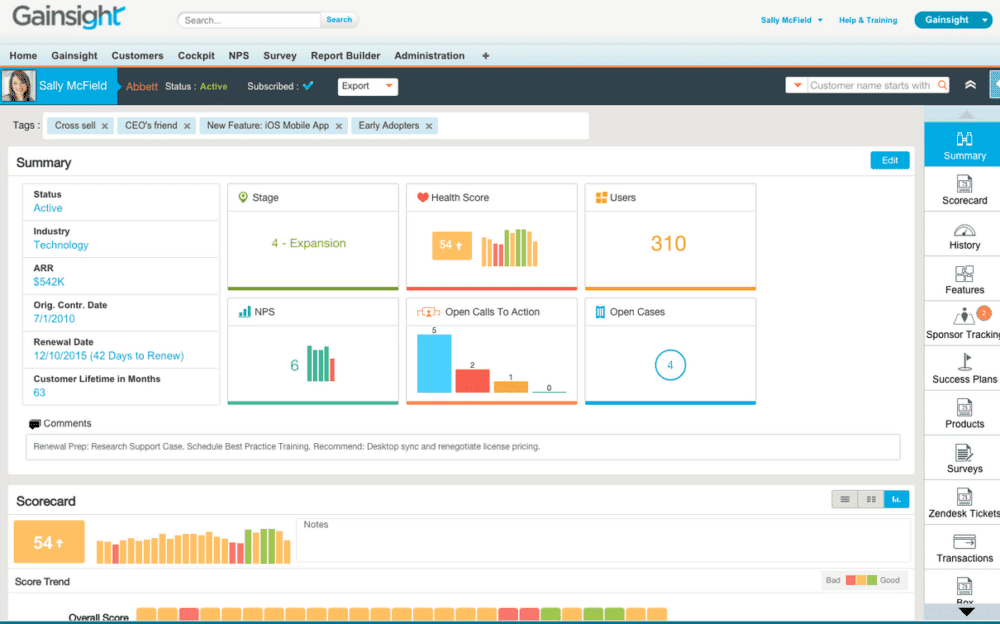 Gainsight is undoubtedly one of the top customer success softwares that is always highly rated in the industry. The service offers its users a wide range of effective features such as providing precious customers' insights, engaging customers, and collecting feedback. One of its standout capabilities is the measurement of customer health by giving them a score based on their level of satisfaction with the products or services. The platform is also able to predict customers' behaviors by analyzing their previous data collected and processed by machine learning technology integrated into.
# Totango
Another highly reputable open source customer success software providing effective customer success solutions for a variety of businesses. The partners of the platforms marked big names of technology giants such as Zoom and SAP.
One of many features that Totango offers is tracking customer tendency, health score and usage via an array of top-notch features like easy-to-use-account management, customer relationship hierarchy and segmentation. But the software does have some drawbacks to name; like its limitation in providing reliable integrations and the complications in the initial installation. But the friendly UI, customizable dashboards, insightful reports, and the myriad of features make up for its downside.
# Custify
This is a life-saver platform for SaaS businesses. It helps these companies proactively manage their customer systems thoroughly and systematically. By collecting all customer data in one place and implementing alerts, the software helps users to reduce customer churn and assure product adoption. In addition, Custify users are provided with precious insights to develop their understanding of their customers' journey of buying and using the products. But may the most effective feature is the customer 360, while it offers an overall view of product adoption, usage and life cycle of customers for a whole team.
# ClientSuccess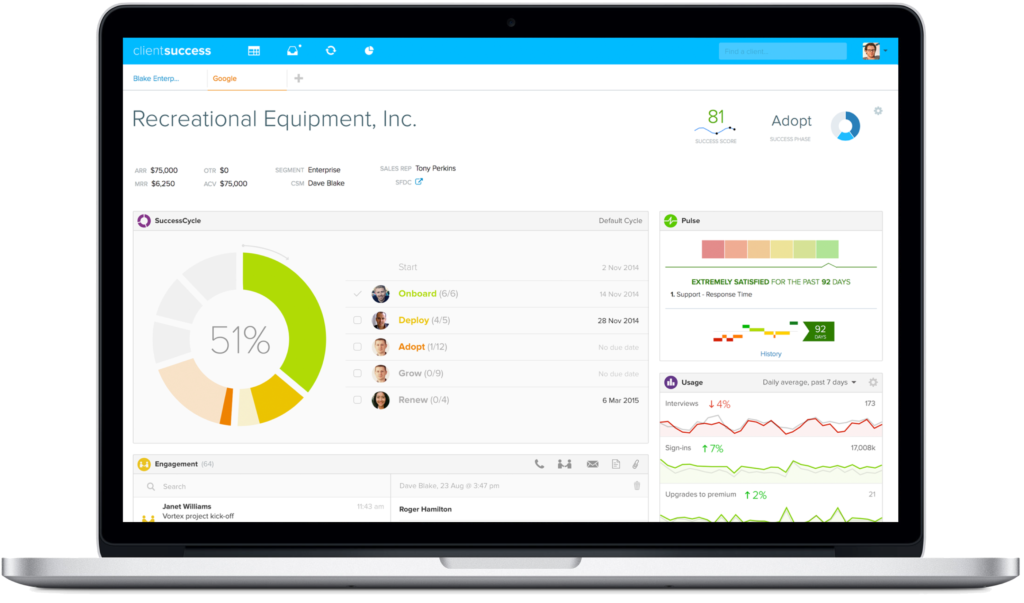 You want to find a customer success solution that can help you with retaining and developing your existing customer management? ClentSuccess may be the right one for you. This customer success software platform is highly reputable for its UI-friendly, clean and neat interface that is favored by its users. And just like Gainsight, the trademarked metrics of ClientSuccess Success Score provide its users with comprehensive and real-time-based scores to evaluate the overall customer's health, level of advocacy, product adoption, usage, and more. The only minus point of the platform may be the unoptimized reporting features.
Conclusion
By now, may you realize how important it is to deploy and develop a systematic customer success process, and on your way there, do not overlook the effective customer success softwares. Go through our list above to compare and find your best choice, employ the tool and let's see all the difference it makes!