In the rapidly evolving landscape of eCommerce, efficient order fulfillment stands as a cornerstone of success. The journey from the Add to Cart button to the customer's doorstep has a significant impact on brand loyalty and customer satisfaction. While in the past, the whole fulfillment process had to be done manually, now, you can find the best eCommerce fulfillment services and get them to do all the work for you.
Choosing a perfect eCommerce fulfillment company may require lots of research and consideration. In this article, we will provide you with the 12 best names for fulfillment services, dissecting the key players, their features, pros, and cons, helping you navigate the complex terrain of choosing the perfect partner for your order processing and delivery needs. Let's dive in!
What is an eCommerce fulfillment service?
eCommerce fulfillment refers to the process of receiving, processing and delivering online orders to customers. In the world of eCommerce, once customers place an order through an eCommerce platform, the fulfillment process begins. It involves tasks such as maintaining inventory, locating products within the storage, packaging products, and managing the logistics of delivery to the customer's doorstep. An efficient fulfillment process is crucial for ensuring customer satisfaction, as it directly impacts delivery speed, accuracy, and overall shopping experience.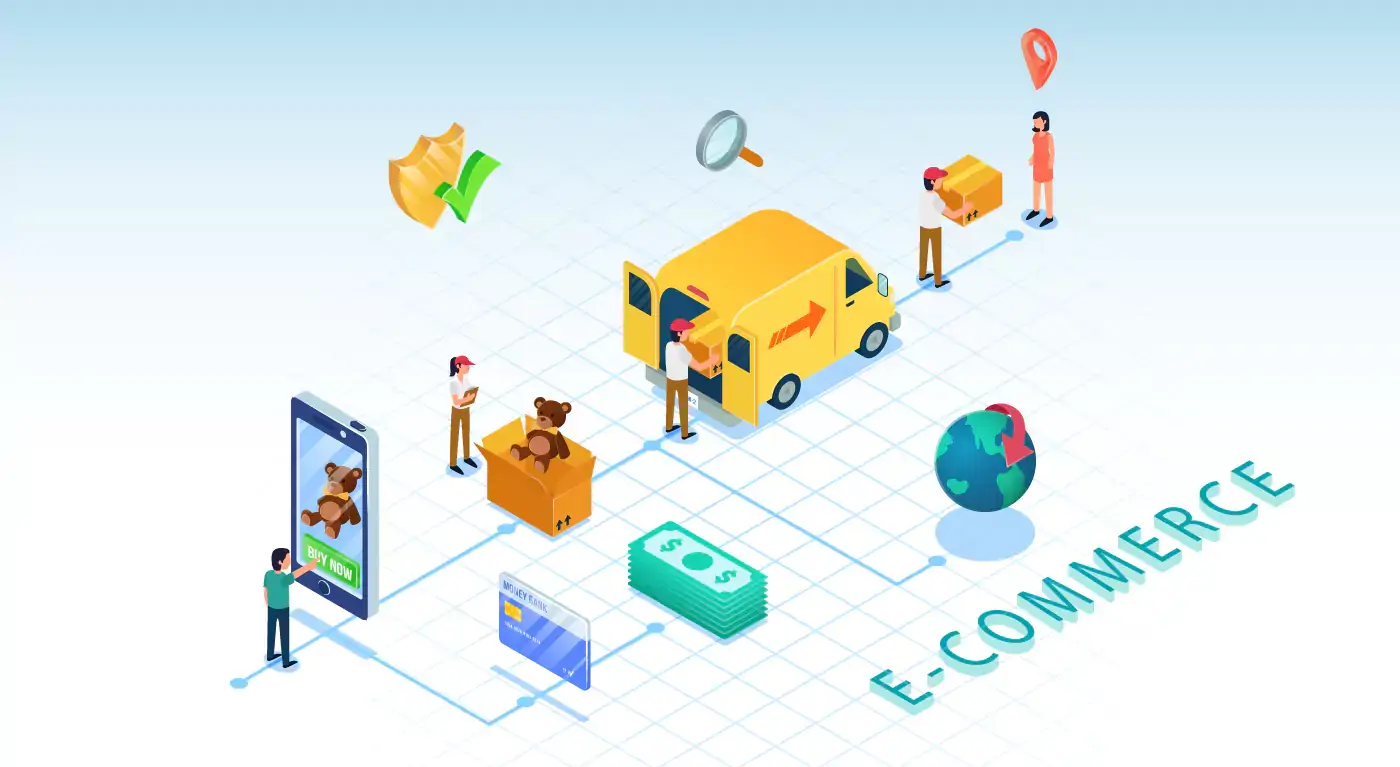 Maintaining an efficient fulfillment process can be a challenging task for businesses with limited experience in inventory management and logistics. However, there are many third-party companies that offer these services, helping reduce the considerable burden for eCommerce business owners.
eCommerce fulfillment service is a specialized third-party company that offers end-to-end solutions to streamline the order fulfillment process for online retailers. From sorting orders to packing and shipping and live tracking of the goods, they take care of everything that needs to be done in order to deliver items that have been purchased on time and to the satisfaction of customers.
By outsourcing fulfillment for these services, eCommerce business owners are able to focus on core activities like marketing and product development for further business growth while still maintaining good services for customers.
How do eCommerce Fulfillment Services Work?
eCommerce fulfillment services operate through a well-defined process to efficiently manage and execute the order fulfillment process:
Receiving and inventory management: The eCommerce fulfillment company receives products and inventories from business owners, which are then sorted, organized, and stored within the fulfillment center's warehouses.
Order placement: When the order is placed by customers on the retailer's website, the order details are automatically transmitted to the eCommerce fulfillment company.
Packaging and shipping: After receiving the order, the fulfillment center picks the ordered items, and packs them using appropriate packaging materials. Shipping methods are chosen based on the customer's preferences and location. Many fulfillment services offer integrated tracking, allowing the retailer and the customer to monitor the package's journey in real-time while receiving shipment details.
Returns and exchanges: Fulfillment services also manage the process of handling returns and exchanges. If a customer wishes to return a product, the fulfillment center handles the return process, inspecting the returned items and updating the retailer's inventory accordingly.
All of an eCommerce fulfillment company's services are carried out from a physical fulfillment center. While each fulfillment center operates slightly differently, they all perform the same function: they serve as the command center for all of your order preparation and shipping needs.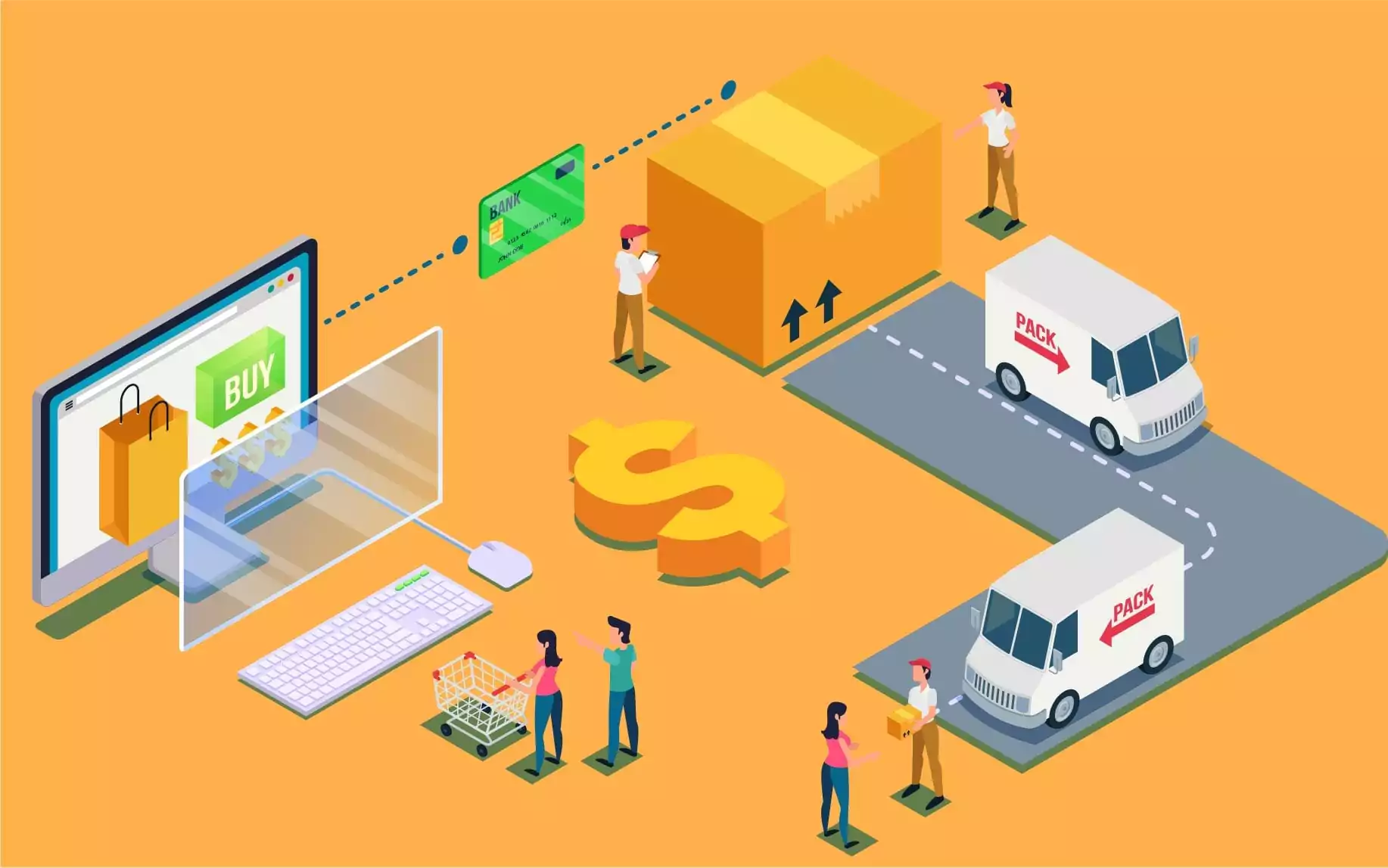 Fulfillment centers can also function as warehouses for inventory storage, allowing you to retain products. Some fulfillment service providers own multiple centers, enabling quick service to various geographic locations. This creates a scalable method for eCommerce businesses to provide diverse customers with fast and affordable shipping.
With the help of advanced technology, most steps of the fulfillment process are automated. Some will enable live tracking, allowing both business owners and customers to monitor the whole delivery process.
Therefore, choosing the best eCommerce fulfillment services with your eCommerce businesses means the purchased products will reach your customers quickly and timely. However, who are the best providers and how to choose one are other questions to ask.
Best eCommerce fulfillment service
Shopify Fulfillment Network
Shopify is well-known for being the top eCommerce platform for any business. However, they also provide reliable order fulfillment services in addition to their diverse eCommerce solutions. Especially if you already have a Shopify store, Shopify Fulfillment Network is an excellent choice, as all of your product offerings will be managed under one roof.
Shopify makes it easy for customers to precisely track when to expect their purchases. In addition, providing shopping and delivery via the same platforms can create a seamless experience for your customers. Shopify has warehouses spread across the US, including each coast, to ensure well-distributed inventory and quick delivery. With its user-friendly interface and affordable pricing plans, Shopify Fulfillment Network is suitable for the majority of businesses, whether they are just starting out with no sales or are beginning to scale.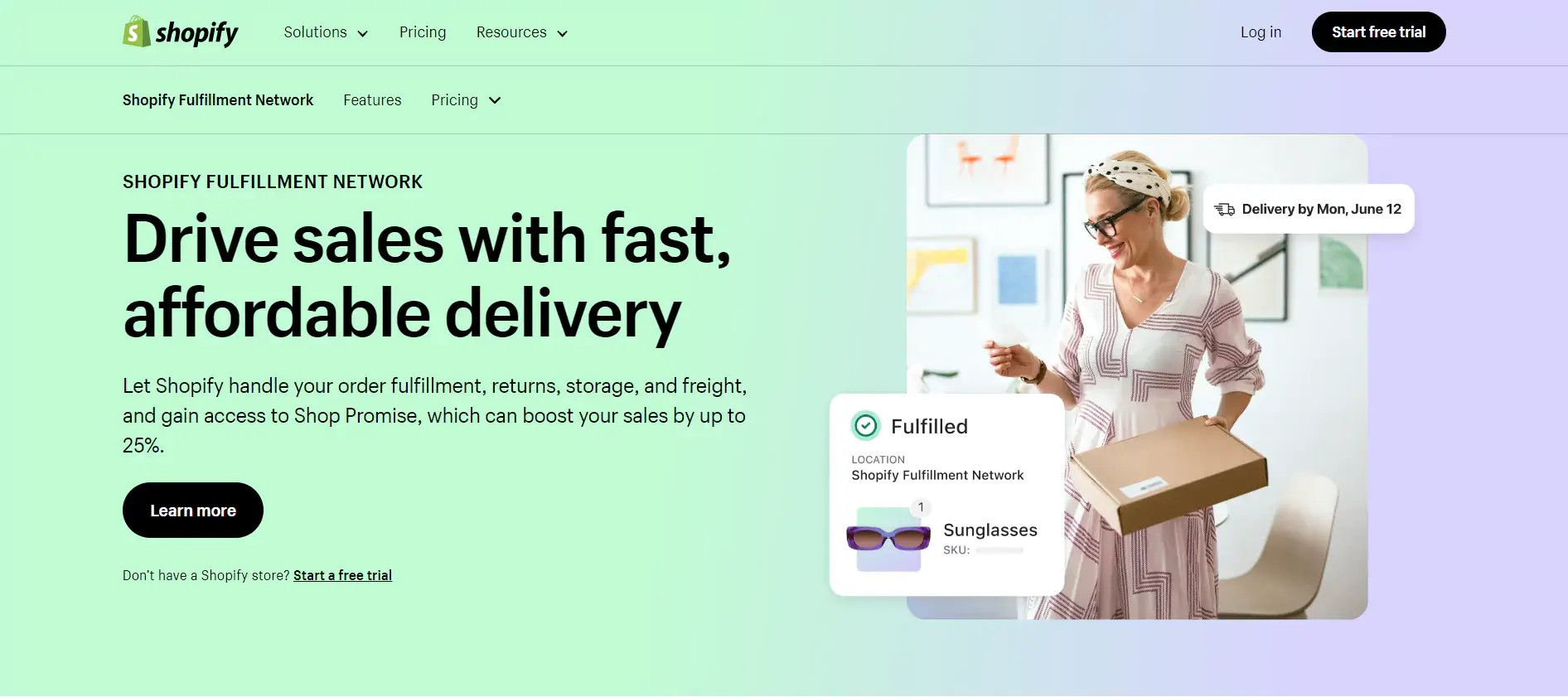 To join Shopify Fulfillment Network, all you need is a Shopify account. If you haven't created an account, check out our one-hour course on How to start a Shopify store for a quick and comprehensive guide.
Main services
Less than 3 days shipping
Fulfill any order made on Shopify, including marketplace orders through Amazon
Free Shop Promise badge
Handle returns, including inspection, repackaging, and restocking
Provide inventory storage
Inbound freight, including easy booking and tracking
Price
Shopify Fulfillment services don't charge a monthly fee but are pay-per-use services. To illustrate, you only pay when your inventory is sold, thus, there are no overhead costs. When products are sold, the price is based on their weight, but multiple-item orders receive discounted rates.
Shopify users also receive six months of free storage. If a product does not sell within six months, a $2.25 per cubic foot storage fee will be assessed.
Storage rates are calculated daily. Additional services like returns, and barcode labeling are extra.
Pros
Allow for seamless integration with Shopify eCommerce platform
Offer personalized packaging and branding
Aims for efficient and on-time order fulfillment
Affordable pricing structure
Cons
Smaller network compared to other fulfillment services
Primarily suitable for businesses using Shopify as their platform
Might face challenges with scalability for rapidly growing businesses
ShipNetwork
ShipNetwork is a reputable 3PL provider with over 20 years of experience that is best suited for enterprise companies. From shipping, packing, and marketing, ShipNetwork can provide them all to your customers. This is the only eCommerce fulfillment service that integrates actual marketing into its services.
ShipNetwork may not offer many service centers compared to the rest companies on this list. Still, they do provide a wide network of fulfillment centers across the US, from which they guarantee to reach 98% of the US within 2 days via the ground shipping process. With a focus on 100% order accuracy and fast delivery, ShipNetwork is a great option for brands located in the US and only shipping within the country.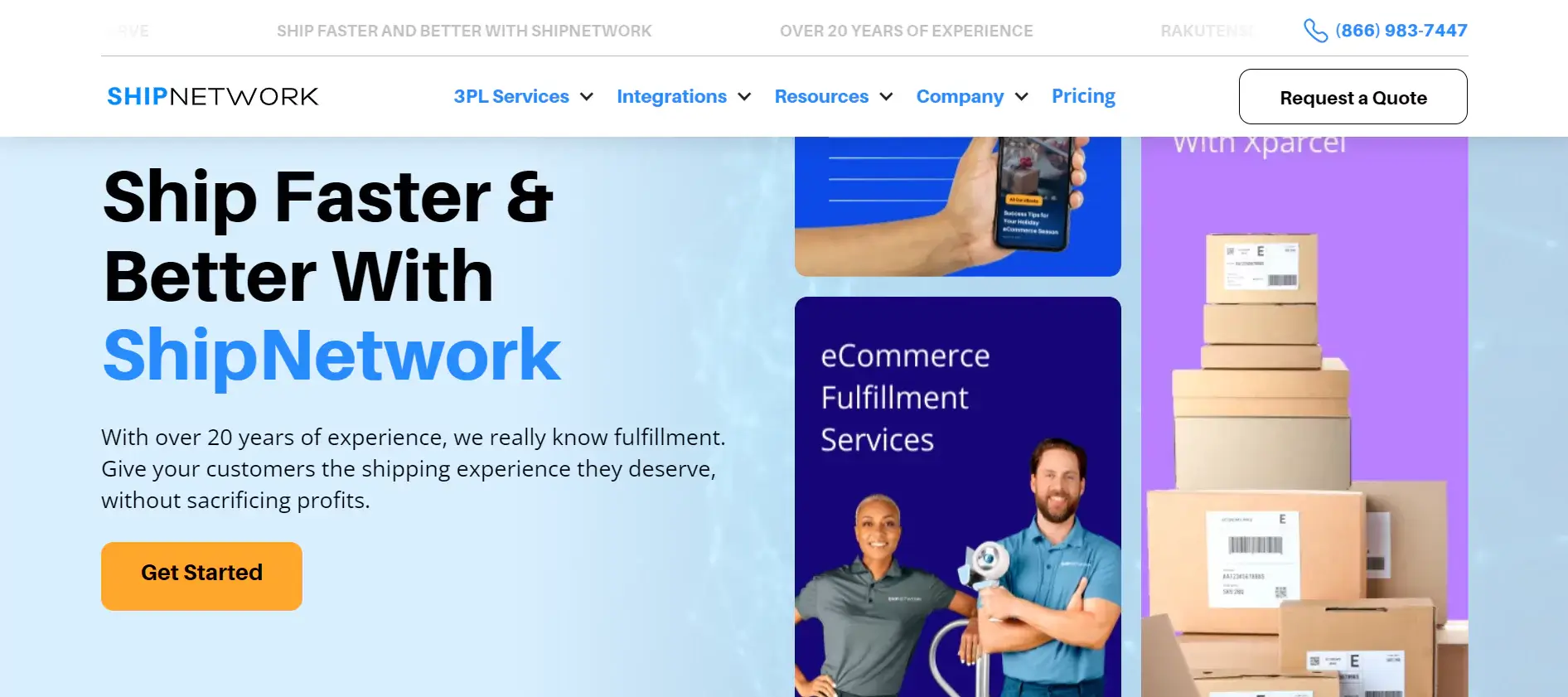 ShipNetwork also allows for API integrations with a number of eCommerce merchants like Shopify, WooCommerce, and Magento; marketplaces such as Walmart, Amazon, and shipping providers like DHL. This makes it easy for any eCommerce business to choose ShipNetwork as their fulfillment center.
Feature
100% order accuracy guaranteed
1-2 Day U.S. Ground Delivery Network
Integrated marketing services
Kitting and bundling services
Subscription box fulfillment to facilitate the sale and distribution of subscription boxes.
Return management services that assist customers in returning unwanted items
Simple integration with leading shipping and shopping cart partners
Price
ShipNetwork caters to enterprises, therefore, interested brands must request a quote for customized pricing.
Pros
Tailored services to the needs of enterprise business customers
Integrated marketing services for merchants
Fast and accurate delivery within the US
Cons
No global fulfillment centers
No custom packaging
Fulfillment by Amazon
Same situation as Shopify, Amazon merchants may also want to access the easiest process of having Amazon handle their fulfillment needs for easier management of the whole eCommerce process under one roof. With Fulfillment by Amazon (FBA), sellers are allowed to outsource order fulfillment to Amazon and access promotions like free shipping to fulfillment centers, free storage, free liquidations, and free return processing.
By sending your products to Amazon's fulfillment centers, you'll gain access to Amazon Prime FREE Two-day shipping, FREE Shipping, and more. When a purchase is made, an Amazon fulfillment specialist will pick, pack and ship the order. Customer service and process returns are also provided along with those orders.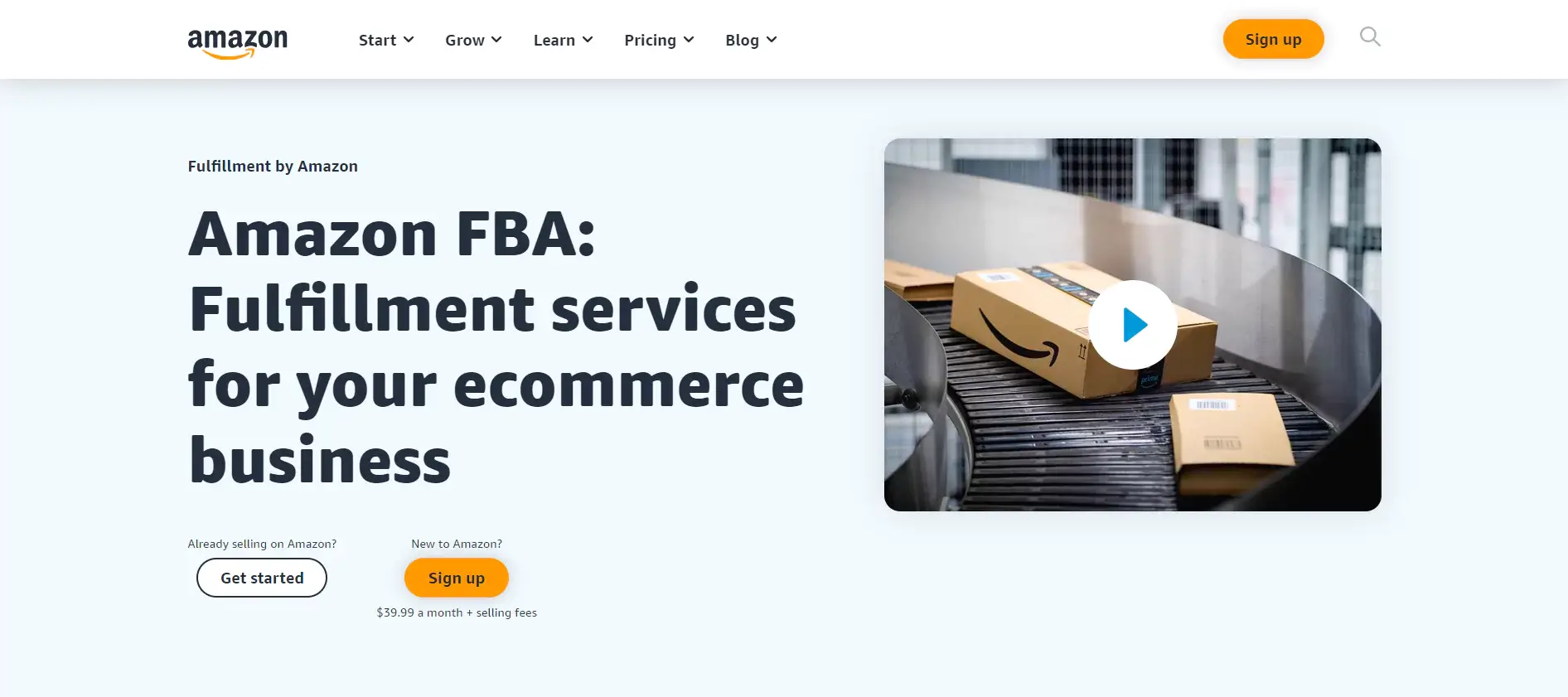 As the world's largest eCommerce marketplace, Amazon owns a large global footprint with worldwide fulfillment centers, enabling international shipping. Moreover, with its popular brand name, you can ensure that you'll receive top-class fulfillment services while your customers also be offered the best customer support and returns.
With its tempting features, Amazon FBA is a top choice for business owners who specialize in high-volume inventory and high-margin products or are selling products internationally.
Feature
Amazon Prime FREE Two-Day Shipping, FREE Shipping
24/7 FBA customer support via phone or email
FBA returns for return management
An inventory performance dashboard for inventory monitoring
Price
Amazon's fulfillment costs follow the pay-as-you-go structure, meaning store owners are charged for storage space, and the orders the company fulfills. The cost of shipping is included in the whole fee, with no extra charge for Amazon Prime FREE Two-day Shipping and free shipping on eligible orders.
The fulfillment service fees are charged per unit for picking and packing your orders, shipping and handling, customer service, and product returns. The fee is varied based on the weight and dimensions of your product. Amazon also offers an FBA calculator to support businesses in estimating the total budget needed for fulfillment services and allow for previewing the fees.
Pros
Reputable company name
Ability to deal with a variety of inventory
Provides Prime shipping for inventory
Leverage Amazon's top-notch customer support
Cons
Inventory and other fees vary and change
Amazon may access your customer data
ShipBob
ShipBob is another best eCommerce fulfillment services provider that comes on the list. Built by eCommerce entrepreneurs, ShipBob is designed specifically for entrepreneurs. It is one of the most popular and rapidly expanding fulfillment solutions available to merchants of all sizes and locations.
The company serves both DTC and B2B companies on both online and offline channels, which can be utilized for multichannel inventory. Moreover, ShipBob also comes with easy integration with leading eCommerce platforms such as Shopify, BigCommerce, WooCommerce, Wix, and so on. This opens more chances for you to connect your online store to ShipBob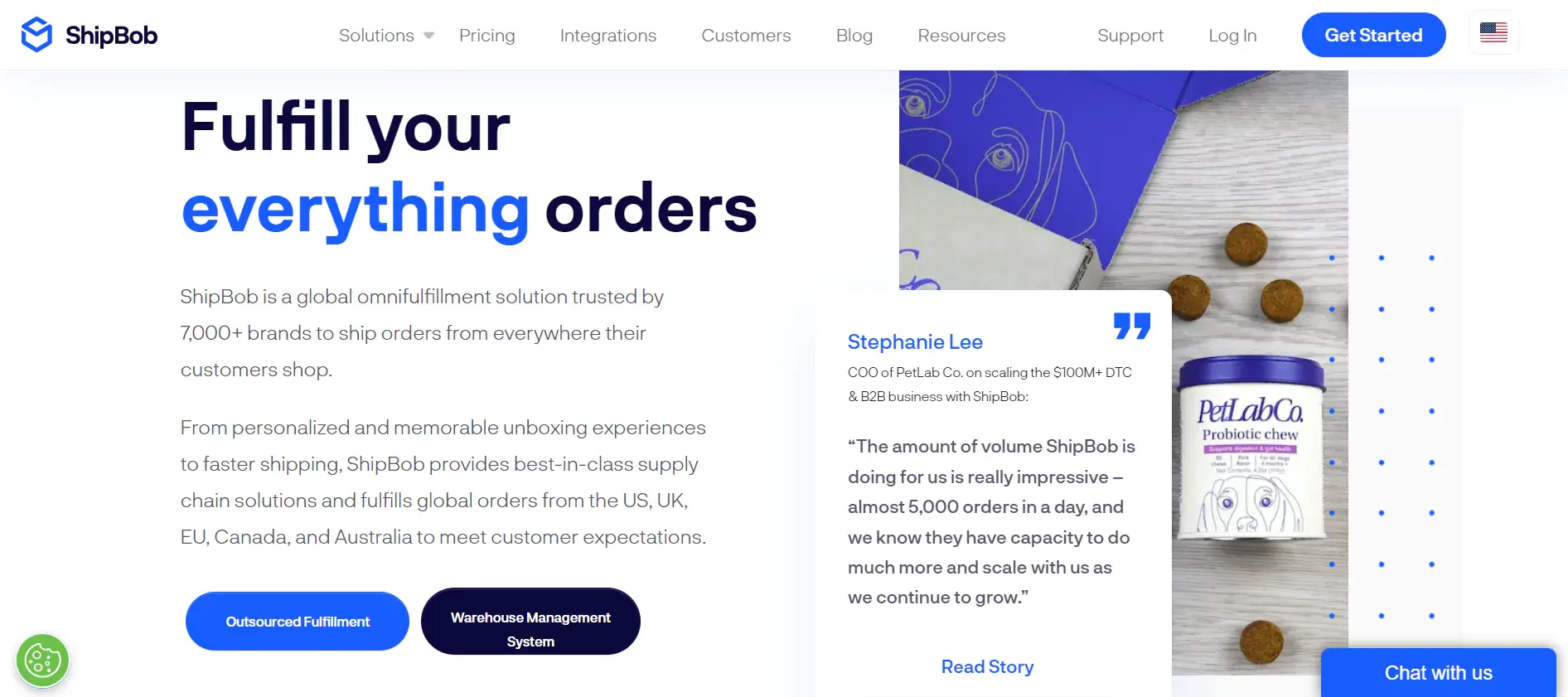 ShipBob has a simple onboarding process. All you have to do is connect your store to ShipBob's software, import your product catalog, then send ShipBob your inventory to get started. You'll also receive a user-friendly dashboard that enables easy management of your inventory, order, and shipments.
Last but not least, this company offers a global network of 40+ fulfillment centers across 6 countries, helping you strategically split and manage your inventory to reduce shipping costs and transit times.
With all of these features, ShipBob has been trusted by 7000+ brands all over the world for their successful fulfillment services. From eCommerce inventory features to advanced filtering options, ShipBob has really thought of everything.
Feature
Affordable 2-day shipping with a 99.95% accuracy rate
Hands-off fulfillment with a wide range of services
Automate fulfillment with powerful tools and algorithms
Built-in reports and analytics
Provide 2-day estimated delivery dates and real-time rates on the product pages
Custom branded boxes
Place kitting orders with ease
Offer warehouse management system (WMS)
Price
ShipBob offers clear order fulfillment pricing, which is reflective of the total fulfillment cost for D2C order fulfillment. Therefore, you'll know exactly what your costs will be. Standard fees include:
Receiving your inventory
Warehousing your products
Shipping each order
Companies must request a quote to get specific pricing. All quotes are customized based on your unique needs and requirements.
Pros
Enable international shipping
Intuitive and easy to set up
Multiple location distribution for inventory
Custom branding and packaging
No minimum orders
Cons
Not offer refrigeration services
Does not specialize in B2B eCommerce fulfillment
Red Stag Fulfillment
When it comes to the best eCommerce fulfillment services for dealing with large and heavy items, Red Stag Fulfillment is the company for you. Similar to ShipBob, Red Stag Fulfillment was founded by eCommerce entrepreneurs who couldn't find a 3PL provider that could serve their high standards. Therefore, the company offers a variety of industry-leading guarantees for receiving, accuracy, processing, and more to best serve any customer's expectations.
Although it delivers all types of products, Red Stag excels at packing and shipping larger, heavier items. They offer great handling policies, guaranteeing no shrinkage, and take full responsibility for any damage that might happen in the warehouse. This makes them become the best for oversized, fragile, and high-value items.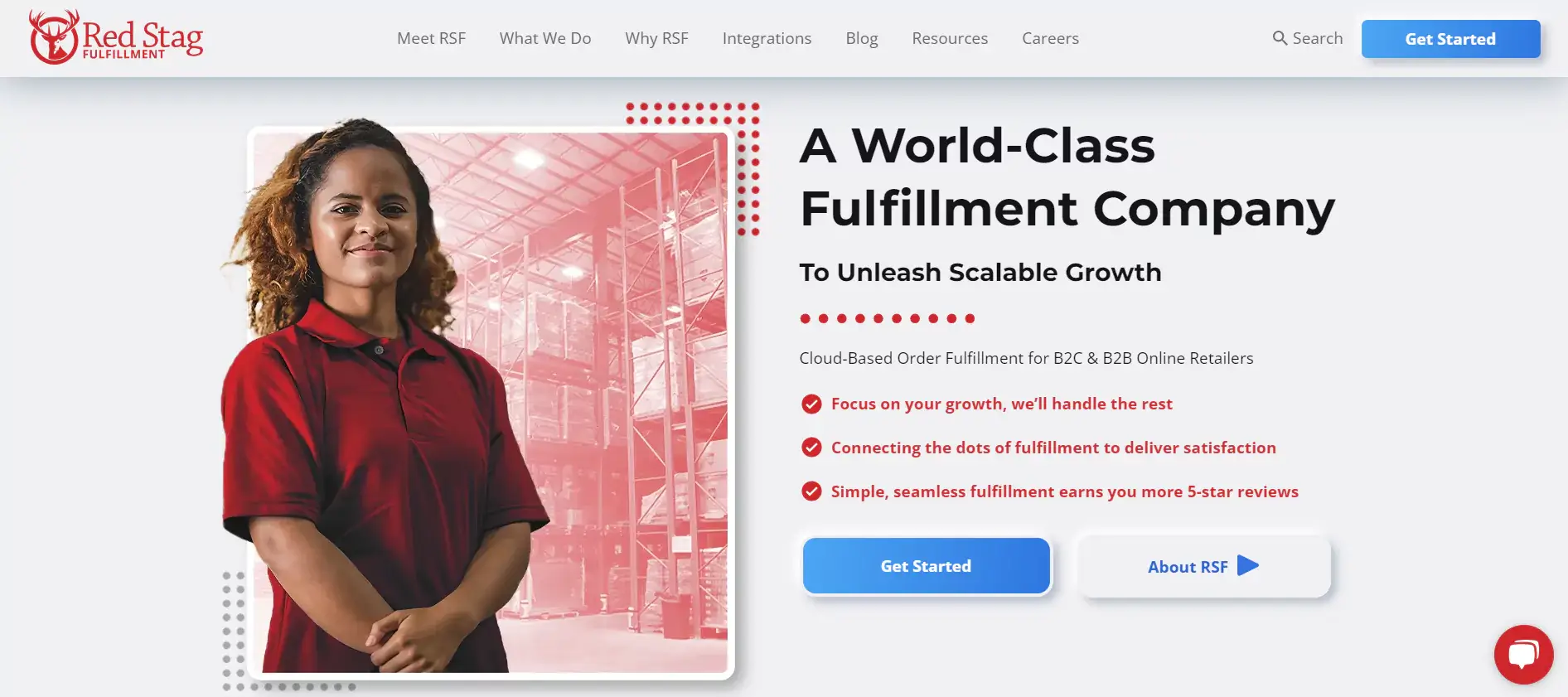 Operating as Cloud-based order fulfillment, Red Stag comes with exceptional scalability for both B2B & B2C eCommerce businesses irrespective of their sizes. Integration with leading eCommerce platforms and marketplaces including Magento, Shopify, WooCommerce, and BigCommerce is also included in their services, allowing for seamless integration with your current online stores.
Red Stag Fulfillment owns a network of fulfillment centers across the US, considerably reducing shipping costs to customers within the States. They guarantee 100% inventory accuracy, 100% same-day fulfillment as well as order accuracy, contributing greatly to your increased customer satisfaction.
Feature
100% inventory and order accuracy guarantees
Dedicated, U.S.-based account management teams
2-business-day dock-to-stock guarantee
Inventory management support
Data-driven business insights & forecasts
Integrations with leading eCommerce platforms and marketplaces
Price
Red Stag Fulfillment does not disclose pricing information, but all signups are eligible for a 30-day risk-free trial period. You'll need direct contact to get access to detailed information for its pricing plans.
Pros
Short-term contracts available
Experts at handling heavy, bulky products
Offer video monitoring and excellent customer support
Inconvenience fees to ensure fast shipment times
Cons
High minimums
No dedicated account manager
Does not offer integration with marketplaces like Amazon or Walmart
FedEx fulfillment
FedEx is among the most recognizable names in the fulfillment industry, and also the best options for your businesses. As a small division of FedEx, FedEx fulfillment is designed to tailor specifically to the shipping needs of businesses. Founded in 1995, FedEx's experience, network, and industry knowledge distinguish them from other providers on this list.
While most other 3PLs on this list are only available for shipping within the US, FedEx fulfillment offers international shipping alongside their nationwide delivery services. They developed the FedEx International Shipping Assist tool, enabling a more efficient and accurate international shipping process. Therefore, if your eCommerce businesses are selling products overseas, FedEx fulfillment is the best eCommerce fulfillment service you can trust.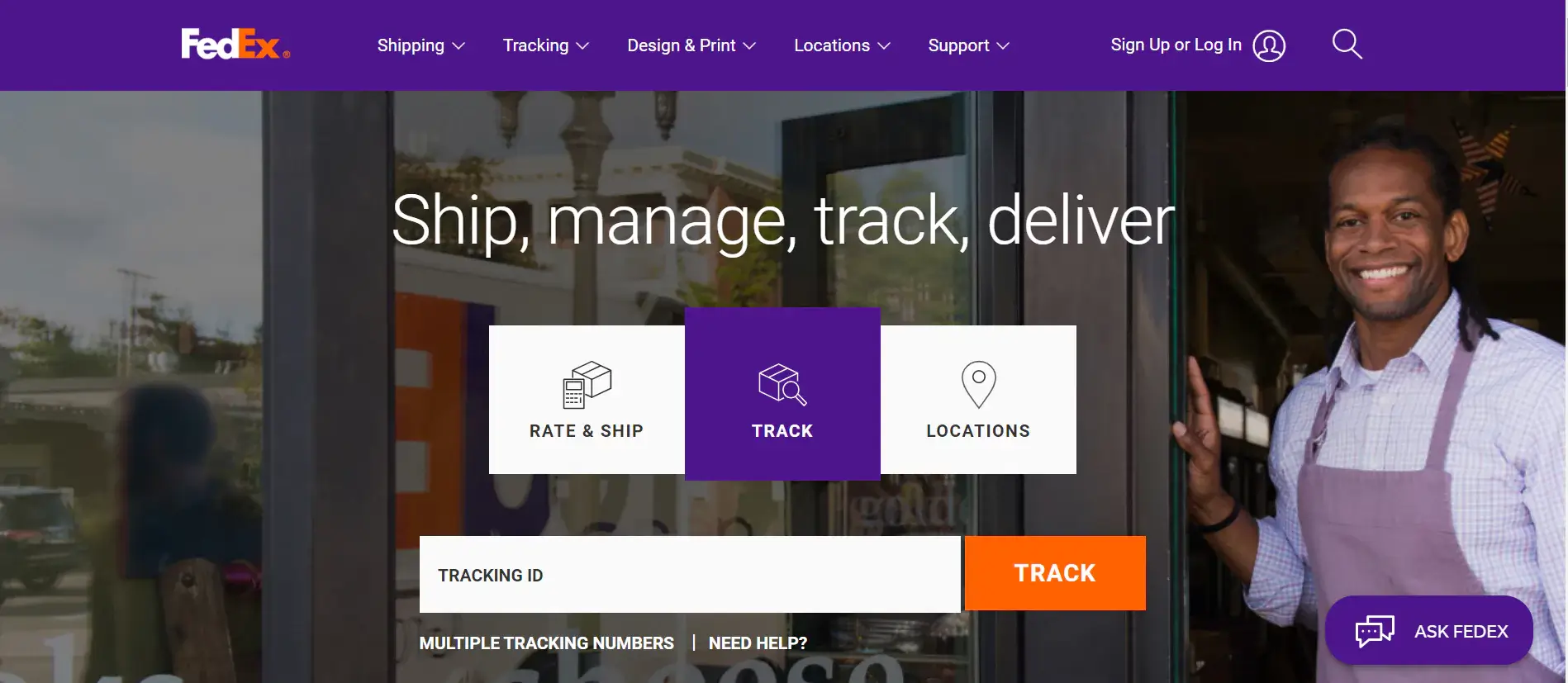 With FedEx, you are allowed to enjoy a convenient tracking system with the FedEx mobile app. Creating shipping labels, direct printing, and accessing FedEx Delivery Manager features are all included within the app. Real-time tracking is also available for you to design and optimize the shipping process, thus increasing customer satisfaction.
Feature
Automate shipping with FedEx Ship Manager
Ship internationally with FedEx International Shipping Assist tool
Use FedEx Delivery Manager to enjoy all package tracking within one place
Mobile app to ship and track anytime, anywhere
Money-back guarantees
Price
FedEx provides a wide range of fulfillment services and the price varies for each one. Interested brands must contact them and request detailed pricing information.
Pros
Free account set up
Handles international shipments
Well-known and reputable company name
Easy integrations with other eCommerce business tools
Easy-to-use platform
Impressive delivery network
Cons
No product-based batch fulfillment
Inconsistent customer assistance
No setup fees but account fees when below the minimum
Not allow for integration with Amazon
ShipMonk
Based in the US, ShipMonk is another best eCommerce fulfillment company come to the list. This is a powerful 3PL platform that is designed and tailored toward DTC eCommerce companies of all sizes, aiming to provide businesses that are well-prepared for expansion with stress-free fulfillment services.
ShipMonk is a 4-in-1 Cloud-based software, which offers an intuitive system ranging from inventory, orders, and shipping, to warehousing. The company allows for inventory tracking across multiple sales channels and inventory management across multiple warehouses.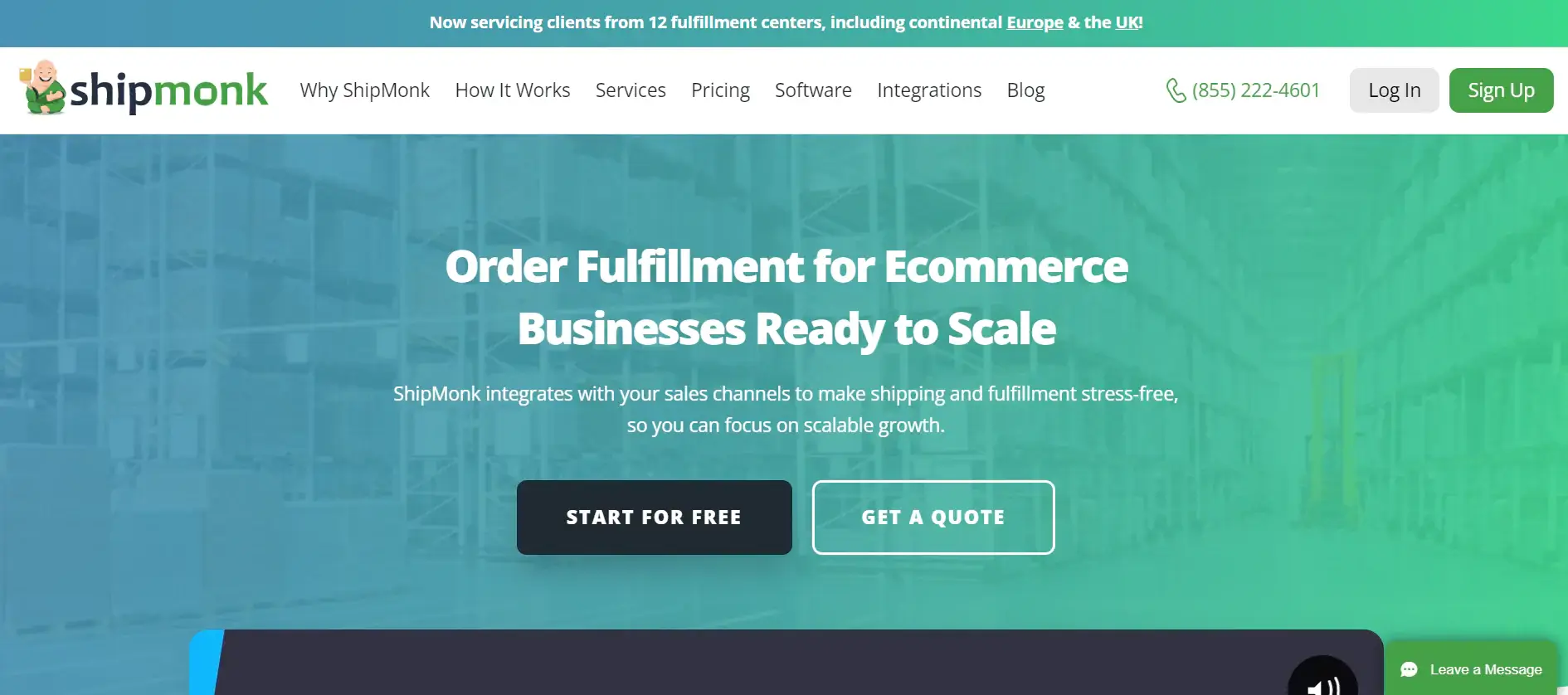 The core software of ShipMonk is their outstanding order management portal. This portal possesses the enchantment of managing customer experiences through more hands-on services, such as out-of-the-box integrations and order status tracking. They also provide excellent shipping management systems that are handled by major carriers due to their partnerships with each and the software's transparency. 
ShipMonk also owns a strategically located fulfillment centers network, which is spread across the US and Canada. They also operate some fulfillment centers in Europe, in the UK and Mexico particularly. This makes ShipMonk the best option for European-based eCommerce brands as well as brands looking for international shipping.
The platform comes with 100% plug-and-play integrations with 75+ eCommerce shopping carts, marketplaces, and solution providers for seamless order, inventory, and warehouse management. Some large names in their partnership lists include Shopify, WooCommerce, BigCommerce, Amazon, Walmart, and Handshake, just to name a few.
Feature
Wide range of integrations
Warehouse automation technology
High-touch customer support via call, chat, email
Shipping discounts
Transparent fulfillment and storage fees
Custom packing procedures
Crowdfunding fulfillment
Automated SKU mapping and bundling
Flexible shipping options
EDI compliance
Price
ShipMonk provides refreshingly transparent 3PL fulfillment pricing, which is tiered based on the monthly order volume. The standard costs for the initial range of 0-500 orders/month are as follows: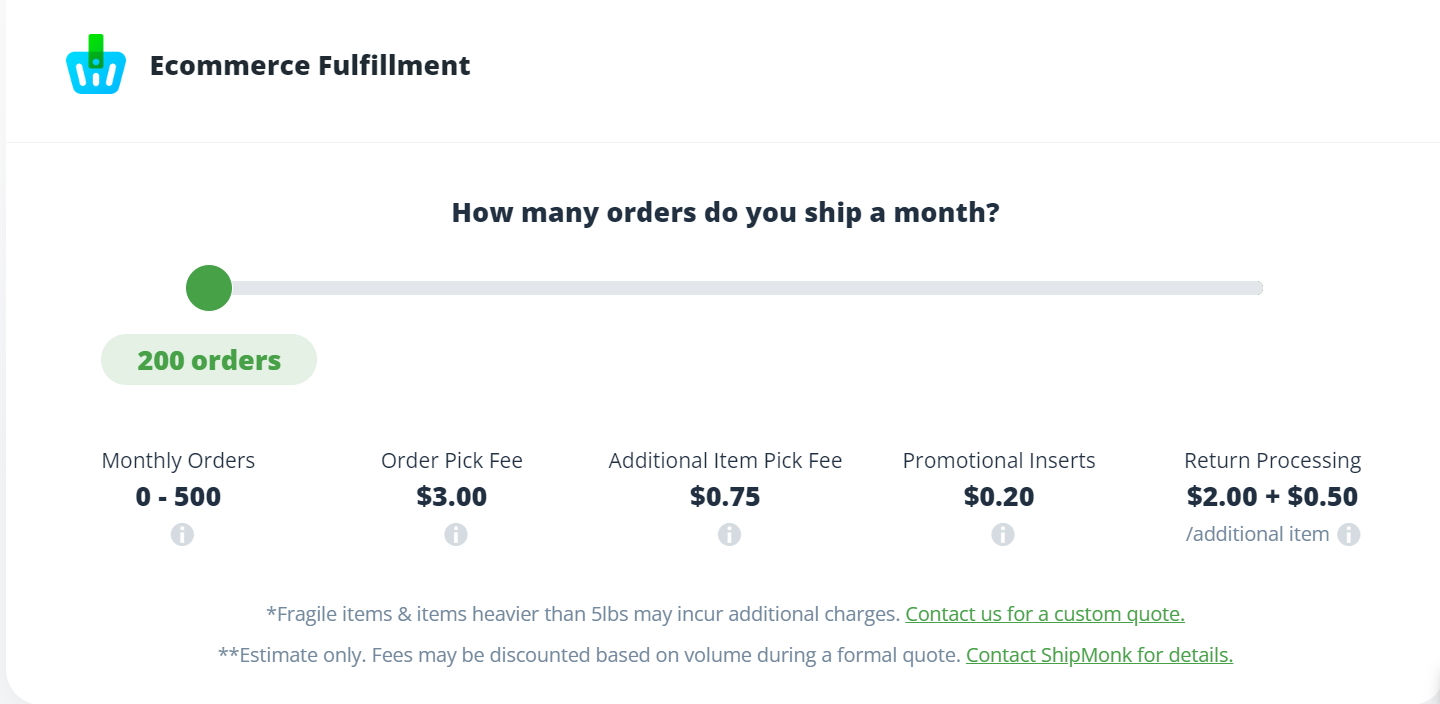 Order pick fee: $3.00 for the first item
Additional item pick fee: $0.75
Promotional inserts: $0.20
Return processing: $2.00 + $0.50/additional item
To allow for the easy estimation of the total budget required, ShipMonk provides a calculation tool for businesses to preview all of the above fees for their specific monthly orders.
Another cost that needs to be included is your storage needs. ShipMonk stores each SKU separately to ensure order accuracy.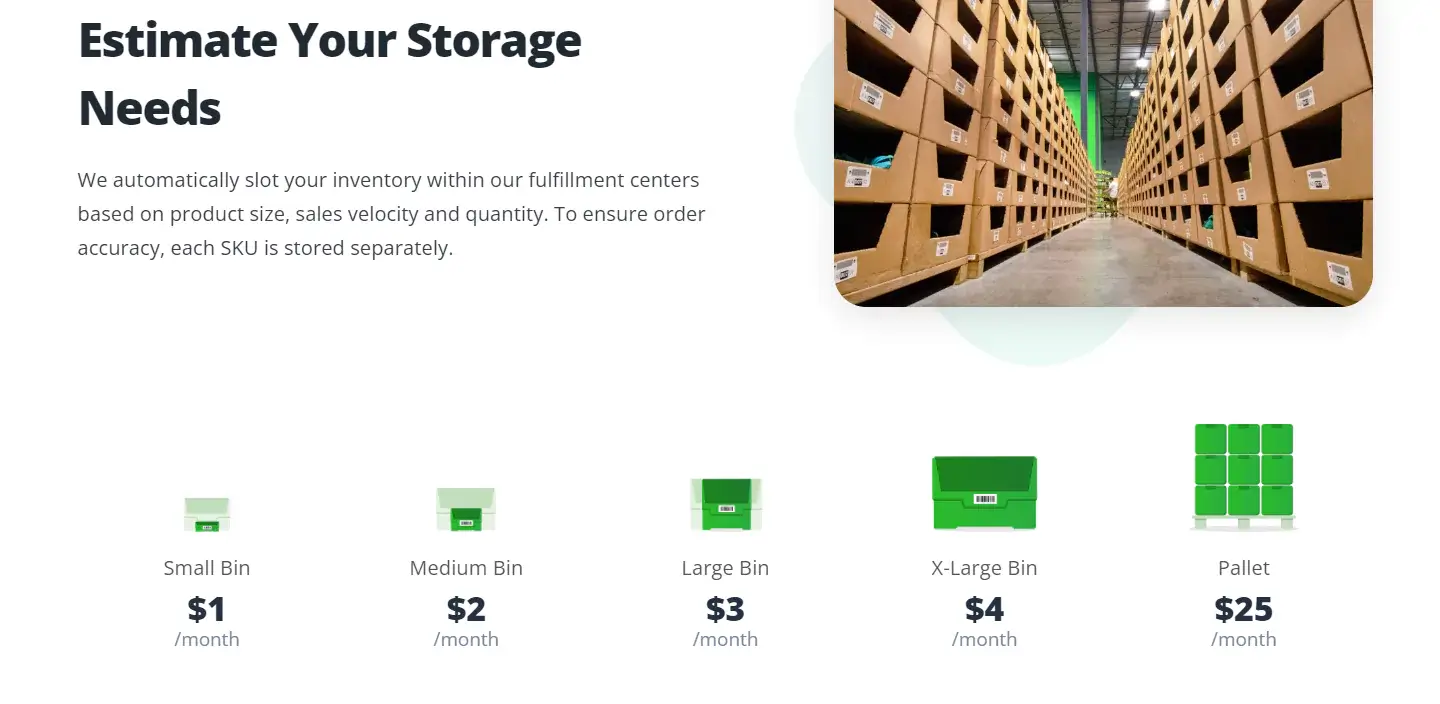 Small Bin: $1/month
Medium Bin: $2/month
Large Bin: $3/month
X-Large Bin: $4/month
Pallet: $25/month
Pros
Uses proprietary SaaS software for order, inventory, and warehouse management
Easy integrations
No setup or inventory receiving fees
Discounted shipping rates
International order processing
Cons
Minimum monthly pick-and-pack fee
Flexport
Flexport is a US-based multinational corporation that focuses on supply chain management and logistics, providing end-to-end solutions within one platform. They join the eCommerce fulfillment market through the acquirement of Shopify Logistics, including Deliverr – an eCommerce fulfillment service provider. Founded in 2013, combined with the company's global footprint, you can be sure to put faith in Flexport services for a seamless and efficient fulfillment process.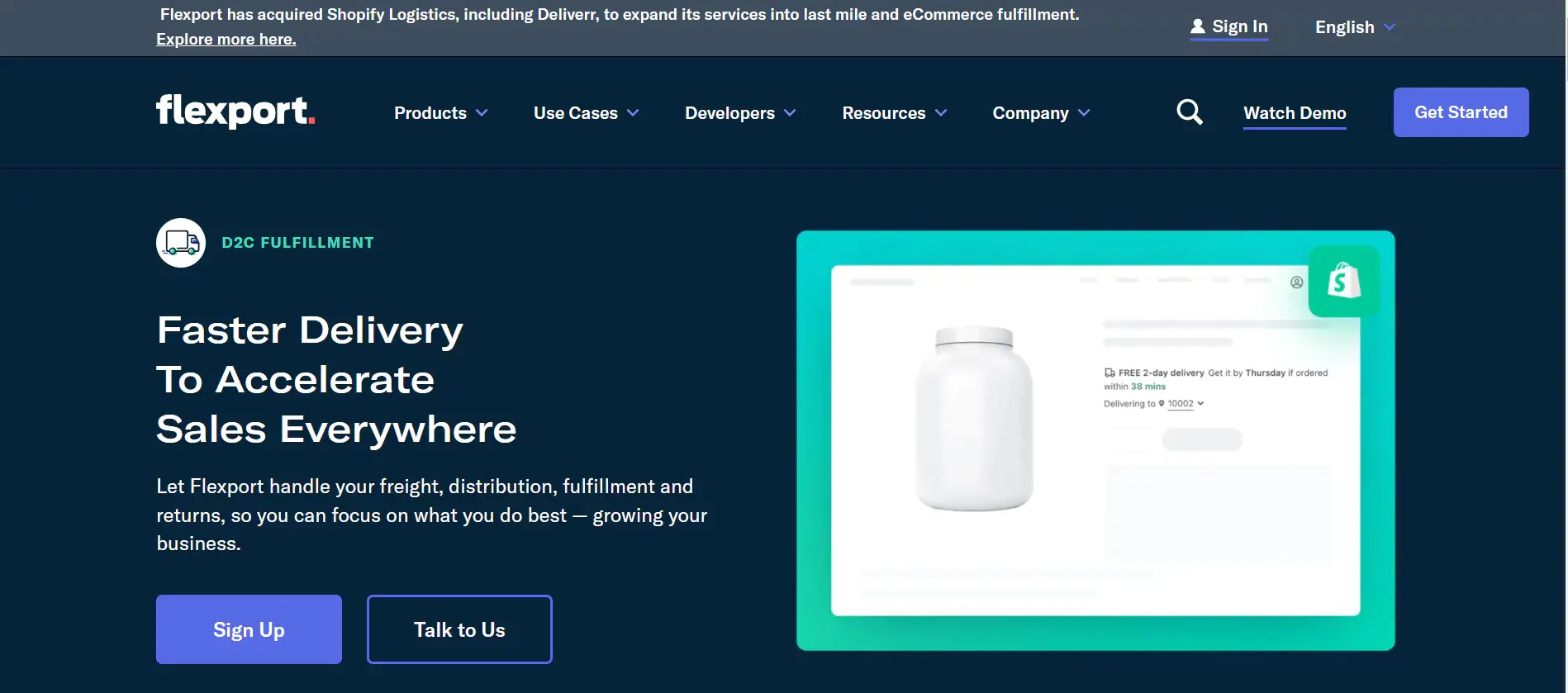 Flexport offers different services for fulfillment. With Flexport D2C Fulfillment, they concentrate on fast delivery by using Fast-Shipping Badges. FREE 2-Day Deliver Badges are provided for eCommerce sites including Shopify and WalMart, or on social sales channels like Google, and Instagram. On these sites, eligible customers will automatically see accurate delivery dates and the Free Next Day delivery badge at no additional cost to your business.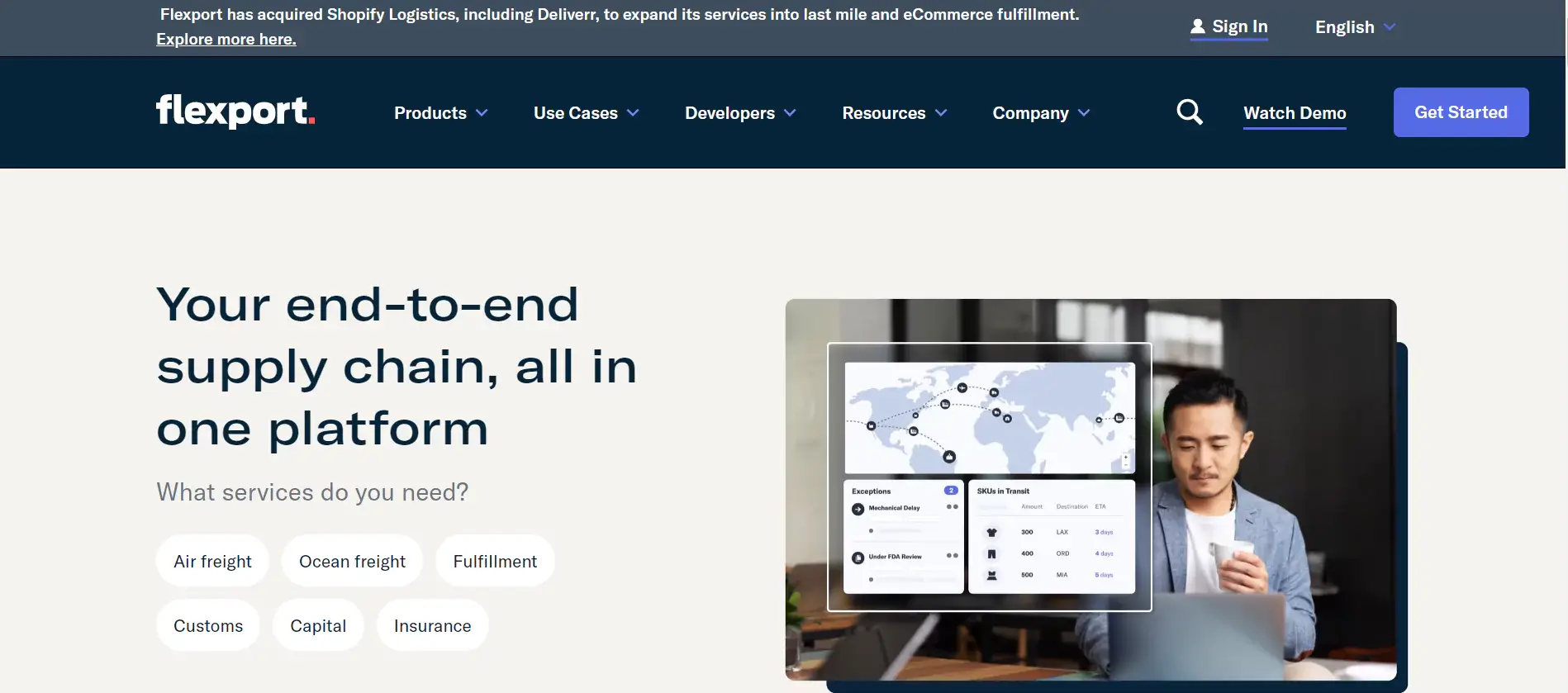 Flexport also offers fulfillment services for wholesale businesses with Wholesale Fulfillment. Powered by Flexport's flexible storage, the service comes with error-free and cost-effective fulfillment to all retail owners. They provide multi-retailer support with compliance for routing guides and EDI integration.
Feature
FREE 2-Day Deliver Badges
Multiple integrations with eCommerce platforms and social sales channels
Customizable logistics solution with open APIs
Lightning-fast delivery
All-in-one fulfillment process and management
Transparent pricing
World Class Shipping SLAs
Price
Flexport fulfillment services' dominant feature is their transparent pricing, following the pay-as-you-go scheme. Businesses only pay for the services they use with predictable, all-inclusive costs. Costly investments and hidden fees can be avoided and minimized.
Pros
All-inclusive pricing
Customize packaging
Support shipping internationally
Multiple integrations
Fast fulfillment
Cons
Shipping speed focus, may not suit all businesses
Not optimized for subscription boxes
eFulfillment
If you are a small online retail business or startup, eFulfillment Services (EFS) may be the best solution for you. This service comes with no set-up fees, no minimum order requirements, and long-term contracts. With over 20 years of experience, you can absolutely rely on EFS to kick start providing the best eCommerce fulfillment services for your customers.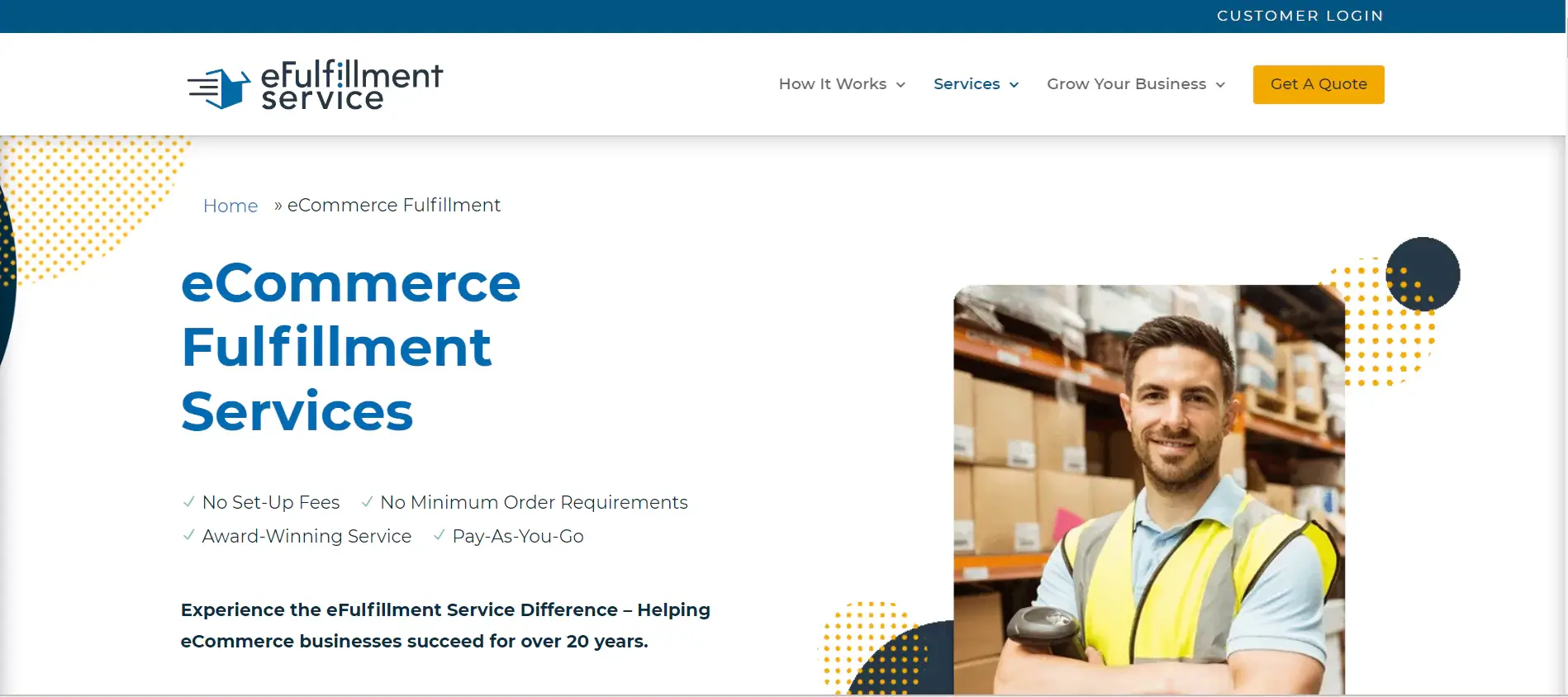 Despite catering perfectly to the order fulfillment needs of eCommerce startups and SMEs, EFS is a scalable solution with many attractive features that can scale as your businesses grow. Moreover, as they put efficiency as a top priority, EFS offers a streamlined process for managing and fulfilling orders ensuring that your products are prepared and shipped in the most efficient manner possible.
Contributing to the efficient workflow, EFS also allows for integrations with leading platforms and shipping carts including Shopify, BigCommerce, WooCommerce, and Magento, just to name a few. 
Feature
High-speed order processing for unmatched pick and pack services
Comprehensive warehousing and storage
Hand-off inventory management through integration with leading eCommerce platforms.
Robust shipping network and partnerships with leading carriers such as USPS, UPS, FedEx, and ePost.
Transparent returns management service
Exceptional customer service
Price
EFS offers a 30-day test drive service for the trial of their platforms. For a custom quote, businesses need to contact EFS directly.
Pros
In-house professional developer team
No setup fees
No long-term contracts
No order minimum
Cons
Deals with smaller shipment needs
Limited in advanced functionality, like reporting
No custom packaging
Only one warehouse available
Simpl Fulfillment
Simpl Fulfillment is another great eCommerce fulfillment company that works toward the goal of being the most trusted 3PL partner. They provide a streamlined eCommerce fulfillment solution with user-friendly software, efficient onboarding, and a dedicated team of in-house warehouse experts. Simpl would be the best solution for startups and small businesses.
As demonstrated in its name, Simpl brings the simplicity of fulfillment services to empower your businesses. With its skilled warehouse team, the platform offers lightning-fast 2-day shipping and same-day order fulfillment. They take pride in providing exceptional service and brand-specific attention without sacrificing speed or precision.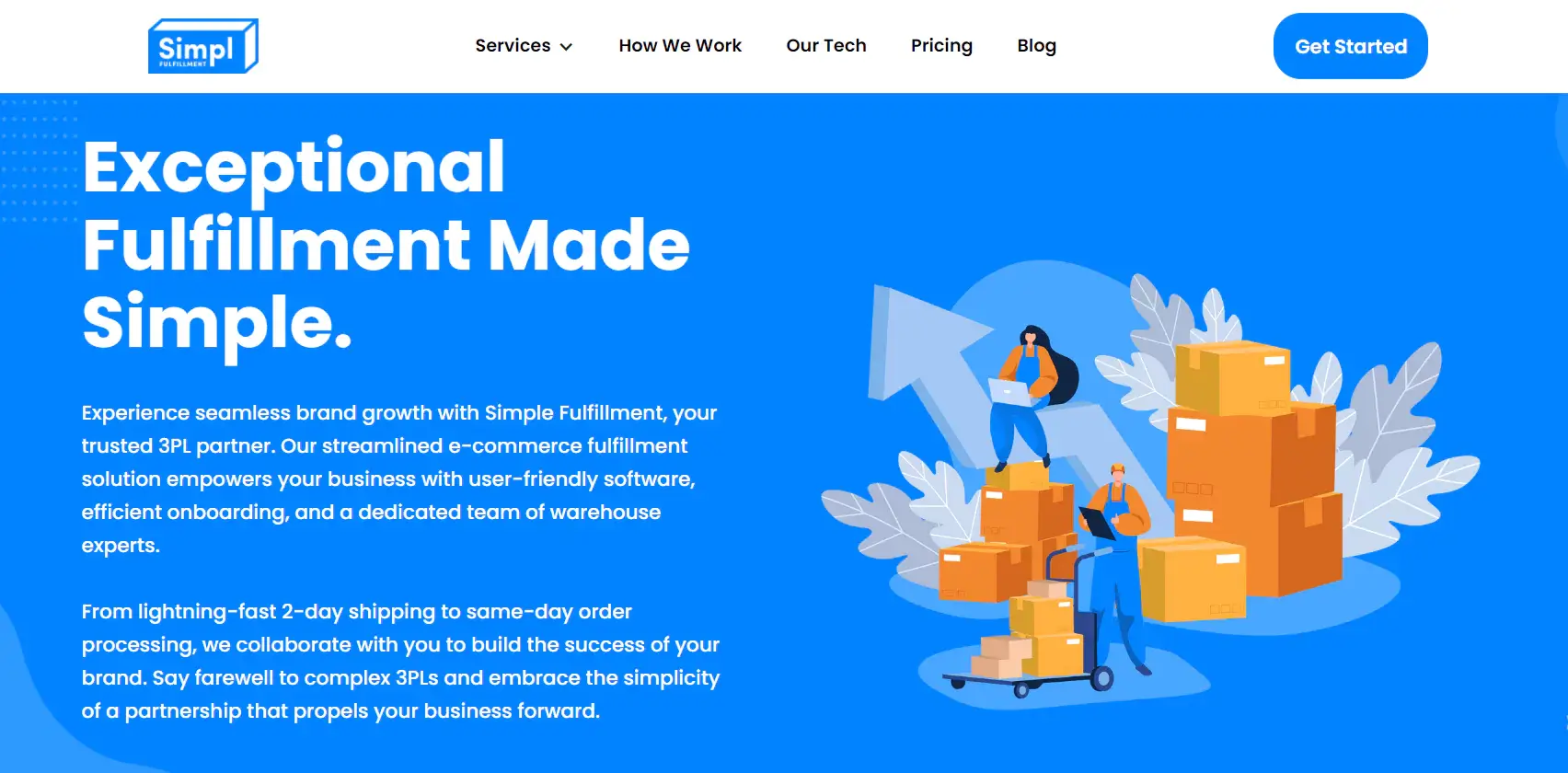 Simpl commits to being an easy-to-use platform, thus, it also allows for easy and seamless integration with top eCommerce platforms and marketplaces such as Shopify, Shopify Plus, BigCommerce, WooCommerce, Amazon, Walmart, eBay, and Etsy. Business owners are allowed to integrate natively with their preferred solutions through a full, open API that Simpl provides.
Aiming to be the trusted 3PL partner for any business, Simpl puts customer experience among its core values. They commit to assisting businesses in providing customers with an exceptional unboxing experience. Simpl provides custom packaging tailored to the brand's specific needs and uses 3D scanning technology to ensure efficient product packaging, minimizing waste and avoiding costly dimensional fees.
Feature
Real-time fulfillment processes
Reliable, same-day order fulfillment
Collaborate on unique, branded packaging solutions
Dedicated Account Manager with hands-on warehouse involvement
Fast 3-day delivery from order to door
Flat fee/order based on weight
3D scanning technology to ensure no waste product packaging
Custom packaging
Price
Simpl comes with a transparent pricing scheme with a flat fee determined by weight for each order. Their all-in-order fees start at $6/order.
Pros
99.99% order accuracy guarantee
Dedicated support team with in-house warehouse experts
Powerful integrations
Transparent pricing and billing
No order minimum
Cons
Limited network
May face limitations in scalability
Single warehouse location
Fulfillment.com
Fulfillment.com (FDC) is the best eCommerce fulfillment service designed specifically for high-volume businesses. This is an international fulfillment company whose global fulfillment centers can meet the needs of international product sellers.
As a large fulfillment service, you can be certain that the features Fulfillment.com offers will be comprehensive. The company aims to deliver fast fulfillment services with the lowest shipping costs, automated processes, and facilitating new market expansion. They commit to world-class service to ship products with absolute accuracy, on time, and to the right address. Businesses also receive 24/7 access to their cloud-based order management, which enables effective shipment and inventory management.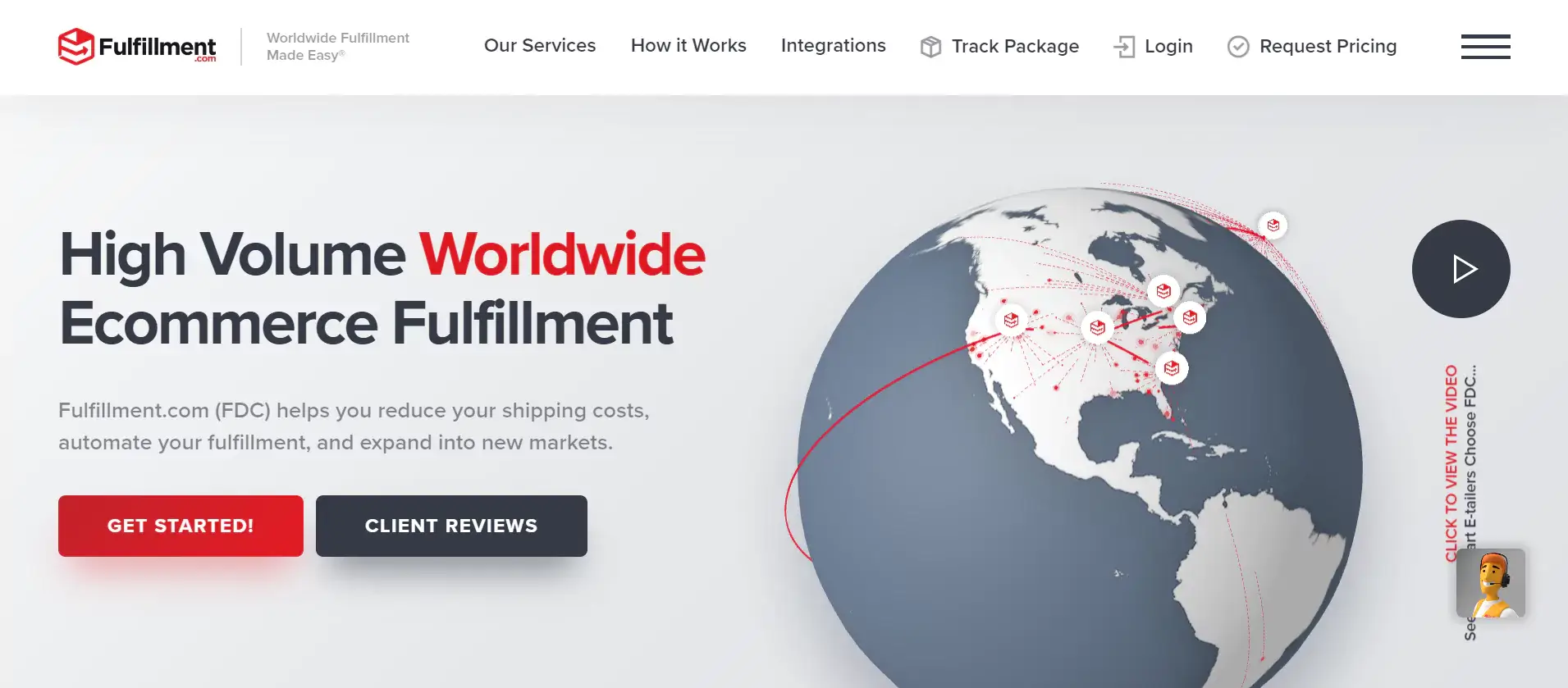 To ensure the order data is received accurately and processed into BestOMS, FDC provides a seamless integration within your store. With over 70 integrations and an Open API for custom integrations, you can rest assured that your orders will be received, processed, and reflected in your dashboard in real-time. Their partners include big names in the industries like Squarespace, BigCommerce, 3dcart, and more. They also collaborate with reputable shipping providers namely USPS, FedEx, DHL, and UPS.
Being an international company, FDC owns 8 strategically placed fulfillment locations worldwide, ranging from the US, Canada, the UK, and Europe, to Australia.
Feature
Same-day shipping process
Offers +70 integrations and Open AI for custom integrations
One place only for order and warehouse management with BestOMS
Accounting management from the BestOMS dashboard
Support returns process
Excellent customer support with a dedicated account Success Manager for each client
Offer a large resource base with online courses to help boost your eCommerce performance
Price
There is no information publicly stated about the FDC pricing structure. However, they claim to offer transparent billing with no hidden fees or costs. You'll need to request a personalized quote to get access to FDC costs.
Pros
Cloud-based platform
Personal account success manager for each client
Real-time inventory dashboard
International shipping
Effective management of all fulfillment processes within one platform
Cons
Only four locations in the US compared to other US-based competitors
Unclear pricing
Non-refundable deposit fee
Falcon Fulfillment
Last but not least 3PL to be listed in this list is a US-based eCommerce fulfillment company – Falcon Fulfillment. Situated in Salt Lake City, Utah, Falcon owns 1 million cubic feet of warehouse space. The company requires at least 4000 orders monthly, making it a more suitable choice for large businesses that already have a steady high order volume.
It is important to note that Falcon Fulfillment is only designed to serve health, wellness, and beauty brands. It works well for D2C brands, wholesale, Amazon, and more. Therefore, this fulfillment company might not be the one-size-fits-all solution.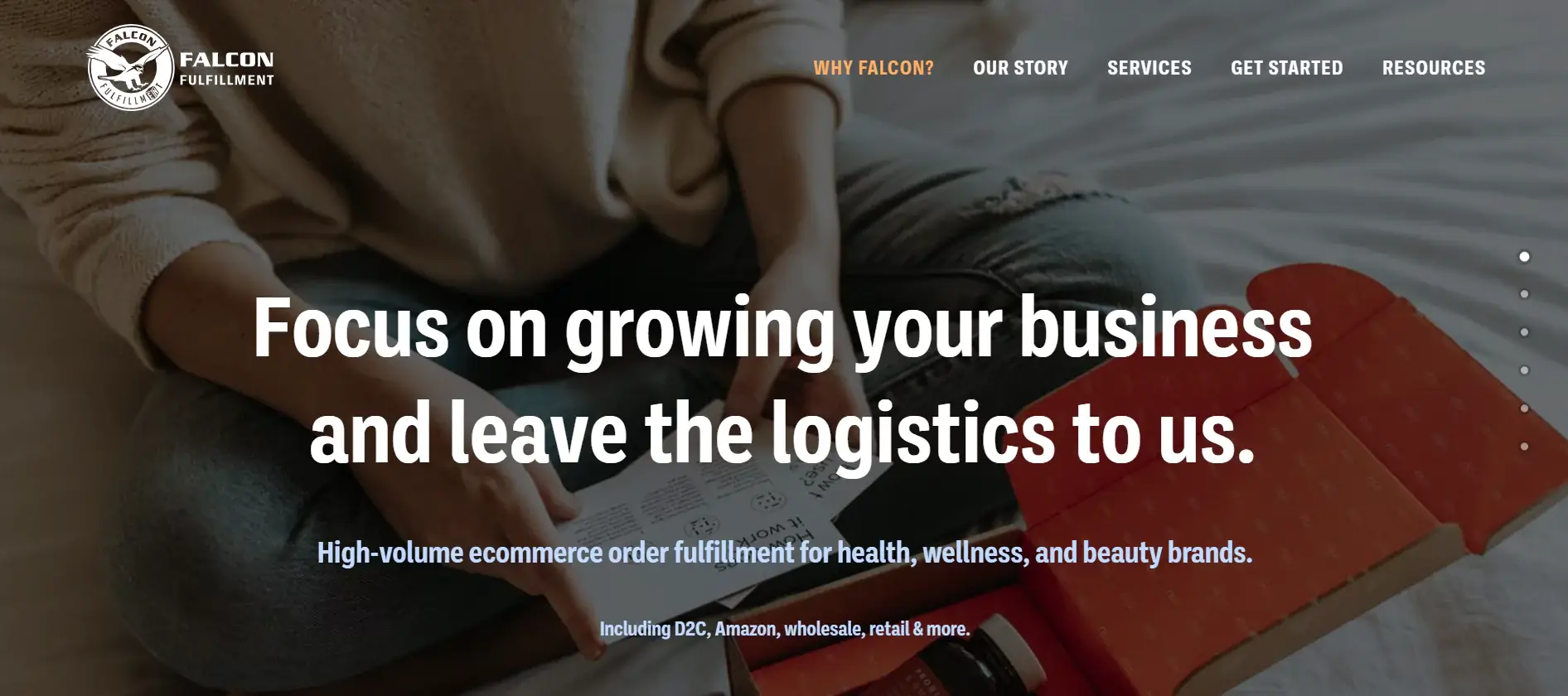 For this reason, Falcon focuses on providing a customized full-stack service approach to each business's eCommerce fulfillment requirements. They also guarantee 2-day shipping within the US with their multiple fulfillment centers across the country. USPS, FedEx, UPS, and DHL are shipping provider partners of Falcon, which further ensures their shipping quality.
Feature
Full-service onboarding in days or weeks
Two-day shipping with absolute accuracy
Dedicated Account Manager
Custom packaging, shipping, and kitting services
In-house IT team
Personalized service
Price
Falcon Fulfillment does not provide any detailed information about the price. They claim to provide a transparent billing scheme instead. You'll receive itemized billing for each order so you can precisely track how much you're spending on each fulfillment service.
Pros
Live order editing
Custom packaging options are available
Eco-friendly packaging options are available
Kitting services
Returns management
Dedicated account manager
Cons
High monthly order minimum
No global distribution centers
Some integrations require ShipStation
When is the right time to switch to outsourced fulfillment?
There is no definitive answer to the question of whether or not your company should outsource fulfillment to these 3PLs. Since fulfillment is a core business function, outsourcing this process necessitates a thorough evaluation of your company's current situation, capabilities, and finances.
Outsourcing means that you'll no longer have control over how your products are stored, handled, and shipped to customers. However, the benefits it brings will definitely outweigh this weakness. Here are some scenarios indicating the right time for your businesses to consider making the transition to outsourced fulfillment.
Fluctuated sales volume
If your business experiences fluctuating sales volumes throughout the year, it might not be the best idea to run your own warehouse. You may experience a surplus or a shortage of resources for each drop or spike in order volume, which results in inefficient performance of maintaining your warehouse and overall business practices. An eCommerce fulfillment company works to provide flexibility to handle any peak periods efficiently.
An unexpected spike in sales may be a good sign for your business's revenue, however, it can place a considerable burden on your eCommerce delivery process. Problems such as shipping the wrong item, late delivery, false customer address, and so on, have a higher possibility to occur. Therefore, an expert in fulfillment services is well-equipped to manage sudden spikes in orders, thus ensuring timely delivery and customer satisfaction even during busy seasons.
You're too busy
As your business grows, managing order processing, packaging, and shipping will become increasingly time-consuming in accordance with the rise in order volume. If you find yourself overwhelmed with these operational tasks that you no longer have time to focus on core business activities to further accelerate growth, it's probably time to start outsourcing it.
A reliable eCommerce fulfillment provider can, by all means, do all the work related to fulfillment for you. They are experts in their fields, which will definitely provide quality fulfillment services for your businesses. In the meantime, you are able to devote time to sales and marketing, developing innovations, and the next strategic steps for your long-term business growth.
Scalability and expansion limitations
Committing to in-house fulfillment may result in some challenges as your business scales up. Your business may lack some necessary infrastructure such as warehousing space, technology, or staff to efficiently handle the fulfillment operations. You can even outgrow your current infrastructure if your businesses expand, not only in sales volume but also in geographical locations. 
As your business scales up, it is likely that you'll have to manage inventory across multiple locations with diverse categories, which might not be easy to handle if you have limited resources and experience in this field. Another point to make is that shipping internationally is also highly challenging due to the increased costs, and delivery times, not to mention the taxes and regulations that differ for each country.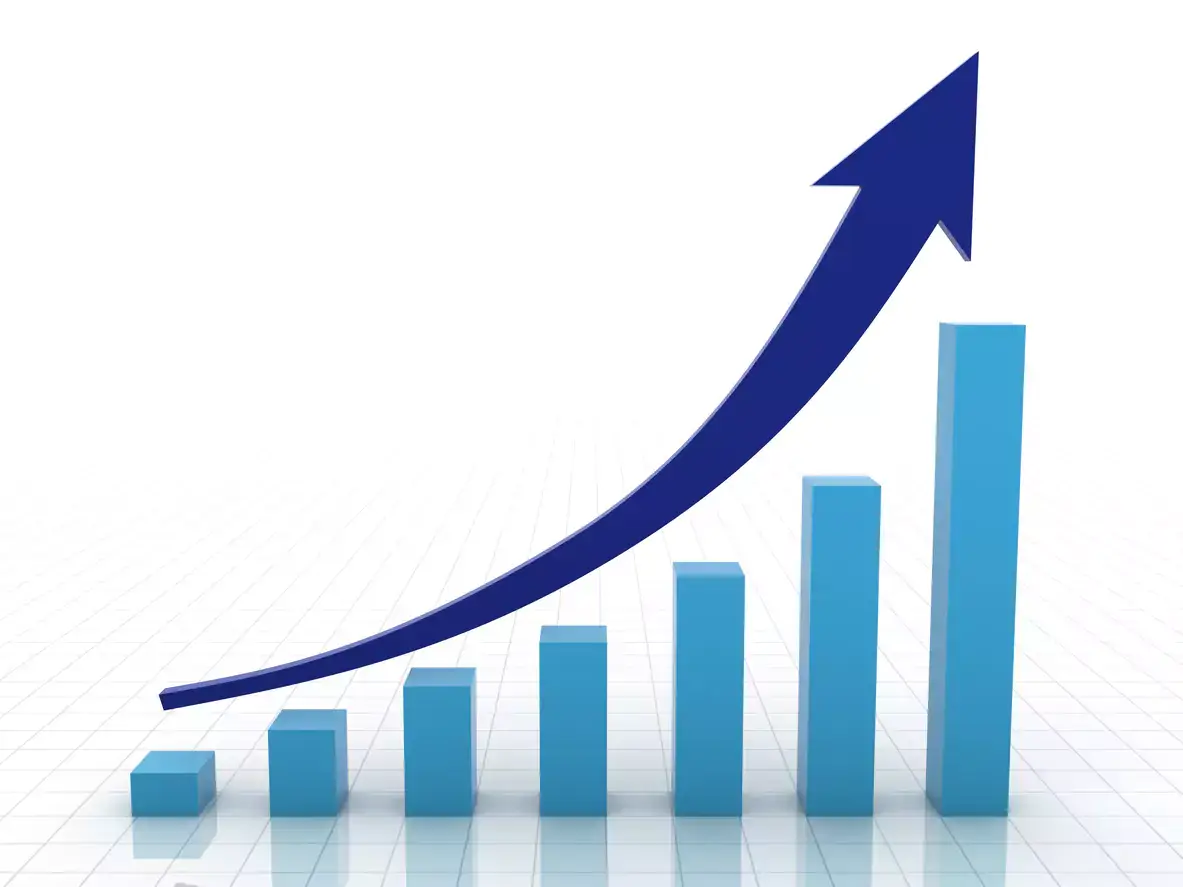 Outsourcing fulfillment is definitely a solution to these challenges. The best eCommerce fulfillment services already have the infrastructure in place, including warehouses, technology integration, and trained staff to help streamline your entire process. Therefore, they enable seamless scalability, allowing you to accommodate higher order volumes or expand your business's global coverage.
How to choose the best eCommerce fulfillment services provider
After ticking all of the checkboxes to decide whether your businesses should start outsourcing your fulfillment, the next step is to choose your best eCommerce fulfillment services that cater to all your needs. Here are some recommended factors you should keep in mind while choosing your provider.
Inventory storage and fulfillment fee
Pricing is usually the first criterion to consider when choosing the best eCommerce fulfillment services. List out the storage and delivery costs of each platform, compare them, and consider them with your current financial capabilities. In this way, you can narrow down your options to more affordable solutions.
Most fulfillment service providers don't provide detailed pricing schemes. The fee will greatly depend on the type of products you sell, your average monthly order, and the inventory storage you require. Therefore, direct contact with each provider is necessary in this case. However, some providers, like FBA and ShipMonk, offer a calculator tool for you to preview and estimate the total budget needed for the whole service.
Technology and integrations
The process of eCommerce fulfillment is complex, but technology simplifies it. Therefore, you should evaluate the technological capabilities of various order fulfillment companies to narrow down your options.
Access your business needs to identify what kind of technological tool best serves your fulfillment. For example, if you need a seamless managing process where you can track and monitor every step from one dashboard, Fulfillment.com is the first come-to-mind provider for you. On the other hand, if you focus more on performance, Simpl offers 3D scanning technology for a more optimized workflow.
Also, fulfillment service providers should offer easy integrations with other eCommerce platforms, and prominent shipping, and shopping cart partners. This will ensure seamless integration with your current eCommerce platform. You can also be sure that the provider offers a quality delivery process that can contribute to enhanced customer satisfaction.
Customer support
Reliable customer support is crucial for troubleshooting issues and maintaining a smooth fulfillment process. You should opt for a provider that offers responsive and knowledgeable customer support to address any concerns promptly.
Fulfillment by Amazon ranks as the top customer support eCommerce fulfillment company. Personalized support is also available with a dedicated account manager for each client, provided by Simpl, Fulfillment.com, and Falcon Fulfillment.
Features
The provider's feature is an important factor that differentiates various eCommerce fulfillment platforms. You should date back to your business's specific needs to evaluate the range of services the provider offer. Consider options such as branded packaging, customization, and special handling for fragile or expensive items. The more their services are tailored to your company's specific needs, the more you are able to make the most out of their fulfillment.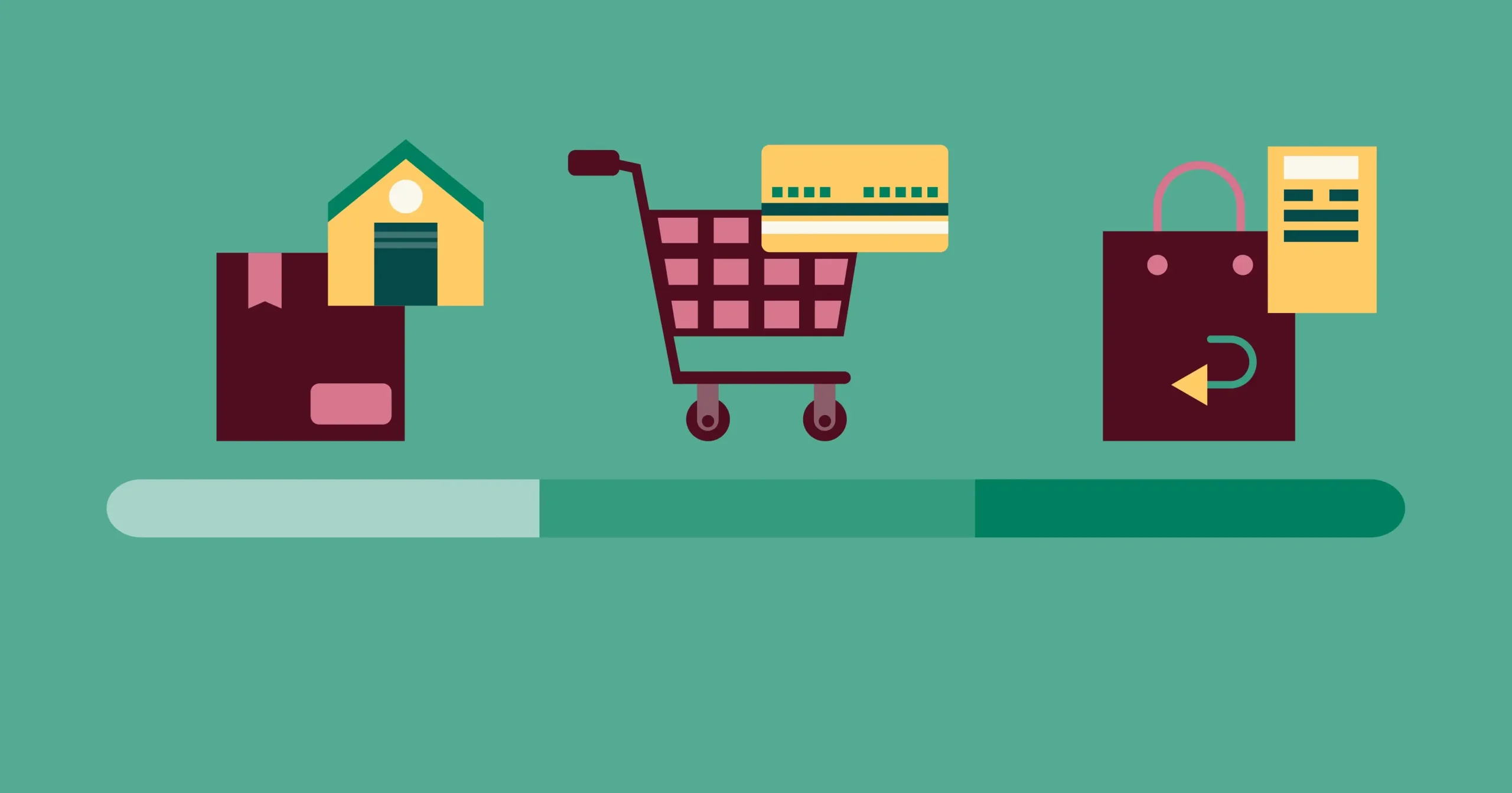 Shopify Fulfillment Network, ShipBob, Flexport, Simpl, and Falcon are some names that provide custom branding and packaging, especially Falcon offers personalized service for the whole fulfillment process. Red Stag is an expert in handling heavy and bulky products, while Simpl is best for fragile and hazmat ones.
Multiple fulfillment centers
A provider with multiple fulfillment centers across different regions can provide faster shipping services and more cost-efficient. This becomes particularly important if your businesses are currently or plan to expand across the borderline.
Large names including FBA, FedEx, Flexport, and FDC provide international shipping with a diverse network of fulfillment centers globally. ShipBob and ShipMonk operate in fewer regions, only around the US, Canada, Australia, the UK, and Europe.
If your businesses are operating in the US and have large US-based customers, Shopify Fulfillment Network, ShipNetwork, Red Stag, and Falcon are some suggested solutions for you. These companies own many fulfillment centers across the country, ensuring on-time delivery to your customers. Among those, Falcon offers 1M cubic feet of warehouse space, which is the best option for large companies with a wide range of products.
Fulfillment time
Last but not least, fast order processing and shipping are crucial factors to consider for the best eCommerce fulfillment services. The entire process of eCommerce fulfillment involves many steps. So make sure to go with a company that offers quicker fulfillment time. Inquire about the provider's average fulfillment time and their ability to meet your desired shipping speed, especially for options like 2-day or 3-day shipping.
Most companies will guarantee a fast shipping time. Carefully read the reviews of previous customers or research the provider's track record to examine their fulfillment time. Look for case studies or testimonials from businesses similar to yours. Positive feedback and successful partnerships can indicate their reliability and capabilities.
Moving forward with your fulfillment services partner
Outsourcing fulfillment services undoubtedly brings various benefits to your businesses. It is the best solution to free up your own time for other core business activities while enlisting a specialist who can assist you in optimizing fulfillment and overcoming logistical obstacles in your business.
Therefore, choosing the right fulfillment partners is crucial in bringing added value that reverberates throughout your eCommerce journey. In this article, we've gone through the 12 best eCommerce fulfillment services providers along with some useful tips, to help you reduce your research time, thereby finding the most suitable partner for your business. If you'd like to get similar helpful updates from us, please subscribe to our newsletters right below!