In the wake of the Covid-19 outbreak, the Philippines is continuing to rely on eCommerce and the digital economy to manage its economic recovery. As a result of the lockdown measures imposed on brick-and-mortar businesses, the eCommerce sector in the Philippines experienced a boom during the outbreak.
In this article, we'll analyze the top eCommerce sites in the Philippines, as well as the categories in which they're available, their unique characteristics, and more. Let us now begin.
Top 10 eCommerce sites in the Philippines – Updated 2023
Lazada
Monthly Traffic Estimate: 43.38M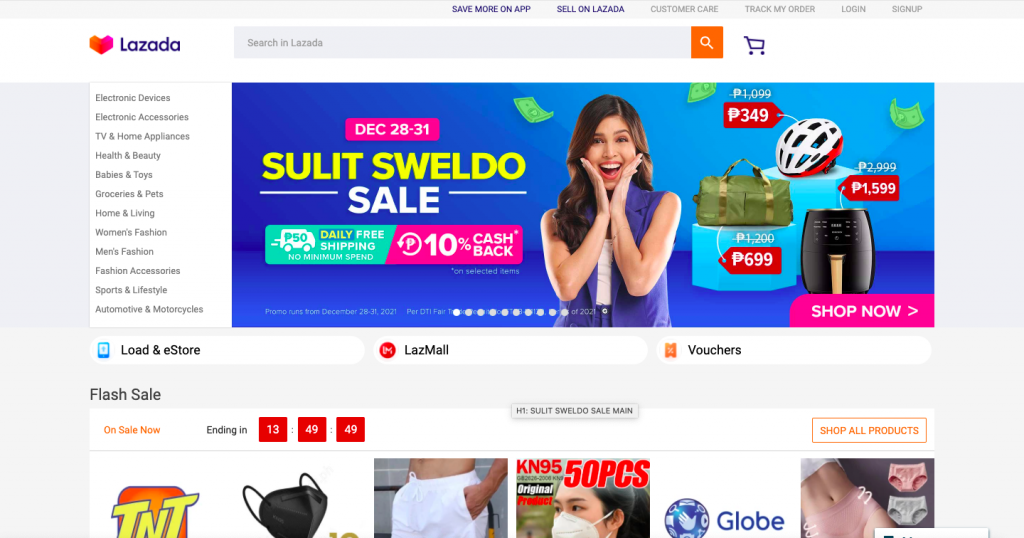 Lazada is without a doubt one of the top eCommerce sites in the Philippines. With 25,000,000 visitors per four weeks, Lazada has solidified its position as the Philippines' most popular eCommerce website.
The company offers products from a number of categories, including consumer electronics, household goods, toys, fashion, sports equipment, and groceries. Nike, Adidas, Huggies, Philips, Bioderma, and Watsons are just a few of the well-known companies with LazMall outlets.
Depending on your location, Lazada can provide both fulfillment and shipping services to your country of choice. Timeslogistics manages the fulfillment services, which are based in Hong Kong and operated by the company. They handle all aspects of the inbound process, including storage and pick and pack. In addition, With Lazada Global Shipping, retailers can send their goods anywhere in Asia using only one service. This means reduced prices and greater convenience.
Shopee
Monthly Traffic Estimate: 74.91M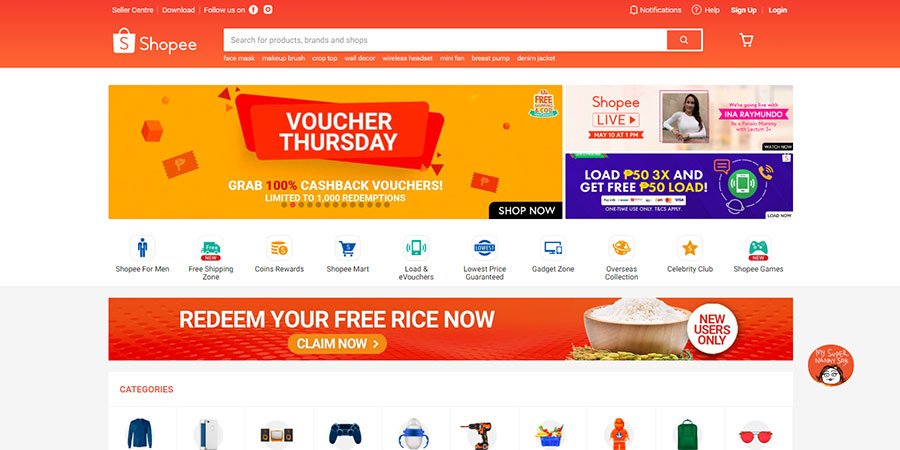 Shopee is a significant participant in the mobile-first Philippines. It is primarily a mobile-first, diversified online store that also offers a traditional web experience.
It is a Southeast Asian-focused platform that combines the authenticity of a customer-to-customer (C2C) marketplace with payment and logistical support. In fact, Shopee is not only a leading platform in Southeast Asia, but it is also a famous name in the list of top eCommerce in the Philippines. It has a massive user base of 14,400,000 people every month and sells a variety of products ranging from electronics to groceries.
Metrodeal
Monthly Traffic Estimate: 770,000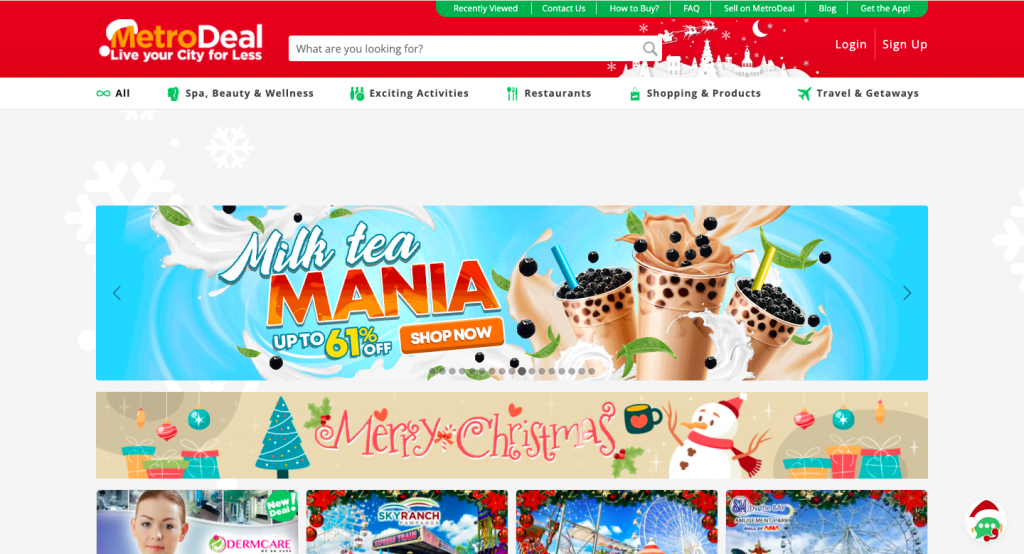 Metrodeal is another name on the list of top eCommerce sites in the Philippines that specializes in discounts and deals gathering promotions for restaurants, leisure, retail, and travel. it does process payments directly, putting it in the category of eCommerce. Thanks to its process of payments directly, Metrodeal has been able to expand and become top eCommerce sites in the Philippines in this pandemic decade. Interestingly, The company was acquired by the Japanese outsourcing giant Transcosmos last year.
eBay
Monthly Traffic Estimate: 277.65K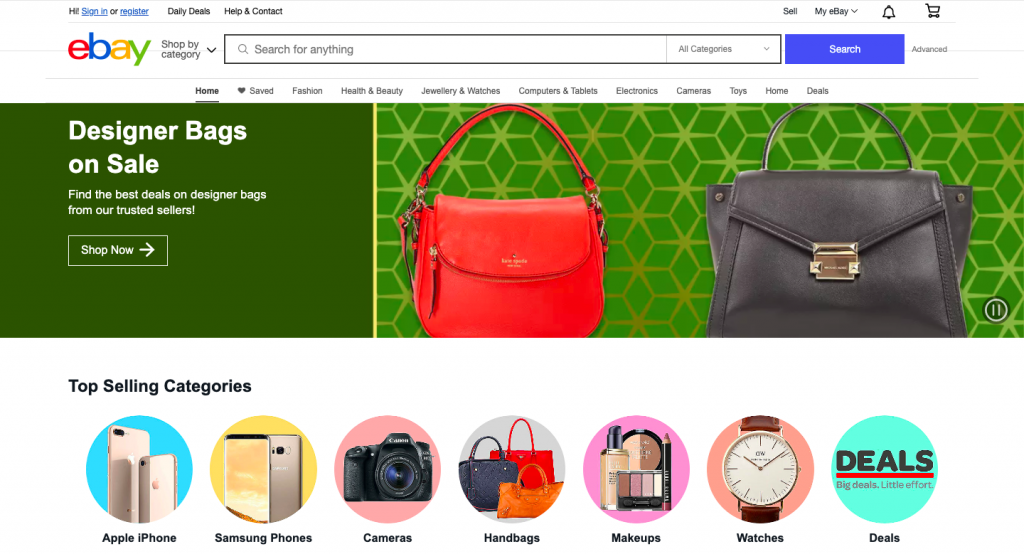 eBay is a well-known online retailer in the Philippines, and it ranks high on the list of the country's top eCommerce sites which offer both auctions and online shopping services.
In order to enter the B2C industry, eBay is building on the success of its second-hand market. The eBay Store operates more like a traditional business-to-consumer marketplace, with businesses selling their own products as well as retailers selling a number of different brands on the site.
Users can purchase and sell a wide variety of new and used items, including electronics, automobiles, fashion apparel, collectibles, sporting goods, digital cameras, and baby items. An estimated 880,000 Filipinos visit eBay.ph to benefit from the wide range of general products. Buyers also can access the website for free, but sellers are charged fees for displaying products on the site and for collecting payment.
>> Read more: What are Top 10 ecommerce sites in ASIA?
Carousell
Monthly Traffic Estimate: 4.95M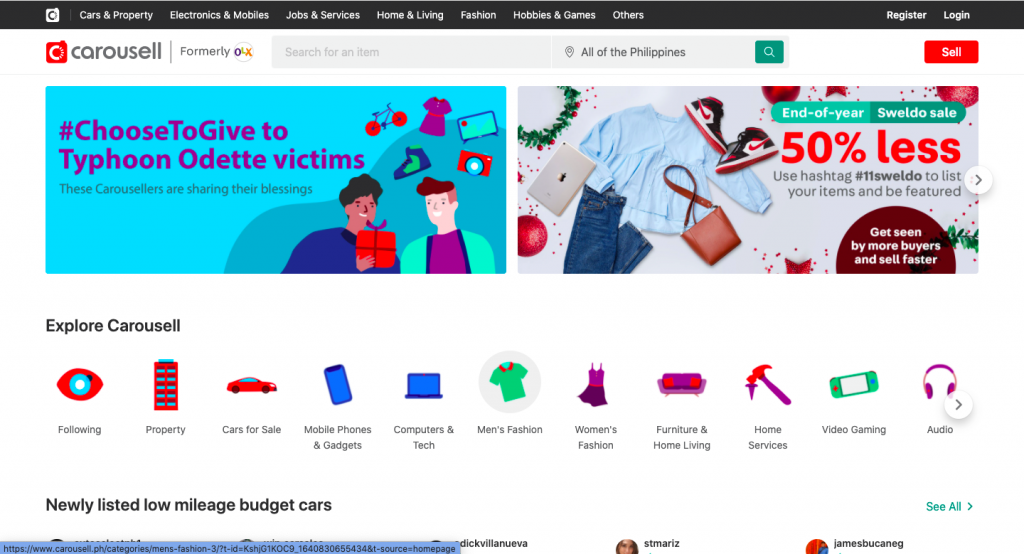 Carousell is an Asian eCommerce platform that is not as well-known as other Asian eCommerce marketplaces such as Lazada and Shopee. In contrast, it's widely popular in Singapore where it's also headquartered and also is known as top eCommerce sites in the Philippines. The product categories available on Carousell include: Cars & Property, Fashion, Home & Living, Electronics & Mobiles
As a mobile platform, Carousell has expanded to include an online shopping site. Interestingly, The Carousel platform makes it simple for anybody, including businesses and individuals, to take images of their products and list them for sale, all while providing buyers with the option to communicate directly with the sellers.
Globe Online Shopping
Monthly Traffic Estimate: 996.75K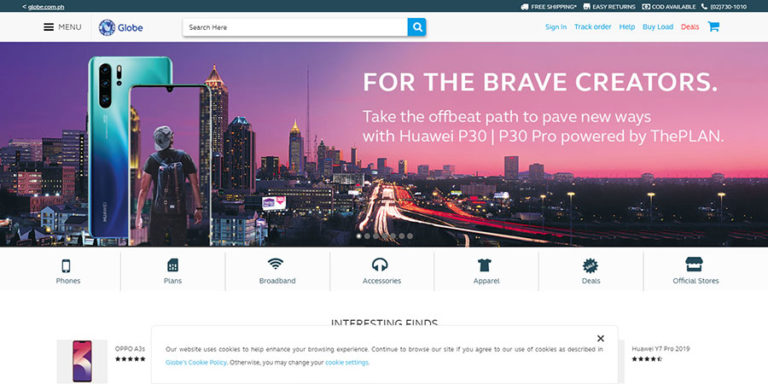 Globe Corporation is one of the country's top corporations, launched the online shopping website shop.globe.com.ph in an effort to break into the country's burgeoning eCommerce market. Online shopping at Globe is targeted mostly at individuals looking for electrical equipment, various gadgets, and apparel, with the ability for clients to choose from a variety of post-paid network plans as well.
Galleon.ph
Monthly Traffic Estimate 170.77K
Galleon.ph is an online shopping website that specializes in products that are not readily available in the Philippines. In addition to offering a diverse range of categories, Galleon.ph also gives Filipinos quick online access to products imported from the United States and China, with products delivered directly to their doorstep.
Galleon has been finding its niche in the Philippines eCommerce marketplace with traffic of 170.77 visitors every month and rapidly become the top eCommerce sites in the Philippines
Zalora Philippines
Monthly Traffic Estimate: 1,250,000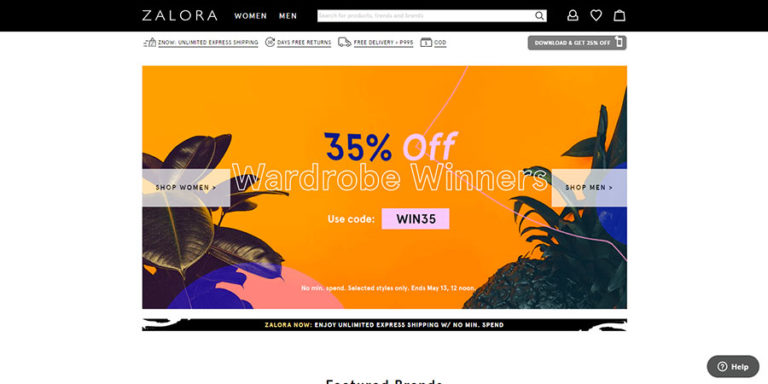 Zalora, one of Rocket Internet's most successful creations, has grown to become the largest eCommerce website in South East Asia that is solely dedicated to fashion shopping. Zalora has been a stable player in the list of top eCommerce sites in the Philippines since 2012 with estimated monthly traffic of 1,250,000.
Due to the website's popularity, it has spread its wings to Singapore, Indonesia, Malaysia, Brunei, Thailand, Vietnam, Hong Kong, and Taiwan.
FB Marketplace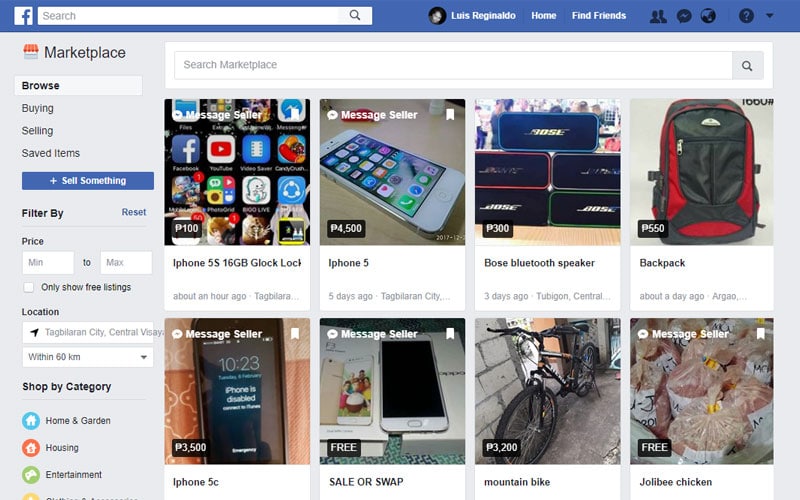 With over 72 million members as of April 2020, the Philippines is still one of the top countries in terms of the number of citizens that use Facebook.
As a result, FB Marketplace provides a powerful platform for Filipinos to buy and sell a wide range of items and services. It is completely free to use, and there are no fees associated with posting your merchandise. Because of its large user base and ease of use, it has become a go-to platform for millions of Filipinos looking to sell and buy things.
BeautyMNL
Monthly Traffic Estimate: 424.07K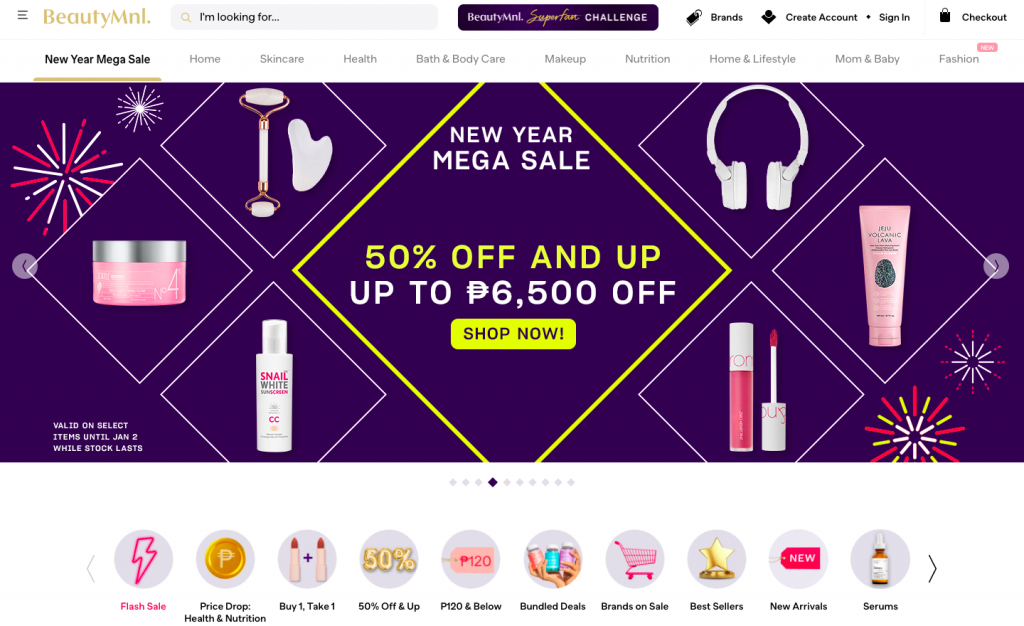 According to a recent report, the online cosmetics business will generate $675 billion in revenue by 2020, which may explain why the Philippines' eCommerce marketplace includes a beauty/wellness-related website ranked eighth among the top eCommerce sites in the Philippines.
Attracting more than 590,000 visitors each month, beautymnl.com bills itself as the number one homegrown site in the country and promises to hide what every Filipina wants. Aside from categorizing products into five categories – beauty, health and wellness, mom and baby, fitness, and fashion – beautymnl.com also provides subscriptions to a beauty magazine called Bloom.
>> Must read: Top 10 eCommerce sites in the World you can't miss!
In conclusion
Here is the list of popular top eCommerce sites in the Philippines. Some of them are early players who remain strong, while some are new ones who have already caught up. Aside from their websites, most of the top eCommerce sites in the Philippines detailed here also have mobile applications available on various platforms to provide an eCommerce experience through mobile devices. If you are unsure about choosing or developing a mobile app by yourself, we are here to help you. Moreover, if you're looking to take your eCommerce market presence up a notch, then our Magento development services are just what you need. Our skilled developers and committed support team have the knowledge and experience required for helping businesses excel in this highly competitive industry. Unlock sophisticated features that will enable you to get ahead of the competition – check us out today!