In the world's most developed market for online shopping, various brands and specifications of each product can be compared online assuring that the product you choose is to your highest benefit and closest to your specific needs. By far, When it comes to eCommerce, the United States is the gold standard. Many of its most successful eCommerce enterprises are in leadership positions in other nations, setting the pace and establishing the trends that influence the rest of the world's online purchasing. Consumers in the United States are accustomed to engaging in commercial transactions in order to purchase a wide variety of goods and services online. Here we come to the current top eCommerce sites in the USA in 2023 and their estimated monthly traffic. Ready to get started? Let's dive right in.
The USA eCommerce Statistics
The statistics related to the eCommerce market in the United States paint a vivid picture of an industry that is not only thriving but poised for sustained robust growth. According to Statista Market Insights, the U.S. eCommerce market is set to reach an astounding $925.40 billion in revenue by the end of 2023. This staggering figure is more than just a testament to the exponential rise of online shopping; it underscores the significant shifts in consumer behavior and the evolving dynamics of the American retail landscape.
Robust Annual Growth Rates: On Track to Multi-Trillion Status?
Further examination of the data reveals that this upward trajectory is far from a temporary phenomenon. The market is expected to maintain an impressive Compound Annual Growth Rate (CAGR) of 11.22% from 2023 to 2027. At this rate, the projected market volume for the U.S. eCommerce sector will surge to an eye-popping $1.416 trillion by 2027. While China is expected to have a projected market volume of $1.319 trillion in 2023, still leading the pack globally, the rapid expansion of the U.S. market cannot be overlooked.
User Growth and Penetration: A Widening Net
On the consumer side, the U.S. market is also set for significant expansion. The number of users participating in eCommerce activities is expected to climb to 289.9 million by 2027. This trend aligns with the projected increases in user penetration, which measures the portion of the population engaging in online shopping. In 2023, user penetration is anticipated to be at 80.8%, and it is expected to further increase to 83.5% by the year 2027. These figures indicate a steady assimilation of eCommerce into the daily lives of Americans, further solidifying its role as a key player in the retail ecosystem.
The Importance of Average Revenue Per User (ARPU)
Another notable statistic that warrants attention is the Average Revenue Per User (ARPU). The ARPU is projected to be $3,370, underlining the substantial revenue potential each individual brings to the eCommerce market. This high ARPU can be attributed to a variety of factors, such as an increase in online spending due to convenience, a broader range of available products and services, and perhaps the integration of advanced technologies that enable personalized shopping experiences.
Top 10 eCommerce sites in The USA
Amazon
Established: 1994
Estimated number of monthly visitors: 2.8 billion
Amazon is not just the top eCommerce sites in the USA, but it is also the most popular eCommerce site in the majority of other nations. Amazon was founded in 1994 as a modest eCommerce site that sold books. Since then, the company has grown to dominate the bulk of eCommerce categories, including computers and gadgets, books and literature, and even TV and movie streaming services. Not to mention, Amazon Prime members in the United States can get these products with free one-day or two-day shipping.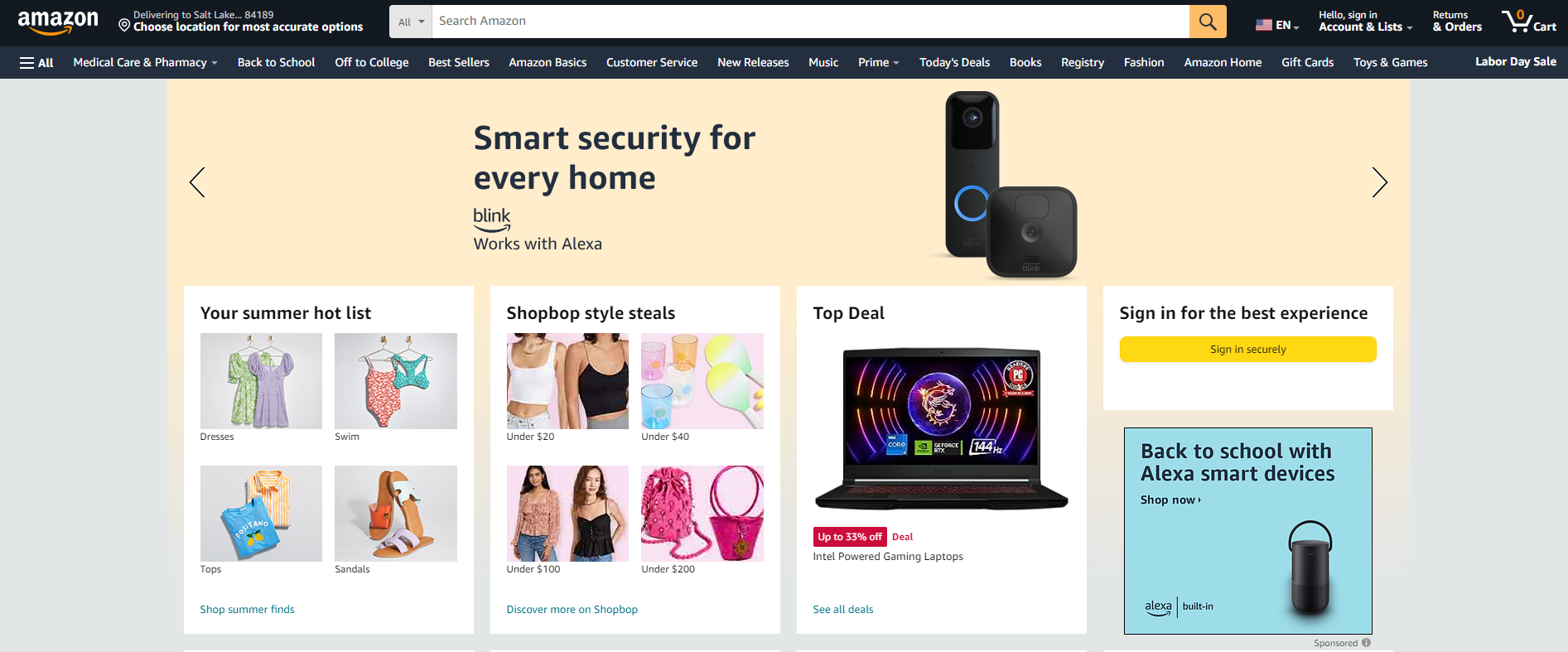 Amazon has made it easier for music lovers to shop for stuff this year by integrating artist merchandise and music into a single seamless experience. This year, Amazon Music has integrated artist goods into its mobile app, resulting in artist items appearing on participating artists' pages in the Amazon Music app, alongside their songs, albums, live streaming, and music videos.
Amazon's US marketplace sales are expected to expand by 16.5% to $220.39 billion in 2021, accounting for 60% of Amazon's total US eCommerce sales, according to our projections.
eBay
Launched: 1995
Estimated number of monthly visitors: 819.5 million
With 689 million monthly visitors, eBay ranks second in the list of top eCommerce sites in the USA. EBay's global traffic comes in at 41%, which is barely over Amazon's 38%. In 2020, eBay's global gross merchandise volume (GMV) is expected to reach $100 billion, with the United States accounting for around $41 billion of that total.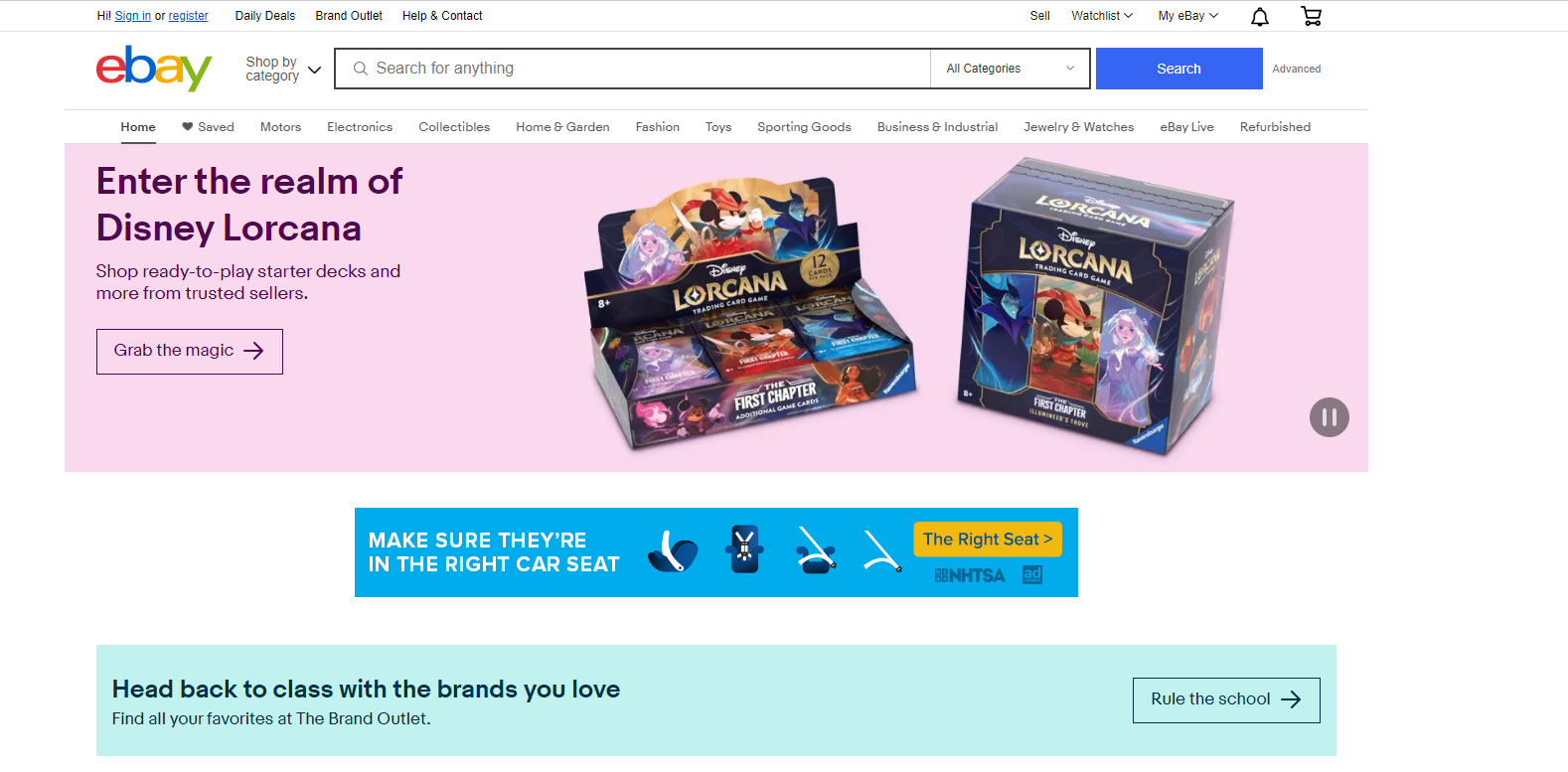 When public internet usage and the dot-com boom first took hold in 1995, eBay's company boomed along with them. As a result of its pure technology-driven business strategy, which eliminates the need for physical inventory or expensive warehouses, it has gained popularity in the financial markets as well.
eBay has established itself as a household name, thanks to its unique idea that anybody may sell anything through an online auction. Several of eBay's competitors, including Yahoo! and Amazon, created auction marketplaces of their own after years of speculation that auctions would become the dominant selling format on the internet.
Walmart
Launched: 2000
Estimated number of monthly visitors: 617.2 million
Since its founding in 1962, Walmart has become the world's most valuable company and the world's largest private employer. When it comes to top eCommerce sites in the USA, Walmart hasn't had much success until recently despite having thousands of stores, unmatched brand recognition, and near-limitless resources.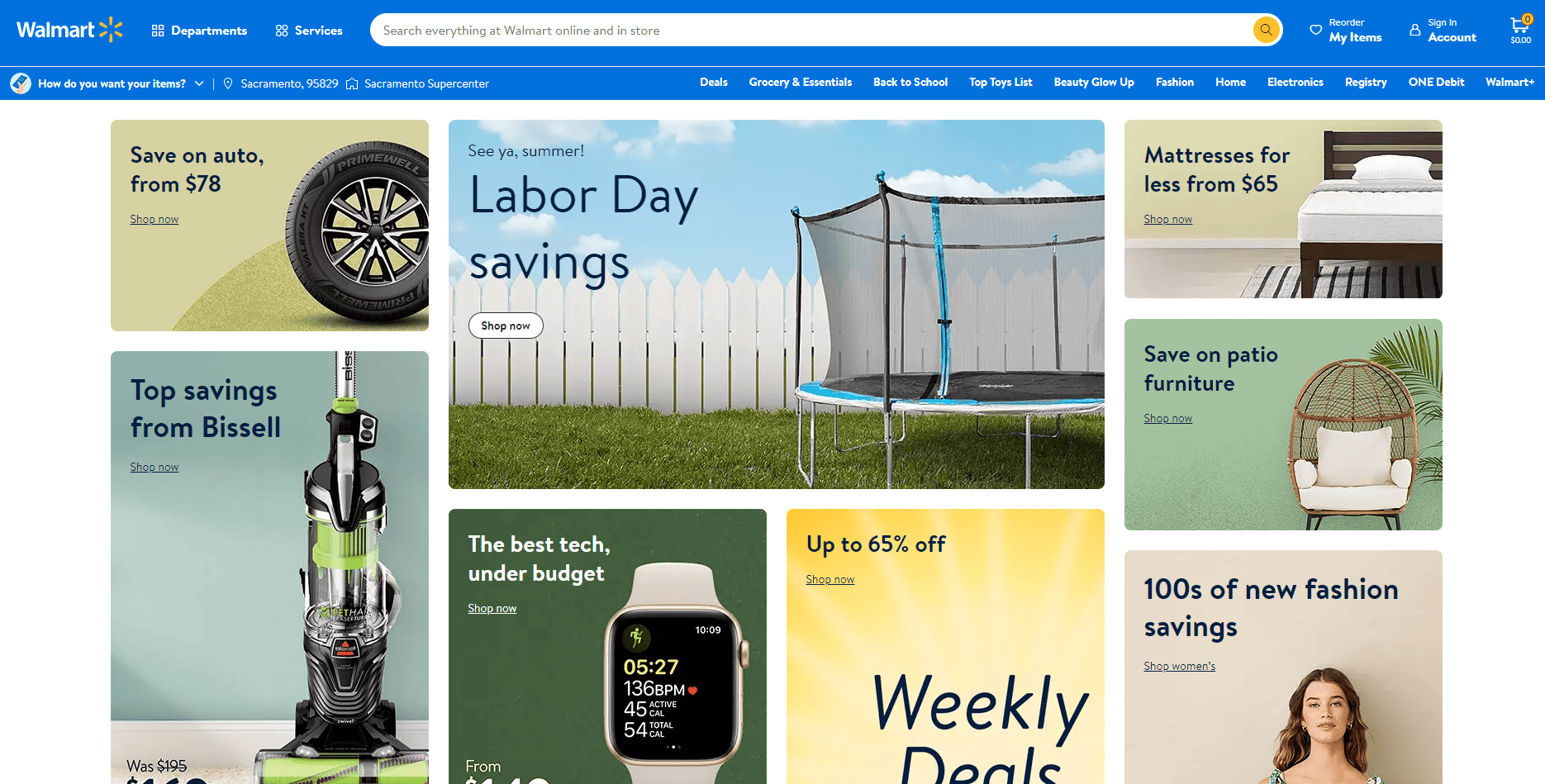 Walmart will account for 7.1% of total US eCommerce sales this year, placing the business further ahead of its nearest competitor, eBay, but still accounting for less than a fifth of Amazon's US sales.
In Addition, Click and Collect has helped Walmart expand internet sales by taking advantage of its massive physical footprint, and the company has announced new ambitions to compete directly with Amazon. You can have groceries in two hours with Walmart Express Delivery, or you can sign up for the Walmart+ club, which offers unlimited free delivery and other perks.
Target
Launched: 2010
Estimated number of monthly visitors: 282.5 million
When it comes to the USA department store market, Target is the second-largest following Walmart. A robust eCommerce solution allows clients to access the full range of target products and services online as well as in-store at more than 1,800 locations around the country.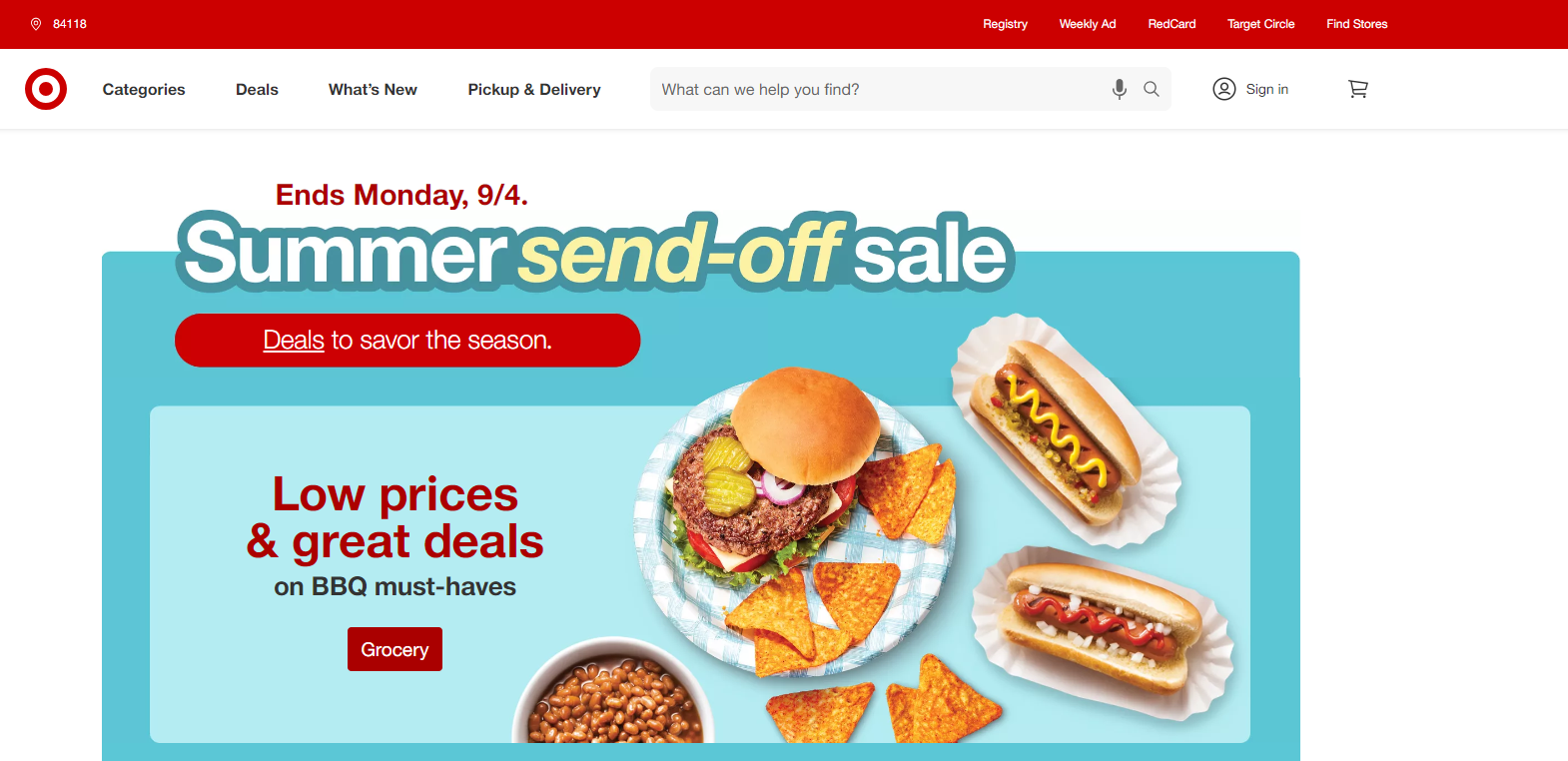 Online shopping is becoming increasingly popular, and big-box retailers like Target also benefit from this trend. Products sold by Target range from clothing to furniture to food to electronics to personal care items. The company is a market leader in both fashion and apparel as well as home and garden. With the introduction of the Target RedCard, they have established themselves as a prominent participant in the banking and financial services industry.
In comparison to companies like Best Buy and The Home Depot, which specialize in a specific industry, it has a distinct advantage. Alternatively, Target will be forced to compete with Amazon and Walmart for sales of digital groceries and other ordinary items.
Best Buy
Launched: 2010
Business model: retailer of technology products, services, and solutions
Our next top eCommerce sites in the USA is Best Buy, another long-standing US business, dating all the way back to the 1960s. Best Buy began as a consumer electronics retailer and has since evolved to become a dominating brand with brick-and-mortar locations throughout the United States, as well as in Canada and Mexico.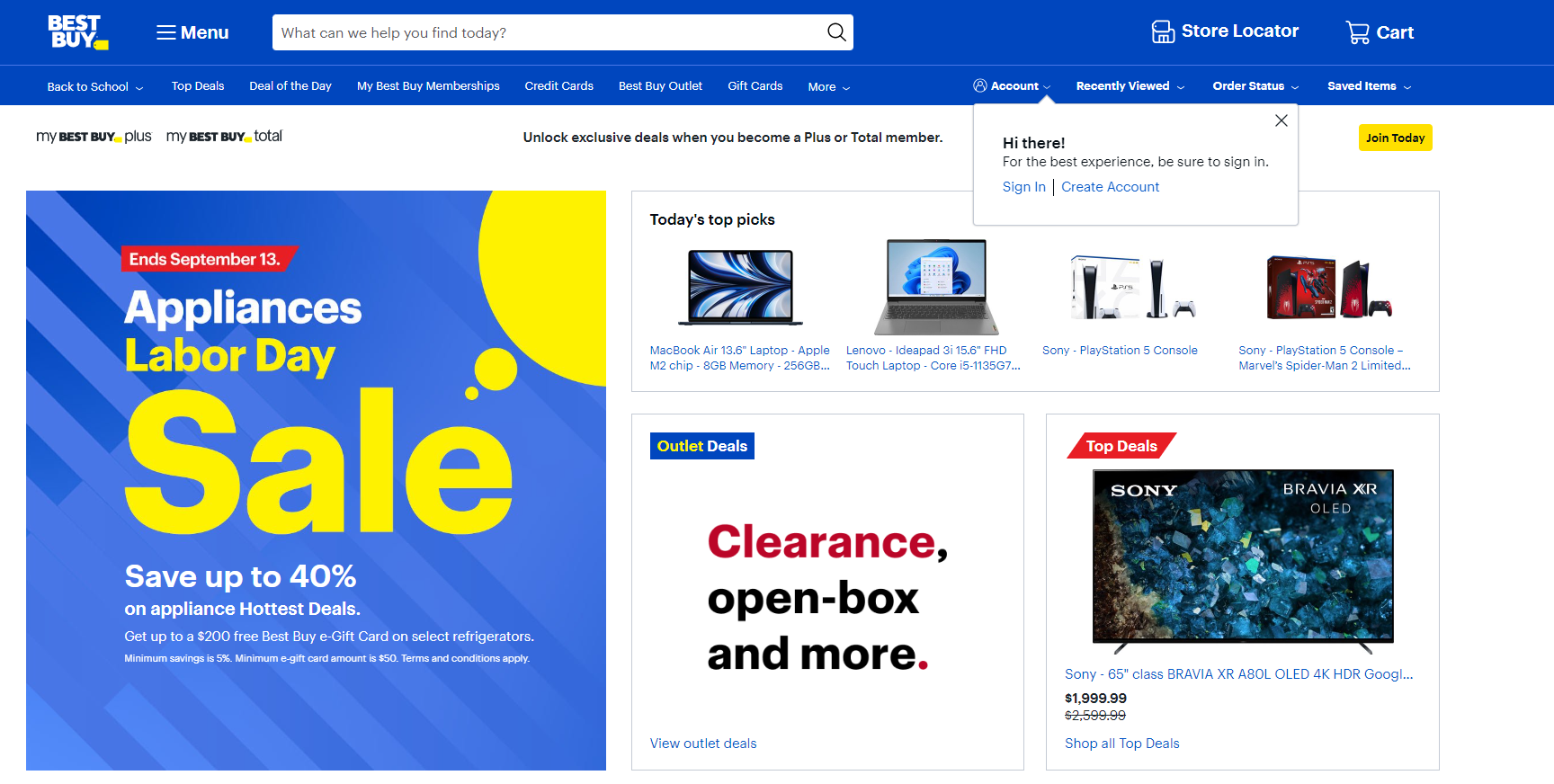 Best Buy now provides clients with a diverse selection of products, including electronics, appliances, furniture, fitness, travel, and baby products, among other things. The company is most well-known as a consumer electronics company, and it ranks third in the world in the field of computer electronics and technology eCommerce. Consequently, we estimate that Best Buy's eCommerce revenue increased by 135.6% last year, earning $18.00 billion in US sales and placing the company in fifth place this year in terms of eCommerce revenue growth.
Etsy
Launched: 2005
Estimated number of monthly visitors: 405.3 million
Etsy comes in third place on our list of the top eCommerce sites in the USA, which racked up 238 million monthly visits from the US and $10.3 billion in annual GMV globally. Etsy is one of the most successful Internet marketplaces in the world. Rather than selling mass-produced goods, Etsy concentrates on items that are either handcrafted or vintage in nature. It lets individuals and businesses sell directly to website visitors a vast range of things, including art and photography products, apparel and accessories, food, bath and cosmetic products, toys, and a variety of other goods and services.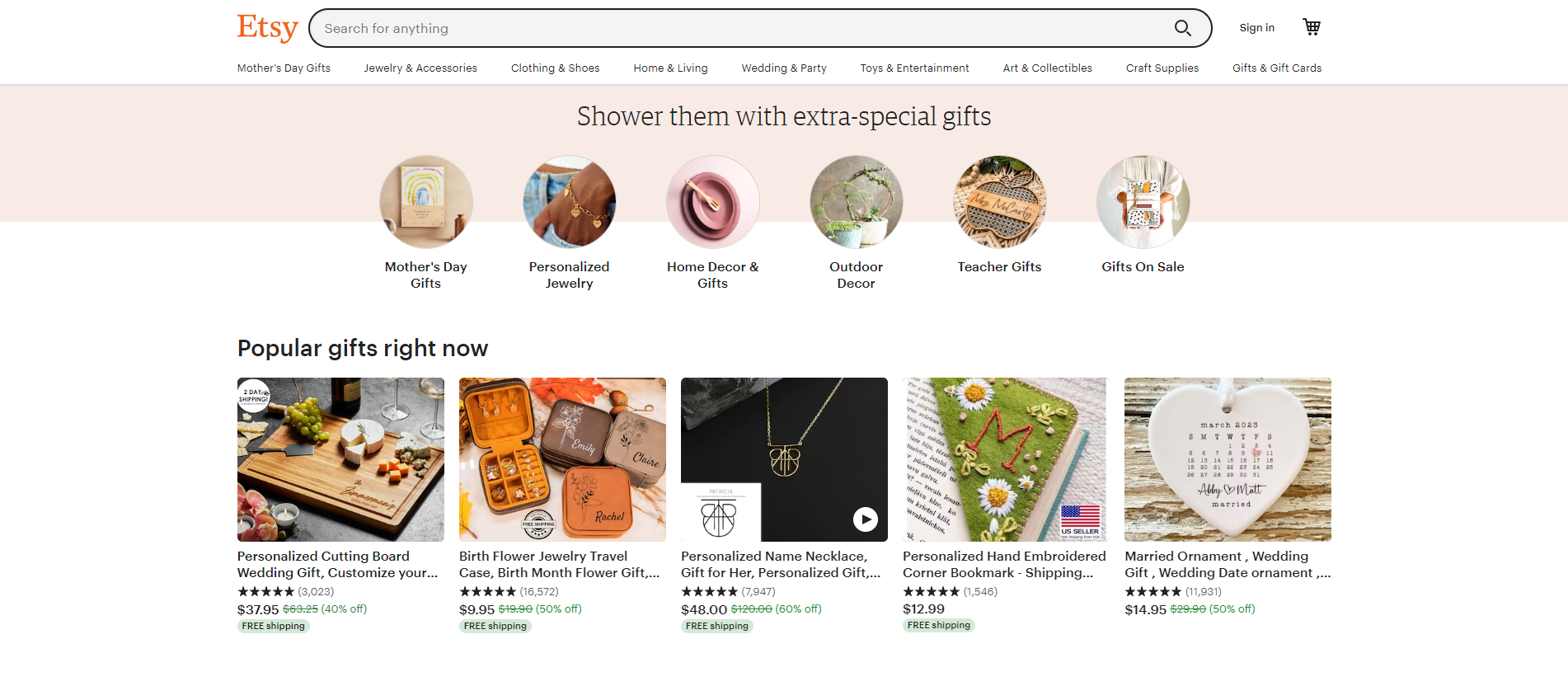 Following a typical pattern, COVID-driven eCommerce trends drove Etsy to new heights. The number of visitors to the site on a monthly basis in December 2020 was nearly double that of the previous December (345.8 million versus 175.9 million). However, since that high-water mark was reached in February 2021, etsy.com's traffic has been more or less constant. At the time of writing, the internet sales site is ranked number 31 in the United States of America.
Home Depot
Launched: 2011
Estimated number of monthly visitors: 215.7 million
Ranking fifth in our list of top eCommerce companies in the USA is Home Depot. Home Depot is the largest retailer of hardware and home improvement materials in the United States, with more than 2,200 locations across the country. Home Depot distributes tools, building supplies, furnishings, home and garden equipment, and related services through its brick-and-mortar stores and online site. Home Depot has locations in Canada and Mexico as well as the United States.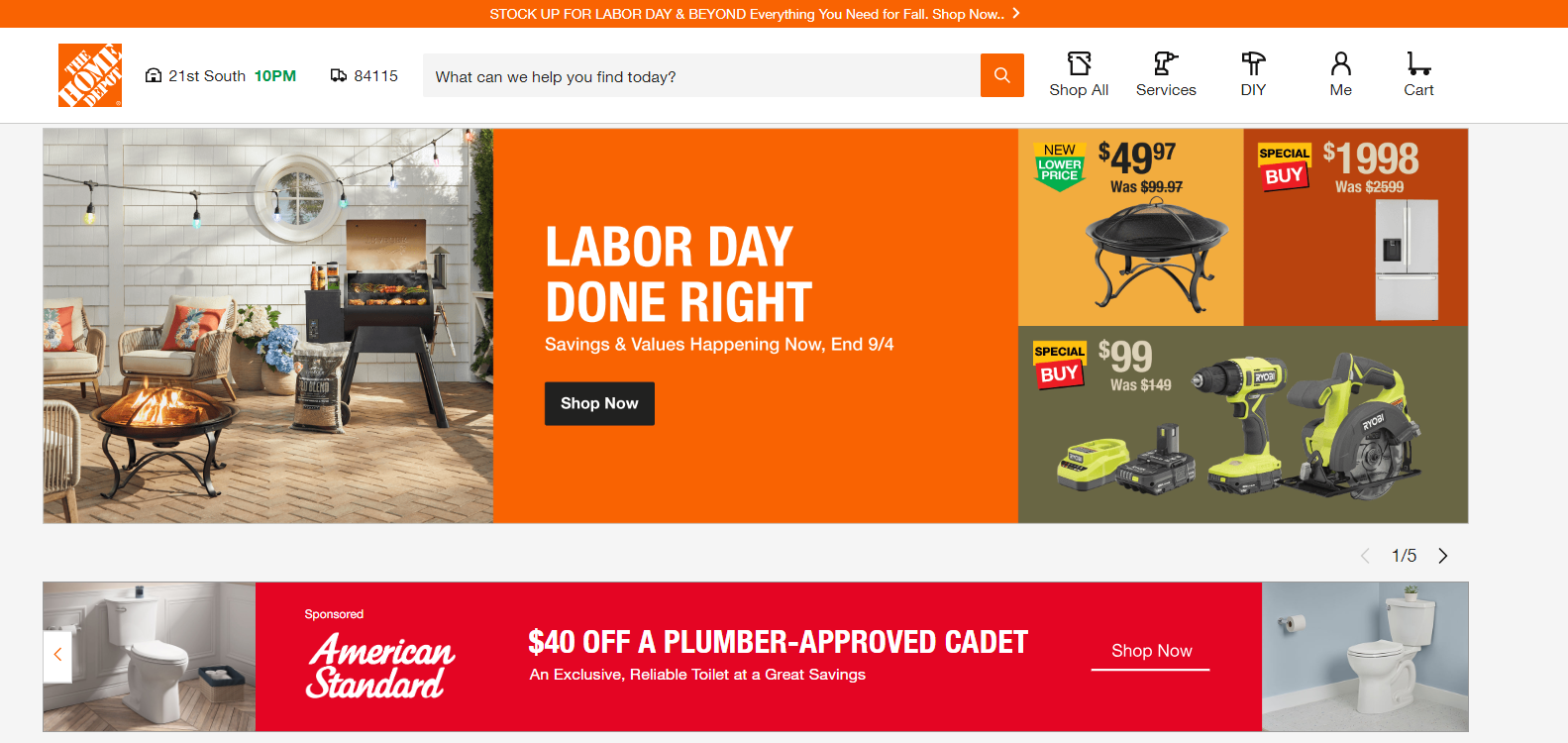 In 2020, the pandemic spurred a renewed interest in DIY and home remodeling among many people who were unable to leave their homes. While The Home Depot's eCommerce sales increased by 81.2%, Best Buy's rose faster, pushing The Home Depot out of the top five.
Kroger
Launched: 1883
Estimated number of monthly visitors: 35.8 million
Kroger began investing in online grocery several years ago, and in 2018 formed a partnership with UK-based tech company Ocado to improve the efficiency with which online grocery orders are fulfilled. The partnership will use automation and AI to better fulfill online grocery orders. More than 98% of Kroger customers already have pickup and delivery options available, and the retailer is expanding its cooperation with Ocado to create additional fulfillment facilities and implement in-store technologies.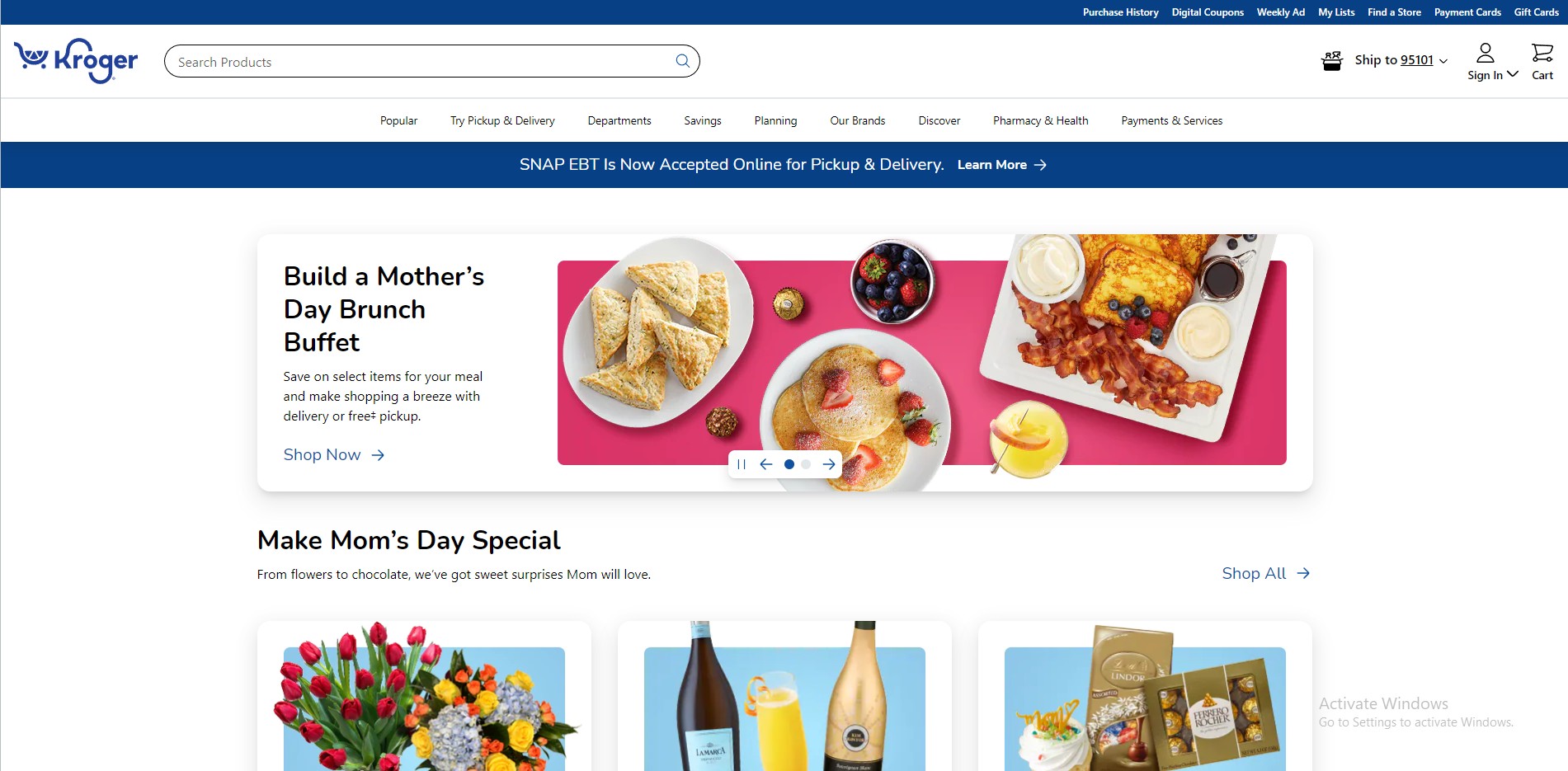 Additionally, this spring, the grocer joined with Drone Express to test drone delivery in the Midwest. The trial promised bundles of products, such as baby care and s'mores kits, would be delivered within 15 minutes after making an order on the Kroger website.
Wayfair
Launched: 2002
Estimated number of monthly visitors: 35.8 million
Wayfair is a furniture and home-goods eCommerce company. At Wayfair, more than 10,000 global suppliers offer millions of products directly to digital customers through an open marketplace that was founded in 2002 as CSN Stores. Aside from the United States, Wayfair has also grown its operations in Canada, Ireland, and the United Kingdom to support its online business activities.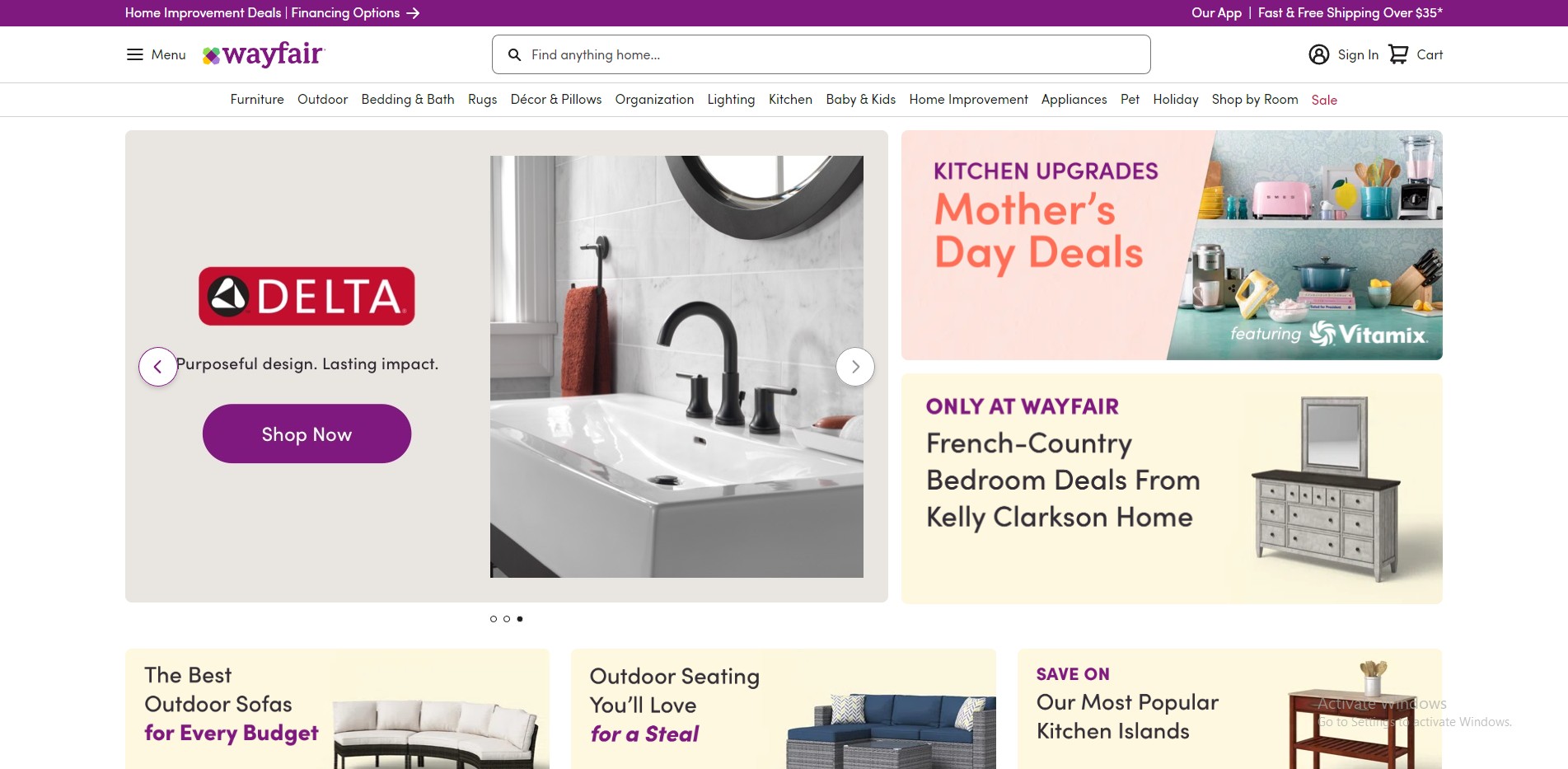 This includes software engineers, infrastructure engineers, product managers, and experienced designers. Innovative machine learning and data science techniques will help customers find just the right product among more than 22 million products, while next-generation merchandising fuels beautiful, inspiring images of products, and platforms that will help suppliers reach customers more effectively and grow their businesses. These roles will be critical in driving a wide range of solutions.
Costco
Launched: 1983
Estimated number of monthly visitors: 129.5 million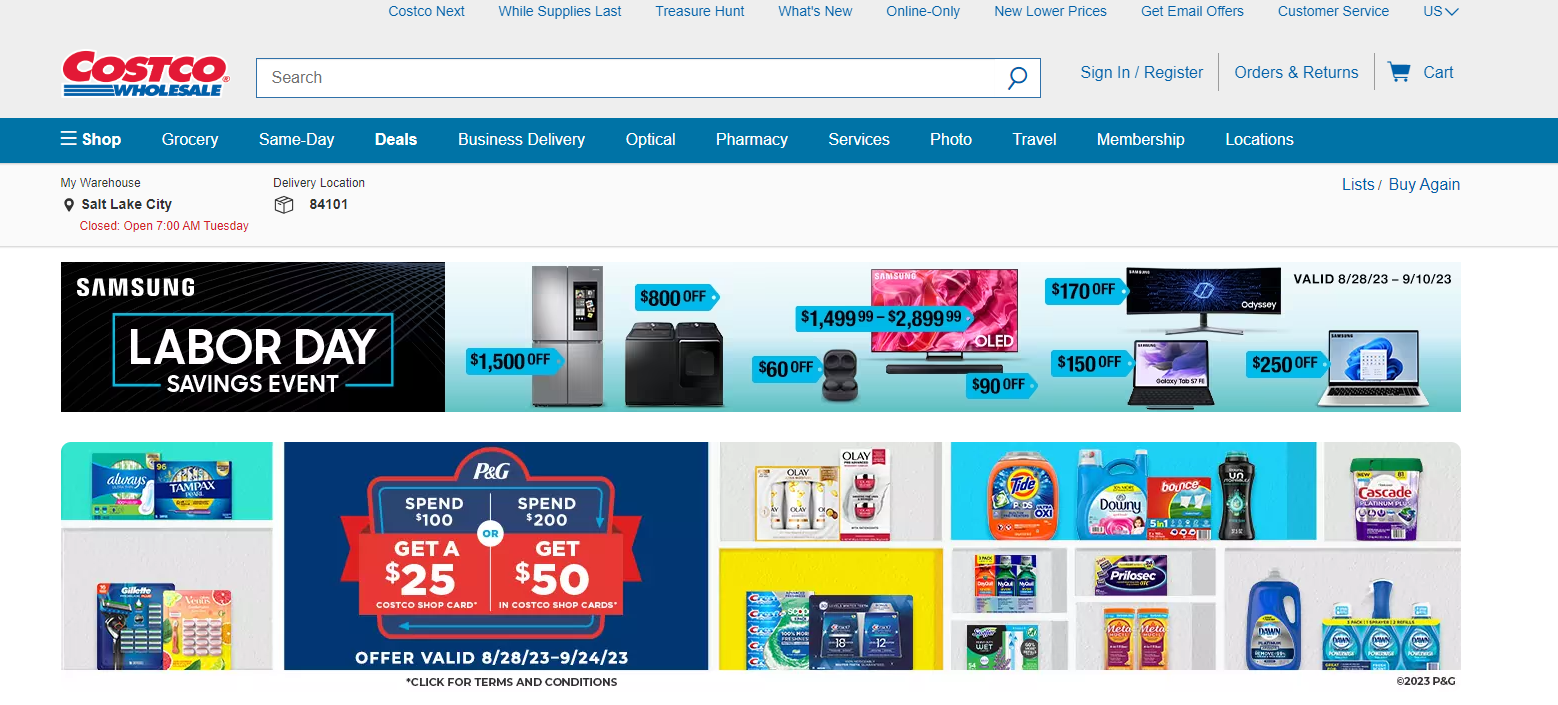 Warehouse retailer Costco Wholesale Corporation, more often known as Costco, is the last name on the list of the top eCommerce sites in the USA. Currently, Costco offers online buying and delivery through its own channels as well as through third-party vendors, and director, executive vice president, and chief financial officer Richard Galanti has stated that approximately 45% of the company's members have used eCommerce. More than 750 warehouses throughout the world sell a wide range of things including electronics, computers, furniture, outdoor living, appliances, jewelry, and more.
Tips for Building Top eCommerce Sites
Below are some essential tips for building top eCommerce sites that can help you outrank your competitors and drive more traffic and sales to your online store.
Invest in User-Experience Design
Your eCommerce website's design is the first thing that your visitors will notice, and it plays a crucial role in creating a positive user experience. Investing in a user-friendly design can help you reduce your website's bounce rate and increase the time visitors spend on your website. Your website's design should be clean, simple, and easy to navigate. It should also be optimized for mobile devices since more and more people are using their smartphones to shop online.
Optimize Product Pages
Product pages are the heart of your eCommerce website, and optimizing them is essential for boosting your website's visibility and sales. Each product page should have a unique title and description that includes relevant keywords. You should also include high-quality product images and videos that showcase your products from different angles. Adding customer reviews and ratings can also help build trust with potential customers and increase the likelihood of making a sale.
Create High-Quality Content
Creating high-quality content is essential for building a successful eCommerce website that can outrank your competitors. You should focus on creating content that provides value to your target audience, such as how-to guides, product reviews, and industry news. Creating a blog section on your website can also help you attract more visitors and improve your website's search engine rankings.
Improve The Website's Loading Speed
The website's loading speed is a critical factor in determining your website's search engine rankings and user experience. Slow loading speeds can lead to high bounce rates and a negative user experience. You can improve your website's loading speed by optimizing your images, minifying your CSS and JavaScript files, and using a content delivery network (CDN).
Optimize Website for Search Engines
Optimizing your website for search engines is essential for improving your website's visibility and driving more traffic to your online store. You should focus on optimizing your website's meta tags, such as title tags and meta descriptions, for relevant keywords. You should also use header tags to organize your content and include internal and external links to other relevant pages and resources.
In Conclusion,
As we navigate through the digital landscape of 2023, the role of eCommerce in our daily lives has never been more pronounced. The top 10 eCommerce sites in the USA not only represent a massive chunk of the market but also serve as trendsetters in a field that is continually evolving. From the omnipresent Amazon to specialized platforms like Etsy, these sites have distinguished themselves through an array of unique features—be it extensive product offerings, seamless user experience, exceptional customer service, or innovative delivery solutions. As we look ahead, these sites will undoubtedly continue to play a significant role in defining the future of eCommerce, both in the United States and around the world.
Hope this article brings you some useful information. Above are the top eCommerce platforms in the USA. Have you learned something new from their eCommerce site or services? If you want to create and manage your own one, please don't hesitate to contact our eCommerce website developers and specialists. They have multiple years of experience in the field and are eager to help you boost your online presence. Additionally, we have seasoned Shopify store development services to help you launch your own Shopify website in this digital realm.