With the acceleration of social media, network platforms like Facebook or Instagram become popular channels for users to entertain and update news. So, social media can become a lucrative marketing channel for eCommerce merchants to promote their products and attract more customers. There are many popular social media platforms you can take advantage of to bring social commerce closer to customers. These social commerce platforms offer solutions to businesses looking to actualize social promotions and trade through social media.
In this blog, we will recommend you top 9 social commerce platforms that help you boost sales!
What is Social Commerce platform?
There is no fixed definition of what a social commerce platform is, how social commerce works, and what kind of services it offers. However, we can understand it as a tool that allows brands to expand social shopping beyond the media platform. It helps merchants generate shoppable social galleries, so customers can enjoy the entire shopping journey without being redirected.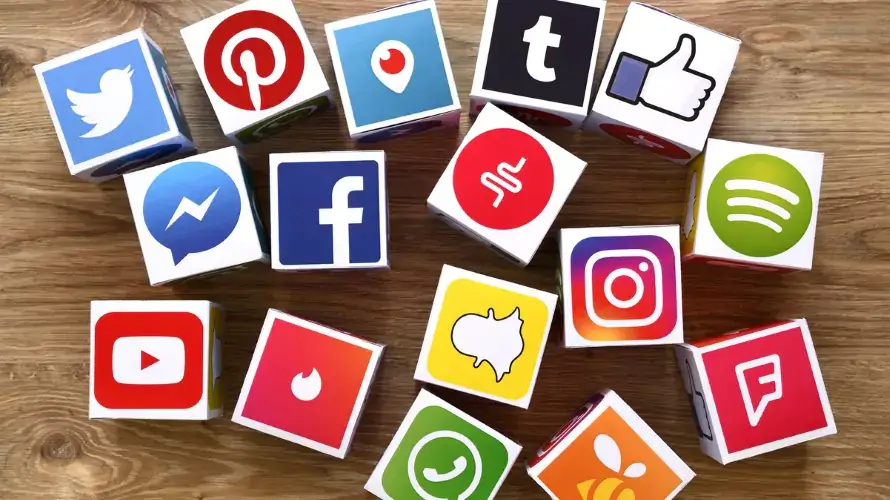 While surfing a social networking site, we might see an adorable dress or a cute shirt by chance. However, the navigation to other links sometimes thwarts us from buying them. Thus, understanding the inadequacies in customers' buying process, a platform type that allows customers to directly purchase merchandise on the platform they access was born. It is called Social Commerce platforms.
Instagram
Instagram can be considered one of the best Social Commerce platforms. With over 1 billion active users, Instagram Shops makes it easier to connect businesses and customers.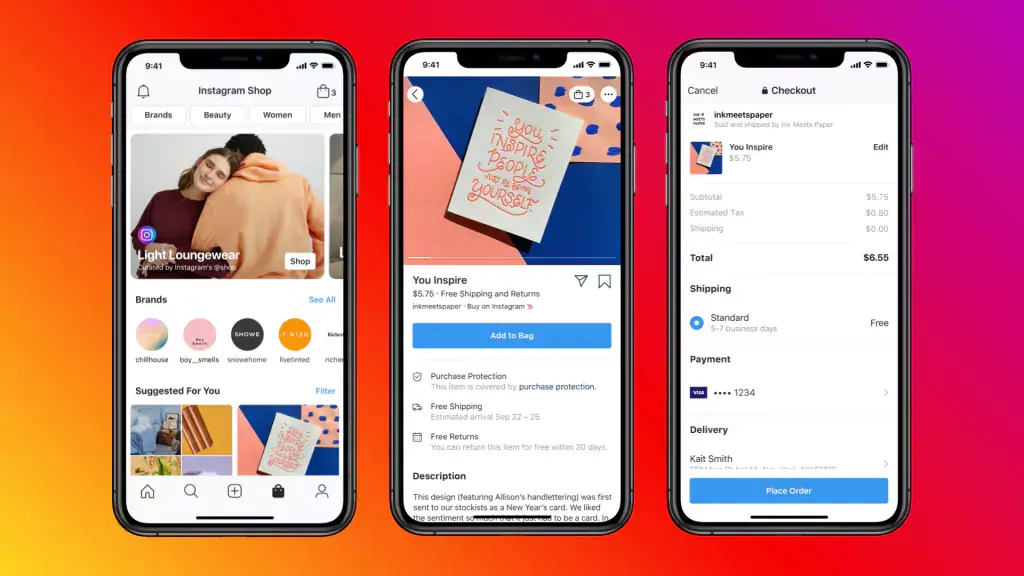 Shoppable Instagram allows businesses to customize their storefronts with hundreds of items and different collections. Customers can buy from these 'Shop' pages or click on a shoppable post, then simply checkout without having sightless barriers. Definitely, Social Commerce Instagram is indispensable due to its high visualization.
Facebook
Another well-known Social eCommerce platform is Facebook. Social Commerce on Facebook is on the rise with Facebook Shop. It provides superior features and functionalities that allow in-app checkout so that buyers can enjoy the entire shopping experience within the Facebook app.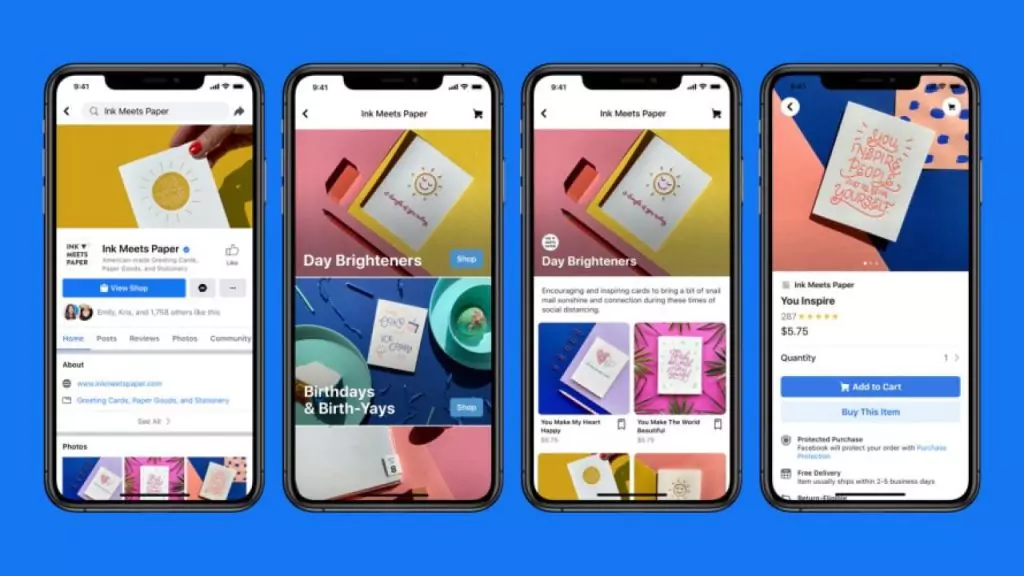 Social Commerce Facebook can easily be set up through Facebook business profiles. Businesses can customize everything within their virtual stores, including feature collections, themes, product specs, fonts, colors, etc.
Also, a Facebook chatbot can be a useful tool to assist customers throughout their buying journey at any time of the day. It helps merchants to provide product recommendations based on customers' needs and even allows buyers to place an order via messages.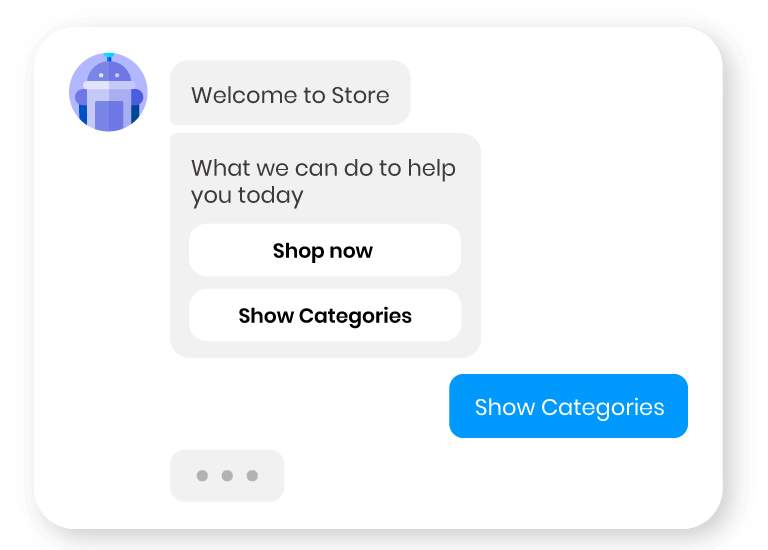 If you own a Magento-based store and want to integrate this amazing tool into your site, let's take a glance at our Facebook Chatbot extension for Magento 2. Thanks to this module, your customers are enabled to make purchases right in the messenger box without being redirected to the website. As a result, store owners now could deliver a seamless social commerce experience on the Facebook platform.
Pinterest
Another name coming to the list of top social commerce platforms is Pinterest. Pinterest is a social media and image-sharing service based in the United States that allows users to save and discover information using images, animated GIFs, and videos on pinboards. With 463 million monthly active users worldwide and image-sharing as its core functionality, this is also an ideal environment for retailers to utilize as a social commerce platform.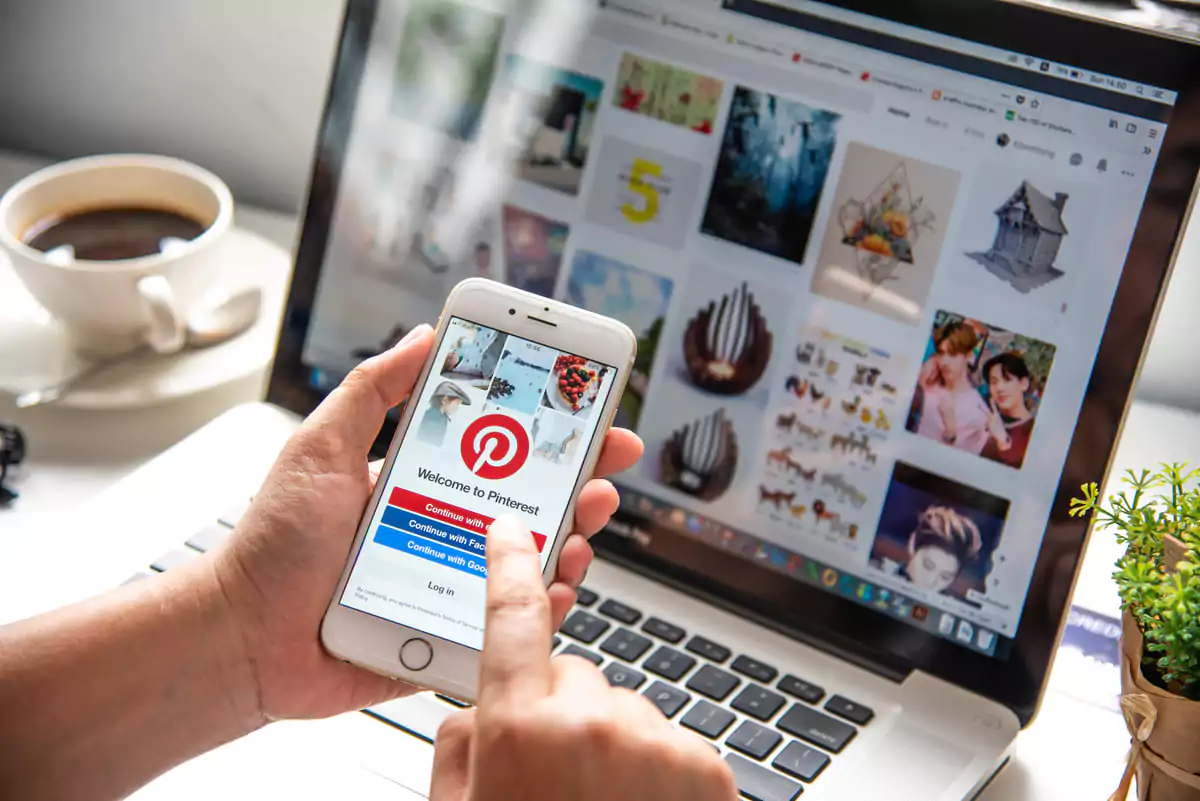 In 2015, Pinterest released its unique feature – Pinterest Buyable Pins – that lets audiences buy products from posts. Like Instagram, Pinterest focuses on visual elements that are perfectly suitable for Social Commerce. Besides providing shoppable product pins through the discovery engine, Pinterest also has "Shop The Look" ads, in which retailers can display multiple products in one ad and direct customers to a check-out link.
TikTok
TikTok has emerged as the best social commerce platform for young and future generations like Gen Z. It doesn't have particular tools for commerce; however, it is a video-sharing platform that allows users to upload and spread their video content to others. TikTok uses its abilities to apply in commerce and become a powerful social commerce platform in the future.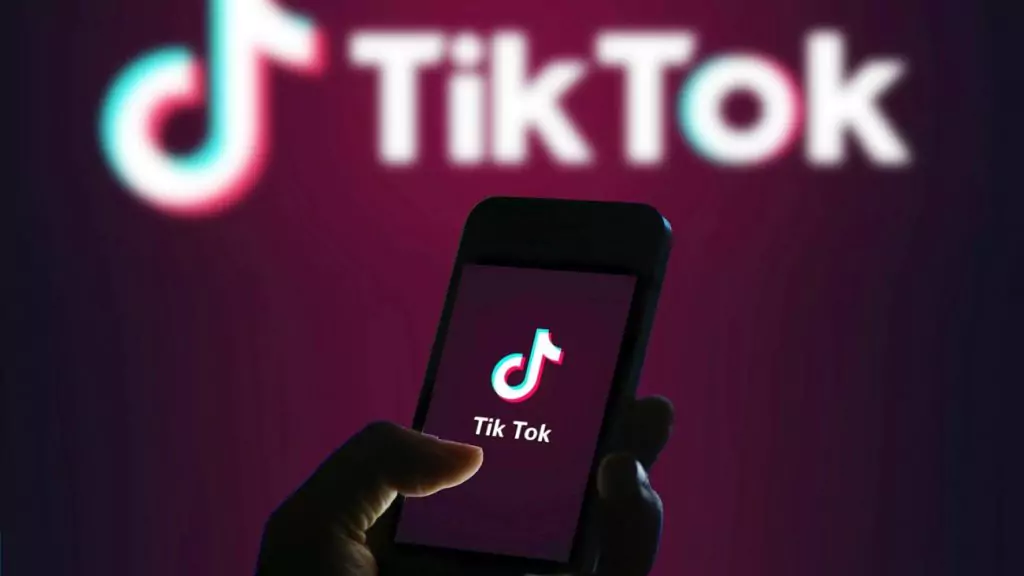 TikTok has recently formed a global partnership with Shopify. Accordingly, Shopify merchants are enabled to create, run, and optimize TikTok marketing campaigns directly from the Shopify dashboard. You can convert your items into In-Feed shoppable video advertisements by creating native, shareable content.
Snapchat
Developed by Snap Inc., Snapchat is a multimedia instant messaging app and service. Snapchat's pictures and messages are typically only accessible for a brief period of time before becoming inaccessible to their intended recipients.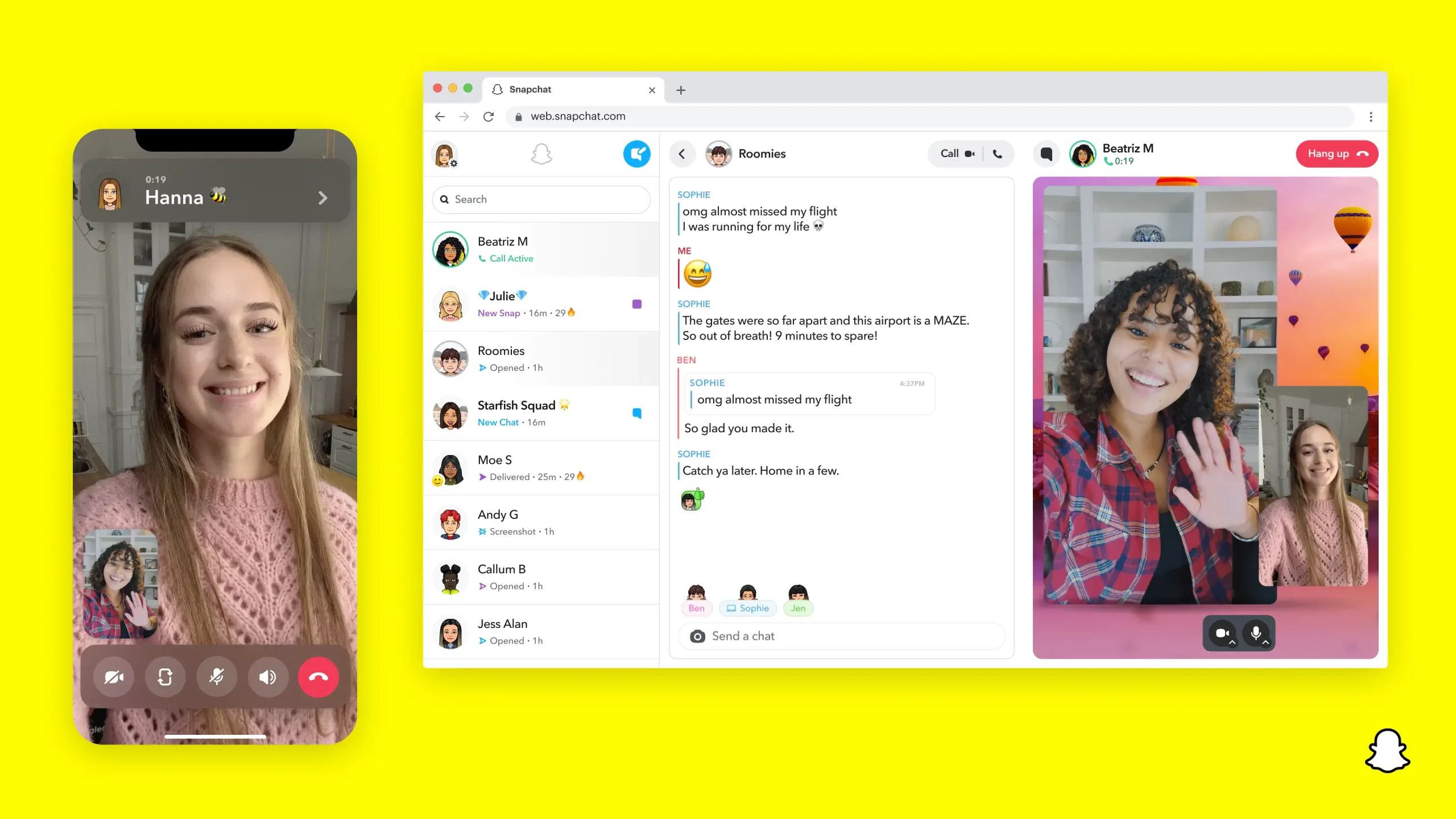 With this core feature, Snapchat is designed to focus mainly on entertainment and doesn't pay too much attention to eCommerce. However, they have encouraged augmented reality (AR) that can be applied as a social commerce tool. Snapchat calls its AR lenses. Users can use a lens that helps them try on makeup and sunglasses. They can now virtually try on any suit without going to the physical store.
Moreover, the app has transitioned from its initial emphasis on person-to-person photo sharing to its current emphasis on users' Stories of 24 hours of chronological content, as well as Discover, which allows brands to display ad-supported short-form content. These upgrades have made Snapchat to be included on the list of social shopping platforms.
WeChat
WeChat has put effort into contributing to the growth of social commerce. They allow merchants to share content relating to eCommerce and shopping experiences.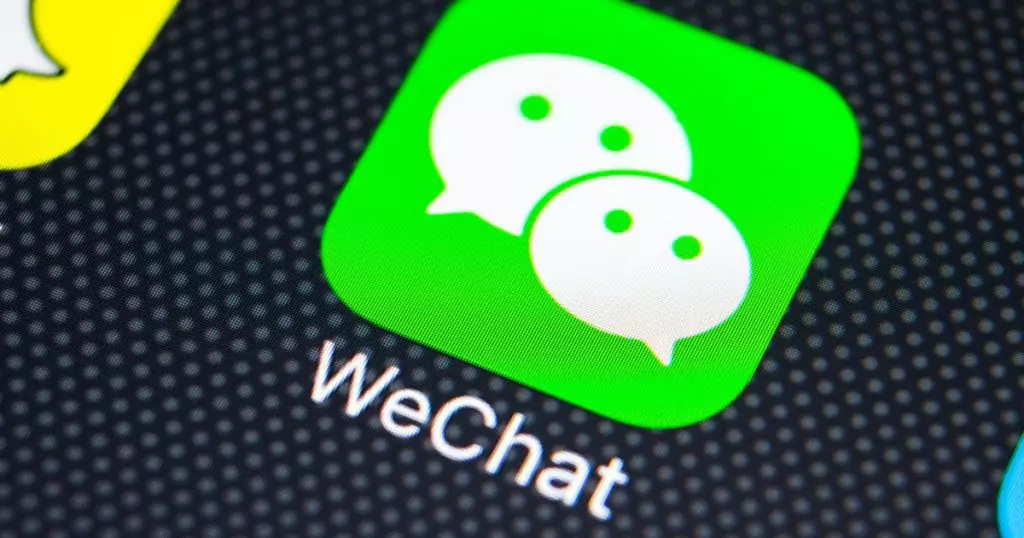 Businesses have created marketplaces using WeChat mini-programs, for example, Pinduoduo. It stimulates users to bring in other users to make bulk purchases by giving them steep discounts.
WeChat mini-programs make purchases and communication between sellers and buyers easy and convenient. Users can share the products they like with their friends and family. In fact, customers may take part in all stages of the purchasing process without ever leaving WeChat.
Amazon Live
Offered by Amazon, one of the world's largest online retailers, Amazon Live is an innovative and interactive Social Commerce platform that you can rely on.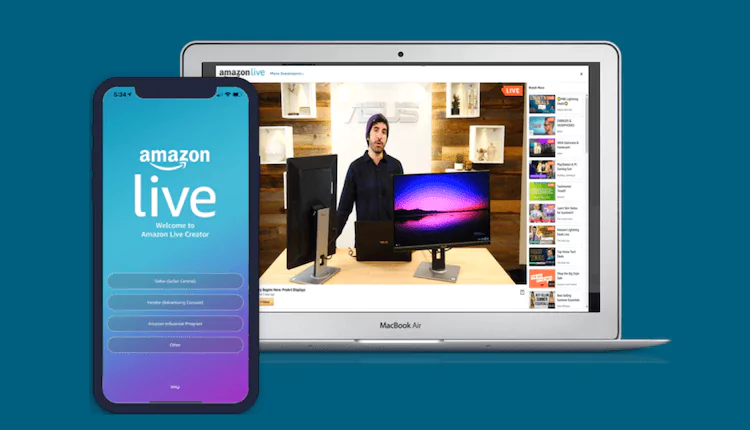 Different from other examples of social eCommerce platforms above, Amazon Live comes with a distinct approach. It works based on the combination of video streaming with eCommerce, allowing sellers to showcase their products in real-time video broadcasts. While providing helpful information about the products to shoppers and answering their questions, you can put a link directly to the checkout page and make sales.
Taggbox Commerce
Indeed, many people still feel alien to this platform, but it gradually proves its position as one of the top Social Commerce platforms.
Taggbox Commerce is a place where brands can turn their shoppable content into sales and offer a complete purchasing experience. With the help of this platform, you can make excellent buyable galleries like UGC, social feeds, etc. You just need to select content, tag products, and then publish collections on your online store.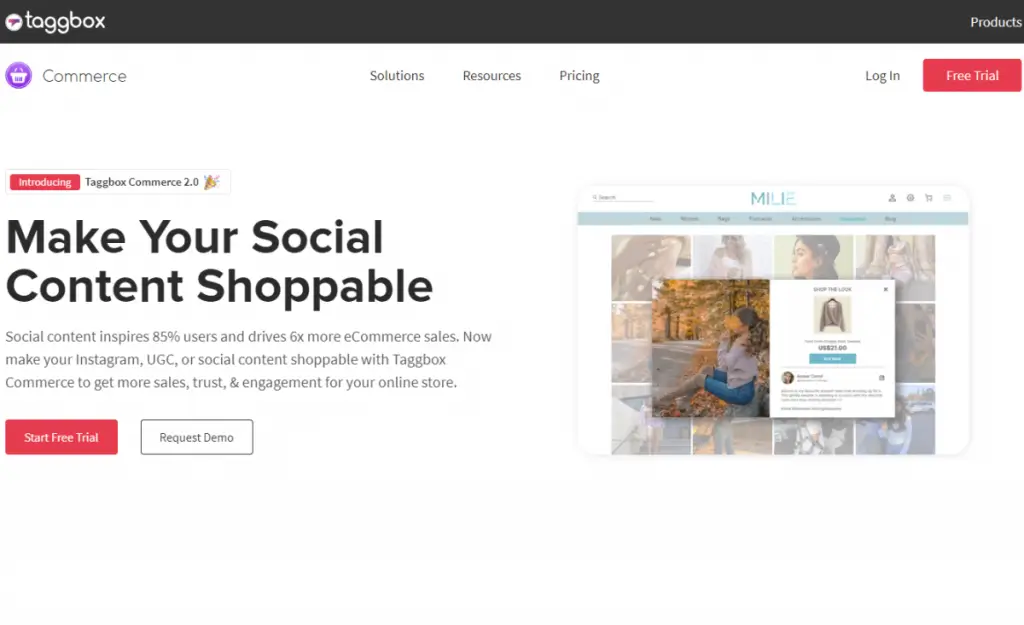 Briefly, Taggbox Commerce offers a social buying experience to shoppers while staying on the website, and it still continues to introduce new features.
Verint
Verint is a customizable community-escorted Social Commerce Platform. It is an interoperable and fully functioning platform that gives businesses opportunities to integrate socially driven features into their eCommerce websites.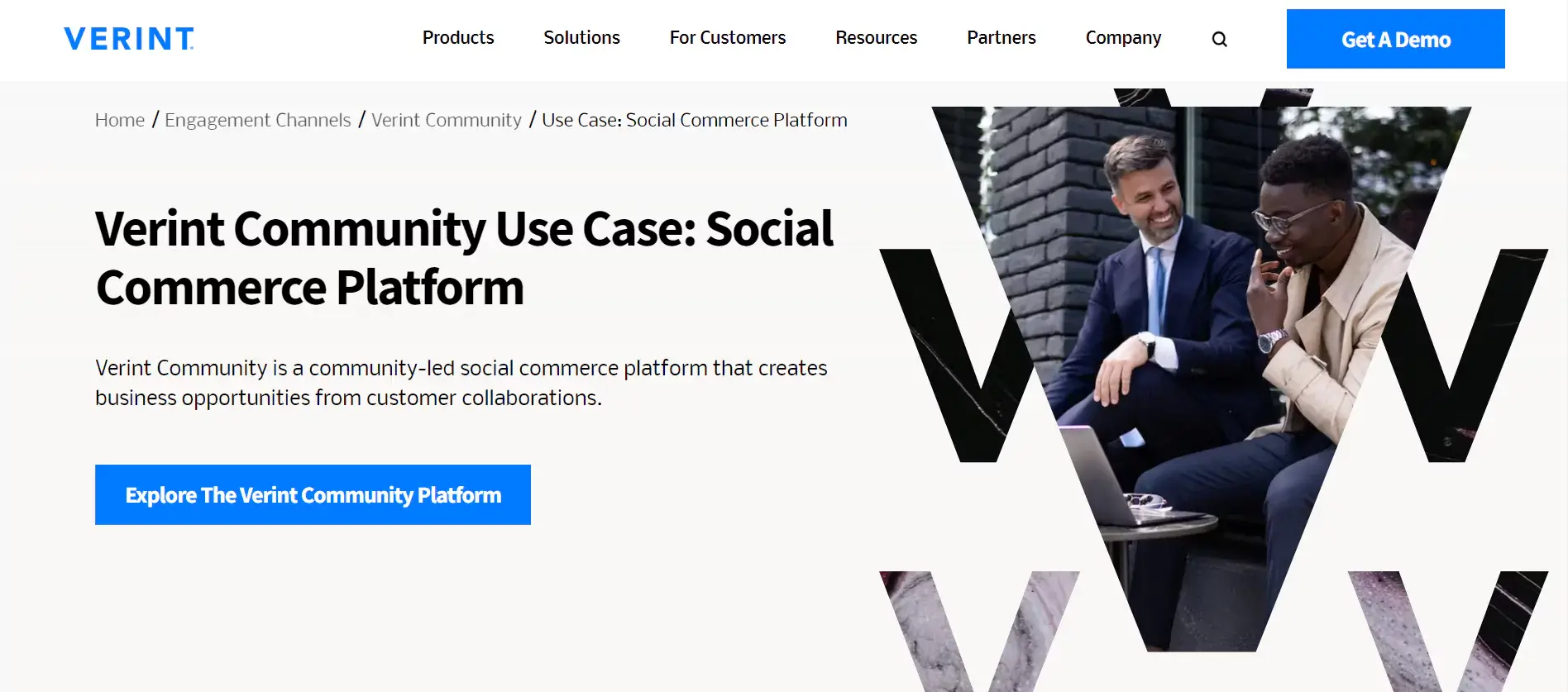 Having a fully customized discussion forum, Verint helps to close the gap between businesses and their customers with real-life experiences and one-on-one conversations. Therefore, it leads to increased brand trust and organic conversions.
What are the benefits of Social Commerce platforms?
Thanks to their advanced and robust features, social commerce platforms have many advantages. Below are just a few of them.
Have a broad range of customers
The first advantage of Social Commerce platforms is that it helps brands gain a long list of potentially loyal customers.
We all know that Social Commerce is the perfect mix of social media and eCommerce. Moreover, the number of active users using social media is nearly 4 billion, and it is increasing significantly. So, when a business appears on a Social Commerce platform, its target customers are already there. The only concern of that business is how to deliver the best content to the audiences to win their hearts and wallets. With the use of accurate keywords and hashtags, customers can quickly get to know you while interacting with other brands like yours. Consequently, it results in a steady expansion of customers.
Help brands to be trusted
One of the most critical factors for the success of a business is gaining customers' trust and loyalty. Once you have customer loyalty, shoppers will come back and make other purchases, as well as invite their friends to join their shopping experiences. From there, your sales will increase significantly.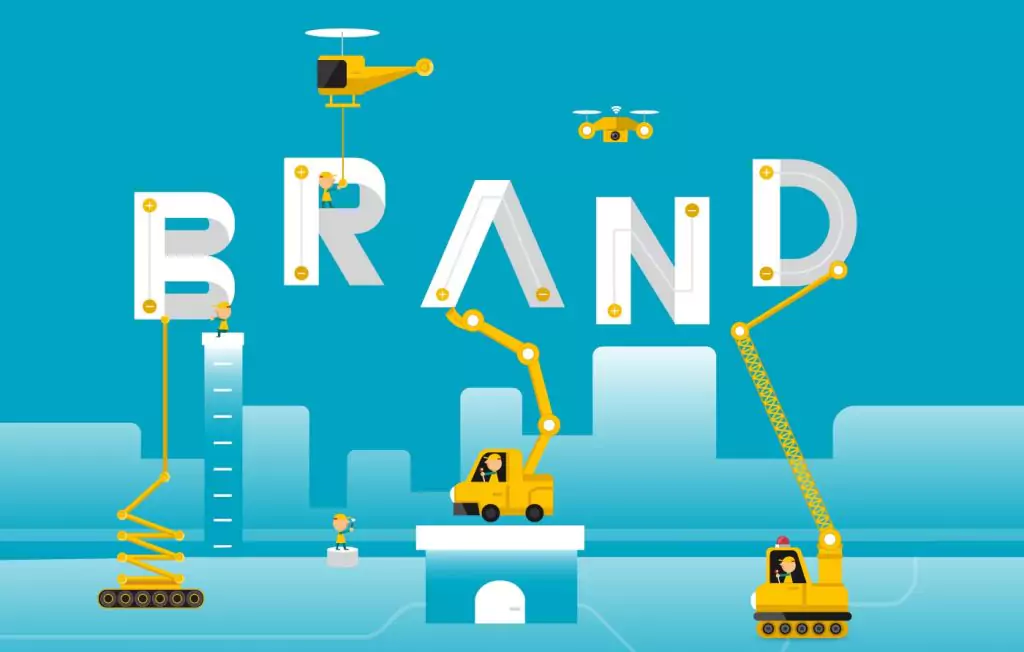 When talking about gaining trust, 92% of buyers now no longer trust brands' content but believe in User-Generated Content (UGC). Fortunately, Social Commerce platforms allow businesses to utilize UGC, and you can post UGC as a shoppable post.
Help to boost engagement with higher traffic
There are three main parameters that social media has, including likes, comments, and shares, which allow customers to engage with their preferred brands. Therefore, Social Commerce platforms are the ideal places to boost engagement and earn authentic traffic.
Social Commerce offers a wonderful and seamless shopping journey besides socializing. In other words, customers can engage with businesses' posts, make purchases, and recommend to their friends if they have experienced a great online shopping time. Moreover, it helps the brands to come closer to buyers in case they have any inquiries. Customers do not have to wait for a whole day to receive answers through emails; they can simply leave a message on the Social Commerce platform and get replies in no time.
Final Words
In a nutshell, social commerce platforms are becoming more and more dominant thanks to their advantages. Hopefully, this blog will help you widen your perspective on Social Commerce platforms so that you can choose the best ones for your business. If you'd like to receive more of our similar updates, please subscribe to our newsletter right below!