About Smartnet
Founded in 2015, Smartnet specializes in providing financial and insurance services, including referrals, credit counseling, and insurance. The company holds an ambition to become one of the 10 leading financial solution providers in Vietnam by 2020.
With the booming of eCommerce in Vietnam, fintech companies in the countries have also witnessed exponential growth. As of 2020, Smartnet owns a wide range of kiosks across 48 provinces and cities of Vietnam.
In May 2019, Smartnet launched SmartPay e-wallet to help users easily manage their cash flow from their mobile devices. SmartPay has since acquired over 200,000 users and 3,000 merchants across Vietnam.

Working closely with Magenest as a strategic technology partner, Smartnet was to upgrade its digital infrastructure to offer a better customer experience. Magenest is a leading technology solutions provider in the region. We are partners with big names in the field of information technology such as Magento, Odoo, Salesforce, and AWS.
A new platform to manage SmartPay
Prior to working with us, Smartnet had multiple systems to handle different processes and operations, the data is disconnected and difficult to manage. Acknowledging this problem, Smartnet wanted a singular platform to centralize all of its data from Smartpay and to build a more productive workflow.
The system needed to manage a huge amount of data to keep merchant and transaction management on track. The number of merchants and QR codes was exceptional, up to several hundred thousand, requiring our team to optimize the infrastructure and algorithms to ensure there was no congestion when too many users accessed the system at once. Besides, the back-end interface also needed to be familiar and user-friendly for the current managing team at Smartnet.
Centralized management with Magento Commerce
Advanced functionalities atop Magento back-end
Based on the requirements, Magenest decided to use Magento 2 as the foundation for the new website. The back-end interface of Magento 2 would be used as the portal for administrators to manage merchants, users, QR codes and promotions. Magento 2 EE was the perfect fit because it could handle the rigor database structure and had most of the necessary functionality available right out of the box.
Our main focus is working on the QR code and merchant management. Each merchant would have a unique QR code automatically generated. Merchants' attributes could be modified directly on the website or through the application via APIs. These features required a comprehensive API system to interact well with other service layers in SmartPay.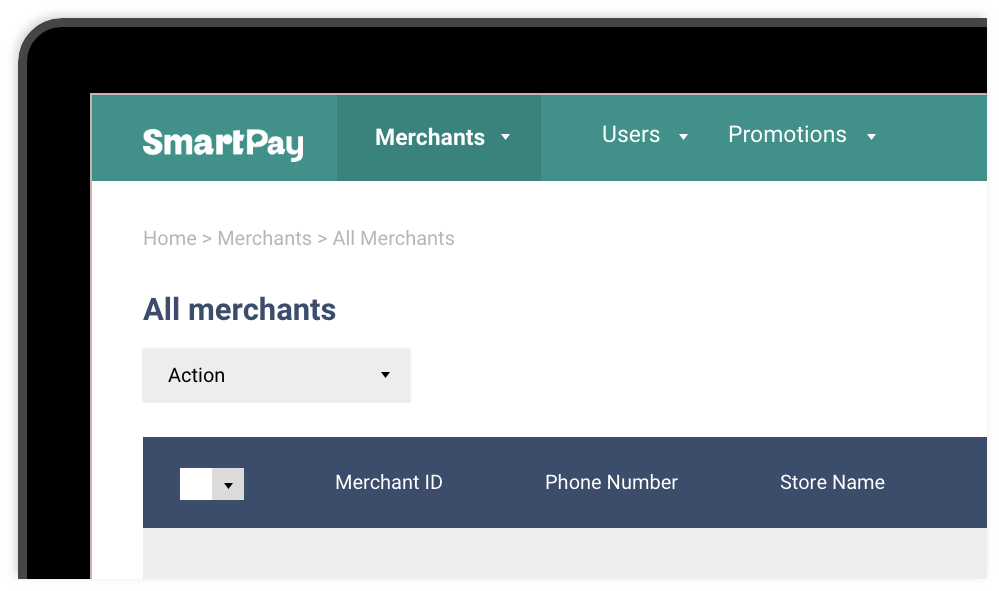 Within the new Magento 2 system, admins can:
Merchant management: View, edit, approve or reject requests by merchants.
User management: View, add, edit and delete users or groups of users. Smartnet requires strict decentralization of activities and data that users can access.
QR code management: View, add and report on each code. They can also create QR codes corresponding with each partner.
Promotion management: Add, edit and delete promotions as well as distribute vouchers to user accounts.
Manage all transactions and refunds.
We also made changes to the default Magento 2 Reporting feature to meet Smartnet's management needs.
Aside from the pricing rules available in Magento 2, we developed many other promotion rules specific to e-wallets such as customer segmentation (for beneficiaries) and voucher distribution.
Services
Business consultancy
Project management
System deployment
Documentation, on-site training
Post-launch maintenance
The results
This project is a stepping stone for Smartnet to prepare for the next advancements. With the successful application of Magento 2, the Smartnet system and SmartPay e-wallet have been put into stable operation. The choice to focus on a single platform minimized the use of multiple systems to operate. User feedback was extremely positive: The new system offered a much better experience and efficient operation functions.