Trung Nguyen needs no introduction. Established in 1996 by Mr Dang Le Nguyen Vu, Trung Nguyen quickly became the biggest coffee brand in Vietnam. Throughout the years, the brand has launched successful product lines: Trung Nguyên, Trung Nguyên Legend or G7. These delicious coffee products have been imported to more than 80 countries all over the world. Thanks to Trung Nguyen, Vietnamese coffee has reached new heights.
With the rising trend of eCommerce, Trung Nguyen hopes to bring its coffee products to more and more consumers. To make this vision come true, Trung Nguyen has built an online space named Coffee Hypermarket for coffee lovers to find high-quality coffee products, explore advanced coffee machines, for businesses to learn about its franchising & licensing, bartending & management training.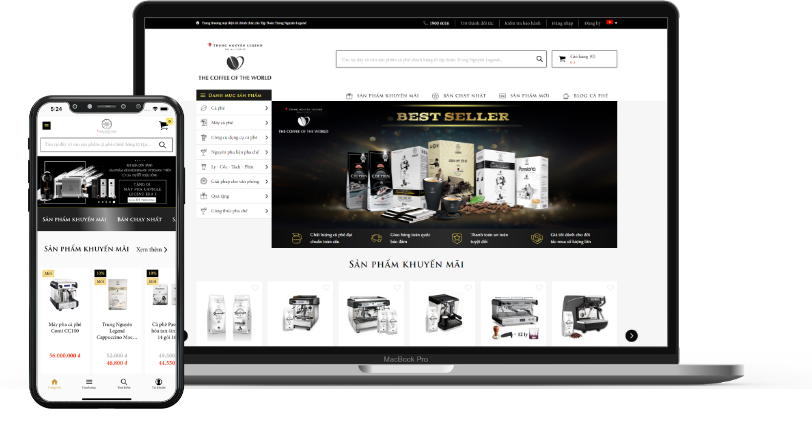 In order to deliver the best online shopping experience for customers as well as effectively manage its database, Trung Nguyen has cooperated with Magenest to build and develop a coffee-expertise online ecosystem. Magenest with the more than 7 years of experience guarantees that Trung Nguyen will have a smooth transition to a more advanced eCommerce system.

Right from the beginning, Trung Nguyen has chosen Magento to base their website. Magento is the number one open-source eCommerce platform in the world; it has powered the growth of giant names such as Nike or CocaCola. At the end of June 2020, the Magento team will ended all support for Magento 1. This was a huge challenge for the future sustainability of the system.

Moreover, the current interface doesn't create the best user journey, which leads to difficulties in expanding customers group and running new business models. Trung Nguyen also wants information from nation-wide physical stores to be synced directly to the online system for better management. All stages should be co-ordinated seamlessly from receiving orders to shipping and customer services.
TECHNOLOGY TRANSFORMS TRUNG NGUYEN'S SELLING PROCESS
Upgrade from Magento to Magento 2
Magenest safely migrates all Trung Nguyen data to Magento 2: Data structure, categories, orders (including reports and saved orders) as well as customer information.
Data transparency across platforms
To omnichannel management as the business grows, we integrated the Magento 2 system with Trung Nguyen's existing SAP HANA ERP and POS system. Inventory, customer and sales data will be synchronized between these platforms at all time.
Custom development & integration on Magento 2
To simplify the buying process of Trung Nguyen, Magenest has integrated various useful features into the new system:
Integrate Google Maps to help customers navigate to outlets.
Custom email templates and email marketing through Mailchimp.
Apply different promotions to unique customers and groups.
Order management system and subscriptions.
Connect with Vietnamese payment gateways and carriers: Alepay and ViettelPost.
Enabling new business models
Not just built for the casual consumer, Coffee Hypermarket also acts as a hub to offer licensing and franchising with retailers and restaurants, where businesses can apply to be a Trung Nguyen partner. Developed B2B features include:
Registration approval
Quick order, save and re-order
Business account management
Separate discount policies for each product.
Affiliate program
Native mobile application for iOS and Android
Trung Nguyen mobile app is built to serve the needs of B2C customers. Visitors can easily order, pay and follow the buying process.
System hosted on Amazon Web Services
With an interconnected system of platforms and growing 10,000 SKUs, Amazon Web Services is the perfect solution that ensures stability, scalability and optimized cost.
Re-thinking the user experience
We also design a new storefront for a better shopping experience while retaining the core design principles by Trung Nguyen. Supporting both Vietnamese and English, the website is suitable for both national and international customers of Trung Nguyen.
Enabling long-term success
With the new system in place, digital sales from Coffee Hypermarket has increased drastically. This success is the collective result of improving the shopping experience and expanding business models. Managing data becomes much easier thanks to Magento 2: Orders are managed seamlessly, customers info are systematically organized and promotions are flexibly applied. Online-to-offline operates smoothly through the POS integration. Trung Nguyen can also expand their influence and market share thanks to direct integration of partnership applications on the website. The new workflow targets not only individual customers but also other companies and brands. Trung Nguyen can shorten the paperwork process while spending more time on evaluating new opportunities and partnerships.