OpenAsia has long been a pioneer in the business of premium goods and services in Vietnam. Founded in the 1990s, OpenAsia began its business journey as an investing and financial advisory company for more than 600 domestic and international enterprises, namely Vinamilk, Metro Cash&Carry, and Satra. 
In recent years, the corporation has expanded itself with numerous different business strategies and started to invest in up to 7 separate niches: luxury goods, airline equipment, technology, tourism, Vietnamese handcrafts, and investment advisory services.
With the Tam Son Fashion subsidiary, OpenAsia has become one of the biggest luxury clothing distributors in Vietnam, offering products from international brands like Hermès, Saint Laurent, Kenzo, Sandro, Maje, etc.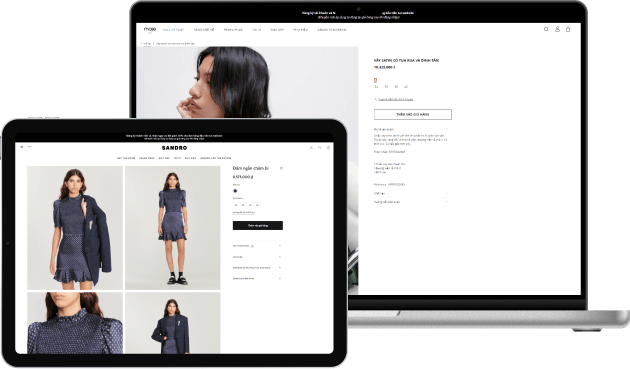 THE CHALLENGE & EXPECTATION
With the aim of building a modern and luxury living complex, as well as efficiently approaching and satisfying customers' desires and expectations, the corporation's decision is to invest in an eCommerce platform synchronized with existing sales channels. If the investment works, then it will bring a tremendous amount of value to the company, including but not limited to optimizing the business operations, increasing the brand value, and offering a seamless shopping experience to customers.
In the first steps, OpenAsia wants to experience the new eCommerce system in the domestic market with Maje and Sandro – two fashion brands featuring the beauty of Paris lifestyle. With two different brands, OpenAsia needs two separate websites that can be both managed by just one system only. Besides the obviously required features like product administration, managing orders, managing marketing campaigns, etc, the system has to be customizable and expandable to fit with the scaling plan of OpenAsia. Thus, the Adobe Commerce solution has been chosen due to its open-source structure that allows easy scalability and integrations.
building a multi-website system with #1 eCommerce platform
Multi-website structure in one Adobe Commerce system
With the mentioned aim, OpenAsia, Tam Son subsidiary, and Magenest have worked tirelessly together to build the eCommerce solution needed, starting with two different websites, each for Sandro and Maje brand, to showcase the unique beauty of each brand. Each website features its own UI design, specifically built to fit the target customers to maximize the user experience.

By managing multi brands on one system, admins now have easier control over data, since all types of data are managed, stored and synchronized continuously. Adobe Commerce can handle all of these as it offers support for unlimited websites. With one backend for both websites, admins can easily edit the web content, analyze customer behaviors, execute marketing campaigns, and manage loyal and potential customers. Scalability is also not a problem, as the open-source structure offers possibilities for building more websites on the same backend.
OpenAsia is using S Platform ERP system to utilize all the business processes and activities. With the business analysis from Magenest, our advisory is to integrate the existing ERP system into the Adobe Commerce system for the maximum efficiency of synchronization between the two systems. This is highly beneficial for both clients and administrators. Customers can now update the latest status of their orders and wishlist as soon as there are changes, thus naturally boosting the sale and customer satisfaction level.

For administrators, there is total control of data in both systems now. The automated synchronization makes sure that the data on the Adobe Commerce and S Platform will always be the same, and any data changes in one system will be synchronized to the other in real time. There are no data errors, losses or duplicates, and there is no need for any manual effort anymore, thus boosting the efficiency of marketing, customer service, and business activities. Inventory updates are also synchronized between both systems, so the decision-making process becomes much easier, with higher accuracy.
Order fulfillment with Delivery Solution and Payment Gateway Integration
For the utmost level of the order management process, Magenest has deployed integration for the new eCommerce system with VIPPOST shipment partner and VNPay payment gateway. The bills from the payment gateway and the statuses of orders will also be automatically synchronized to the backend in real time, saving up time and effort for admins.
Optimizing marketing activities and user experience
With experience from countless eCommerce projects, Magenest provided OpenAsia with advice about email marketing, content creation to promote special collections, sale-off campaigns running, and search engine optimizing on their websites. The feature allowing customers to log in via popular social media accounts is also integrated into the system for easier signup processes and product information sharing.
a unified multi-website system
After going live, the two websites for Maje and Sandro brands become where Vietnamese fashion lovers can quickly get updated about the latest trends and products, as well as easily make a purchase within a few clicks. The monthly traffic of each website reaches an average increase of 30% every month.
All information on orders, products, marketing campaigns and customers from both websites has been synchronized and updated in real time in one management system. It is much more convenient for the admin to manage the two online stores at the same time. With OpenAsia Group and Tam Son Fashion, this could be a stepping stone for their expansion towards online shopping channels, with the aim to deliver a seamless omnichannel experience to customers.