In the bustling landscape of eCommerce, selecting the right platform for your online store is paramount to your success. Shopify, with its user-friendly interface and powerful eCommerce capabilities, stands out as a popular choice for businesses worldwide. The quest for the perfect Shopify website development company in Thailand has become a pursuit of excellence.
This article delves into the thriving world of eCommerce in Thailand and unveils the top Shopify website development company, poised to propel your online business to new heights.
The Current Landscape of Shopify Development in Thailand
Thailand has witnessed a remarkable surge in eCommerce activity in recent years. With a tech-savvy population and growing internet penetration, the Thai eCommerce market has experienced substantial growth. Online shopping has become the norm, and businesses are racing to establish a strong online presence.
For this time, Shopify has emerged as a preferred platform for businesses looking to establish or enhance their online presence in the Thai market. We can observe this phenomenon in a breeze with the increasing of Shopify development agencies in this region.
These agencies bring a wealth of experience and expertise to the table, offering a wide range of services, from Shopify store setup and customization to app integration and ongoing support. They understand the local market's unique needs and preferences and are well-versed in tailoring Shopify solutions accordingly.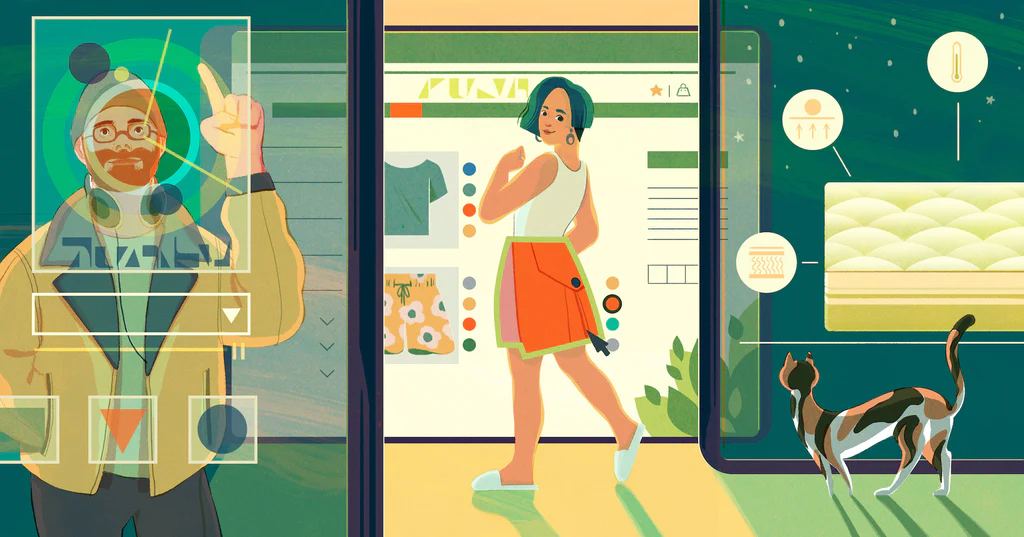 Additionally, freelance Shopify developers have also found a niche in this dynamic landscape. These independent professionals provide a flexible and cost-effective option for businesses, especially startups and small enterprises, seeking to leverage Shopify's capabilities.
Not limited to the technical aspects of website development, these agencies also encompass creative design. They focus on creating visually appealing and user-friendly Shopify stores, understand the significance of a compelling design in attracting and retaining customers, and their services are sought after by businesses aiming for a distinctive online presence.
The competitive nature of the eCommerce landscape in Thailand has led to a high demand for continuous innovation and feature-rich Shopify stores. Shopify developers in Thailand are at the forefront of this trend, constantly exploring new features and functionalities to help businesses stay ahead in the market. This includes offering solutions for mobile commerce, which is gaining significant traction in Thailand.
Top Shopify Website Development Company in Thailand
The quest for the top Shopify website development company in Thailand is an essential journey for businesses seeking to establish a robust online presence in this thriving eCommerce landscape. Amidst the numerous players in the field, we have compiled a list of companies that stand out as a frontrunner in providing top-tier Shopify development services.
KOS Design
KOS Design is a premier Shopify development company in Thailand, dedicated to transforming businesses into thriving eCommerce ventures. Their commitment to excellence and a comprehensive suite of services make them a formidable player in the competitive landscape of Shopify development.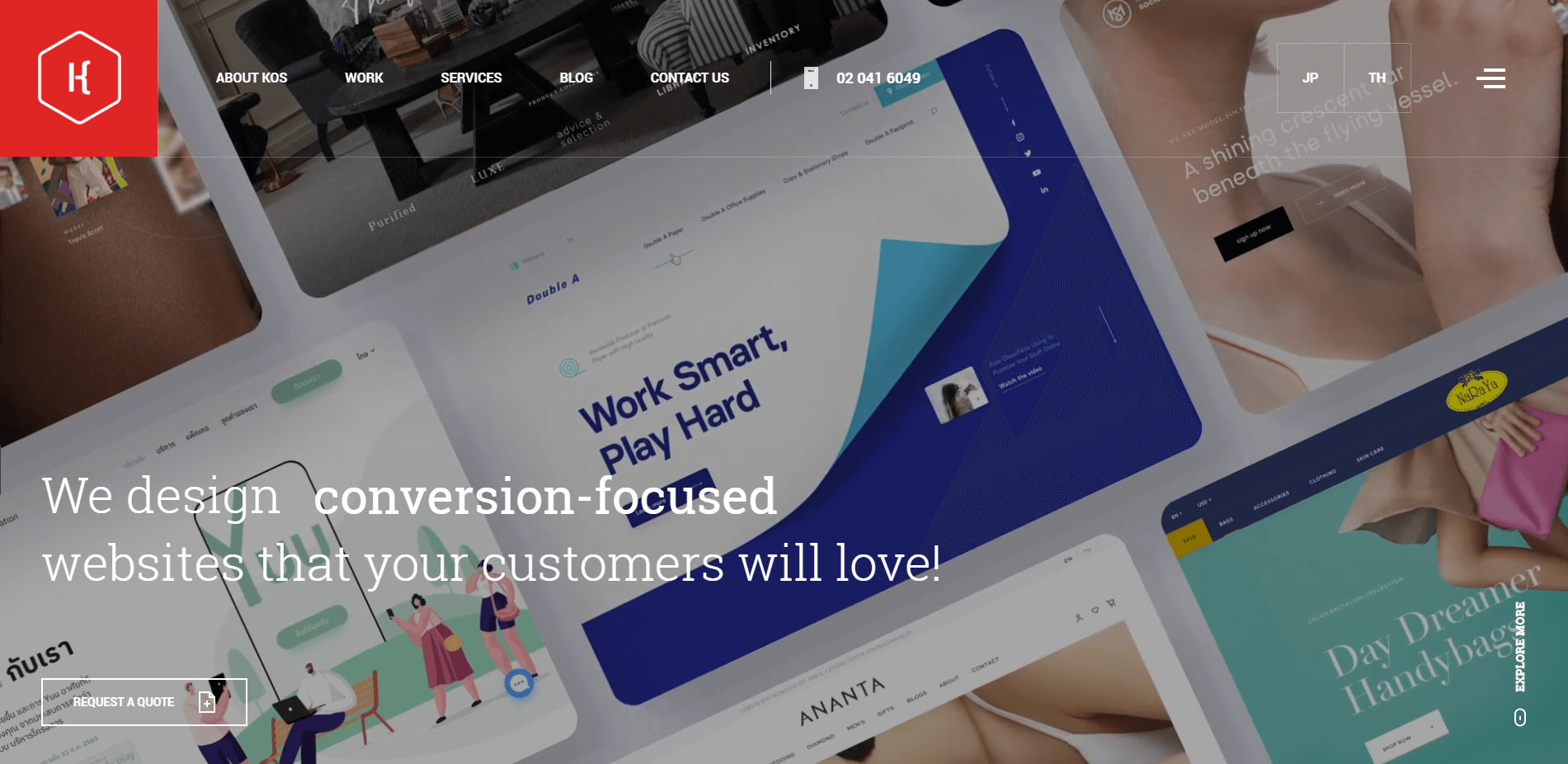 For over 18 years, KOS Design Agency has been at the forefront of web development, leaving an indelible mark in the digital landscape. With a remarkable track record of creating over 1,000 websites, their expertise spans across diverse industries, from local startups to international giants, including renowned names such as Naraya, BDMS, CPF, and BBL Asset Management.
KOS Design is known for providing a holistic range of Shopify development services designed to empower businesses in the digital realm. Their primary services include:
Shopify Store Setup and Customization: KOS Design excels in creating Shopify stores from scratch, tailored to match the unique branding and functional requirements of each client.
Custom Design: KOS Design's creative team can craft a unique and visually appealing design for your Shopify store, ensuring it stands out in a crowded market.
App Integration: For businesses seeking enhanced functionality, KOS Design seamlessly integrates third-party apps into their Shopify stores.
SEO Optimization: KOS Design understands the importance of visibility in the digital age. Their SEO experts optimize Shopify stores for search engines, ensuring higher rankings and increased organic traffic.
Performance Optimization: Page load speed and overall performance are crucial for user satisfaction and SEO rankings. KOS Design optimizes Shopify stores to ensure they load quickly and perform seamlessly, enhancing the customer experience and encouraging higher sales.
KOS Design's success in the Shopify development landscape can be attributed to several key strengths:
A team of highly skilled and experienced Shopify developers.
Multiple years of experience with domestic and international projects
UX/UI design and Mobile application development
Wide range of Shopify Marketing solutions
Lytbox
Lytbox is a Shopify website development company renowned for its unwavering commitment to excellence and innovative solutions. Armed with a proven track record and a dedicated team of professionals, Lytbox has established itself as a trusted ally for businesses aspiring to attain eCommerce success in Thailand.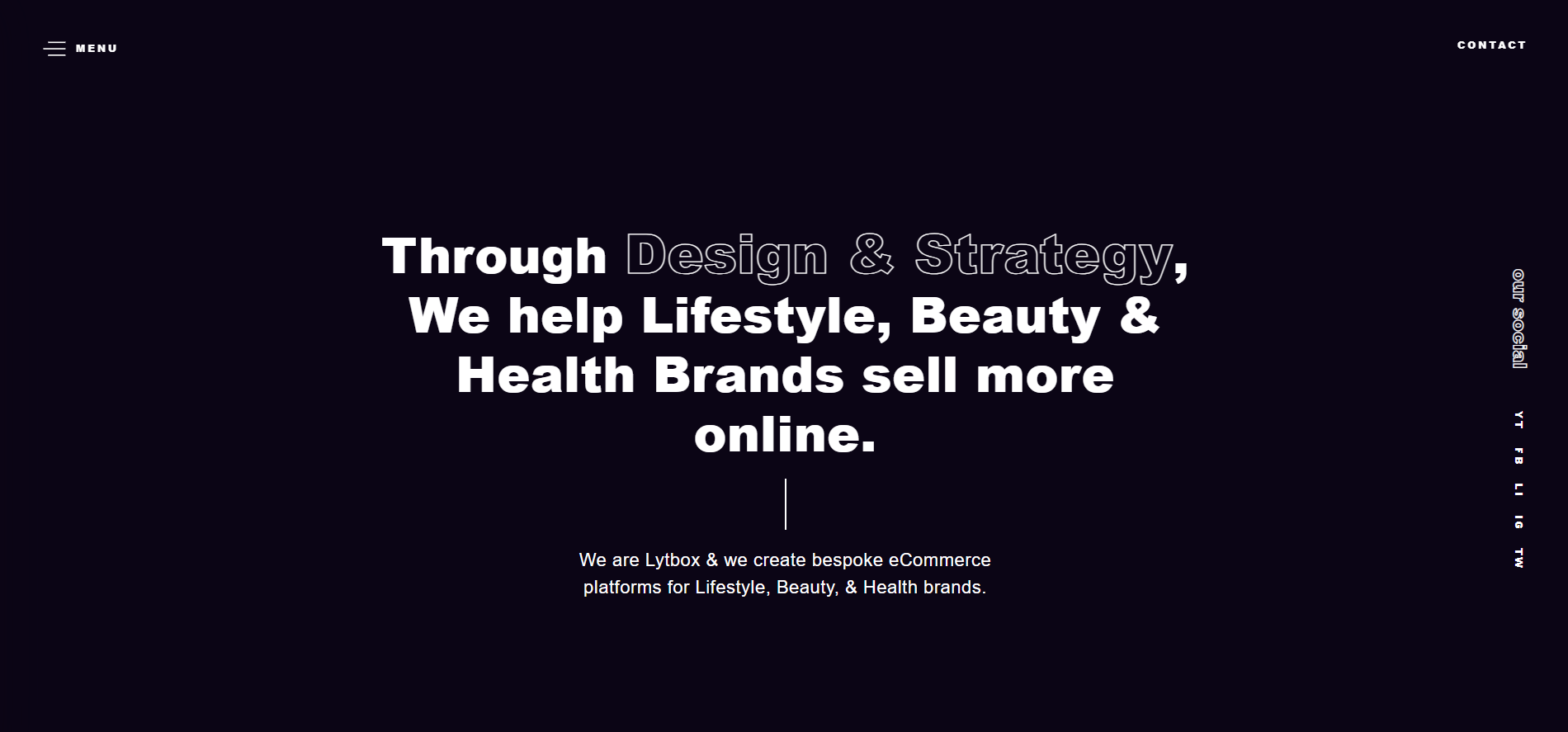 When it comes to website development, Lytbox excels in providing services on renowned platforms, including WordPress, WooCommerce, and Shopify. With a solid track record, Lytbox holds a 4+ year certification as a Shopify Plus partner.
Their primary goal is to deliver fast, secure, and high-performing Shopify websites to cater to the needs of their clients. Their extensive experience with numerous projects, coupled with their nearly 5-star rating on Clutch, solidifies their position as one of the top Shopify development company in Thailand.
Lytbox's range of Shopify development services is designed to empower businesses of all sizes in establishing, improving, and sustaining their online presence. Their services encompass the following key areas:
Shopify store development: Lytbox excels in the art of crafting Shopify stores from the ground up. They understand that a well-structured foundation is essential for long-term eCommerce success.
UX/UI Design: Lytbox recognizes the importance of creating designs that captivate and engage visitors. Their design experts carefully craft visually appealing and intuitive interfaces that make the shopping experience enjoyable for your customers.
Customization and Theming: One of Lytbox's remarkable strengths is its ability to tailor Shopify themes to reflect a client's brand identity and unique needs.
Branding and Strategy: They offer branding and strategic services that help you establish and grow your brand in the digital realm.
Optimization: Lytbox specializes in optimizing Shopify websites to deliver high performance and ensure they rank prominently on search engines.
Lytbox's standing as a Shopify development powerhouse in Thailand is more than just a matter of chance. Their strengths lie in:
Highly skilled and experienced Shopify developers.
A client-centric approach.
Branding and Strategy consulting services
Excellent UX/UI design prowess
Dedicated customer support with reasonable pricing.
Magenest JSC
Established in 2015, Magenest is a Vietnam-based digital solutions provider specializing in a wide array of services, including eCommerce systems, ERP/CRM platforms, Cloud Infrastructure, Digital Marketing, and more. With a vision of becoming a leading eCommerce solutions provider in the APAC region, Magenest has forged strategic partnerships with world-renowned eCommerce platforms such as Magento and Shopify.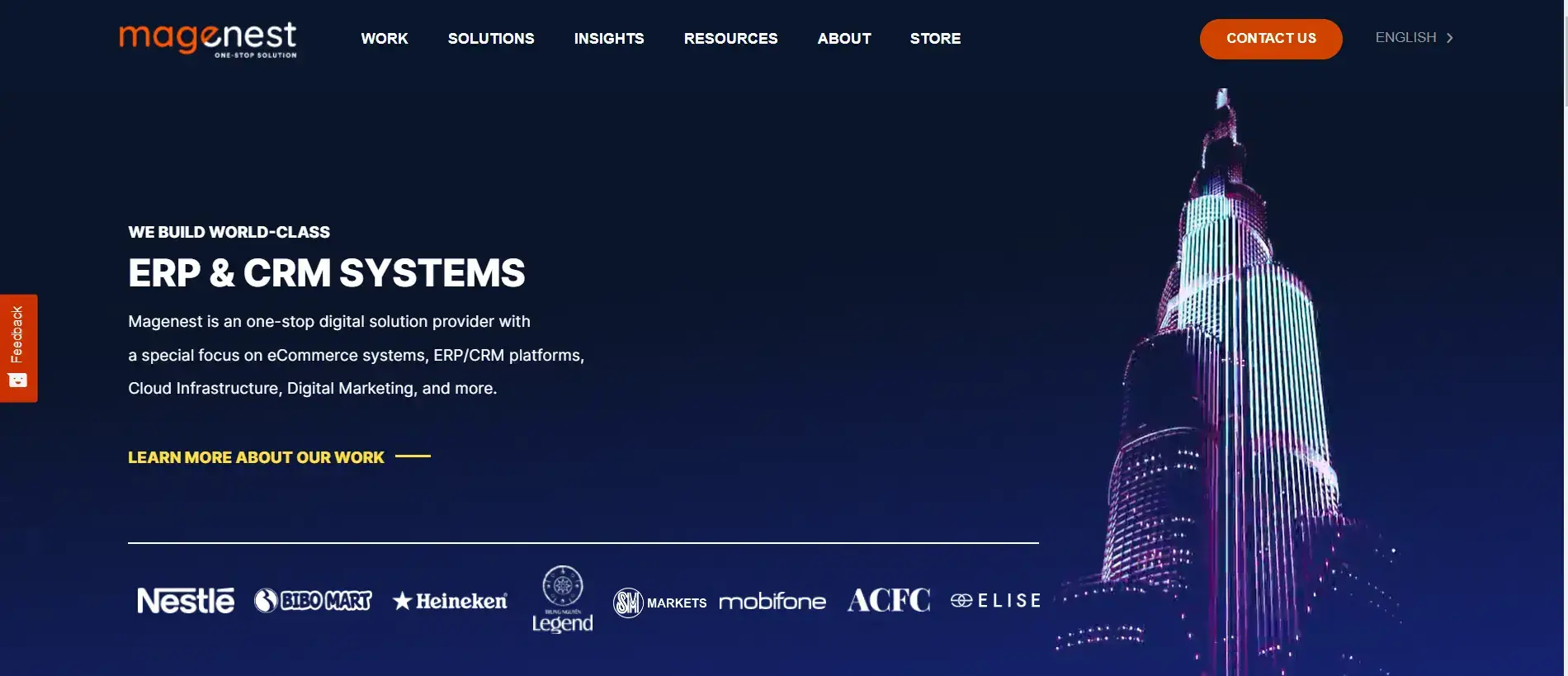 Magenest is a distinguished name in the field of Shopify website development. Their journey is characterized by a relentless commitment to excellence and innovative solutions. With a proven track record and a dedicated team of professionals, Magenest has firmly established itself as a preferred choice for businesses seeking eCommerce success in Thailand.
Magenest boasts a dedicated team of over 50 certified Shopify experts committed to delivering top-tier eCommerce development solutions for businesses of all sizes. Their expertise extends beyond large-scale projects; they also empower Shopify merchants with a portfolio of more than 50 high-quality, bug-free Shopify apps.
Magenest's suite of Shopify development services is designed to empower businesses of all sizes, enabling them to establish, enhance, and sustain a strong online presence. Their comprehensive services encompass a wide range of key areas, including:
Shopify store setup: Magenest understands that each business is unique, and so are its goals and requirements. Their Shopify store setup services are not one-size-fits-all; they are tailored to align perfectly with your vision.
Shopify migration: Whether you're transitioning from another eCommerce platform to Shopify or upgrading your existing Shopify store, Magenest's expertise and precision ensure a seamless and efficient migration process.
Custom theme development: With a team of skilled designers and developers, Magenest crafts tailor-made Shopify themes that not only resonate with your brand's identity but also offer a seamless and intuitive shopping experience for your customers.
Custom app development: Magenest's team of expert developers crafts custom apps tailored to your specific needs, ensuring that your Shopify store not only meets your business requirements but also stands out in terms of performance and user experience.
Optimization and maintenance: They employ strategies to optimize your store's speed, functionality, and SEO, resulting in higher visibility and conversions.
Digital marketing: With this service, your online store gains a competitive edge through targeted marketing campaigns, search engine optimization, social media strategies, and more.
With 8+ years of experience in the field, Magenest's standing as a Shopify development powerhouse in Thailand is bolstered by several key strengths:
A team of certified Shopify experts
Experience in multiple projects through diverse industries and in many regions globally.
Consulting services for identifying and executing tailored digital strategies to meet your unique requirements
Reliable ongoing support and maintenance services
Oustanding UX/UI design that visually captivates your Shopify store appearance.
MAQE
With a deep understanding of the pivotal role that a strong online presence plays in today's business landscape, MAQE emerges as a trusted ally for enterprises navigating Thailand's thriving eCommerce sector.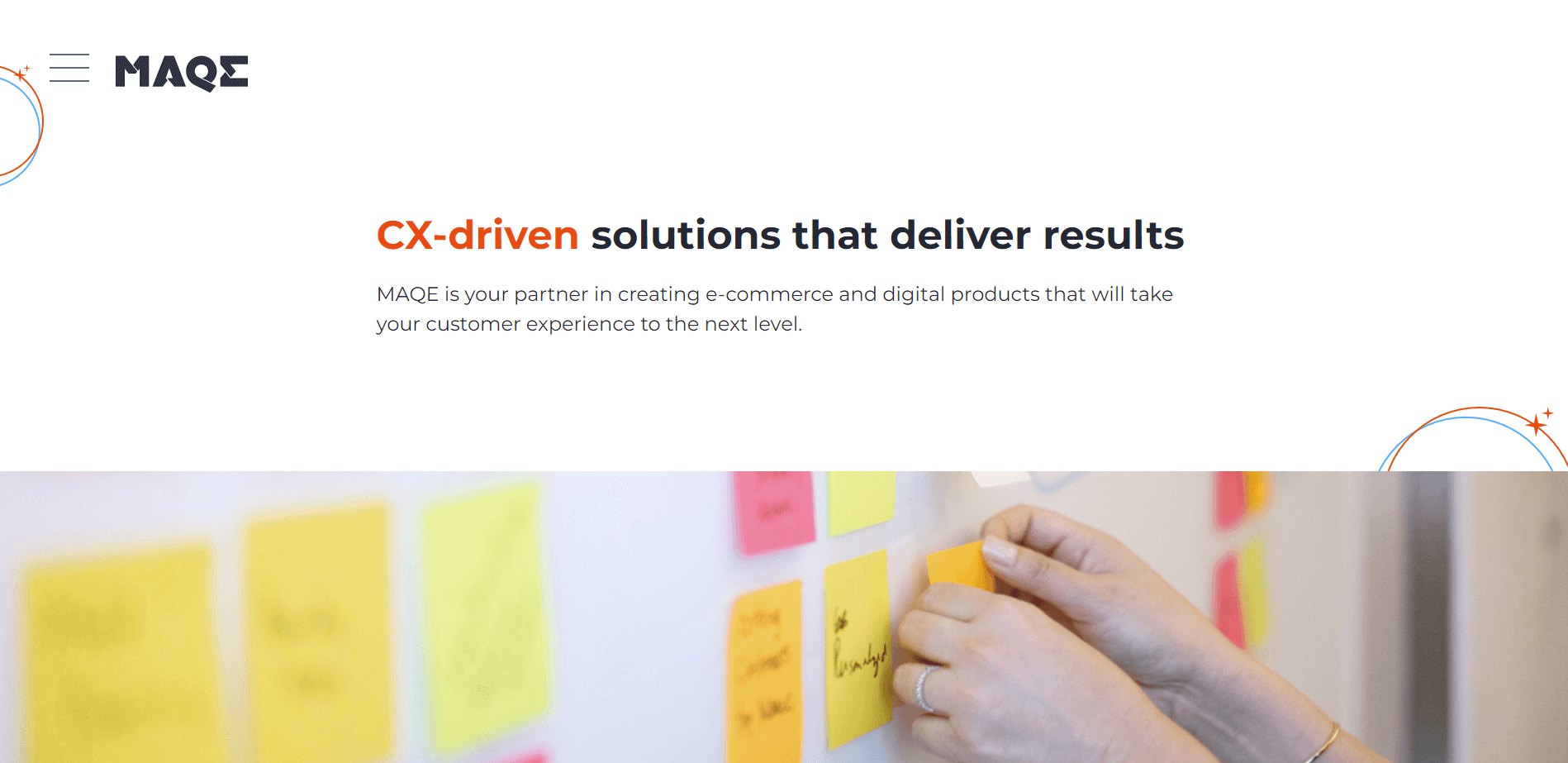 In the realm of Shopify development in Thailand, MAQE stands as an illustrious and renowned name. Their journey is characterized by an unwavering dedication to excellence and the delivery of innovative solutions. Backed by a proven track record and a team of dedicated professionals, MAQE has firmly entrenched itself as the premier choice for businesses in pursuit of eCommerce success in Thailand.
MAQE's comprehensive array of Shopify development services is meticulously crafted to empower businesses of all sizes, equipping them to establish, enhance, and sustain a robust online presence. These services span a diverse range of critical areas, including:
Shopify Store Setup: MAQE excels at creating Shopify stores from the ground up, ensuring they are not only visually appealing but also optimized for performance and scalability.
Customization and Theming: They specialize in tailoring Shopify themes to match your brand's unique identity and requirements, resulting in a visually captivating and user-friendly design.
Mobile Commerce: In response to the growing mobile eCommerce trend, MAQE provides mobile commerce solutions to make your Shopify store fully responsive and optimized for mobile users.
Strategy Consulting: MAQE takes a client-centric approach to strategy consulting. They understand that each business is unique, and cookie-cutter solutions simply won't suffice.
MAQE's well-established position as a leading force in Shopify development in Thailand is no happenstance. Their areas of excellence encompass:
Design Thinking Expertise.
Agile and Lean methodologies.
People-Centric Approach.
Design-Driven Solutions.
100% digital approach.
Jumpstart Commerce
Jumpstart Commerce emerges as a prominent Shopify developer company in Thailand as well as South East Asia, dedicated to providing a comprehensive suite of digital, technology, and operations services to Shopify Plus merchants of all sizes.

With 15 years of invaluable industry experience, a strong regional footprint, and digital prowess in South East Asia, Jumpstart Commerce combines forces with Shopify's robust enterprise eCommerce platform to unlock opportunities that empower Asia Pacific businesses to thrive and expand rapidly.
When it comes to the Shopify website development company in Thailand, Jumpstart Commerce undoubtedly stands out as a top contender. Their reputation as a reliable partner for businesses seeking to enhance their online presence is well-deserved.
Jumpstart Commerce offers a spectrum of services that are designed to not only meet but exceed your expectations. Some of their highlighted services that are bound to pique your interest include:
eCommerce Strategy: They craft comprehensive eCommerce strategies that encompass business objectives, functional aspects, and technical considerations.
UX Design and Development: Jumpstart Commerce excels in creating visually captivating and user-friendly designs that engage and captivate your customers.
Audit and Optimization Strategy: Jumpstart Commerce conducts meticulous audits and formulates optimization strategies that cover everything from performance improvements to user experience enhancements.
App Integrations: Jumpstart Commerce is adept at seamlessly integrating custom solutions to enhance your Shopify store's functionality.
Automation with Shopify Flow: Jumpstart Commerce leverages Shopify Flow to automate critical aspects of your online business, streamlining operations and improving overall efficiency.
Jumpstart Commerce's multifaceted strength makes it a reliable and capable partner for businesses seeking to excel in the competitive world of eCommerce:
Extensive Industry Experience
Shopify Expertise
Strategic Approach
User-Centric Design
Efficiency Through Automation
aCommerce
Based in Thailand, aCommerce stands as the largest eCommerce enablement platform and solutions provider in Southeast Asia. Established in June 2013, aCommerce offers a comprehensive end-to-end suite of eCommerce technologies and solutions that encompass Omni-channel retail, performance marketing, unified data analytics, channel management, website development and operations, content production, warehousing, order fulfillment, delivery, and localized customer care.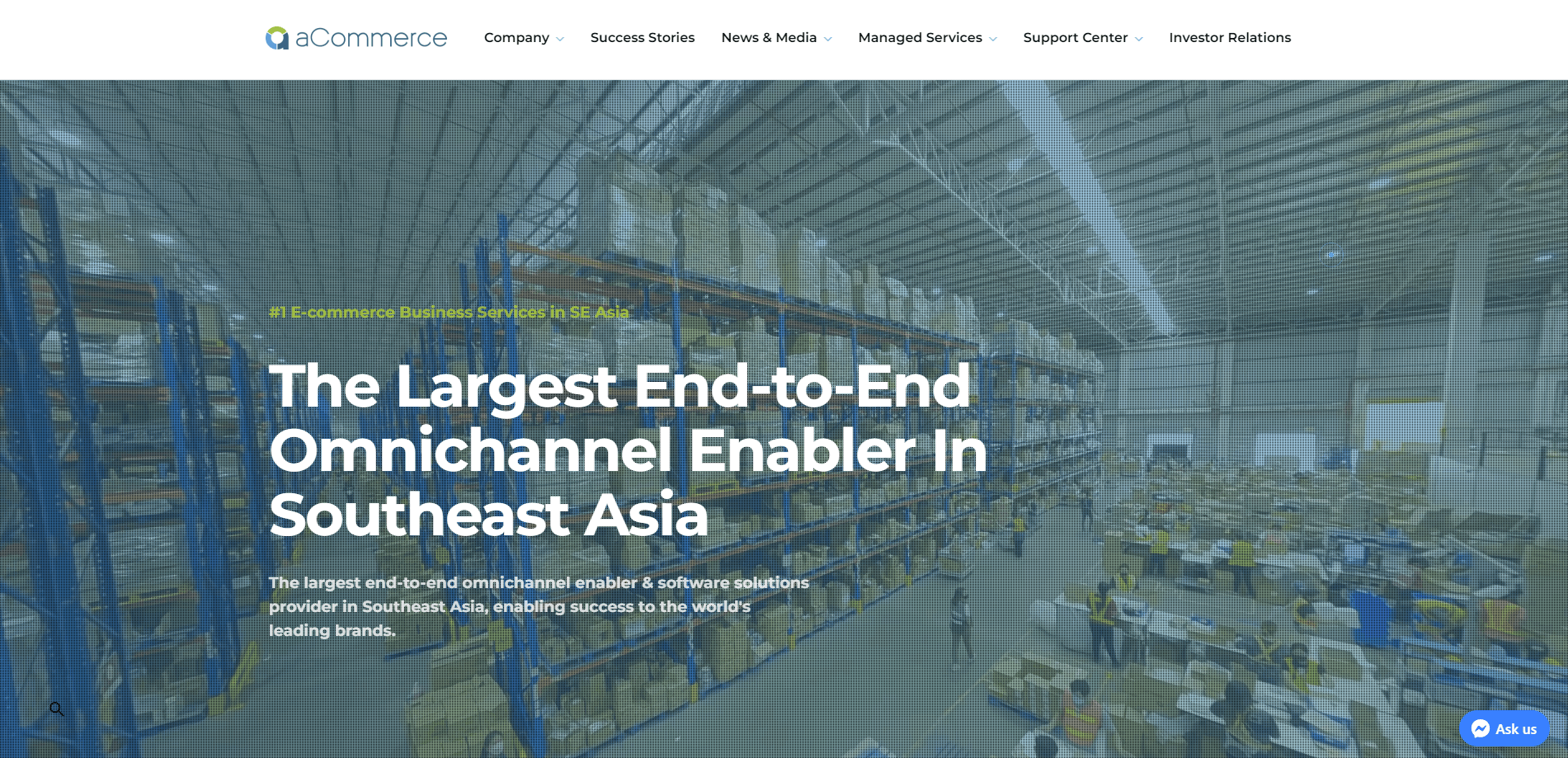 In the realm of Shopify website development company in Thailand, aCommerce emerges as a prominent and trusted name. Their reputation is well-earned, and they offer a range of services designed to cater to businesses seeking to enhance their eCommerce presence. Some of the highlighted services aCommerce provides include:
Website UX Design and Development: aCommerce excels in creating visually appealing and user-friendly website designs, enhancing the overall shopping experience for customers, and improving user engagement.
eCommerce Strategy: Their expertise extends to the strategic planning of eCommerce businesses, covering various aspects, including business objectives, functional considerations, and technical aspects to ensure a holistic strategy.
Retail Strategy and Activations: aCommerce offers strategic insights and activations for retail businesses, helping them to succeed in the competitive eCommerce market.
Fulfillment Services: Their fulfillment services encompass warehousing, order fulfillment, and delivery, ensuring that businesses can efficiently manage their product supply chain.
International Expansion: aCommerce assists businesses in expanding their eCommerce operations internationally, leveraging their experience in the Southeast Asian market to enable global growth.
aCommerce as your Shopify partner in Thailand can yield numerous advantages:

End-to-End eCommerce Solutions
Regional Dominance
Prominent Shopify Developer Agency
Retail Strategy Expertise
Fulfillment Capabilities
Sierra Group
Within the realm of eCommerce in Thailand, Sierra Group stands as a prominent force, recognized as a leading Shopify expert and partner. Their mission revolves around assisting individuals and businesses of all sizes in launching, optimizing, and maintaining their Shopify stores. From the seed of small startups to the branches of larger retailers, Sierra Group is renowned for its Shopify Web Development prowess.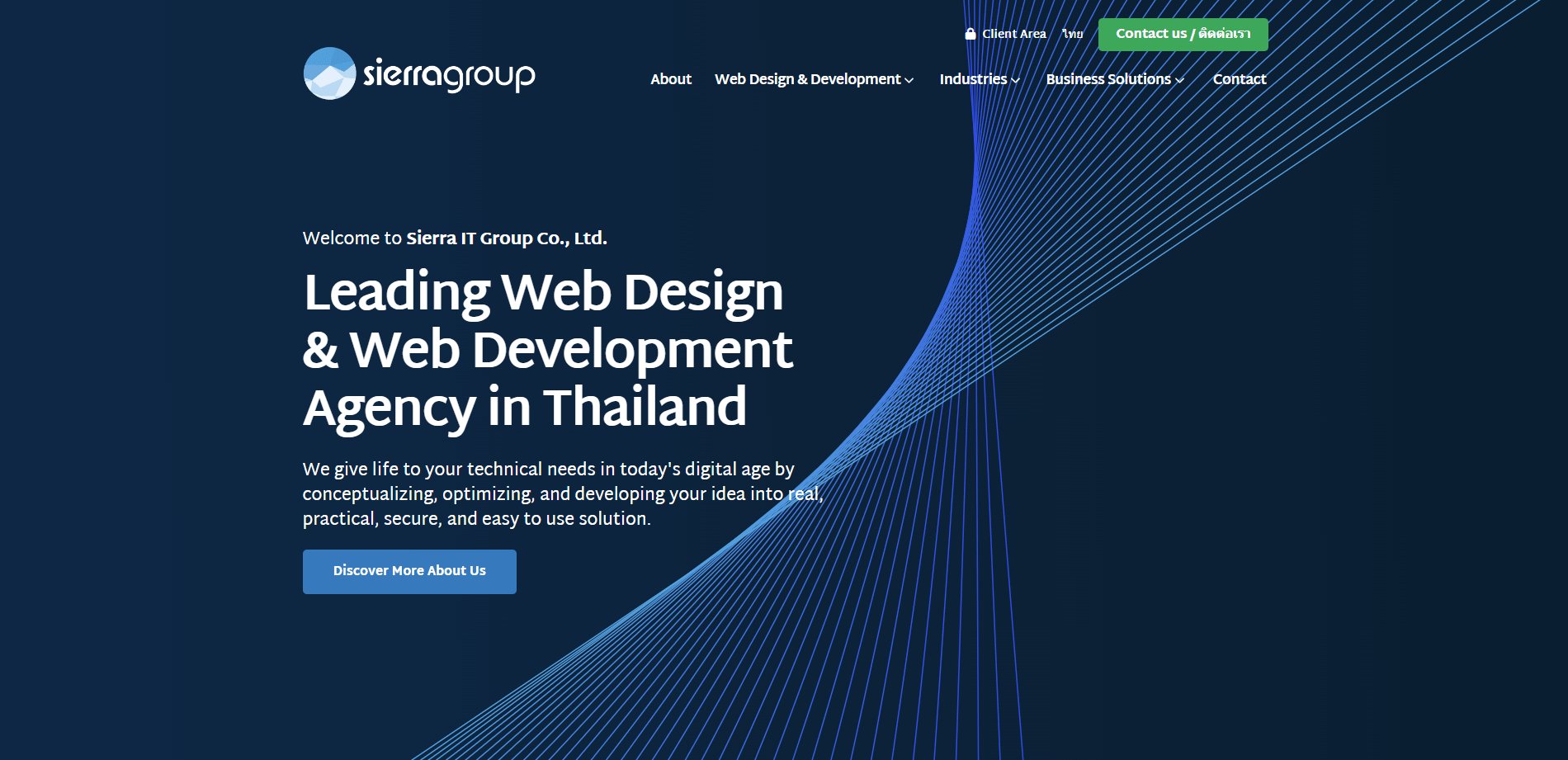 Sierra Group, with its distinguished expertise, ensures that clients can fully harness Shopify's capabilities, offering one of the quickest and most efficient ways to launch an eCommerce website without the financial burden of a custom platform. They are equipped to handle a diverse array of tasks, from minor adjustments to crafting custom themes, implementing integrations, and developing apps. Their comprehensive Shopify services include:
Shopify Optimization: Maximizing the performance and functionality of Shopify stores to ensure seamless and efficient operations.
Mobile-Friendly Solutions: Crafting responsive and mobile-friendly Shopify designs, enhancing the user experience on various devices.
Shopify Theme Design: Leveraging their design expertise to create visually captivating and user-friendly Shopify themes that align with clients' brand identity.
Shopify Migration: Assisting clients in seamlessly transitioning to Shopify from other platforms or upgrading existing Shopify stores to meet evolving needs.
Shopify Support: Offering reliable and ongoing support to address any concerns, troubleshoot issues, and ensure the continued smooth operation of Shopify stores.
When you select Sierra Group as your Shopify partner in Thailand, your business can experience these advantages:
Shopify Expertise and Partnership
Versatility Across Business Sizes
Comprehensive Shopify Services
Mobile-Friendly Design Excellence
Seamless Shopify Migrations
Sphere Agency
In the dynamic landscape of eCommerce, Sphere Agency stands as a catalyst for success. Offering a comprehensive platform equipped with all the essential eCommerce and point-of-sale features, Sphere empowers businesses to embark on their digital journey, sustain their growth, and prosper.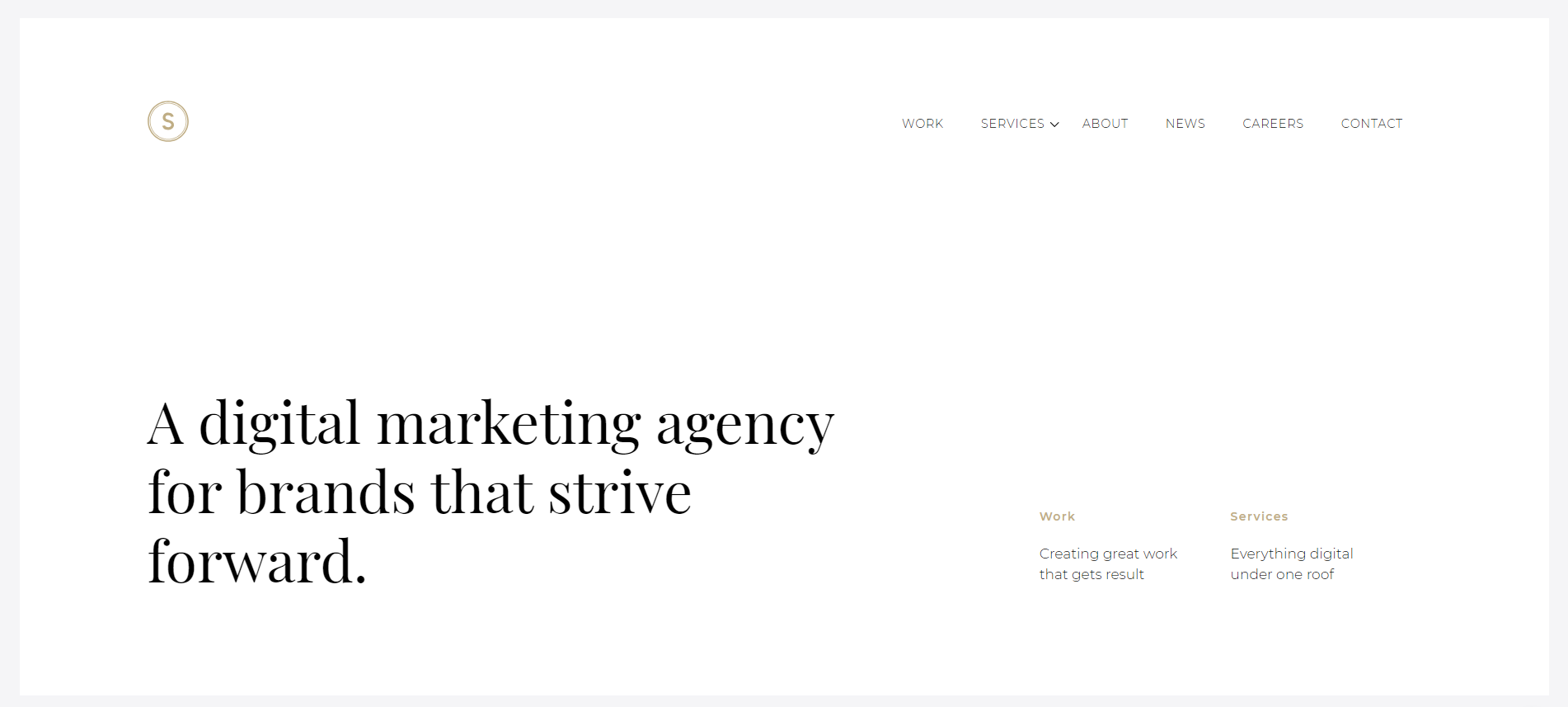 The websites crafted by Sphere Agency are more than just digital storefronts. They seamlessly integrate front-end and back-end functionalities, ensuring the protection of customer information and the efficient management of inventory. This holistic approach optimizes the eCommerce experience, providing a solid foundation for businesses of all sizes.
As a certified Shopify Partner, Sphere Agency's expertise extends to helping brands succeed and scale on the Shopify eCommerce platform. Their focus is on crafting holistic solutions that encompass the full spectrum of eCommerce. From the initial testing phase to the official launch and every decision in between, Sphere Agency's distinguishing features set them apart from the rest.
Security Measures: Their unwavering commitment to security ensures that customer data and transactions are safeguarded, fostering trust and confidence.
User Experience Design: Sphere Agency prioritizes creating user-friendly designs that enhance the overall shopping experience, resulting in higher user engagement and conversions.
User Research + Testing: Their data-driven approach involves rigorous user research and testing, enabling businesses to make informed decisions that resonate with their target audience.
Business Intelligence: Leveraging data analytics, they provide businesses with valuable insights for improved audience engagement, goal completion, and conversion rates.
Content Strategy: Their content strategies are tailored to resonate with the brand's identity, effectively conveying the right message to the right audience.
Shopify SEO Management: Sphere Agency's expertise in SEO management ensures that businesses rank prominently on search engines, driving organic traffic.
Quality Assurance: With meticulous quality assurance processes, they guarantee that the websites they build are error-free, providing a seamless and reliable online shopping experience.
Here are some of the Sphere strengths that your business can benefit from:
Certified Shopify Partner Expertise
Data-Driven Decision Making
Holistic Digital Marketing Approach
User-Centric Design
SEO Management Expertise
Uncompromising Security Measures
Crazy Web Studio
As the sole BOI-promoted company accredited by the Government of Thailand, Crazy Web Studio is a foreign enterprise with a mission to propel the growth of small and medium businesses in Phuket, Thailand, and across the globe. Since its inception in 2015, its dedicated team of website developers, web designers, and web marketing experts has been on a relentless quest to enhance the online presence of businesses.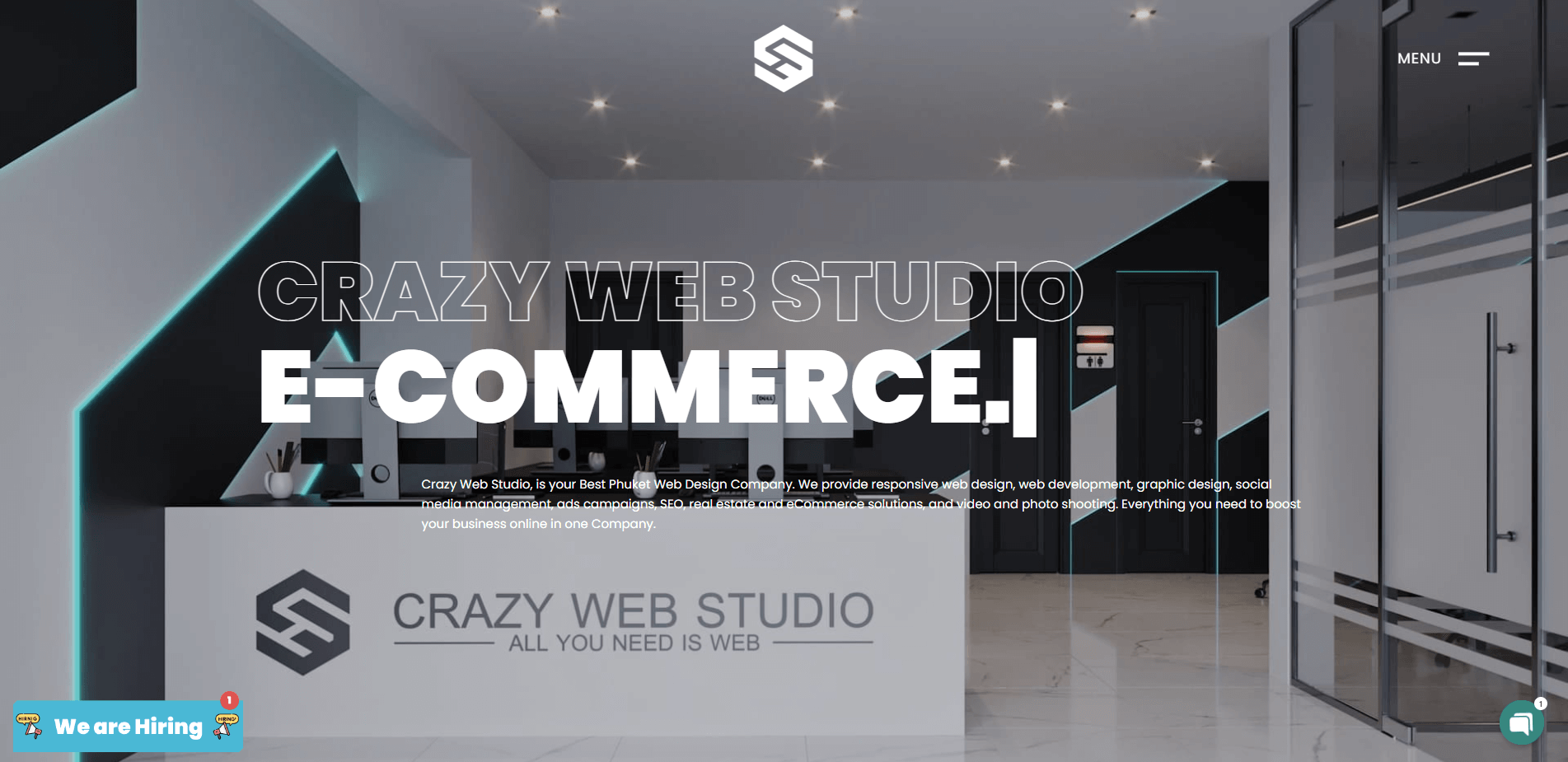 Crazy Web Studio's expertise extends beyond website development; they are seasoned players in the realm of eCommerce. Their expansive range of services encompasses all aspects of eCommerce, from development to strategic consulting. While they offer a variety of platforms, their primary focus is on delivering Shopify and Shopify Plus services, harnessing the power of these robust platforms to drive online success.
With a rich history in the eCommerce arena, Crazy Web Studio proudly holds the title of Shopify Partner, marking more than 4 years of fruitful collaboration with this acclaimed platform. Their team of Shopify experts is committed to providing top-notch Shopify Customization Services, which include:
Product Page (PDP) Template Customization: Tailoring product pages to align with a brand's identity and customer expectations, resulting in a unique and engaging shopping experience.
Shopify Themes Installation: Installing and configuring Shopify themes that resonate with a brand's aesthetics and objectives, ensuring a visually captivating online storefront.
Shopify Apps Configuration and Theme Integration: Leveraging Shopify apps to enhance functionality and user experience, integrating them seamlessly with the chosen theme.
Shopify Themes Migration: Facilitating the smooth transition of themes from one to another, ensuring the continuity of the brand's online presence.
Performance Speed Optimization: Enhancing website speed and performance to deliver an efficient and responsive user experience, contributing to higher customer satisfaction.
On-Page Technical SEO: Applying on-page technical SEO practices to improve search engine visibility and organic traffic.
Crazy Web Studio stands as the most dependable Shopify development partner in Thailand, backed by the following compelling reasons:
Extensive Range of Shopify Services
Comprehensive and Competitive Pricing
Official Shopify Partnership
Diverse Services for Online Business Performance
VTAC Ecommerce
VTAC Ecommerce's proficiency lies in crafting Shopify solutions that redefine the online shopping experience. Their team of seasoned developers and designers is dedicated to delivering customized and user-friendly eCommerce websites that seamlessly integrate front-end and back-end functionalities. These websites not only protect customer information but also optimize inventory management, creating a solid foundation for eCommerce ventures.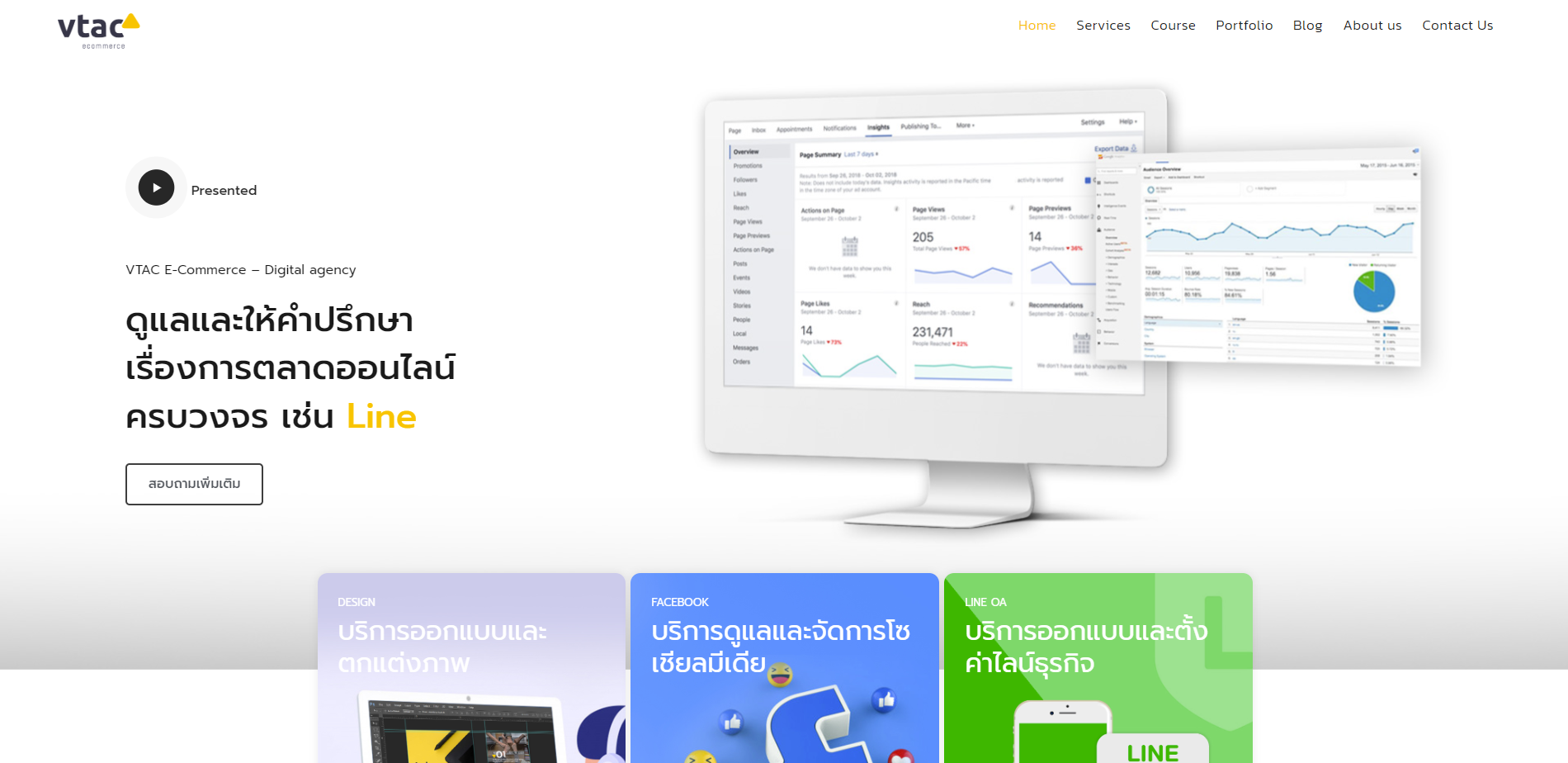 VTAC Ecommerce prides itself on offering an extensive array of Shopify services, designed to meet the diverse needs of businesses in the eCommerce sphere. Their services encompass everything from website development and design to digital marketing and ongoing support. These offerings are tailored to ensure businesses can establish, optimize, and sustain their online presence with ease.
While VTAC Ecommerce excels in delivering comprehensive solutions, it's their attention to smaller services that truly sets them apart. These finer details play a pivotal role in enhancing the overall eCommerce experience:
Custom Theme Development: VTAC Ecommerce specializes in crafting custom Shopify themes that align with a brand's unique identity.
App Integration: With an extensive knowledge of the Shopify ecosystem, they seamlessly integrate essential apps to enhance functionality and user experience.
Optimization Services: VTAC Ecommerce places a strong emphasis on performance optimization. This includes everything from speed optimization for an efficient user experience to conversion rate optimization.
Responsive Design: In an era of multi-device access, VTAC Ecommerce's focus on responsive design ensures that websites function seamlessly on various screens, enhancing the user experience and expanding the reach to a broader audience.
Let's explore some of the key strengths that make VTAC Ecommerce a compelling choice for your consideration:
Comprehensive Range of Shopify Services
Meticulous Attention to Detail
Expert Team with In-Depth Knowledge
Customer-Centric Approach
Proven Track Record of Success
What to Look for in a Shopify Website Development Company in Thailand
When searching for a Shopify website development company in Thailand, there are several critical criteria to consider. Each criterion plays a pivotal role in determining the success of your eCommerce project.
Expertise in Shopify Development
The selected company should possess a deep understanding of the Shopify platform, demonstrating their proficiency in building, customizing, and optimizing Shopify stores. This expertise is crucial in ensuring that your online store is not only visually appealing but also fully functional, secure, and capable of meeting your specific eCommerce needs.
A skilled Shopify development team can bring your eCommerce vision to life and create a user-friendly, high-performing online storefront that stands out in a competitive market.
A Portfolio of Successful Projects
A reliable company should have a track record of completed eCommerce ventures that showcase their capabilities and expertise. Reviewing their portfolio provides valuable insights into their design aesthetics, technical proficiency, and problem-solving abilities.
By assessing their past work, you can gauge whether their style and approach align with your brand's vision. Successful projects in their portfolio demonstrate their ability to deliver high-quality, functional, and visually appealing Shopify stores, instilling confidence in their capacity to execute your eCommerce project effectively.
Shopify Partnership
A Shopify partnership signifies that the company has received an official endorsement from Shopify, indicating their commitment to the platform and their expertise in working with it. This partnership is a strong indicator that the company has met Shopify's standards for quality and service, and it underscores its familiarity with Shopify's features and capabilities.
Choosing a Shopify partner ensures that you're working with a company that has a proven track record in developing and customizing Shopify stores, giving you confidence in their ability to meet your eCommerce needs effectively and efficiently.
Comprehensive Service Offerings
Look for a partner that offers a holistic approach to eCommerce, including services such as design, search engine optimization (SEO), performance optimization, ongoing support, and more.
A comprehensive service package saves you the effort of managing multiple service providers and ensures that all aspects of your online store, from design to functionality, are seamlessly integrated. This approach simplifies the development process and allows for a more cohesive and efficient eCommerce solution.
Client Testimonials and References
By reviewing testimonials from previous clients and seeking references, you can gain a clear understanding of the company's track record. This firsthand feedback will help you assess their reliability, ability to meet deadlines, and the overall experience they provide. When a company can offer positive references and glowing testimonials, it's a strong indicator that they are a trustworthy and dependable partner for your eCommerce project.
Red Flags to Avoid
When searching for a Shopify website development company in Thailand, it's equally important to be aware of potential red flags that may signal a less-than-ideal partnership. Here are some key red flags to watch out for:
Lack of Portfolio: If the company doesn't have a portfolio or is hesitant to show you their past work, it's a sign that they might lack experience or haven't delivered successful projects.
No Transparent Pricing: A lack of transparent pricing or hidden costs can lead to budgetary surprises down the road. Ensure the company provides clear and upfront pricing information.
Limited Testimonials or References: If the company can't provide testimonials or references from past clients, it may indicate a lack of satisfied customers or a reluctance to share their feedback.
Absence of a Clear Contract: A well-defined contract is essential to protect both parties. If the company is unwilling to establish a clear and comprehensive contract, it could lead to misunderstandings or disputes later on.
Inadequate Communication: Poor communication or delays in response to your inquiries can be indicative of a lack of commitment or professionalism.
Overpromising and Underdelivering: Be cautious of companies that promise extraordinary results without a clear strategy or evidence to back them up. Unrealistic promises can lead to disappointment.
In Conclusion,
The vibrant and rapidly growing landscape of eCommerce in Thailand has given rise to a multitude of Shopify website development companies, each vying for your attention. While the options may seem abundant, it's crucial to remember that excellence in this realm requires a unique blend of expertise, experience, and a commitment to your eCommerce success.
Magenest is not only the top Shopify website development company in Thailand, but we also are a strategic partner dedicated to bringing your eCommerce vision to life. Discover our comprehensive Shopify development services to receive advanced consultancy and the most appropriate pricing.