As a marketer or developer, you know how important it is to stay up-to-date on the latest trends in your industry. According to a report by Frost & Sullivan, subscription eCommerce will grow at an annual rate of 34.5% through 2023. That's incredible growth! So if you're thinking of starting or expanding your subscription business, you'll need to choose the right platform. Here are the top 10 best subscription eCommerce platforms for 2023. Keep reading to learn more!
What is Subscription eCommerce?
Subscription eCommerce is a type of eCommerce where the customer subscribes to a product offering Sub processing company that also or service and is billed periodically for that product or service. This type of eCommerce is growing in popularity, as customers appreciate the convenience of having their products or services automatically delivered without having to remember to place new orders.
Top 9 Best Subscription eCommerce Platform
There are many different Subscription eCommerce platforms available, each with its own strengths and weaknesses. Some of the most popular platforms include Magento, WooCommerce, Shopify, Wix, ChargeBee, Square, Cratejoy, Subbly, Sellfy, and Recurly. Each platform has its own advantages and disadvantages; so it's important to choose one that will fit your business needs.
Magento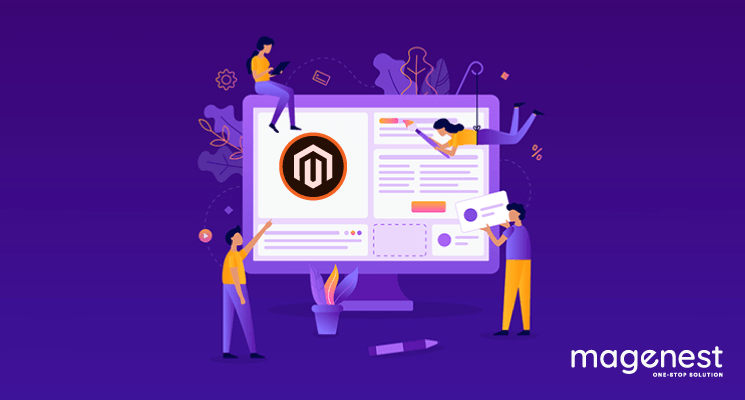 Magento is the best subscription eCommerce platform in 2023. It offers a lot of flexibility and power, making it ideal for larger businesses with more complex needs. With its user-friendly interface, businesses can easily create and manage their subscriptions without any trouble. Magento is also very reliable, meaning businesses can rely on it to keep their subscriptions running smoothly. 
However, Magento can be difficult to learn and use. Like Shopify, Magento does not natively enable subscription sales. To make Magento a subscription-based eCommerce platform, you need to install an extension from Magento Marketplace.
Subscriptions & Recurring Payments is a Magento 2 extension that enables customers to sign up for products and receive automatic payments. Customers will be able to automatically reorder the products between each interval, and a predetermined amount of money will be debited from their accounts
Some standout features
Integrate with Paypal, Stripe, and Authorize.net.
Create different subscription plans and apply those plans to current products.
Configure whether or not consumers can select a start date for their subscription.
Manage and edit all of the customers' and subscription information in one location.
Allow subscribers to suspend, cancel, and renew their subscriptions from the user dashboard.
Offer a free trial time for clients to try your items or services for free.
Make use of a one-time cost while creating subscriptions (only available in Paypal).
Compliance with the PCI DSS (Payment Card Industry Data Security Standard).
Amongst tons of subscription extensions, we would love to recommend you Subscriptions & Recurring Payments by Magenest. With this amazing tool, you can take care of all their needs in one place and never miss out on new subscribers again! It includes everything from easy implementation through refund processing with no hassle whatsoever–and at $249 per license alone (plus another installation fee if they want Magento installed), it won't break any bank accounts either.
WooCommerce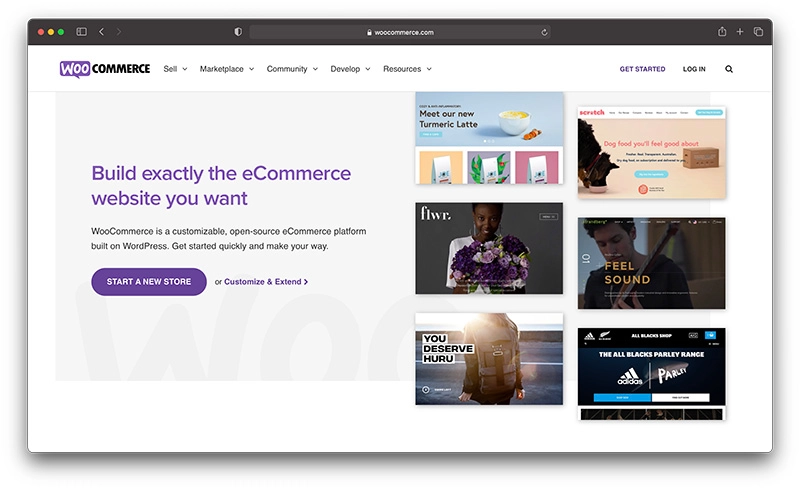 WooCommerce is a popular subscription eCommerce platform that is based on WordPress. It's simple to use and can be set up in minutes, making it a good choice for businesses that want to start selling online quickly and easily. It offers a wide range of features and options that make it easy to set up and manage your subscriptions, as well as provide you with powerful tools to help increase sales and grow your business. With WooCommerce, you can be sure that you're getting the most out of your subscription-based products and services.
With the assistance of these subscription solutions, it will be much easier for you to manage your subscription boxes and keep track of all of your payments. However, WooCommerce may not be as robust as Magento and may not offer all the features that larger businesses need.
Some standout features
Subscription renewals might be charged at various times throughout the month.
Over 25 payment gateways are supported by the plugin.
Automatic email transactional and reminder email templates will be available to customers as well, giving them a variety of subscription options.
A variety of subscription items will be available to customers.
Recharge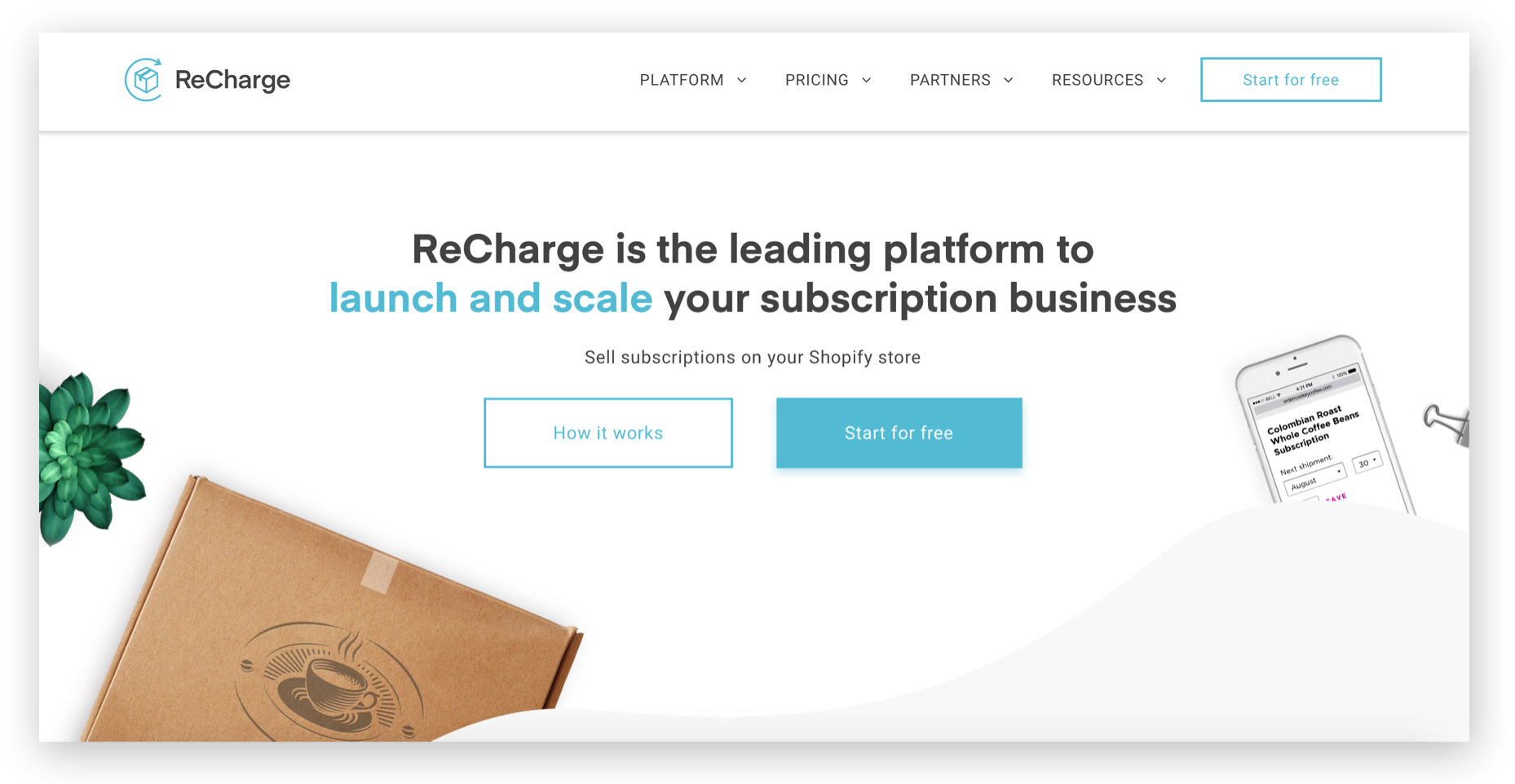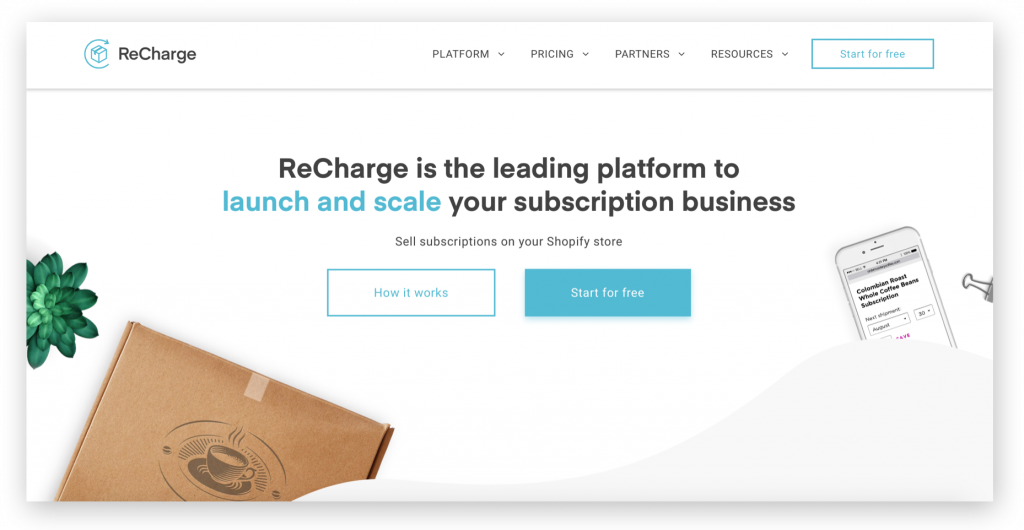 ReCharge is among the apps that integrate quite well with Shopify, and it provides a way for your customers to manage every aspect of their subscriptions. They're connecting the world through their subscriptions, serving over 35 million subscribers in more than 180 countries. With ReCharge's intuitive interface, you can easily set up secure payment pages for billing subscriptions.
Some standout features of Shopify
Subscription management becomes simpler with an automated system that handles everything from order processing and fulfillment to recurring billing.
You can reach more customers in every corner of the world with a powerful international payments platform.
Quickly enable subscription offers so that your businesses can take advantage of this growing sector.
Measure customer lifetime value & customer engagement so that you can optimize your profits
WIX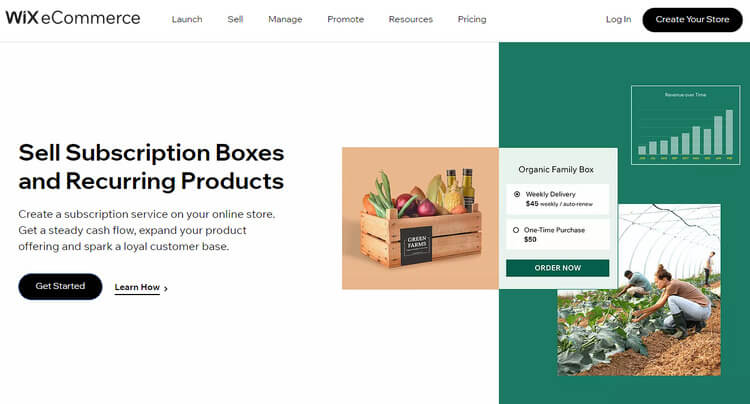 Wix is also the perfect platform for entrepreneurs looking to sell subscription boxes or recurring orders. It's simple to use and requires no coding or technical skills, making it a good option for businesses that want a simple website builder with eCommerce features.
Your customers can choose between one-time purchases, with Wixie charging automatically on a regular basis. In order to sell subscriptions in WIX, you need a new physical product or an existing one that can be edited. There's also a button for Create Subscription which will enable your company's services by giving them access to our platform so they may start providing their clients with this exciting offer!
Some standout features
Get access to pre-built modern subscription service website templates, designed to maximize sales and conversions.
No need to set up your own hosting and deal with security and backups as everything is hosted on the Wix platform.
Use Wix payments or connect to over 50 other payment gateways.
Point of Sale available to sell online and offline with a unified product inventory.
Analytics and reports to monitor and optimize performance.
ChargeBee
ChargeBee is one of the best subscription eCommerce platforms that offer sophisticated subscription management features. It's well-suited for businesses that need detailed reporting tools or wants to offer subscription-based products or services. However, ChargeBee may be too complex for smaller businesses or those that are just starting out.
Charge Bee offers a number of useful features for retailers who want to sell subscription boxes. They integrate with Shopify and Salesforce, which makes it easier than ever before! You can also send newsletters or emails through their Sendgrid integration- this will allow you more control over your list's information while still letting them know about all the newest products available from ChargeBee.
Some standout features
Integrated with 23+ payment gateways.
Different payment methods are available, such as a set charge, pay-as-you-go, or the ability to customize it.
Managing trials and product catalogs.
Square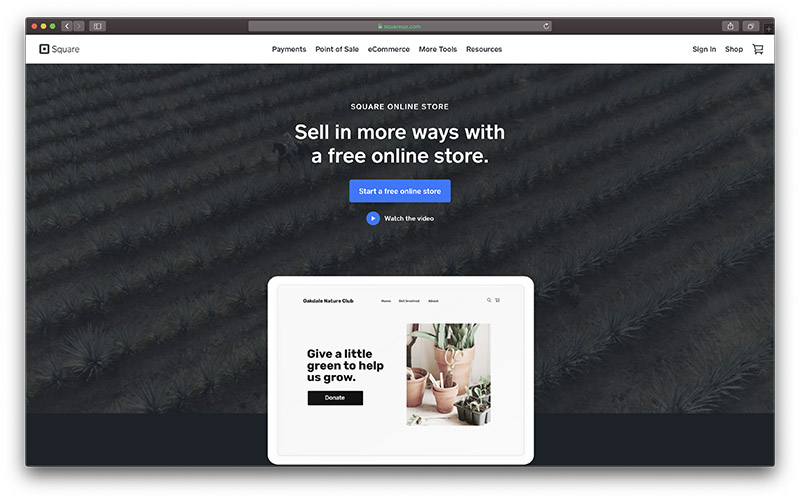 Square is a payment processing company that also offers the best Subscription eCommerce platform. It's ideal for small businesses that are just starting out and don't need all the bells and whistles of more complex platforms. Square is easy to use and offers a wide range of features, including built-in payment processing, an online store builder, and detailed reporting tools.
With the Commerce Advanced plan, you can set up subscriptions for each product that will be automatically sent out on a certain date. You'll also have control over when these renewals are scheduled and whether or not they need to be renewed again in order to get continued use of your service!
Some standout features
There are no transaction costs.
Various appealing shop templates.
A fully-hosted platform that takes care of all aspects of maintaining a website.
Subscribers can manage their own accounts.
Subbly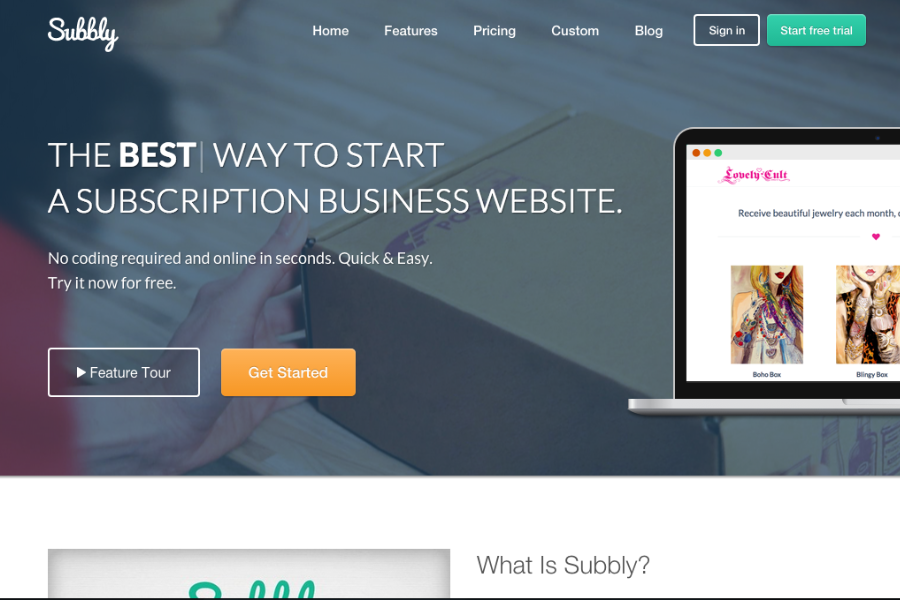 Subbly is another best Subscription eCommerce platform that is specifically designed for businesses that want to sell digital product subscriptions. It offers a wide range of features, including subscriber management tools, payment processing integration, and detailed reporting tools. Subbly is also very simple to use, making it a good choice for businesses that are new to subscription eCommerce. Despite the fact that Subbly does not have its own marketplace, these tools will provide you with everything you need to start and grow a successful eCommerce subscription box business.
Some standout features
No coding or design abilities are required, as pre-built templates that have been professionally prepared are available.
Various payment options, including trial periods, unique billing and shipping cycles, and more.
Customers can make payments with Stripe and PayPal.
Make use of the Subbly checkout even if you're not interested in using their website builder.
Use advanced analytics and reporting to optimize sales and measure business progress.
Processes for marketing automation.
Recurly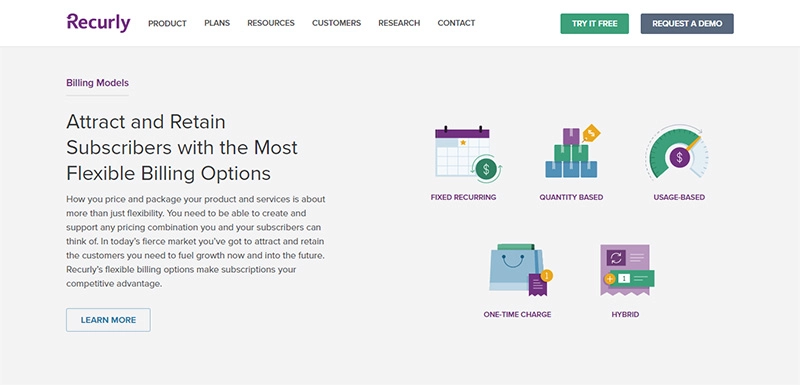 Recurly is the best subscription eCommerce platform that offers sophisticated subscription management features. It's well-suited for businesses that need detailed reporting tools or wanted to offer subscription-based products or services.
With Recurly, businesses can create as many billing plans as they want and provide flexibility for the end-user. The product makes it easier by letting people know about pricing details ahead of time, so there are fewer cancellations in advance! Another great feature is being able to pause subscriptions on your site or through email notifications—this way you'll never miss out when someone needs something again before resuming their old plan (or get refunded).
Some standout features
Reduce attrition and increase profitability with machine learning.
PayPal, Stripe, Braintree, and other global payment channels are supported.
Calculate LTV, churn, and other important metrics quickly and easily.
Stripe
With over 135 currencies and payment methods supported, Stripe is one of the most popular gateways out there. The platform also supports coupons, and free trials with add-ons to customize your experience as needed by you or clients alike! Billing can be done through this system too, so it's perfect for any business that needs to manage their customers' invoices, including churches, who want an easy way to keep track of what they owe every month without having too many different systems crashing together in confusion
Furthermore, With automated failed payment emails, smart retries, and automatic card updater by Stripe, you can reduce churn rates while improving revenue. For example, in 2019 they helped companies get back 41% of invoices that were wrongly paid! They also provide easy reporting on growth metrics like how many people are leaving your service or if there's an issue with retention – all this helps make sure nothing falls through the cracks when it comes to customer care
Some standout features
Access your existing apps, websites, and CRMs from within the billing API you built yourself.
It's possible to charge based on the amount of time you spend using various billing models.
No coding knowledge is necessary for the initial setup.
In conclusion
In a nutshell, there are many different platforms to choose from when it comes to subscription eCommerce. The best platform for your business will depend on a variety of factors, including the size and type of your business, the features you need, and your budget. If you're looking for more information or want help deciding which platform is right for you, Contact us today and let us help you get started on the right platform for your needs. We can provide a free consultation and walk you through all of your options so that you can make an informed decision about which platform is best for your business. With our help, you can be up and running in no time and ready to take advantage of this growing trend in eCommerce