In the era of digital transformation, Thailand has emerged as a burgeoning hub for eCommerce and online businesses. As a result, the demand for a robust and engaging online presence has never been higher. Shopify, with its easy-to-use features and cost-effectiveness, is a popular choice for businesses to embark on this journey. Among different options, choosing a Shopify Thailand development partner can be a challenging and time-consuming task.
In this blog, we will explore the top 10 developers of Shopify in Thailand, highlighting their services as well as their main strengths. We will also provide some other requirements to look at when choosing your best Shopify partners. Ready to delve into Shopify Thailand world? Let's dive in!
Top 10 Shopify Thailand Development Company
Lytbox
Lytbox is a digital company based in Chiang Mai, Thailand. Founded in 2016, they defined themselves as a design studio that specializes in website and eCommerce design, development, and strategy.
For website development, Lytbox is an expert in delivering services in leading platforms namely WordPress, WooCommerce, and Shopify. The company processes a 4+ year certification as a Shopify Plus partner, aiming to provide their clients with a fast, secure, and high-performing Shopify website.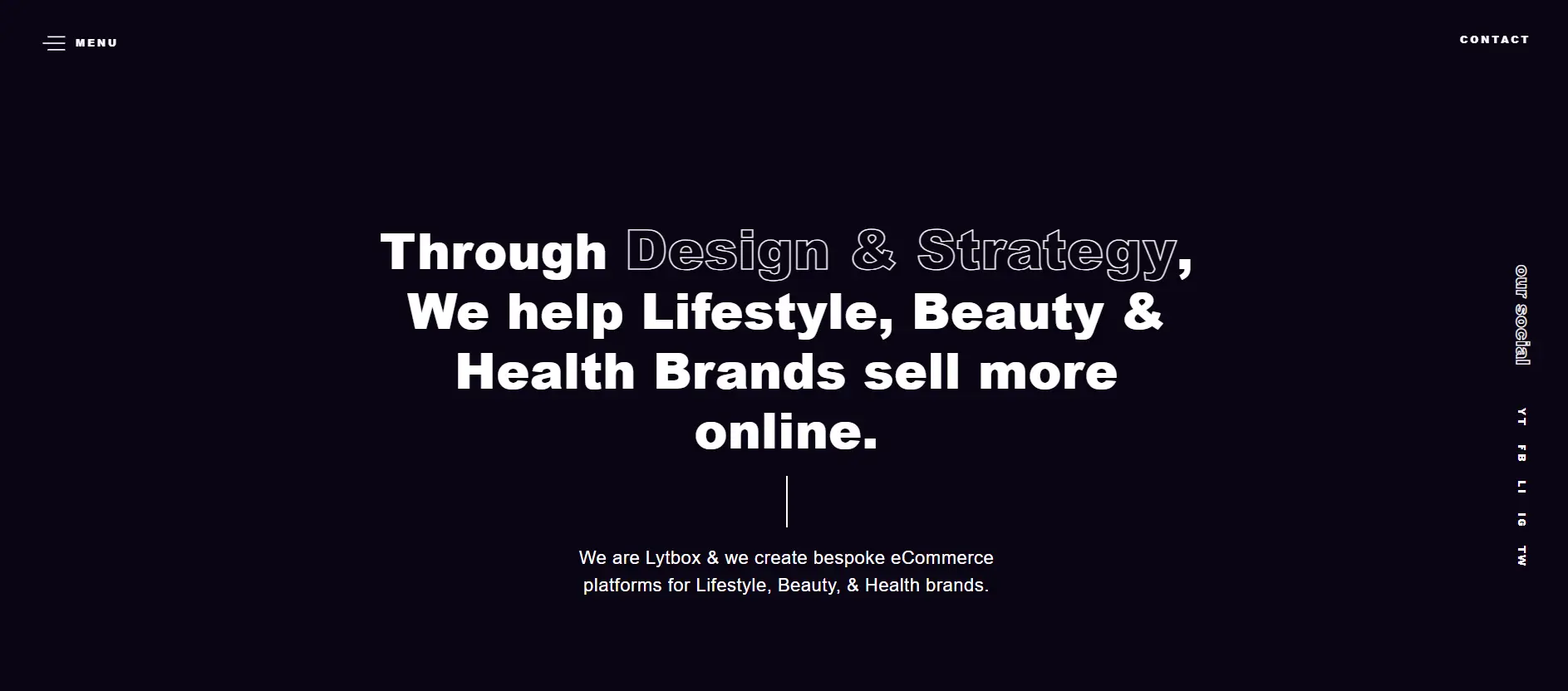 Lytbox's core website and eCommerce development services include:
Shopify Development
Custom Built & Coding
Speed Optimization
eCommerce specialist
Web + UX/UI Design
Landing Page
Brand Identity Design
The company comes with these highlighted strengths for businesses to take advantage of:
Provides 100% customization option
Offers strategy consulting services
Offers personalized coaching, consulting, and training programs for website development
Provides high-level support at an affordable price
Lytbox mainly serves businesses in the lifestyle and health sector. LUXE Botanics is the successful case for their Shopify development services.
Overview: LUXE Botanics is a health company that focuses on organic and sustainable skincare products.
Client needs: The brand wished to create an eCommerce website that matched the organic nature of their product line and highlighted the brand's commitment to sustainability.
Project results: A fully customized Shopify eCommerce store was established in only a month's time. The design was carefully created to be clean and elegant and the development required pixel perfection. Lytbox completely customized the Shopify theme and created their own templates for the website. This has successfully met LUXE's needs.
KOS Design
Based in Bangkok, Thailand, KOS Design is a web design company with nearly 15 years of experience in the field. They offer creative design solutions and results-driven websites to small to large businesses in the industries of eCommerce, business services, and more.
KOS Design is also known as a reliable eCommerce agency. They commit to creating conversion-focused, fully functional websites eCommerce websites through excellent design and technical solutions.
KOS Design partners with leading eCommerce platforms, including Magento and Shopify. As a Shopify certified partner, the company owns extensive know-how on delivering the best tools for their clients, such as:
Omnichannel
Stock management
CRM
API Shipping
Customized invoices
Payment gateway
Branding themselves as KINGDOM OF SERVICE, KOS Design aims to create a digital world of a brand in which consumers feel wonderful. Apart from eCommerce website design and development, KOS also provides other services, including
Web Design
Branding
Graphic Design
Photo & Videography
Search Engine Optimization
Web App and App Development
IT Security
KOS Design can offer businesses these benefits:
Expertise in web design
Highly supportive to clients' needs
Remains deadline-oriented throughout the timeline
Allows for integration of various tools to enhance performance
KOS Design is trusted by both domestic and international brands, namely Double Air, Sharp, Naraya, and more. A successful Shopify case of KOS Design is the establishment of an award-winning eCommerce website for SMILEYHOUND:
Overview: SMILEYHOUND is a menswear clothing brand that focuses on casual and trendy streetwear styles.
Client's needs: The brand needed a fully customized online store that capable of speaking to their customers and prompting product sales.
Project results: KOS Design developed SMILEYHOUND's eCommerce website on the Shopify Plus platform. With UX/UI Web design, CRM integration, Loyalty Program, and Consultancy, KOS was able to create a website for SMILEYHOUND that provided a well-balanced user experience, branding consistency, and mobile responsive and welcoming UX, resulting in a younger and more entertaining brand persona.
Magenest
Founded in 2015, Magenest is a Vietnam-based digital solution provider that specializes in delivering services related to eCommerce systems, ERP/CRM platforms, Cloud Infrastructure, and Digital Marketing, among others. Aiming to become one of the most prominent eCommerce solutions providers in the APAC region, Magenest partnered with world-leading eCommerce platforms, including Magento and Shopify.
As a qualified Shopify partner, Magenest owns a team of 50+ certified Shopify experts, committing to delivering elite eCommerce development for any business. Not only committing to large projects, we also equip Shopify merchants with 50+ high-quality, bug-free Shopify apps.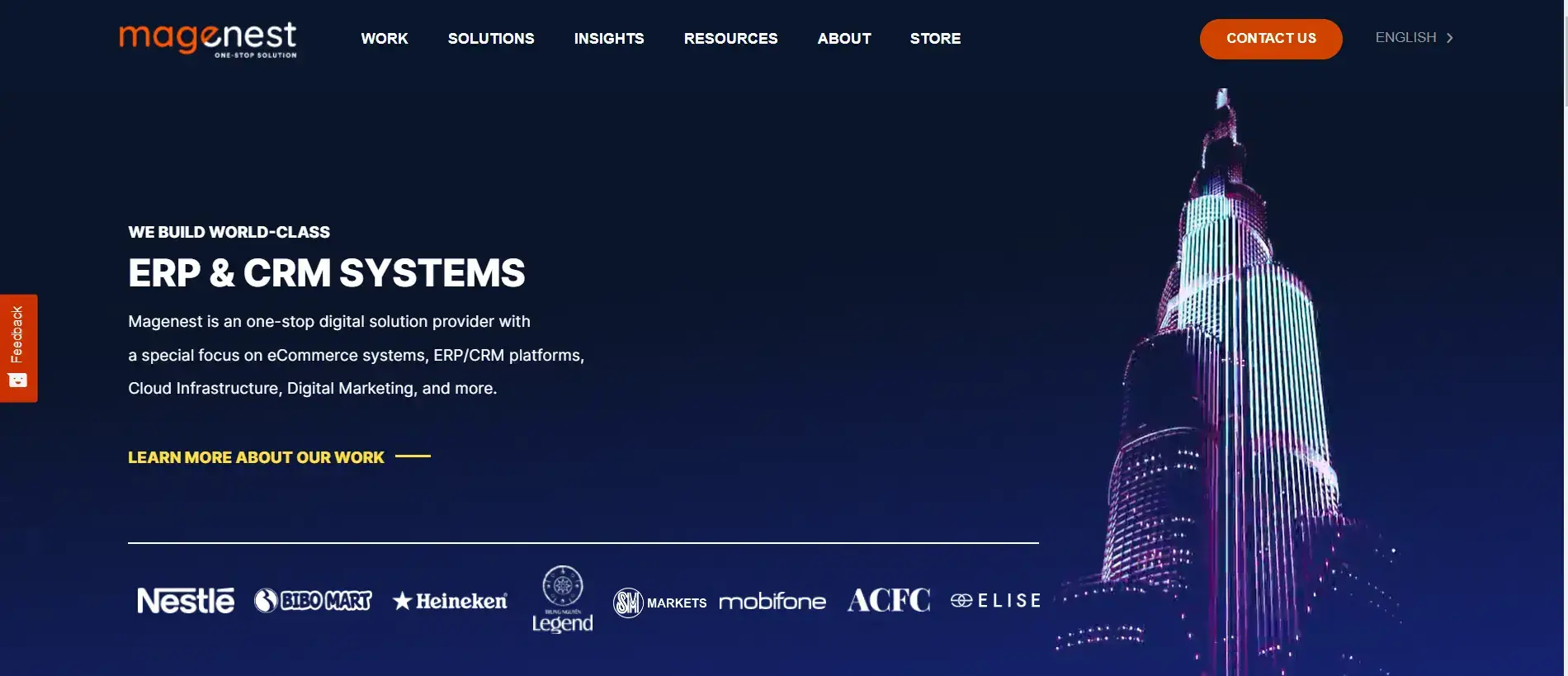 Magenest offers various Shopify website development services to guarantee the success of your Shopify stores:
Replatform to Shopify
Custom theme development
Custom app development
Optimize and maintenance
Digital marketing
With our 7+ years of experience in the field, Magenest confidently brings in various benefits to business apart from our elite and professional Shopify services:
Dedicated support and development team
Offers consulting services to best identify and implement digital plan that best fulfills your specific needs
Experiences in working with clients from various industries
Provides ongoing support and maintenance services
Magenest has successfully developed a Shopify website that exceeds our client's expectations. Emers Group is among those:
Overview: Emers Group is a multifaceted Taiwanese enterprise that began in the commodity industry and gradually expanded into raw material trading, traditional & digital media, e-literature, PR, Sports & vent marketing, sports brand distribution, and arts & cultural foundations.
Client's needs: As the company entered Vietnam – a whole new market, they hope to develop the best eCommerce experience for users. Emers also needed a reliable order management system for their huge order amount to be effectively managed.
Project results: Magenest delivered UI/UX and Graphic Design, Shopify Custom Development, and Shopify Theme Customization services for Emers. This has resulted in a Shopify website with fast loading time, intuitive navigation, and a structured website layout, meeting Emer's requirement of ensuring their customer satisfaction.
With our team of experts and great experience, our Magenest team is proud to provide you with elite Shopify Development services. As a result of our business expansion, Magenest opened the first location in Bangkok, Thailand in 2023, enabling us to access the growing tech industry of Thailand. If you are looking for Shopify development Bangkok services, then this will be an option for you.
Star Commerce
Another Shopify Thailand provider is Star Commerce. Headquartered in Bangkok, Thailand, Star Commerce is among the leading Shopify and Digital Marketing Agency. They work with a data-driven approach in mind, aiming to maximize ROI for businesses of all sizes.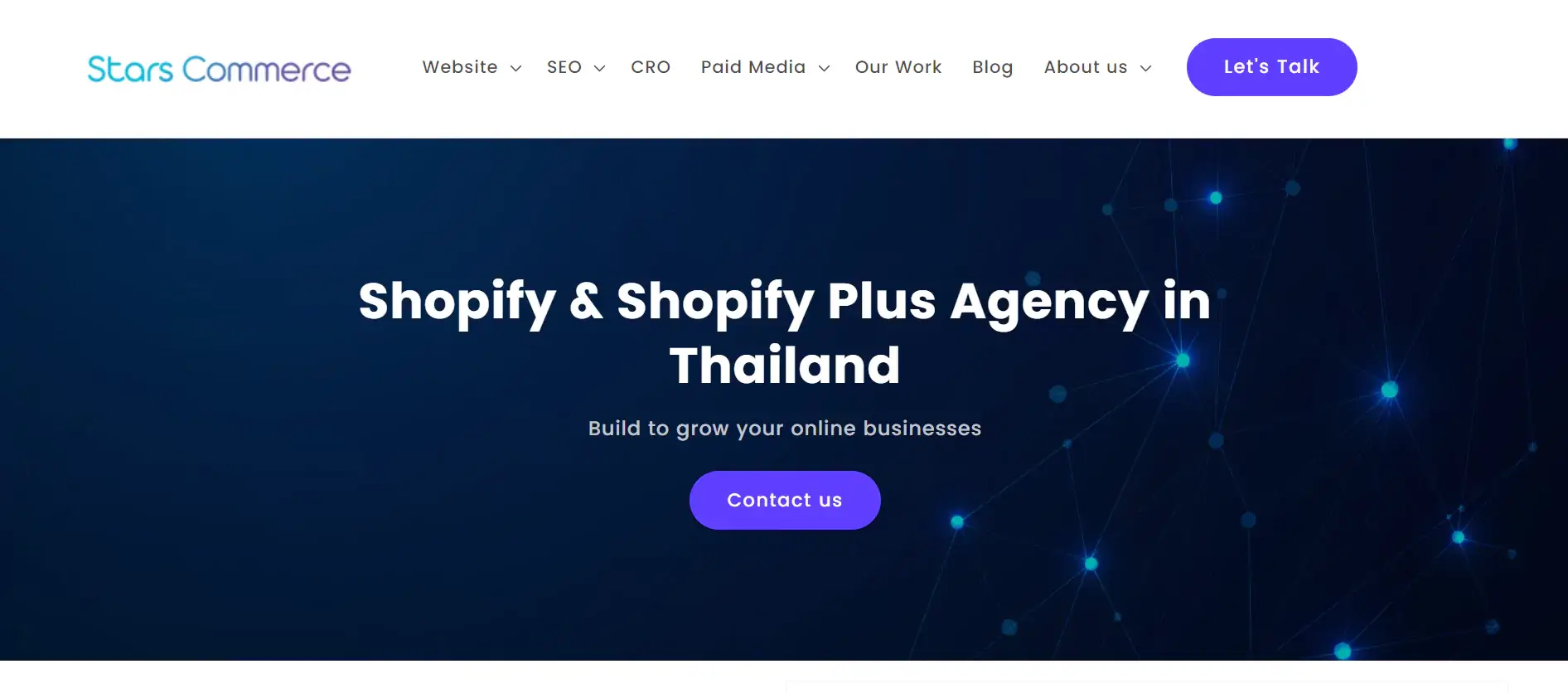 Star Commerce is a Shopify Partner and Expert in Thailand. They own a team of trusted website designers and developers to craft online success for their clients. As a Shopify Agency, Star Commerce offers top-quality support and services for both Shopify and Shopify Plus platforms, including
Store Setup and Configuration
Theme Customization
App Integration
Performance Optimization
Responsive Design
Migration to Shopify
They also provide other Shopify-related services
Shopify Web Design
Shopify Support
Shopify App Developer
Shopify SEO
Here are some highlighted strengths of Star Commerce for you to consider:
Great focus on delivering Shopify services
Excel at project management
Able to deliver on time and efficient workflow
Maintain good communication with clients throughout the project
A successful Shopify project provided by Star Commerce is Kunjae
Overview: Kunjae is a Thailand-based brand that provides premium leather car key case.
Client's need: The brand tasked Star Commerce for a visually appealing and user-friendly UI/UX design for their Shopify store that effectively represented the brand.
Project results: Star Commerce designed a Shopify website for Kunjae that conveyed the brand's distinct voice and personality, and created a collection page with seamless product categorization to facilitate customer navigation. In addition, UI/UX design provided Kunjae with a visually appealing product page that displayed products in an organized manner. This enhanced the user experience, thereby encouraging prospective customers to make a purchase.
Crazy Web Studio
Founded in 2015, Crazy Web Studio is a One-Stop Service Web Agency. They provide a wide range of web and media services to cover all of their clients' needs for boosting online performance, from web design, brand identity, SEO, and UX/UI design, to social media marketing and real estate solutions. The agency's headquarter is located in Phuket, Thailand.
When it comes to eCommerce development, Crazy Web Studio also offers an extensive range of services from development to consulting. They leverage a selection of platforms but tend to focus on delivering Shopify and Shopify Plus services.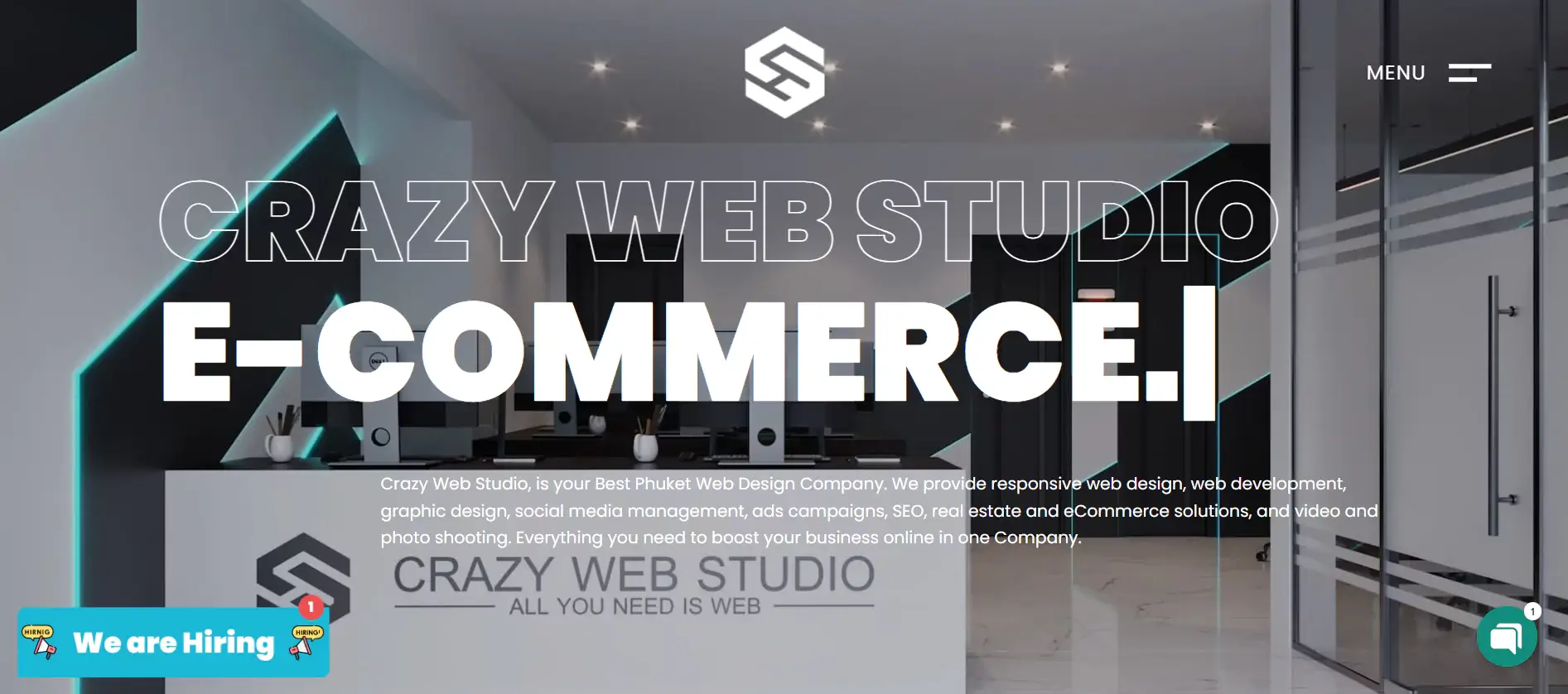 This Phuket-based agency has been a Shopify Partner with 4+ years of experience. With a team of Shopify experts, Crazy Web Studio commits to bringing top-notch Shopify Customization Services, including:
Product Page (PDP) template customization
Checkout customization
Shopify Themes installation
Shopify Apps configuration and theme integration
Shopify Themes migration from one theme to another
Custom Tracking Code integration
Performance Speed Optimization
Conversion Rate Optimization
On-Page Technical SEO
Crazy Web Studio can be the most reliable Shopify Thailand development partner for the following reasons:
Provides a wide range of Shopify services
Comprehensive and competitive pricing structure
Official Shopify partner with many years of experience
Also offers diverse services for businesses' online performance
Crazy Web Studio has successfully delivered Shopify and Shopify Plus services to many of their clients. Among those is Vetchy with the establishment of a Shopify website:
Overview: Vetchy is a bikini brand in the U.S.
Client's needs: The brand needed a custom template for their website to showcase the wide range of their swimwear products.
Project results: Crazy Web Studio brought in a completely customized Shopify template from the home page to the inner pages and product pages for Vetchy. The website included the organization of products by category with custom images, and popups to create leads from email lists with discount incentives. Crazy Web Studio also implemented additional features across the website including automatic currency conversion based on the IP of the website visitor and a multitude of payment methods for easy purchasing.
Dartmatics
Dartmatics is a digital creative agency that delivers strategic design, branding, and marketing services. Founded in 2020, they work toward a data-driven approach, combined with creativity to build genuine connections between their clients and customers.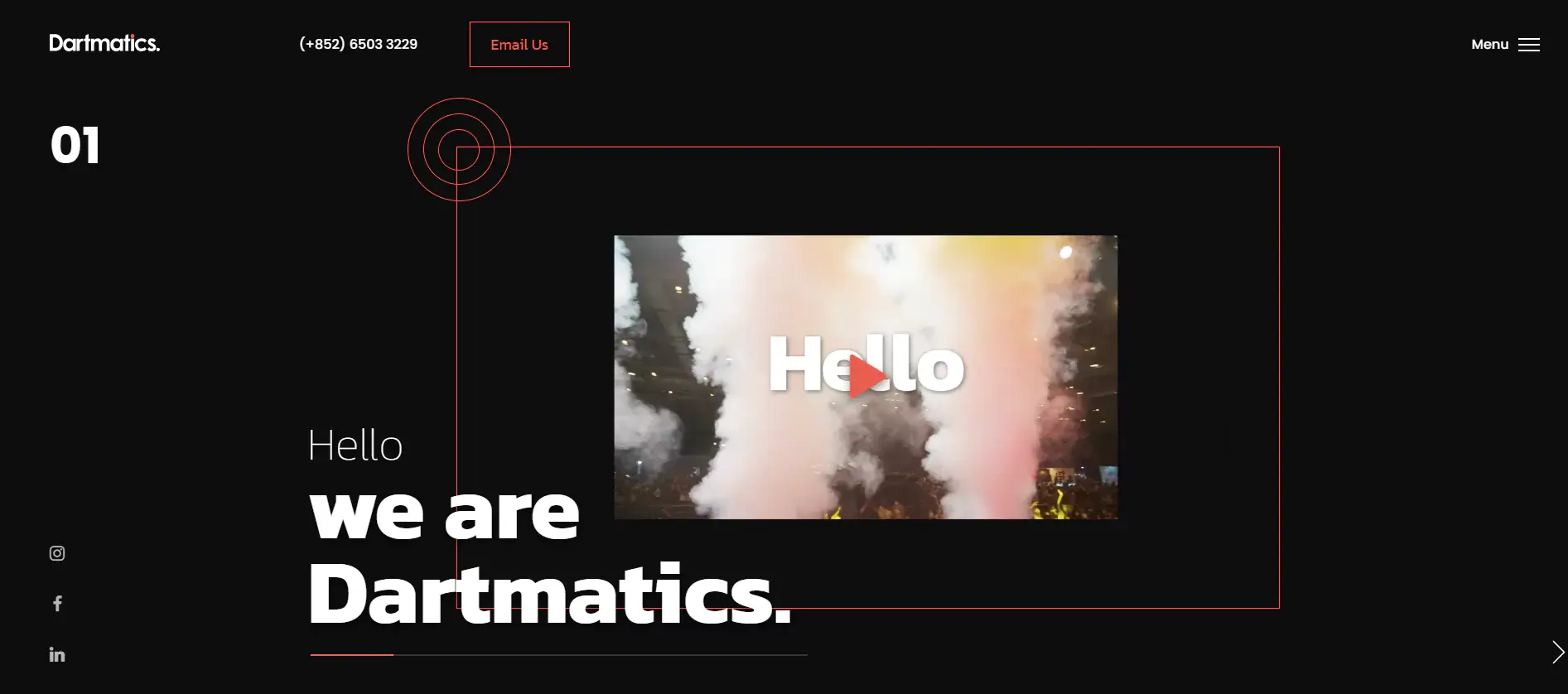 Dartmatics provides services in 4 main pillars: Web Design & Development, Digital Marketing, Branding & Strategy, and Social Media. The company has extensive experience in designing, building, and optimizing eCommerce and lead-generating websites, leveraging leading platforms such as WooCommerce and Shopify. Their main web development services include
UI/UX Design
User Story Mapping
Fullstack Development
eCommerce
Responsive Web Design
Interactive Design
Web3 Development
Maintenance and Hosting
Despite being a newcomer to the market, Dartmatics has gained recognition as a trustworthy digital agency:
Has a strong creative sense
Able to deliver innovative and relevant ideas
Executes efficiently on all timelines
Dartmatics has been trusted by clients from various industries, with some well-known names like Hewlett Packard (HP), L'Occitane, Cirque Du Soleil, and Shangri-La Hotels & Resorts, among others. Below is the overview of their successful Shopify example – World of Myoth:
Overview: World of Myoth is an eCommerce business selling all-natural, sustainably sourced, beauty products.
Client's needs: With a clear understanding of their own brand persona, they turned to Dartmatics for assistance in demonstrating their impact on the planet through a minimal, aesthetically pleasing, and user-friendly website design.
Project results: The re-design of World of Myoth's website was quickly implemented. Dartmatics worked extremely closely with the clients to expand the amount of content on the website and deliver a beautiful and minimal design. Packed full of useful information, upsells, and oozing brand values.
GVN Marketing
GVN Marketing is a data-driven marketing company that offers specialized services for eCommerce and businesses seeking digital transformation or enhanced growth. Throughout their 17+ years of experience, GVN Marketing has been providing data-driven solutions for their clients, resulting their 163+ satisfied customers and 97,40% client retention.
Along with their diverse marketing services such as content creation, or social media ads, GVN Marketing also provides website services, from back-end to front-end. Moreover, they partner with key technological partners that are proven market leaders, namely Google, Meta, AWS, Adobe, and Shopify, just to name a few.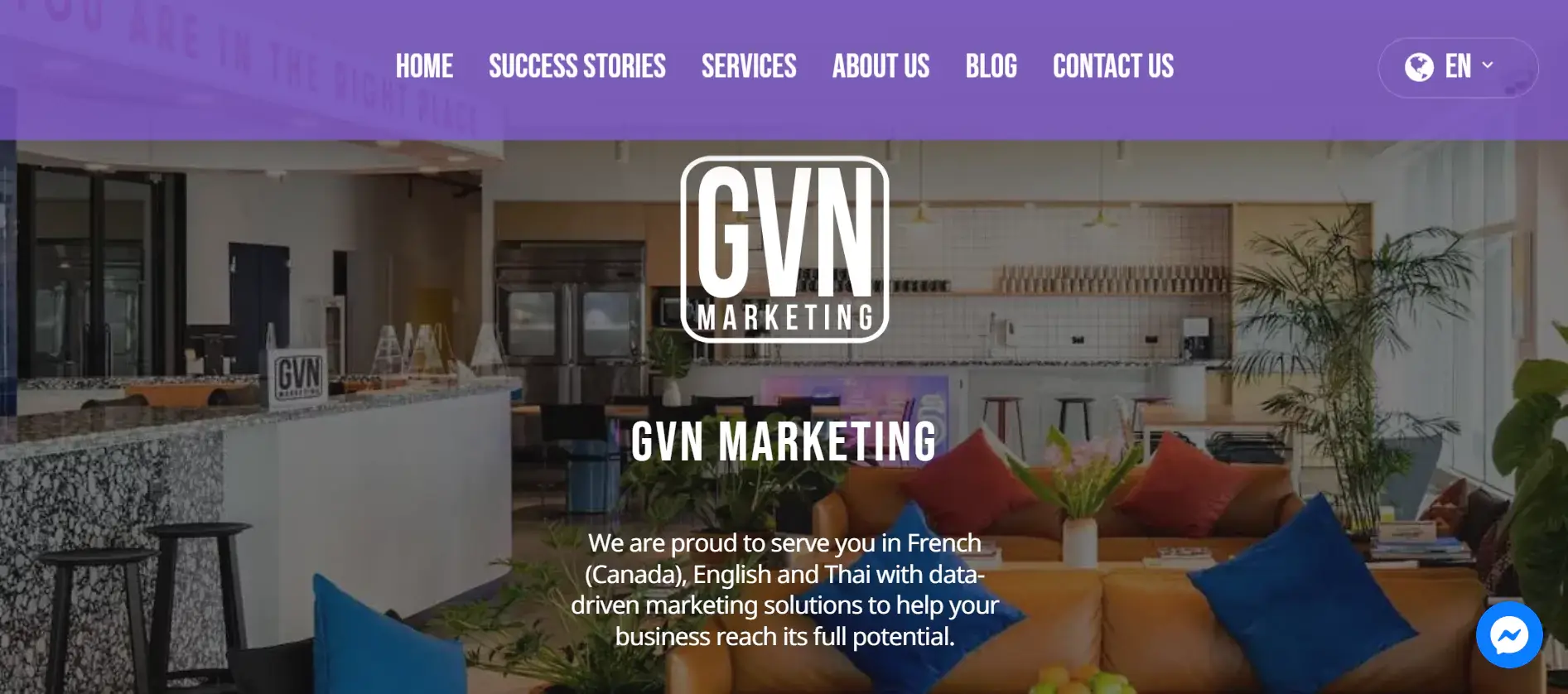 Here are some key strengths of GVN Marketing for your consideration:
Ability to communicate in English, French (Canada), and Thailand
Collaborate with reputable technology partners
Maintain effective communication and follow up with clients throughout the process.
The company has been trusted by large brands namely Huyndai, Rose Budda, Reboost, Murph, and more.
Red Sky Digital
Red Sky Digital is a leading cloud and enterprise technology services provider headquartered in the heart of Bangkok. They focus on delivering cloud-based solutions, namely AWS, throughout their 23 years of experience in the field, providing world-class infrastructure and software solutions for their clients.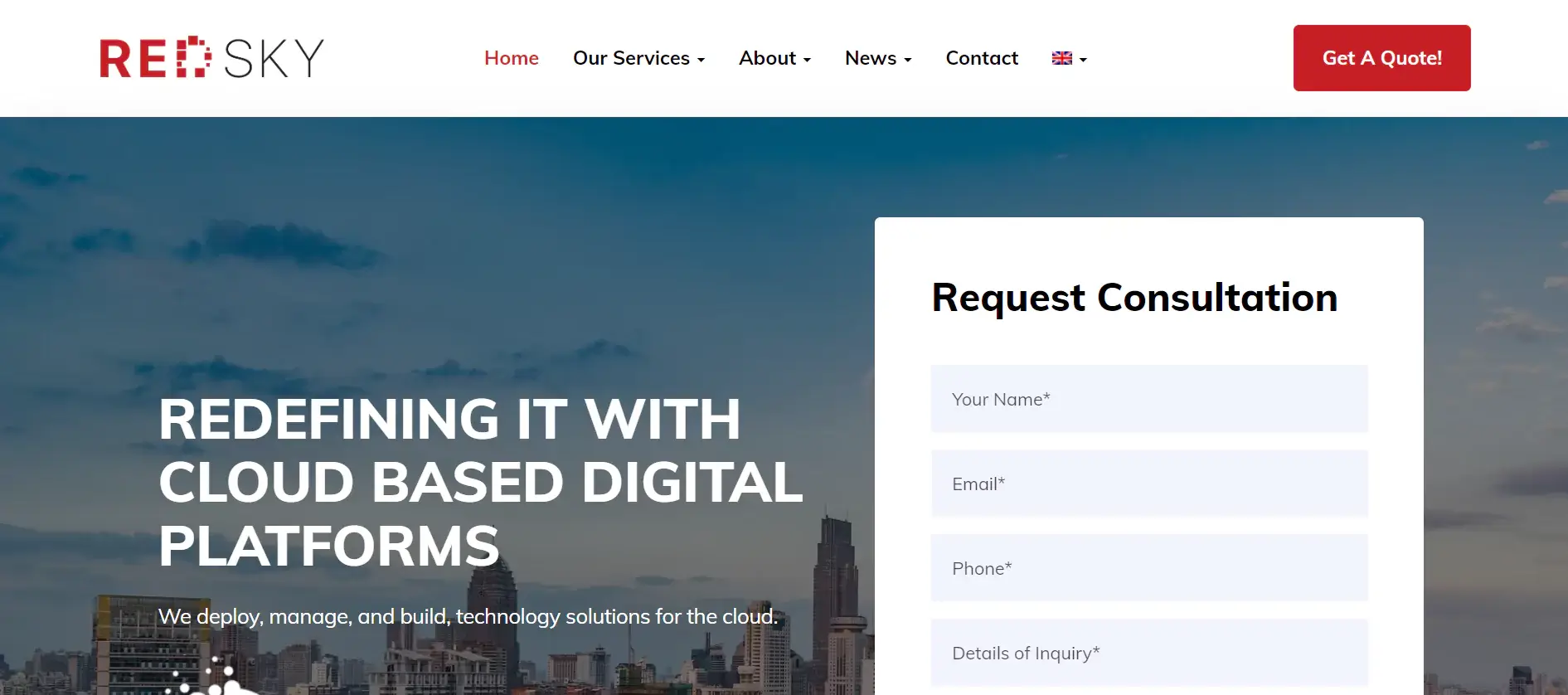 Not only providing AWS Cloud solutions, Red Sky Digital also provides services related to website development, digital marketing, and cyber security. The agency owns a team of experienced web designers and web developers, with core areas of expertise in eCommerce sites, WordPress & WooCommerce, Magento, Shopify, and Typo3. Their website development services include
Custom Websites and Web Applications
Social Media, Web and Content Delivery
Custom-made CRM systems
Red Sky Digital can come with several benefits as your Shopify Thailand partner:
Experienced development and consulting team
Offers a wide range of digital services
Affordable pricing plans
Aware Corporation Limited
Aware Group is a private technology company focused on B2B businesses. They endeavor to overcome technological barriers and provide intelligent and predictive solutions that optimize the business results of their clients. Aware has offices in both Bangkok and Chiang Mai.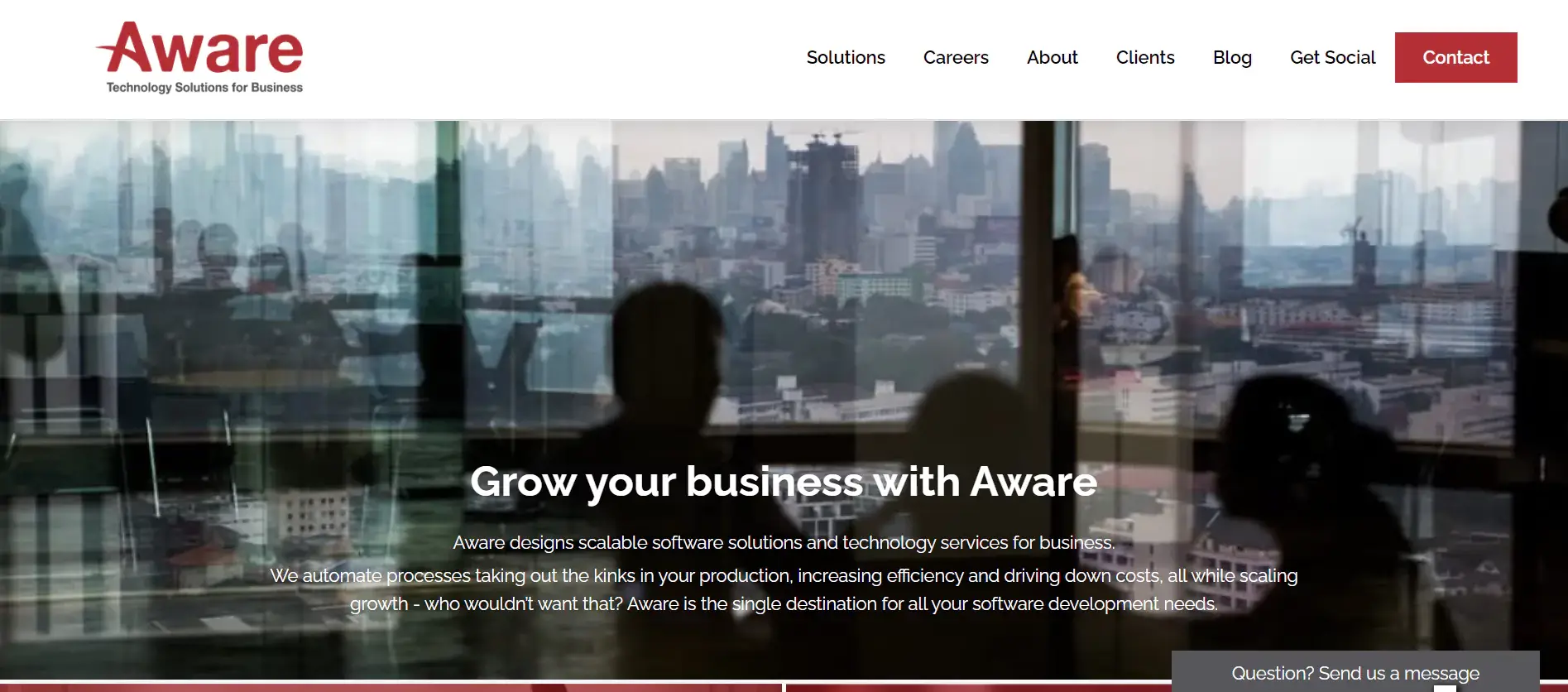 Aware positions itself as the one-stop shop for all of a company's software development needs by providing innovative software solutions and services, including web development. Utilizing cutting-edge coding techniques, robust content management systems, and innovative design principles, their web design services produce websites with a focus on purpose and results. Aware provides web design services based on the leading technology platforms Shopify, Magento, and WordPress.
By choosing Aware to be your Shopify Thailand partner, your business can enjoy these benefits:
Working with a collaborative approach
Has a global team of experts from many countries
Extensive experience in the field
MVM Infotech Co. Ltd.
MVM Infotech is a one-stop e-Business Solutions company in Thailand. They offer a wide range of services from Web Design, eCommerce Stores, Online Marketplace, App Development services including SEO and digital Marketing, to Back-Office maintenance. Their headquarter is located in Bangkok.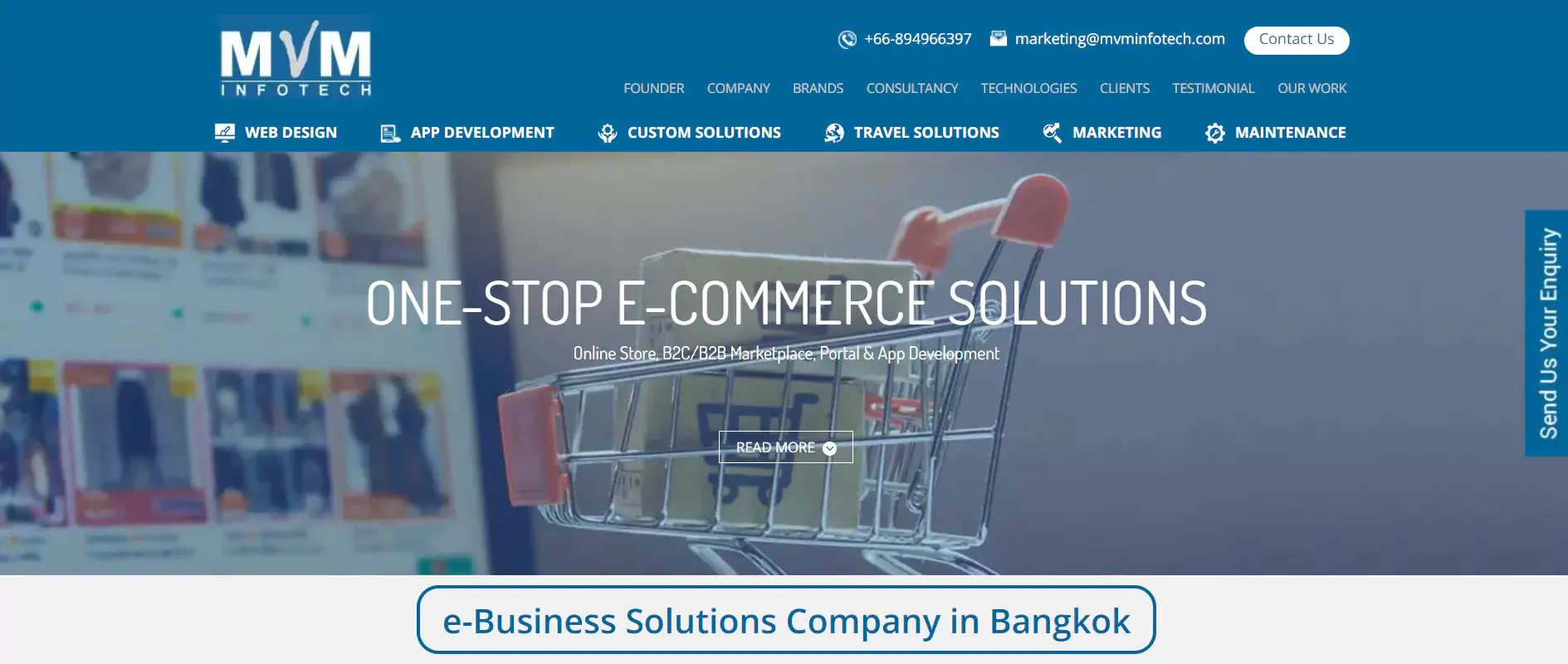 MVM Infotech places a strong emphasis on delivering high-quality web services within the client's budgets and deadlines. MVM Infotech provides innovative and effective websites that represent the client's brand, increase conversion rates, and maximize overall revenue with the help of a team of knowledgeable and skilled web designers. Their website design services consist of
UI/UX/Web Design Strategy
Website Sitemap Design
Web User Interface (UI) Design
Web User Experience (UX) Design
HTML Website Design Service
Dynamic Website Development Service
WordPress Web Development Service
Readymade eCommerce & Online Marketplace Web Design Services
In addition to web designing, MVM Infotech also provides eCommerce solutions. They have their prowess in providing powerful eCommerce and online marketplace solutions in WordPress, Magento, Open Cart & Shopify.
Here are some of MVM Infotech's key strengths for your consideration:
Offer a wide range of web services
Able to communicate fluently in English
Able to maintain close engagement with customers
Why You Should Work with a Shopify Thailand Company
The rising digital transformation in Thailand
Thailand's digital landscape is undergoing a significant transformation. By 2022, 61% of Thailand's GDP was recorded to be digitalized. This is driven by the growth in every industry driven by digital enhancement, as well as other factors such as increased internet accessibility, the proliferation of mobile devices, and evolving consumer behavior.
The rapid digital transformation is especially evident in the eCommerce sector, which has witnessed remarkable growth in recent years. This industry is expected to grow at a CAGR of 11.93% (2023-2027), resulting in a projected market value of $32.81 billion.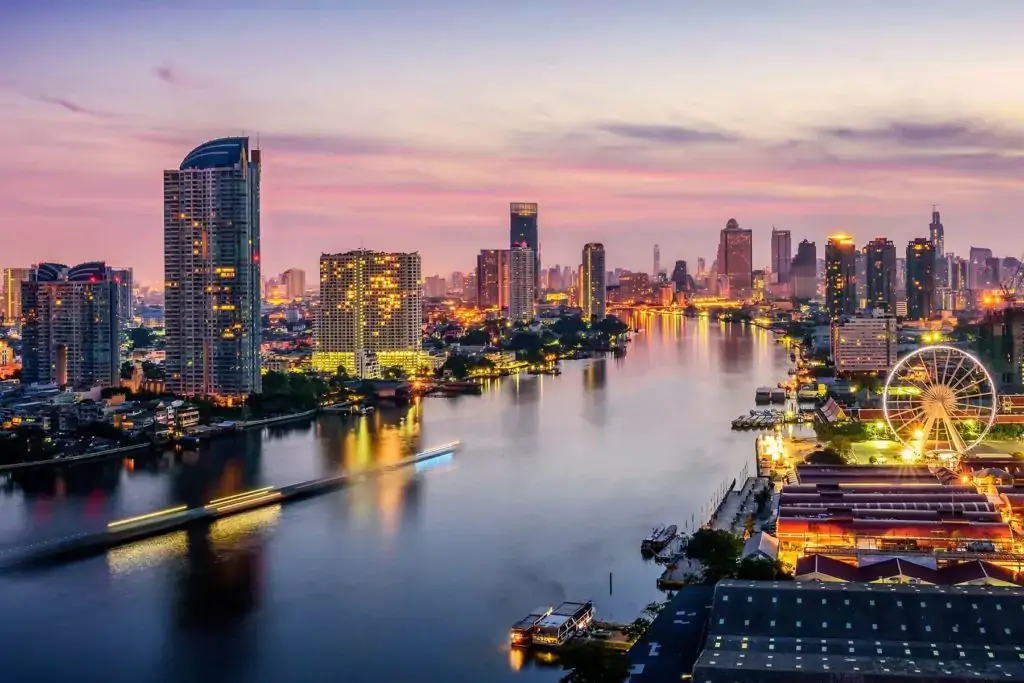 One of the primary drivers of this transformation is the widespread use of smartphones. With a majority of the population owning mobile devices, Thai consumers increasingly turning to online shopping as a convenient and time-saving alternative. This digital shift is not just limited to urban areas but has penetrated even the rural segments of the country, making it a nationwide phenomenon. As a result, businesses need to adapt and capitalize on this evolving landscape and must be well-prepared for digital adoption.
Understanding the significance of a reliable Shopify Thailand development partner
Shopify, as a leading eCommerce platform, is perfectly positioned to help businesses embark on this journey with ease. Therefore, the importance of choosing the right Shopify Thailand partner cannot be overstated.
When it comes to expanding or establishing your presence in the thriving online marketplace of Thailand, collaborating with a Shopify Thailand development company holds immense significance. Beyond the technical aspects of setting up an online store, these local experts bring an intimate knowledge and thorough understanding of Thailand's unique market dynamics, consumer behaviors, and cultural nuances. This knowledge extends to the intricacies of language, legal compliance, and adherence to local regulations that can significantly impact your business's success.
A reliable Shopify Thailand development partner isn't just a service provider; they become a strategic ally in ensuring your eCommerce venture aligns seamlessly with the Thai market's demands and intricacies. Their insights and support can be the key differentiator in helping your business thrive in this rapidly evolving digital landscape.
What to Look For in a Shopify Development Company in Thailand
Experience and expertise.
When considering a Shopify development company in Thailand, experience and expertise are paramount. An established track record in eCommerce development is a strong indicator of a company's capability to deliver quality results.
Look for a partner with a history of successful Shopify projects, especially within your industry or niche. Seasoned professionals will not only understand the nuances of the Shopify platform but also the intricacies of the Thai market. Their knowledge will enable them to tailor your online store to local preferences and consumer behaviors, ultimately enhancing your chances of success in this unique digital landscape.
Client testimonials and portfolios.
Client testimonials and portfolios offer a glimpse into a company's past performance and client satisfaction. Reviewing these can provide valuable insights into the quality of their work and their ability to meet client expectations. Look for case studies or examples that resonate with your own business goals. A robust portfolio should showcase diverse projects, demonstrating the company's versatility and ability to handle various eCommerce requirements. You can also read customer reviews on large company review sites such as Clutch or Sortlist.
Technical capabilities.
The technical prowess of a Shopify development company is a critical factor to consider. Beyond creating a visually appealing website, the company should be well-versed in optimizing performance, ensuring mobile responsiveness, and enhancing the overall user experience.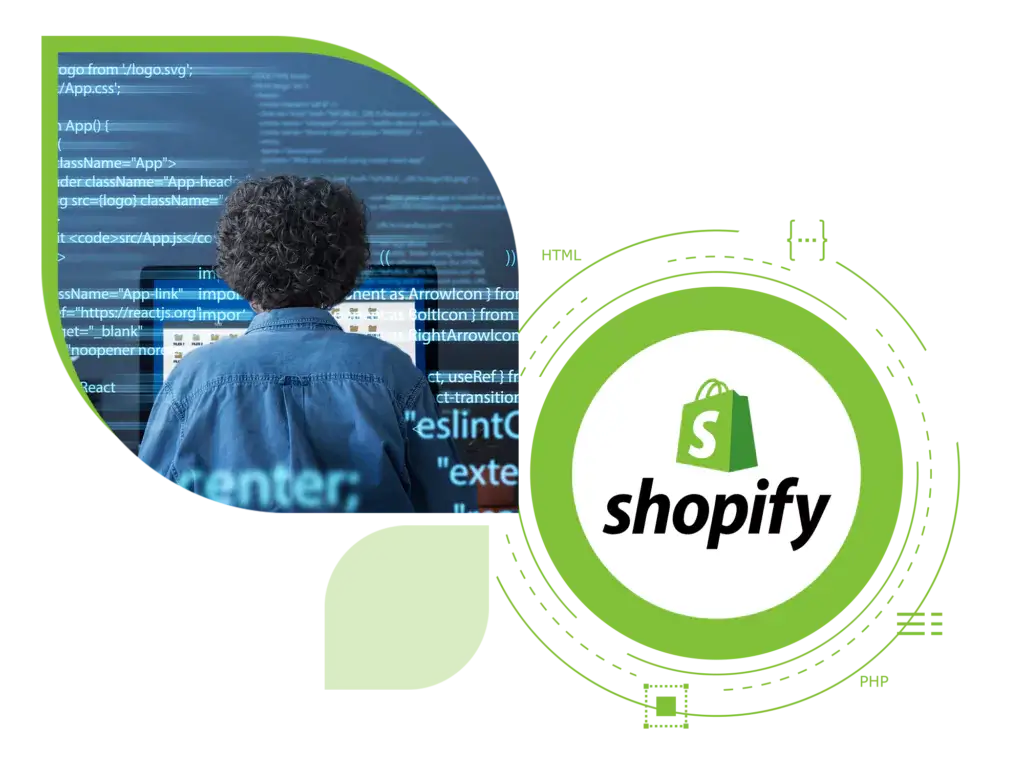 Assess their ability to integrate third-party apps, manage data, and handle complex functionalities, which are evident in their portfolios and customer reviews. They should be capable of providing secure and scalable solutions that meet your current and future business needs. A company's commitment to staying updated with the latest trends and technology advancements is a sign of its dedication to delivering cutting-edge solutions.
Post-development support.
The process of launching an eCommerce store is just the beginning of your online journey. Post-development support is essential to ensure that your store continues to run smoothly, addressing any issues, solving them promptly, and eventually evolving with your business.
An excellent Shopify development partner should commit to providing ongoing maintenance, updates, and support services. Ensure that they offer responsive customer support and have a system in place for quick issue resolution. Ask about their ability to adapt your website to changing market conditions and the latest industry trends. Reliable post-development support saves you time, money, and stress in the long run, ensuring your business remains competitive and your online store functions flawlessly.
In Conclusion
As Thailand's digital transformation continues to surge forward, the role of a proficient Shopify Thailand development company in driving online success cannot be overstated. This partnership offers a bridge between your business and the vast online marketplace in this fast-growing industry, making it possible to tap into a tech-savvy consumer base. Through this top 10 list, we hope to provide you with a reference to choose the best partner for your businesses. By carefully considering the qualities outlined in this blog, you can secure the services of a trusted Shopify development company in Thailand, positioning your business to thrive in this dynamic digital era. If you wish for more updates like this from Magenest, please consider subscribing to our newsletters right below.