When talking about a business, customers are definitely the indispensable factor that contributes to its success of it, particularly in e-commerce. With the view to grabbing customer impressions, there has been the existence of product rating which means that a good review or feedback can easily impress customers by persuading them that your products are highly rated and trusted by previous buyers. Since online shopping gradually has a larger scale, the necessity to look for product rating has become bigger than ever. To help you boost conversions and traffic by using all the possibilities of product rating, we have listed some in-depth knowledge and practices about it below so please keep rolling to the end of the article.
What is called product rating?
Generally, before purchasing a particular thing, customers have the tendency to look for the feedback or reviews of previous buyers in order to decide whether they should pick it up or not. In this case, we are concerned about the product rating which is set further down on the shopping page. Product rating usually goes with a range of one up to five stars (also known as product rating scale in assessment) demonstrating how satisfied customers are with the products.
A product rating scale example that can be displayed is a common one which contains 5 stars respectively meaning highly dissatisfied, dissatisfied, neutral, satisfied and highly satisfied (on a scale from 1 to 5 stars).
Having ratings with lots of stars also means that the product is a worthy purchase. In fact, the rating and reviews reflect the assessment of the product as well as the service you offered to your customers.
In terms of the potential customers, product rating is probably where they set their eyes on in the first place. Therefore, a high rating does play an integral role in grabbing more traffic and turning it into customers.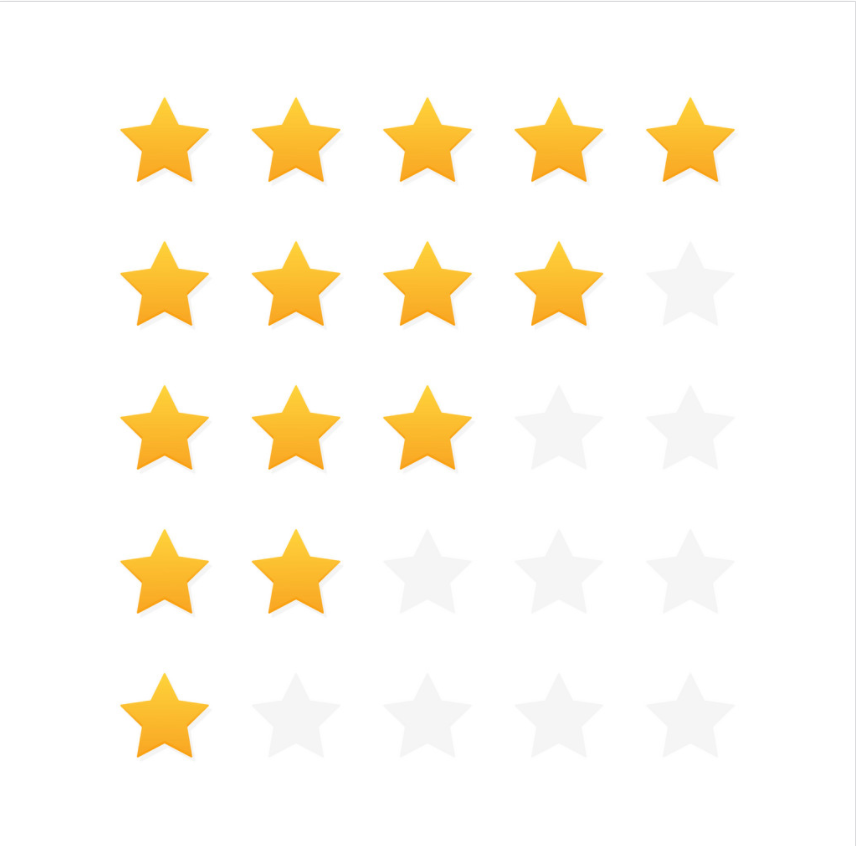 >> Read more: Expert guide: Create an optimal eCommerce product page with Magento
How to get more ratings on product rating system?
Living in the era of the Internet, everything seems easier with some mouse clicks. Before buying a product, people need some time to research it thoroughly. Those who have their first visit to the shopping page probably find it hard to decide whether this product is good enough to purchase so they lay their trust on the previous buyers because who knows the products better than those who have just used it?
Knowing how to activate this powerful feature, businesses definitely see a bang in the conversion rate.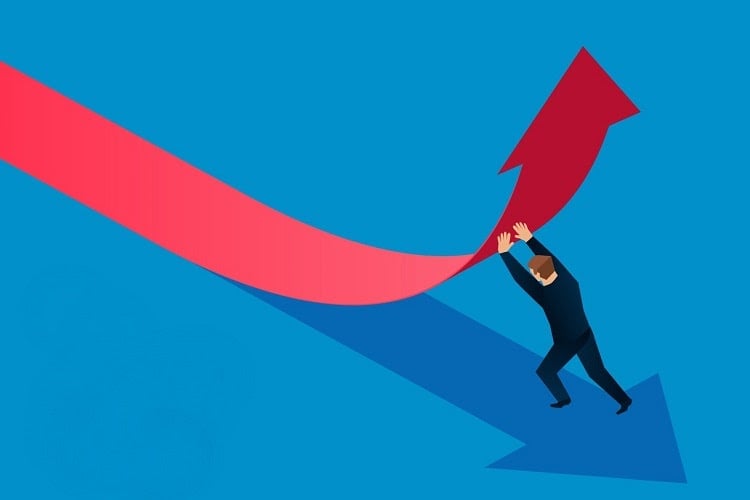 Put reviews in front or center of your shopping page
By placing reviews and ratings in easy-to-see points on your page, customers are able to get access to it with ease. Catching up with good reviews impresses them and makes them come back to buy and leave reviews and ratings later. Also, you can consider putting some reviews to highlight the product's quality on your homepage.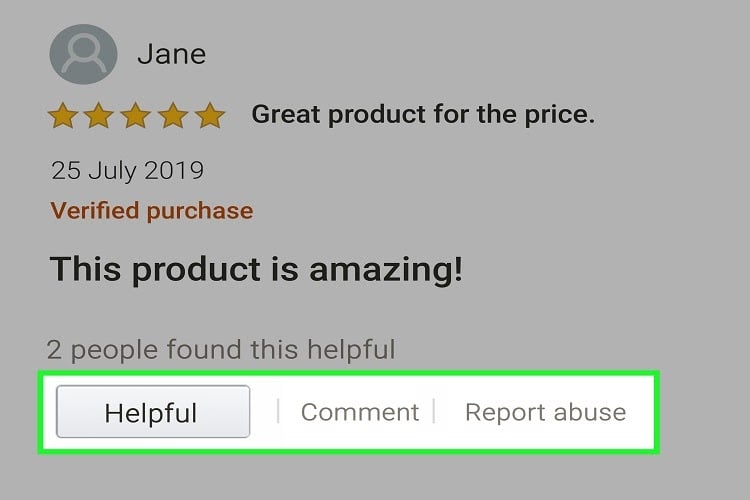 Put testimonials
In the first place, what is a testimonial?
Testimonials are known as written or reported comments that affirm your reputation and level of experience.
Usually, testimonials are impressive reviews and ratings. By using this method, customers are convinced by the trust and the wonderful offer that the products bring. In other words, it is regarded as word-of-mouth advertising because it helps to build the reputation and dependability of the product.
Exclusive offer for the customer who rated
Everyone loves to have a bonus along with their products, right? According to a study, a great majority of Americans said that they would love to take advantage of an exclusive offer.
Therefore, take that chance. After customers rated your products, don't hesitate to give them a special exclusive offer. Offers should be given in particular periods. For instance, there are customers who haven't bought anything from you in a long time but recently they come back to make a purchase, it's time you gave them the offer indicating that you care and haven't forgotten them.
Reward your loyal customers
With customers who regularly make a purchase on your shopping page, consider giving them special care to let them know that you really appreciate them. For instance, give your customers coupons or vouchers: you can try to give your customers coupons or vouchers randomly or on some special occasions after shopping to tighten the relationship between your business and them. Just by doing so, you can enhance customer loyalty with your business and get more ratings the next time they come back.
>> Read more: What is add to wishlist? Why does eCommerce store need this feature?
How to boost rating points on product rating scale in assessment?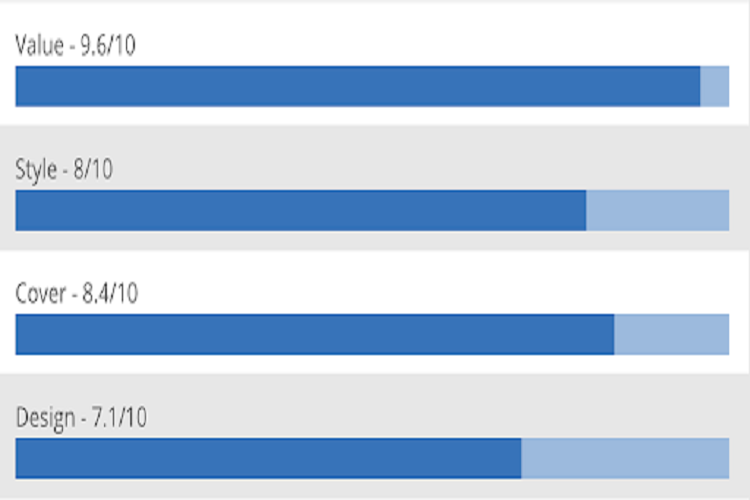 There are many types of product rating scales in assessment, however, the '5-star' model is the most popular. 5-star ratings represent customer satisfaction and have a great influence on conversion rates. Clearly, the higher the star ratings are the higher possibility of acquiring customers is. However, a business does not always have that high rating points and stars so they need to come up with appropriate strategies to upgrade rating points.
Reach people who write negative comments
It is undeniable that everyone works hard to have good reviews and ratings on their sites. But it is possible to receive negative comments as well as bad ratings. What should we do? Should we ignore them?
The answer is no.
Instead of ignoring the fact there are several bad ratings on your products, make an effort to answer their issues and give them a proper way to deal with it. In a good circumstance, if your response fulfills their request, you will be able to satisfy them and make decent sales. Otherwise, it is a good chance to realise your product's weakness and solve it.
Discount program
Don't forget your frequent buyers, they are the ones who contribute most to your revenue. It is necessary to release 10% or 20% off coupons to your profitable customers.
Enhance customer service
Customer service is one of the major factors that directly affect customer satisfaction. Once your customer is satisfied, they are not likely to give bad ratings. In addition, happy customers will have the tendency to come back to your business and make a purchase again.
Thus, it is a must to improve your customer service in order to help your shoppers have a comfortable shopping experience and get good ratings. If you don't know how to start doing this, simply get the ball rolling by surprising your customers with extra gifts on their birthdays.
Offer fast and convenient support
Customers look for a quick response when they encounter problems shopping at your business, then what you need to do is give them in time and a decent reply. For example, some may get annoyed with the shipping system because they get delayed delivery, in this case, you need to briefly explain what happened and what you are about to do to fix it and promise to give them a better experience next time.
>> Read more: Compare products with Magento 2 – Features overview and how to remove it
Product rating guide: Magento 2 Get product rating stars programmatically
The decision on choosing a product rating site also needs to be carefully made.
According to the type and goal of your business, you can choose to rely on some well-known product rating websites like TrustReview or create your own ratings. If you lean toward the second one, Magento 2 product rating is here for you.
In Magento 2, product rating stars are considered an outstanding feature for the product's reviews with the view to attracting more consumers.
The feature ranking and analysis of Magento 2 have always been popular with lots of people. However, if customer satisfaction is prioritized, there is a risk that the customer will be pleased with the product but dissatisfied with the service. As a result, you can manually handle reviews from your Magento 2 store to solve this issue.
Below are some steps to follow:
This is the dashboard when you log into Magento 2.4.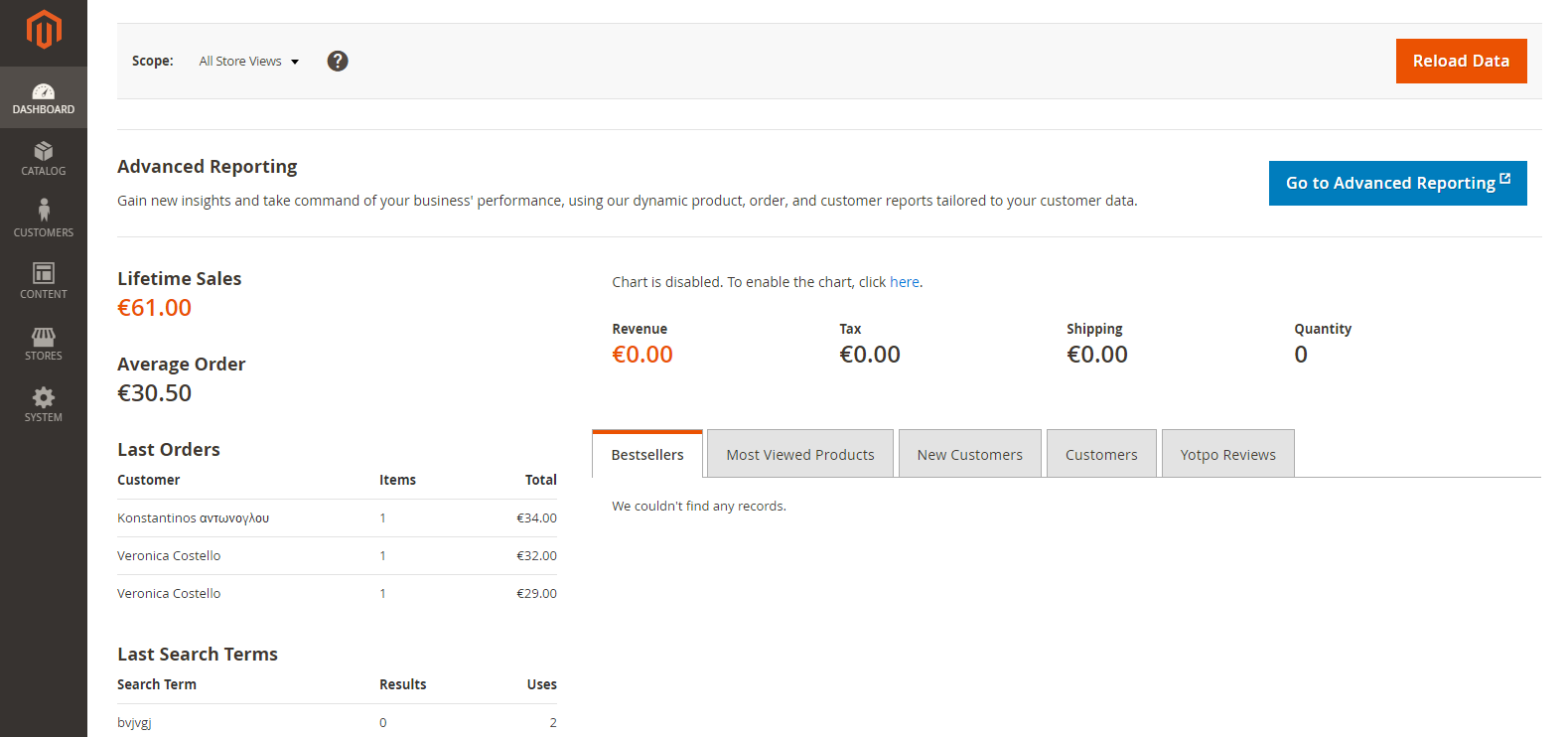 After that, go to Stores and click on Rating.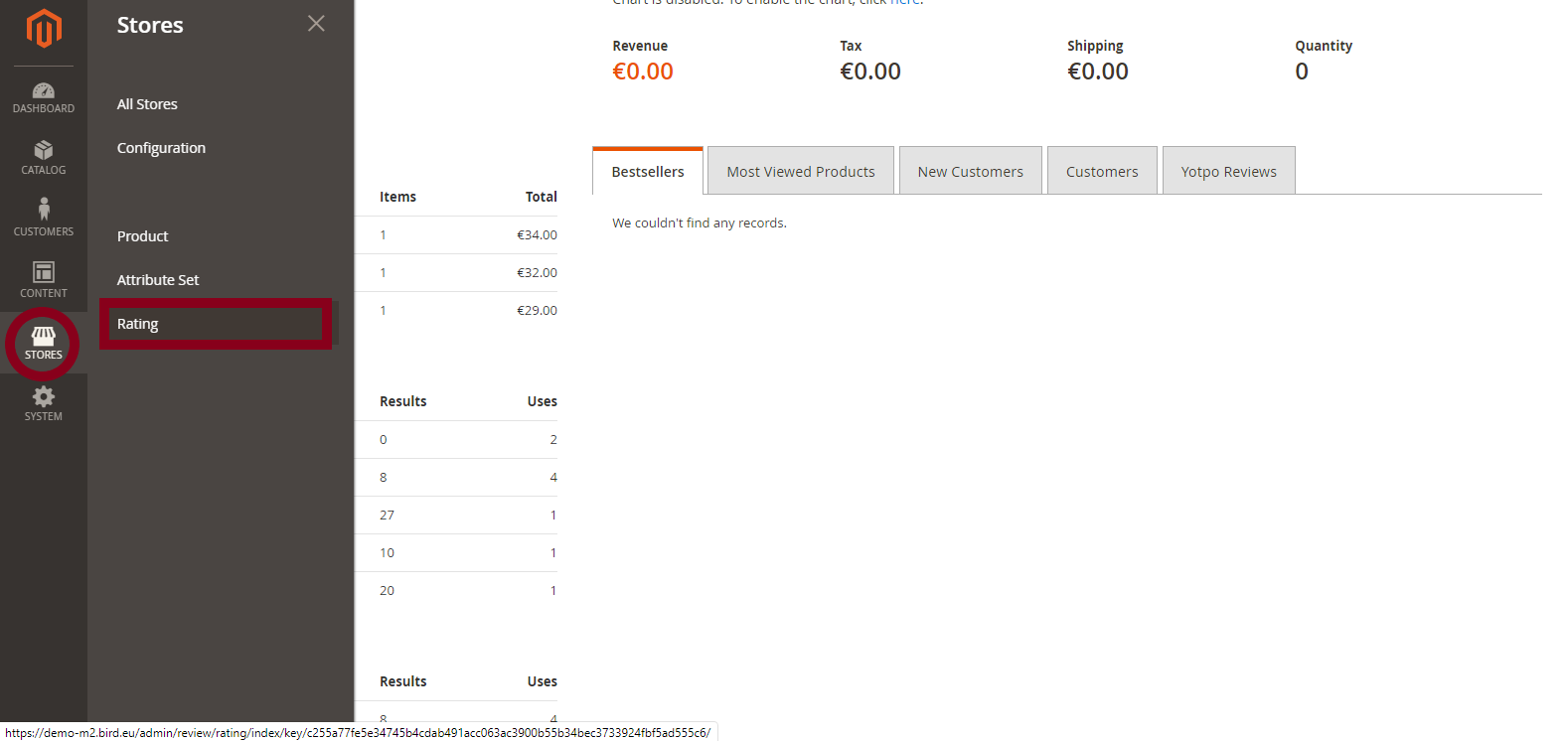 Then, choose 'Add new rating'.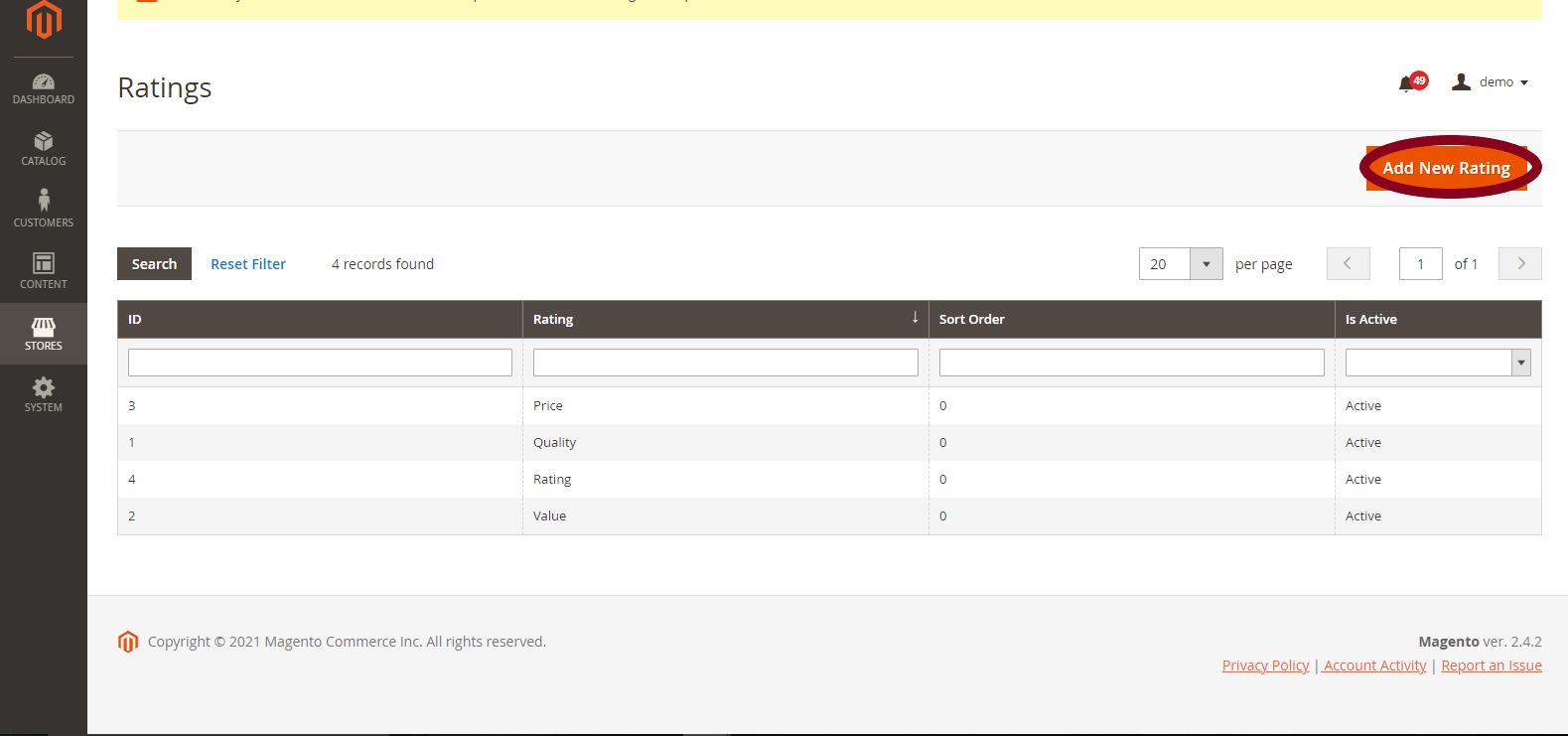 Enter the new rating's Default Value in the Rating Title section and enter the translation for each store view if necessary.

Set Visibility Into the store view where the rating will be included in the Rating Visibility portion.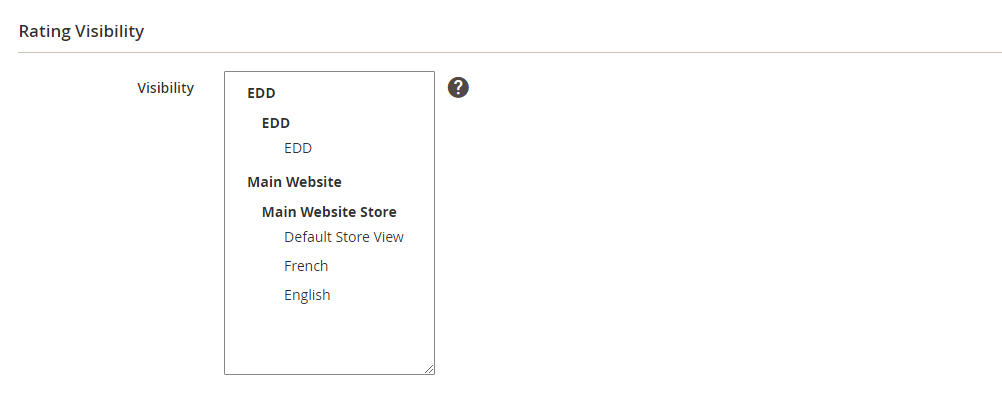 Input a number for Sort Order to decide the order in which this ranking appears as compared to others. Click the Is Active checkbox if you want your rating to appear on the storefront.

After doing all those steps, choose Save rating at the upper right corner of the page, and voila, it's done.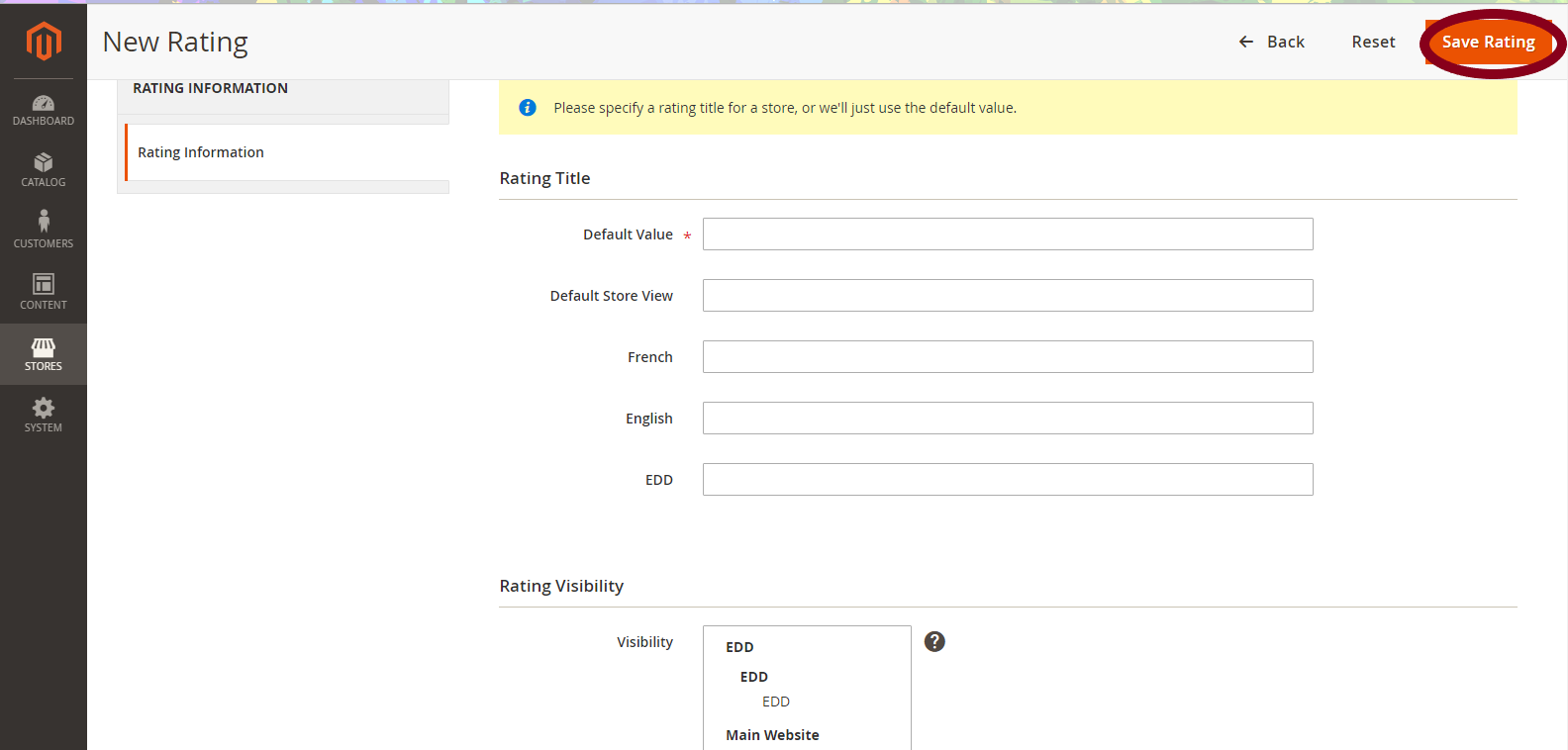 Final thought
To conclude, product rating still is one of the most critical factors directly affecting online and offline business. It served the role of building trust, credibility as well as product quality. Buyers, known as customers have a wide range of choices when simply looking at the review and rating a 5-star rating definitely has a greater impression than low ratings. If merchants can utilize this social proof, their business surely attracts more customers.
To take your online store to the next level, consider leveraging Magento development services. Our team of expert developers and dedicated support staff are ready to assist you in reaching a competitive edge in today's eCommerce market. Don't wait – unlock advanced features and outpace other stores today! And if you don't want to miss useful information, get in touch and visit our blog. Thank you.