Software development outsourcing has been a strategic trend in business growth for years. Some companies even outsource their entire company to others, and that trend is continuing to dominate. But do you understand what is a software development outsourcing project and how to have the best strategy for software development outsourcing projects?
In this article, we explore the important areas of software development outsourcing in order to help business owners properly plan their IT projects. In the end, we also provide some tips to find the best software outsourcing company that fits your requirements and expectations.
1. What is Outsourcing Software Development?
Software development outsourcing is hiring a third-party service provider to handle software development projects. These projects can vary from developing custom software for internal use or developing commercial software for other customers. By entrusting software development services to other outsourcing partners, the internal IT teams can focus on core competencies such as growth and innovation.
It has been many years since software development outsourcing became the strategic move of businesses. Some of the IT outsourcing trends are:
Quality comes first.
Focus more on communication.
Moving to Cloud.
Outsourcing software development is for every business, from small to big.
Business core preservation.
Cutting-edge technologies application.
2. Type of software development outsourcing projects
Choosing the right outsourcing model allows companies to invest in their projects in the most optimal way. Before diving into the details of software development outsourcing, it's important for company owners to understand different types of software development outsourcing projects.
Let's get into them to get yourself the evaluations.
2.1. Local Outsourcing
Local outsourcing, also known as onshore outsourcing, involves contracting with a service provider in your nation. Choosing this option has the advantage of allowing you to speak the same language, have the same cultural background, and be at the same time (if not the same). As a bonus, it's always preferable to meet in person. However, Local outsourcing has a big disadvantage in that it is more expensive than outsourcing to another country.
2.2. Offshore Outsourcing
Offshore outsourcing provides an additional alternative when compared to other types of outsourcing. These types of contracts include operating at a distance from a supplier. It's always the simplest method to save money on labor and materials. Furthermore, offshore outsourcing will allow you to access a particular skill set better than anywhere else in the world in a specific country. Last but not least, you'll be allowed to travel freely inside your own nation without any limitations
Offshore outsourcing might be hazardous if you pick a low-cost supplier. Before committing to a transaction, read the provider's feedback carefully to prevent this issue.
2.3. Nearshore Outsourcing
Nearshore outsourcing is located squarely in the middle of local and offshore outsourcing. By using nearshore outsourcing, you can reap the benefits of both onshore and offshore outsourcing, also minimizing their negatives. So, for example, you'll be in the same time zone, but you'll benefit from the reduced operating costs in a different nation. In addition, there will be less chance of delays while delivering products. Finally, for entering neighboring markets, nearshore outsourcing is useful and is also the logical next move for companies.
3. The benefit of software development outsourcing
3.1. Cost Savings
One of the most significant benefits of software development outsourcing is cost saving. You can cut down the many costs, including those spent on hiring, training, and facilities. For example, employees' prices in the US or UK are always higher than other outsourcing companies.
3.2. External experts' assessment
Practicing outsourcing software development gives business owners many chances to meet and work with many IT talents. Not only can you have all your requirements completed, but also you exchange knowledge with the outsourcing company and learn from one another.
3.3. Focus on what you do best
Software development outsourcing saves your companies from an overwhelming workload. Instead, you can divide it into parts and entrust it to the outsourcing parties, then focus on what your companies are good at.
Flexibility
Software development outsourcing gives you a chance to get rid of hiring employees when handling new projects. The math would be easier to solve with the employees coming from other outsourcing companies, and you don't have to pay them more when the tasks finish.
Latest technology access
Inefficient technology is also the reason for outsourcing software development. If you found an outsourcing firm with advanced technology, it's a plus for your business's growth.
3.4. New & fresh perspective
When working with outsourcing firms, the differences in the business core, culture, and working style can help you variate your products and services. During the cooperation, the outsourcing firm can suggest many ideas to get the products done most beautifully.
4. How to choose the best Outsourcing Software Development companies?
Finding the right software development outsourcing partner is a complex challenge. When choosing outsourcing software development companies, there are things that you need to take into consideration.
4.1. Business experience
There are several software outsourcing companies with varying levels of software development experience and competence. To find the best one, companies should look for people that have worked on similar projects before.
Businesses can search for software outsourcing companies with relevant experience on specialized tech sites like Clutch and Glassdoor, Upwork, and others, or social media like Facebook and LinkedIn.
4.2. Technological expertise
Those businesses that look for a certain skill set outside their countries should aim at the IT companies that have the necessary expertise. Business owners should examine their proficiency in working with your technology stack, architecture, and infrastructure. For this, they need to:
Create a shortlist of the vendors specialized in the areas of their interest;
Prepare a set of questions for the specialists and hold face-to-face interviews with them.
Security
Never compromise on security, especially when dealing with sensitive data such as credit cards or personal information. A trustworthy IT vendor can set an official security policy to monitor all the operations. So in case you're choosing a software development company and making a bet on security, consider only those IT companies that are compliant with ISO standards.
Portfolio and References
Shortlists help businesses to narrow down the number of software outsourcing companies. In order to research possible prospects, company managers can go to social networking sites and specialist websites such as Clutch to find out what other people are saying about the companies
Cost
Usually, you might need to look for companies with the lowest costs in order to save more. However, those companies need to come from highly developed IT markets or have high-quality educational infrastructures. Also, they have to be able to communicate in their preferred languages.
4.3. Location and Culture
It doesn't stop there; when applying global IT outsourcing software development across borders, the culture or time zone is also a thing that you need to consider. To assure the delivery time, it's great to have your partners work when you work and rest when you rest. Additionally, they have the same culture as you do to understand what you need deeply.
More detailed, here are some best countries for outsourcing software development that you should note down right away. Vietnam is one of the countries that have high-quality software engineer workforces. Every year, a significant number of students graduate from universities specialized in IT and software development. Also, Vietnam has a tradition of being hard-working and kind. Therefore, along with the cheaper cost of software engineers than India and China, it's very strategic to outsource software development to Vietnam. The average cost per hour for software developers in Vietnam ranges from $25 to $35.
5. Tips to have the best strategy for software development outsourcing projects
Although software development outsourcing can help businesses save time and money, it can come with many unpredictable risks. You can only prevent or solve the problems with IT outsourcing by getting aware in advance. There are six common risks contained in any software development outsourcing project.
5.1. Communication
A software development outsourcing project usually consists of many stems. To get things done well and successfully, communication between all parties is the critical element. The cooperation between companies and outsourcing firms, especially in different time zones, can cause many difficulties. Some of them are cultural differences, language barriers, or working styles. Therefore, there can be significant gaps in communications.
5.2. Reality Vs. Expectations
Choosing the right outsourcing software development partner is rough. Sometimes, the portfolio posted on websites doesn't fit reality. The differences can be various from different aspects. The most significant one could be the over-advertising service. In that case, you can waste your time and money. Also, with qualified outsourcing firms, late delivery can happen very often. The reason is that they have many clients to handle. Generally speaking, there are many significant gaps between reality and expectations, so don't forget to be careful when signing outsourcing contracts.
5.3. The Cheapest May Not Be the Best
If the price is your most concerning thing, then you might need to change your mindset. There are many hidden reasons for the low price. Sometimes, the contracts' costs might not be the ones you have to pay in total. Therefore, take time to read all the terms and conditions in the contracts as well as discuss with the accounting partners when you're confused about something. The outsourcing firms also offer you the lowest price as they're new to the market or not confident about their services. In short, try not to take the price seriously.
5.4. Transition
Entrusting your business parts to outsourcing organizations is a big step that can affect your people, processes, and systems. A rush transition can lead to many regrettable mistakes, such as leaking intellectual property or secret methods. So carefully set up the plan to process everything.
5.5. Avoid to loss of Business's Core Value
When applying software development outsourcing, it's essential to keep your business's core value or culture. Outsourcing partners can convince or lead you in some ways that are convenient for them. As a result, you can lose your actual core value and culture. Tell them what you want for your business right at the beginning, and try to keep everything in your way. Send people or take time to supervise the outsourcing process to interrupt whenever needed.
6. Magenest's Outsourcing Software Development Service – When Everything Gets Easier Than Ever!
Magenest is one of the most amazing outsourcing software development partners that you have ever had. With more than 5 years of experience in the field, we're confident that we can provide you with a world-class service that can please your expectations.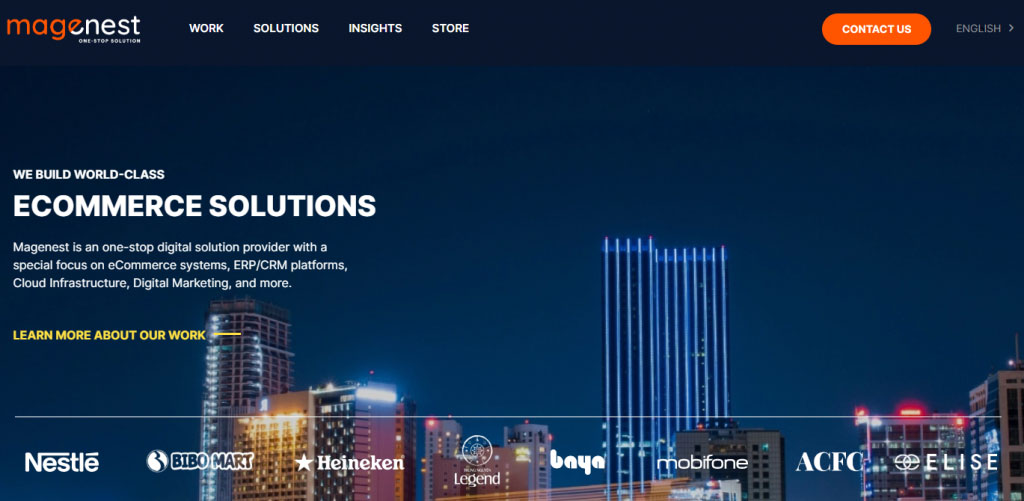 To build the trust of customers as well as get rid of the hidden cost of outsourcing, we give clients all access to the project management through a platform supported by English-proficient AM. Magenest always respects and catches up with clients' requirements to timely adjust things as well as eliminate as much as possible the waste of time and money. We have been using Magento Open Source (CE) and Magento Commerce (EE) to successfully handle many projects with big clients such as Heineken and E3D Online.
In conclusion
Finding the right strategy for your software development outsourcing projects can help businesses effectively minimize their expenses and avoid any hidden mistakes in project management.
If you are new to business or just at the beginning step of outsourcing planning. Contact Magenest TODAY to get your outsourcing software development done fast and effectively! Don't hesitate because there is always a free consultation.