In recent years, Mobile app development services are becoming increasingly important for thousands of businesses. When your company wants to build an app, you may be struggling with the idea of outsourcing and building an in-house app development team. Whether you are in a big company or a startup, making the right selection is always a big movement for the company. In this article, we'll talk about how to outsource mobile app development and also give you some important points to consider if you decide on outsourcing mobile application development at a reasonable price.
In-house development vs Outsourcing
In-house development
More than 95% of Fortune 500 companies have implemented enterprise mobile apps and are investing in establishing mobility solutions. Business mobile apps seem to be causing a boom in the consumer technology market. Making a mobile app requires a lot of resources and effort on the developer's part. The major decision is whether to outsource the project or construct it in-house.
Having an in-house development team provides several distinct advantages. A staff that knows your business from the inside out, with all its peculiarities, is a significant advantage. Due to the fact that the team will be working in your office, you'll have full control over the app development process. However, there are also certain disadvantages. Having a dedicated team of app developers on staff is costly. You'll need to hire specialists, supply them with workspace and equipment, and cover any additional costs involved with in-house staff. You might also need to spend more money and time interacting with new talent and ensuring that everyone on the team is on the same page when it comes to developing a great app. Remember that every day you don't have a mobile app is another day you're losing business to your competitors.
As a result, for many firms that need to move quickly, outsourcing has become the preferred method of saving time and money.
App development outsourcing is a whole different strategy, and it comes with a lot of advantages. When you choose an outsourcing strategy, you are essentially hiring a pre-existing development team to construct your app for a pre-agreed-upon fee.
Key advantages of outsourcing software development
Dramatic cost reduction
It is difficult, expensive, and time-consuming to source and recruit talented developers. By outsourcing the development of your app, you avoid all of the costs associated with hiring and retaining full-time employees.
Easy scalability
Hiring in-house teams can be tricky because some projects require a lot of staff while others require only a few. This is ineffective for everyone, but by outsourcing your project, the development company has the flexibility to increase or decrease the team size at their discretion.
Less Time Investment
In addition to being cost-effective, outsourcing mobile app development saves you precious time. Choosing the suitable out-staffing model will save you time and money on hiring, training, and retaining employees.
Speed of Delivery
By removing the recruitment process and possible training requirements, an outsourced mobile app is almost certain to be completed faster than one developed in-house.
>> Read more: 15 Outsourcing IT Benefits will make companies outsource their project
How to outsource mobile app development effectively?
Since we concluded that outsourcing app development is more beneficial than others, the next big concern is "How to outsource app development for the best results?" Here are three simple recommended steps for successful app development outsourcing.
Create ideas and have clear orientations
No one can understand your business's core and products better than you. Although you have a professional outsourcing house that will support you in developing apps, it's essential to have your own vision of the products. Also, having clear ideas of what you're going to do helps you choose suitable outsourcing partners or narrow down the research list.
Additionally, when you choose to work with individual app developers instead of a company, the clear outlines of needs are essential for good communication and negotiation. Therefore, put your mind to figure out the requirement to prevent further misunderstanding in the outsourcing process.
Here are some questions that you and your company should answer before applying to outsourcing app development:
What do you aim to achieve with your app?
What features will it have?
What are the main issues that the app will solve for users?
Your app will be based on iOS or Android, or others?
Estimate your budget
Figuring out the possible budget you can spend on outsourcing can help you choose a suitable outsourcing firm. The contracts' commitments are also different depending on how much money you can allocate for the app. However, the low price rarely comes with a unique and high-quality outsourcing firm. At that time, you can choose other options, such as hiring freelancers to have them create something that stands out of the crowd.
Nevertheless, the distance of price between freelance developers and outsourcing houses is not too significant. Therefore, it's possible to find a great app development outsourcing firm at an affordable price.
Take time to research developers
There are thousands of app development companies out there, including onshore, nearshore, and offshore. Therefore, you need to carefully choose one of them that meets your expertise, skills, and technology requirements. Also, the matter of geography and culture is vital for good communication.
Examine the developers
Your first list of outsourcing providers that seem to match your needs, be they agencies or When searching for potential outsourcing providers, the list is going to be very long. It might take a long time to contact each of them to discuss the projects. In this case, we suggest three tips to narrow down the list and ensure the outsourcing providers' quality.
Firstly, check the information on the websites and go through the portfolios of each provider. When you already have your list shortened, contact them by composing emails with the same content to ask for their achievement to prove with you see on their portfolios. Don't forget to mention the size of their company and the number of qualified staff there. For sure, you can request to see their qualifications and experiences. Don't rush to make a decision because, in the end, you want a great app without wasting too much time and money. So, do it well and carefully the first time.
Along with those steps, the reviews of old customers are precious. Check all the rankings and skim over the reviews to ensure that it is the outsourcing provider you need. The more in-depth research you do, the more excellent outsourcing providers you will find.
Keep track of all stages
The gold key to having a successful outsourcing app development project is communication. Therefore, setting up staff to keep up the communication and finger on the pulse of things during the app development process is essential. With an outsourcing company, there will be a project manager who will keep you posted. If not, then strictly ask for that in the outsourcing contract. At the same time, set up the time frame to get the information.
>> Must read: Advantages and Disadvantages of Outsourcing
How much does it cost to outsource app development?
When you research how to outsource app development, you'll need to decide on the cost of outsourcing app development pretty early on, since the outsourced app development cost is different due to the project's complexity, feature numbers, and regions. Let's look at one outsourcing app development process to see how much does it cost to outsource app development.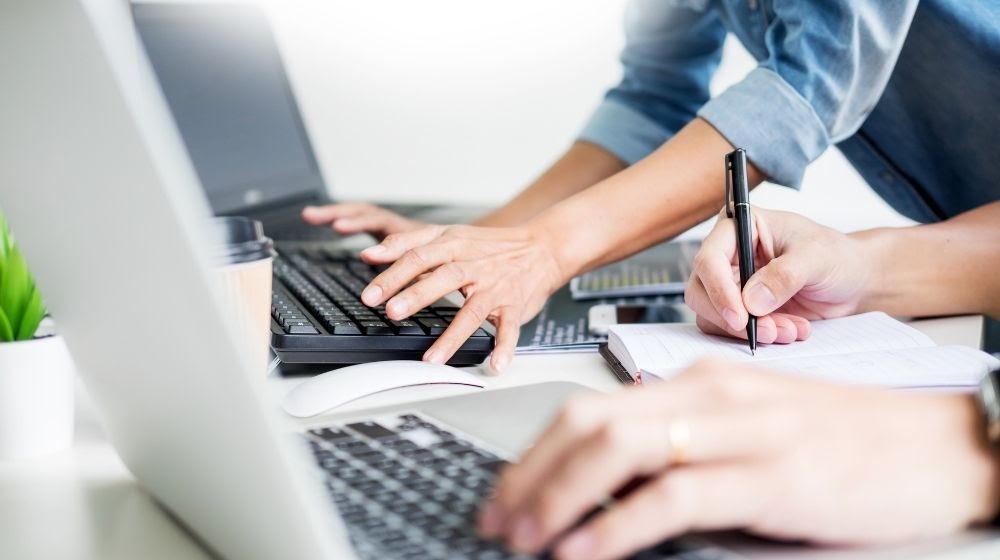 With more platforms, you will have to pay more. Usually, the price for iOS and Android will cost twice more than the Android-only project.
It will take approximately 3,038 hours of development time to introduce the Netflix-like app with an attractive interface, streaming algorithm integration, and multiple payment gateways. With a $50/hour pace, the project would cost $151,900 for both iOS and Android. The time and price would be substantially lower, at about $83,545, in the case of cross-platform growth.
It costs 2,294 hours for an Uber-like app with GPS navigation, a versatile passenger ride option, and different payment methods. The expense of creating outsourced applications for iOS and Android versions would be about $114,700. Developing cross-platforms will reduce the price to $63,000.
It will normally take 2,500 hours for a simple eCommerce app with a list of products, a cart, and payment gateways if you hire a qualified mobile app developer. The cost of the production would be $125,000 for both platforms. However, the cost would be about $68,700 if you want a cross-platform approach. Use this article to learn more about the creation of e-commerce software.
Simultaneously, the outsource app development cost also depends on the locations. Here is the comparison of outsource app development prices in different regions.
| | | | | |
| --- | --- | --- | --- | --- |
| Regions/project price | Netflix-like app | Ridesharing app | E-commerce app | Uber-like app |
| North America | $455,700 | $477,300 | $375,000 | $798,600 |
| Oceania | $446,586 | $477,300 | $375,000 | $798,600 |
| Western Europe | $303,800 | $318,200 | $125,000 | $532,400 |
| Eastern Europe | $151,900 | $159,100 | $125,000 | $266,200 |
| Asia | $148,860 | $155,100 | $123,800 | $262,100 |
In conclusion, it is not easy to outsource mobile app growth with the number of businesses and individual developers on the market. But it is not only advantageous for your product and your business to work with a good company, but it can also offer a pleasurable experience. We have tried to provide you with the most crucial tips and advice in this guide to find what you are searching for.
Hiring outsourcing app development team
So far, we have been talking about outsourcing from a peripheral angle. Now, let us go deep into outsourcing and how to outsource mobile app development with the right app developer for your company.
Freelance developers
Freelancers usually are people with high expertise in the field. Therefore, they are able to complete the projects fast and correctly. Although the price usually goes with the quality, the cost of hiring freelancers is often low as they don't have to travel to work or have lunch at break
However, there is no guarantee about the security of a company's knowledge property since freelancers can access different resources. Sometimes, companies have to deal with the abuse of their apps somewhere else. Also, as there is no commitment between freelancers and companies, they can drop work anytime they want, which will heavily affect the work process.
For a simple app, freelancers with narrow specializations in platforms and technologies can be a great resource for you. There is a chance to save a lot of money on app development if the features you need match the developer's area of expertise.
Off-the-shelf solutions
When it comes to cost and time to market, these solutions are usually the most cost-effective, but they can be difficult to customize and transition from if there is an eventual need for Furthermore, off-the-shelf solutions do not imply quick updates and changes in response to market needs, which is inflexible within business requirements.
If your task is to create an app for an existing business and there is no need for anything unique and customized, an off-the-shelf solution might be for you.
Development company
Compared to hiring freelancers and Off-the-shelf solutions, outsourcing app development costs less time in interviewing. You only have to talk to the representative of the outsourcing firm from the beginning till the end.
Outsourcing houses often have their talents and specialists who are qualified and able to get things done fast and correctly. However finding an outsourcing party may take less time cuz they're more professional and have portfolios, etc. When you've got a great outsourcing app development firm, you have a whole global talent pool in your hands. Also, outsourcing firms will provide you with a QA and QC process for control of the projects' quality.
The IT outsourcing services process always goes with a contract with different conditions and commitments. Therefore quality management is easier and more effective. With outsourcing contracts, business owners have all the access to control progress and quality. They can also ask for compensation when the outsourcing site fails the commitments.
Magenest
Magenest is a leading eCommerce outsourcing company in Vietnam. Thousands of consumers have taken use of our services, including well-known brands such as Heineken, Nestle, and Universal (view our work and experience). Magenest is a collection of dedicated developers, solution specialists, and designers who aim for unrivaled quality and uniqueness. To provide unequaled eCommerce solutions, our team is accredited and receives continual training to develop our skills and knowledge.
Magenest is a passionate group of developers, solution specialists, and designers who strive for unparalleled quality and originality. Our crew is accredited and undergoes ongoing training to improve our skills and knowledge in order to give unrivaled eCommerce solutions. We will bring about all the advantages of outsourcing and ensure that your projects are accomplished to the best quality.
In conclusion
It is not easy to outsource mobile app growth with the number of businesses and individual developers on the market. But it is not only advantageous for your product and your business to work with a good company, but it can also offer a pleasurable experience. We have tried to provide you with the most crucial tips and advice in this guide to know how to outsource mobile app development.
If you are looking for a reliable partner who knows how to develop your app to grow your business, we are here to help. Contact our experts now to find out what values we can bring to you and your business.