Today, An increasing number of small company owners are realizing the value of having an App. According to a survey, 42% of businesses have already invested in their own mobile app development, and 30% aim to do so in the near future.
So, how much does an app cost? Perhaps this is one of the first questions app marketers and developers ask before starting a project to build an app. This detailed tutorial will give you complete knowledge of the intricacies and procedures involved in determining the cost of developing an App.
How Costs of Developing an App can be Estimated?
A feature is a special activity or task according to which the software should operate and give the expected result. Understanding the requirements could sum up different factors, and these factors play a very specific role in crafting a mobile application. Here is the formula for calculating ''How much does an App cost''.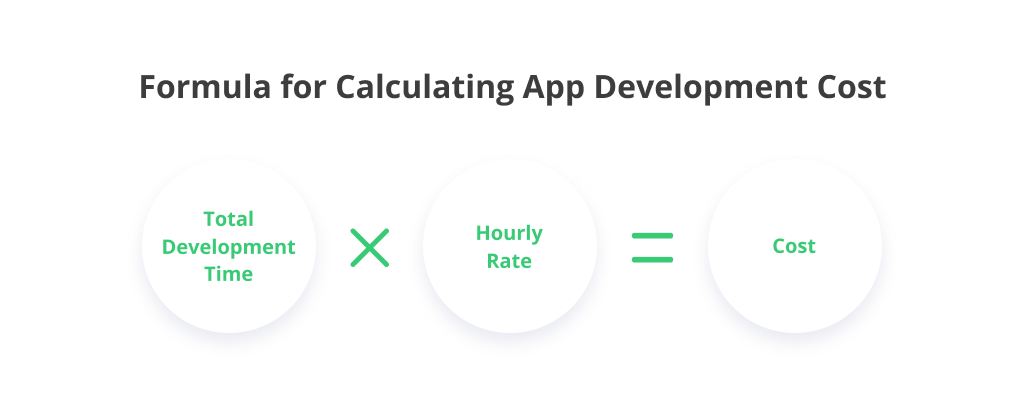 A product backlog is a list of the features, changes to existing features, bug fixes, infrastructure changes, or other activities that a team may deliver in order to achieve a specific outcome.
In general, clients are charged for app development services based on the following options:
Fixed charge: a payment that implies the cost charged for a specific timeline. This may work well for smaller projects, especially those with a clear and well-defined scope of work. The advantage of this option is that the app development cost is affirmed with the client before development starts.
Time & material: a pricing structure that is determined by the time and materials needed for a project and thus is typically calculated based on an hourly rate. This approach provides flexibility during the app development process and fits more complex and ongoing projects.
It is necessary to understand the benefits of applying the time & material option, even though you may be anxious about it in the beginning. As this option has both an initial project estimate and the ability to change the scope during the process, this helps to control the app budget and, with this flexibility, build a product people will love.
Factors That Determine Costs of Developing an App
Several years ago, there was a significant pricing difference between the two major mobile platforms – iOS and Android. Currently, this difference is not considerable, according to several pieces of research conducted by reputable app development businesses. Today, the most important aspect is mobile app complexity, which can be arbitrarily divided into three categories: simple, medium, and complex.
A price tag for a simple app with a basic User Interface and a set of must-have features ranges from $40,000 to $60,000, a medium app development project costs between $61,000 and $120,000; and a complex app project costs at least $120,000. As a result, there is no definitive answer to the question, "How much does an App cost?" since the price is determined by several factors, including:
Project type
These apps are those large and heavy apps that aim at providing the best user experience, optimization, and fast work. They use various device APIs and also process a wide range of features at the same time. Native apps start getting expensive based on the platforms you want to support because it involves more people in the developing process of an app.
Hybrid Apps: Cross-platform apps that are best suited to reach a bigger audience from the start. The development and maintenance cost goes down for this app if the developing process involves a team and a single code, which works for all the platforms. But cross-platform apps are less optimized; they lack access to APIs and cannot provide a user experience similar to the one provided by native apps. They are only appropriate for small and medium communication apps, such as lifestyle app or game app.
Database Driven Apps: These are the apps that are complex with the bulk data to operate, stored directly in the device memory or on a web server. For this app to work as desired, additional features like camera, internet connection, or access to a phone gallery may be required. The native apps that use device memory to store data libraries are various mobile dictionaries or encyclopedias.
Basic Functionality App: These apps are very fast to develop and include very few or no features at all. They get developed for personal use, and these kinds of apps cannot get found in the app store. Usually, they are made to view the list of the topic- where you can click on a question and get the information about it or view another list.
Firmware/Hardware Dependent Apps: These apps access a mobile device and aim at enhancing the functionalities. The functionalities include an alarm, flashlights, camera, etc. For example, AlarmMon is an app that allows the user to customize the alarm clock.
Mobile/Gaming Apps: Games can be simple and advanced, including various features like 3D graphics and physics, global ratings, AR support, social media integration. So basically, creating a more sophisticated gaming app can cost more. Gaming apps are the most popular apps worldwide, and of course, the ones that bring in more profit.
Features and functionality
The complexity of the application is determined by the platform you choose and the team you hire to create it. App development is a key aspect, and if it is successful and inexpensive, the whole cost of an application becomes more affordable and effective.
The core features that are widely used in many digital projects are as follows:
App Specification
Descriptions
Approx time
Approx cost with back-end, $ (based on $40/h)
Signup/Login
Via email, Facebook, phone number with verification
28 – 42 hours

1,120-1,680

Payment management
See and Refund payments
23 – 44 hours
920-1,760

Push notifications
Alerts, SMS notifications, and warnings provide users with relevant and up-to-date information

25 – 32 hours

1,880-2,480
Chat
Conversation details
Online/offline status
Typing status
Read/sent status
Send media files and documents
160 – 170 hours
6,400-6,800
Search
Basic search with suggestions
13 – 18 hours

520-729
User Profile
Edit profile
Change password
Change email
Add/remove credit card
47 – 62 hours

1,880-2,480
User management

See a list of users
Edit user
Delete/block user
Create user
66 – 90 hours

2,640-3,600

Platforms (iOS, Android)
You may also inquire about the cost of building an App based on the platform. No, it does not. The answer is no.
The app development schedule for Android and iOS apps is now nearly identical. If you target both platforms, your applications may be created concurrently and utilize APK to iOS and Android, allowing the apps to be launched simultaneously.
When selecting which platform to start with, app owners evaluate criteria factors such as iOS and Android market share, device fragmentation, and ubiquity, but the most important is that creating mobile applications for these platforms differs wildly. These systems support various programming languages, have distinct SDKs, and use various development tools.
Design Complexity
The app design has an impact on the entire process of developing an app as well as the cost of developing an app. The more complicated the design, the higher the cost of your application.
Simple app design comprises primarily of common, platform-specific components that are quite simple to create and will not require much effort. This analysis determines the design's complexity, and the complexity affects how much does an App cost.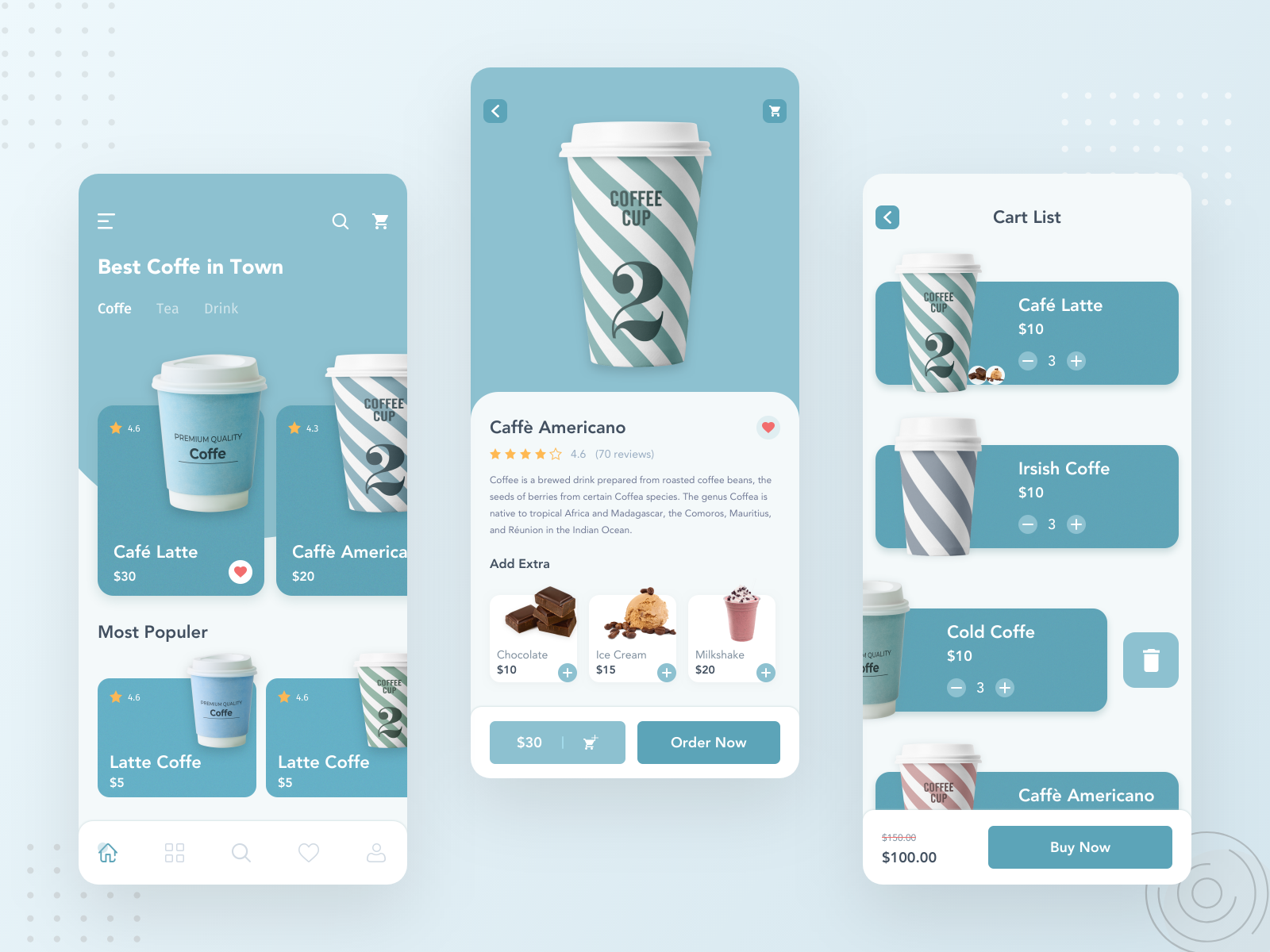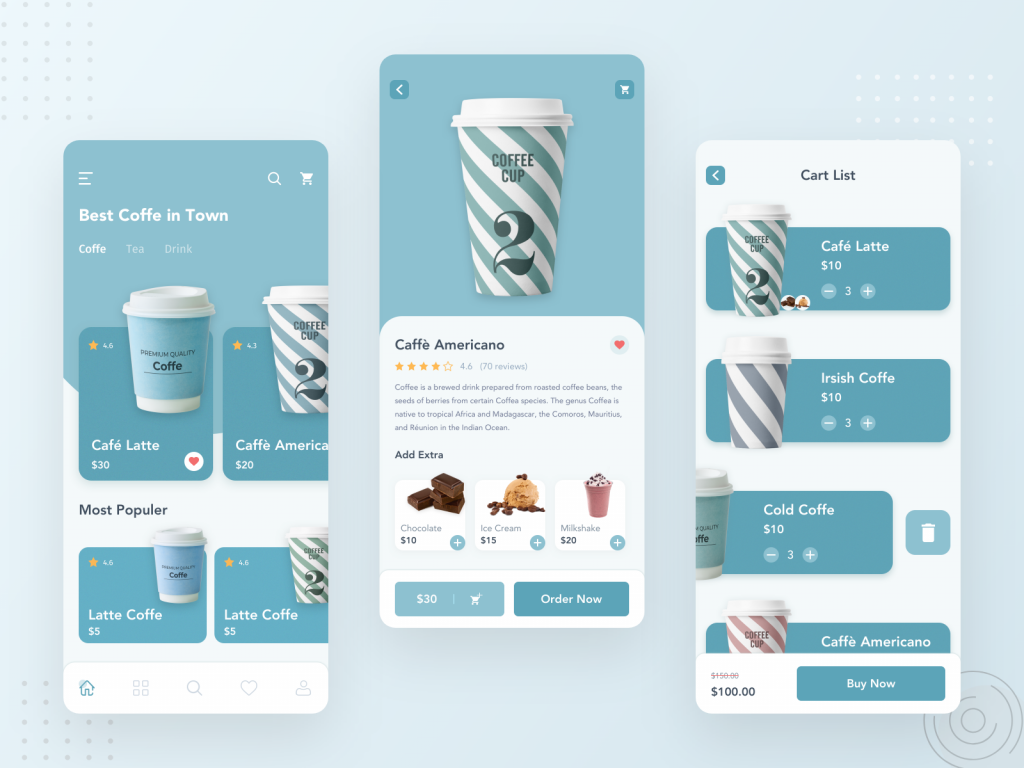 Location and structure of a development team
When estimating the cost of creating an application, the location of the development team that you employ is also an essential aspect to consider. The cost of developing an app in the UK will differ from the cost of app development in the US and other regions. Both will provide identical services but still the geographical factor remains the hurdle for the cost.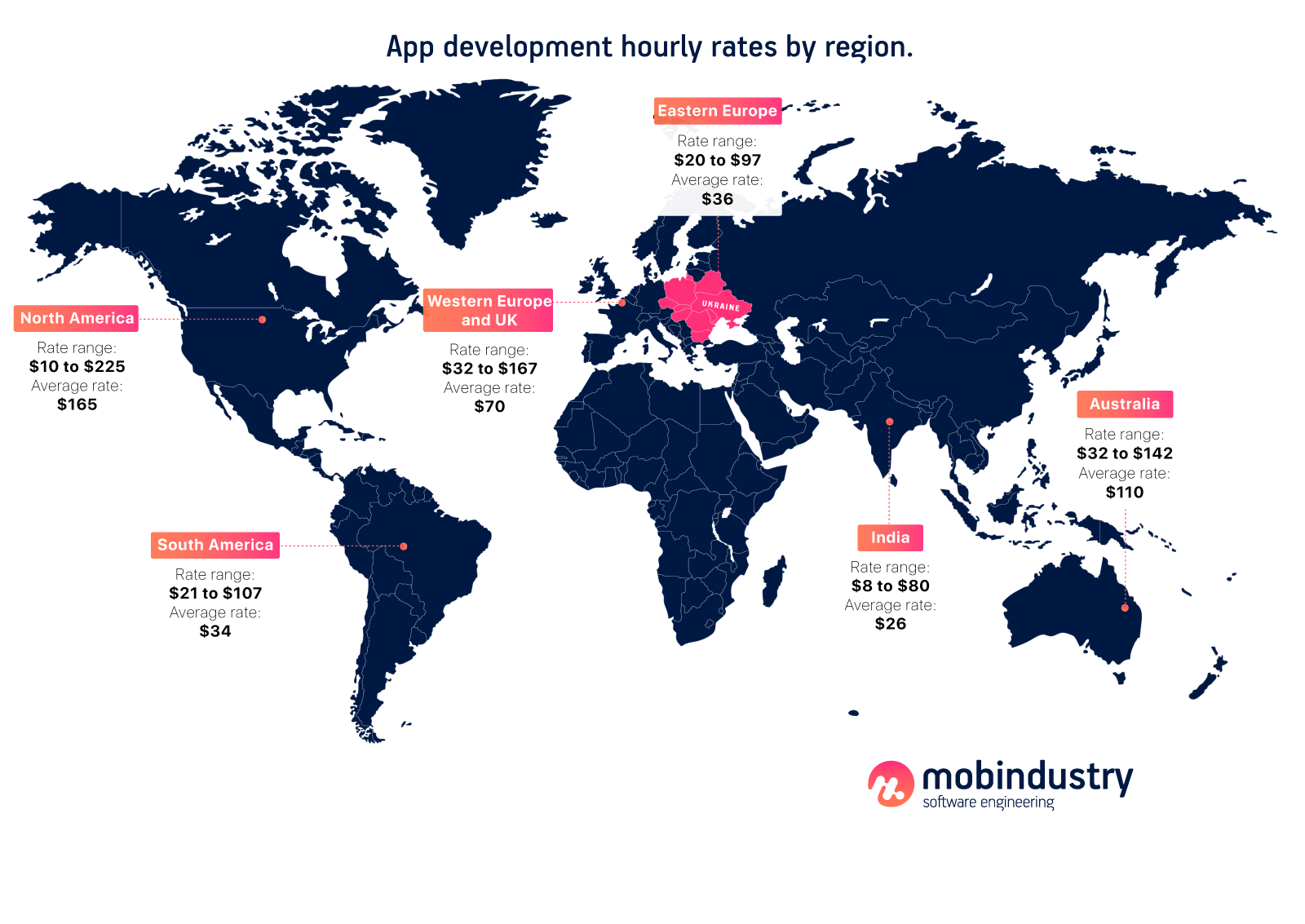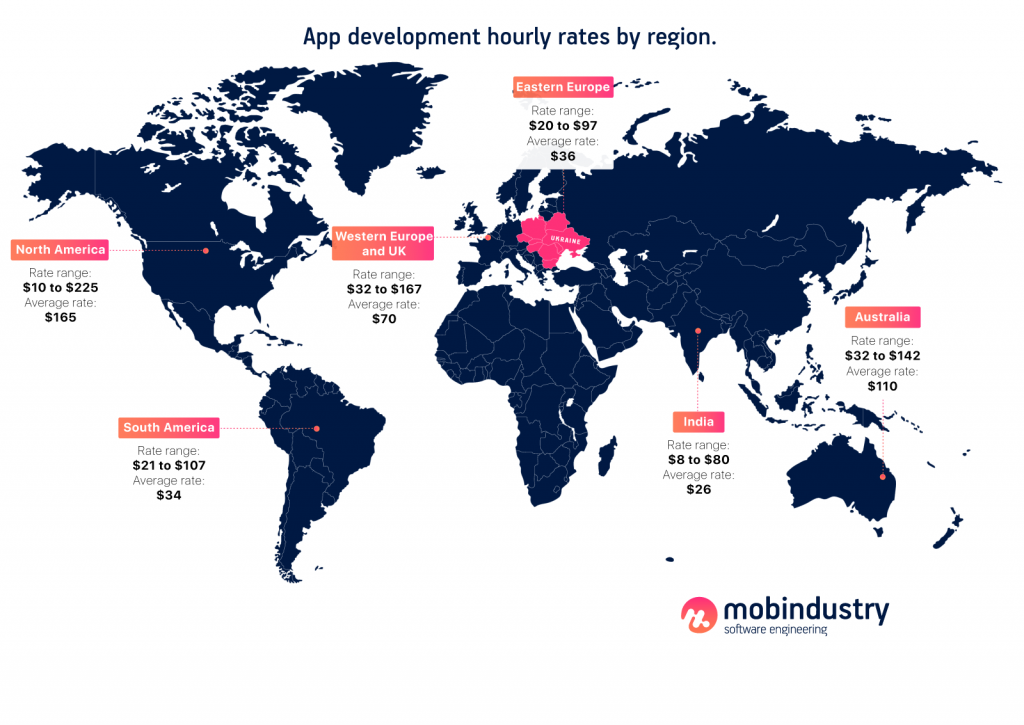 For example, app development cost in India, Pakistan, and other Asian countries is usually less than $25/hour. In South America, which is considered to be another popular outsourcing destination, the rates are between the ranges of Western and Eastern European rates. The highest development costs will be required if you choose vendors from the US with a $70 to $100 rate. Eastern Europe, Ukraine in particular, will offer you a more attractive average cost of developing an app of $ 30 to $60/hour. This location is incredibly affordable to work in; you receive the high quality for a cheap app development cost, and you do not overpay for a company's brand.
Business Analyst: When you outsource a project, you may benefit from business analysts that can evaluate the project needs and describe the various technologies that might increase the project's beauty. The business analyst creates the project scope and submits it to the customer after understanding the need. This thorough investigation will lower the additional cost and make a successful plan for the execution of affordable app development.
UI/UX Designer
Design is an essential component of the application since it has the potential to keep the consumer. A beautiful design reflects the work of a skilled and productive designer.
As we mentioned previously at the BA, the designer has duties and responsibilities as well. App design is a necessary component of app development, and hiring an app designer can be pricey if you do not do a thorough evaluation of designers. A professional designer may charge $150 per hour, while a junior designer might price $40 per hour.
Mobile app engineer: You will require one to several iOS and/or Android developers depending on the platforms you intend to distribute the app on. Their main responsibility is to develop and publish the application while taking into account all of the technical and business aspects mentioned in the specification
QA engineer: Quality Assurance engineers execute regression, load, smoke, and other sorts of tests to ensure the application's reliability. They also verify the UI and other app components for compliance with the requirements. The QA costs about $20 per hour for testing, detecting, and troubleshooting the application.
Project Manager: A project manager is a responsible individual who assigns work after gathering customer needs and coordinating with the client. A project manager should be paid $20 per hour, however, few companies do not pay for a project manager or business analyst.

Note: The above numbers are estimated figures and for an exact idea, you need to consult a developer who is well experienced and skilled.
How to reduce the cost of developing an App?
Application development is a time-consuming, costly, and labor-intensive process. Our team of project managers, business analysts, and engineers has prepared a number of recommendations to assist you in cutting the cost of developing an App.
Prove the concept of your application idea
Creating a proof-of-concept allows you to verify that your application's concept is potentially practical. With PoC, you can guarantee that your application is both distinctive and helpful, as well as uncover justifications for its effectiveness. The good news is that the financial and time costs for its development are minimal.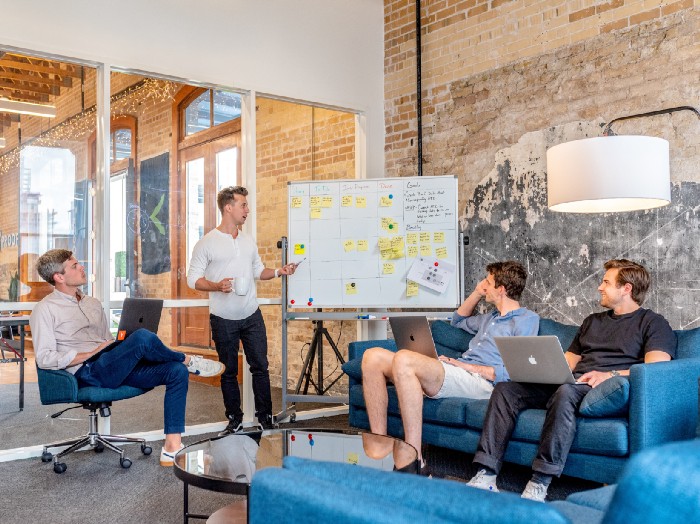 Outsource a software project
Rather than establishing an in-house development team, use a third-party firm. IT outsourcing is one of the greatest ways to save expenses while maintaining product quality. You will know exactly how much does an App cost.
Create a detailed technical specification
Create a detailed software requirement document so that each team member understands exactly what and how to build it.
This also helps the customer and engineers to be on the same page by spending less time communicating during the project and making fewer requirements changes. The more information you offer, the sooner the product will be developed. It is considerably easier to calculate how much does an App cost when you have a thorough technical specification.
Turn to a trusted app development company
When looking for a reliable software development partner, consider ratings and client testimonials. Choose engineers who are well-versed in the relevant fields and technology. If you want to create an Internet of Things application, look for experts that have assisted other organizations in deploying IoT solutions.
Develop an MVP (Minimum Viable Product)
This is an application that includes only the minimum functionality, which is necessary for completing the main task. Airbnb, Amazon, Uber, Instagram, Dropbox, Twitter, and many other popular apps were MVPs.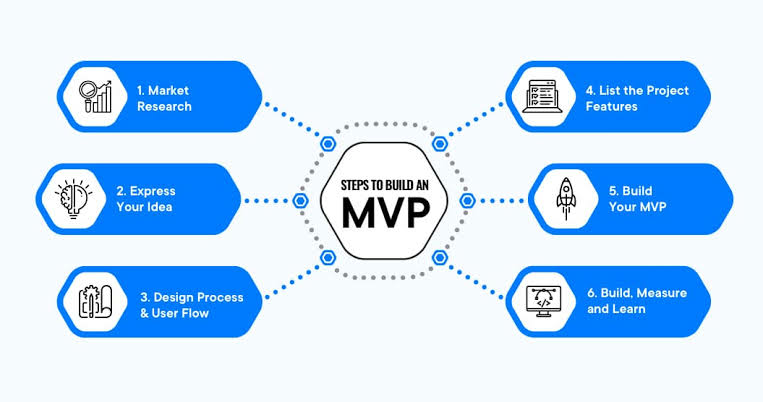 Because of its merits, the MVP development technique is well-known and frequently used. With the purpose of collecting user feedback, assessing reaction, and enhancing or extending the product so that it fulfills the requirements and expectations of the consumer.
Launching an MVP allows companies to test the concept, present it to investors, and attract early customers. As a consequence, you not only know exactly how much does an App costs your company, but you can also build an app that fully matches customer expectations.