One of the most important things, when you participate in the eCommerce world, is selecting the most suitable eCommerce platform for creating an online store. In fact, it can be the factor that decides the fate of your business.
If You are owning a Shopify online shop at the present, and want to improve website performance, boost traffic, scale sales and optimize the speed of your store. You may need to migrate your current store to a more feature-rich and powerful system like Magento 2. In this blog post, we will outline a Magento to Shopify migration checklist to help make the process as smooth as possible. Let's find out!
What Data Should You Migrate From Magento To Shopify?
Product Data
When it comes to product data, you'll want to make sure that all of your product information is carried over to Shopify. This includes things like product name, description, price, SKU, and any other relevant details.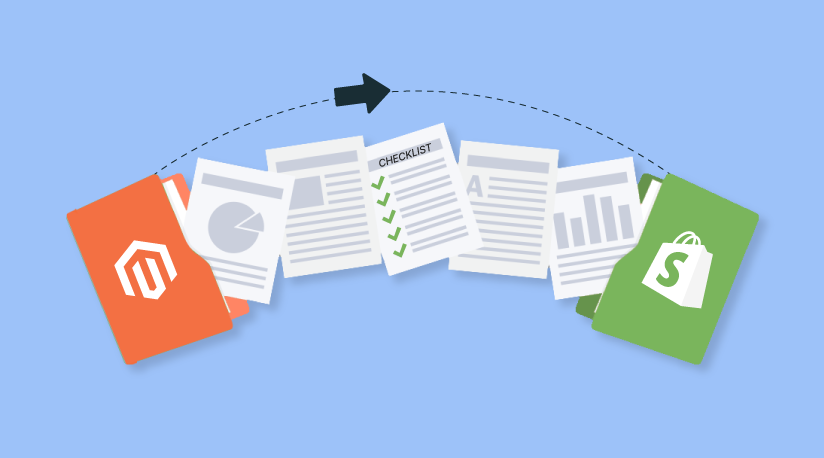 Products' Visuals
You'll also want to ensure that your product images are migrated over so that customers can easily recognize your products in their new shopping platform. Additionally, if you have any integrations set up with third-party applications in Magento, you'll want to make sure that these are also transferred over to Shopify.
Static Page Content
With static page content, you'll want to migrate over any pages that are essential to your website's functionality. This includes things like your contact page, shipping and return policy pages, and any other important information that you want your customers to have access to. You'll also want to make sure that any images associated with these pages are migrated over as well.
Benefits
Last but not least, you'll want to take advantage of Shopify's discount and coupon features. This can be a great way to entice customers to switch from Magento to Shopify. By offering discounts and coupons, you can show customers that they'll be getting a great deal by shopping with you on your new platform.
Magento to Shopify Migration Checklist
Your theme: one of the most important aspects of your online store is its design. Make sure to migrate your theme over to Shopify, or find a new one that you love just as much!
Product data: all of your product information, including descriptions, pricing, and images, will need to be migrated. This is a crucial part of the migration process, so avoid overlooking it!
Customer data: another important aspect of migration is making sure your customer data comes with you. This includes things like addresses, order history, and contact information.
Payment methods: you'll need to set up your payment methods on Shopify, which may be different from what you were using on Magento. Be sure to research the best options for your store before making the switch!
Shipping: finally, you'll need to configure your shipping settings on Shopify. This includes things like shipping rates and delivery methods.
>> Read more: Shopify to Magento 2 Migration – A winning bet to place
Steps To Migrate Magento To Shopify Successfully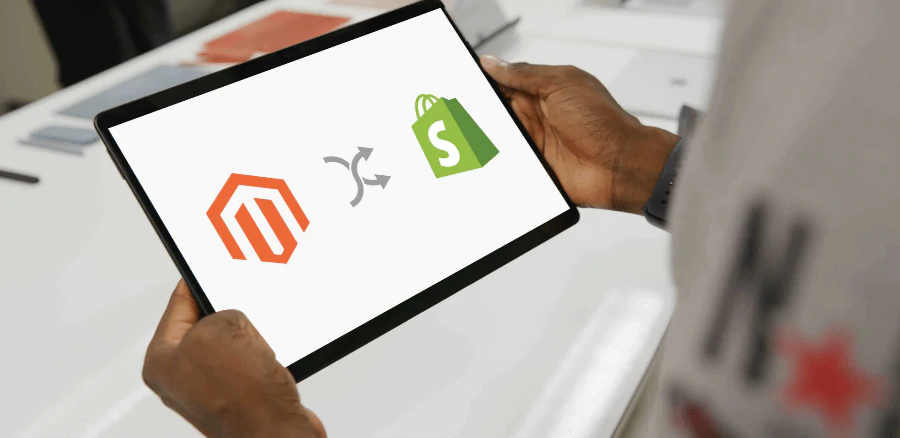 While using an automated migration tool can help you avoid losing precious data when transferring over to a new platform, it's still important that we back up our store and validate the credentials of current users. You should always have a plan for what happens if something goes wrong when transferring your store's data.
Here's what you need to do.
Step 1. Run Magento Backup
Run a backup of your Magento store before beginning the migration process. This will ensure that you have a copy of all your data in case anything goes wrong during the migration. There are three options for achieving this:
Database backup – Creates an exact copy of only those files in use on local storage;
Media & File Backup – This includes both media content stored locally as well its associated file streams (if any), together with all modifications since the last sync;
System wholesale – This allows you to take a complete backup of your data.
Step 2. Prepare your Shopify store
Create a Shopify account
Before you start adding products to your online store, it is important that the data for each product listing meets standards. There are three plans available for different sizes of online stores and features that they want: the platform itself with functionalities like e-commerce or not – so choose wisely!
Choose a theme
The next step is to pick out a theme. The Shopify default theme installed on your new store will be just fine, but it might be tempting for you to choose one of the 80+ professionally designed templates instead,
Once everything has been migrated from Magento and imported into our system (which could take up to 24 hours depending), then customize as desired or go back if needed with something similar from before
Step 3: Two ways to perform Shopify to Magento 2 migration
Currently, there are 2 solutions for you:
Manual migration
Using an automated migration tool
And in each way, we will make clear all the steps to how to transfer your data from Shopify to Magento 2.
# Migrate from Shopify to Magento 2 manually
To manually move your data from your current store to Magento 2, you need to export all data from Shopify to CSV files and import them to Magento 2.
Before you start, here are two things you need to prepare in advance: Firstly, review your existing data and decide what kinds of data you want to migrate (for example products, categories, customers, manufacturers, orders, coupons, etc). Secondly, find out what types of data you can export CSV files from Shopify and what types are supported by Magento to be imported by CSV files format to the platform.
When exporting, there's a 9000-row limit for each file. Therefore, if your data is more than 9000 rows, you won't be able to manually export them by hand but you have to use an export app from the Shopify app store. In reverse, if the data is less than 9000 rows, you need to export everything to CSV files so that they can be imported into your Magento 2 installation.
Next, please go into your Magento admin dashboard, then proceed to System, Import/Export, and Dataflow Profiles. From here, you can then import to Magento 2 by selecting the CSV files you created. However, as you can see, you can only import Advanced Pricing, Products, Customers and Addresses, Customers Main File, and Customer Addresses.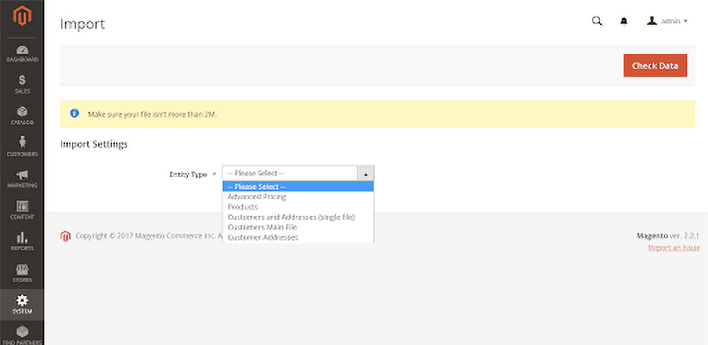 As a result, you need to consider this solution because if Orders, for example, are one of the most important data, you can't import them manually to Magento 2. Consequently, for the unsupported data, the only solution to import them is to copy and paste content from your old site. Moreover, the relationship among data tables will be disrupted when the data is imported to Magento 2.
# Migrate from Shopify to Magento 2 with an automated migration tool
In terms of shopping cart migration, we highly recommend LitExtension – the world-leading company in this field that offers top-quality servicing at a reasonable cost. This tool helps you migrate all your data including products, customers, orders, SEO URLs, and passwords… from Shopify to Magento 2 seamlessly and accurately. They also offer Free Demo Migration so that you can experience how exactly the tool works.
Step 4: Check your store after migration
After a full migration is well completed, the first thing you want to do is check the result immediately. You want to see what your new store looks like both in the store-front and in the back-end. LitExtension provides detailed instructions to check your e-store after the migration. You can see it for more information.
Especially, with Magento, you need to kindly clear cache and reindex data by running these command lines:
php bin/magento indexer:reindex
php bin/magento cache:clean
And one more important note is that out-of-stock products can be disabled and not visible from the front-end. So that you need to make some changes from the back-end to fix it.
Step 5: Migrate Theme And Customisation
It is impossible to migrate Shopify themes to Magento 2. You need to recreate them so that they can work properly with the Magento 2 structure. Or else, you can consider these possible solutions to create a theme on Magento 2:
#1. Download and install a Free theme for Magento 2
There is a wide range of Magento 2 responsive themes for free download on the market that you can easily find and install on the new site.
#2. Buy and implement a ready-made Magento 2 theme
With this option, you have to pay for ready-made themes of Magento 2. Compared to the free themes, most of the paid Magento 2 themes and templates have better quality in both the design and the functionality.
#3. Recreate the theme you have on your Shopify store or build a unique one for your Magento 2 store
Based on the design of your old website on Shopify, you can build a new theme and template for your e-store on Magento 2. Or you certainly can design an absolutely new Magento 2 theme for your store from the beginning.
As a result, you will have a unique design that meets all of your needs and requirements. In this case, you can contact the Magenest team to help you out!
Step 6: Run recent data migration
During the migration process, your current store is normally running and still receiving new entities such as new orders and new customers. Therefore, after performing your full migration successfully, you need to move all that recent data from your old store to your new store. Then, with LitExtension Recent Data Migration, you can easily migrate recent data for free and unlimited times within 3 months after the initial migration.
To begin, proceed as follow:
#1: Go to your account on the LitExtension site and choose Recent Migration.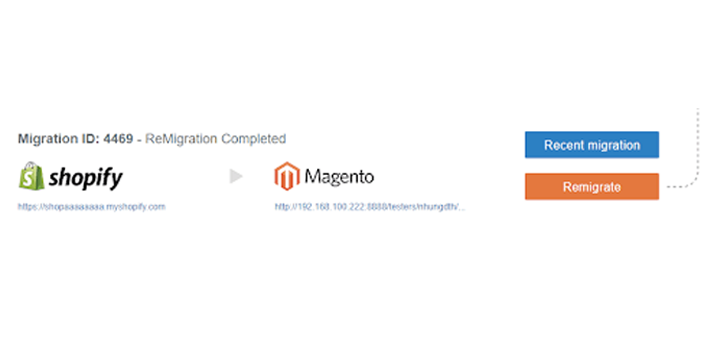 #2: Follow the simple steps that you did when setting up the full process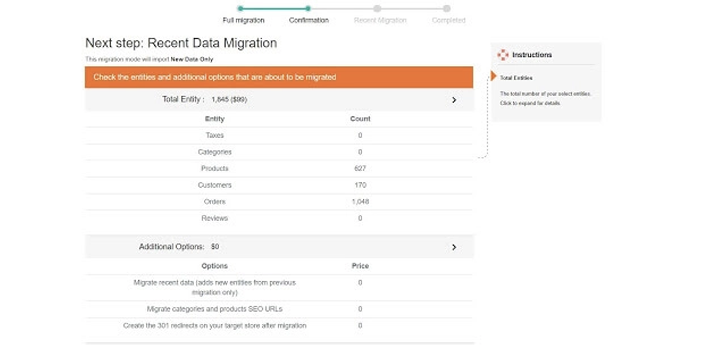 That's how easily our Recent Data Migration works. After that, your new site is guaranteed not to miss any data and to be ready to work officially.
Step 7: Switch Domain
Finally, after your Shopify to Magento 2 migration is completed, you should Change DNS and switch the domain to your new store on Magento 2.
If you are new to e-commerce, some of these terms and features may seem confusing and daunting. LitExtension offers a reliable Change DNS and switching domain service for a single fee.
Conclusion
It can be very tedious or a pleasant experience depending on what method you choose to migrate from Shopify to Magento 2. If you're considering a migration from Magento to Shopify, or have any other questions about these eCommerce platforms, please don't hesitate to contact us. Our team of experts can help you choose the right platform for your business and guide you through every step of the process, from design to implementation and beyond. Contact us today to get started!