Magento is an incredibly powerful eCommerce platform that comes equipped with various features to bolster speed such as Varnish caching, an optimized mode for peak performance, and streamlined resource files, these optimizations can only do so much. The underlying hosting environment plays a pivotal role in your site's overall speed, and no level of on-site enhancement can overcome the limitations of sluggish hosting. For those embarking on the journey of creating a new Magento store or aiming to refine an existing one, the selection of the fastest Magento hosting provider is a non-negotiable cornerstone.
In our comprehensive guide, we will introduce you to the elite ten fastest Magento hosting providers known for their blistering speeds and delve into the advantages and potential drawbacks of each of these.
What Is Magento Hosting?
Magento hosting is a type of web hosting service specifically optimized for the Magento eCommerce platform, which requires a robust, secure, and scalable hosting environment due to its comprehensive and resource-intensive nature. This service is the bedrock of your eCommerce presence, safeguarding all your site's critical components, such as files, databases, and content.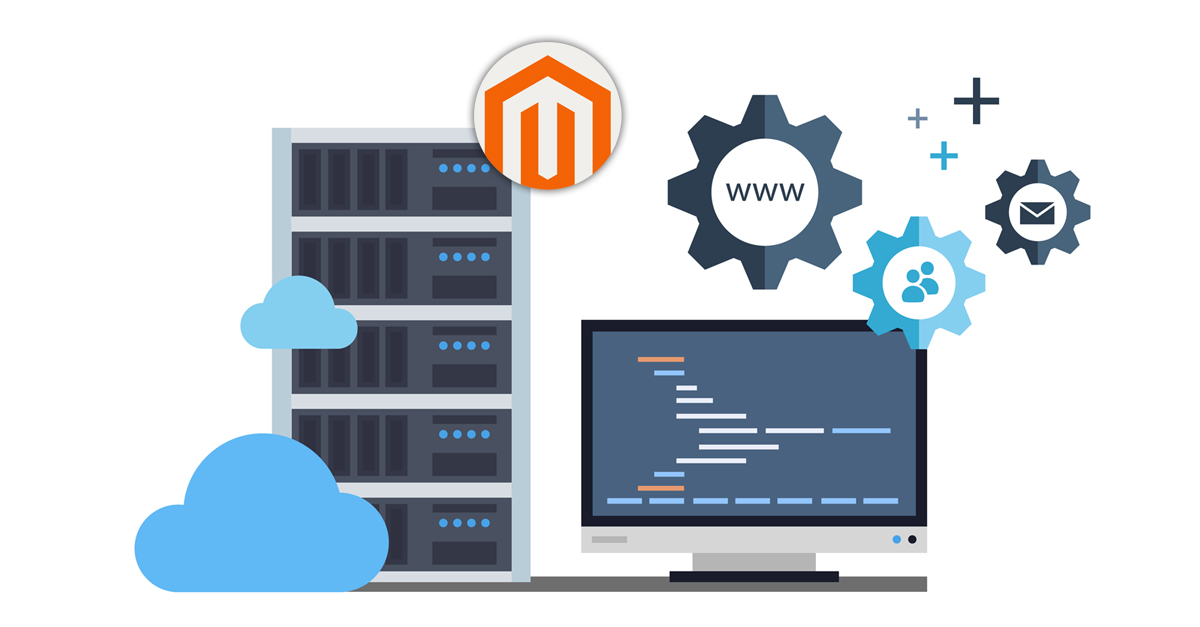 By entrusting the technical side of server operations to a Magento hosting provider, you free yourself to zero in on expanding your enterprise and fine-tuning your online marketplace. These providers furnish a platform that's not only swift and robust but also secure, ensuring that your digital shopfront remains accessible, responsive, and safe for shoppers, all while maintaining cost efficiency.
The spectrum of Magento hosting solutions encompasses:
Shared Hosting: The most cost-effective option, where multiple websites are hosted on a single server.
Virtual Private Server (VPS) Hosting: A step above shared hosting, VPS provides a virtualized server with dedicated resources and offers more control customization options.
Dedicated Server Hosting: Provides a physical server solely dedicated to one customer's Magento site.
Cloud Hosting: Hosts Magento stores on virtual servers that pull their computing resources from extensive underlying networks of physical servers.
Managed Hosting: The hosting provider takes care of the technical aspects of running a Magento store, such as maintenance, security, updates, and support.
Magento-as-a-Service (MaaS): A relatively new concept where Magento hosting is provided as a service that includes not just the infrastructure but also comprehensive support for Magento applications.
Self-Hosting: An organization hosts its Magento site on its own servers.
When choosing a Magento hosting type, considerations should include the size of the eCommerce business, expected traffic, budget, technical expertise, and long-term business goals. A reliable Magento hosting provider will ensure that a Magento store can handle customer demands effectively, maintain high performance during traffic surges, and provide a secure shopping experience.
Top 10 Fastest Magento Hosting
A study by Portent revealed a direct correlation between website speed and conversion rates, highlighting that sites loading in under two seconds see the highest conversions. With each additional second in load time, eCommerce conversion rates tend to dip by 0.3 percent.
To maximize your website's speed, it's essential to select a hosting provider known for speed and reliability. In this section, we'll explore the top ten fast Magento hosting providers in 2024 renowned for their rapid loading times to help you establish a swift Magento store.
Cloudways
Based in Malta, Cloudways serves as a facilitator for a variety of premium cloud hosting options. Offering a unique approach to cloud hosting, Cloudways provides users with five distinct plans, encompassing services from Digital Ocean, Google Cloud, and Amazon Web Services.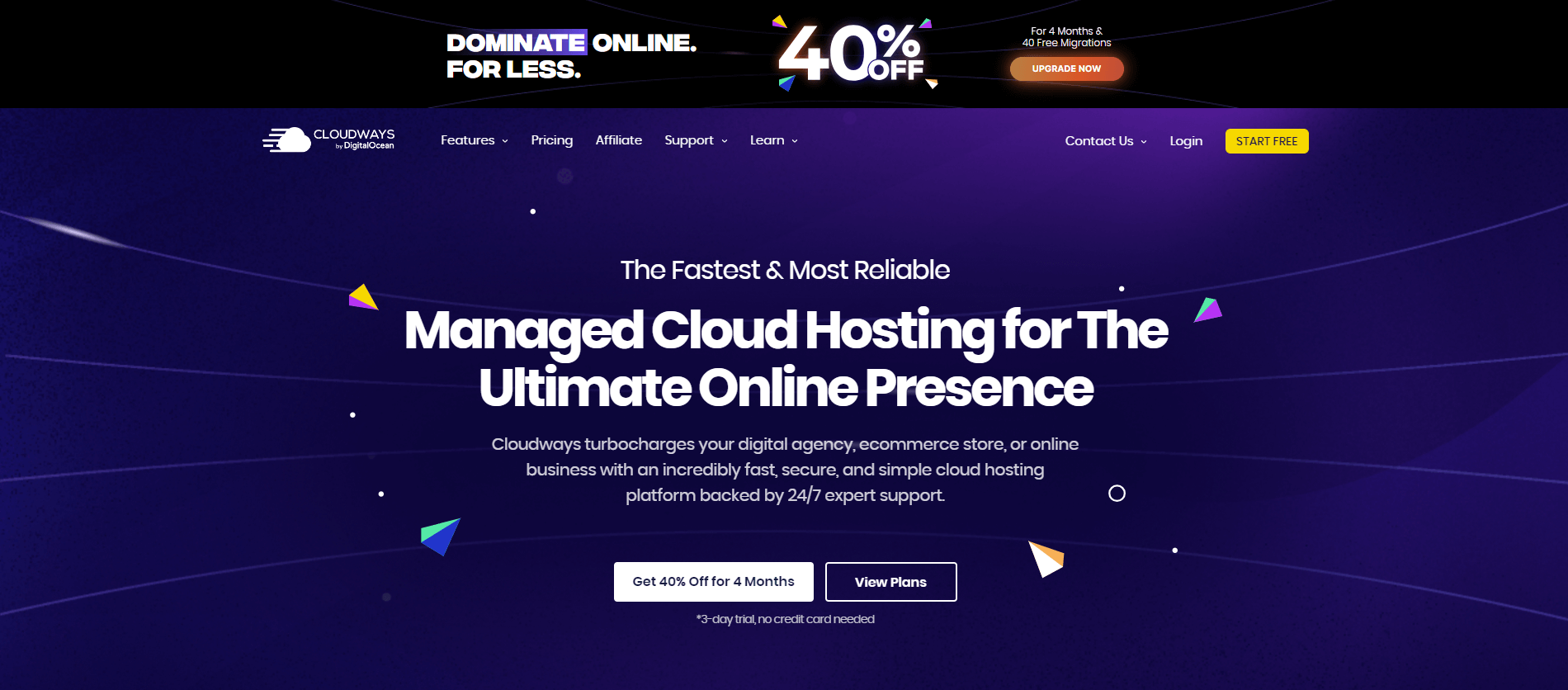 Cloudways enables you to host your store in one of multiple strategic global locations, optimizing your site's reach and performance. Their proprietary optimization stack, known as Thunderstack, is a key reason why Cloudways is recognized for its blazing-fast load times and superior user experience.
Security is another hallmark of the Cloudways service, offering managed security that eliminates the need for external, costly security measures for your Magento site. Cloudways entrust your site's safety to its team of security experts, who proactively monitor for threats and weaknesses.
With Cloudways, expect regular system updates, timely firmware patches, and vigilant website surveillance. They also provide continuous, round-the-clock real-time monitoring and live chat support, ensuring that any technical hiccups or concerns are addressed promptly by their adept support team.
Key features:
Unlimited Magento Applications: Deploy an unlimited number of Magento applications on a single server, maximizing your resources and simplifying management.
Choice of Infrastructure Providers: Freedom to choose from top-tier infrastructure providers including DigitalOcean, Google Cloud, or AWS to power your store.
Monitoring Capabilities: Keep a close eye on server and application health with integrated performance tracking tools.
Magento Easy Install: Quick and hassle-free Magento installation process to get your eCommerce platform up and running swiftly.
Simplified Backups: Effortless backup processes ensure your data remains safe and recoverable.
GUI-Based Vertical Scaling: Utilize Cloudways' Vertical Scaling feature through an intuitive GUI interface to adjust server size without technical complexity.
Cloudways ThunderStack: Experience enhanced server and application performance with the ThunderStack formula, which includes a powerful combination of Nginx, Memcached, Varnish, Apache, New Relic, MySQL, PHP-FPM, and more.
Robust Security Measures: Cloudways takes the security of Magento online stores seriously, offering comprehensive protection features such as free SSL certificates, IP whitelisting, fortified database security, robust firewalls, isolated applications, and two-factor authentication for an extra layer of safety.
Pricing:
Cloudways provides flexible Pay-as-You-Go plans to fit your budget, beginning at $11 per month for the Standard Plan with the DigitalOcean hosting, which includes 25GB of storage and 1TB of bandwidth. For more extensive needs, their top-tier Premium Plan with AWS hosting is available at $3569.98 per month, including 2TB bandwidth and 20GB of storage.
Pros:
Flexibility: Users can easily scale resources and choose their preferred cloud provider including DigitalOcean, AWS, and Google Cloud.
Performance: Optimized stack with advanced caching for Magento ensures fast load times.
User-Friendly: The platform's management interface is intuitive, even for non-technical users.
Support: Strong customer support and managed hosting services take the technical burden off merchants.
No Lock-in: The absence of long-term contracts gives users the freedom to change their plans as needed.
Cons:
Cost: While Cloudways offers a flexible model, the cost can be higher compared to traditional hosting due to the premium for managed services.
No Traditional Control Panels: Cloudways departs from conventional hosting management by not providing the familiar cPanel or Plesk interfaces.
Nexcess
Nexcess, with over two decades of expertise, delivers performance-optimized Magento hosting that excels in affordability and efficiency, earning it a top spot for Magento optimization.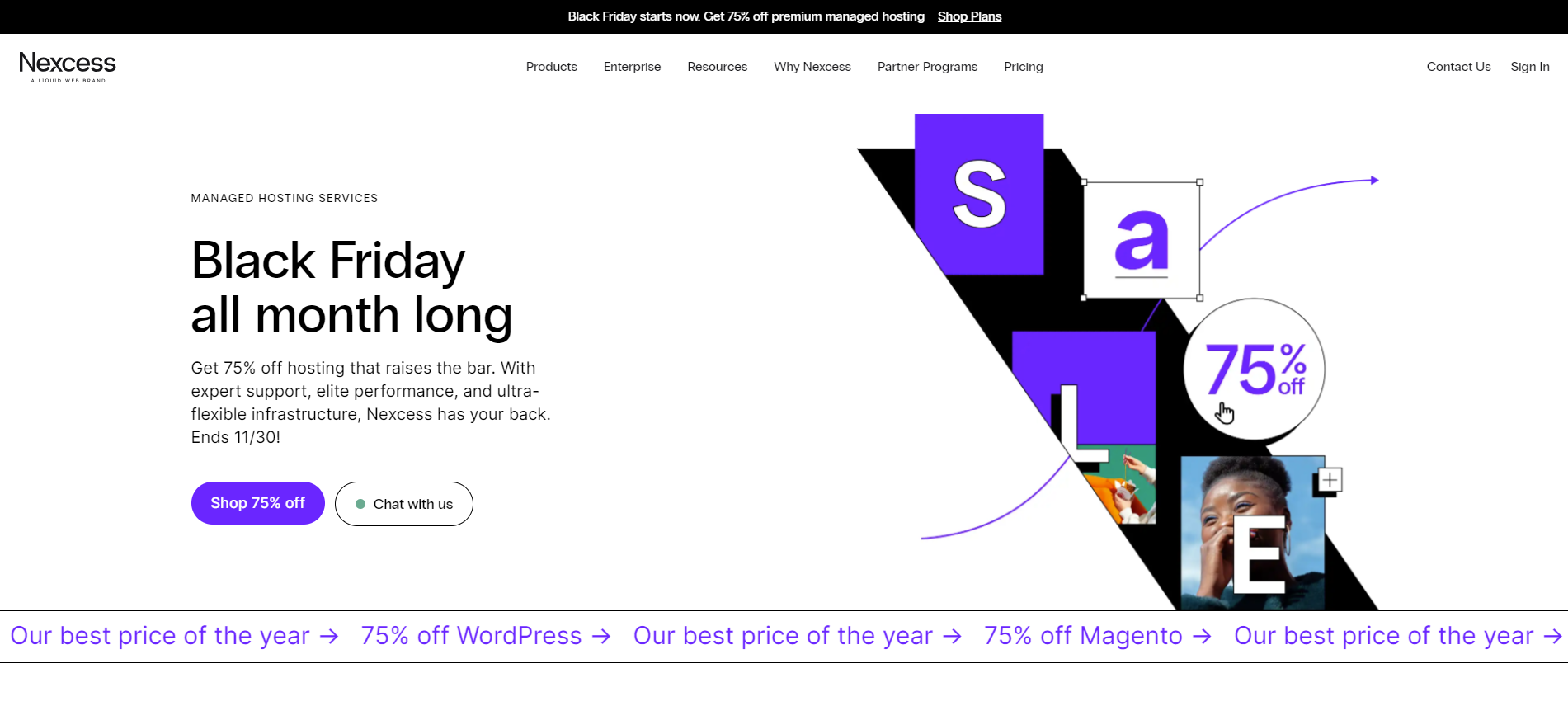 Nexcess' self-managed data centers across various continents allow full control over its resources, enhancing performance. The hosting leverages a bespoke blend of MariaDB and PHP-FPM to enhance Magento speed includes additional PHP workers and offers 24 hours of monthly autoscaling for traffic spikes.
Their robust caching layers, utilizing Nginx, Redis, Varnish, and a global CDN, ensure swift loading times worldwide.
Catering to a wide range of business sizes, Nexcess provides both turnkey and custom hosting solutions to meet diverse Magento hosting requirements.
Key features:
Seamless Magento migrations without downtime.
Swift asset caching for faster content delivery.
User Control for streamlined team management.
Daily automatic backups to safeguard against data loss.
Magento Sentry for robust site protection and nightly malware scans to deter hacking attempts.
Nexcess CDN with scalable capacity to handle traffic peaks, ensuring consistent site performance even during high-traffic events.
Tools for site staging and performance testing to fine-tune your site's design and functionality, along with system diagnostics to boost site speed.
Support for Progressive Web Apps deployment and assistance in achieving PCI compliance for secure payment transactions.
Pricing:
Nexcess's pricing structure is tiered to cater to a range of needs, with six distinct plans:
XS Plan: Start from $15.50 for the first 3 months, then $62/month
S Plan: Start from $28.50 for the first 3 months, then $114/month
M Plan: Start from $48.50 for the first 3 months, then $194/month
L Plan: Start from $81.25 for the first 3 months, then $325/month
XL Plan: Start from $147 for the first 3 months, then $588/month
XXL Plan: Start from $226 for the first 3 months, then $904/month
While there is an entry-level option available, Nexcess primarily targets midsize businesses seeking premium features such as dedicated servers for enhanced uptime, security, and performance.
Pros:
High performance and reliability for Magento stores.
Scalable solutions with a wide range of plans.
Global reach with multiple data centers.
Strong emphasis on security and performance.
Cons:
Higher price points compared to entry-level hosting options.
No Elasticsearch containers.
MGT Commerce
MGT Commerce, headquartered in Germany, delivers top-tier Magento hosting, boasting ultra-fast page loading times under 0.3 seconds. Leveraging AWS's extensive global data center network, it offers a finely-tuned cloud server environment optimized for Magento.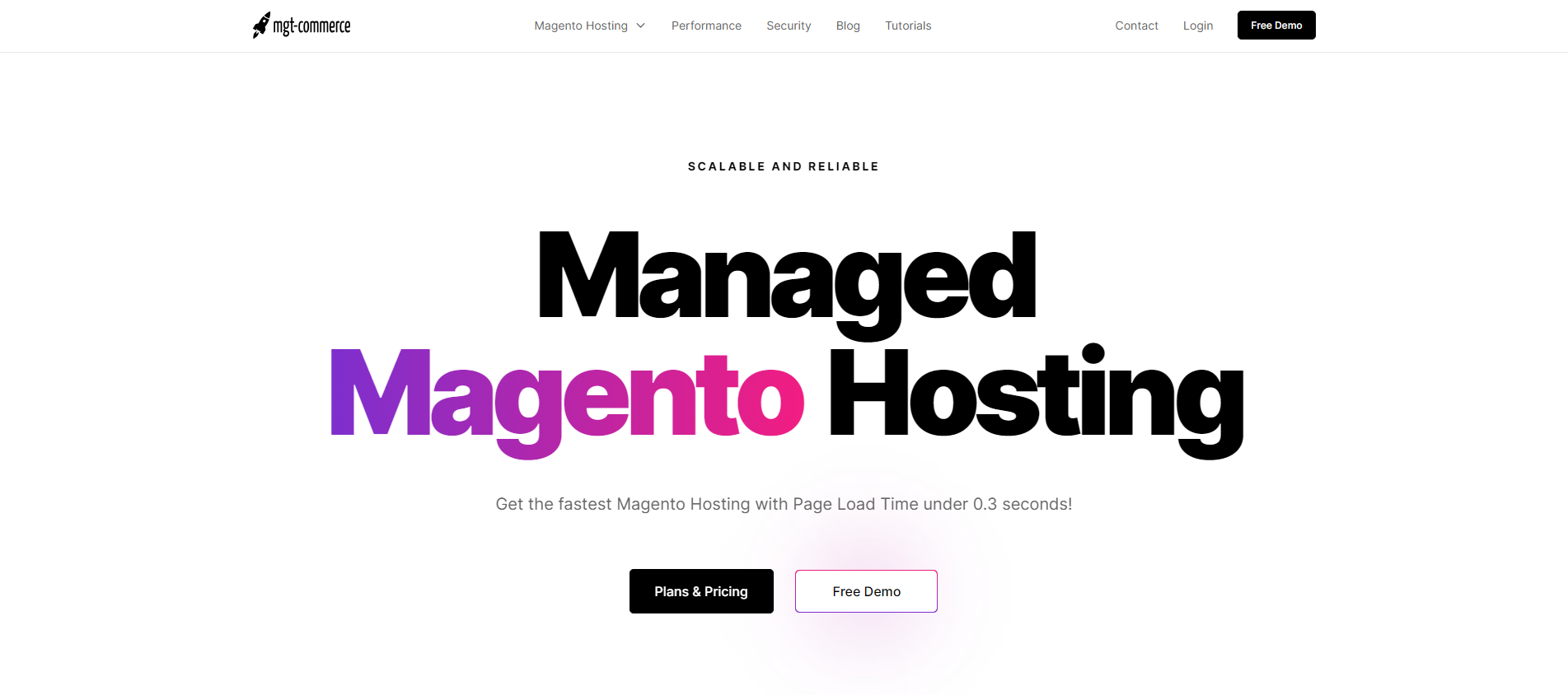 Focused on impenetrable security, MGT Commerce ensures robust protection with its professional team rather than relying on external security services. The hosting provider equips its servers with an in-house MGT Web Application Firewall (WAF), AWS Shield for DDoS prevention, VPN access, and routine Automated Backups. These measures, alongside proactive server and system updates, fortify against security threats and comply with PCI standards.
MGT Commerce shines with premium hardware like AWS Graviton processors and provides round-the-clock expert support. They facilitate hassle-free migrations and setups on AWS, include free SSL certificates, and enhance performance with tools like Varnish cache and MGT Code Deploy. Their MGT Control Panel offers a seamless interface for server management and performance monitoring.
Customers enjoy the strategic advantage of over 30 server locations worldwide, ensuring global reach and localized hosting solutions for their Magento stores with MGT Commerce.
Key features:
Magento Optimization: Customized server setups are designed to maximize Magento's performance.
Dedicated Resources: Clients receive dedicated resources to ensure that their store's performance is not affected by other users.
Scalability: Easy scalability options allow for growth without the need to migrate to a new host.
Security: Their MGT Web Application Firewall (WAF) and AWS Shield integration ensure robust protection against a wide array of digital threats, including DDoS attacks.
Developer-Friendly Tools: Features like Git integration and staging environments are available for development and testing.
Free Migration: MGT Commerce provides a free migration service to help new customers transfer to their existing stores without hassle.
24/7/365 Support: Expert technical support is available around the clock to assist with any issues or questions.
Control Panel: The MGT Control Panel is an intuitive management tool that allows for easy monitoring and adjustments of server settings.
Pricing:
MGT Commerce delivers a powerful and adaptable Magento cloud hosting experience, characterized by three principal pricing plans:
Single Server Plan: Starting at 149€ monthly, this plan is crafted for businesses seeking robust performance and security on a dedicated single-server setup.
Multi-Server Plan: Commencing at 299€ monthly, it provides enhanced redundancy and scalability by spreading resources across multiple servers, ideal for growing eCommerce platforms that demand high availability.
Auto-Scaling Plan: Beginning at 1499€ monthly, this enterprise-grade option allows for dynamic scaling, ensuring that the hosting resources can adjust automatically to the fluctuating traffic demands of large-scale operations.
Each tier is designed to cater to varying business needs, from startups to large enterprises, with an emphasis on delivering peak performance, unwavering security, and scalability.
Pros:
Custom-configured servers for Magento ensure optimized store performance.
Dedicated resources mean consistent speed and reliability.
The scalable nature of the hosting allows for easy growth.
Strong focus on security with proactive measures in place.
Cons:
MGT Commerce's pricing may be on the higher end, particularly for small businesses or startups.
The array of features and the sophisticated nature of cloud hosting might be overwhelming for new users or those without technical expertise.
With only three main pricing tiers, businesses looking for more granular options may find the plans too broad for their specific needs.
A2 Hosting
A2 Hosting offers both managed and unmanaged hosting, catering to diverse business needs. With data centers across the USA, Europe, and Asia, A2 Hosting guarantees high performance and low latency for a global customer base.

Their use of Memcached and Redis optimizes database performance, freeing up resources for crucial tasks like order processing. Note that their entry-level plan, Lift 16, lacks support for HTTP/2 and Edge Side Includes, but these features are available with higher-tier plans.
What sets A2 Hosting apart is their provision of root-level access even on managed plans, ideal for businesses with in-house development teams seeking complete control over their Magento server.
Key features:
All A2 Hosting plans come with a complimentary cPanel control panel and an SSL certificate.
Hassle-free site migration, unlimited SSD storage, and limitless data transfer.
In addition to a standard network firewall, A2 Hosting employs an extra server firewall to thwart unauthorized access.
A2 Hosting's team utilizes secure keys for server access, enhancing security compared to traditional password-based access, which can be vulnerable to leaks.
Server Hardening strengthens network settings and tightens access controls, bolstering server security.
A2 Hosting's DDoS protection system detects and blocks illegitimate traffic directed at your web server, ensuring that your legitimate traffic enjoys stable server resources.
Unlimited email accounts and automated site backups
Pricing:
A2 Hosting offers 4 types of pricing packages:
Managed dedicated hosting: starting at $79.99 per month if you pay for 2 years.
Managed VPS hosting: starting at $49.99 per month if you pay for 3 years.
Unmanaged VPS hosting: starting at $49.99 per month if you pay annually.
Unmanaged dedicated hosting: starting at $79.99 per month if you pay for 2 years.
Pros:
Performance-Oriented: A2 Hosting is known for its focus on speed and performance, ensuring fast-loading websites that are crucial for user experience and SEO.
Free SSL and cPanel: All plans come with a free SSL certificate and cPanel control panel, simplifying website management and enhancing security.
Perpetual Security Initiative: A2 Hosting's security measures, including dual hosting firewalls, limited server access, server hardening, and robust DDoS protection, ensure enhanced website safety.
Responsive Customer Support: A2 Hosting's support team is readily available through various channels, including phone, email, tickets, and live chat. Expect swift responses to your inquiries, ensuring prompt assistance.
Cons:
Complexity for Beginners: The extensive features and options offered by A2 Hosting may be overwhelming for those new to web hosting, potentially requiring technical expertise or support.
Elevated Renewal Costs: Despite A2 Hosting's attractive initial prices, the renewal rates experienced a substantial increase. Additionally, it's important to note that your A2 Hosting plan will auto-renew unless you cancel it at least 15 days before the contract's conclusion.
HostGator
HostGator, among the fastest Magento hosting providers, offers a suite of value-packed VPS, cloud, and dedicated hosting plans that optimize your Magento store's performance.

With data centers strategically located across the US, HostGator ensures swift loading times and minimal latency for your US-based customers. Collaborating with Cloudflare extends this lightning-fast performance to your international customer base.
HostGator's robust and redundant network infrastructure guarantees maximum uptime for your Magento website, ensuring your online store remains accessible around the clock.
What's more, all HostGator plans include unmetered bandwidth, allowing you to deliver high-quality product images or promotional videos without compromising speed or user experience.
For those seeking top-notch Magento hosting on a budget, HostGator is an excellent choice. Its value-packed plans and resilient network infrastructure enable you to channel resources where it truly matters – fostering your business's growth.
Key features:
45-Day Money-Back Guarantee: HostGator offers a generous 45-day money-back guarantee, providing peace of mind if you're unsatisfied with their services.
Free SSL Certificate: Secure your Magento store effortlessly with a free SSL certificate from HostGator. This certificate safeguards your data and enables secure online payments.
Free Site Transfer: Within 30 days of signing up, you can enjoy a limited number of free website transfers, simplifying the migration process.
Impressive 99.9% Uptime: HostGator guarantees 99.9% uptime, ensuring that your website remains accessible to visitors with minimal to no downtime.
Unlimited Email Accounts, Sub-Domains, and FTP Accounts: HostGator's hosting plans include unlimited email accounts, sub-domains, and FTP accounts, streamlining your website management and file transfer tasks.
Pricing:
Let's delve into HostGator's VPS plans tailored for Magento hosting, as these deliver enhanced power and security that most eCommerce stores require.
HostGator offers three VPS plans, namely:
Snappy 2000: Starting at just $29.95 per month.
Snappy 4000: Priced from $34.95 per month.
Snappy 8000: Available from $59.95 per month.
InMotion Hosting
InMotion Hosting excels in high-performance Magento hosting for businesses of all sizes. Its UltraStack caching system, featuring Brotli compression, NGINX, PHP-FPM, Apache, and Redis, turbocharges your Magento store's performance.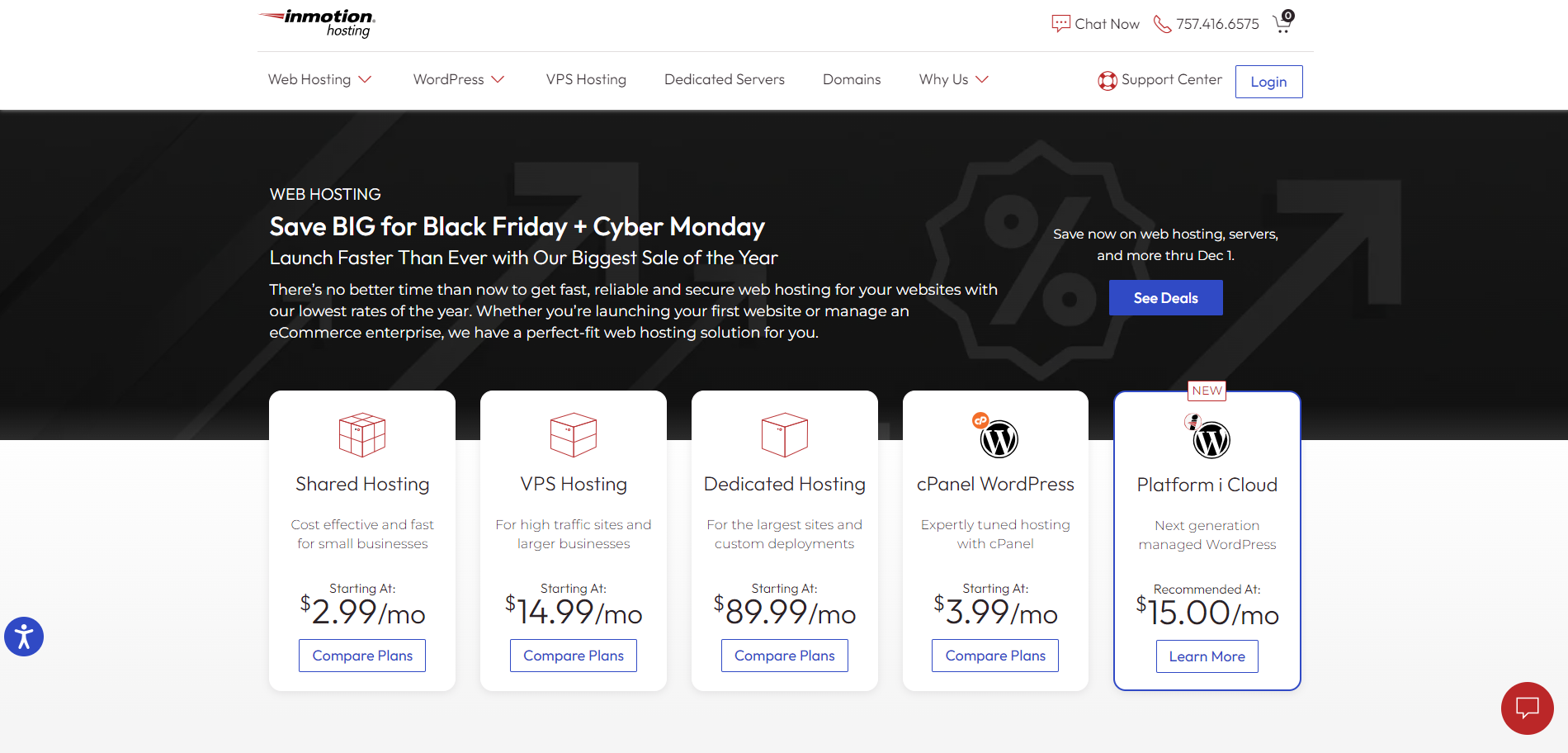 With a global network of 46 data centers, InMotion Hosting ensures proximity to your customers. High availability VPS with three exact replicas guarantees consistent speed and zero downtime, even during peak traffic.
What sets InMotion Hosting apart is its robust 90-day money-back guarantee, showcasing its confidence in service quality. Additionally, they provide root access to their servers, appealing to users seeking complete control over their Magento server setup.
Key features:
Fast Servers: InMotion Hosting boasts speedy server farms that guarantee rapid website loading times. Abundant SSD storage further enhances your site's performance.
Daily Backups: InMotion Hosting prioritizes data security by offering daily backups. This feature is invaluable in safeguarding your critical data, enabling you to restore a clean state in case of security breaches or incidents.
Security: Protect your Magento store with ease, thanks to InMotion's provision of a free SSL certificate accessible via the cPanel control panel. SSL certificates are essential for securing eCommerce websites and customer transactions.
Free Website Migration: Simplify the transition to InMotion Hosting by taking advantage of their complimentary website migration service. Move your Magento site from your previous host seamlessly, without additional costs or hassles.
Money-Back Guarantee: InMotion Hosting stands by its service with an impressive 90-day money-back guarantee. This extended period allows you to thoroughly evaluate their offerings, knowing that you can request a refund if they don't meet your expectations.
Pricing:
VPS hosting plans kick off at $44.99 per month, with a reduced rate of $14.99 per month when opting for annual billing.
Pros:
Exceptional Uptime Assurance: InMotion stands out with an impressive 99.99% uptime guarantee, ensuring minimal to no downtime for your website.
Complimentary Domain Name: InMotion includes a free domain name for the first year with select plans. Additionally, they offer a free SSL certificate, although this feature is limited to specific hosting plans.
Extended 90-Day Money-Back Guarantee: InMotion goes beyond industry norms by providing an extensive 90-day money-back guarantee.
Free Website Migration: The free website migration service simplifies the process of moving your Magento site from a previous host to InMotion Hosting.
Cons:
Delayed Response Time: Despite offering round-the-clock support through multiple channels, their response time tends to be sluggish. This could pose challenges when you encounter issues with your Magento site.
Paid Backup Service: While InMotion provides backup services, they are not complimentary. This feature is available as a paid add-on, incurring an additional cost.
GoDaddy
Commencing as the largest domain registrar, GoDaddy has ventured into website hosting, achieving notable success. GoDaddy stands out as a premier Magento hosting provider, primarily prized for its remarkable flexibility.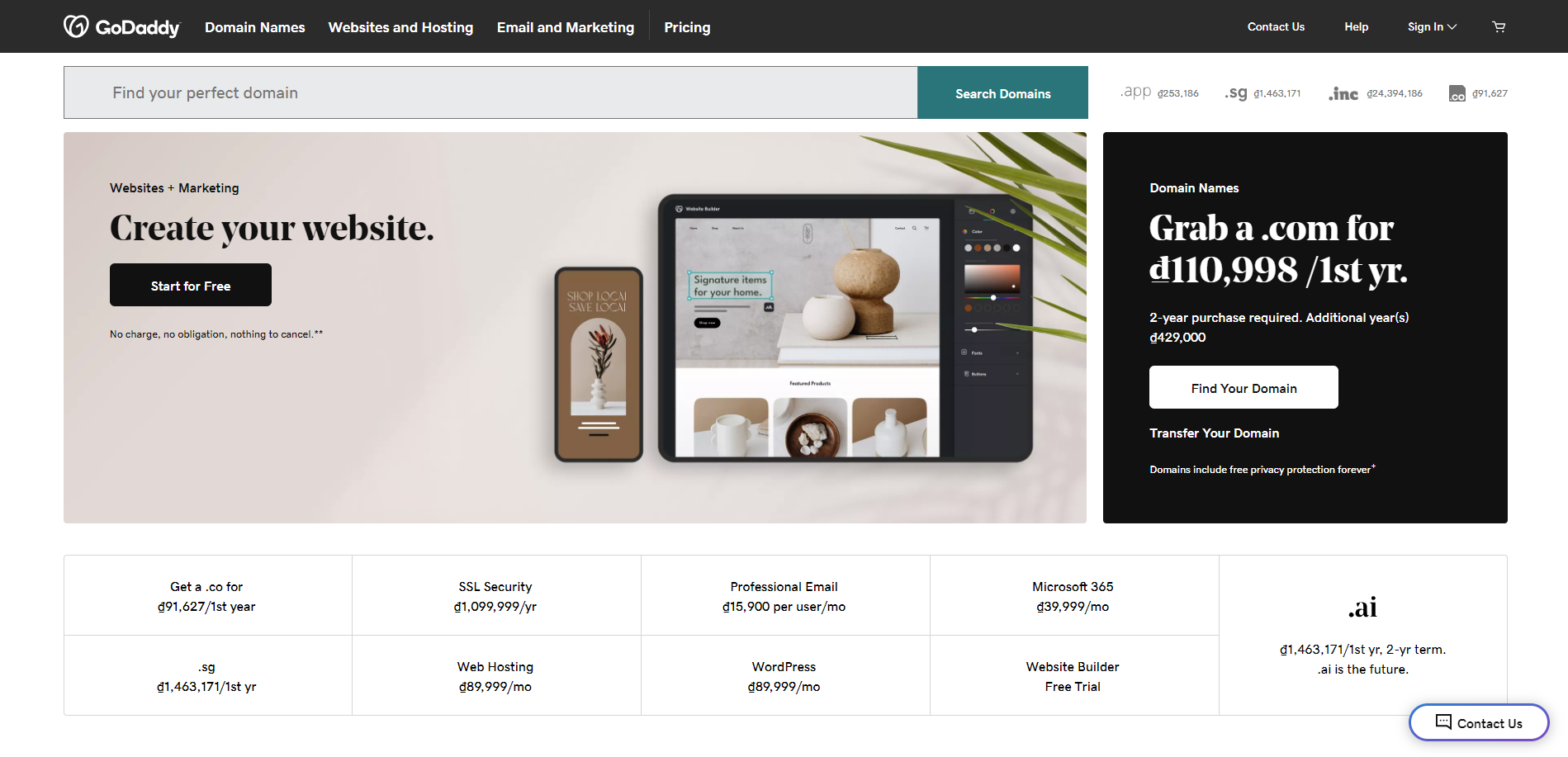 Their hosting plans cater to diverse customer segments, spanning from individual bloggers to expansive Magento eCommerce platforms, all available at competitive prices. GoDaddy's hosting service delivers swiftness, security, and user-friendly management capabilities.
Key features:
Versatile Hosting Plans: GoDaddy offers a diverse range of hosting plans suitable for various customer segments, from individual bloggers to large-scale Magento eCommerce sites.
Competitive Pricing: GoDaddy's hosting services are renowned for their affordability, making them accessible to a wide range of users.
Speed and Performance: GoDaddy's hosting infrastructure is optimized for speed, ensuring fast-loading websites that enhance user experience and SEO rankings.
Security Measures: GoDaddy prioritizes website security, offering features such as DDoS protection, automatic malware scans, and a Web Application Firewall (WAF) to safeguard your online assets.
Reliable Uptime: GoDaddy pledges an impressive 99.99% uptime commitment, ensuring the consistent functionality of your Magento website. This reliability minimizes the risk of downtime, which could otherwise impact potential customers.
Customer Support: GoDaddy offers round-the-clock customer support for addressing Magento-related inquiries. You can reach their support team via phone or live chat. It's important to note that the chat feature is available on weekdays from 5:00 a.m. to 6:00 p.m.
Pricing:
GoDaddy offers four Magento hosting plans: Economy, Deluxe, Ultimate, and Maximum. Each plan includes a free domain and unmetered bandwidth, along with essential features like one-click migration, DDoS protection, backups, malware scanning, firewalls, automatic updates, and performance-enhancing caching rules.
The Economy Plan suits those starting their first Magento site, while the Deluxe and Ultimate Plans provide scalability with unlimited websites, bandwidth, and storage. For large eCommerce stores, the Maximum Plan, which includes a free SSL certificate, enhances site power, speed, and resources.
GoDaddy frequently offers promotional sales, allowing you to secure the Economy plan for an astonishingly low rate of $5.99 per month during the initial 3-year sign-up period. Following this initial period, the monthly price adjusts to $9.99 per month. The Deluxe plan starts at an introductory rate of $7.99 per month, while the Ultimate plan is available at $12.99 per month during the initial sign-up period. The most expensive plan is Maximum with the price of $17.99 per month with a 3-year term.
Pros:
Affordable Pricing: GoDaddy's hosting plans are competitively priced, making them accessible to a wide range of users, including small businesses.
User-Friendly Control Panel: The hosting plans come with an intuitive control panel, simplifying website management and configuration.
24/7 Customer Support: GoDaddy's support team is available round-the-clock via phone and live chat to address your inquiries and concerns.
Free Domain: Depending on the plan, GoDaddy offers a free domain for the first year, reducing initial costs.
Cons:
Limited Live Chat Hours: Live chat support is available only on weekdays during specific hours, which may be inconvenient for some users.
Pricing After Initial Term: The pricing of GoDaddy's hosting plans may increase significantly after the initial term, potentially catching users off guard.
Hostinger
Hostinger stands out in the hosting industry by providing some of the most budget-friendly hosting plans, making it an attractive choice for Magento users. Their range of web hosting services comes with various price packages, offering options to suit different needs.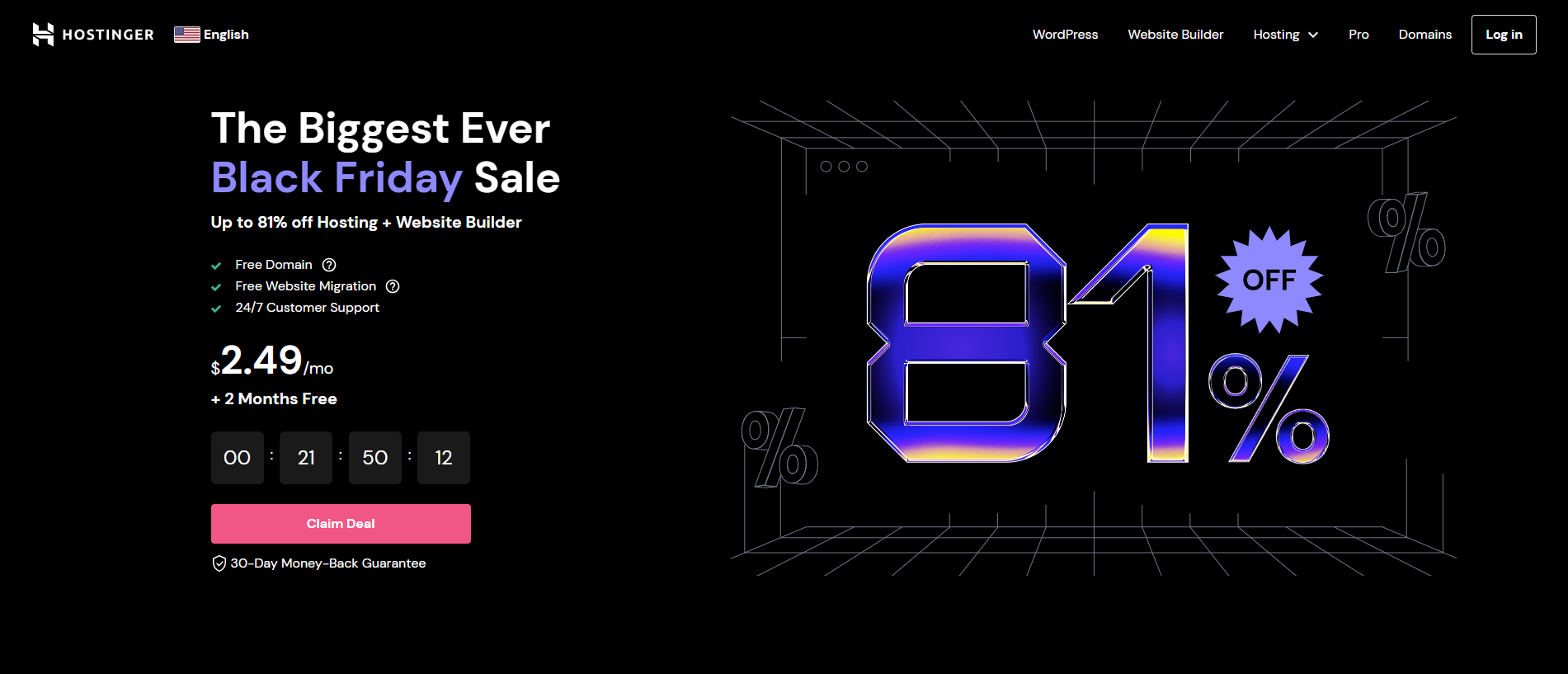 With Hostinger, you can enjoy bandwidth starting from 100 GB, and the highest-tier plan offers unlimited data transfer. Storage options vary from 10GB to 100GB, depending on your chosen pricing package. For Magento hosting specifically, plans start at less than $10 per month, making it an affordable choice for those looking to host their Magento-powered websites.
Key features:
Money-Back Guarantee: Hostinger provides a 30-day money-back guarantee, allowing you to try their services risk-free and ensuring your satisfaction.
Impressive Load Time: Hostinger boasts an exceptional average loading speed of less than one second over the past twelve months. Fast load times enhance the overall customer experience on your website.
User-Friendly Interface: Hostinger offers a user-friendly control panel, making it easy to manage your website in one convenient location, even for beginners.
Free Domain Name: All Hostinger web hosting payment plans include a complimentary domain name for the first year, reducing your initial costs.
Security Features: Hostinger offers SSL Certificate Activation, which is included for free, along with the option to upgrade to an enhanced Comodo PositiveSSL Certificate for additional security. This flexibility caters to the needs of both small personal sites and larger eCommerce platforms.
MySQL Updates and Cache Layer: Hostinger's Magento plans support the latest MySQL updates and employ a multi-tier Litespeed cache layer. These features empower eCommerce stores to optimize cart performance and handle increased traffic seamlessly.
Pricing:
Hostinger offers Magento 2 hosting through its cloud hosting solutions, comprising three distinct plans. Each of these plans includes unlimited websites, unlimited bandwidth, and a complimentary domain name:
Cloud Startup: Starting at just $8.99 per month.
Cloud Professional: Beginning at $14.99 per month.
Cloud Enterprise: Priced from $29.99 per month.
The Cloud Startup plan provides users with 2 CPU cores, 200GB NVMe storage, and 3GB RAM, while the more advanced Cloud Enterprise plan offers 6 CPU cores, 300GB NVMe storage, and 12 GB RAM for enhanced performance and scalability.
Pros:
Impressive Loading Speed: Hostinger maintains an average loading speed of less than one second over the past year, ensuring a seamless user experience.
User-Friendly Interface: Hostinger's control panel is beginner-friendly, simplifying website management for users of all experience levels.
Free Domain: All Hostinger hosting plans come with a complimentary domain name for the first year, saving you money.
Security: Hostinger's shared hosting plans include a complimentary Let's Encrypt SSL Certificate, enhancing the security of your website.
Discounts: Hostinger frequently provides customer discounts and conducts special promotions, allowing you to save on hosting costs and increase your overall value.
Unlimited Features: When you choose Hostinger for Magento hosting, you gain access to unlimited bandwidth and email features, offering flexibility and scalability for your online presence.
Cons:
Limited Phone Support: Hostinger primarily offers customer support through live chat and email, with limited availability for phone support.
Slightly Lower Uptime: While Hostinger maintains a commendable uptime of 99.74%, it falls slightly short compared to some other hosting platforms on this list that offer even higher uptime rates.
SiteGround
SiteGround has introduced specialized servers tailored to Magento, optimizing your eCommerce experience. With the Supercacher feature, your website loads swiftly, ensuring a seamless user experience. To further enhance speed and performance, SiteGround integrates Cloudflare CDN into its hosting package, ensuring your website visitors enjoy fast and smooth interactions.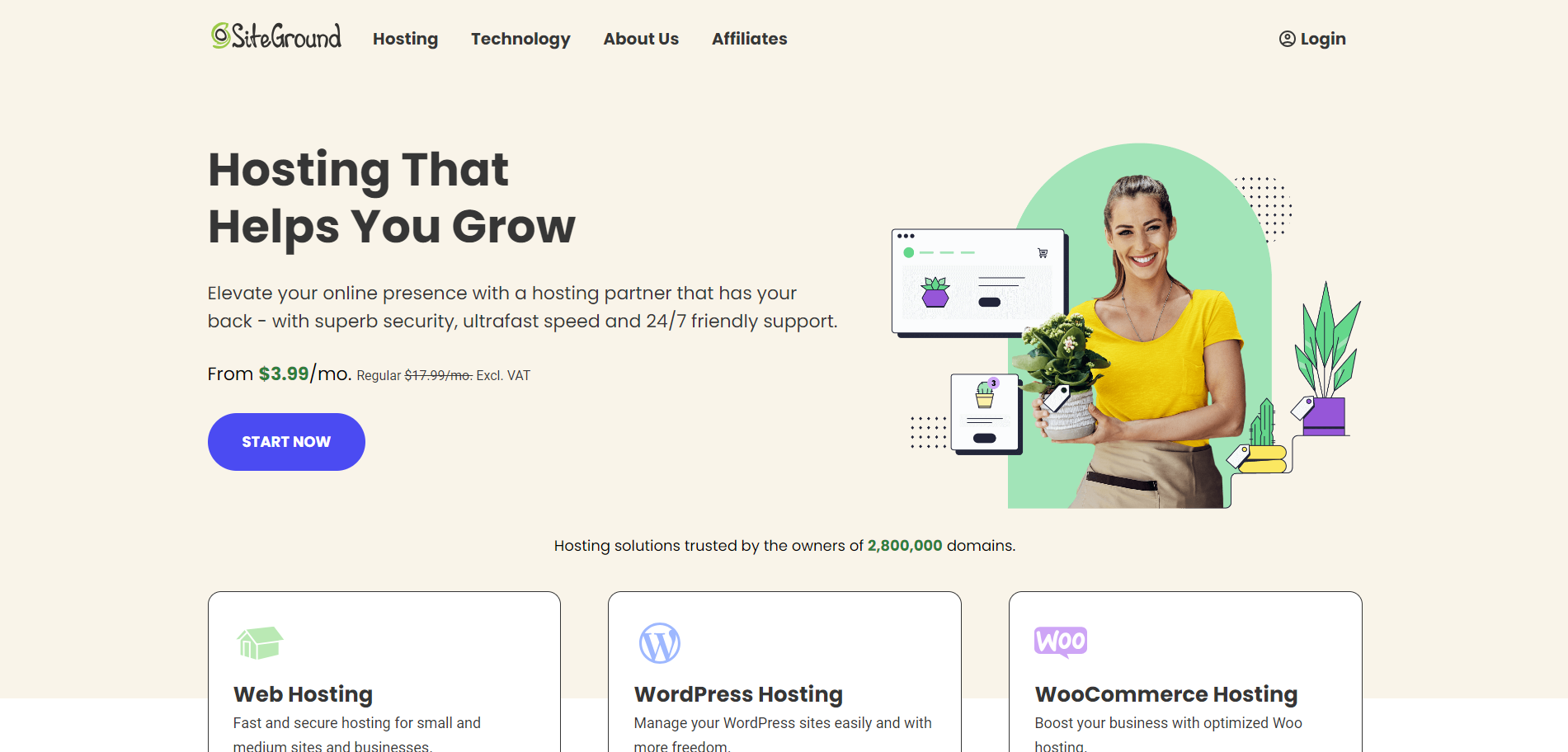 SiteGround stands out with its unwavering commitment to customer service, security, and robust WordPress support. Hosting plans include attentive customer support, offering you peace of mind in managing your Magento store. Additionally, SiteGround provides hassle-free automatic Magento installations through Softaculous, without any extra charges.
The hosting provider prioritizes security with a free SSL certificate and around-the-clock server monitoring. For added protection, SiteGround employs an Intrusion Prevention System that actively blocks IP addresses attempting unauthorized access or password hacking, safeguarding your sensitive data.
Key features:
Customer Support: SiteGround offers responsive customer support through phone, chat, and tickets, ensuring assistance for all your Magento-related inquiries.
Security: All SiteGround Magento hosting plans include a free TLS certificate, enhancing your website's security.
Shared Hosting Plans: SiteGround's StartUp shared hosting plan supports a single website and offers unmetered data transfer, 10GB of disk space, and a free drag-and-drop site builder.
Advanced Features: SiteGround's top-tier GoGeek plan allows you to test website changes in a staging environment before publishing them live. It comes preinstalled with the Git version control system, facilitating code management for development teams.
Cloud Hosting: SiteGround offers scalable cloud hosting solutions with four tiers: Jump Start, Business, Business Plus, and Super Power. These plans vary in hardware size and bandwidth, catering to different hosting demands.
Pricing:
SiteGround offers Magento web hosting through its three shared hosting plans:
StartUp: Starting at $3.99/month.
GrowBig: Starting at $6.69/month.
GoGeek: Starting at $10.69/month.
SiteGround's cloud hosting solutions for Magento offer scalability and performance:
Jump Start: Priced from $100/month.
Business: Beginning at $200/month.
Business Plus: Priced at $300/month.
Super Power: Priced at $400/month.
SiteGround's flexible pricing options ensure that Magento users can find a hosting plan that meets their specific requirements and budget.
Pros:
Exceptional Uptime (99%+): SiteGround guarantees nearly uninterrupted uptime for your Magento site. In case of any issues, their monitoring software notifies you promptly, and most problems are resolved swiftly to minimize downtime.
Impressive Speed: SiteGround boasts an average website loading speed of just 1.3 seconds. This rapid loading time is crucial for converting visitors into customers and achieving higher rankings in search engine results pages (SERPs).
Multiple Data Centers: SiteGround maintains data centers on various continents, allowing you to select the location that best suits your target audience. This ensures fast load times and an excellent user experience for your customers worldwide.
Free Magento Installation: SiteGround simplifies the Magento installation process, offering free installation assistance from their support team. This helps you get your Magento store up and running quickly and efficiently.
Standard Security Features: With each hosting plan, SiteGround includes a free SSL certificate for any domain purchased through their service. This security feature not only protects your website but also saves you approximately $15 per year.
Cons:
Storage Limitations: SiteGround imposes storage limits on its hosting plans, which may restrict the amount of data you can store on your website. If you require additional storage space, you'll need to upgrade to a higher-tier plan, which could result in increased hosting costs.
Expensive Renewals: After the initial year of hosting, SiteGround's Magento plans become more expensive. Renewal prices range from $14.99 to $39.99 per month, potentially impacting your long-term hosting budget. It's essential to consider these higher renewal costs when choosing your plan.
FastComet
FastComet is a reputable managed cloud hosting service provider known for its excellent 24/7 customer support. If you currently operate an online store using Magento, transitioning to FastComet is a seamless choice, thanks to their complimentary domain transfer service.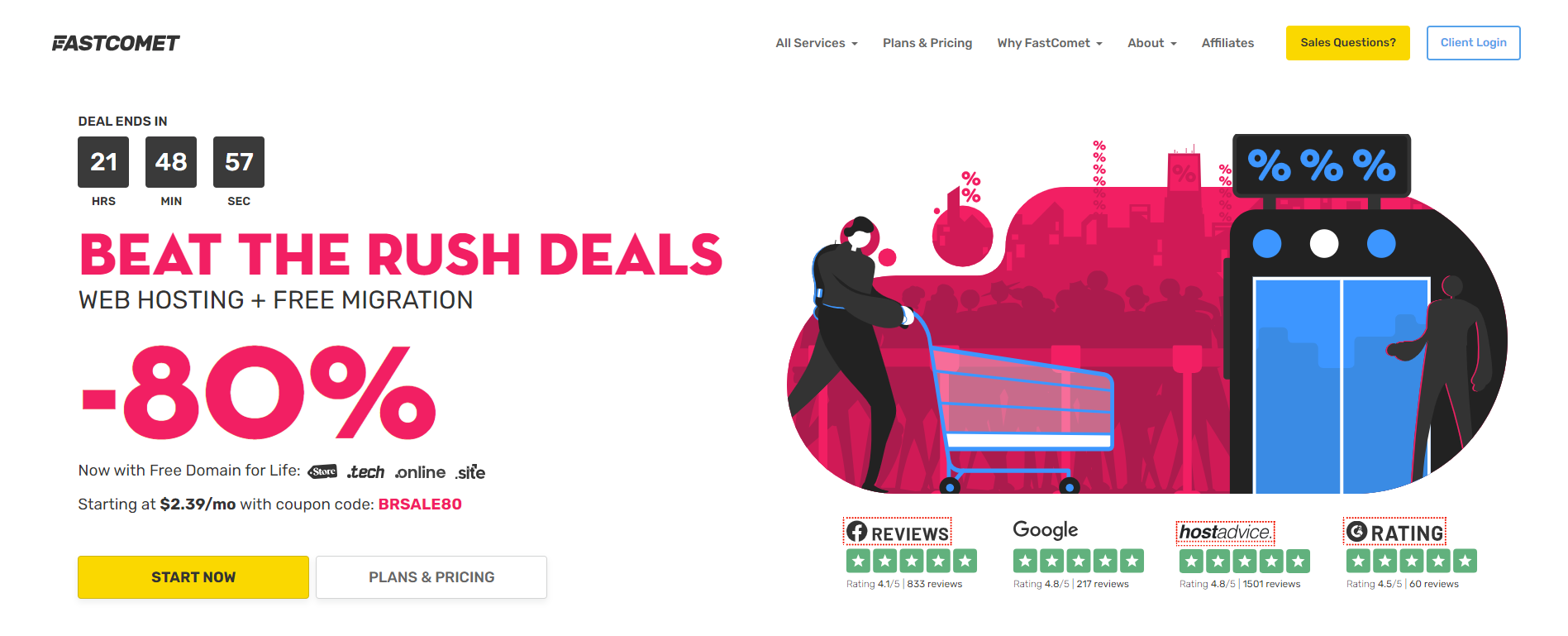 With servers located in five different countries, including Singapore, Germany, the United Kingdom, the United States, and the Netherlands, FastComet boasts over seven years of experience in delivering professional system administration and Magento hosting services to both individuals and businesses.
One of FastComet's standout features is its exclusive use of SSD-only cloud storage, offering a 300% faster data access speed for database files. Additionally, FastComet includes a free Cloudflare CDN (Content Delivery Network) with its hosting services, enabling efficient content distribution worldwide.
Key features:
cPanel Hosting: FastComet offers user-friendly cPanel hosting, making it easy to manage your Magento website with a comprehensive control panel.
1-Click Magento Installation: With Softaculous 1-click installer, setting up Magento on your hosting is quick and hassle-free.
Unmetered Traffic: Enjoy the freedom of unmetered traffic, ensuring that your website can handle high visitor numbers without additional charges.
Free Domain and Site Transfer: FastComet provides complimentary domain and site transfer services, making it seamless to migrate your existing website.
Cloudflare CDN: Improve website performance and global reach with the included Cloudflare CDN for efficient content delivery.
Security Features: FastComet prioritizes security with free SSL certificates and daily backups to safeguard your data.
24/7 Support: Access round-the-clock customer support, ensuring assistance whenever you need it, along with step-by-step tutorials for guidance.
45-Day Money-Back Guarantee: FastComet offers a generous 45-day money-back guarantee, allowing you to try their services risk-free.
Pricing:
Shared Hosting: Starting at just $3.48 per month, FastComet offers budget-friendly shared hosting plans.
Cloud VPS Hosting: For more resource-intensive needs, FastComet's Cloud VPS hosting plans begin at $47.95 per month.
Dedicated CPU Servers: Enjoy the power and control of dedicated CPU servers with plans starting from $111.19 per month.
Pros:
24/7 Support: Their customer support is available 24/7, ensuring assistance whenever you need it.
SSD Storage: SSD-only cloud storage ensures fast access to your data and files, enhancing website performance.
Free Daily Backups: FastComet provides daily backups to protect your data and offer recovery options.
Cloudflare CDN: Free Cloudflare CDN integration helps distribute content globally for faster loading times.
45-Day Money-Back Guarantee: They offer a 45-day money-back guarantee, allowing you to try their services risk-free.
Cons:
Limited Data Centers: While FastComet has servers in several countries, the number of data centers is relatively limited compared to some larger hosting providers.
Higher Renewal Rates: Like many hosting providers, FastComet's introductory prices are lower, but renewal rates can be higher.
Magento Hosting Standard to Look for
When entrusting your eCommerce store to a Magento hosting provider, there are critical criteria they must fulfill to ensure they are dependable and can serve your business effectively. A reliable Magento hosting provider should meet the following top ten factors:
Performance and Speed: Fast loading times are critical for eCommerce success. Look for Magento hosting that offers powerful hardware, SSD storage, advanced caching mechanisms (such as Varnish, Redis, or Memcached), and a content delivery network (CDN) to ensure your Magento store operates at peak performance.
Scalability: As your business grows, so will your website traffic. Choose a hosting provider that offers easy scalability options so you can upgrade your resources without experiencing downtime or performance hitches.
Security: Security is paramount in protecting customer data and transactions. Your Magento host should provide strong firewalls, intrusion detection, SSL support, and regular security patches to keep your store safe from vulnerabilities.
Uptime Reliability: Every minute your site is down can mean lost revenue. Seek a Magento host with a proven track record of high uptime, ideally above 99.9%, to ensure your store is always open for business.
Developer-Friendly Tools: Access to developer tools like staging environments, version control, and command-line interfaces can make routine maintenance and updates much more efficient.
Support for Magento: Dedicated Magento support from knowledgeable staff can be invaluable. Ensure that your host offers 24/7 support with a team experienced in Magento to address any technical issues swiftly.
Backup and Recovery: Regular backups and a reliable recovery plan are crucial for an online store. Your hosting plan should include automated backups and a clear, easy-to-execute disaster recovery protocol.
Compliance and Payment Processing: For eCommerce, compliance with standards like PCI DSS is essential for payment processing. Verify that the hosting provider is compliant with industry standards to handle payments securely.
Monitoring and Alerts: Real-time monitoring can help preempt issues before they affect your customers. Your host should offer monitoring services that alert you to any performance issues or security threats.
Customizability: Your Magento hosting should be flexible enough to allow customization. This includes control over server settings, software versions, and the ability to install custom extensions or third-party integrations.
In Conclusion
Each of the 10 top fastest Magento hosting providers possess unique strengths and specialized areas of focus. They offer a range of plans to accommodate different business sizes and budgets. To make an informed choice, it's essential to identify your specific requirements and prioritize the criteria that matter most to you. 
We recommend reaching out to the hosting provider and engaging in a discussion about your individual needs before making any purchase decisions. Selecting the right hosting package can significantly enhance your website's speed, security, and overall performance, resulting in a seamless and satisfying experience for your customers.
If you are in need of Magento website development services, please don't hesitate to consult with our solutions expert to explore the possibilities of creating a tailored eCommerce site for your business.