When it comes to eCommerce platforms, there are a few big names that come to mind. Shopify, WooCommerce, and Magento are the most popular choices, Magento's widespread adoption by commerce giants and large brands may be ascribed to the numerous features, functionality, and agility that it offers. Currently, Magento has two different versions of its platform available: Magento Community vs. Magento Enterprise. In this blog post, we'll compare these versions in detail. So if you are confused to choose between the two, keep reading and we will help you decide which platform is right for your business.
What is Magento Community Edition?

Magento Community Edition (CE) is an open-source eCommerce platform that provides merchants with a flexible shopping cart system, as well as control over the look, content, and functionality of their online store.
Community Edition provides users with unprecedented flexibility; it's no wonder that it's the most popular edition of Magento available. In fact, over 250,000 businesses worldwide have chosen to power their online stores with Community Edition.
Pros of Magento Community Edition:
Open-source & free – no licensing fees
Flexible & scalable – great for businesses of all sizes
Rich features & functionality – includes everything you need to build a successful online store
Active community support – get help from experienced Magento users and developers
Cons of Magento Community Edition:
Requires technical expertise – not ideal if you're not comfortable with coding
Limited support options – no official customer support from Magento
May require additional costs – some features and add-ons come at an additional cost
What is Magento Enterprise Edition?

Magento Enterprise Edition is a paid version of the popular eCommerce platform that comes with advanced custom features and functionalities. Some examples include promotional pricing for specific stores, categories, or customer segments as well as products
Some of the key differences between the Magento Enterprise vs Community versions include:
– Advanced scalability
– 24/7 customer support
– Enhanced security
– Full-page caching
– Customization options
Pros of Magento Enterprise Edition:
Includes everything in CE
The official support by Adobe's staff – get customer support directly from the source
Advanced scalability & performance – great for large businesses with high traffic volume
More payment options – includes out-of-the-box integrations with popular payment gateways
Cons of Magento Enterprise Edition:
Higher costs – EE licensing starts at $22,000/year
Requires technical expertise – not ideal if you're not comfortable with coding
Magento Community vs Enterprise: Key differences
Now that we've covered the basics of each platform, let's take a closer look at some of the key differences between Magento 2 Community vs Enterprise Edition.
Pricing
One of the most prominent characteristics of Magento Enterprise Edition is the price structure. As mentioned above, Magento Community is free to download and use, while Magento Enterprise has an annual licensing fee starting at $22,000. License fees for Magento EE vary depending on your gross revenue. The more gross revenue you generate, the more you have to pay. As you can see, the license fee of Magento EE is quite high but it does not include hosting and domain name, and other incurred costs. So the total cost when choosing Magento EE will be higher than the total amount you pay Adobe.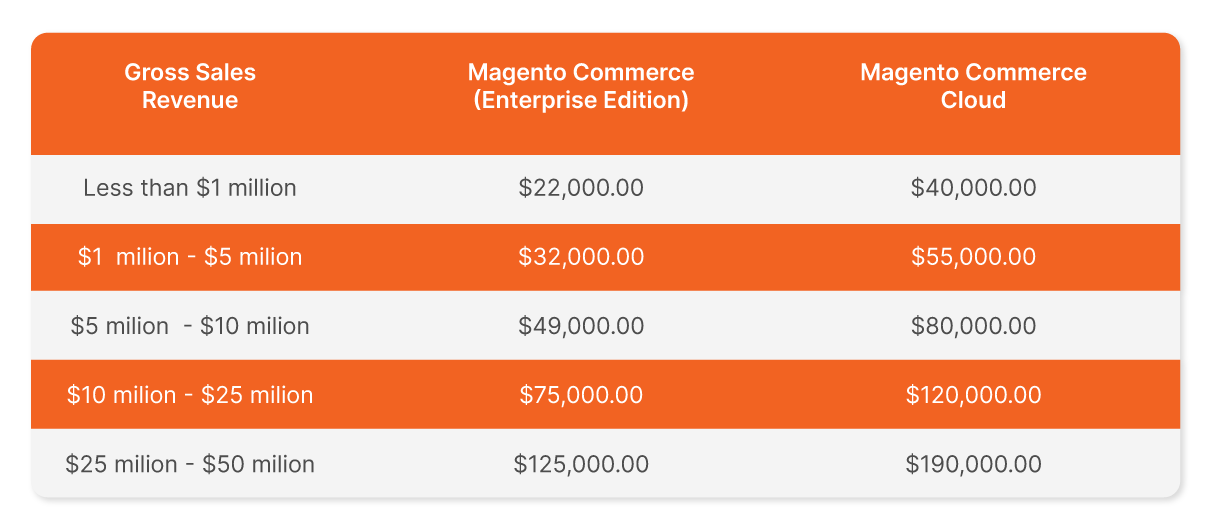 Support
With Magento CE, you're responsible for your own hosting, support, and development. This means you'll need to find a competent hosting provider and have your own team of developers to help customize the platform and keep everything running smoothly. In other words, you're on your own to troubleshoot and fix all the issues.
In Magento Enterprise Edition, you will get access to premium support from packages of Magento development services. This can be a big advantage, especially if you don't have an in-house team of developers.
Features & Functionality
Both platforms include a wide range of features and functionality. However, EE includes some additional features that CE does not, such as advanced scalability, performance enhancements, and more payment options.
In fact, Magento CE comes with a basic set of features and functionality. If you want to add any more features or customize the platform, you'll need to do the coding yourself or hire a developer to do it for you. In contrast, Magento EE includes all of the features from CE, plus additional premium features such as advanced marketing tools, loyalty programs, and gift cards (you still have to code or buy extensions when it comes to sophisticated features).
Size & Traffic Volume
Both Magento Community vs Magento Enterprise can be used to build successful online stores, regardless of size or traffic volume. However, Enterprise Edition is better equipped to handle large businesses with high traffic volume due to its advanced scalability & performance.
Magento EE hardware is capable of handling 3.5 million page visits and 250,000 orders per hour. As a result, if you have a large eCommerce site with a lot of traffic, Magento EE will be the best option for you. But on the other hand, Magento CE is an excellent choice for small enterprises simply because it is less expensive. If you have between 100,000 and 200,000 products, Magento CE is perfectly capable of handling them.
Security
Magento Enterprise version's security features are its most important selling point since the most significant disadvantage of the Magento Community Edition is that it is not PCI compliant. The Magento community also does not have credit card tokenization or extremely secure payment bridges, which are both desirable features.
Customers usually like the flexibility to shop online at a website that accepts payments through a variety of secure payment methods. Magento Enterprise allows you to securely integrate payment processors like PayPal, Braintree, Authorize.net, CyberSource, WorldPay, and others. The commercial enterprise edition also includes frequent scanning, external penetration testing, and bug bounty programs, all of which help to improve the overall security of the platform.
Marketing
Magento Enterprise vs Community has a significant variation in the way they promote their products. Basic SEO tools such as altering meta tags, headers, and URLs will be provided to help you improve your store's search engine optimization…
The Enterprise edition, on the other hand, has more refined capabilities such as comprehensive content staging, intelligent attribute-based customer segmentation, targeted content, abandoned cart reminder emails, and so on.
How to decide between Magento Community vs Enterprise?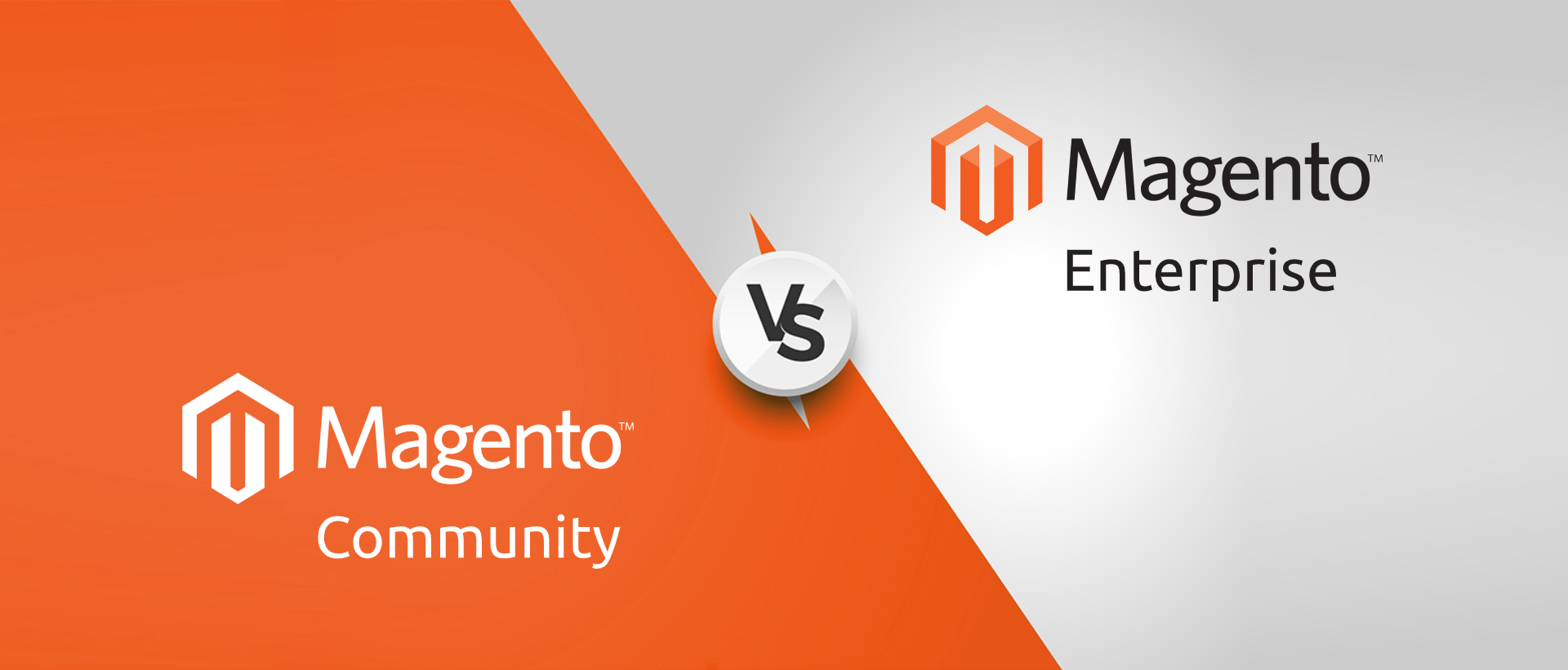 The best way to decide which platform Magento CE vs EE is right for you is to assess your needs and budget.
Who should use Magento Community Edition?
If you are a small to mid-sized business owner, the Magento Community version may be the ideal choice for you. The Community Edition allows you to save on the $22,000/year licensing charge provided that you locate software solutions and integration providers that can smoothly adjust the Magento platform to your product, business, and style demands in order to meet your brand's eCommerce objectives.
Who should use Who Needs Magento Enterprise Edition?
If you're willing to invest in a premium platform and need official customer support, then the EE version may be a better fit. Magento Enterprise is designed to be scalable for online stores with high traffic volumes since it includes complicated capabilities such as customer satisfaction, multiple master databases for functional order management, and efficient catalog management.
In conclusion
In Summary, both Magento Community vs Enterprise is great platforms with a lot to offer. It's important to take the time to evaluate your needs and choose the platform that's right for you and your business. If you're looking for a powerful eCommerce platform that has all the features you need to succeed, then Enterprise Edition is the right choice for you. Contact us today to learn more about Magento's different editions and find out which one is best suited for your business. We can help you get started with Magento and make sure you have everything you need to create a successful online store.