Due to its international presence and expanded lines, the brewer had multifaceted goals, one of which is its latest Drinkies project in the South East Asia region. The idea of Drinkies is to bring the cold drinks right to the customer's doorstep within a 60-minute delivery. This model is Heineken's first step in its Drink responsibly movement, by providing a fast and reliable delivery solution so customers don't have to go out to pick up their drinks, the company could reduce the traffic accident rate caused by drinking and driving.

Also working on the project are Vaimo – a Magento 2 Global Elite, Valtech – Heineken's digital partner while Heineken Global itself does the supervising work.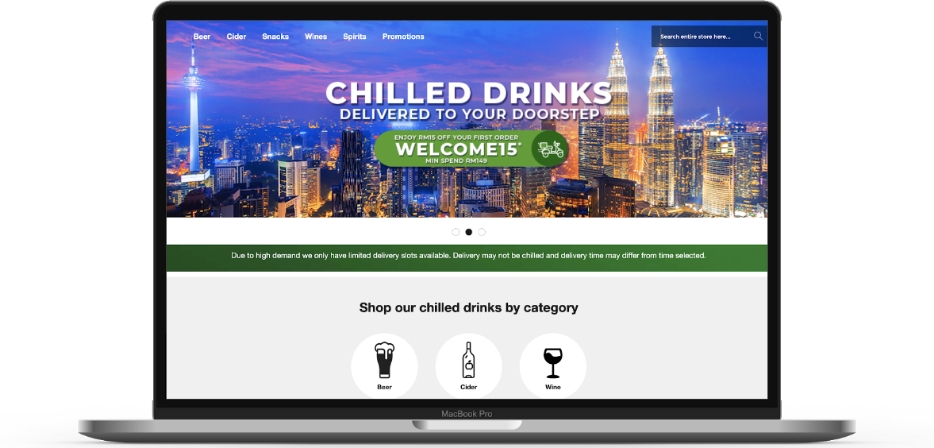 TRANSFORMATION WITH MAGENTO COMMERCE​
Ho Chi Minh city is the first destination for Drinkies Vietnam
'Cold drinks delivered to you within 1 hour!'. Given the traffic condition in Vietnam, not a single company could make such a claim, the only merchant that ever come close is Tiki with its 120-minute delivery policy. So how does the company do it?

To accommodate this strategy, Heineken has partnered with Satrafoods HCMC to gain access to its storehouses and outlets that cover all over the city.
Ahamove and Grab – delivery solution integration
To handle the logistics need for the company, we integrate the platform with major delivery service providers in Vietnam, for the time being, Ahamove and Grab. The integration allows the system to find the nearest and currently available driver to assign an order to him/her. Simultaneously, the system also locates the closest store. Both of these processes are to make sure the drinks stay cold when they reach the customers!
Napas and Momo Pay – local payment gateway integration
For secure transactions, we integrate popular local payment gateways to their Magento 2 site – Napas and Momo Pay. Aside from the security benefits, the inclusion of these payment methods offers a more convenient way than cash transactions to customers. E-transactions also help prevent the situation in which an order could be refused at delivery.
Expanding the model to south east asia
We carried our past knowledge of the operation model of Drinkies Vietnam and applied it to Drinkies Philippines. For delivery, Drinkies Philippines integrate their Magento 2 site with GetSwift for logistics and eGHL for payment. In addition, we were also taking care of their new Odoo system right after Magento.
With our experience launching Drinkies Vietnam, it took us only 3 weeks to work on the project before the website went live.