Nam Ninh. ltd is a leading enterprise in the hospitality industry in Vietnam. They are running one of the most luxurious 5-Star hotels located in Ninh Binh, The Reed Hotel. From 2022, Nam Ninh expects to deploy V52 Hai Duong Highway Service Area, providing free stopovers and other hotel & supermarket services for passengers on Hanoi - Hai Phong - Quang Ninh highway.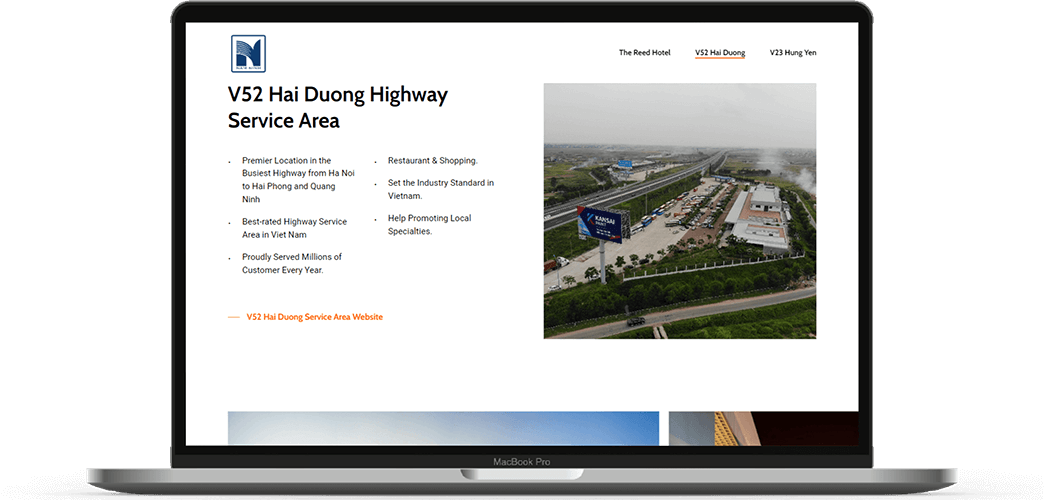 Mr. Vu Tuan Phong, Vice Director of Nam Ninh said due to poor management and low quality of service, most of the Highway Service Areas in Vietnam were still not able to keep up with customer demand. Having experienced the professional service station model in European and American countries, he wants to establish a rest-stop system providing such world-class services in Vietnam. Therefore, the company needs a comprehensive management system and
effective operating procedures.
OVERCOMING MANAGEMENT BURDENS WITH ODOO Enterprise
With the consultancy from Magenest, V52 Hai Duong has chosen Odoo as the core for the new ERP system since this deluxe, open-source platform can offer all types of integrations and scale-up capabilities. With the new ERP system, a fully comprehensive management procedure and a smooth workflow between departments are not a far-fetched dream anymore. The BoD can proactively track project progress and supervise employees' working performance without unnecessary reports and meetings. This will ensure a decrease in business costs and a boost in the revenue.
Previously, V52 Hai Duong had been using the POS software from KiotViet. However, this POS system could not meet the scaling-up requirements, as it failed to serve the increasingly large number of customers in V52's sales kiosks and supermarkets. Hence, the Odoo POS system has been implemented as an upgrade in the POS software for all admins and customers.
The default version of the Odoo POS system has already been developed with the basic features for any POS system, namely sale management, discount coupons, loyalty points accumulation, and a variety of payment options, as well as after-sale customer service. With so many default features, only some small customizations are required:
Synchronization with the restaurant chains: notifications for new orders will be pushed in real-time so that chefs are always informed ASAP. When the dishes are ready, other notifications are pushed back to the admin accounts for the fastest delivery.
Promotion campaigns management: The system admin can create and manage various types of promotion campaigns to gather all the attention possible from customers.
Warehouse Management System
Odoo has always been famous for its incredible warehouse management capabilities, so, with this new ERP system, providing products with the best quality has never been easier for admins in V52. By keeping track of the life circle of all the products in stock, staff from the inventory department now can work perfectly with the sales admins to classify products based on the expiry date, calculate the level of depreciation, setup the best sale plans for weeks-months ahead, and manage goods efficiently with little required time with QR code scanning on the Odoo's mobile app.
Standard Operating Procedures
Before Odoo implementation, the company was dealing with great issues in administration and decision-making because they had been using multiple platforms to manage and assign tasks like email, Trello, Google Drive, etc, leading to difficulty in capturing true data-insights, and coordinating among departments. Data fragmentation and manual data input have eliminated too many great businesses before, and V52 surely does not want to make the same mistake.

So, with the new ERP system, the inconsistency in work procedures and collaboration between departments have been completely eliminated. With a standardized workflow and data synchronization, efficiency is ensured to the highest level. Moreover, Magenest also includes some customizations for easier access distribution between employees. Thus, the company has been experiencing excellent performance, enhanced workflow, and reduction in business costs.
Streamline Accounting Workflow
Before Odoo, V52's accounting department used MISA software separately, but that is not the case anymore. With Magenest's Vietnamese Accounting Standards (VAS) package in Odoo System, accounting admins now can operate on the automated system where all sales and other accounting data is updated automatically in real-time, reducing manual input and data errors. Not only compatible with Odoo, but our accounting package can also:
Track reciprocal accounts on each journal entry;
Creating financial Reporting according to Circular 200 standards;
Customize reports exclusively for V52: Income Statement, Inventory Report, Revenue Statement via POS System by profit, sales volume, goods;
Built-in features to calculate Inventory Turnover Ratio.
DIGITAL TRANSFORMATION CHANGES THE GAME
Thanks to Odoo ERP, the Board of Directors of V52 now can manage their workflows effectively, and run a unified operating process at the same time. Moreover, Odoo ERP with unlimited expanding features gives them a greater ability to achieve their goals and scale up their operation. Since then, the company's performance has been greatly boosted, which has really gotten them to the next level.