ABOUT Heineken corporate Vietnam
Heineken Vietnam is a subsidiary of Heineken, the world's biggest international brewer. Originated in the Netherlands, the family-owned business with a history of over 150 years brews and distributes over 300 beer & cider brands in more than 190 countries. Heineken Vietnam has nine sales offices across Vietnam, with customer support for corporate clients in Hanoi and Ho Chi Minh city.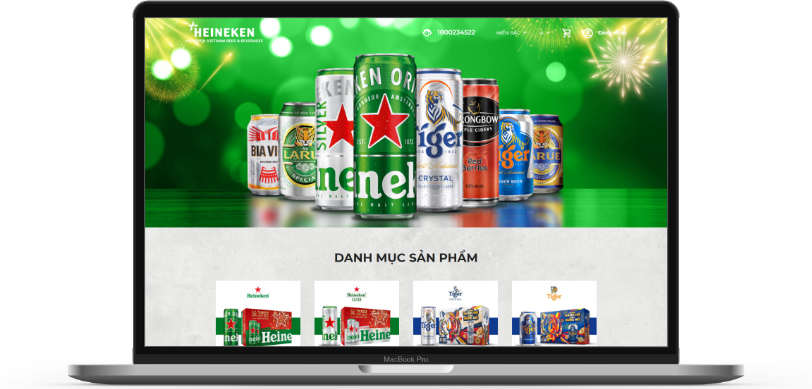 With the festive season in Vietnam closing in, there will be a surge in the demand for beverage. Thanks to our experience working on their D2C venture – Drinkies, it took no time for Heineken Vietnam to choose Magento Commerce for its scalability and Corporate D2C capabilities. Hosting on AWS cloud infrastructure yields exceptional performance and reliability for the company to confidently operate for years to come.
a B2B Digital Commerce System
The Heineken Corporate website was created exclusively for corporate customers who want to buy Heineken drinks as gifts or promotion add-ons for their marketing campaigns. With the upcoming surge of large-quantity orders, Heineken needed to improve its operational efficiency, deliver better customer service and push its sales.
Magento Order Management System
The company used to manage their accounts with spreadsheets and had their operators do all the work, calling and emailing for sales, order confirmation. With the new Magento 2 system, Heineken can automate the most part of its order processing funnel. Thanks to order confirmation and handling being carried out by the system automatically, phone calls and back-and-forth emails are reduced drastically.
In Vietnam, buyers need to provide the legal paperwork from the Ministry of Industry & Trade of Vietnam to buy such large quantities of items, and secondly, to prove to Heineken that they are not buying these products for reselling purposes. With the new system in place, customers can now submit all their information and paperwork through the website. This data is processed and managed with our freshly customized Order Management System in Magento 2.
Orders with large quantities or with multiple delivery addresses can still be managed within Magento 2 back-end.
Manage and assign separate administrative roles to key personnel in each region of the country.
The system handled order submission automatically, therefore reducing the need for operators like back in the old days.
Operators can collect and add in additional information from customers during order processing sessions. Customers can provide or validate this requested information. This allows for flexible order management and processing.
Managing multiple shipping addresses in one order: Corporate customers often have more than one office, and in these cases, orders have to be split into multiple shipments.
Managing order and shipment status flow: Custom email sending to customers, DD team, distributor: Send notification email to these three departments during order and shipment processing.
System hosted on Amazon Web Services
The entire system is hosted on AWS for the best computing capability and security.
B2B Commerce Website Design
The new Heineken Corporate website boasts a streamlined design that solely focuses on promoting the most relevant deals to corporate D2C consumers. The system is designed to restrict the minimum item quantity allowed for new customers; buyers who have never made a purchase before will need to check out with at least 500 units.
Faster order confirmation, better customer communication. Ready-for-export data streams. Better internal communication & workflow.

What we've achieved with this project is an effective system that produces results. Sales performance has been at an all-time high, prompting Heineken to further invest in this corporate D2C digital project. The automated order processing allowed for much more efficient operation with less manual work and more accuracy. That's productivity plus revenue, thanks to technology.